Rice-eccles Stadium
Salt Lake City

,

UT
Salt Lake City
Monster Energy AMA Supercross Championship
Saturday evening in Rice-Eccles Stadium in Salt Lake City, Utah, Monster Energy/Pro Circuit Kawasaki's Justin Hill fulfilled a lifelong dream by winning an AMA Supercross Championship. A family affair if there ever was one, Hill was able to not only celebrate the feat with his mon and dad and grandfather, but his brother Josh—a former 450SX main event winner—was also holding station to watch Justin see it through. A tremendous achievement for the talented kid from Oregon, it was also a highly emotional evening for Mitch Payton and all the guys who make up the Monster Energy/Pro Circuit Kawasaki team, as a championship had been outside the outfit's reach for far too many years. Nonetheless, it all came right for the proud Corona, California-based race team and on Sunday evening, we spoke with the dude who brought it all home.
Racer X: Justin, what's up the day after you clinched the 250SX West Region title last night in Salt Lake City?
Justin Hill: I'm just sitting up in my hotel room. I just got checked in and I just dropped my bags and I'm just chilling. It's awesome.
Where are you at?
I'm in Austin, Texas.
That's right. You were at the MotoGP today. What did you think?
Oh, dude. It was so cool. I've never been to one of these and I was ecstatic. I went to sleep at 3:30 a.m. and woke up at 4:00 and flew out. I got here about 1:00 p.m. We hightailed it to the track and went straight to the grid. It was nuts, man. We were rooting for Valentino Rossi.
Did you get to meet the man? You two guys share that No. 46.
I did. I gave him my championship gear and my helmet that had "The Doctor" on the back of it.
Valentino is a big motocross fan. Was he happy about that?
He was stoked. He was pumped. He thought it was cool.
You're the first champion of the 2017 supercross and motocross season. That has a nice ring to it, doesn't it?
Yeah, that's not too bad! I'm enjoying it. You know, I haven't really celebrated it quite yet. Like I said, I got done with the press and everything and I was getting pulled in one direction and then another direction. I was going to the press conference and then going to the truck and was just talking to everybody and just enjoying the moment with the family and the team. I haven't really gotten a moment to myself to reflect on it. I'm pumped. I didn't expect it to go down the way it went down, but it was just one of those things. I've always tried to use my head and do things where risk verses reward are reasonable and I think I did a good job of that. So far, we've had eight races and I've been off the podium one time. Four wins. That's a good season no matter however you look at it. That's a good amount of points I wrapped up. To wrap it up early is awesome. I'm pumped. I can't even put it into words.
Aaron Plessinger blitzed right to the front to start the main event, while you were a little ways back in sixth, and by the end of the first lap, fourth. What were you thinking during the first few laps?
Really, I was thinking, one of two things are going to happen: somebody is going to make a mistake or they are going to walk away from me. I would have taken it to Vegas and won the championship by all means necessary over throwing it away. Two weekends in a row I rode extremely conservatively. Those two races might not have been the best showing of the year for me, but I needed that both times. Personally, I'm so happy with what I did. I think I was just riding like somebody that wanted to win a championship. I'm so thankful with my thought process and how I approached these races and what I've become as far as a big picture guy. When Aaron got out front and he was just blitzing, what was going through my mind was that Aaron was just sending it in the whoops. The whoops were really, really gnarly and jagged and had a lot of holes and things that could catch you off guard. He was just sending it. He was riding like he had nothing to lose, which he didn't. I respect him beyond words for that winning or die trying approach. He went for it and I love the guy for that. I respect that he gave that to the championship. He gave it all to try and win. That being said, the position I was in I had to take the precautions that I took and that ended up being the right thing for me to do. I couldn't be more happy with the decisions that I made.
Recommended Reading
What were you thinking when Aaron went down?
There was a lot going on for me in my head because there were so many things to think about. I was like, "This changes how you ride this race now." Before I was chasing it because I knew I had to, at least, try to get close to him. When he went down, I thought, Oh, the championship is absolutely mine. Don't throw it away. It was an emotional roller coaster out there while you're burning calories and just riding at the top level. It was nerve-wracking; it was gnarly. It was unlike anything I've ever done in my life. I'm very glad that I handled it the way I did and I was able to make that last minute pass on Martin [Davalos] to clinch it.
Yeah, Martin Davalos almost played the spoiler on your last lap run to clinch the title, huh?
Yeah, I mean he just drove it in and went for the kill. I didn't see that coming whatsoever. He went across the lane and I was like, "Wow! I didn't see that coming at all." He got up inside of me and tried to push me out. From there, I just did everything I could do. I went wild through the section to just try and get back up on him. I just wasn't having it. From the moment he made contact with me, every inch to the finish line was everything I could do and it was just enough. I'm not happy about how close it was, but I'm happy that I was able to get it done. It was within my grasp the whole time and I almost let it slip, but I got it back. I think everything for me this year has kind of happened for a reason and that was probably the closest call that I've had for a major screw up. If that was it, I can't complain.
Well, for you and your boss Mitch Payton the title is in the bank, huh?
It's in the bank. The plate is on the wall and there is nothing anybody can do about it. And I'm happy that I was able to wrap it up early because I think it just kind of puts a stamp on the championship and that it's truthfully mine.
Yep, as far as a title is concerned, it's been a long time coming for Mitch and the entire Monster Energy/Pro Circuit Kawasaki team, hasn't it?
Oh, Mitch was pumped. When I finally got back to the truck and saw Mitch, it was like, "Alright, it happened. Let's put the plate on the wall and reflect on this." It was emotional for me. Really emotional. My family has really put more into this than I think any family should ever have to. I was just so happy to share this with my whole family. My brother, he's been at every race this year with me. I've had more input from my family this year than probably ever. My mom and dad have been with me more than ever. I can't even really put it into words. It was just such a really cool thing to share with my family.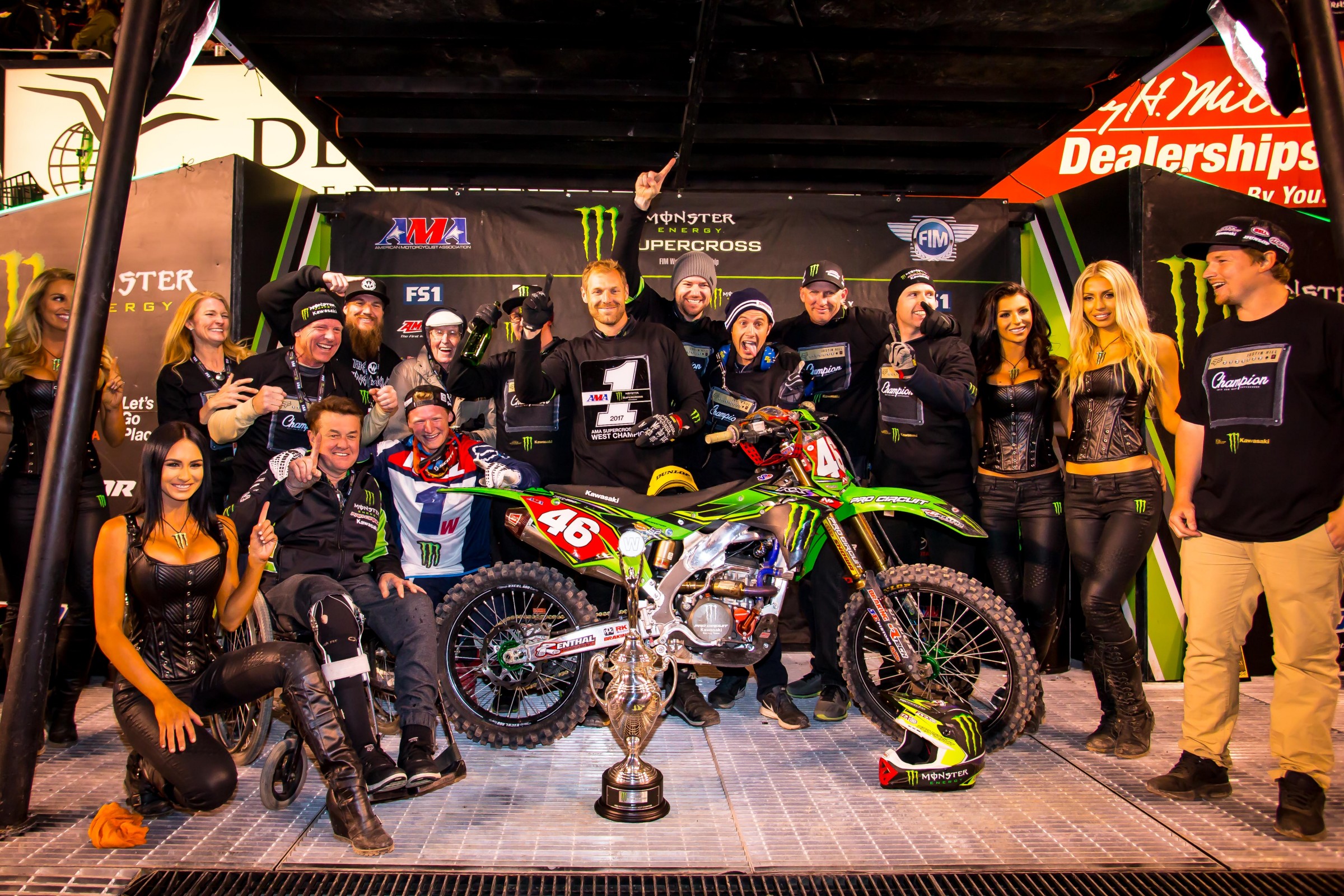 Now what? I know you're very keen to get on that 450 and you now have an outdoor championship to ride this summer. I guess as a two-part question, what are you looking at for the outdoors and what are you looking at for 2018?
Truthfully, I know very little only because it's so early. I can't really go out and bounce offers around because it's too early in my contract. It's a bit of a grey area because I am on a 250 and I'm looking to move up. I've yet to talk to my people about it as far as Kawasaki goes. I'd like to talk with Bruce [Stjernstrom] and everybody over there and just see what they're thinking and see if they're interested in doing anything. I'd love to see what they have to say. I'd definitely entertain it. I think it's a good place to be. Hopefully, I have a good outdoor season. Like you're saying, I'd like to carry momentum and try to win the thing. If I can't then … truthfully I think I'm a supercross guy and on top of that I think I'm a 450 guy and top of that I think I'm a 450 supercross guy. Really, I have some places left to go. I'm going to try my best outdoors and see what I can do. I'm just going to try and take it a race at a time and do what I can do and try to be in it for the whole season. I've never finished an outdoor season and I'm ready to go 12 rounds and do my best and if that translates to a title, that would be awesome. From there I want to get my sights set on a 2018 450 ride for supercross and outdoors.