Rice-eccles Stadium
Salt Lake City

,

UT
Salt Lake City
Monster Energy AMA Supercross Championship
Welcome to Racerhead, and welcome back to the races after the short Easter break. The Monster Energy AMA Supercross Championship is back up and running in Salt Lake City, with the two men at the top—Ryan Dungey and Eli Tomac—all tied up as they head into the stretch run. Over in the Netherlands, the FIM Motocross World Championship is taking place, and this time it's Antonio Cairoli versus Jeffrey Herlings in the sand. And the Amsoil AMA Grand National Cross County Championship is running in South Carolina, the last of the Southeast rounds, and everyone is still chasing Kailub Russell. And of course Loretta Lynn's Area Qualifiers are happening all over the country.
But first, the bad news. They say bad things happen in threes. Whoever "they" are would be right in regard to this past week. Three longtime motocross enthusiasts died in completely different ways.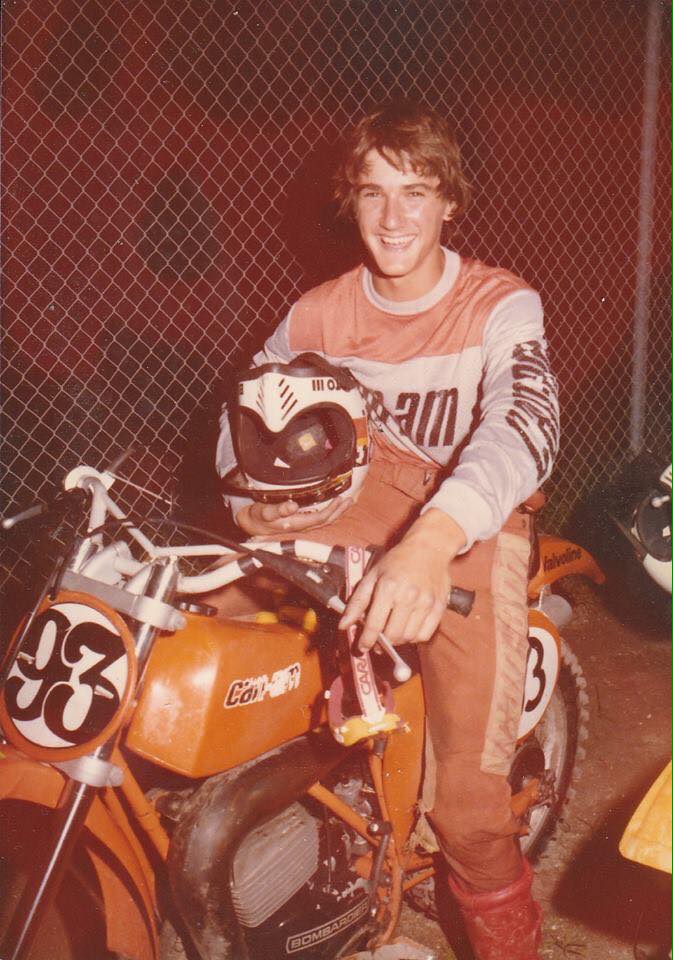 Doug Longwell was a privateer racer from Florida who qualified for a few AMA Motocross Nationals and supercross races. He was a local hotshoe in the Sunshine State, back when the Florida Winter-AMA Series was almost as big as the Nationals. Longwell, as fun as he was fast, died after suffering a stroke last week. He was just 53 years old. Here is how he did back in the day.
Don Schneider was a sailor-turned-motocrosser-turned-promoter who saw the four-stroke revolution coming before anyone. In fact, he started the 4-Stroke Nationals, a series dedicated to thumpers, before most brands were even making four-strokes. Over the course of 15 years, Schneider hosted more than 100 races. But when the paradigm shifted and everyone in AMA Supercross and Motocross started riding four-strokes, Schneider's once-thriving tour lost its relevance, and he moved on to other things. Nevertheless, he continued trying to raise money for his series' former champion, Mike Young, who was paralyzed at one of his races. Late in his life, things seemed to start going sideways for Schneider. Last October, he was on Twitter trying to find sponsors to help him join the Senior Professional Golf tour. He started a GoFundMe account for himself, explaining that he had a big job interview coming up and needed money to get there. He also checked himself into the Tarrent County Military Shelter.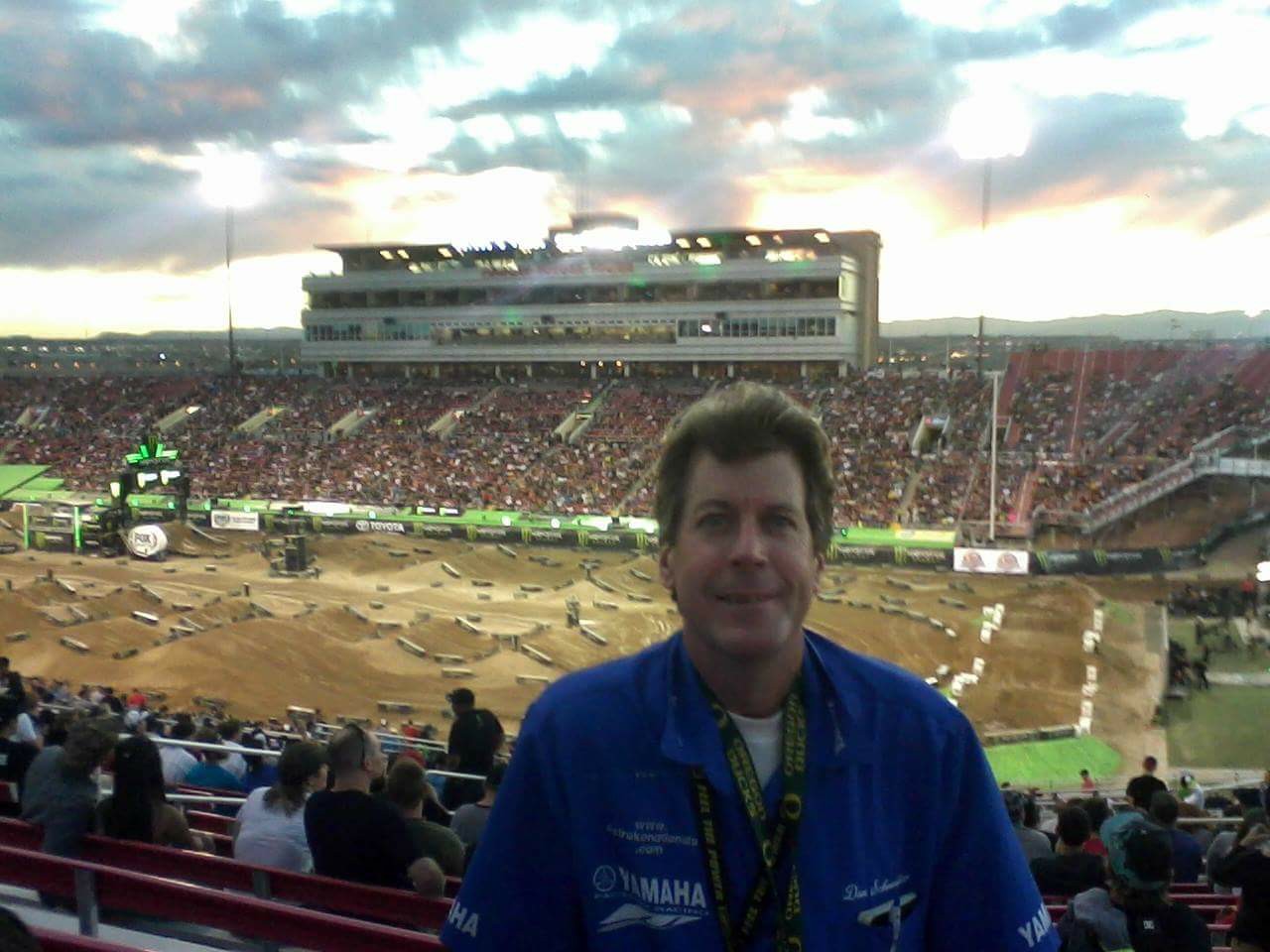 On December 20, he posted a rambling 2,600-word Facebook post, explaining how he got into the situation he was in where he needed his own GoFundMe assistance.
So far, there are no details about how Don Schneider died.
Jaisaac Sloan's death was as tragic as it was unexpected. A media-savvy kid who went from being a racer to a trainer, Sloan was a prolific video producer, posting them on his website www.jaisaacsloan.com. He was also a good young rider.
But on Monday afternoon, he was found shot to death in a car in the suburbs of Tucson, Arizona. According to local news reports on Tucson.com, "Deputies found Jaisaac Sloan, 21, and Austin Buckshaw, 20, with gunshot wounds. Deputies gave aid to the men, but Sloan was pronounced dead at the scene. Buckshaw, who was seriously injured, was taken to Banner-University Medical Center Tucson.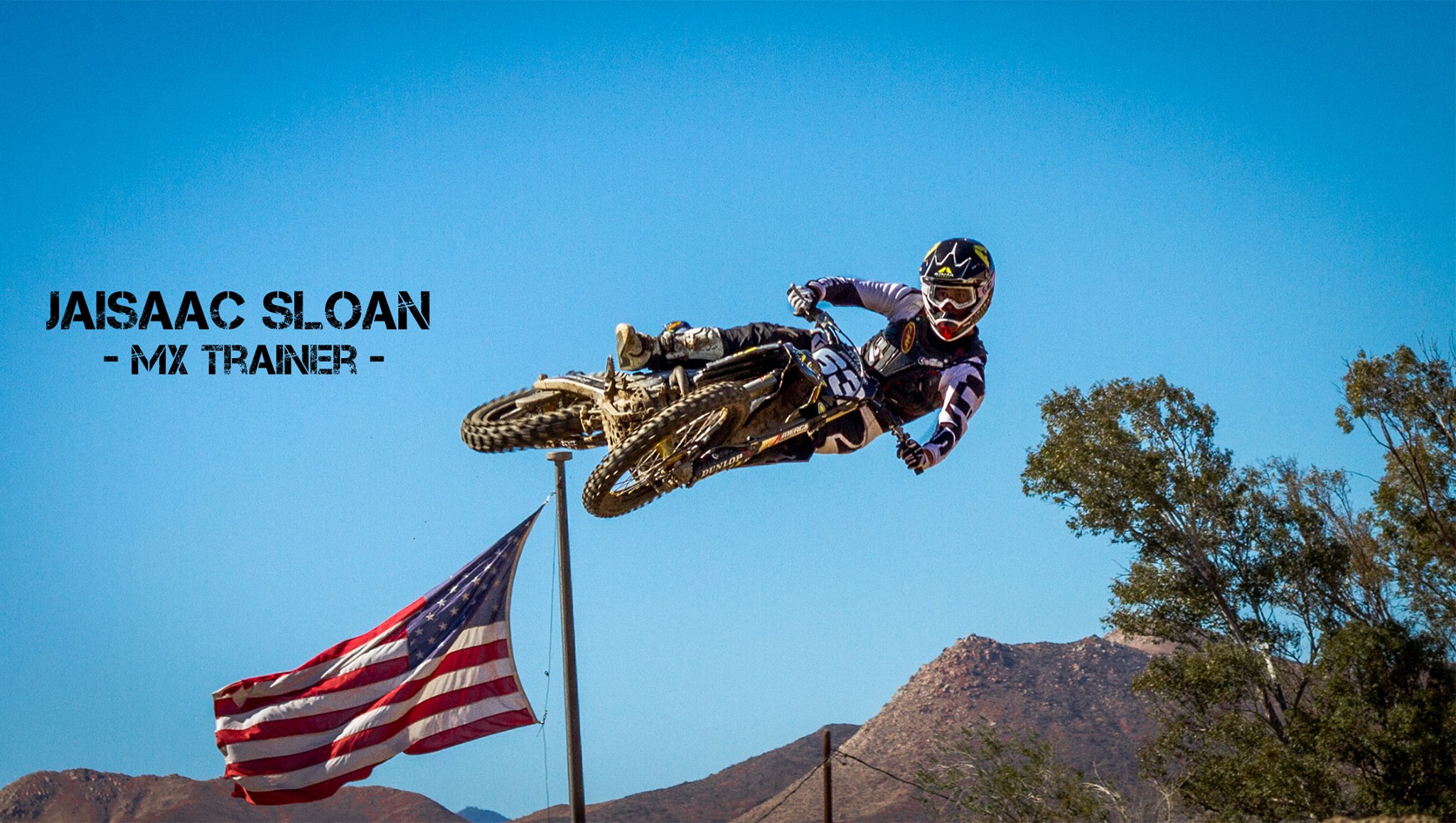 "Deputies learned that Sloan and Buckshaw, who both knew each other, were in a camper trailer with other people when the shooting occurred. The man suspected in the shooting pulled a gun from a backpack and began to fire. During the incident, the man who is suspected of firing the shots, was injured and he checked himself into the hospital, where he was arrested. Homicide detectives have taken over the investigation."
Here is a video of Jaisaac Sloan that was posted two years ago on the ARMA Energy Media YouTube page.
Godspeed to all three men.
WHAT I LEARNED (Steve Matthes)
We were back to an almost-full slate of shows this week (no PulpMX Show, but that's back on Monday), so it was a busy week of interviewing people and talking about Salt Lake City and some Seattle. Here's what I learned this week.
- I spoke to DC on the Fly Racing Racer X Podcast about the decision to award Gatorback Cycle Park in Gainesville, Florida, the upcoming USGP. I learned that at maybe one of the most seminal AMA Motocross Nationals ever, the 1989 125/250 National at Gatorback where Rick Johnson suffered that wrist injury that would ultimately end his career, the AMA had changed the scoring from the Olympic style (2-2 beats a 1-3 based on the second moto) to the current form we have now (1-3 beats a 2-2 because it's worth 45 points compared to 44) and they accidentally announced Jeff Stanton as the overall winner when it was the Frenchman wearing #111 with "Starbuster" on the butt patch who actually won. It would have been the first national win for either.
- I did the Privateer Island Life Podcast with Alex Ray this week and found out that Ray's dad owns a pawn shop in Catywhompuss, Tennessee (or somewhere like that), and when someone brings something in he looks at it, determines a price and after the person gives the figure they want for it, Ray's dad will punch a calculator like he's trying to figure something out. Ray says that's all for show and he knows the next lowball figure he's going to try and get it for. I also learned that Ray loves to say the word "YamaDog" and wants it on the back of his pants, which is a bad idea.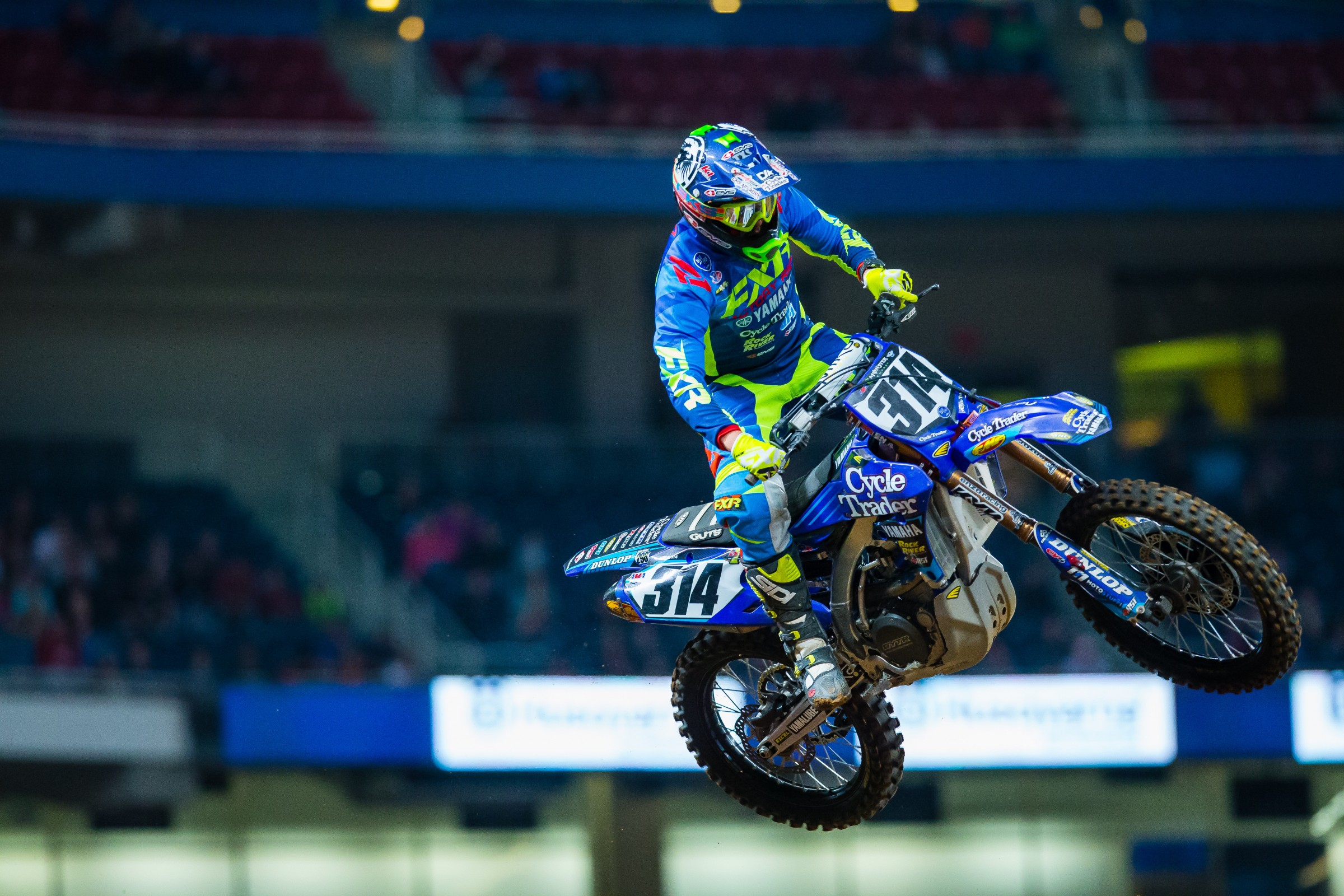 - I found out that Cade Clason did some outdoor testing over the break with his Canadian team, which has to be some sort of record for the earliest a Canadian team has ever done testing for outdoor series that starts in June. Also, Cade was very happy to beat Ray in Seattle and pull ahead by one in the series points.
- I recorded an N-Fab Racer X Fantasy podcast with JT and Dan Truman and found out that in our money league I finished absolutely dead last for my Seattle picks. How does that even happen? Thanks for nothing Heath Harrison and Noah McConahay.
- I recorded a podcast with ex-NHL'er Ray Ferraro about the NHL playoffs going on, the difference in his job at TSN and NBC Sports covering games, and all the coach openings. I don't even care that most of you don't care.
- Andrew Short stopped by the studio on his way up to trail ride in Utah so I pinned him down for a podcast on how he's liking his new role, the difference between a steel-framed bike and aluminum, the progress of the 2017 CRF450, and much more.
- I also remixed and remastered a 2008 Racer X Podcast with Ron Lechien and put it on the Steve Matthes/Racer X feed on iTunes, the PulpMX App, Stitcher, etc. Oh, and I also spoke with three-time national champion Kent Howerton yesterday for a pod next week. Stay tuned for that.
Over on PulpMX, Tony Blazier and I continued our look at some iconic gear companies stories told through their ads and this week we did JT Racing part 1.
JEREMY MARTIN (DC)
Seeing #6 on a red Honda still reminds of Steve Lamson, even when it's actually on the bike of Jeremy Martin. Maybe that's because I'm just not used to seeing Martin's #6 very often—he's been #1 for half the season (outdoors) the past two years, and only just switched from Yamalube/Star Racing Yamaha to GEICO Honda last September. But there are other similarities, and they seem to be building. Lamson never quite got the hang of supercross, and he must be considered the best American motocrosser to never win an AMA Supercross in either class. Lamson did win two AMA 125cc Motocross Championships and 19 national rounds, but he never succeeded at SX.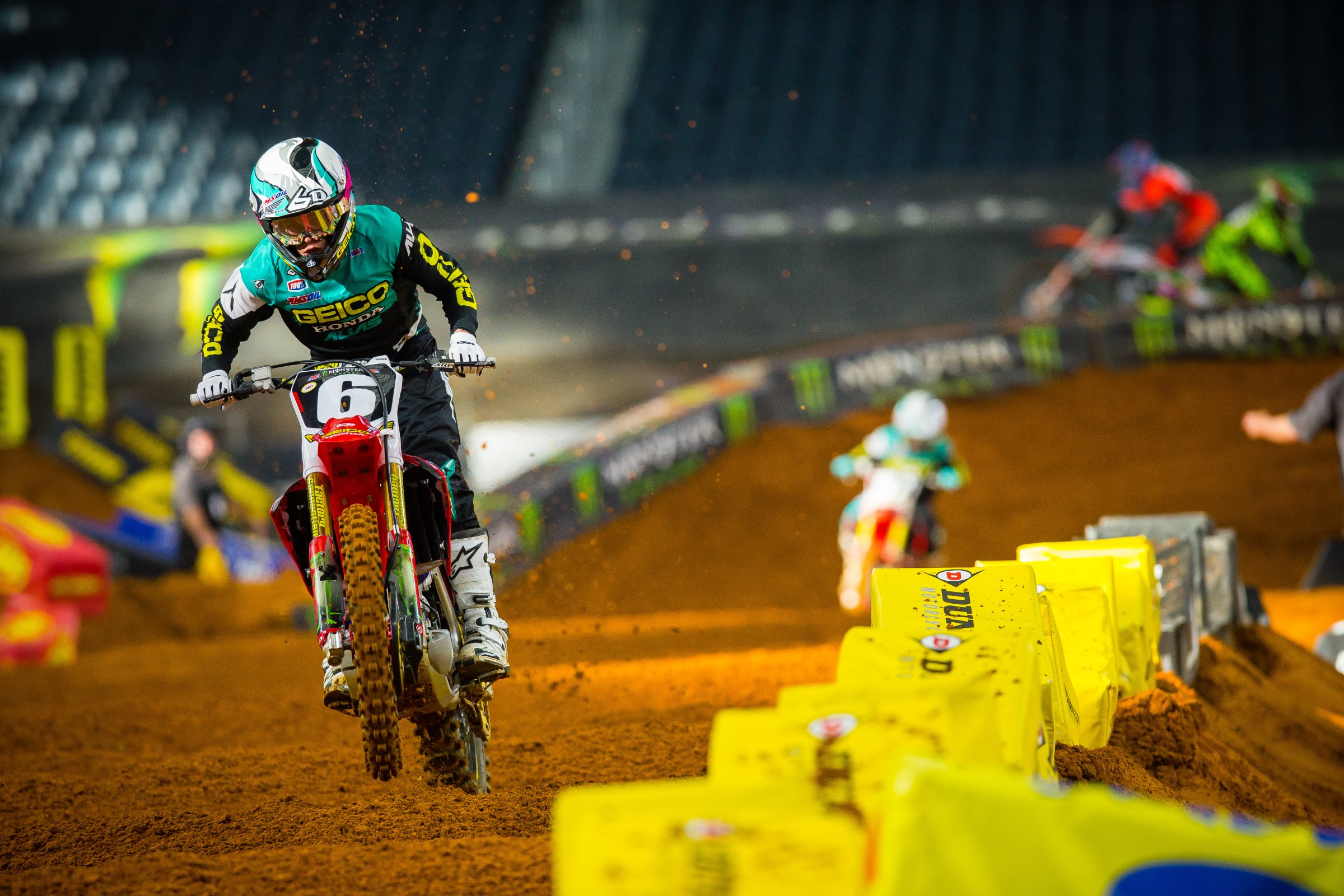 Jeremy Martin, on the other hand, has won in 250SX, but he hasn't had nearly as much success indoors as he has outdoors, where he has two AMA 250cc Motocross Championships and will be going after a third this summer. But his SX season is over, as he reported on his Instagram feed @jeremymartin6:
Hey guys due to on going discomfort and pain from a herniated disc in my back. My team and I have decided it's best for me to sit out SLC and Vegas and be 100% for the outdoors.
I am a racer and want to race no matter what but sometimes the best decision isn't easy and goes against the racer inside me.
I really want this third title and will be ready for major battles this summer. I'm very disappointed with missing three sx rounds already and how my sx season has gone this year so all the more reason to put everything into the outdoors since I'm out of the sx championship.
Martin will wear #6 this summer in the 250 Class since he's not the defending champion. Maybe by the end of summer we will think of him when we see a #6 red Honda and not Lammy!
Spanish Fiesta (Andras Hegyi)
The Spanish national anthem was on the podium in the FIM Motocross World Championship for the first time since 2010. Last weekend in Italy, it was played for the 16-year-old Jorge Prado Garcia, who has long been considered a future star of the sport. He is the next Ken Roczen/Jeffrey Herlings in eye of many experts and GP fans. And last Sunday, in just his eighth GP race, he won for the first time. In doing so, he also became the third youngest GP winner of all-time, behind only the aforementioned Roczen and Herlings.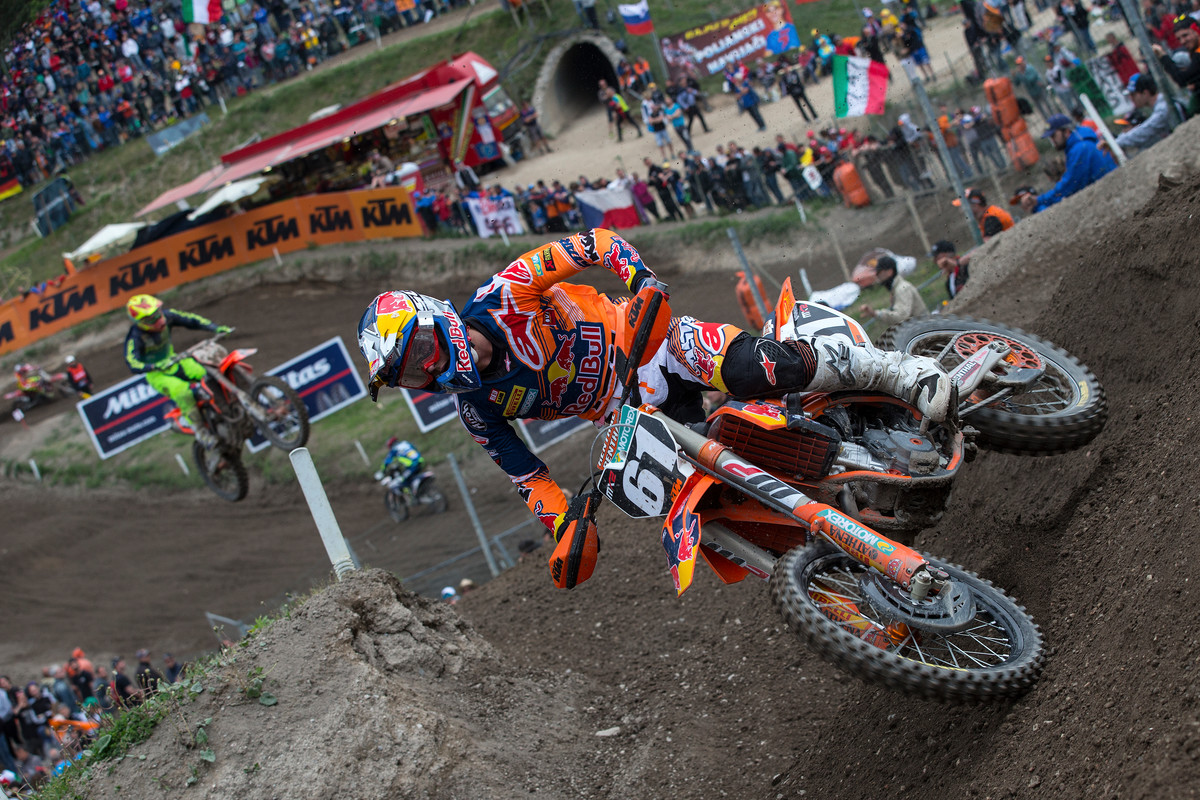 At the age of 10 years old in 2011, he was the youngest ever youth motocross world champion by winning the 65cc world title. That same year he was also 65cc European champion. In 2011 he became the youngest-ever team member of the factory KTM team, at just 10 years of age. In addition, he was also the youngest ever sportsman ever sponsored by Red Bull.
In 2015 Prado became 125cc European champion. In 2016 he debuted in the FIM Motocross World Championship and in his debut race he got a podium result by finishing third and battling with Jeffrey Herlings. There was talk that he might come to America for the 2017 season, but he instead decided to campaign in Europe in MX2.
Grand Prix winners from Spain
Jonathan Barragan: 7 GP wins (6 MX1, 1 MX3),
Carlos Campano: 7 (MX3) Campano is the only one Spanish world champion in history. He won the MX3 world champion in 2010.
Javier Garcia Vico: 1 (500). He is the first Spanish GP winner.
Alvaro Lozano: 1 (MX3). He finished fifth in the MX3 overall points standings in 2008.
Jorge Prado: 1 (MX2). He is the first Spanish GP winner in MX2 that has been existence since 2004.
The three youngest Grand Prix winners
Ken Roczen (Germany): In 2009 the future Lucas Oil Pro Motocross Champion won at the age of 15 years, 1 month and 23 days.
Jeffrey Herlings (Netherlands): In 2010 the three-time FIM MX2 World Champion won at the age of 15 years, 7 months and 13 days.
Jorge Prado (Spain): Last Sunday in Italy, Prado won for the first time at the age of 16 years, 3 months and 11 days.
THE NUMBER: 14 (DC)
Ever since he turned pro in 2010 and started racing the MX2 Class in the FIM Motocross World Championship, Jeffrey Herlings has not lost a moto on the sandy Valkenswaard circuit in the Netherlands. As a result, the Dutchman is considered the best sand rider on the planet right now—and maybe even ever. But now Herlings is in the MXGP class, and he's admitted to strugging due to underestimating just how difficult the competition would be in that class after years of absolutely dominating MX2. In an interview with our European contributor Adam Wheeler, Herlings explained his frustrations, and also admitted it was him and not the bike.
"There is a lot of work to do. It is not the team or the bike. The bike is perfect and for sure there are still some adjustments to be made, but the team is very capable of winning," said Herlings, who nearly made the podium for the first time in the second moto in Italy, only to fall under the sword of Tony Cairoli. "The only missing piece is me at the minute. But we are close to the top five, and then we can look at the top three and think of winning. I am very convinced we will get there."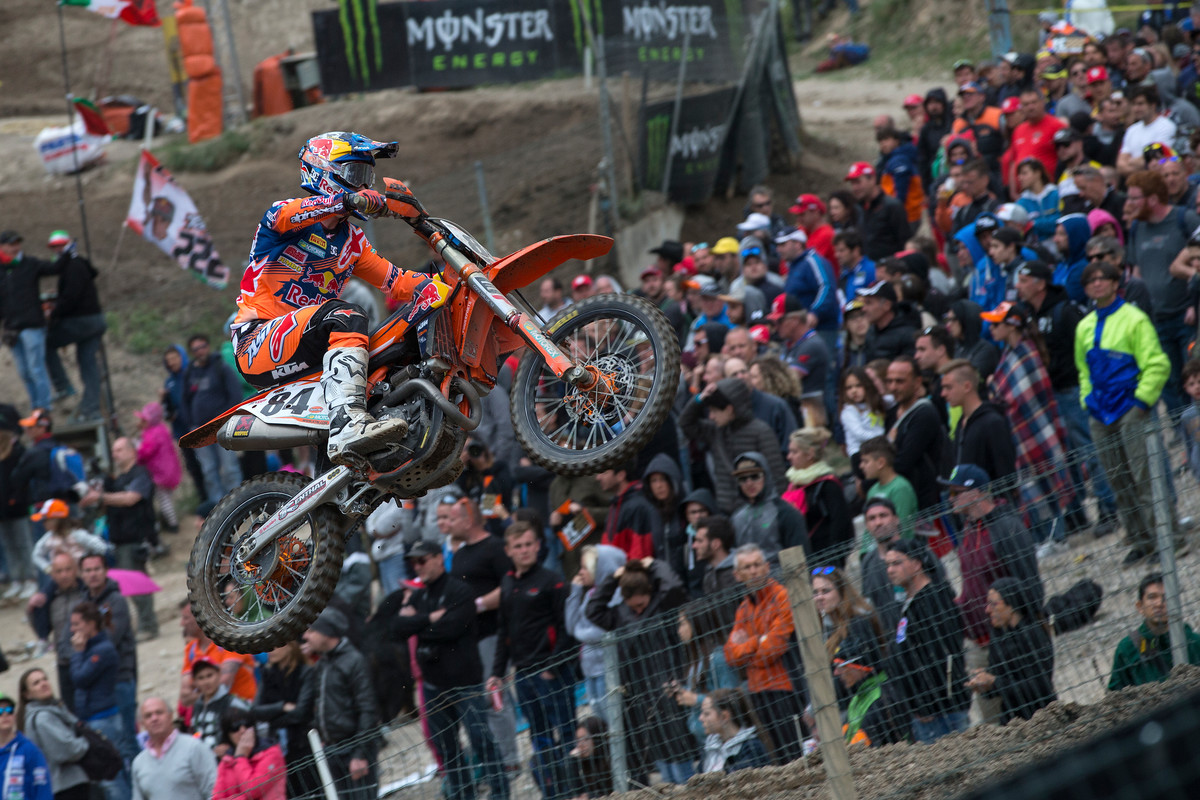 But Herlings also said he's already given up the idea of winning the title this year, especially since he's been battling a hand injury.
"This is just a learning year," he said. "The championship is over and we just need to get better and better, learn the bike, learn about the competition.
"I underestimated the class, the bike, the competition and I'm paying for it now," admitted Herlings.
If he is looking for a quicker way out of the slump, his chance is coming this weekend when the GPs return to Valkenswaard, where he's never lost. Only Ricky Carmichael has won more successive races at the same track: the GOAT captured the Southwick National every year from 1999 through 2006, riding a 125 in '99 and then the bigger bikes from '00-'06. His only Southwick loss came in 1998 when his motor blew while running behind race-winner John Dowd, another sand master. This week, Herlings will be trying to beat not only the reigning MXGP Champ and current points leader Tim Gajser, but the red-hot Antonio Cairoli as well.
THE NUMBER: 50 (Andras Hegyi)
Antonio Cairoli, the eight-time world champion from Sicily, scored an epic triumph at his home Grand Prix in Italy over Easter weekend. In the first moto, he gained his 157th moto win of his career. In the second outing he was second, having remounted from 22nd position after a second-turn spill. Utilizing an inside line on a left-handed corner, Cairoli picked off rider after rider to reach second-place. And with his last lap pass on Evgeny Bobryshev, Cairoli won his 79th GP, as well as his eighth GP victory in his homeland Italy. It was also Cairoli's 50th win in saddle of KTM.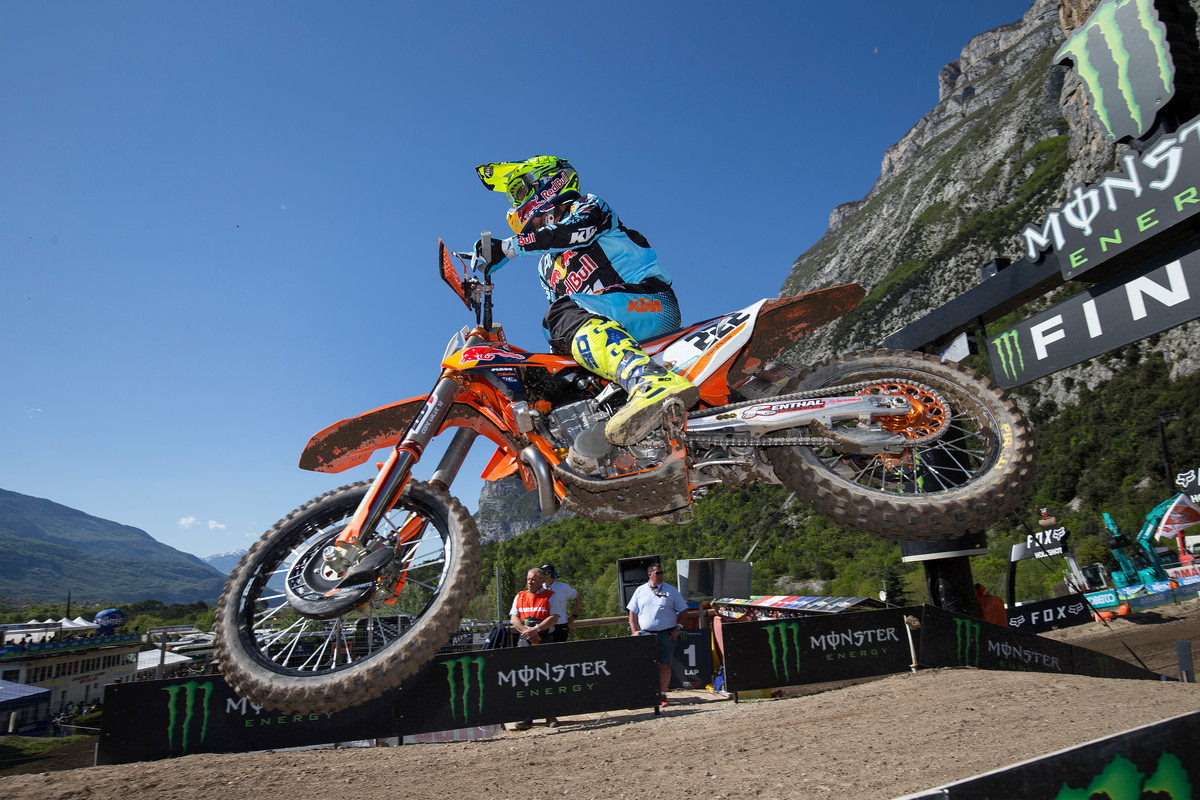 Cairoli has become only the third GP rider who has been able to get at least 50 wins with the same brand. Stefan Everts and Jeffrey Herlings were the only other riders to do that. Everts had 58 wins with Yamaha, while Herlings is the most successful KTM winner, garnering 61 GP victories with the orange brand, all in the MX2 class.
Here are Cairoli's Grand Prix wins with KTM:
2010: 8 GP wins (MX1)
2011: 6
2012: 11
2013: 9
2014: 9 (MXGP)
2015: 2
2016: 3
2017: 2 (series in progress)
Glen Helen Practice (Cudby)
Here are some shots from Thursday at Glen Helen practice featuring Trey Canard, Broc Tickle, Sean Cantrell, Mitchell Harrison, and Carson Mumford.
THE NUMBER: 13 (DC)
Happy 13th birthday to former (and we're guessing future) Racer X model Kira Savino. I don't know what her parents got her for Christmas, but I do know she rides Honda minicycles.
Head-Scratching Headlines of the Week
"Sask. ranchers stunned as beaver herds 150 cattle
Curious heifers marched after beaver, rancher calls event a very Canadian moment" – ABC.ca
"Yamaha Factory Supercrossers Chad Reed And Cooper Webb Are Ready To Add Some Salt To The Season In Utah" – Yamaha PR
Hey, Watch It!
Racer X Films: 2017 KTM EXC Line
Planning a big event this summer and need some halftime entertainment (besides a 125cc Dream Race) that just screams "America!"? Check this out:
JGRMX caught up with Justin Barcia the switch to Suzuki, the latest supercross format, what he does in his down time, and more.
Random Notes
Racer X All-Day Pit Passes – Limited Quantities!
Already thinking about summer plans? With the weather finally turning, we're thinking about them too, and if your plans are the same as ours, we'll be seeing you at the Lucas Oil Pro Motocross Nationals. Aside from the media tent, you can get the same access as our journalists that travel the series with the Racer X All-Day Pit Pass. Quantities are limited, so get yours before others start getting that summer itch too.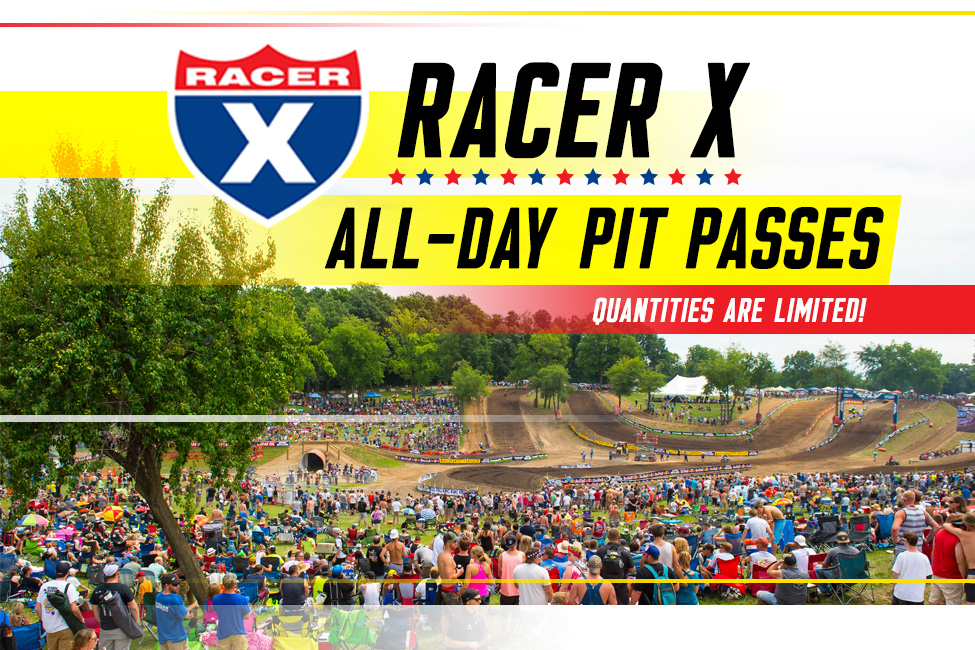 *If ordered online, the Racer X All-Day Pit Pass will include the cost of general admission.
---
Here is a cool cover from Germany, where Dirt Bike Rider is celebrating its 25th Anniversary.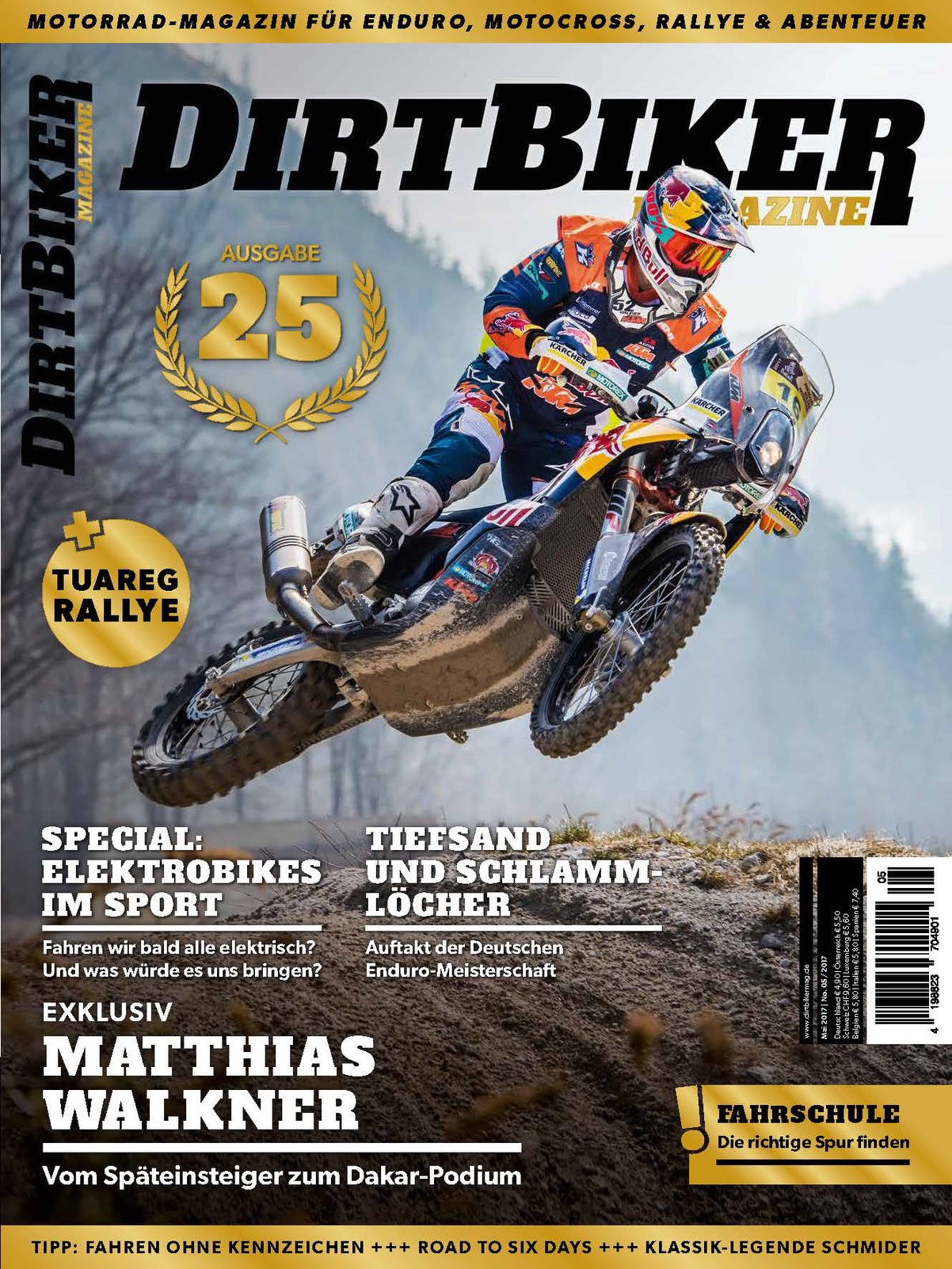 Alex Harvill, a 24-year-old rider from Washington, is in Talladega, Alabama, for this weekend's NASCAR race, where he will attempt to complete a world record jump of 425 feet. That's 74 feet beyond the current record of 351 feet, held by Robbie Maddison. Harvill will be going ramp-to-ramp, and needs to get his motorcycle up to 106 mph to make the jump. Here's more from USA Today.
---
Road 2 Recovery Golf Tournament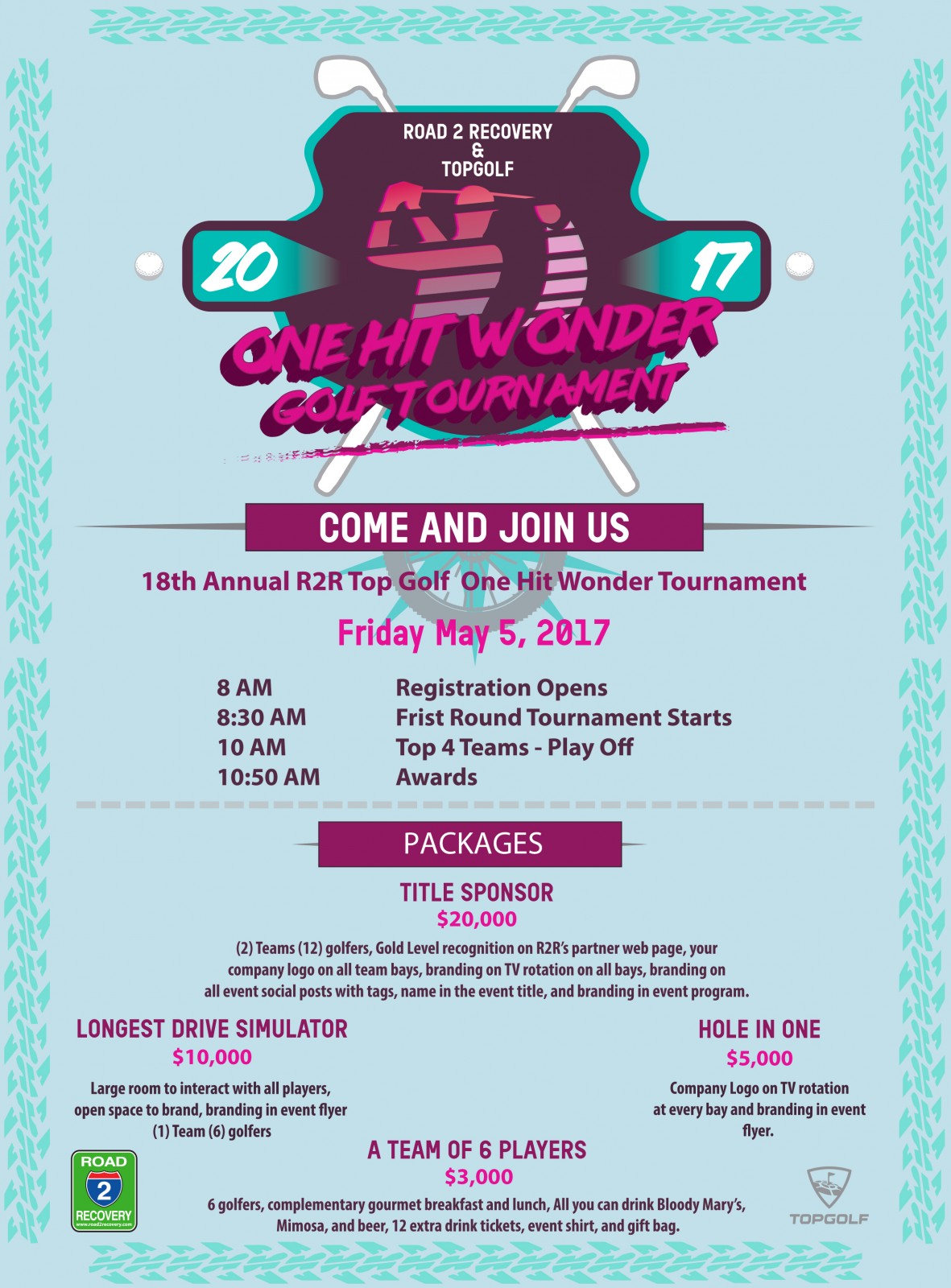 X- Roads of the Rockies Dual Sport Ride August 19 - 20, 2017 Chaffee County Fairgrounds, Salida, Colorado.
Have you ever wanted to ride motorcycles in Colorado and the Rocky Mountains? • But don't know where to ride?
Or stay, eat or get fuel?
Or you just want to ride somewhere different?
Or want to ride Trails & Mountain Passes you've only heard about?
We may have the answer. Visit ColoradoDualSport.com for more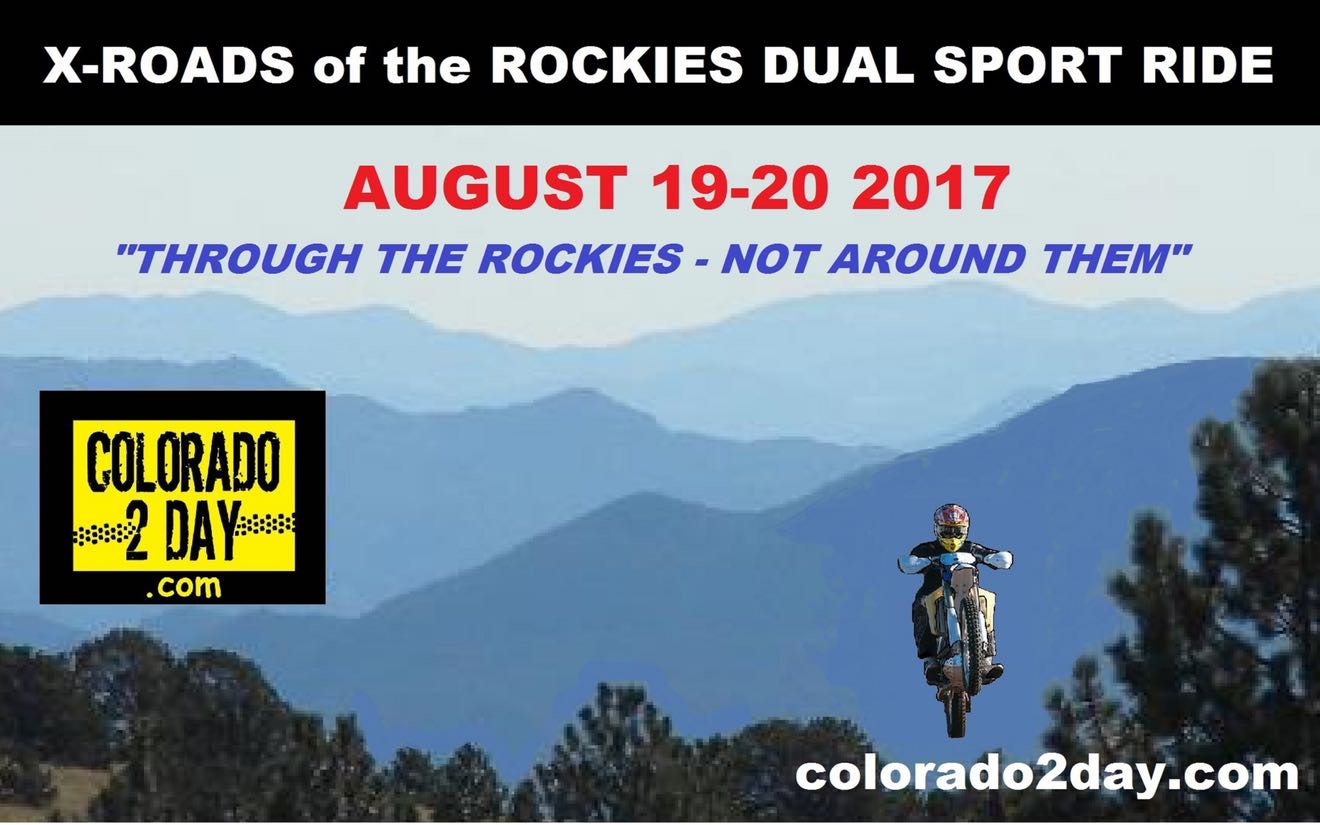 Attending the Salt Lake City SX this weekend? If so, be sure to stop by the Racer X booth—located in the Party in the Pits—and pick up a free copy of Racer X Illustrated. Also, don't forget to subscribe or renew for as low as $10 to get a one-year subscription, a FREE $25 Rocky Mountain ATV/MC gift card, and an extra issue! (Terms and Conditions)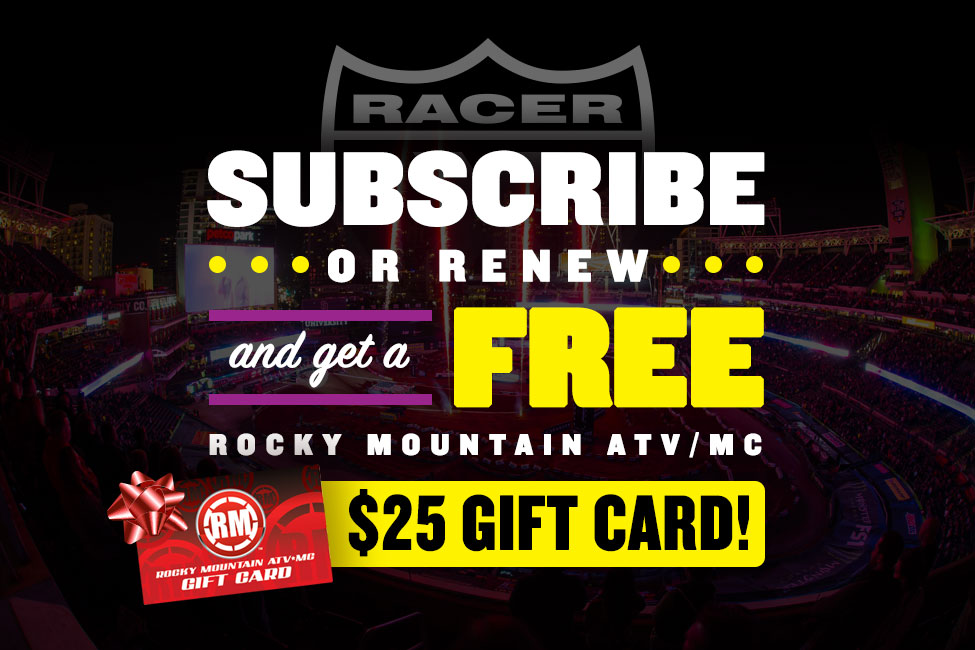 Not going to SLC? No worries—you can still subscribe to Racer X Illustrated for $9.98 right now to get 13 issues plus a free pair of Scosche Rockstar Edition Thudbuds. You'll also get immediate access to the current digital issue to read feature articles such is "Where is James Stewart?" and "Holding On," a tell-all of Ken Roczen's fight back from injury.
Thanks for reading Racerhead. See you at the races.