Welcome to Racerhead, on that rare off-weekend for Monster Energy AMA Supercross, right when things have totally heated up between co-points-leaders Eli Tomac and Ryan Dungey. Of course it's the Easter weekend, which makes this the Good Friday version of Racerhead. Happy Easter to all.
Despite it being an off-weekend for racing here in the States, it's been a big week here around the Racer X offices. First came the announcement of the new venue for the 2017 Monster Energy MXGP of the USA in September, and it's an old friend to us all: Gatorback Cycle Park in Gainesville, Florida. As was explained earlier this week, Gatorback held rounds of AMA Motocross from 1983 through 1997, at which point then-owner Bill West turned the Gatorback National into the Tampa Supercross. Despite losing its national, Gatorback never actually closed, and has since thrived under the guiding hand of Wyn Kern of Unlimited Sports MX since he took over.
The Thor Winter Olympics is one of the biggest amateur motocross events of all, and the central Florida area is a huge hotbed of motocross activity. When Youthstream was looking for a new venue to hold the MXGP of the USA after Charlotte Motor Speedway decided not to host another motocross race inside one of their car tracks, I spoke with Giuseppe Luongo about the possibilities, and we both agreed that if the event were to go on, it should be a traditional motocross track in the Southeast. I knew Wyn had been doing a great job at Gatorback, and a lot of people have been hoping to get a big pro race back in the Sunshine State. And with the early September date, it wouldn't be as hot as it might be in, say, June.
So just before the Daytona Supercross, we decided to meet in Florida and go have a look at Gatorback with Youthstream's David Luongo (Giuseppe's son and the VP and head of operations for Youthstream), Daniele Rizzi (CEO), and Agusto Vaelente (operations). Wyn met John Ayers and myself there, and we took a walk around and talked about all the possibilities for a new USGP, located right in the heart of Florida's motocross community. We agreed that this was the place to make the event happen in 2017, shook on it, and then went to work on the details. Several weeks later, it was finally announced, and I think it's going to be a fantastic event.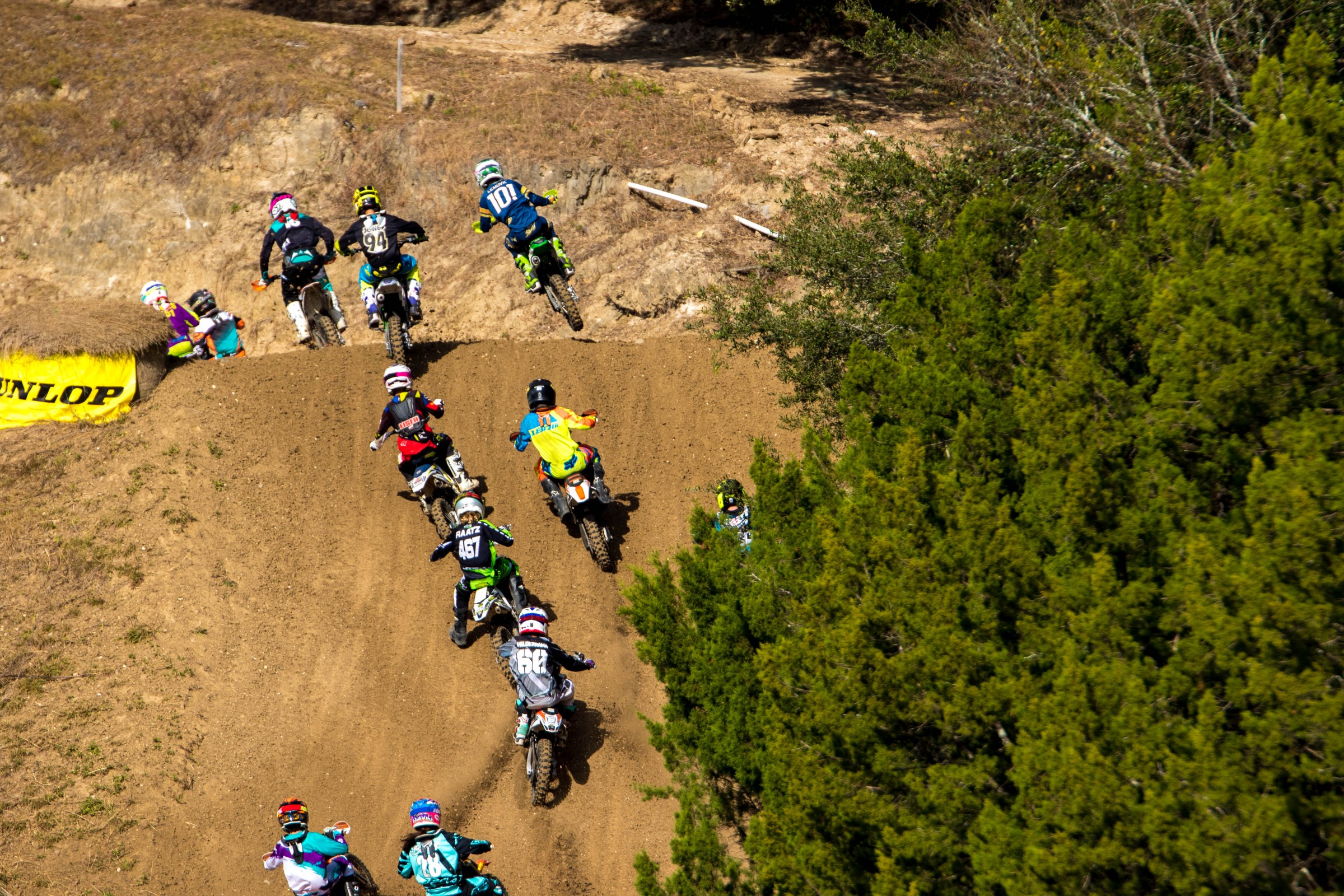 For what it's worth, I have long been a fan of the FIM Motocross World Championships and what is now called MXGP. I grew up as a big fan of Heikki Mikkola (sorry, Roger!) and later on Jean-Michel Bayle. I've been lucky enough to attend GP races all over the States (though never the great Carlsbad USGP of the seventies and eighties) and also Europe: Sweden, Northern Ireland, Great Britain, Spain, the Netherlands, Italy.… But I never actually got to work on one until now. It just wasn't in the cards for Youthstream and MX Sports to work together until now, and I know we're also looking forward to working with Wyn and his team on this event and more to come in the future. It is our collective hope that we can get AMA-based racers and teams more interested in coming out and participating in the MXGP of the USA and getting the USGP back to how it was at Carlsbad and Unadilla and Mid-Ohio back in the day. But there's still a supercross championship to be won, an entire Lucas Oil Pro Motocross Championship to be run, and a whole bunch of MXGP races in Europe, beginning with Arco de Trentino in Italy this weekend. I will definitely be watching on www.mxgp-tv.com, just as I have for years!
Next, High Point Raceway is hosting a rare Easter weekend race, as the Loretta Lynn's AMA Area Qualifier is going on out there right now, maybe 20 minutes from this office. What's cool about that is that everyone is getting his or her first laps in on the completely revamped High Point National track. Beginning last fall, my brother-in-law Jeff Russell, the Holbert family, and track designer/architect Randy Poulter have been moving dirt—to the tune of some 150,000 cubic yards! The track is a little longer, has more elevation changes than ever—including a huge downhill where the old finish line was—and several new switchbacks. Keep an eye on @racerxonline over on Instagram for some videos throughout the weekend of the new layout, which I got to ride yesterday and absolutely loved.
Now let's get into that Tomac/Dungey deal….
It's Freaking Tied! (Jason Weigandt)
I remember going into the Seattle Supercross in 2006, back when I was hosting the Supercross Live! webcast alongside Jim Holley. The previous weekend in Dallas marked the famous "Carmichael hit the boat" race, as he crashed in the whoops and into a display on the side of the track, and James Stewart and Chad Reed gained a bunch of points, with RC taking an uncharacteristic sixth. That set up all sorts of crazy scenarios for Seattle, and when it was over, the craziest one had come to fruition: Reed and Carmichael left the race tied for the points lead, with only the Las Vegas finale left to go. Stewart was back only five points further. When I signed off on the show that night in Seattle, I said we would celebrate the following seven days as "the week they were tied." Truly, I knew then we would probably never see such a scenario again in our lifetime. Two riders tied for the points lead going into the finale, and a third rider five points back.
We're not quite there again, because Seattle isn't the next-to-last round this year—we still have Salt Lake City and New Jersey yet to run before we head to Las Vegas. This is still a miracle scenario, though, and also unlikely. Tomac was down four points coming into Seattle, but with him ripping off so many wins lately, no one was adding points in even numbers. He would likely make up three or five points on Dungey, right? Well, that's why they run the races. Remember after Atlanta, when Dungey held a big enough lead to win the title as long as he finished second in every race for the rest of the season? Hasn't happened. Tomac hasn't won out either. You just can't bank on two riders going 1-2 for months on end, just like no one banked on Carmichael crashing into a boat and finishing sixth way back when.
Now we're down to a three-race series, and obviously, Tomac has the upper hand with momentum because he's finished ahead of Dungey in seven of the last eight races. Three races is so few, though, that anything can happen. A first-turn crash could change it all, or Tomac (or Dungey) could have a crash and break something on the bike. You know Tomac was fearing that as he went down on Saturday night. Three races is such a small sample size; one tiny error or freak situation could lead to an insurmountable gap. That's why this is going to be so exciting and so dramatic as we get to these last three races. Maybe we can call it the "weeks they were tied" and celebrate like we did back in '06?
WHAT I LEARNED THIS WEEK (Steve Matthes)
Not the usual amount of shows this week with the off-week this weekend, and for that I say thank God. It's been 14 weeks of grinding in the SX series, and this weekend off is very welcome. But we had some shows going on, and here's what I learned from them.
Eli Tomac was on the PulpMX Show and said he's looking forward to the next "couple of years" with the Monster Energy Kawasaki deal, so we probably have an idea of how long his extension is with the green guys. Tomac also said that he, along with others, gets trapped into watching videos of riders not jumping things on beat-up tracks (like Seattle) when, if the track was dry, it would be no problem. That's what he was talking about with the triple onto the tabletop, as he said it really wasn't that hard.
Ryan Villopoto was on to talk about Seattle and how he doesn't miss racing one bit. He also read on VitalMX that the video I made with him wasn't good and blamed Swizcore and then James Lissimore for that.
Rick Johnson was on and said he thinks Ryan Dungey could be affected by Ken Roczen's injury as he was with David Bailey's injury in the beginning of 1987. RJ also talked about being there as late as he had to for the fans because he knew that was part of his job. I can attest to this, because in Miami in 1989 I was watching him sign anything and everything after the race until pretty much everyone was gone. Who could have known that Miami '89 would end up being the last SX race RJ ever won?
Besides getting the Race Day Live! gig alongside Jim Holley and doing arenacross on TV, Daniel Blair also has a line of hand cleaner that a lot of the teams in the pits are using.
David Vuillemin was on and talked about buying a new house and renovating it. He also said that everything ended fine between him and Christian Craig, and it's too bad because all of us still haven't seen how fast Craig can truly be.
I did a one-on-one podcast with JGR Suzuki's Phil Nicoletti, and he spoke about his recovery from a brutal crash and hopes to make it back by the end of Lucas Oil Pro Motocross. He talked about how he grew up pretty much right next to the site of the original Woodstock concert site and how his grandpa would find hippies just wandering his fields. He then spoke about growing up in New York and making it as a pro through some tough circumstances.
Pro Perspective (Jason Thomas)
Finally, a break in the action. After months of Saturday night racing, the traveling circus takes a minute to reflect, celebrate Easter, and refocus for the final three rounds of supercross. For the two 450 riders hoping to become the 2017 champ, there is no time to waste. They are each on very different ends of the momentum spectrum, but the task is the same for both. It has become a showdown for the whole shebang. Ryan Dungey hasn't won a race since February, and if he wants this title, he has some winning to do. Eli Tomac has won everything since, excluding Seattle—and even then, it was a runner-up performance that had everyone on their feet. No matter who wins, at least we have excitement down the stretch, and that's something we simply haven't had in a long time.
For the rest of the riders, it's outdoor testing time. Sure, there are three important supercross races left, but the outdoors loom large on the horizon. They will get an opportunity to reset the score, and for some, this is their time to shine. For Blake Baggett, he has a great opportunity to capitalize on the Dungey-Tomac supercross battle by coming in more prepared than they can be. Supercross is consuming their entire focus, allowing him to make up some valuable ground before Hangtown.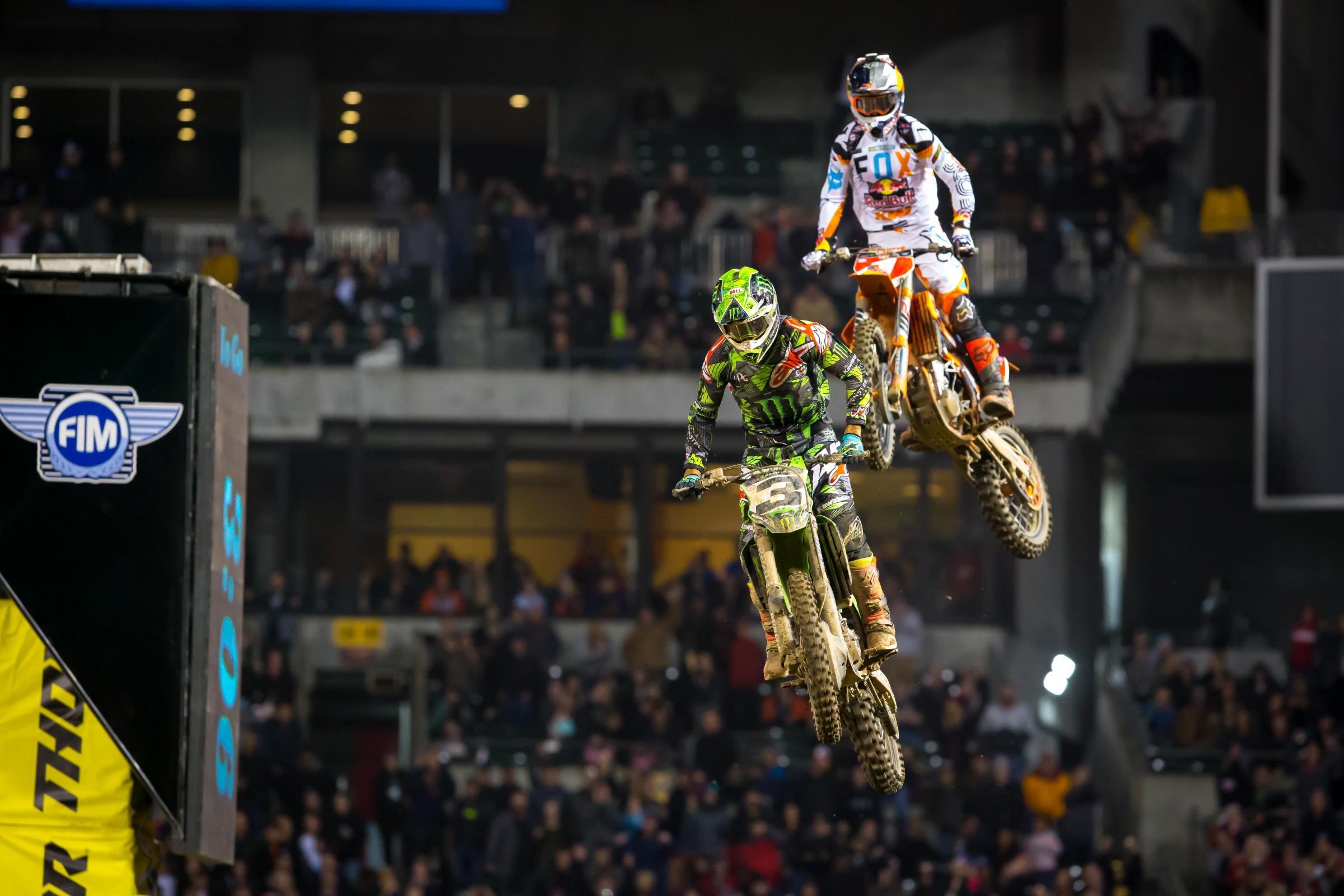 The 250 titles are still undecided with one round left for each coast plus an all-important combined round in Vegas. That Las Vegas round should be huge drama, as big points swings are possible with the combined class structure. For those not in a points battle, they will be aiming to make their mark at Hangtown. Riders like Alex Martin, Jeremy Martin, Shane McElrath, Austin Forkner, and Dylan Ferrandis have to be salivating over a chance at redemption. They will be logging laps and long days, determined to come into Sacramento with a renewed fire.
This weekend, though, the 450 riders will finally get to take a deep breath and relax. The continuous riding, training, traveling, and racing don't allow for much rest. Hopefully, they will get to take their minds off of racing, if even for a few hours. This sport consumes every aspect of your life at their level. Even when they aren't actively doing something to prepare, their minds are still churning. Moto is 24/7 for these guys so I hope they can find the time and see the wisdom in turning it all off for just a little while.
With this being an off-weekend for racing, here's a tale from yesteryear, from Eric Johnson:
DOGGER TALE (Eric Johnson)
For the 1983 season, Team Yamaha hired a 16-year-old kid from El Cajon, California, named Ron Lechien to contest the AMA 125cc National MX Championship. Lechien had turned 16 in December of 1982, less than a month before the season-opening Anaheim Supercross. Back then there was no AMA 125cc East-West Regional—it would not arrive until 1985—so Yamaha decided to keep their young rider on the sidelines until he got some supercross practice in.
"Atlanta was my very first supercross," says Lechien, who today works at Maxima in El Cajon. "We were concentrating on the 125cc Nationals that year, and Yamaha kept me out of the first three races. I don't think they wanted to throw me to the wolves too early!"
Ultimately, Lechien would join the supercross fray and compete at Daytona, Dallas, Pontiac, Kansas City, and Washington, D.C., steadily gaining confidence and working on the fundamentals of riding 250cc supercross against the likes of future AMA Motorcycle Hall of Famers like Bob Hannah, David Bailey, Broc Glover, Jeff Ward, Johnny O'Mara, Mark Barnett, and his neighbor and teammate Rick Johnson. Then, on Saturday morning, June 11, Lechien idled out onto the Orlando Citrus Bowl supercross track for practice. The Dogger took his time learning the Citrus Bowl circuit.
"The way the track was configured, there was a start, a chicane, some whoops, then three or four pretty good-size jumps," he remembers. "In practice, I doubled one of them. After I did, I noticed that nobody else was doing it, so I decided right then and there not to do it again. Back then the teams weren't filming practice and stuff like they do now, so guys like Johnny O' and David didn't even know that I had that double down! In fact, I didn't even do the double in my heat races. I saved it for the main event!"
Later that evening came the 20-lap main. "I got a pretty good start—I think I was in about fourth," the Dogger says. "When we came up to the double jump, I hit it, flew by a bunch of guys, and landed right next to O'Mara, who was leading the race. Johnny lost the front end in the next turn and I was in the lead. After that, I put my head down and took off. It didn't take long for me to build up a 15 to 20-second lead. I rode conservatively, watched my lines, made sure I stayed up, and the rest was history."
The 16 year-old Californian on the #224 black-and-yellow Yamaha YZ250 had won his first professional AMA event. Shockingly, it came in a 250cc supercross! And then one week later, Lechien earned another career first: He won his first AMA 125 National. That was quite a stretch for a 16-year-old rookie!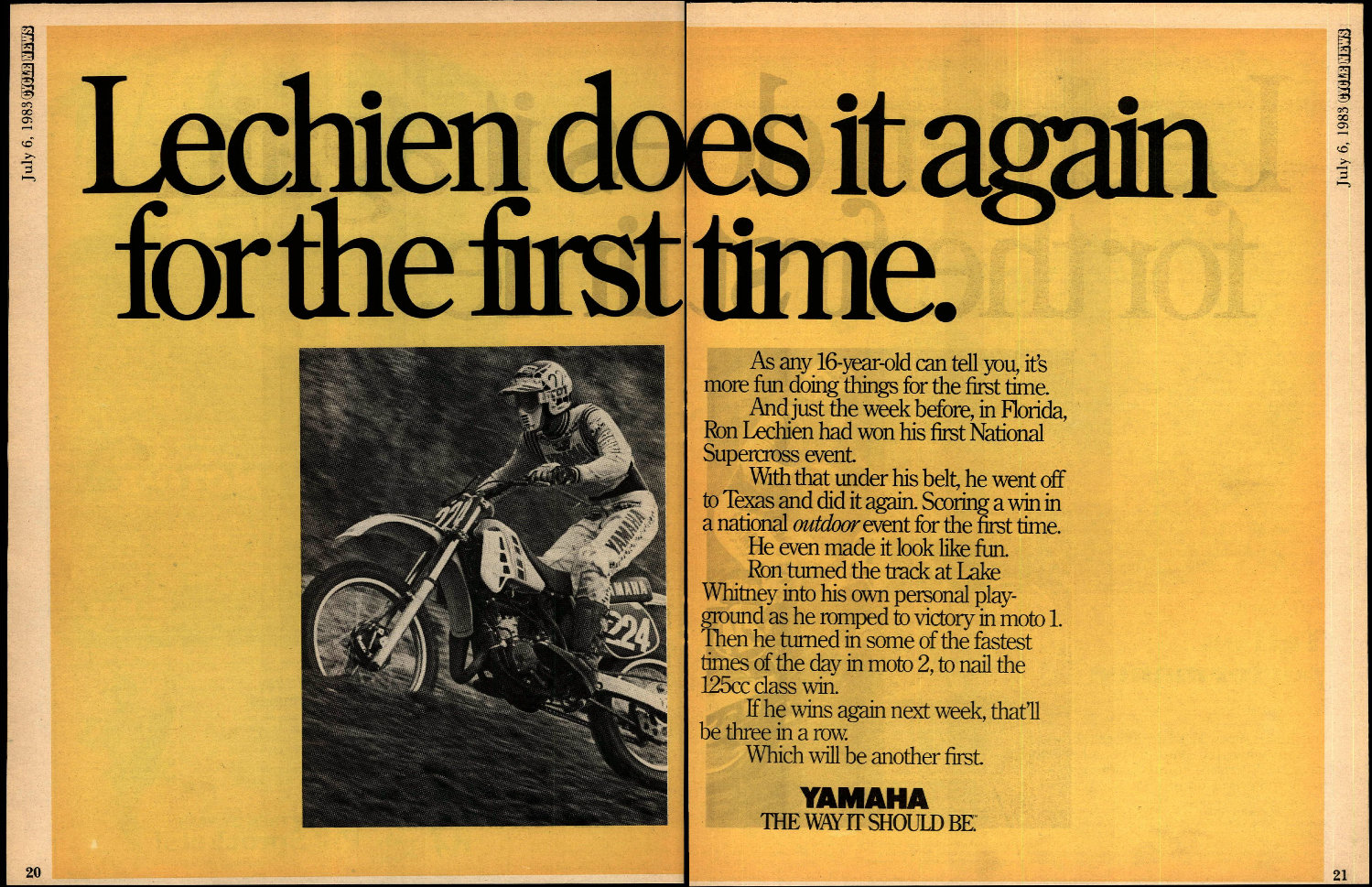 GREEN OR ORANGE (Andras Hegyi)
A few things were decided in Seattle. First, with three rounds to go, only three riders still have a mathematical chance to be Monster Energy AMA Supercross champion this season: Red Bull KTM's Ryan Dungey and Marvin Musquin, and Monster Energy Kawasaki's Eli Tomac. Dungey is going for his fourth 450SX crown, while Musquin and Tomac are trying to grab their first.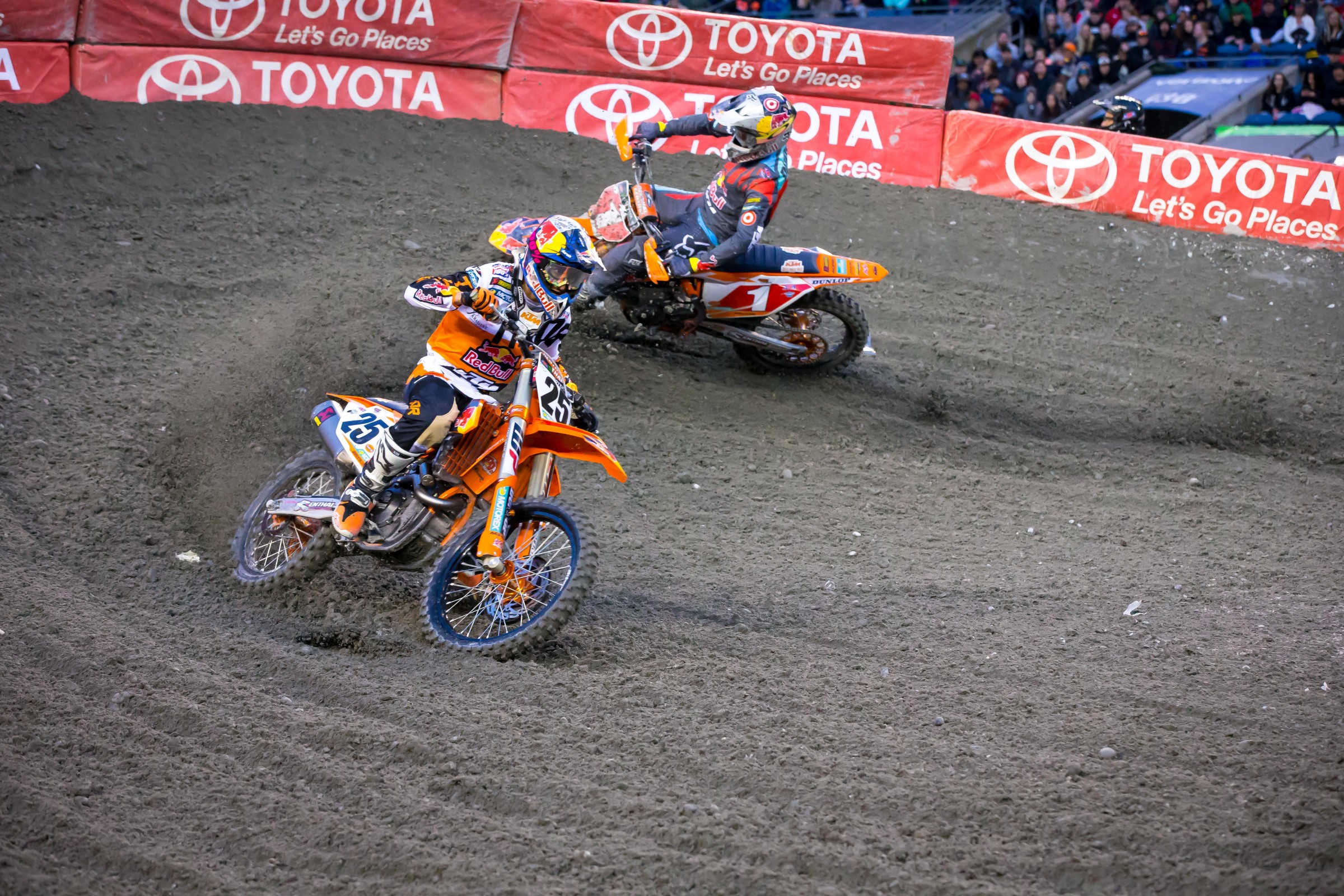 Because only KTM or Kawasaki remain as title-contending brands for supercross, it means that Honda will have to wait another year for a chance at a title. The most successful premier supercross class brand hasn't captured a 450SX championship in 14 years. Honda HRC's Cole Seely is having a steady, solid season, holding down fourth in points, but he's now more than 75 points behind Dungey and Tomac, which means he's not going to get Honda the title it covets. Despite the red-hot start by Ken Roczen, things went south quickly with his big crash at Anaheim 2. So Honda's impossible task of replacing Ricky Carmichael continues. The GOAT was the last premier-class SX champion in the saddle of Honda in 2003. He did it almost a decade and a half ago—on a CR250.
BRADSHAW BOULEVARD (DC)
Last weekend at the Steel Creek GNCC in Morganton, North Carolina, the Beast from the East himself, Damon Bradshaw, made a cameo appearance. Damon, a native of NC now living in Idaho, came out and did the Sunday morning race and looked good, though he did have some bike issues, as he explained online.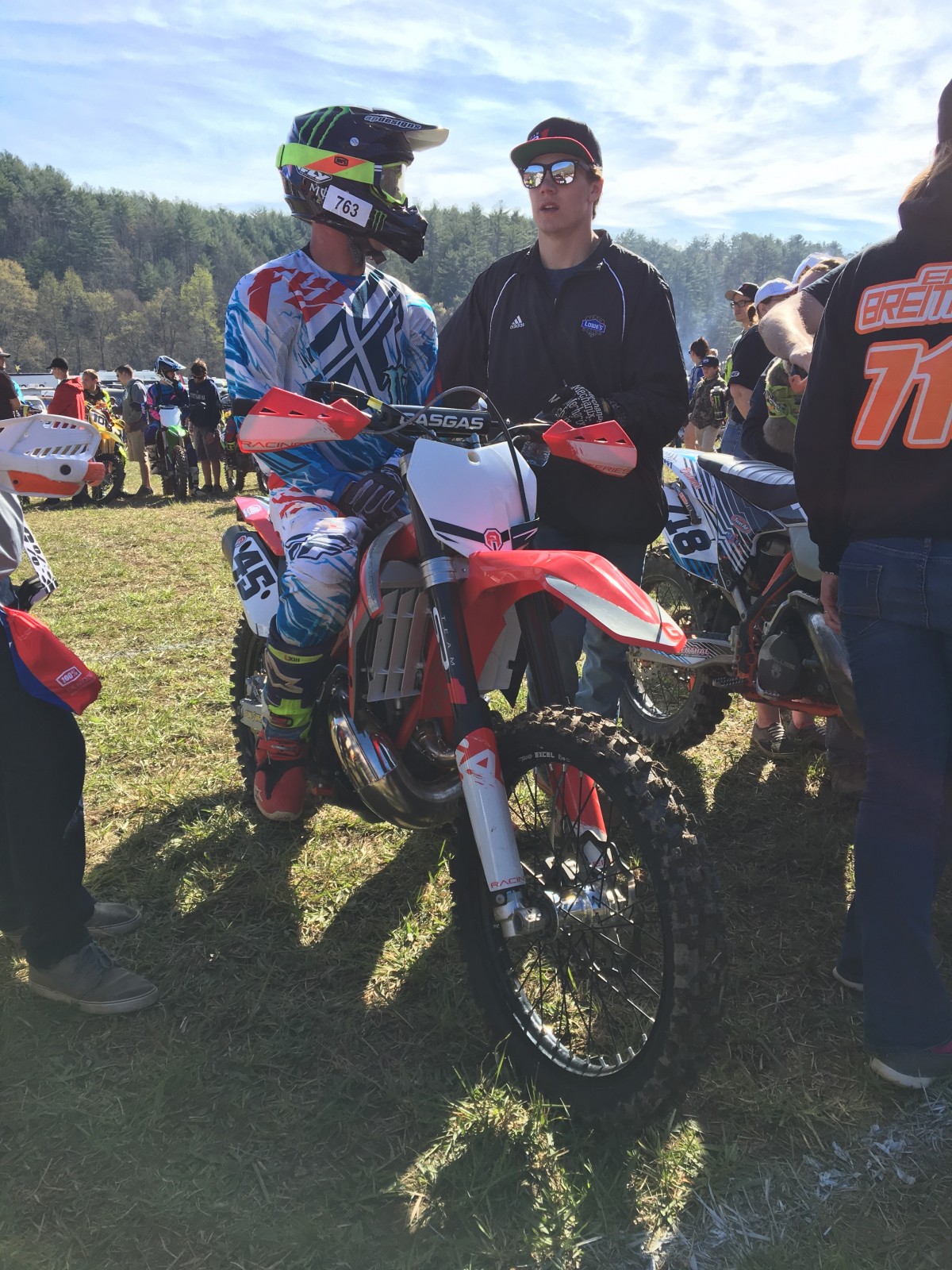 "Ran my first GNCC on the 2017 GasGas last weekend," wrote Bradshaw on social media. "Had to make an unexpected pit stop that docked me 30 minutes but got back on the track and still managed to get five laps in. Still polishing the suspension but it was a great test. Learned a lot and will be ready for Society Hill next weekend."
Society Hill is the site of the Camp Coker Bullet GNCC next weekend. Great to have Bradshaw back, even if the Boulevard at High Point is no longer there! But we do plan on naming something after one of the track's all-time favorites. Bradshaw's Banzai Hill, anyone?
Funny story: Back in maybe 1995 or '96, Damon came to the GNCC at Ocala and decided he wanted to do some riding. At the same time, Larry Ward was there, and so was Mickael Pichon. The four of us put on course marshal bibs and jumped in like we were officials—which I kind of was, if I remember correctly—and we proceeded to have a blast. All three of those guys were obviously extraordinary motocross riders, and they could haul ass in the woods too. Needless to say, I was riding way over my head just to keep up, and I finally crashed and broke my hand. Dad wasn't too happy with me, though it was an all-time fun afternoon of riding with people you just don't get to do that with very much. Now when Damon does GNCC, about 700 guys and girls will get to ride with him every time he heads into the woods!
BiCOASTAL (Andras Hegyi)
In the first 13 rounds of supercross, Yamaha wasn't able to win, in either the 450 or 250 Class. But Round 14 was finally a good one for them. Yamalube/Star Racing Yamaha's Aaron Plessinger earned the brand their first victory in 2017. Last year, he won in the East Region (Indianapolis) and this year the West Region (Seattle), becoming only the fifth Yamaha rider to win in both Regions.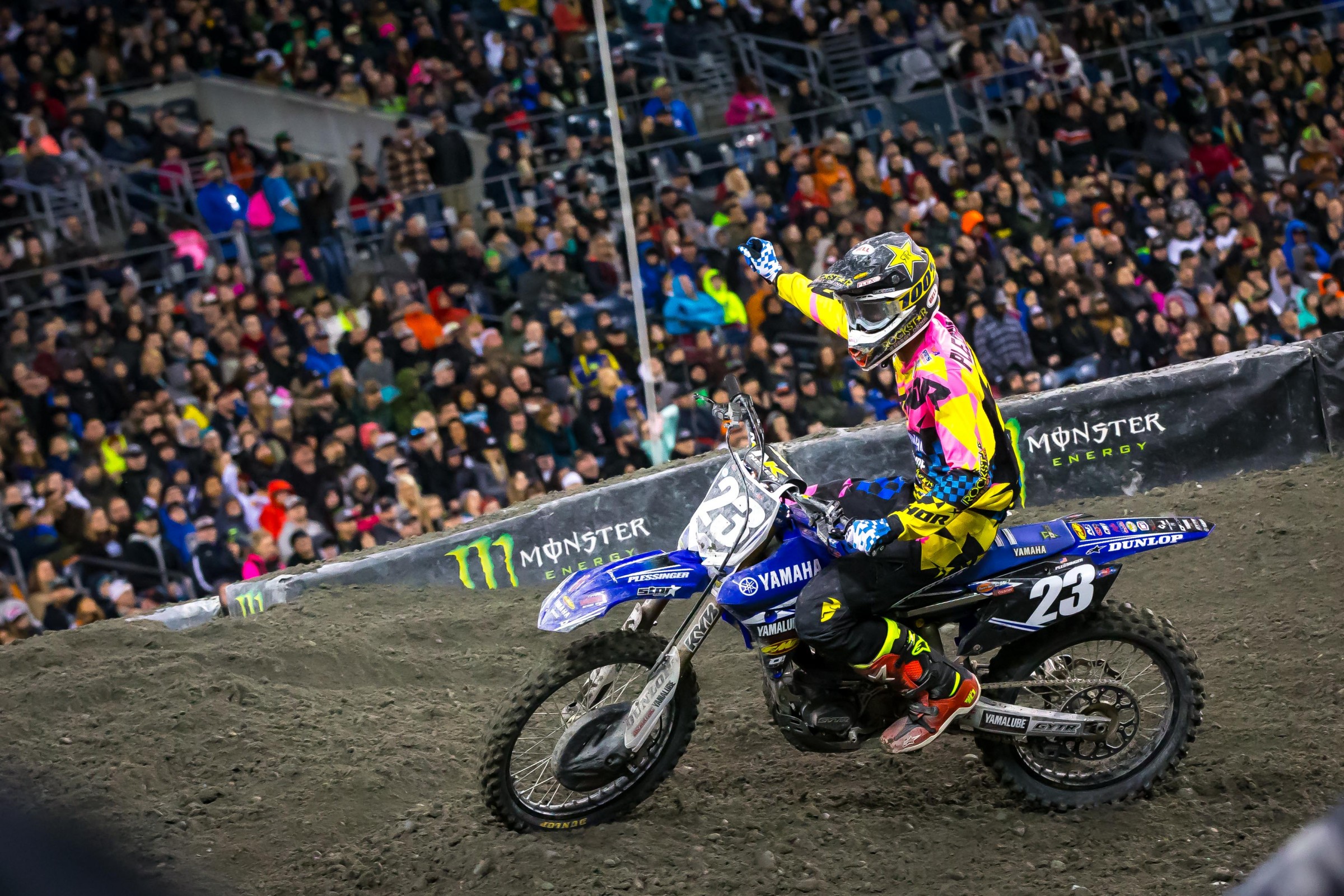 Mike LaRocco: He first won in the East in 1988 (Pontiac and East Rutherford) and the West in 1989 (Houston was a combined East/West race).
John Dowd: The Junkyard Dog took victories in the East Region in both 1996 and '97 and then in the West in 1998. He won the West Region Championship that same year.
Ernesto Fonseca: The two-time 125 Supercross champion El Lobito (the Little Wolf) got wins in the East in both 1999 and 2000 and then in '01 he was triumphant in the West.
Ryan Sipes: Before making history in 2015 as the first American to even win the individual overall at the International Six Days Enduro, the Kentuckian collected 250SX wins in the East in 2011 and then the West in 2012 while riding for Star Racing Yamaha.
Aaron Plessinger: AP23 grabbed his first 250 SX win in the East in 2016, while this season he has won in West. And this win in Seattle marks the third win of Plessinger's career but the first outside of Indianapolis—he won the Ironman National back in 2015.
THE NUMBER: 298 (DC)
Last Sunday the Amsoil AMA Grand National Cross Country Series' Steele Creek GNCC went off in Morganton, North Carolina, in front of a massive crowd. As expected, a lot of the fans showed up wearing #298 jerseys in honor of the tragic deaths of #298 Cody Gragg and his father Chris in that interstate RV crash some three weeks ago. The Graggs lived just 20 miles from the site of the Steele Creek track, and were a vibrant part of the Carolina motocross and off-road community. #298 stickers were handed out to everyone (until supplies ran out) and a massive #298 number plate was hung in the first turn. But what was really cool about the whole gathering was the fact that in the Sunday afternoon bike race, which Cody would have been in, and which was won by Cody's friend and reigning GNCC #1 Kailub Russell, there was a total of exactly 298 riders entered in the race. It was a coincidence, of course, but a very fitting one.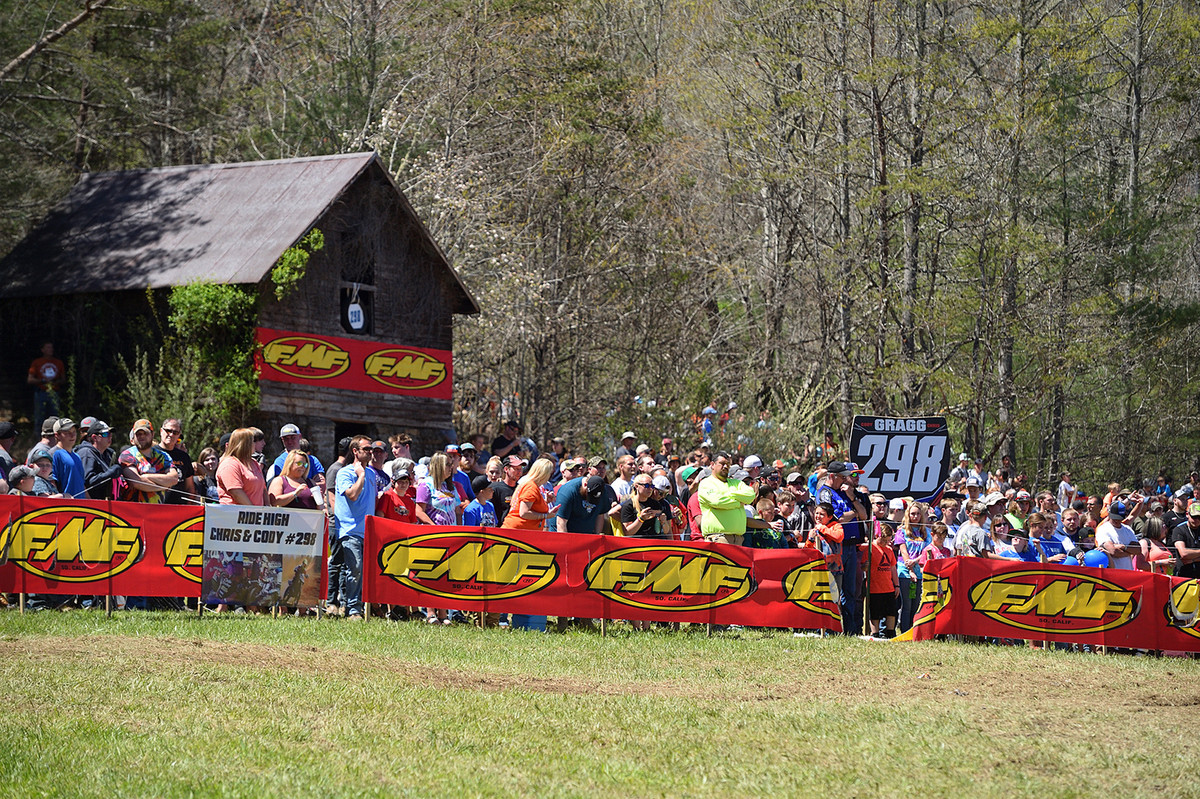 Hey, Watch It!
Racer X Films: Alta Redshift
Racer X Films: Onboard with Blake Wharton
Justin Hill brought his guitar with him to the top of the Space Needle in Seattle.
Oh man, if we could ever get either Jason Thomas or Blake Wharton or David Pingree over to India for the MRF Mogrip FMSCI National Supercross Championship, I'm thinking they are going to come home with at least a trophy, after spotting this video MXMattii posted on Vital MX:
Two different motorcycle-related documentaries are among the films nominated for an Emmy this week: Being Evel and Unchained: The Untold Story of Freestyle Motocross. Check out the trailers for both right here.
ADVERTISEMENT OF THE WEEK
"Just wanted to give a update on the train jump Kyle went for last week, here are some screen grabs from the actual jump. To answer your question, he was bucked over the bars on the lip and landed in a superman, he has 6 broken bones in his face. Footage will be released in a few places, online and within two new moto movies being shot and released this year. follow motopimps on instagram for future updates on footage releases."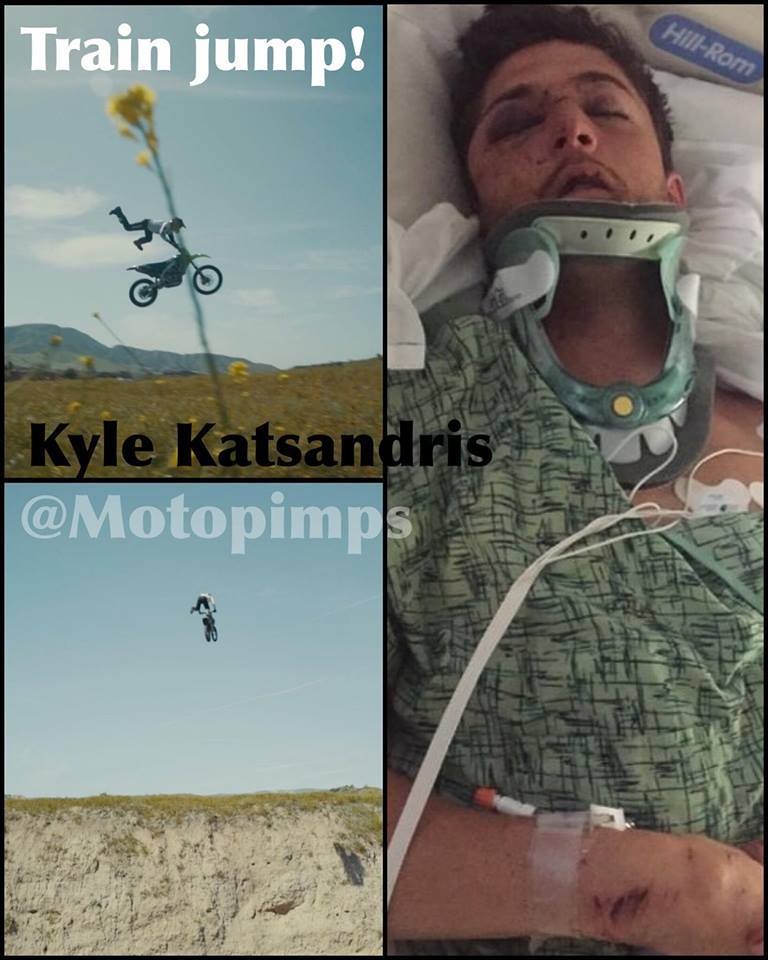 Random Notes
Looking for a good history story involving motorcycles for this off-weekend's reading? Look no further than Mat Oxley's column "Honda's failed Great Escape" right here.
It's about how world events can alter the outcome of a motorcycle race, and in this case it was a general strike in Argentina that prevented Honda HRC's top MotoGP riders from getting the harder front slicks needed for the race, and both Marc Marquez and Dani Peedrosa suffered almost identical crashes when their front ends went out from under them. That's not the history piece that I'm talking about; it's the one at the bottom of the article, about how the Second World War basically got started with Germany's invasion of Poland while the International Six Days Trial (now Enduro) was going on in Austria. Many British riders and crews were basically in hostile territory and had to leave the race and work their respective ways across Europe to get back across the English Channel before the war started. It's a good read, and it makes you wonder how it is that no one made a movie about this particular episode in the war—though Steve McQueen's Great Escape motorcycle-riding sequences certainly seem inspired by the '39 riders escape.
"The men were almost 1,000 miles from home and they had no way of getting there, except by racing across Europe on whatever vehicles they had, hoping to cross the English Channel before war was declared," wrote Oxley in his Motorsportsmagazine.com column. "Some rode motorcycles, some drove cars, some commandeered sidecars and other vehicles. Much of the trip was through hostile territory, so they kept going, night and day, never knowing when they might be stopped and locked up."
And what kind of drama awaited the British soldiers who didn't make it off the continent before the Germans caught up with them? Here's a trailer from the new Christopher Nolan movie Dunkirk that looks like it's going to be a fantastic film:
If you're a dirt bike enthusiast looking to work in the motorcycle industry, Ride Engineering has a position open for a part time sales associate. This could lead to full time employment if you can exceed their expectations. For immediate consideration send your resume to info@ride-engineering.com.
---
Looking for a great summertime riding adventure? Check out X-Roads of the Rockies, which will take place on August 19-20 in the mountains of Colorado. Michael Brown has been telling us all about it, and you can find out more right here. And if you want to sign up, blow up their inbox right here.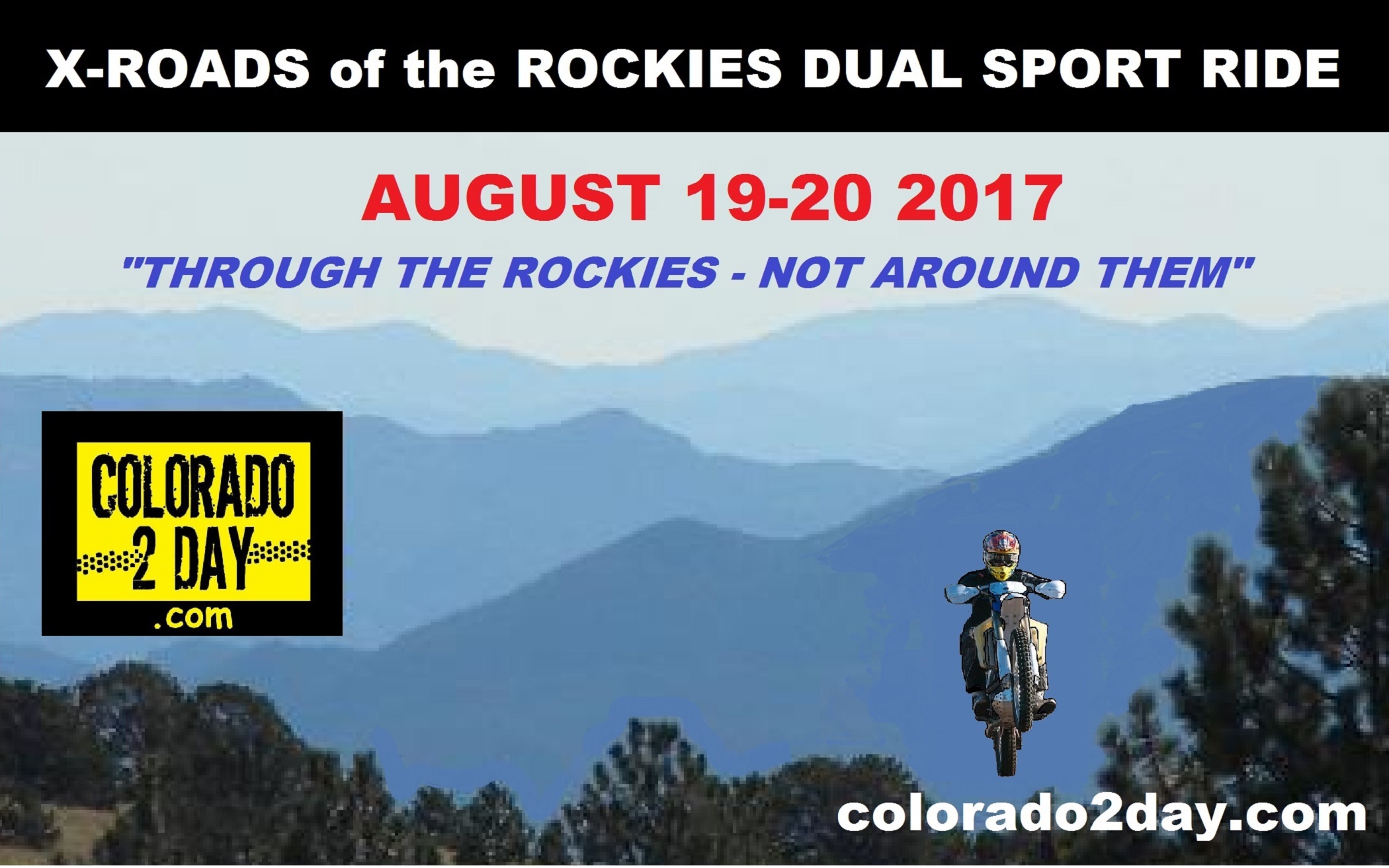 Subscribe to Racer X illustrated now for as low as $9.98 to get 13 issues plus a free pair of Scosche Rockstar Edition Thudbuds. You'll also get immediate access to the current digital issue to read feature articles such as Where is James Stewart? And Holding On, a tell-all feature about Ken Roczen's fight back from injury.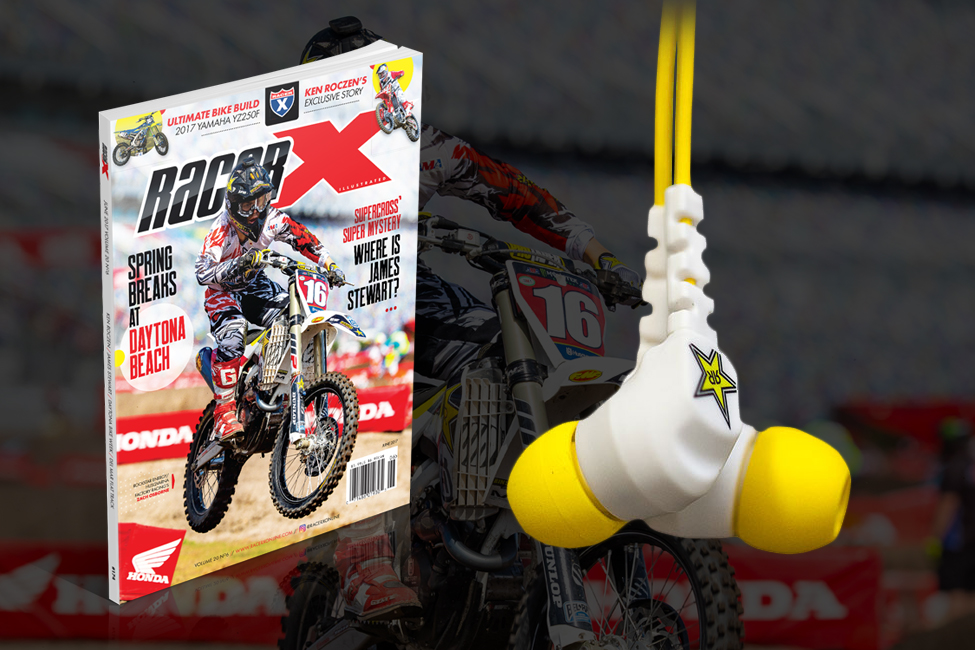 Thanks for reading Racerhead, and Happy Easter. See you at the races.