Daytona International Speedway
Daytona

,

FL
Daytona
Monster Energy AMA Supercross Championship
I didn't go to Daytona this past weekend. I'm not really a fan of the race for many reasons, one being that it's hard to cover properly as a media guy. Let me explain. As a freelance journalist, the costs are high to head there in the middle of Bike Week as the airlines, hotels, and rental car companies all jack up the prices. Also, it's an inconvenient race to cover with a closed press room (so why sit there when I can chill at home?), the passes are weird, the viewing areas suck (for media. They are great for fans) so I stayed home and parked it on the couch this weekend. Hey, it has been nine straight weeks of travel, sue me.
Having said all the above, I really feel like everyone should go to Daytona at one point in their lives. It's a pretty jarring sight to see a supercross track crammed into a massive NASCAR speedway and the visuals of the entire thing are pretty cool. Having gone there since 1996, I've seen plenty of Daytona so I'm good, but I encourage others to check it out.
I'm very certain that Ricky Carmichael knows how to build a track that allows for good racing. However, the RC-designed Daytona track the last two years has been absolutely roasted by pretty much every rider who raced there. From people I talk to, it seems that RC is constrained by the Daytona Speedway people to keep the speeds down (to avoid a bike flying into the crowd or into the spectator barriers even, which happened a few years ago and resulted in litigation against the speedway), he's lost 12 feet of room from the widening of the pit lane a few years ago and there's some sprinkler heads tucked into the grass that he's got to avoid.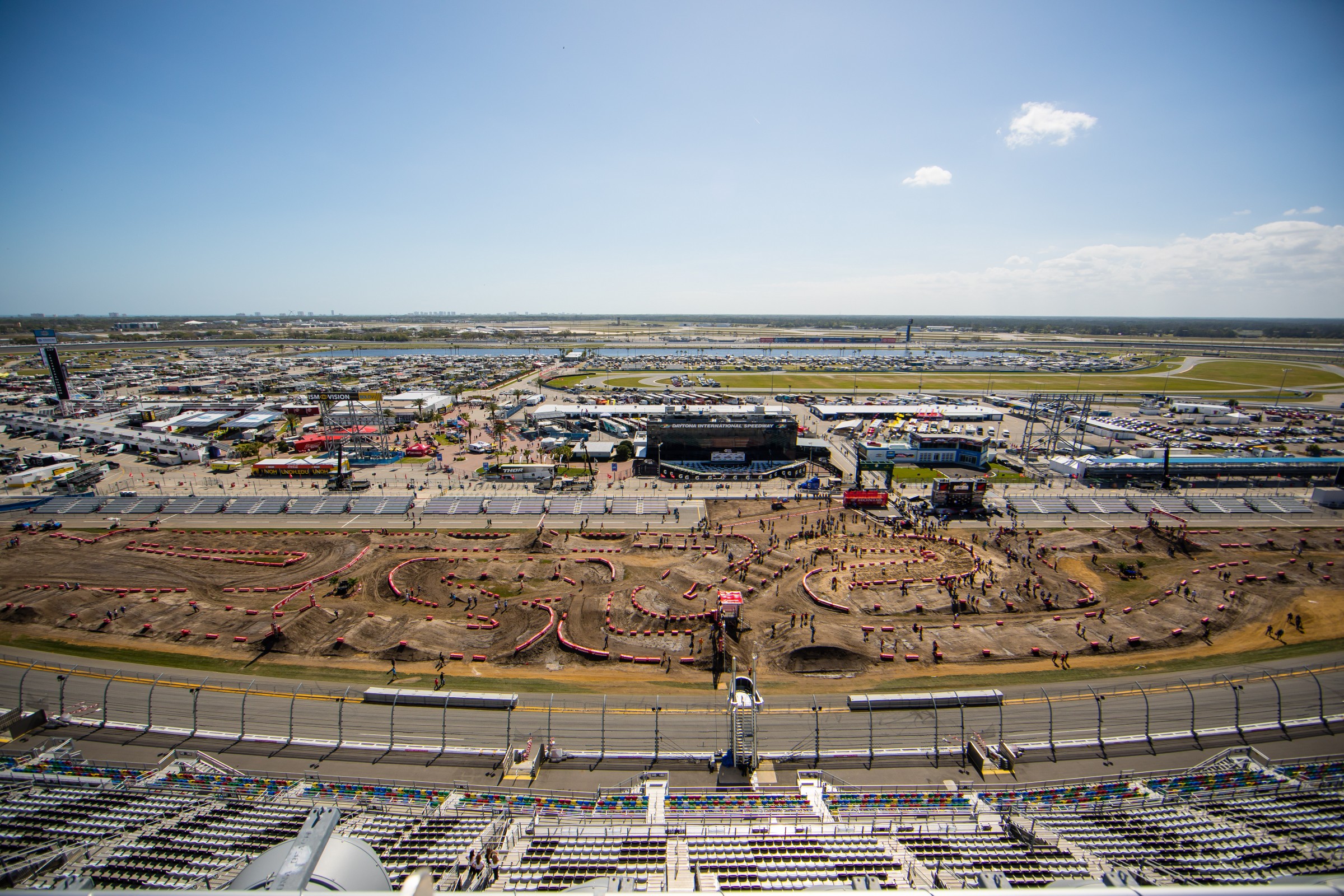 The track's turned into a tight, narrow corner fest where the start is everything, and good luck getting through some dudes, and it's not RC's fault. Or at least I'm going to assume it's not his fault and he does know how to design a track, but he's trapped. Perusing RC's Twitter feed I came across a few of these tweets to him:
@RickyCarmichael another year another follow the leader event....
@DISupdates @RickyCarmichael good idea because last night's track was a disaster
@RickyCarmichael could you possibly design a worse track for racing? Awful. Two years in a row of shit.
@RickyCarmichael one lined beach racing again for Daytona. The only reason they're taking outside lines is to avoid the sandinface. Sxmx (this guy even put the dreaded poop emoji at the end!)
@RickyCarmichael this Daytona sx looks like a pee wee track. Boring. Advice: make a giant sand whoop section next year.
Now gauging social media reaction to anything is dangerous because, well, have you seen some people on there? But the point is: I'm sure RC's stoked to have these limitations put on him and then be blasted by people and riders when it's not really his fault.
People tell me he's got one more year on his deal with the speedway people to design the track and that he's as frustrated as anyone with what he has to work with. If I'm RC and I have millions in the bank, do I really want this trouble? I think I bail unless the speedway people let me actually do what I know will create good, exciting, close racing.
You all saw the race and what happened so let's forgo that and dive into the points standings with just seven races left in this drama.
250SX East Points
1 16 Zach Osborne Abingdon, VA 86 - Daytona didn't go to plan, but that doesn't mean Wacko wasn't fast there. Six point lead for the 16 and he looks very good every single week. Bike's good, his mechanic Dave Feeney has been wrenching on the circuit since 1995 (for Phil Lawrence!), and he's taken all the steps to make this title his to lose. I say Daytona was just a blip in the machine.
2 17 Joey Savatgy Thomasville, GA 80 - Joey's been good and he'd be your points leader if not for a three-laps-to-go-crash in Toronto. I tweeted this out on Saturday and I stand by it: I wish Joe Dog would enjoy racing dirt bikes more. I mean, I'm not in his camp or speak to him that much so I could be way off, but doesn't it seem like Savatgy's never that stoked on his finish or even life itself?
3 36 Adam Cianciarulo New Smyrna Beach, FL 77 - Happy to see AC win Daytona. There, I said it. I'm in the media and I'm a fan of Adam. Suck on those lemons, bro. Almost three years after his last win the once-wonder kid took the checkers again and there seems to be lots of surprises from Adam himself and others that he did this after the injuries he's been through. See, I don't get that part, though. He's hugely talented, he works very hard at rehab/practicing and his bike/team is solid. I don't want to seem like Kreskin here but OF COURSE he would win again. I'm not surprised in the least, he's that good.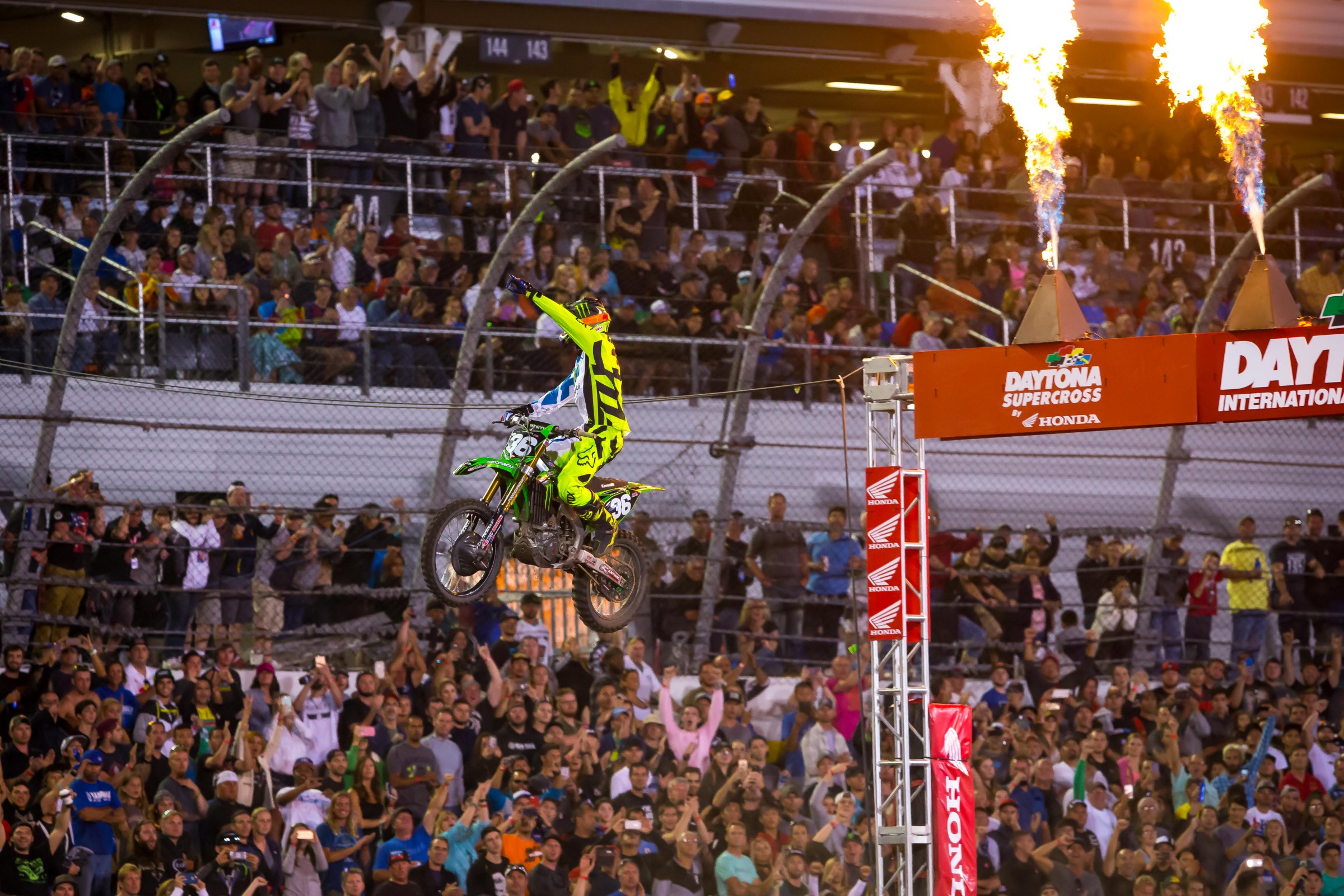 4 44 Jordon Smith Belmont, NC 70 - Smith's been a surprise, right? He's been more consistent than ever and looks to be adapting to the KTM machine. I know the GEICO guys had a deal with Smith for 2017, but he wanted out so they let him go. Whenever someone says "Hey, man, I know I have a contract but you know what? I just don't want to ride for GEICO Honda" I raise an eyebrow, but this has been working so far.
5 108 Dylan Ferrandis Lake Elsinore, CA 54 - It was cool to see the emotion from Ferrandis on his Daytona podium. He's been very good to start his first ever 250SX series and I imagine he'll be better from here on out. He's just got to tone down the aggressiveness a bit because it's not making him any friends.
6 39 Colt Nichols Muskogee, OK 49 - Oh man, Nichols made a great comeback from a broken femur only to jack his knee and leg up prior to Daytona. He'll be out for a while, but he really surprised me with his riding before his injury.
7 50 Luke Renzland Hewitt, NJ 43 - This has been a good season for Luke. The force is with him in three out of the four races this year as he looks to rebound from being dropped by CycleTrader.com/Rock River Yamaha and rebounding on the same brand, but with Traders Yamaha. Seems Renzland can't escape the Trading and Yamaha.
8 26 Alex Martin Millville, MN 42 - A-Mart's SX season has been a real rollercoaster. Be fast, have some crashes, get podiums, deal with arm pump, win a heat, qualify fastest, get bad starts—it's all been there so far for Alex just four rounds in.
9 56 Kyle Peters Greensboro, NC 37 - Peter's got the fill-in ride with JGR and did a nice job holding down the fort for the first three races before heading to Australia to race down there. If you've ever heard my different podcasts over the years, he's always been underrated in my eyes.
10 48 Christian Craig Corona, CA 36 - Well, this isn't ideal is it? Craig's Daytona turned into a disaster when he was dead last coming into the first turn and that goes with his disaster at the opener and his disaster at round two. The positive was his ride in Toronto that got him on the podium. So if you're counting, that's three disasters and one podium. There's nothing Craig can do at this point other than try to be the spoiler and jack up this title chase by winning races and getting on the box. I know this is, like, revisionist history and stuff, but how bad was the decision to switch the coasts for J-Mart and Craig? The team would definitely like a do-over on that one methinks.
11 31 Rj Hampshire Brooksville, FL 36 - A decent start for Hamsphire ruined by injuries. Bummer for him and the team; look for GEICO Honda to get a fill-in for Hampshire soon.
12 49 Anthony Rodriguez Cairo, GA 34 - A-Rod's been really good at times and then hasn't made the main at another race when he was battling an illness. Hey, speaking of filling-in for GEICO Honda—A-Rod's my choice because he's the fastest dude with nothing holding him back from jumping onto the team.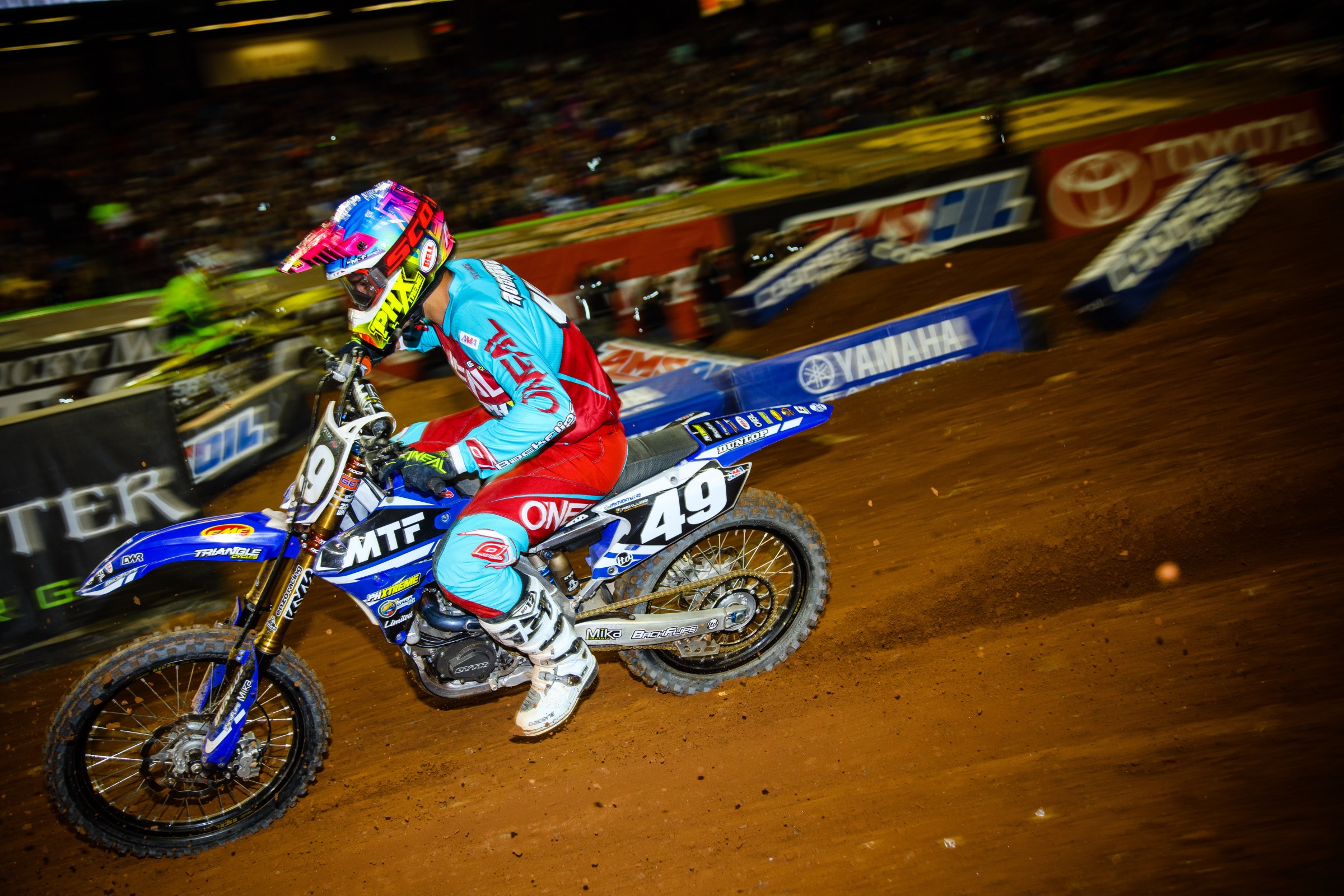 13 40 Fredrik Noren Sweden 30 - Fast Freddie was sick in Toronto (weird cause you would think being from Sweden he'd be feeling great with the bitter cold weather) and then had to go to the LCQ in Daytona which gave him a poop gate pick and insured a poop start in the main. So the first two races = Good Freddie. The last two races = Bad Freddie.
14 183 Lorenzo Locurcio Cairo, GA 29 - Lorenzo is a way cool name. I wish I was "Lorenzo Matthes" because I feel like I'd be way more successful in life. Nice Daytona for the rookie and I'm sure he was pooping bricks out there as he held down third with a stack of super fast dudes right behind him unable to figure out where to go.
15 62 Jesse Wentland Tallahassee, FL 28 - Wentland is on TiLube/Storm Lake Honda, same team as Fast Freddie, and I'd like to nominate them as "Team Nice" at the annual SX awards banquet. Oh wait, there's no more banquet because the top teams and riders wouldn't show up and Feld decided that spending all this money for the animals on Privateer Island to show up and drink them dry was dumb.
16 54 Gannon Audette Tallahassee, FL 27 - Audette is that saving bonds your grandparents buy for you when you're born for $1000 and then it's worth $5000 when you're 21. It's not flashy, you forget about it, it's not going to be life changing but it helps you out, you're grateful for it, and it's solid growth.
17 128 Cameron McAdoo Sioux City, IA 26 - McAdoo cut his hand last week and couldn't race Daytona, which sucks. He's been a solid rookie for the Smartop/MotoConcepts team and killing it for everyone in fantasy as well. Yay for us dorks. The stories I hear about Cam from the ClubMX guys make him out to be a cross between The Terminator and Lance Armstrong in 1999.
18 45 Mitchell Harrison Tallahassee, FL 24 - He SEEMS less out of control than ever before, but shockingly there aren't as many flashy rides by Mitchell this year. On a Star Yamaha bike, he's got to be better. Sorry, but that's the truth.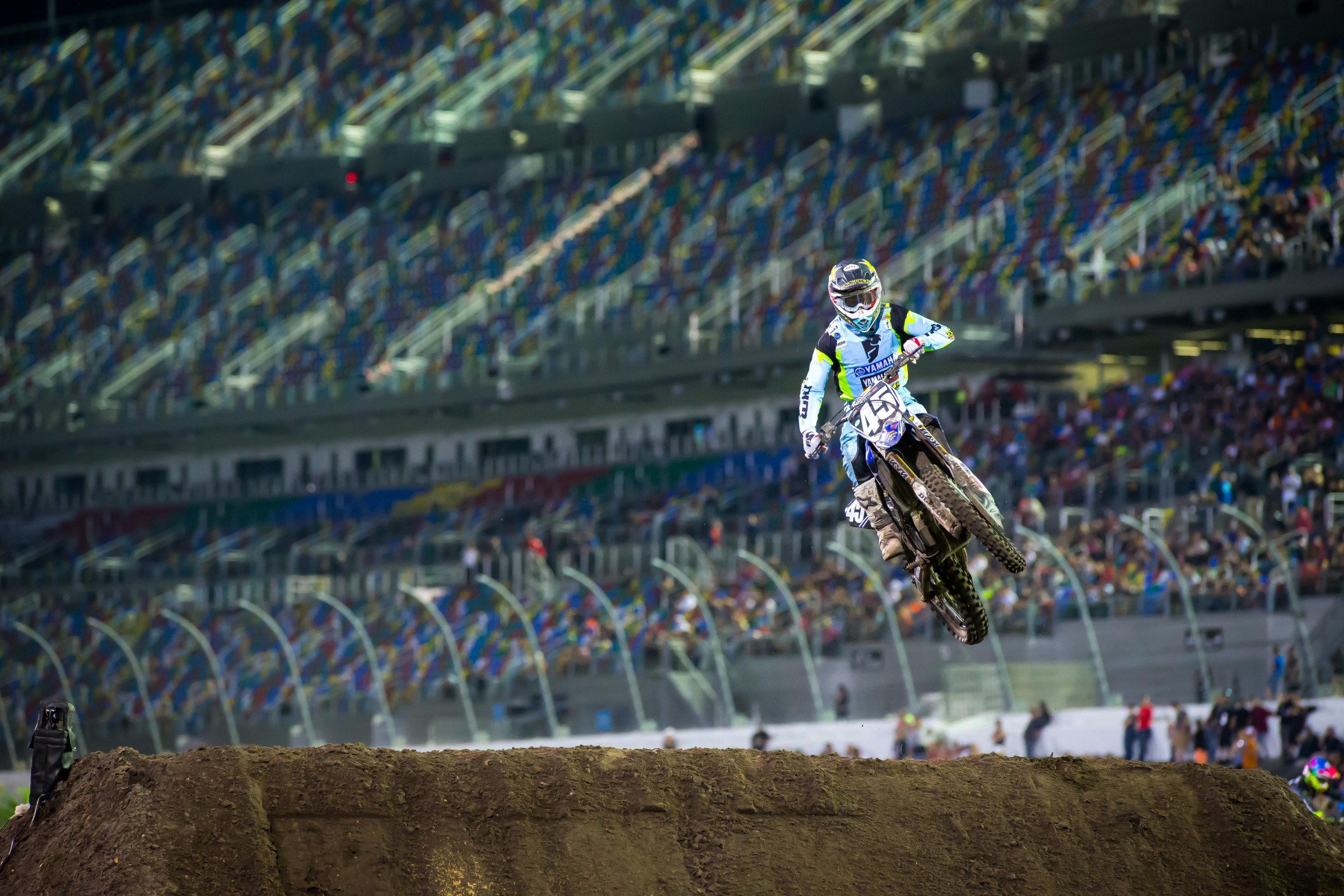 19 42 Kyle Cunningham Willow Park, TX 23 - Cunningham's season was a disaster on the BLUE Buffalo/Slater Skins Yamaha team but he was thrown a lifeline when he quit and got picked up by JGR Suzuki. That's like being stuck in a mud pit on Privateer Island and having a helicopter float down and roll out one of those rope ladders for you.
20 72 Cole Thompson Brigden, Canada 22 - Thompson's not doing the whole series, but he's been good, not great, at the races he's been at. I'd love for Cole to take another crack at the U.S., but he's slipping into the "I make decent money in Canada and don't have to work that hard to win MX2 so I'll just chill up there" mode.
---
450SX Point Standings
1 1 Ryan Dungey Clermont, FL 214 - It's been two years since Dungey's gotten two fourth places in a supercross series and we have seven races left. So we're in a bit of uncharted waters for the champion, but his ride in Daytona was pretty amazing considering how bad the track was. It's also crazy that Dungey has been so solid the previous two years that we can talk about two fourth place finishes as a sign that he's had a tough go of it! He's still got the points lead and Tomac's still got very little margin for error. With Musquin not 100 percent (he got sick before Toronto and had two bad races), Anderson not quite as good as before (hasn't been able to contend for a race win yet this year), Dungey's got less guys to worry about than he did, say, a month ago. He's such a machine out there but the last two weeks have seen him ride that razor's edge like perhaps he's never had to before.
2 3 Eli Tomac Cortez, CO 197 - If you're Kawasaki and Tomac, you know that with the win at Daytona and Dungey's fourth, you can win out and win the supercross title. Now that's a real hard ask but hey, at least you know that this thing is doable. All this dominance by Tomac makes his early season struggles even more mystifying. I'm sure no one from Kawasaki want's to revisit that topic, but it's got to be more than a link and clamps that made the difference. He's been on fire the last two months.
3 14 Cole Seely Sherman Oaks, CA 169 - If you had told Cole and Honda before A1 that they would be third in the points with seven rounds to go, they would take that for sure. But there's more here in my opinion. Two podiums for Seely and a ton of top fives, but I'm sure the #14 had some hope of winning races this year and while it may happen, he doesn't seem to be on the same level as Tomac, Dungey, and even Musquin.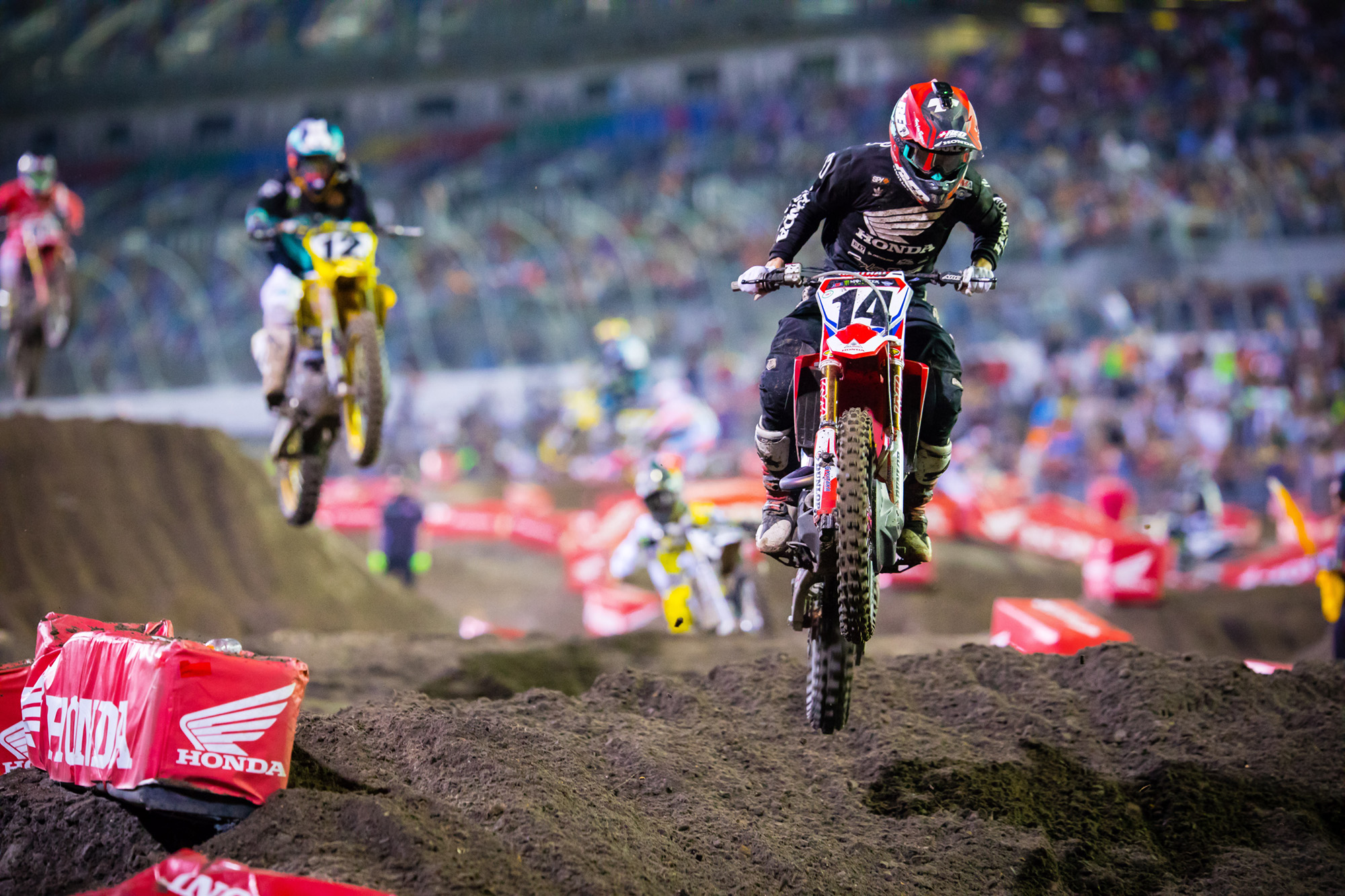 4 25 Marvin Musquin CLERMONT, FL 163 - Last two races haven't been very good for Marv, but he was sick in Toronto and it lingered for Daytona. He's been great this year with a win and catching and passing Dungey at a race. That, my friends, just isn't supposed to happen. When you see a dude like Marv and how fast he is and then see that even he has trouble holding it together week in and week out, you gain even more respect for guys like Dungey and Ryan Villopoto, et al, and how every single week, sickness, bad start-whatever, they're there.
5 21 Jason Anderson Rio Rancho, NM 143 - I don't know, man, I thought Anderson would be more in the battle for wins, right? He's been good, he's got by far the worse average starting position out of the contenders, but I just want more. Sorry, bro. Of course getting DQ'd from a race does tend to hurt your standings in the points.
6 18 David Millsaps Lake Havasu City, AZ 121 - Want to know how solid Millsaps has been this year? He MISSED a race and is still sixth overall in the points! He's not been as flashy as in years past, but you watch him and realize that he's really good at riding a dirt bike after all these years. A good season for the #18.
7 22 Chad Reed Dade City, FL 116 - Chad's been hot and cold—leaning more towards the colder area—this year. I know he's frustrated with his riding and would like to be closer to the front but it's just not been happening, mostly due to his starts. If he gets starts, he can be in the top five and podium but without it, he can't. The sport is still better with the #22 in it and I hope he figures out his deal because I think he's out if he gets really pissed at himself.
8 4 Blake Baggett Grand Terrace, CA 113 - Baggett's been very good this year. I've been surprised at how many times he's in the top five or three in practice. He's got raw speed! Still makes too many mistakes, doesn't get consistent starts, but he's been great. If you're team owner Forrest Butler, you would sign off on Baggett's results this year if they told you before the year.
9 15 Dean Wilson Clermont, FL 105 - From his dad as a mechanic and a van in the back to a full factory Husqvarna—that's been Dean Wilson's 2017. He's been very good (not at Daytona where his starts sucked) since being picked up by the Rockstar Husky guys and he's an asset to any team he's on.
10 20 Broc Tickle Holly, MI 103 - Tickle got third in Toronto and therefore, his season has been very good. Broc's one of those guys you want to see more flash from (think pepperoni pizza debate from a few years ago) but he is what he is at this point. Tickle can look at guys right ahead of him, and below him and see guys making a whole lot more money and be satisfied with his season.
11 33 Joshua Grant Wildomar, CA 88 - Grant's been good this year. Nothing flashy like the old Josh Grant but he's a veteran of the series now and even with missing two races, he's 11th in the points which is pretty good, right?
12 10 Justin Brayton Mint Hill, NC 79 - JB10's basically missed two races as well and has been adjusting to the MCR Honda bike and team this year. Just when he started getting his bike figured out a bit, he hit his head and missed a round. So now he starts over and tries to get that boulder rolling down the hill again. Still looks good on a supercross track though!
13 2 Cooper Webb Newport, NC 71 - Webb's rookie season is everything that many others have experienced. Some struggles, some speed, some great potential, and an injury. He'll be "a guy" soon, maybe as soon as next year.
14 12 Jacob Weimer Huntington Beach , CA 66 - It's weird, Weimer did this same thing last year when he got a ride with RCH Suzuki. Started strong on the new team and then seemed to wear down as the season went on. Same with the JGR Suzuki crew as the crashes have started to mount. I know he'd like to get some testing done with the team, but he had a back injury. He's been in way too many LCQs for his liking I'm sure.
15 61 Vince Friese Cape Girardeau, MO 57 - I said last year that Vince would beat his teammate Mike Alessi in the 450SX series and I was way off but then again, getting beat down at A1 probably set his season off in a bad way. I'm happy to report that one year later, Friese is one point up on the #800 and I'm correct! A man ahead of his time….
16 800 Mike Alessi Hilliard, FL 56 - Less flashy Mike Alessi moments out there this year and I know racing supercross as opposed to motocross gets him more exposure, more money and all that, but Mike's decision to race for a team that doesn't do motocross seems a bit flawed. Yeah, yeah I know he's been up in Canada the last few summers but it'd be good for him to race motocross in the USA. One thing is for sure, Mike tying a season best finish at a track like Daytona this past Saturday is not a surprise.
17 47 Malcolm Stewart Haines City, FL 52 - I don't know, man. I know he missed the first two races but I thought he'd be better. He's Mookie, bro! He's got that crazy Stew skill and I know he's a rookie in his first 450SX year, but I have confidence in him. He started slow, got a little better, but now he's plateaued a bit or even gone backwards. The grind of a week in, week out big boy 450 series is also probably something he's adjusting to.
18 94 Ken Roczen Clermont, FL 51 - I know all these medical "experts" on Twitter say that Roczen will never be the same again but for whatever reason, I think there's a 100 percent chance he comes back just as good as ever at some point. These guys have access to the best doctors and are champions at rehab and doing everything right. He's getting constant medical advice from all over the world. I will not be surprised if the #94 comes back and wins again.
19 19 Justin Bogle Cushing, OK 46 - Bogle's got to be so frustrated with his year and he's taken over the title of "Fastest guy with zero results" from Blake Baggett. He looks good and it seems like he should be doing better, but crashes and other stuff had held him back. It'll come I think (he's too fast for it not to) but I'm sure right now to him success seems a million miles away.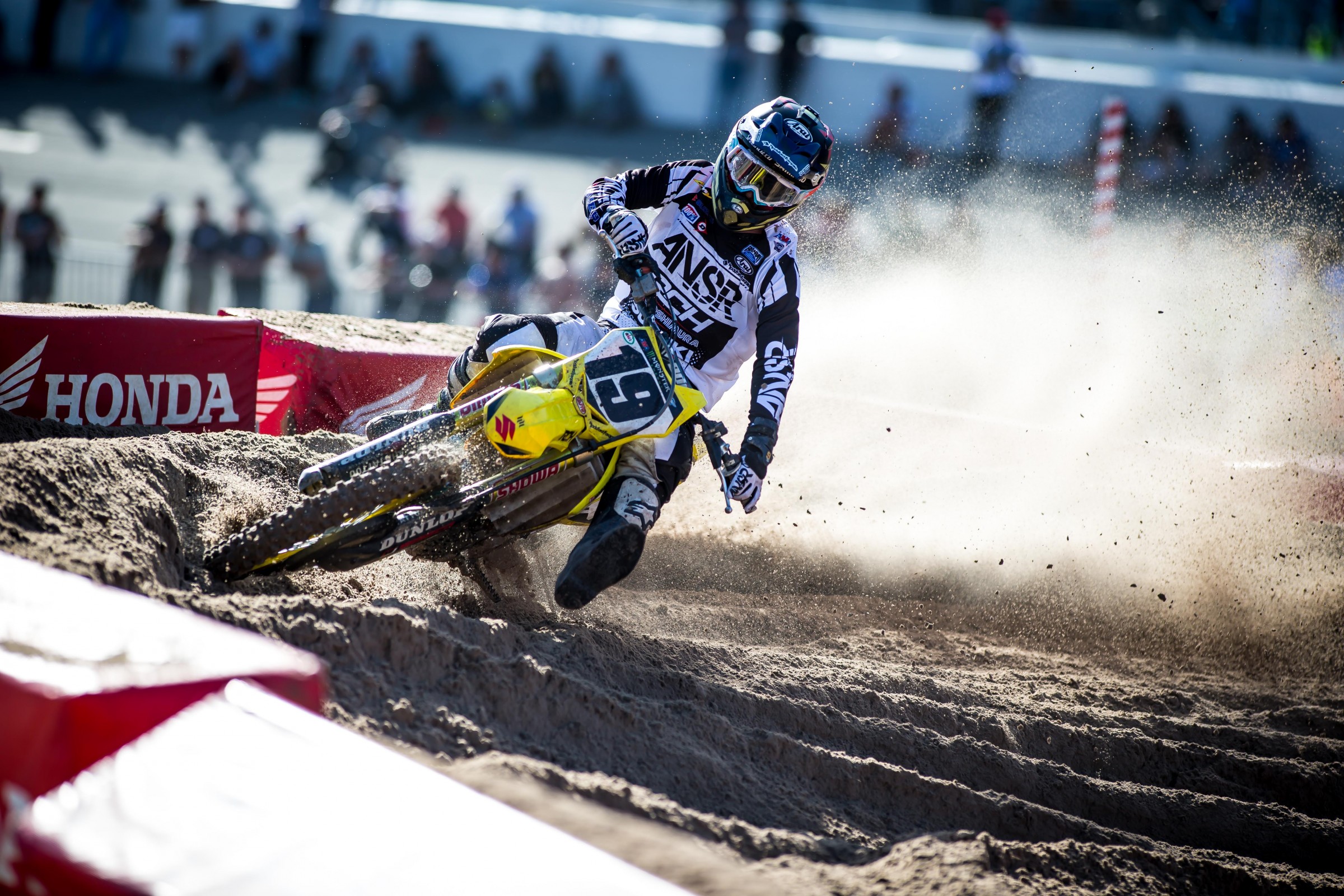 20 32 Weston Peick Menifee, CA 39- Peick's season was going very well. The question is, will he be back for the start of the outdoors?
Thanks for reading everyone. Appreciate it. Email me at matthes@racerxonline.com if you want to chat about this or anything else really.