Daytona International Speedway
Daytona

,

FL
Daytona
Monster Energy AMA Supercross Championship
Adam Cianciarulo carried his momentum from Toronto down with him to his home race in Daytona, Florida. Cianciarulo says he went to elementary school about five minutes from the track, and Daytona was the first supercross he ever attended at three or four years old. After getting second here in 2014 and being sidelined in 2015 and 2016, Cianciarulo was out for vengeance, especially after years of injuries threatened to sideline his career. Cianciarulo's confidence appears to be building. He was under fire from Joey Savatgy the entire race, but didn't crack and held his own until the checkered flag.
What was one of Cianciarulo's advantages? He ran the Dunlop MX11 full sand tire, while Savatgy and most of the other riders ran the regular MXS tire. Cianciarulo notably gained time pulling out of the deep left-hand sand turn every lap, and he also said it hooked up great off the start. There were a few corners where the sand tire did not work, but with the lead, AC said he knew he could cover those lines and hold off anyone behind him.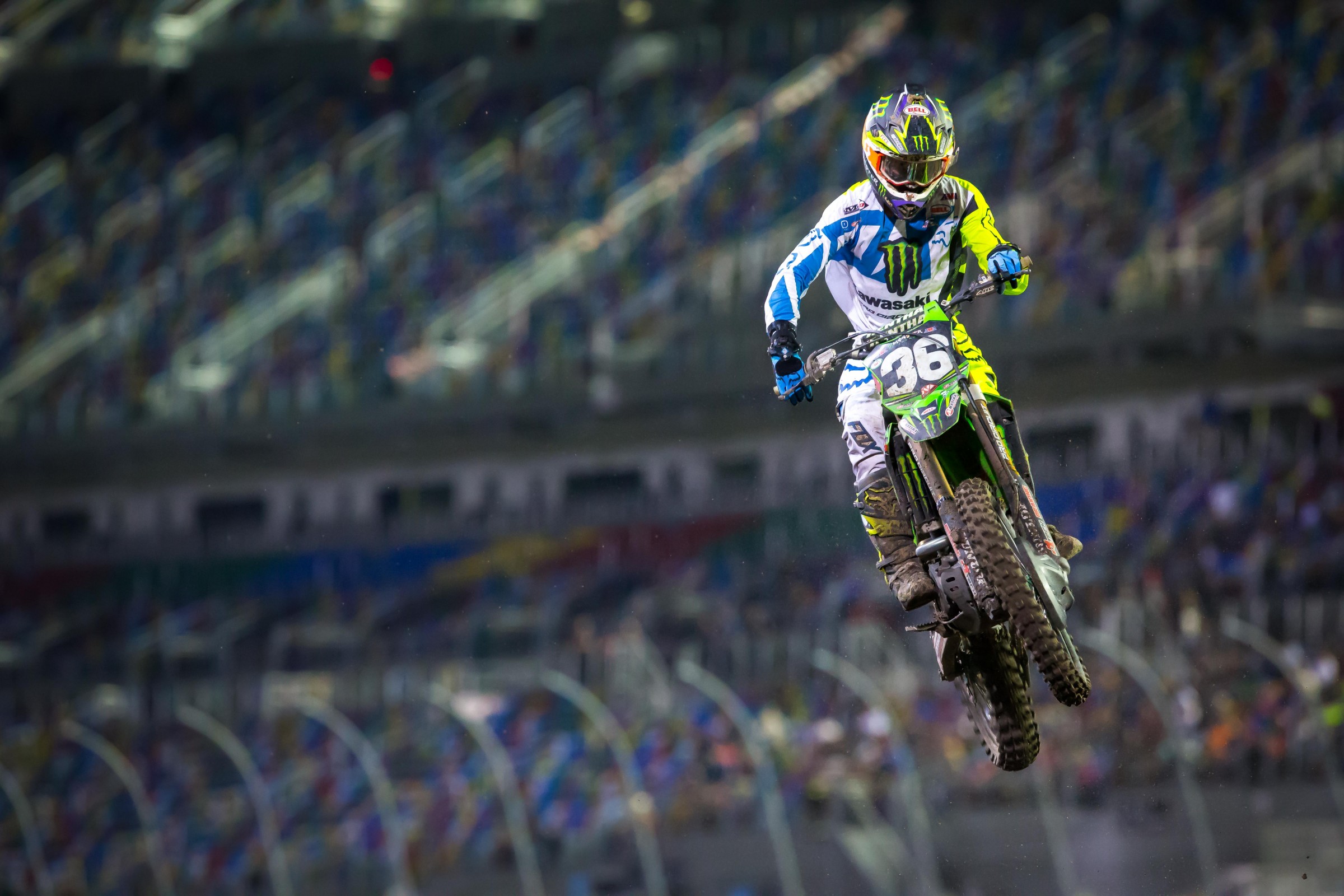 Dylan Ferrandis surprised some people tonight. He rode most of the race in fourth, but he didn't give up. This Frenchman hasn't been riding supercross for very long and managed to get his first AMA Supercross podium.
Zach Osborne's win streak is over, but he again rode really well tonight. He had some bad luck when he washed out in the sand and lost three or four spots on the second lap, but after re-mounting he started clicking off laps. Osborne invented some wild spots to make passes, which was necessary on this track, and salvaged fifth. Osborne admitted to us after the race that he's still learning how to race with the points lead, and kind of "freaked out" for a moment when he fell in the sand. He was actually happy to settle down after that and come back through for fifth.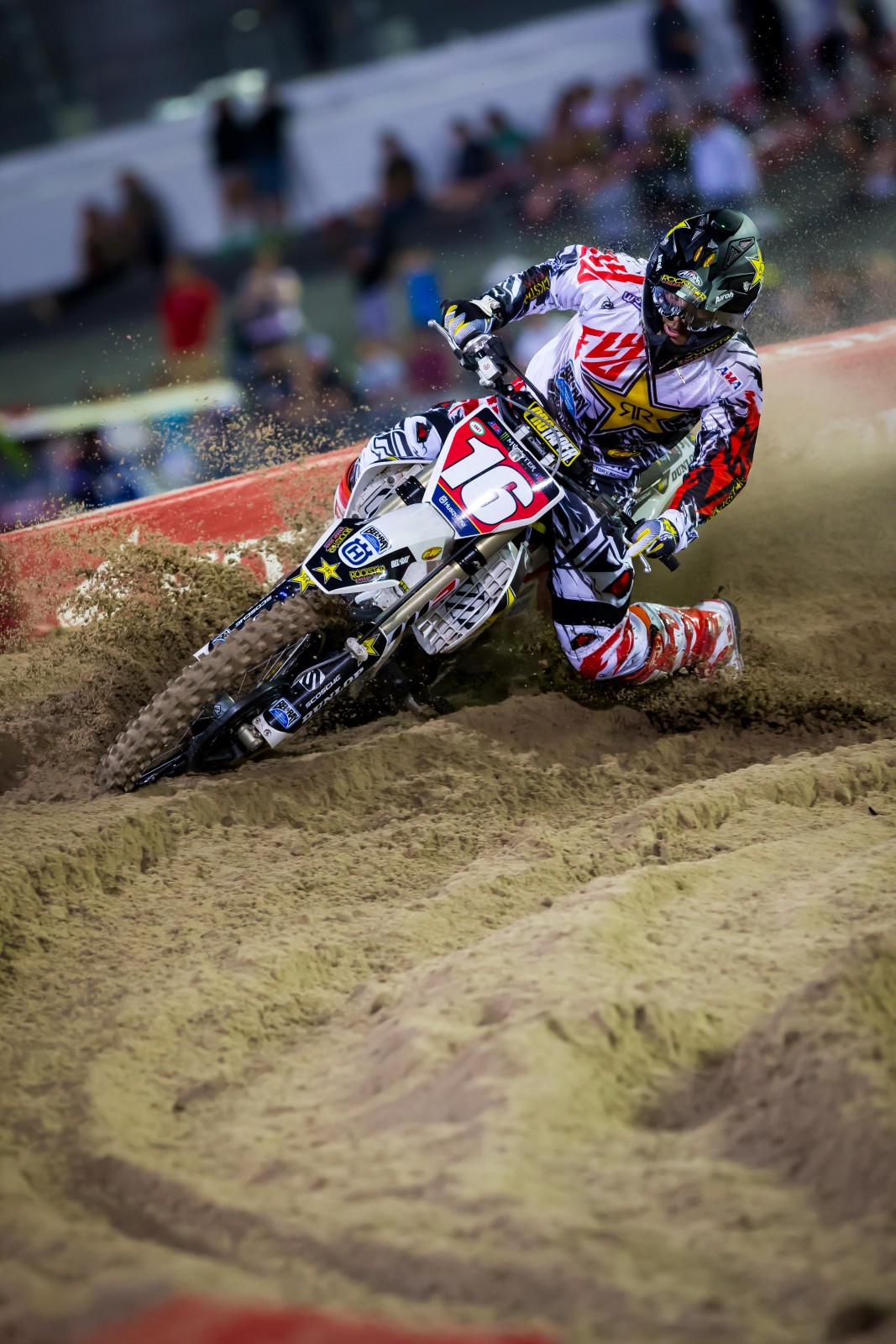 Kyle Cunningham made his debut on the AutoTrader.com/JGR RM-Z250 this weekend and he rode in a solid fifth for most of race before being passed at the end of the race by Smith and Osborne. He finished seventh.
Eli Tomac is building something special here at Daytona International Speedway, not only winning the race for the second year in a row, but soaking in huge cheers from the Daytona crowd that really seemed to have taken to his recent run. Tomac now has five race wins in 10 rounds of Monster Energy Supercross. Meanwhile, points leader Ryan Dungey had to battle his way back from a horrible first lap to net fourth, allowing Tomac to cut his points deficit to 17 with six races to go. "I mean, look at this crowd here," said Tomac, usually not one to show emotion, but beaming on the podium this time. "We're definitely in the hunt. I feel like this season is kind of revenge for last year. We're gonna keep fighting."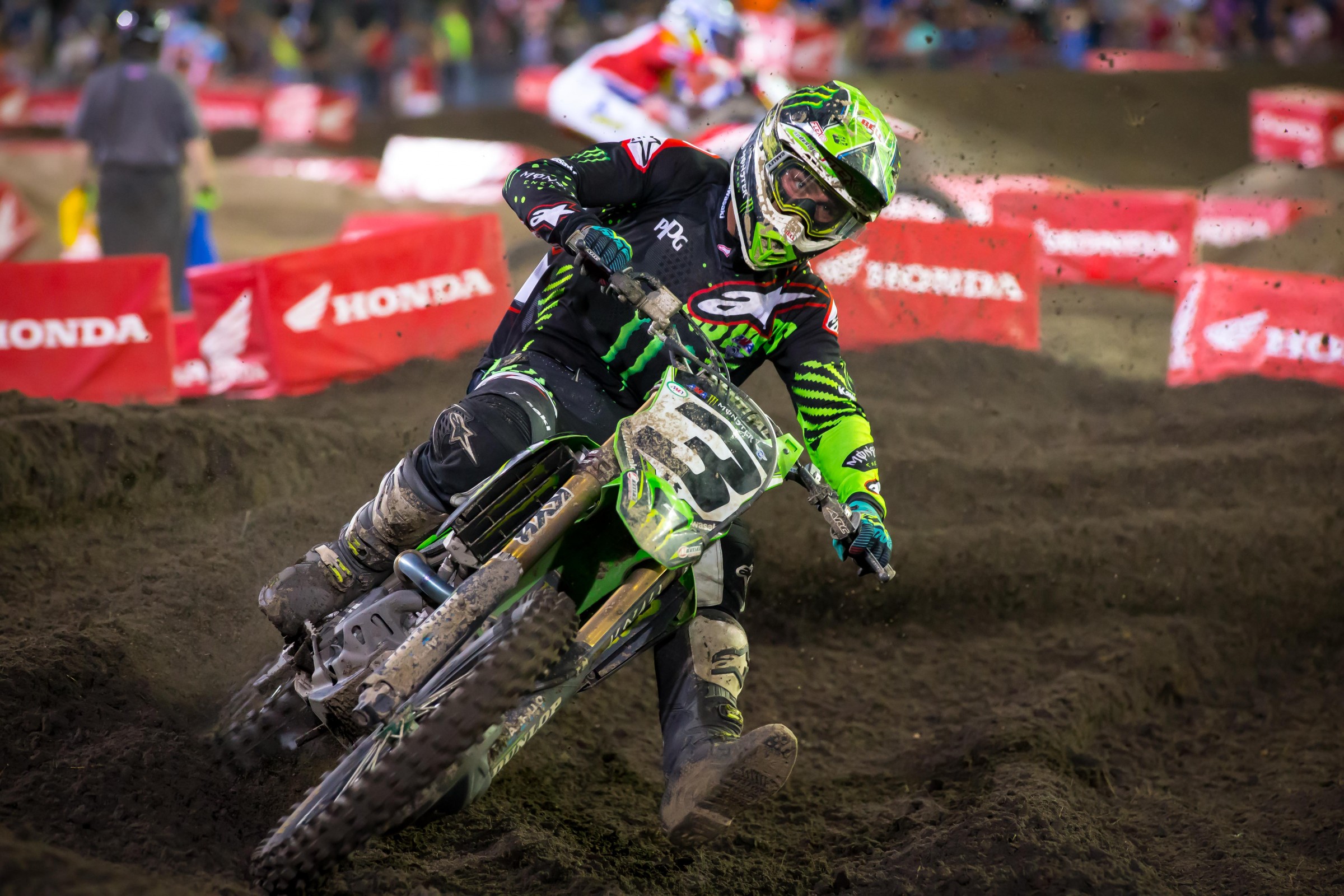 Look, everyone knew Tomac would be bad fast at Daytona, he was fast here last year even during a sub-par season. But he had a legit challenge on his hands from…Dungey? Marvin Musquin? Jason Anderson? No! How about Jeremy Martin, who was filling in for the weekend on Ken Roczen's factory HRC Honda. J-Mart, in his 450SX debut, ended up with a great start from the outside gate (he qualified with a fifth-place finish in his semi) to take the lead. From there, last year's 250SX winner at Daytona, rode great, not only holding Tomac at bay for a while, but even pulling away for a bit. Around the halfway point Martin's lead grew to nearly two seconds, but then Tomac put the clamps on him, caught back up, and made the pass for the lead. From there Martin lost a lot of ground to Tomac, but didn't deal with any pressure from anyone else—he and Tomac's early pace was so fast that they pulled a massive gap on the field. Overall, a very impressive 450 debut for Martin. But that's it—this was a one and done 450 deal and he's back to the 250 until 2018.
But why did Martin get that good start from the outside? Because the inside gate positions ended up in a disaster. Marvin Musquin flinched before the gate dropped, then stopped, then dumped the clutch and hit the gate, and bounced over it. He then slowed down for a moment, meanwhile he also caused his training partners Ryan Dungey and Jason Anderson to get bad jumps, as they flinched after Musquin did, too. Then, Justin Barcia went down on the inside of turn one, and both Musquin and Dungey got stuck behind him. A few turns later, a very-fast Blake Baggett went down after bumping with Dean Wilson, and found himself in dead last. Musquin, Dungey and Baggett were basically the back of the field on the first lap! Musquin ended up crashing twice more and Baggett stalled his bike coming through. Musquin was a disappointing 15th but Baggett somehow came from 22nd to seventh.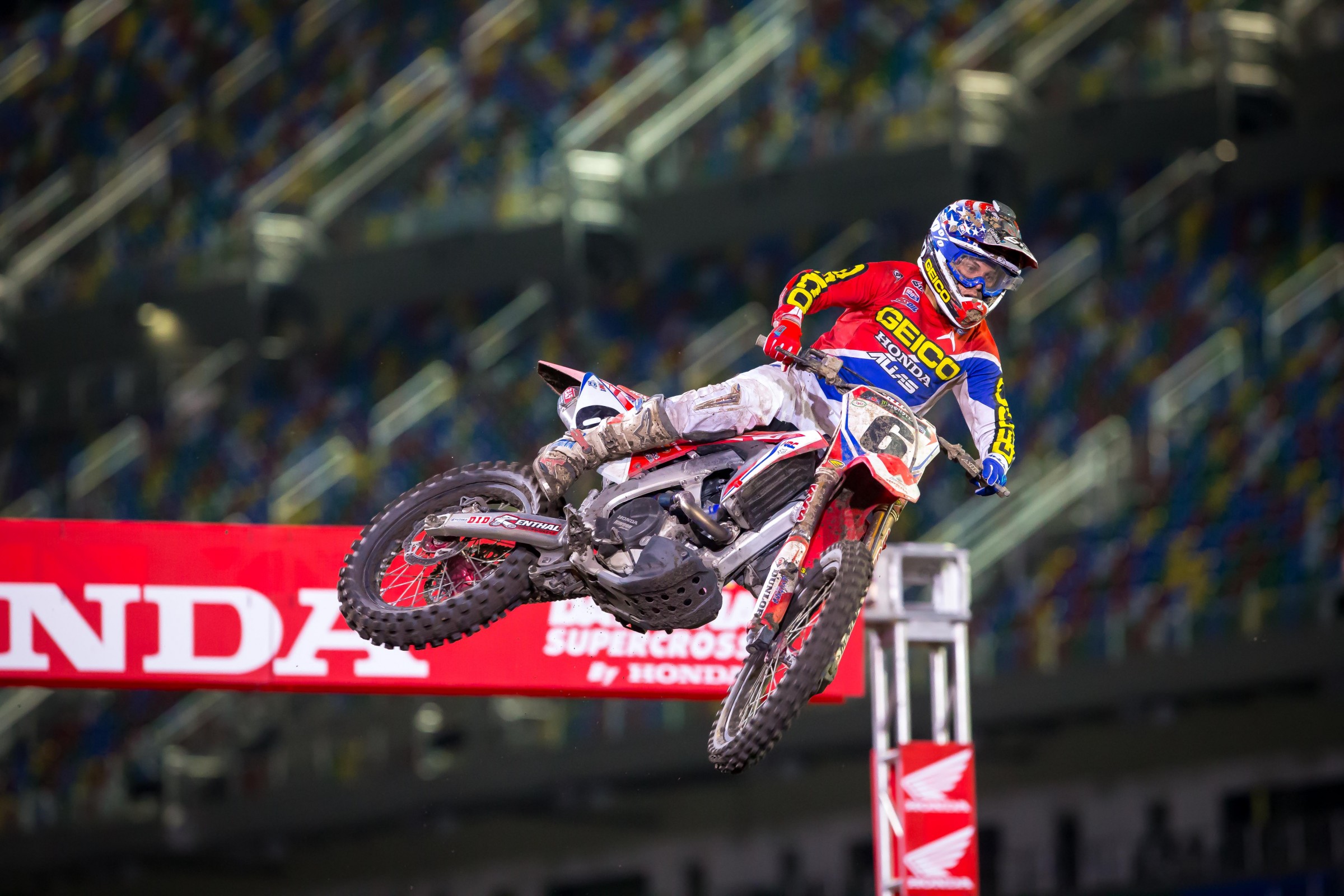 But the real focus was on Dungey, the points leader. He was so far back on a track that was so hard to pass on that just getting into the top 10 would have been an accomplishment. It also appeared that he ran out of tear offs, as he was wiping his goggle lenses as he came through. But the champ was on a mission—it was just a gritty, gutty, ride from Dungey, who never stopped digging. He got into the top 10 and then got Mike Alessi, Justin Brayton and Chad Reed, then with a lap to go he reeled in Cole Seely for fourth. Seely fought hard but Dungey would not be denied, making the pass with two turns to go to salvage fourth. Dungey slammed his goggles down in frustration after crossing the finish, but his ride might come up huge when points are tabulated at season's end.
Meanwhile, Jason Anderson had a quiet race, picking his way through for third place. It was a good run for Anderson, who needed to get some momentum going. Early in the race, a huge battle brewed for third between Brayton, Reed and Seely, but then Reed crashed. Anderson then passed Seely and Brayton to earn his third. "I feel like maybe I have a little extra experience coming through the pack," said Anderson on the podium.
Dungey was fourth and Seely fifth. Reed ended up sixth. The three-time Daytona Supercross winner has been fairly outspoken about not liking the way the Daytona track lately, but he had a decent start in the main and was pushing Brayton hard for third. Then he crossed rutted and hopped onto some Tuff Blocks, got whisky throttle, and his Yamaha went flying. He did a good job recovering, but wasn't able to hold back Dungey's charge.
Justin Barcia only netted 12th in the main event but had reason to be encouraged with a heat race win, as he holeshot and held Anderson at bay the whole way. But he got balled up on the inside of turn one like many others and ended up on the ground. Barcia told us he's been dealing with arm pump recently and got it again in the main event, but did feel better than he has lately, and counts the night as progress.