Daytona International Speedway
Daytona

,

FL
Daytona
Monster Energy AMA Supercross Championship
Welcome to Racerhead, coming to you from the center of the racing world, Daytona International Speedway. Tomorrow marks the 10th round of the 2017 Monster Energy AMA Supercross Championship, and of course the oldest supercross race of all, the Daytona Supercross by Honda. Then there's the Ricky Carmichael Daytona Amateur Supercross, the second round of the Amsoil AMA Grand National Cross Country Series, and the 3rd Annual ATV Supercross to kick off the AMA ATV Motocross Championship. That's all happening around this speedway, which is rapidly filling up with folks coming in for Bike Week and all of these races.
Daytona is the most unique round of the series—it's the only one not organized by Feld Motor Sports—and the track is something else altogether. It follows on the heels of the second most unique race, the Toronto round at Rogers Centre. That's the only international round of the series, and certainly the coldest. Now it's on to the roughest, and maybe the longest—the riders were recently told that this race would be 20 laps, not 20 minutes plus one—and the Ricky Carmichael designed track looks a little longer than normal.
As for the rest of Daytona, it's as much an industry reunion as a happening. It's the first big amateur race of the year and the proverbial turn for the home stretch in AMA Supercross. There are several announcements coming up, too, that should be interesting—but alas, no sign of James Stewart like a lot of us hoped we might see here.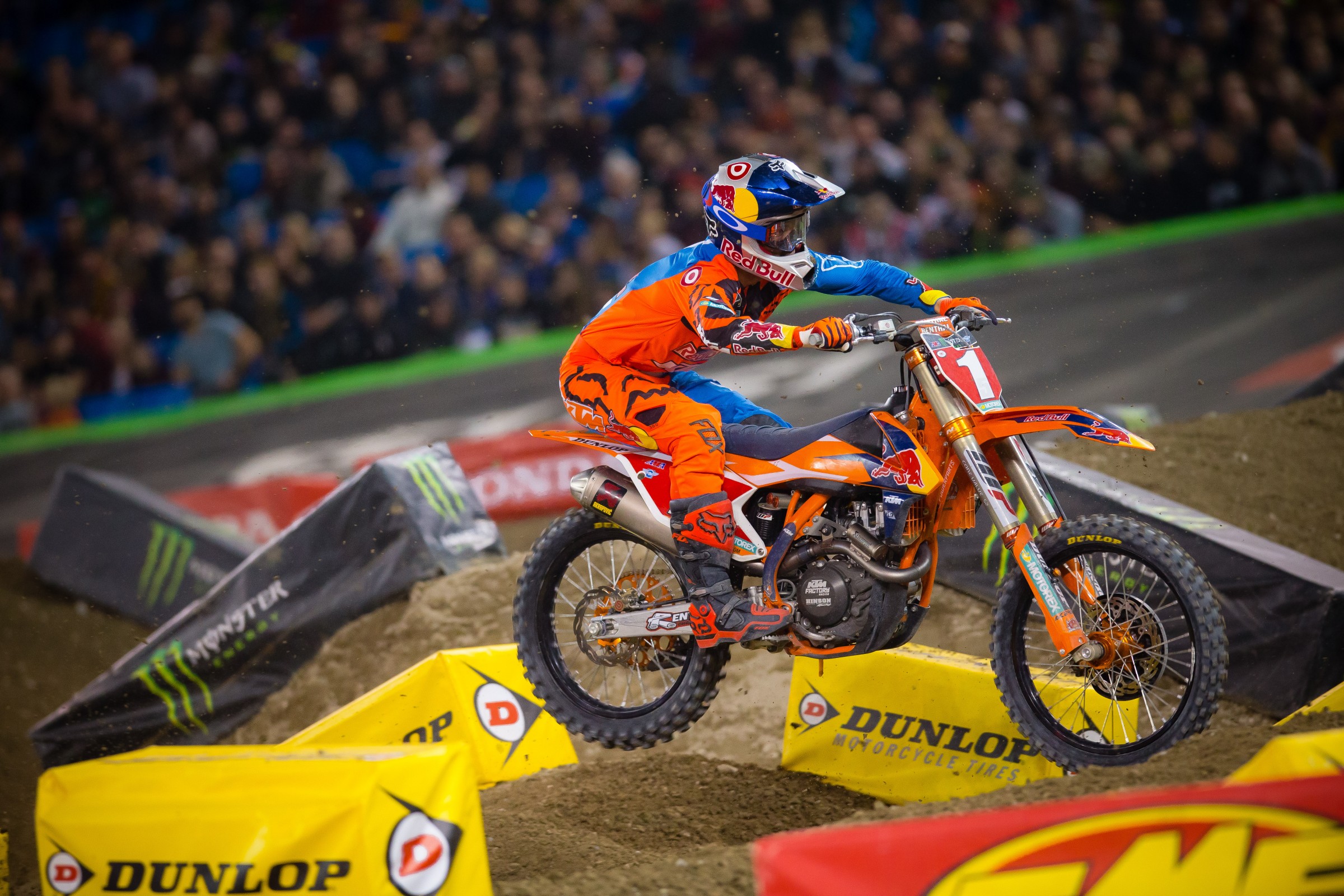 Will Eli Tomac keep chipping away at AMA Supercross #1 Ryan Dungey's lead? Will Dungey respond with a show of force here at Daytona? Will Zach Osborne make it three in a row? Watch it live on Fox Sports 2 beginning at 7 p.m. EST.
Hate to cut this short, but I have to get to an OEM meeting that's starting as soon as the riders are down on the track for press day. Stay tuned. Here's the rest of Racerhead.
Daytona Day (Jason Weigandt)
It's media day here for the Daytona Supercross by Honda, and the riders got a small preview of the track, which looks totally different this year compared to last. Ricky Carmichael is of course part of the track design crew and he says the track has a lot more turns and a lot more jumps this year. He mentioned to me that the parameters he has to work with have changed quite a bit through the years, starting with Daytona widening the paved pit lane on the car track by about 10 feet a few years back, which took away some grass area for the supercross track. Also, there's now a clay TT track underneath this supercross track, as the rebranded American Flat Track series' opening round takes place in front of the grandstands just like the supercross on Thursday night. Basically, they built the Flat Track TT course, and then put the supercross track on top of it, and on Tuesday night they'll scrape the supercross track back off and get set up for the TT. Why does that matter? The hard clay underneath the supercross track in spots might change the way the supercross track feels—it might not dig in as deep, although that's not for certain. Anyway, they've added some obstacles and turns to add some challenges and make the lap times a little longer. Also, this has to be the deepest sand section I've seen at a track in a long time. It is DEEP and it's all real Daytona beach sand. That'll add some challenge as well.
Also, the new 20 minutes plus one lap schedule reverts back to the old 20 lap main event this weekend. I talked to the FIM's John Gallagher about it this afternoon and he said basically, they still want Daytona to be a little longer and tougher than the average supercross, and the goal is for lap times around 1:08. With that time, you'd be well under 20 laps in a 20 minutes plus one format. They want this race to be long, so they're going back to 20 laps. It will still be the longest race of the year, then.
Of course all of the riders did the standard Daytona prep, building a little extra "Daytona" section into their regular Florida SX tracks. Christian Craig is racing Daytona for the first time and he said it's been fun working the "hybrid" track during the week. Eli Tomac told me he goes off of his regular SX track in Colorado and finds some sand in the back and rails it—not the best with supercross suspension, but still pretty fun. "It's like just going wide open in WORCS race," he says.
Adam Cianciarulo says he went to elementary school about five minutes from Daytona, so he's got about 60 extra people coming here to watch. But AC says there aren't actually any places to ride nearby, so he never really grew up riding on dirt like this.
Cole Seely is a real sleeper at this race. In 2015 he was battling hard with Ryan Dungey for the lead, and he told me he started thinking about what it would be like to win it, as it's one of the few big races his mentor and coach Jeff Ward was never able to get. Seely said if he wins here, he'll dedicate it to Wardy. Now, you might be saying, "Oh, but Daytona is like the gnarly outdoor track, how does that work for Seely?" Well, he thinks as the track gets tougher and line choice becomes more important, his technical skills actually play to his advantage. Seely thinks guys like he and Marvin Musquin have a place here with their smooth, technical skills. We'll see.
DOWN AT THE SPEEDWAY...SOME KIND OF ELVIS THING (Steve Matthes)
There's not a more unique track on the circuit than Daytona, and so it's always an interesting race on the supercross schedule. Just when you get a bit bored of the indoor jumping circuit, the speedway smacks your senses back to reality. Daytona has drastically changed over the years, but it's still Daytona. It's a massively prestigious race to win, and it takes a guy who's good at supercross, good at motocross, and is in shape to topple it. The unexpected curveball of the race being 20 laps instead of 20 minutes plus one is a bit weird, but really, the race would've been about that long anyways, so who cares all that much?
I just find it odd that the speedway or FIM/AMA or whomever can change the format of the race on a whim, but when it came to the arenacross guys racing the Atlanta Supercross the next day, it was "No way, man, there's a rule against that." But I digress.
And they let us know the days before the race... smh

— jason anderson (@elhombre_21) March 10, 2017
Anyhoo, we know Eli Tomac, Ryan Dungey, and Marvin Musquin are going to be great at the race, but don't sleep on Honda HRC's Cole Seely. Last year he came from dead last to 10th on a crappy track for passing, and the year before he got fourth, but that was with a fall—and in the process he had the fastest lap time of the main event. I'm not calling Seely for the win, but he's a sleeper, people. Keep an eye on him.
Oh and go read Pulpmx.com if you want to read what David Vuillemin thought of Toronto, Cory Moser interviews Cade Clason and John Short, Jason Thomas does some photo captions from Toronto, and there's a podcast with Clason and Georgia Lindsay on there also. Just do it.
In the Mag (Jordan Roberts)
The May issue of Racer X Illustrated dropped this week and it features a story on Jason Anderson, what retired life is like for Ryan Villopoto, and Ducati's off-road-ready Scrambler Desert Sled. Also read about how Kailub Russell is the hottest rider in the off-road world and how Stefan Everts' career as team manager of Suzuki is going. Subscribe now for as low as $9.99.
THE MANY FACES OF JASON ANDERSON
Talking disqualification, training with Aldon Baker, his real-estate portfolio, and plenty more, Anderson is as blunt in conversation as he is on the track.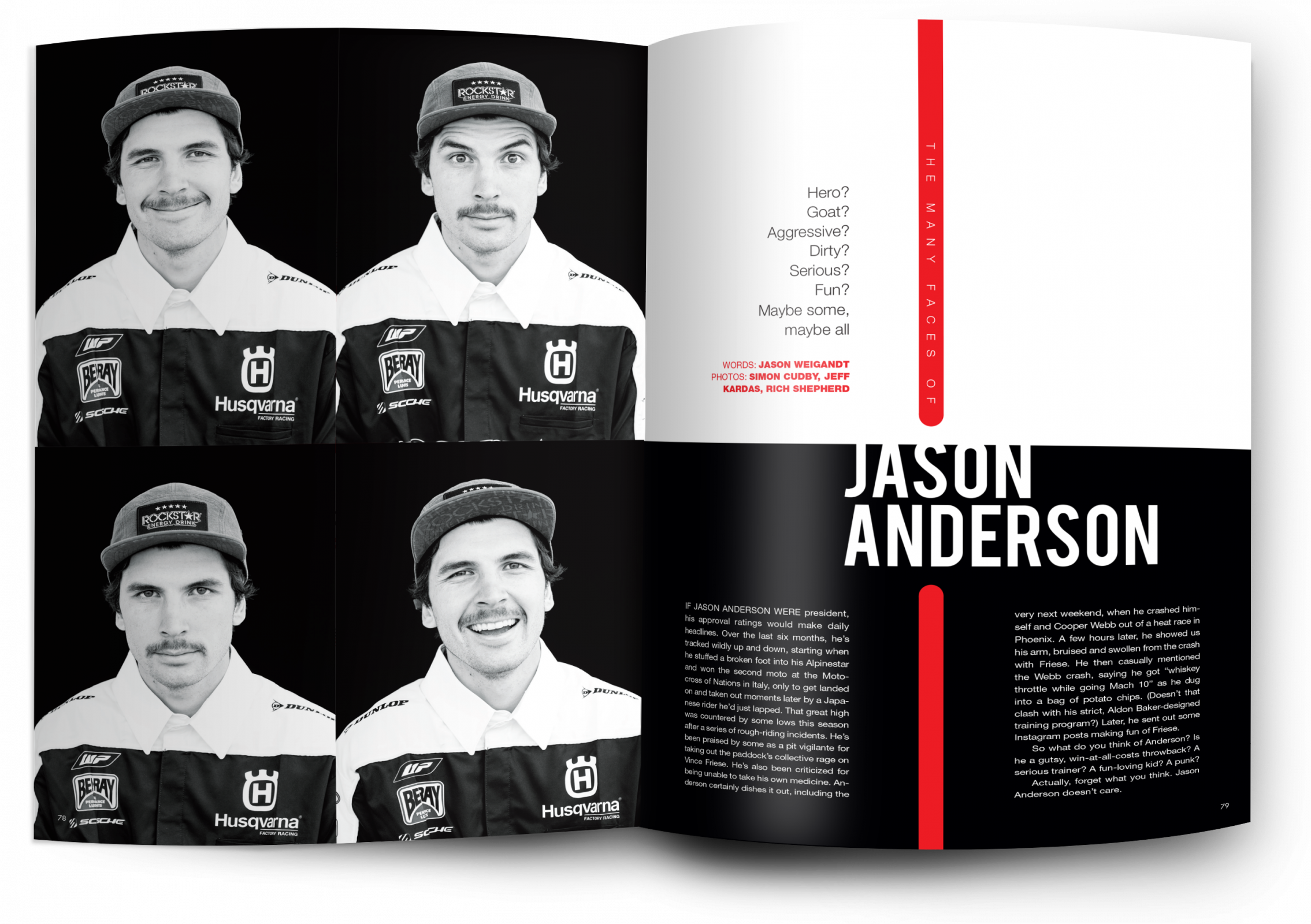 HOMESTEAD
Comfortably retired in the Pacific Northwest with his wife and twin sons, Ryan Villopoto is enjoying life away from racing.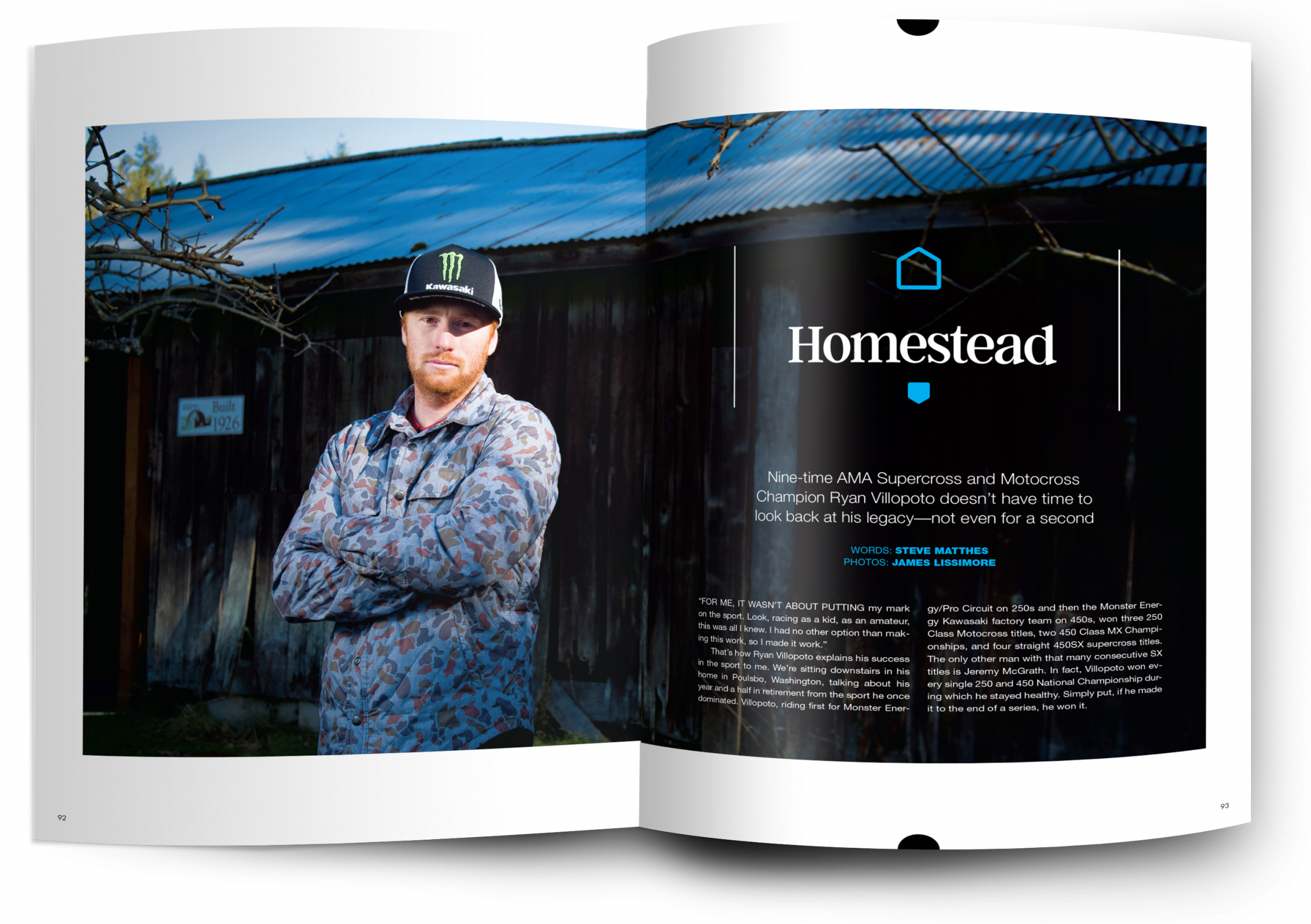 SCRAMBLING ACROSS THE TABERNAS DESERT
Making tracks like Bud Ekins and Steve McQueen—the tough guys of yesteryear—on the other side of the world aboard Ducati's off-road-ready Scrambler Desert Sled.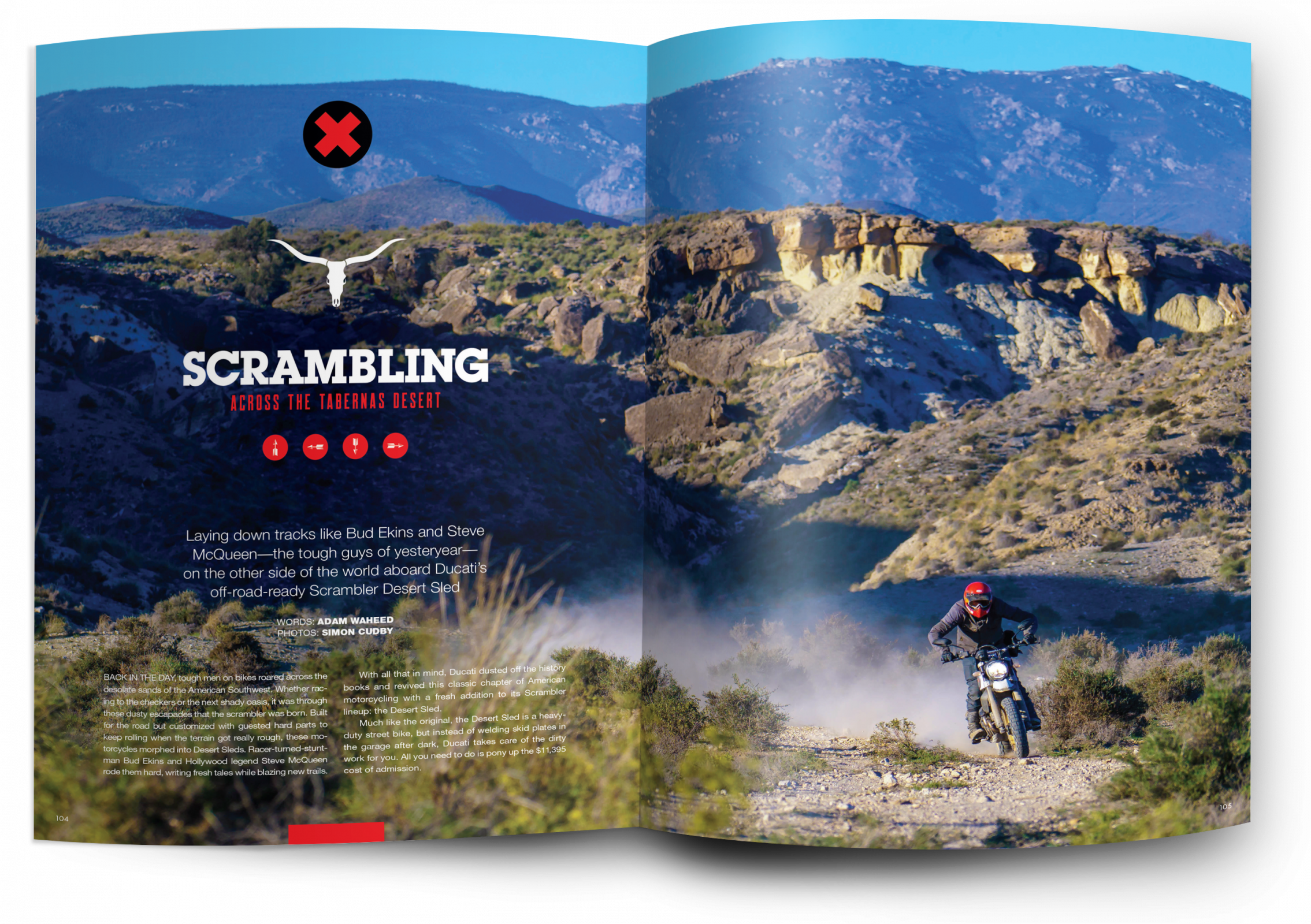 TRAIL BOSS
Coming off a string of championships in GNCC Racing, a National Enduro title, and a historic International Six Days Enduro win, Kailub Russell is the hottest rider in off-road.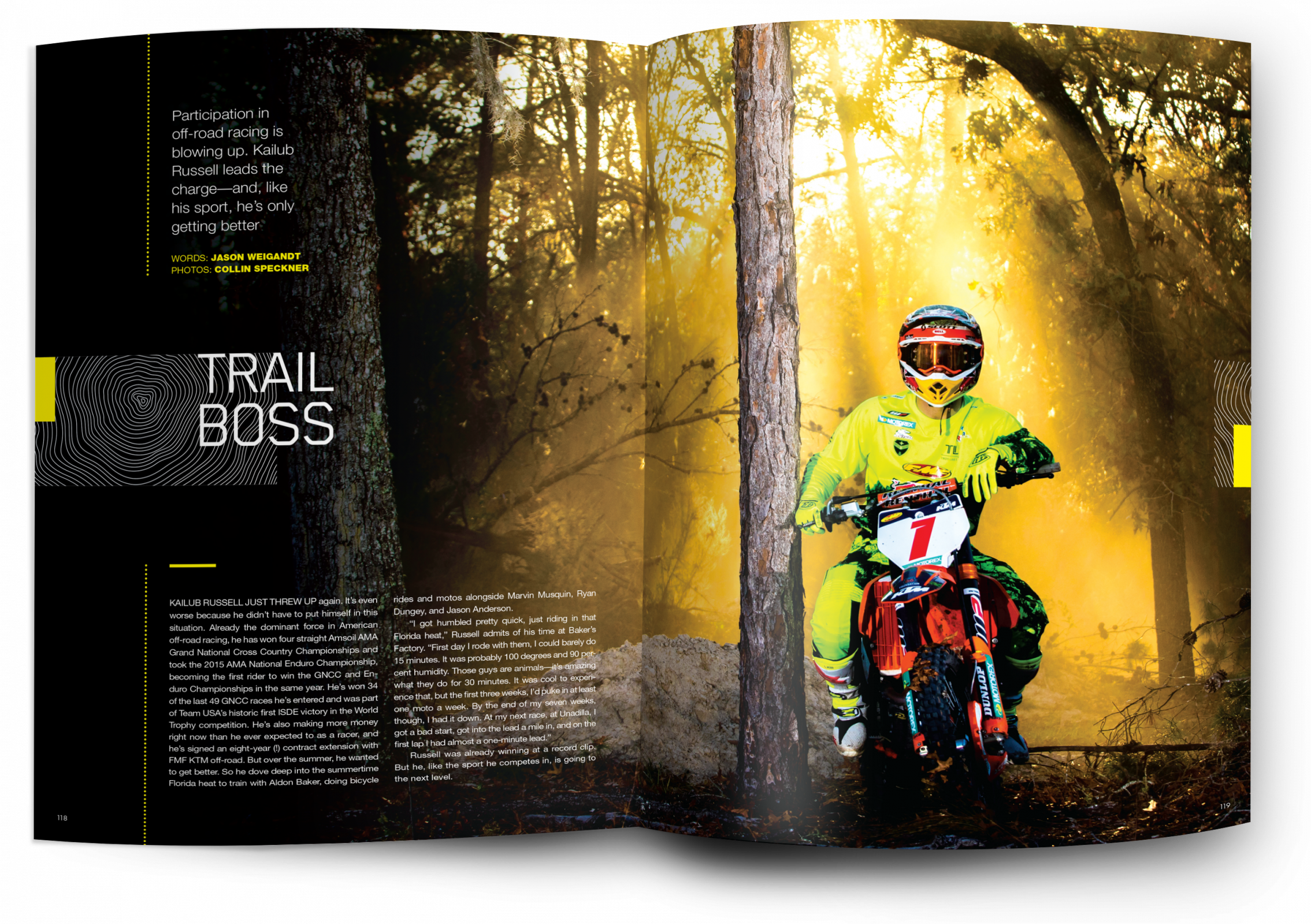 TOGETHER AGAIN
Stefan Everts won his first Grand Prix title at the age of 17 aboard a Suzuki. As he begins his second year as that team's manager, we check in to see how his new career is working out.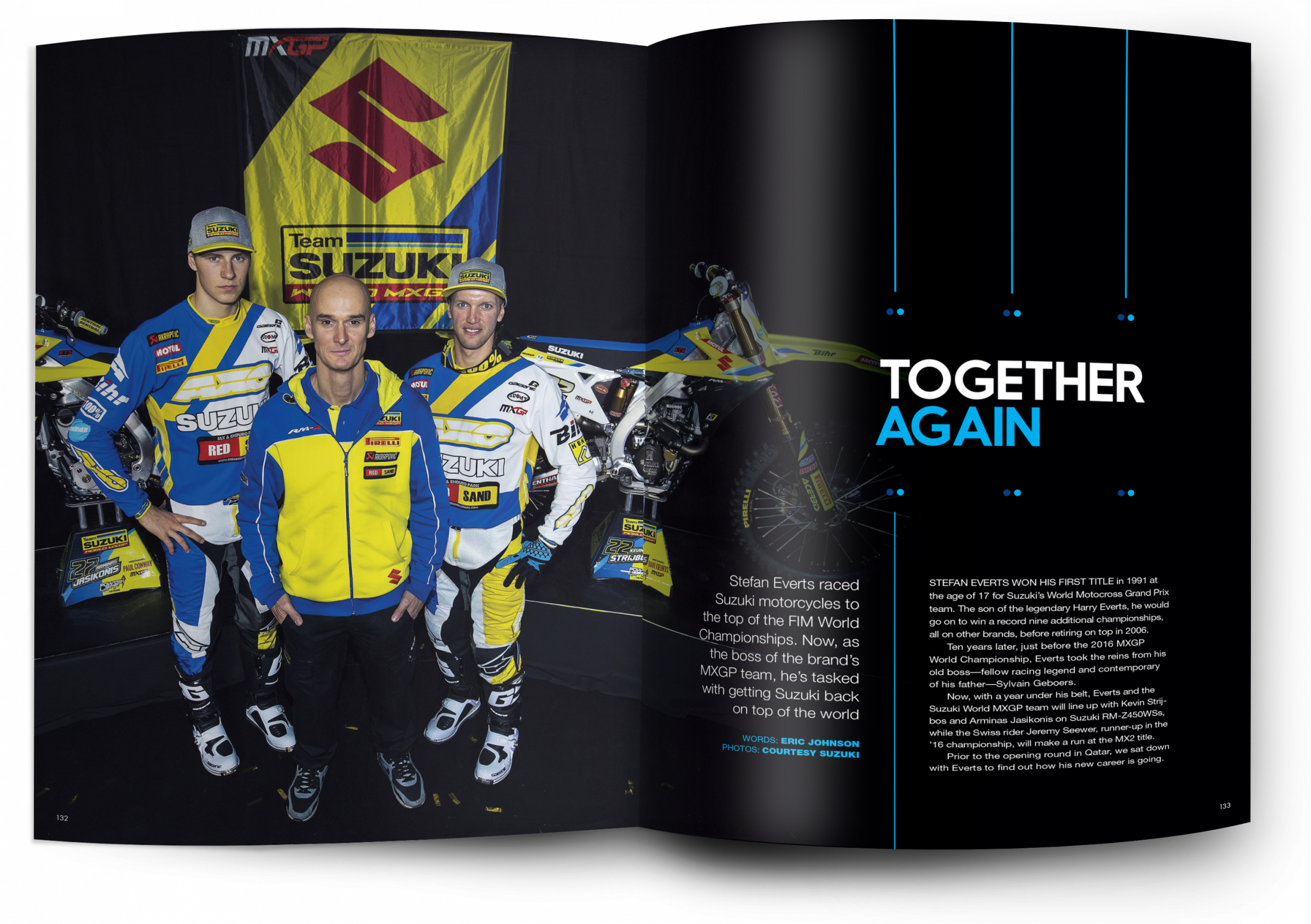 GNCC Part Deux (Jason Weigandt)
Almost always, the Amsoil Grand National Cross Country Series kicks off outside of Daytona during Bike Week, but the racing calendar is a week later this year (hence the Toronto supercross being wedged between Atlanta and Daytona) so the GNCCs went to South Carolina first.
And it was an upset. Steward Baylor was once a big rising star in off-road, but the last few seasons have been tough on him. Baylor coming out and winning the opener is kind of like Justin Barcia coming out and winning Anaheim 1—everyone knows he has the talent and the pedigree, but it just hasn't worked out in a while, so now it looks like a shocker. This GNCC win marked the first of Baylor's career in the main class (XC1) and he held four-time and defending champion Kailub Russell at bay down the stretch to do it. It was impressive.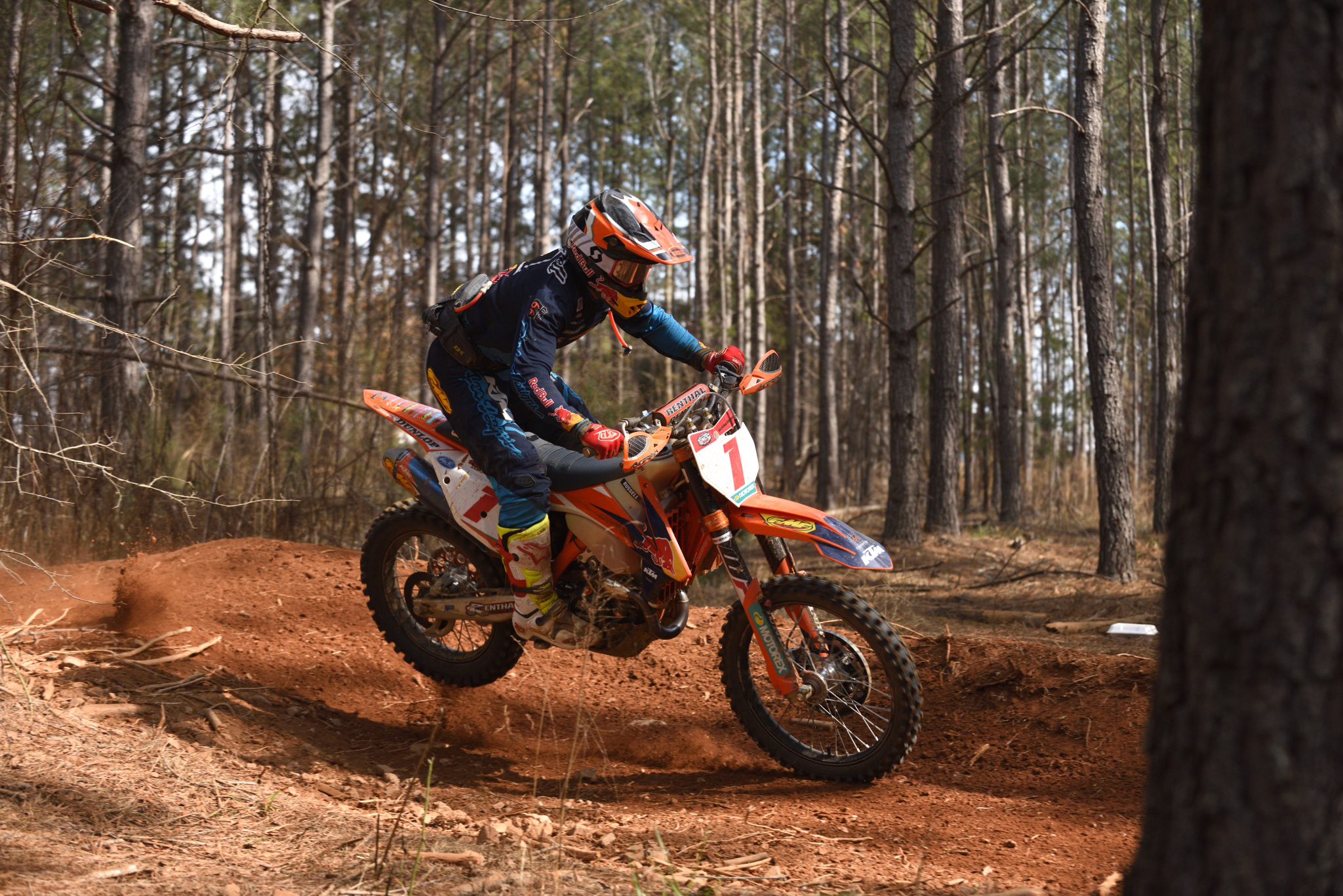 Former motocrosser Ryan Sipes took third, and he told me he had the flu and felt horrible. But even with that, it was still the best he's looked at a GNCC opener yet. Sipes told me he basically was disappointed with his season last year and got fired up! He's in better shape and much more prepared this season. But he needs to kick this flu first to get to show his true stuff. He took most of the week off and hopes to be good for round two, on Sunday. Should be a good mix between Sipes, Baylor, Russell and last year's XC2 Champion Trevor Bollinger, who was fourth in his XC1 (450) debut.
TIM HART (1949–2017) (DC)
American motocross lost one of its pioneering stars when Tim Hart passed away this week at the age of 67. Hart, who hailed from California, won three AMA Motocross Nationals from 1973 to '75. He rode for Maico, Yamaha, and Can-Am and was the man who kept his nemesis Marty Smith from the first perfect season in AMA Motocross when he outfoxed Smith at the muddy '75 Hangtown 125 National. Hart was in his prime just as stadium motocross was taking off, and his time as a pro was finishing up just when the sport was really taking off. Godspeed, Tim Hart.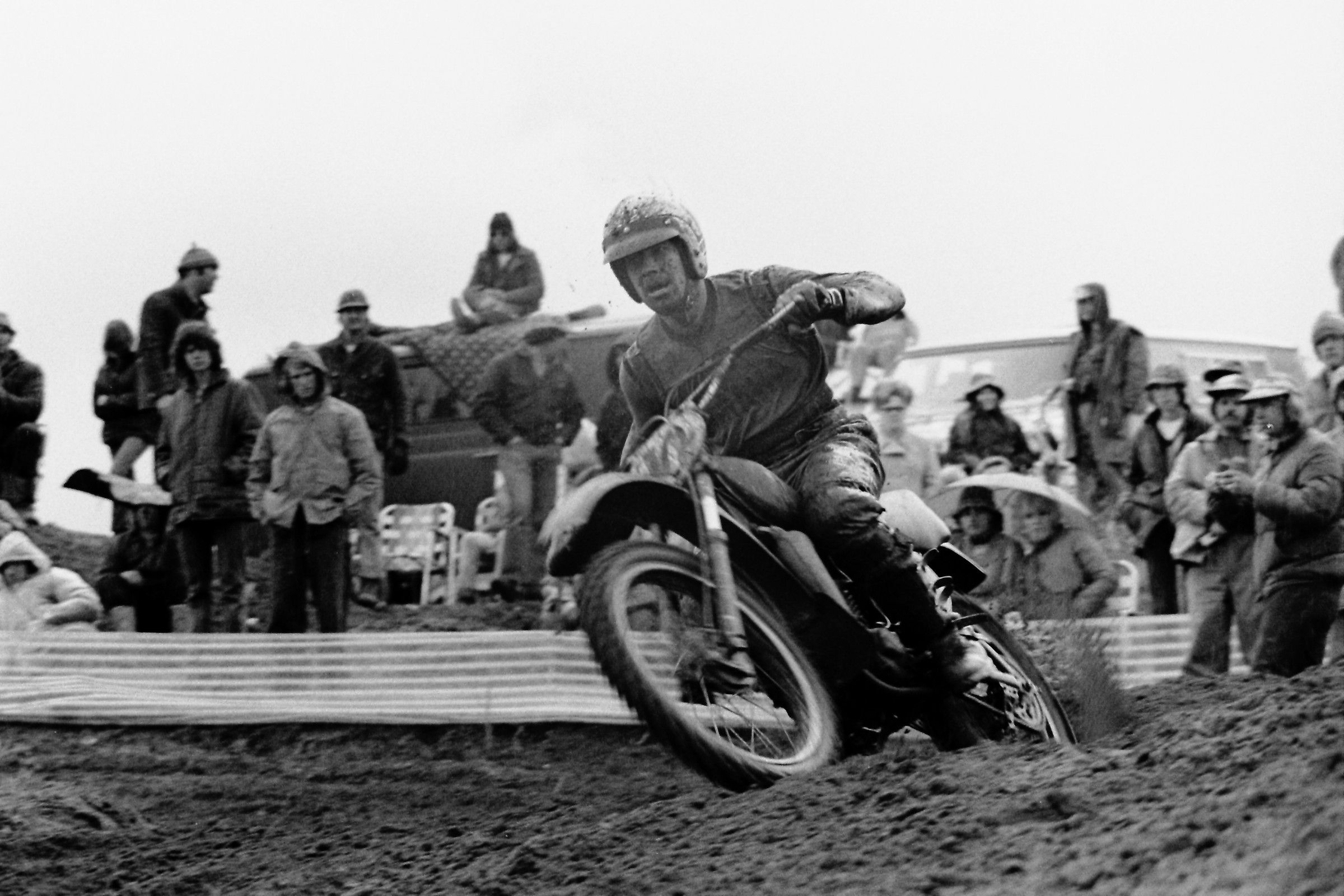 NEW BEGINNING? (Steve Matthes)
Didn't have time to squeeze this in last week's Racerhead, but the promoter company Jet Werx announced last Friday that they are starting a new Canadian series in the spring of 2018. Justin Thompson, owner of Jet Werx (and Cole's brother), has run a successful arenacross series north and south of the border for a number of years, took a look at the state of Canadian motocross, and decided to go all-in.
The press conference detailed plans to have a supercross race in Hamilton, an eight-race outdoor national series, and follow that up with its traditional fall arenacross series. A rider who wins all three series gets $100K for his efforts. The Walton Trans-Can, long a staple of the Canadian series and booted out last year by the CMRC, gets a national back, and oh yeah, Jet Werx has teamed up with the CMA to sanction the races and therefore also gets FIM affiliation. This is a key move in my opinion, although it's been years since the CMA was actually relevant in Canadian moto.
There's already a CMRC national series sponsored by Rockstar (and by the way, the Jet Werx AX series is sponsored by Rockstar, so I sense a battle brewing here), and basically, the guys at Jet Werx are offering a bigger, better series, and hoping the teams follow its lead. As an interested Canadian observer with zero stake in either series, I have my doubts that Canadian moto can survive a split MX series, so something has to give—I'm just not sure what. This year will see the CMRC run its series, and then 2018, well, that should be very interesting.
Behind the scenes, the Jet Werx guys are promising revenue sharing, a TV package, and a partnership with the teams while letting the CMA be the sanctioning/ruling body with no conflicts. The CMRC is entrenched with the OEMs, though, so let's see what happens.
Look for an interview with Thompson right here on Racer X next week.
Fox Premiere (Kyle Scott)
Last week, Fox held a premiere in Santa Ana, California, at the Yost for their new film called Ride Your F#%king Bike. It's an action-packed mountain bike video filmed over three weeks in California, Oregon, Washington, and Canada. The film really captures the spirit of simply riding your bike and having fun with your friends. From the fun on the road to the trails in the forests, Kirt Voreis, Josh Bryceland, Josh Lewis, and more Fox athletes remind us all to go back to our roots. It's been more than 10 years since Fox released a full-length mountain bike video, and they didn't disappoint. The full video will be available to for streaming on April 5, from FoxRacing.com, but for now enjoy the trailer.
Indonesia Rainesia (Andras Hegyi)
Last weekend's Indonesia MXGP will certainly go down as one of the muddiest all time. A monsoon hit the facility and wiped out most of Saturday's program and then wreaked havoc on Sunday's event. To the organizers' credit, they did their best to give the surprisingly large crowd a race to watch. The WMX class got in two motos, the MX2 class got one and a half races in before the track became impassible, and MXGP stopped after just one moto, with Wilvo Yamaha's Shaun Simpson the winner. The mud was brutal, and it made for a couple of memorable images, including seeing world champs Tim Gajser, Jeffrey Herlings, and Romain Febvre all stuck at once in the same bottomless spot.
Jeremy Seewer of Switzerland got his first GP win in MX2, not to mention Suzuki's first in the 250 class since a young Ken Roczen back in 2010. And before Samuele Bernardini's second MX2 moto win in Indonesia, Italian brand TM's last moto win was reached by another Italian, Alex Puzar. The two-time world champ Puzar won in 1998 at the GP of Italy held at Montevarchi in the 125 class.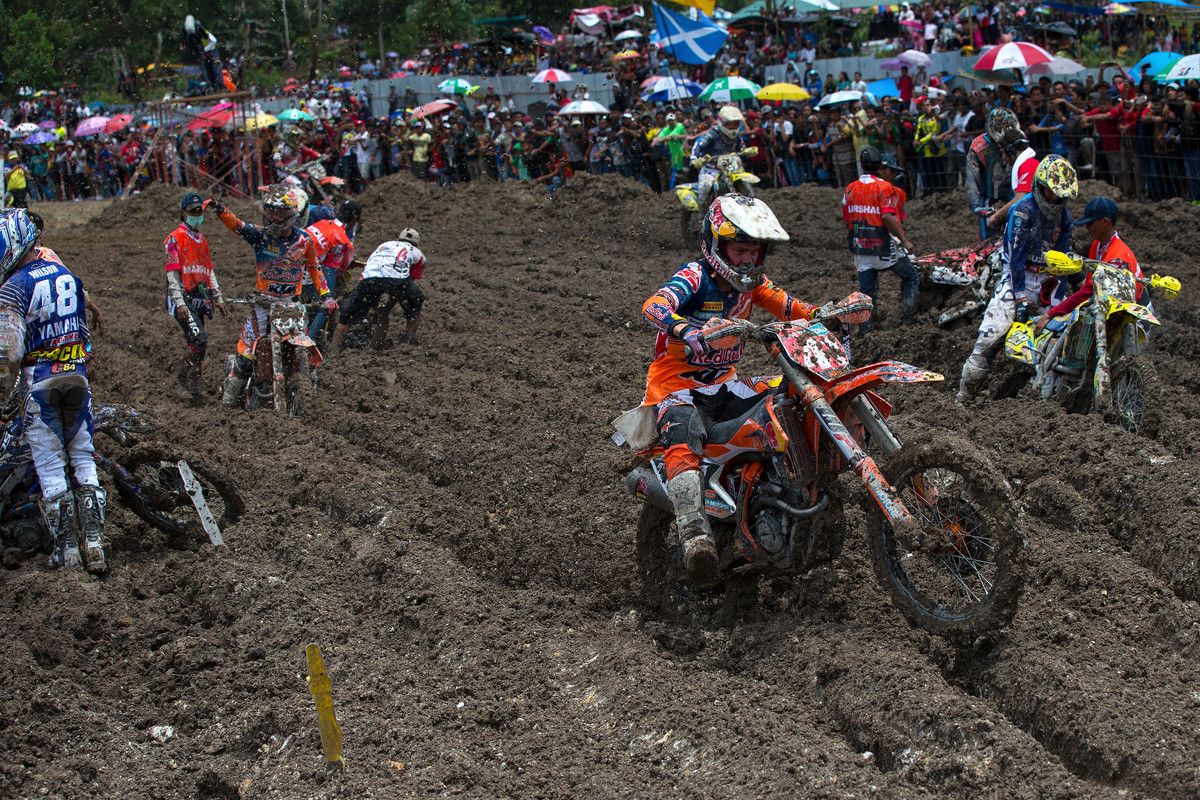 And the ever-steady Tony Cairoli continues to wear the red plate, having scored fourth in the one MXGP moto despite not being very happy with the conditions. Cairoli is already 50 points ahead of his KTM teammate Herlings, who has struggled with a hand injury. The GP guys have the week off, and then it's on to Argentina. Here's hoping the weather doesn't follow them!
Head-Scratching Headline of the Week
"N.H. woman allegedly injects narcotics into another woman who had requested the drugs while attempting to give birth." - The Boston Globe bos.gl/Y4WEbNe
Hey, Watch It!
Former pro Derek Anderson, whom most know for his web-based reality series Driven to Ride and Man vs. Moto, which showed the struggle of the privateer motocross racer, sent us this cool video of he and his friends—John Citrola, Nick Citrola, and Joey Olson—of Privateer Performance, a local Race Tech suspension company, hitting Book Cliffs in Grand Junction.
Highlights from the GNCC opener last weekend at Big Buck from FMF
Donny Emler Jr. gave us the tour and showed us how this 100 percent American made product comes to life.
Random Notes
Looking for something to do after the Daytona Supecross? The folks over at Ride Brand will be hosting a supercross after-party at Razzle's immediately after the race on Saturday, March 11.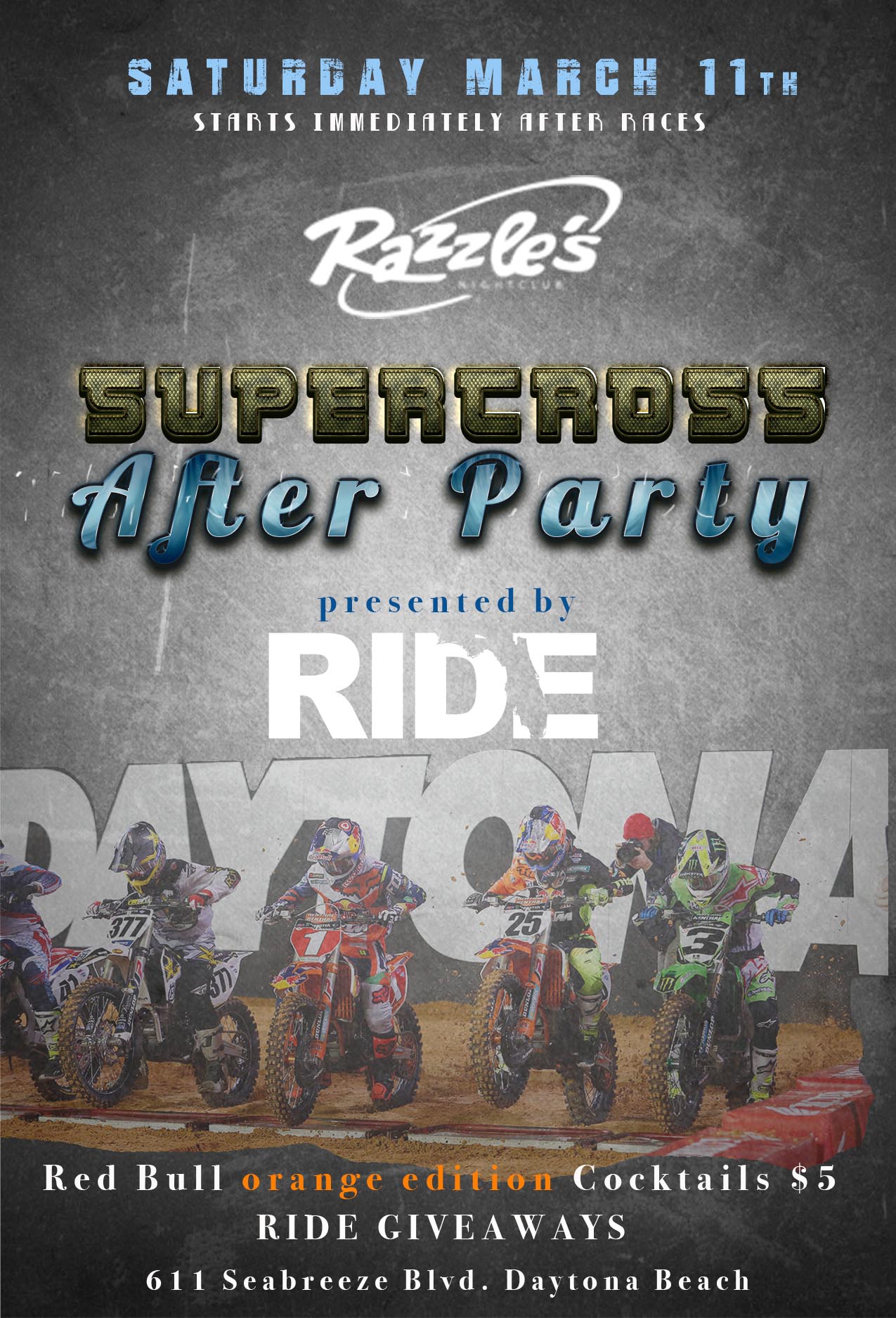 Got this note from former factory Suzuki rider, 125SX champion, and all-around good guy Ronnie Tichenor:
I've been working on a new business I'm just getting ready to open. I was wondering if I can get any word about it either on racer x to let people know while they are down for Daytona. Go to templefloat.com or check it out on Facebook at temple float spa.
---
For an update on Canadian racing, check out DMX Frid'Eh Update #10.
---
Watch the Ricky Carmichael Daytona Amateur Supercross live on RacerTV on Monday, March 13, at 12:00 p.m. EST.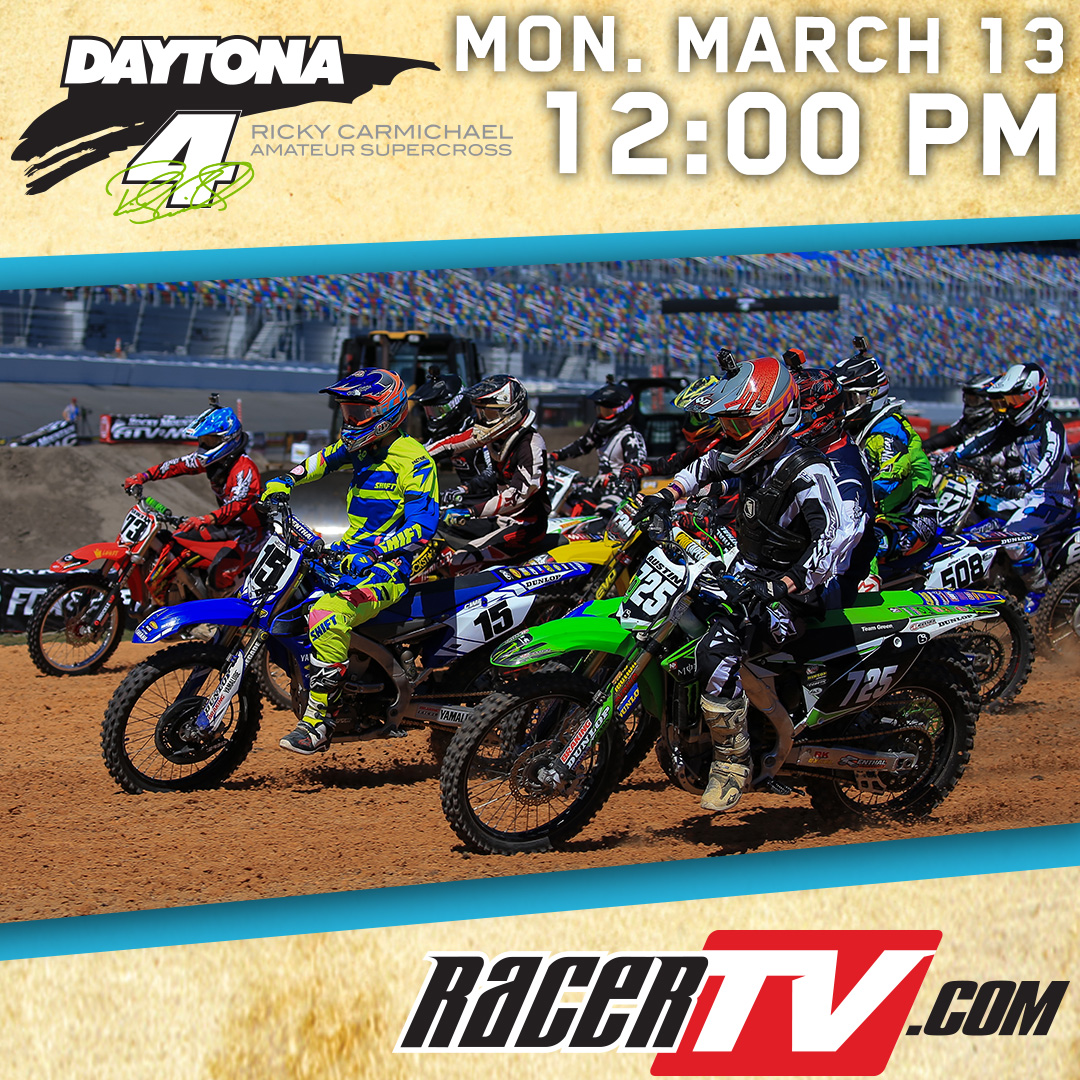 The AMA's Director of Racing Kevin Crowther is also a part-time model to help pay down his student loans….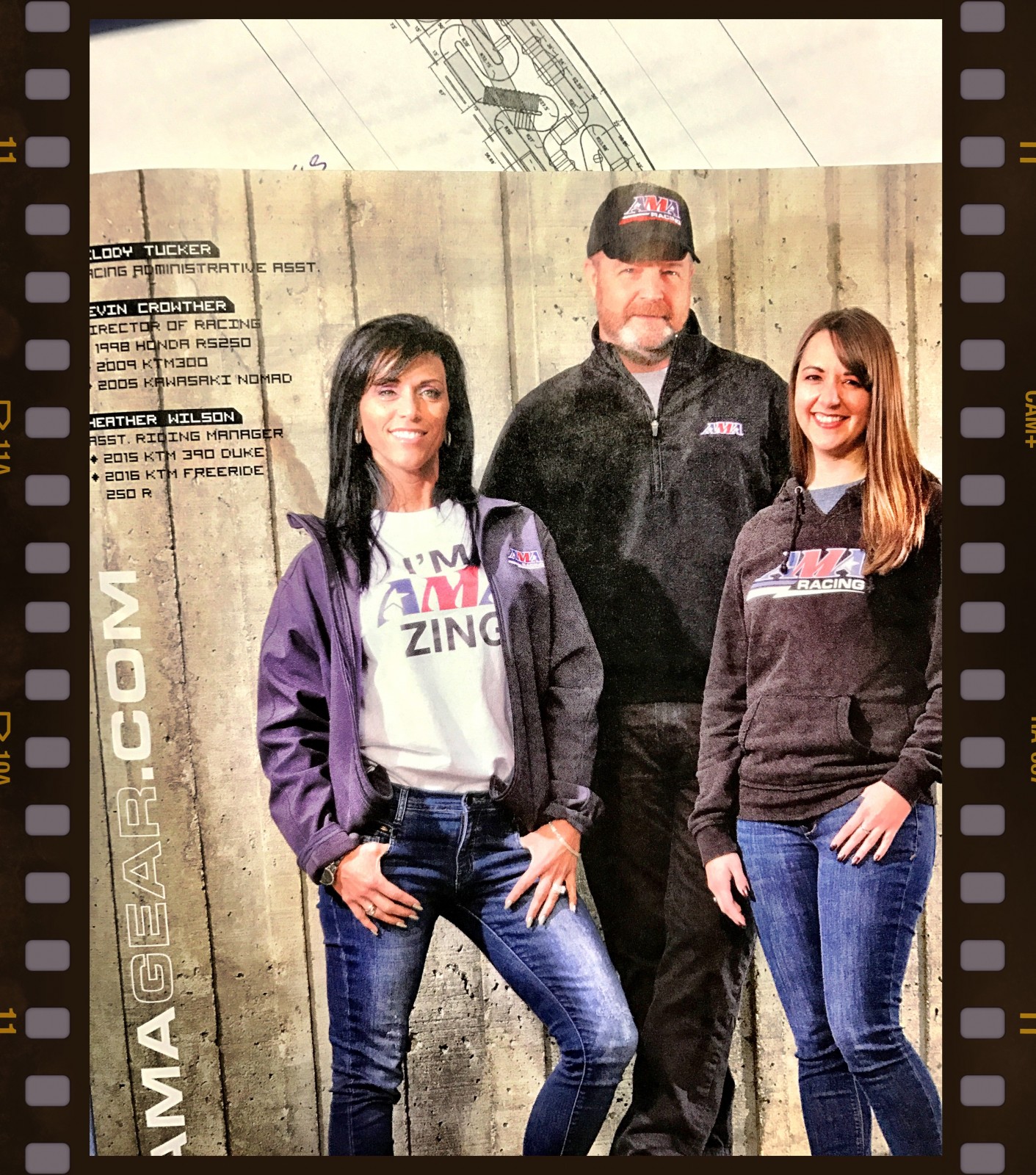 Oh yeah, and don't forget about our print publication, Racer X Illustrated! Subscribe today for a free Racer X 20th Anniversary T-shirt. You'll also get a complimentary one-year digital subscription if you purchase a print subscription. The magazine features in-depth features and interviews that you won't find online, and it's well worth the (relatively small) cost.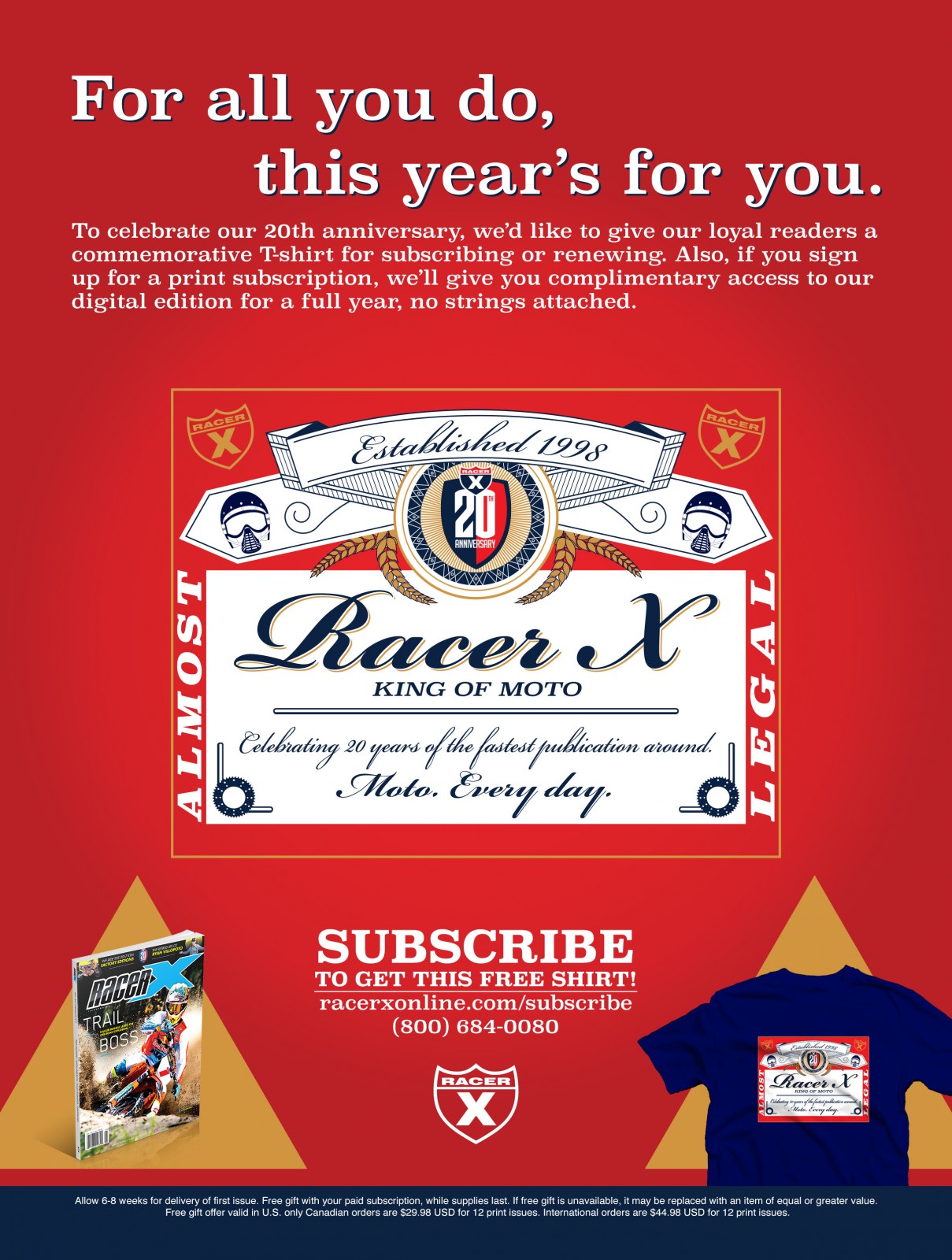 That's all we've got for now. Thanks for reading Racerhead. See you at the races.