U.S. Bank Stadium
Minneapolis

,

MN
Minneapolis
Monster Energy AMA Supercross Championship
Minneapolis had the potential to be epic. The 450SX Class has been pretty unpredictable as of late, and this was also the first race for the 250SX East Region, which is loaded with heavy hitters. The ingredients were definitely there for a wild night. But did it materialize? Check out the Racer X Race Day Feed to find out. Start at the bottom and work your way up for a rundown on the entire day, or start directly below to skip to the main events.
450SX Main Event
Cole Seely took the holeshot, but he had Davi Millsaps right next to him. Eli Tomac was right there in third, with Ryan Dungey breathing down his neck. Then Cole Seely went down all by himself and gave up a ton of spots. A few laps in, Tomac went around Millsaps for the lead, prompting Dungey to push immediately and follow suit. This made the crowd absolutely explode as the stage was set for an epic duel between Tomac and Dungey, the crowd's hometown hero. Marvin Musquin, meanwhile, wasn't too far back and had managed to pass Millsaps for third. At that point he faced roughly a six-second gap to the leaders. Back up front the crowed awaited the battle, but it just didn't materialize. On this night Tomac was simply too fast, and there was nothing Dungey could do. It wasn't for lack of trying though, as Dungey made a mistake in a rhythm lane and went off the track, narrowly avoiding a big crash. Behind them the guys got pretty spread out, and there wasn't much battling going on. That changed toward the end of the race when Musquin dropped the hammer and went after Dungey, passing him with about four minutes left on the clock. Just like with Tomac, there was nothing Dungey could do except watch Musquin's rear fender slowly disappear ahead of him.
Chad Reed and Dean Wilson both went down on the first lap, and Wilson had to come back from dead last to finish twelfth. Reed ended up stalling later and ended up sixteenth.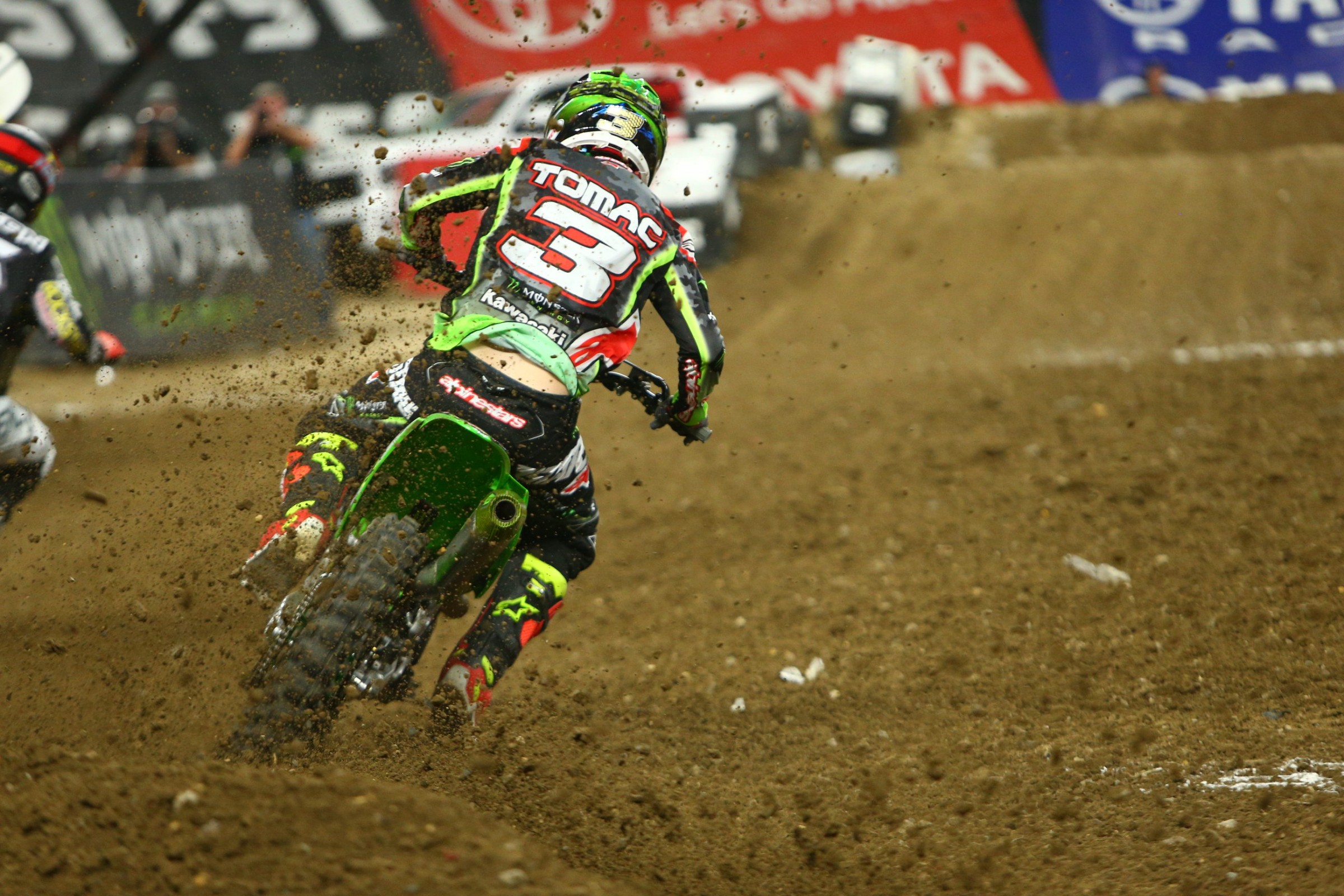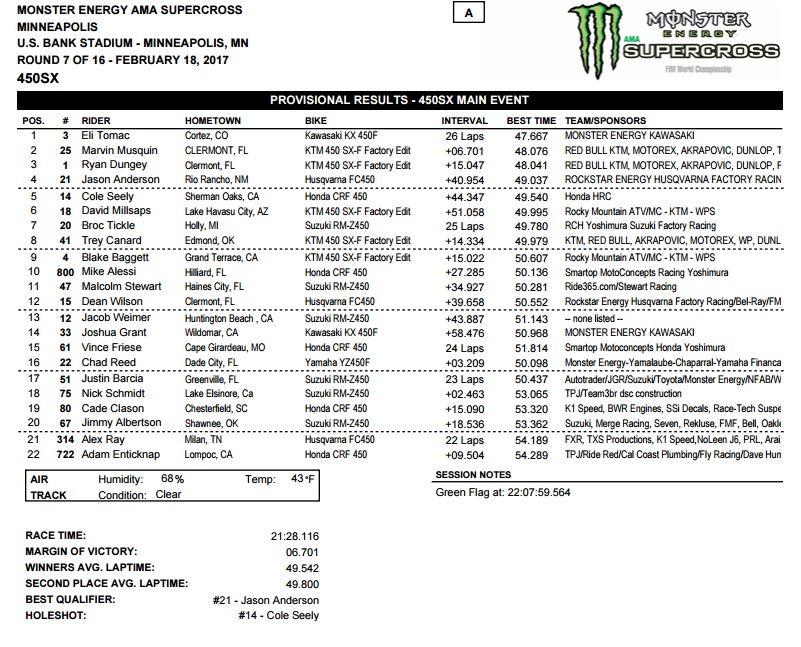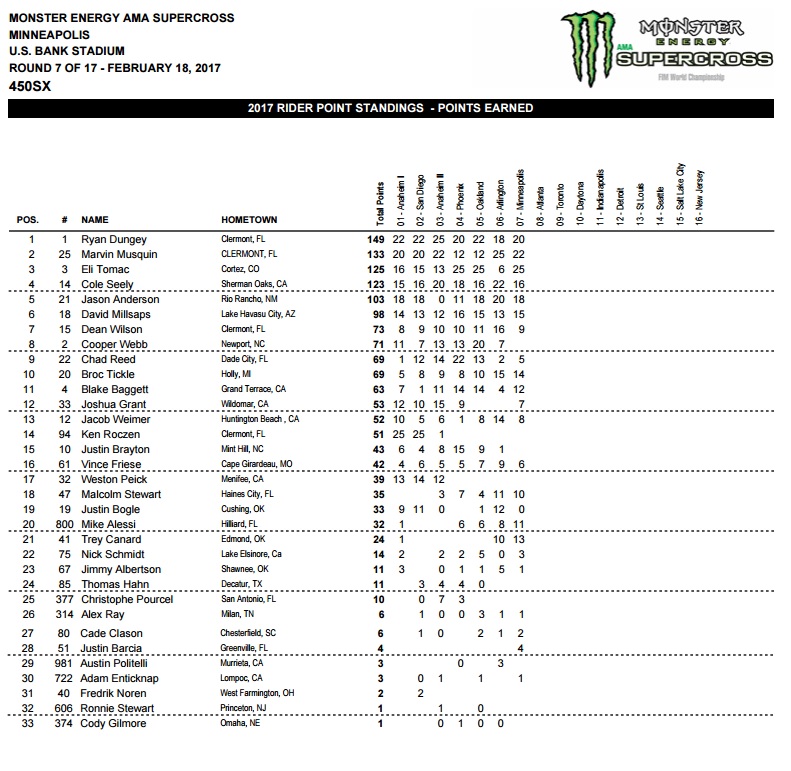 250SX Main Event
The crashes started early in this one and were peppered throughout the entirety of the race. Colt Nichols and Dakota Alix got into each other just a few turns in, with Alix getting launched from his bike. A short while later Alex Martin crashed out, and Benny Bloss crashed out toward the end of the race too. As far as the actual racing, Jordon Smith took the holeshot with Savatgy close behind. Savatgy stalked Smith for quite a bit, while Zach Osborne focused on moving up after a so-so start. With about ten minutes left Osborne passed RJ Hampshire for third and was about six seconds behind Smith and Savatgy. As Savatgy and Smith battled, Osborne just kept making up time, and when Savatgy finally put a move on Smith Osborne followed suit about a lap-and-a-half later. Osborne went after Savatgy but ended up going down in the sand section all by himself, giving second back to Smith. He remounted, charged, and it looked like he might be able to make a move before it was all over. On the final turn of the final lap Osborne dove to the inside of Smith but Smith was able to slingshot back around for second.
Elsewhere Adam Cianciarulo and Christian Craig both got horrible starts and were forced to deal with heavy traffic. Cianciarulo salvaged fifth, but something was up with Craig, who was great in qualifying and his heat race, but ended up getting lapped in the main. Credit to Nichols for coming back to tenth after going down on the first lap.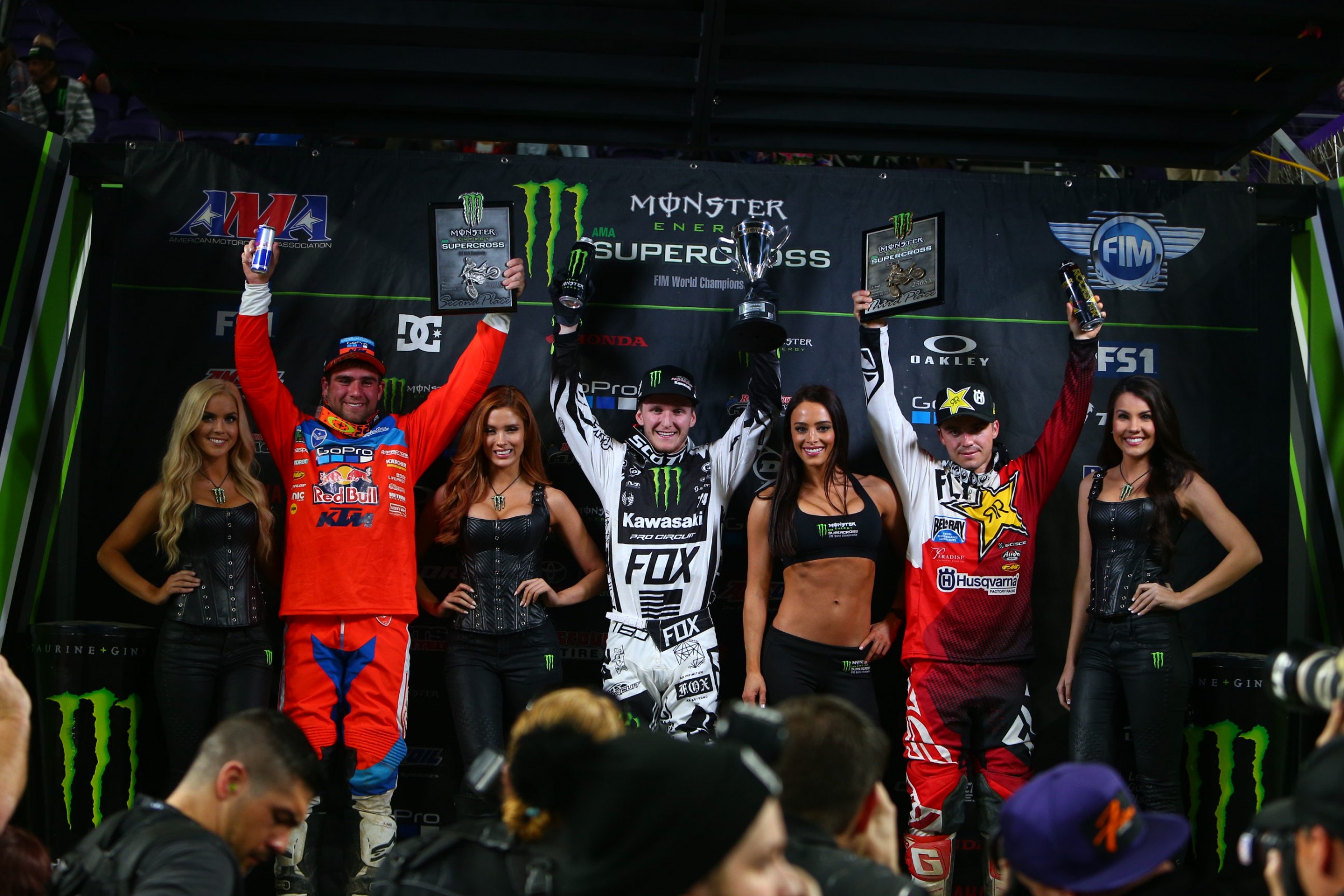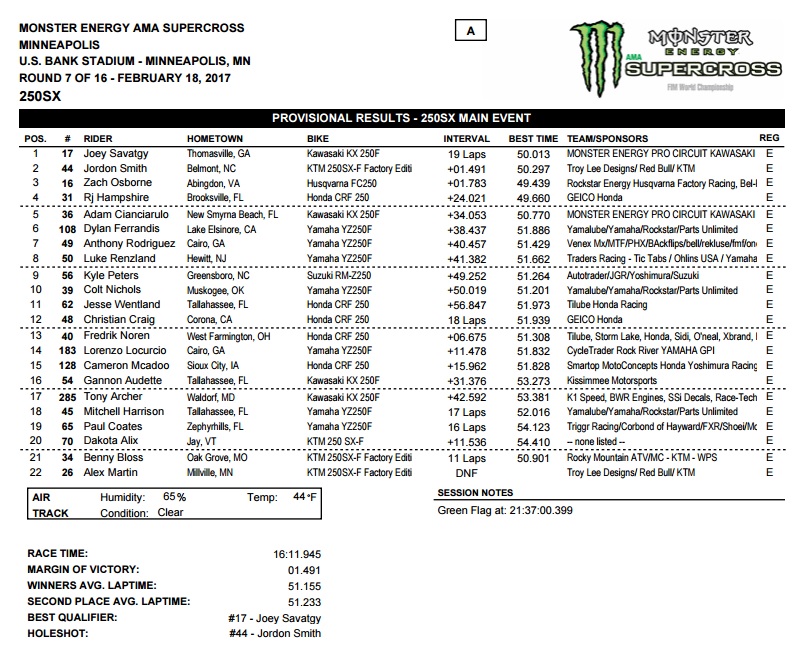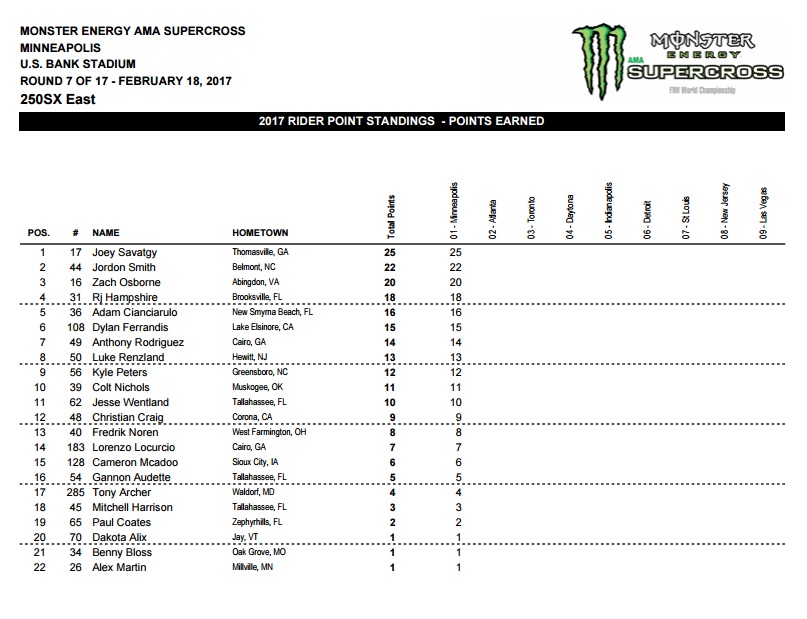 450 Last Chance Qualifier (LCQ)
Both Cooper Webb and Justin Bogle were slotted to race in this one, but neither lined up after having big crashes earlier in the night. Jake Weimer edged Jimmy Albertson for the lead and took off for the win. Justin Starling had a good start but he got the short end of the stick and went down when he and Albertson got together. From there it was a pretty uneventful race, with Weimer, Albertson, Cade Clason, and Alex Ray all taking transfer spots.
450SX Semi Two
Cole Seely shot out to the holeshot in this one, but in the second turn Marvin Musquin rocketed by him. Chad Reed got by as well while Seely was steadying himself. Seely immediately went right back after Reed, with Broc Tickle lurking in fourth. Vince Friese, meanwhile, rode all by himself in fifth. Seely made a move stick on Reed, but Musquin couldn't be caught. Reed nearly dropped another spot to a charging Tickle but held him off for third. Musquin, Seely, Reed, Tickle, and Friese all earned spots in the main.
450SX Semi One
Mike Alessi with the holeshot in this one, with Justin Bogle right on him. It looked like a pass would happen soon, but Bogle went down hard in a rhythm lane and just like that, was out of the race. That left Malcolm Stewart and Justin Barcia to go after Mike Alessi. Stewart went inside Alessi in a big bowl turn and Barcia made a pass of his own on Alessi half a lap later. Stewart went on to win, with Barcia, Alessi, Nick Schmidt, and Adam Enticknap rounding out the final transfer spots.
250SX Last Chance Qualifier (LCQ)
Dakota Alix banged the holeshot in this one with Alex Martin close behind. Tony Archer rode by himself in third, with Paul Coates in a lonely fourth. With about a lap-and-a-half to go Martin was all over Alix and took the lead right before the white flag came out. Martin won, followed by Alix, Archer, and Coates.
450SX Heat Two
It looked like Cooper Webb was going to take the lead in this one but a crash right before the second turn saw him get ejected off the bike and slam hard into the berm. He instantly grabbed his wrist and was in obvious pain and wasn't able to rejoin the race. We'll see if he's back at all tonight. Up front Jason Anderson had a decent lead with just under two minutes to go, but Eli Tomac was on the move and slowly eating away at Anderson's lead. It looked like Tomac was going to run out of time, but then Anderson got hung up on a lapper, allowing Tomac to make up a ton of room. It just wasn't enough though and Anderson took the win by a little over half a second. Dean Wilson crossed the line ten seconds behind Tomac, with Grant taking the last qualifying spot. Elsewhere there were fireworks between Chad Reed and Justin Barcia. Barcia got into Reed early in the race and cleaned him out, and when Reed saw Barcia down in the sand section late in the race, he drilled him as he was trying to get his bike started. [Update: From our vantage point it looked like Reed hit Barcia intentionally, but when we checked with Barcia's team afterward they told us Barcia thought it was just an accident.]
450SX Heat One
Vince Friese edged Davi Millsaps in the second turn to take the early lead, but about a lap later Millsaps took the spot and went to work building a gap. Behind Friese was Ryan Dungey, and the crowd started going nuts when they saw Dungey make a move stick on Friese. Dungey put his head down and closed on Millsaps, and when he pulled up alongside him after the whoops it looked like a pass was imminent. But then Dungey made a mistake and had to roll the finish line jump as the white flag came out, which gave Millsaps just enough breathing room to win the heat. Dungey took second, with Trey Canard and Blake Baggett taking the final transfer spots. Cole Seely and Marvin Musquin both crashed on the first lap, earning a trip to the semi.
250SX Heat Two
Christian Craig holeshot this one and disappeared, winning by over eight seconds. Luke Renzland held second for most of the race, but was passed by Zach Osborne, who didn't get the greatest of starts, with just a few turns left. Behind them RJ Hampshire, Colt Nichols, Jesse Wentland, Benny Bloss, Cameron Mcadoo, and Jordon Smith crossed the line in transfer spots. Some tense moments for Smith though. Smith was making his way forward when he crashed, dropping him out of qualifying position. He worked his way back in, only to get passed by Benny Bloss. Smith was able to work around Dakota Alix near the end though to avoid a trip to the LCQ.
250SX Heat One
The first holeshot of the night went to Joey Savatgy by a nose over Adam Cianciarulo. The two proceeded to check out, with Savatgy holding a small, yet comfortable, lead over Cianciarulo for the entirety of the race. Behind them the guys were, for the most part, pretty much spread out, with Gannon Audette, Anthony Rodriguez, Mitch Harrison, Dylan Ferrandis, Lorenzo Locurcio, Kyle Peters, and Fredrik Norken rounding out the transfer spots. Not a bad ride from Ferrandis, who started outside a qualifying spot and worked his way up to sixth.
Qualifying - Session Two
It was the Zach Osborne show again in the second 250SX qualifier. The Rockstar Energy Husqvarna Factory Racing rider was fastest right away. Adam Cianciarulo (who spent much of the session without a helmet visor and front number plate after crashing), Jordon Smith, and Christian Craig were momentarily faster, but Osborne came storming back to the top, beating them all by nearly a second. He'd go on to beat his own time on his last lap, setting a final time roughly half a second faster than his closest competitor, Joey Savatgy. Osborne has never won a supercross race, but he's looking very fast tonight. We'll see if he finally lights the candles in Minneapolis.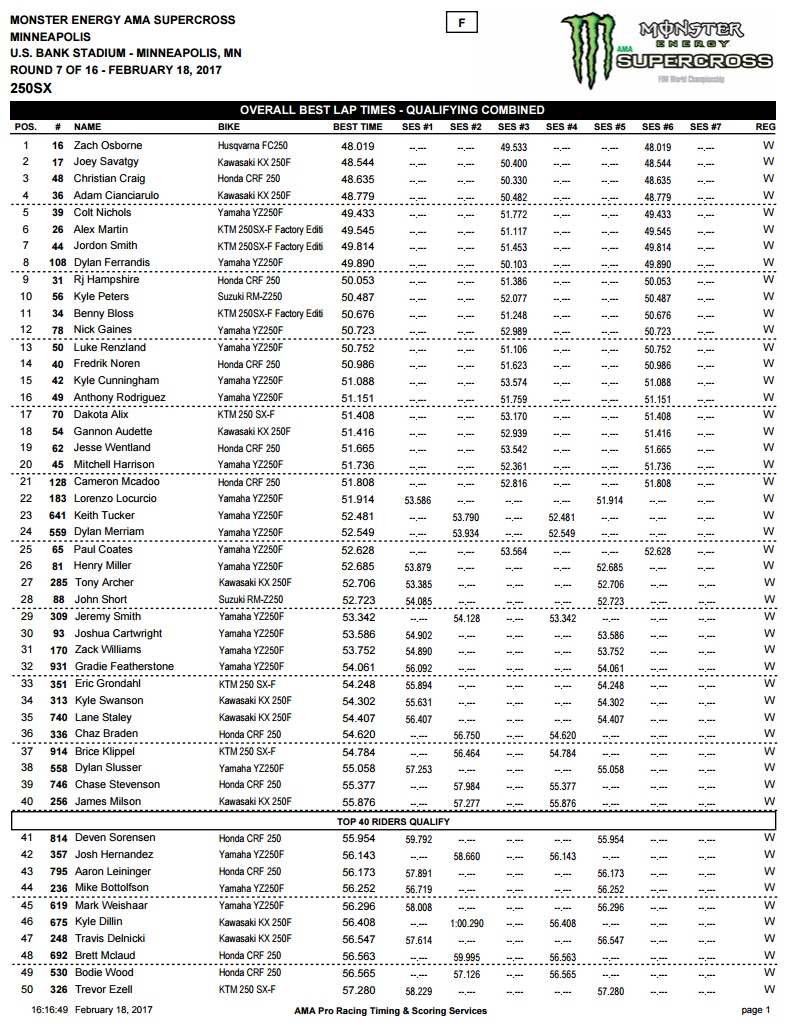 In 450SX action it was Eli Tomac once again. Jason Anderson briefly held the fastest time, but Tomac came right back, jamming a big Monster Energy Kawasaki flag at the top of the board that wouldn't move for the rest of the session. Tomac ended up beating his own time again in his tenth lap, and when the dust settled he'd logged a fast time almost exactly a second faster than Marvin Musquin. Elsewhere Dean Wilson had a good qualifier, scoring third fastest. Ryan Dungey tried to put in a heater on his final lap but a couple very small bobbles prevented him from placing in the top five. Check out the times from Musquin in second to Justin Barcia in thirteenth—they're all in the 48-second range!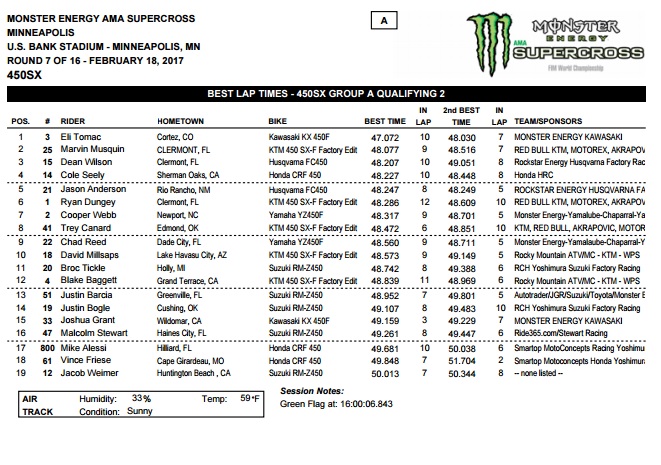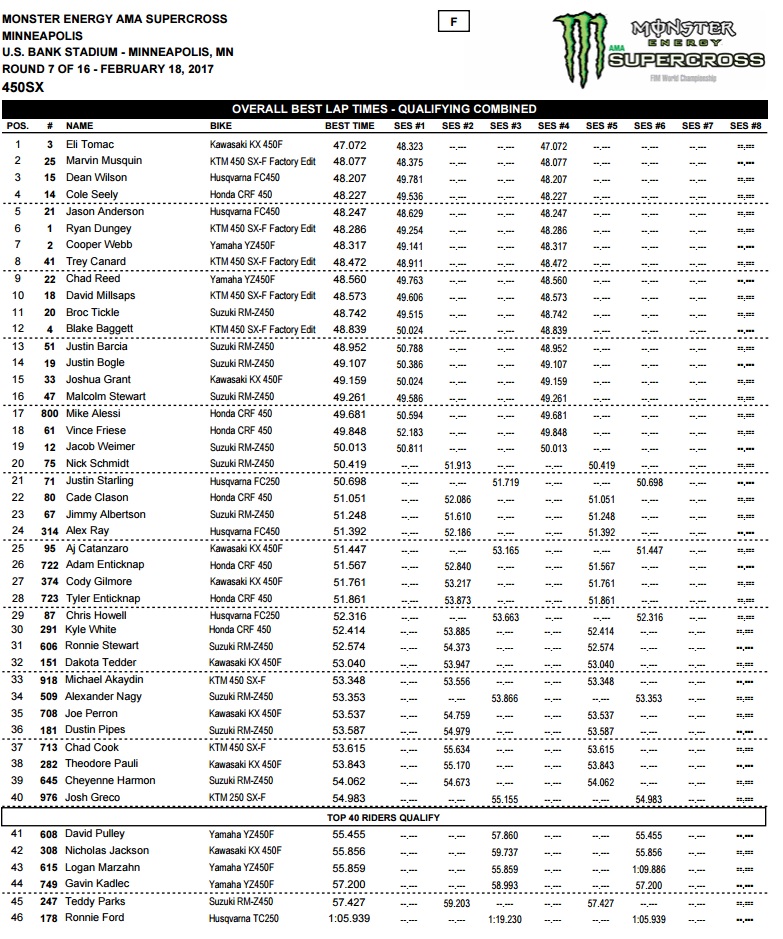 Qualifying – Session One
At first glance today's track looked like it might provide slightly longer-than-average lap times, but when the bikes hit the dirt that theory went straight out US Bank Stadium's gigantic windows. So far lap times have been right around the 50-second mark, with the fastest guys dropping into the 48-second range . And speaking of fastest guys, Adam Cianciarulo and Christian Craig came out of the gate hard in the first qualifier, dominating the board and trading fast laps for the first half of the session. But then a few guys started closing the gap and Cianciarulo's time eventually dropped to fifth behind Joey Savatgy in fourth. Craig dropped a couple spots too when both Zach Osborne and Dylan Ferrandis busted out a couple scorchers at the end. If you're not sure who Dylan Ferrandis is, you will soon. He's a European rider who signed with Yamalube Star Racing Yamaha and he looked pretty good out there.
When the 450SX guys took to the dirt Eli Tomac didn't wait long to start laying down fast laps, but before long Jason Anderson and Marvin Musquin were throwing down too, dislodging Tomac from the top of the board. As the qualifier started winding down it looked like Musquin's 48.375 would hold strong, but Tomac waited until the last lap to barely edge Musquin with a 48.323.
An interesting line developed in the long rhythm lane that has two successive dragon's backs. Some guys were doubling from the first dragon's back to the next, while some were landing between the dragon's backs and using the first bump to launch over the second dragon's back before tripling out of the section. It wasn't clear in this session which line was faster, but Tomac was usually doubling while every time we saw Musquin he was using the other line. We'll see how this plays out in the second qualifier.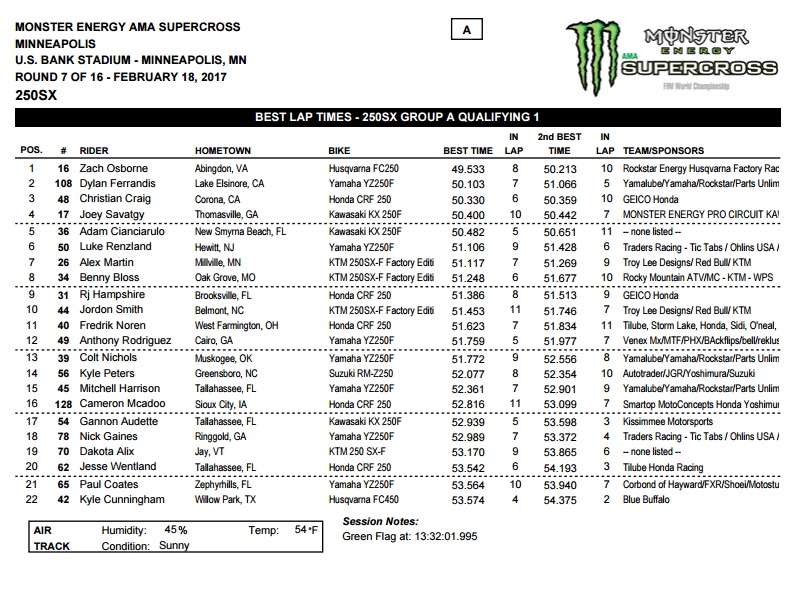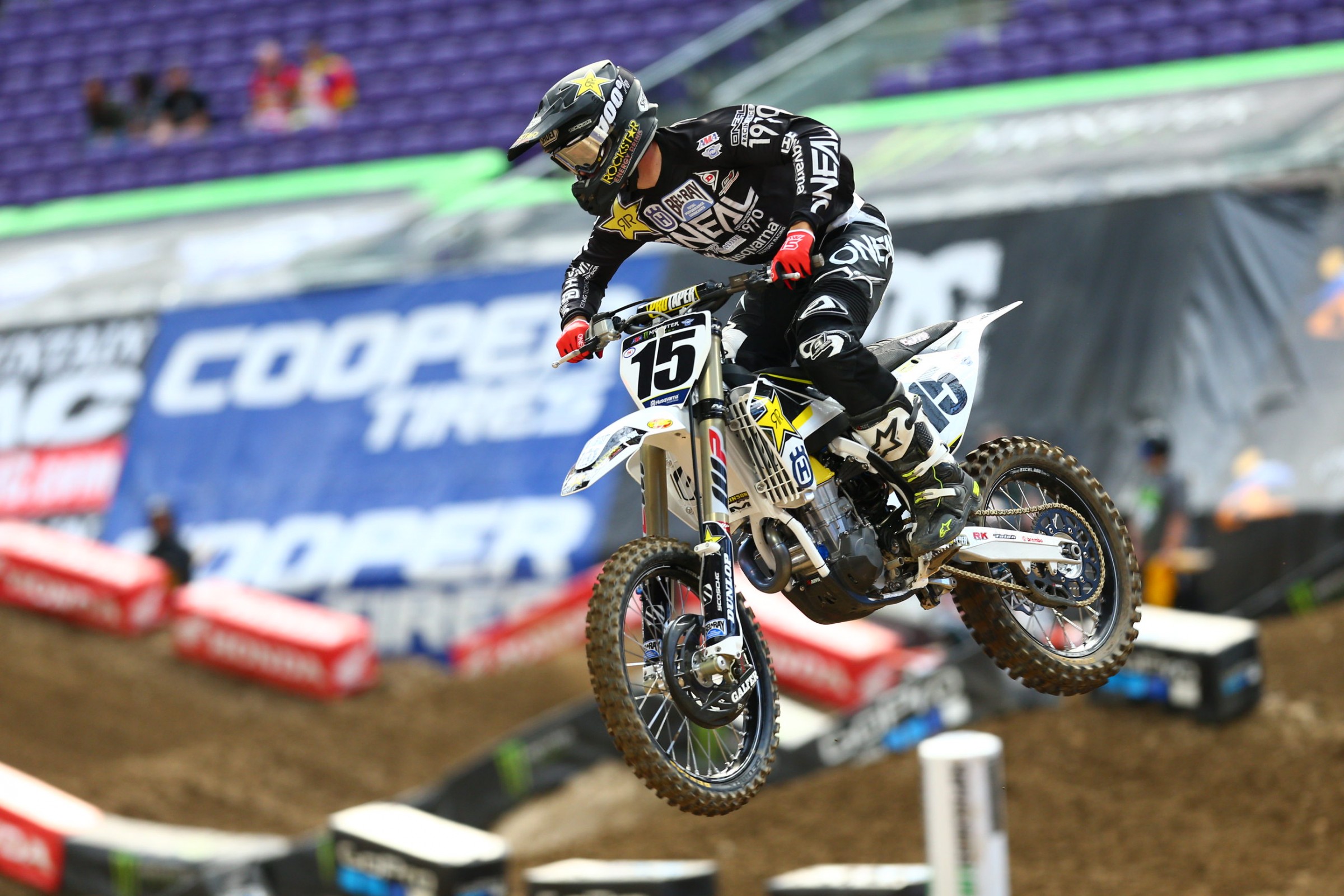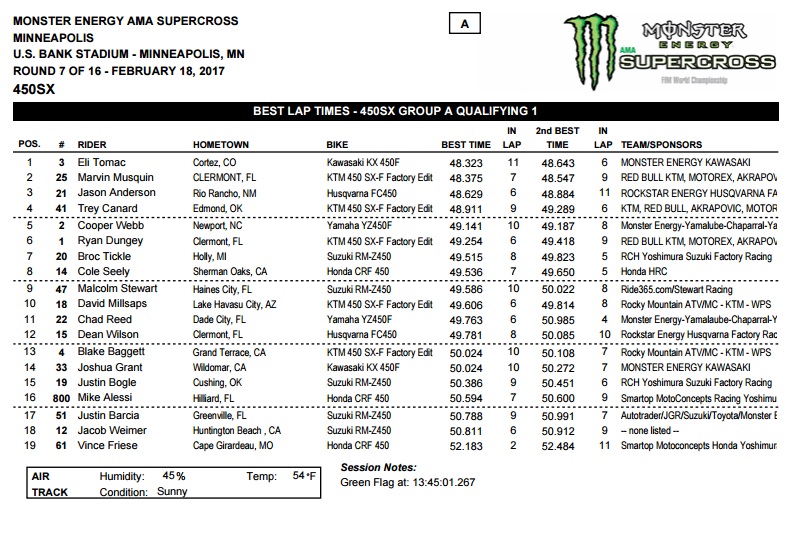 Morning Report
Plenty of things to talk about this morning. We'll finally get an idea of how things in the 250SX East Region are going to shape up, and with names like Joey Savatgy, Adam Cianciarulo, Christian Craig, Jordon Smith, Alex Martin, Zach Osborne, Colt Nichols, and plenty more all gunning for the checkers, things could get wild. The prospect for volatility in the 450SX Class is high too. Despite only winning a single race so far and finishing off the podium last week, Ryan Dungey has still managed to stretch his points lead at every round ever since taking ownership of the lead at A2. Some people say he's slightly off his normal pace, others tend to think he's smartly managing a championship lead. Either way, you know the Minnesota-native will be going for it tonight in front of his home fans. He'll likely have a fight on his hands from Marvin Musquin though, who is fresh off his first career 450SX win last week. Eli Tomac will certainly be looking to storm back to the front too after a front brake problem relegated him to fifteenth place in Arlington. The issue, which ultimately forced Tomac to race without a front brake, dropped him to fourth in points, twenty-nine back of Dungey.
On the injury front, GEICO Honda's rookie, Chase Sexton, won't be making his debut today as originally hoped, due to a nagging injury to both of his wrists. On the plus side, word is Josh Grant is back after a finger thumb took him out of Oakland and kept him on the sidelines in Arlington. For a complete look at who's in and who's out, go here.
As much room as there is on the inside of the stadium, there's very little space outside, which forced race organizers to forego the usual pit party. There's barely even room for the teams to unload and prep bikes! Don't worry though, there will still be plenty of action inside the stadium when qualifying gets underway at noon.