O.co Coliseum
Oakland

,

CA
Oakland
Monster Energy AMA Supercross Championship
Oakland is next up and while the Raiders are trying to leave town, supercross will soothe the city's suffering. Our series is providing entertainment on a level we haven't seen in years. Losing Ken Roczen to injury was a brutal blow but as always, the series must move on. For those who thought Ryan Dungey would go on an endless win streak, Phoenix was eye opening. Eli Tomac was obviously the big story with his turnaround win (he was eighth a week earlier) but Chad Reed made a podium appearance for the first time in a year. It was a weekend of surprise and great for the long-term outlook of this series.
The track in Oakland is usually one of the smaller ones we see all year. The baseball diamond (although they squeeze football into this stadium as well) type floor usually means less space and shorter lap times. Track builders are forced to be creative in order to avoid 90-degree turns and short sections. The start is laid out well with that long left hand turn that I like. Is this the new normal? I hope so. That leads into a rhythm section that will be interesting on the first lap. Riders have voiced concern at times with a difficult rhythm just after the start, but I don't think there is a perfect solution to 22 riders barreling into any combination of whoops or jumps. Look for riders to triple in and then either go on-off or possibly quad into the corner. The quad will be dependent on how the dirt shapes up. With rain expected on Friday and possibly Saturday, all of these bigger combos could be compromised.
The following 180-degree turn leads into a standard supercross triple, immediately followed by another 180-degree turn to the left. If someone could get a good drive out of the first 180 and scrub this triple (someone with skills like Malcolm Stewart), they could make a pass leading into the left. There is a basic double out of that turn into a fast gradual left. The next section is interesting as there are three similar dragon back sections in a row. The first two are stepping up and the last is a downward angle. Watching riders figure out the best way to traverse sections like this is always fun. Some will try to jump all the way up and over, some will blitz anything and everything, and most will find some combination of the two. These sections are where true bike skills can make a big difference.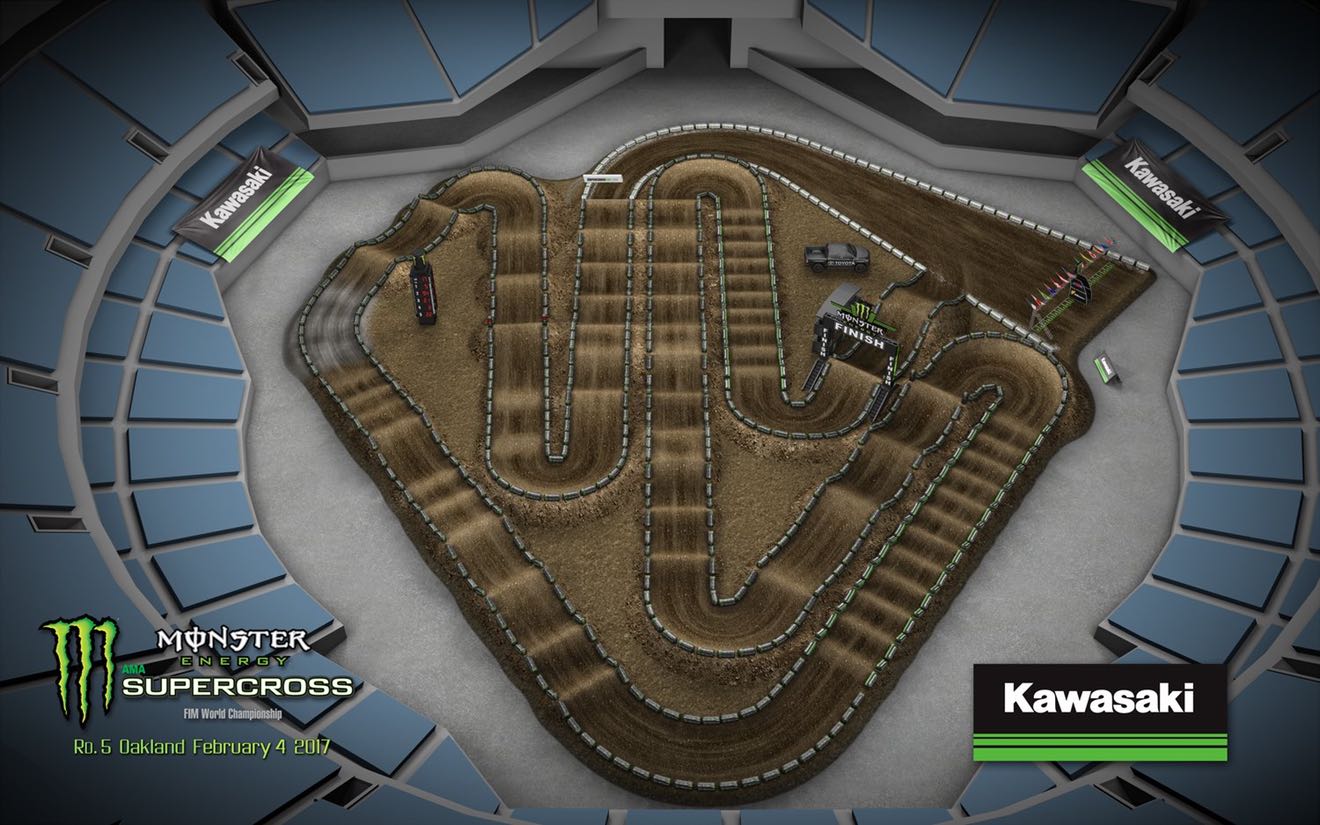 After another fast left, there is a set of whoops that could be a great passing spot. The fast, open left-hand turn before it should give riders a chance to build speed and find a different line on the entry. Oakland whoops usually break down quite a bit so these will be jumped, wheelied, and blitzed. Marvin Musquin will be happy to get back into a set of whoops like these after a tough set of blitzers like Phoenix.
Watch for block passes at the end of those whoops in the 180-degree left. Following that turn, there is the second standard supercross triple. That leads into a hard right turn and the longest rhythm section on the track. There will be some bigger options if the rain doesn't limit the possibilities. I look for riders to triple out of the turn onto the plateau but if that doesn't pan out, they will double then triple. These rhythm sections are always about two things: finding places to triple and finding ways to stay low on the jumps. Many times that means jumping from the lower jumps and avoiding the taller jumps. For instance, if a section had a random variation of 3' and 5' foot jumps (the norm for SX), riders are always going to want to launch from the 3' take off and try to clear any 5' jumps. That will keep them lower and moving forward. The 5' jumps send riders too high and higher means slower. So, anytime you see riders trying to dissect a rhythm, they will always keep that golden rule in mind. Stay low, stay fast.
The next section is a shorter set of whoops followed by the finish line. This section is exactly like Anaheim 1 and I expect the whoops to be small and fast just like the first round. The start straight wraps around to end the lap. While it may be a very simple section, watch for riders racing down the inside from the landing of the finish trying to beat the lead rider to the apex of the first turn. Often times, momentum will carry riders too far to the outside, opening up an opportunity to get aggressive. For a rider like Jason Anderson, this is a prime spot to make an unsuspecting pass.
---
Questions I Want Answered:
Can Chad Reed back that up?
Which Eli is the real Eli?
Will the 250 boys keep up this love fest or will the pressure and tight racing finally reach a breaking point?
Can Marvin Musquin and Jason Anderson bounce back after a sub-par weekend?
Will Blake Baggett's qualifying and heat race speed transfer to the main event in Oakland?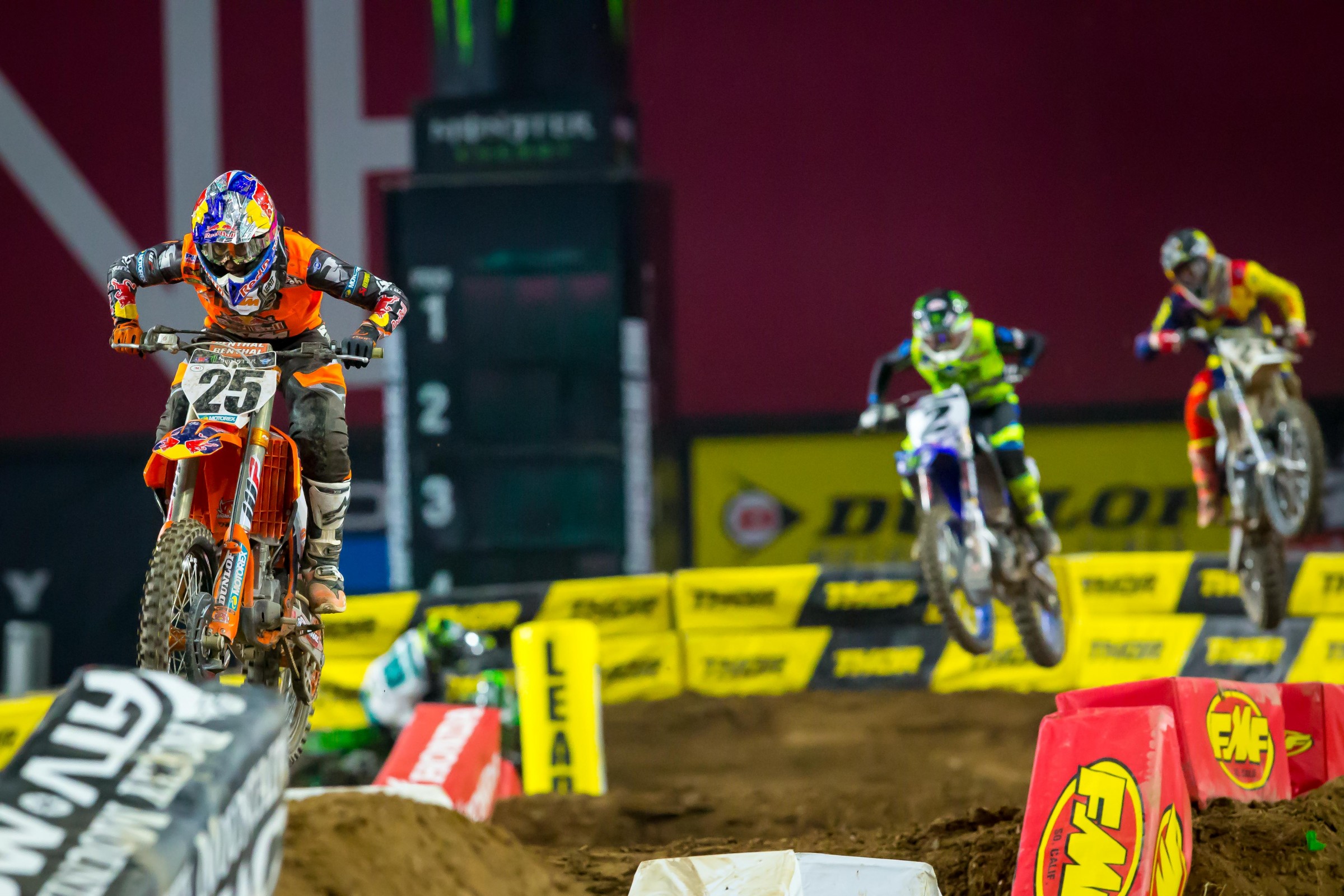 ---
Who's Hot:
Eli Tomac was on another planet last weekend. He was two seconds a lap faster than anyone on the track in the opening laps. The race was over before anyone even realized Eli was winning.
Chad Reed hasn't had a great 2017, but Phoenix was a good way to change that narrative. He outdueled Ryan Dungey straight up and quieted a lot of doubters.
Justin Hill has back-to-back wins and is now only four points behind points leader Shane McElrath. I think both of these riders will win more races, but someone will make a big mistake and that will be the difference.
Ryan Dungey may have finished third and tallied his worst result of the season but even in that disappointment, he added eight points to his championship lead. That's tough to beat for a series.
---
Who's Not:
Jason Anderson was DQ'd in Anaheim and then dealt with a brutally bruised arm last weekend. He was only able to muster a 10th place finish. He needs a strong bounce back Saturday.
Jeremy Martin can't buy a break. Even when things were looking up during qualifying, he took a wheel to the face and with that blow, was out for the night. He will also miss this weekend.
AutoTrader.com/Monster Energy/JGR Suzuki has lost both of its top riders in the first four rounds of the series, leaving the reins to Jake Weimer and 250 rider, Phil Nicoletti. Justin Barcia will be back in a few weeks, but the injury bug has bitten the JGR team hard.
---
Bold Predictions:
We have another new winner in Oakland.
The riders all take pitchforks to the press conference.
Blake Baggett gets his first top five of the season.
There is an incredible amount of yawning during track walk.
Ricky Carmichael reminds everyone how well it goes when someone wears a crown to a race.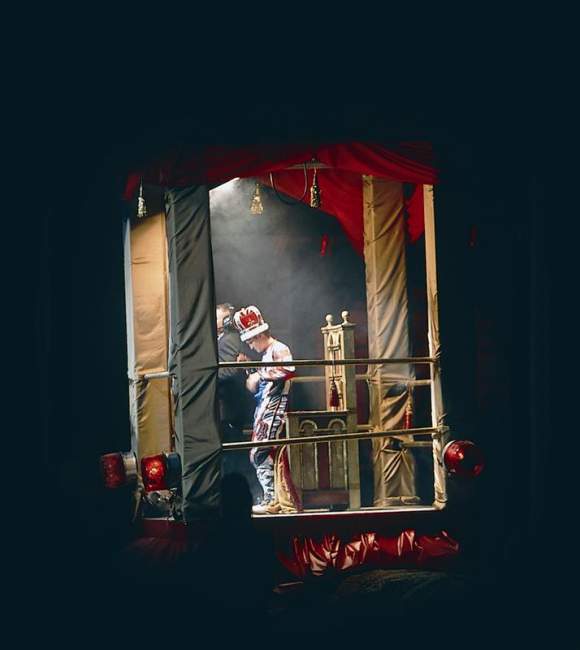 My Picks
250
Justin Hill
Aaron Plessinger
Shane McElrath
450
Marvin Musquin
Ryan Dungey
Eli Tomac