Welcome to Racerhead, coming to you not from another Anaheim or even Phoenix, but rather Daytona International Speedway. No, we're not here super, super-early for Bike Week, but as guests and fans of the Rolex 24 Hours of Daytona automobile race. We're also visiting AMA Pro Racing, and we've bumped into some old moto friends like Scott Taylor, Wes Nobles, and more. And every person I've bumped into that I know wants to know how Ken Roczen is. His violent, ugly, and very destructive crash was felt all the way over here—literally and figuratively. The Honda factory rider was likely going to be the marquee athlete for the Daytona Supercross by Honda, but that's all over for now. We will have much more on Roczen below, and you can certainly follow his very graphic and honest updates on his Instagram account (@kenroczen94). And get well soon, Ken!
Ken's arms look horrible and painful, but they do have over 50,000 likes.
We brought this up last week, but it demands our attention again because it's starting to really look like this may happen. The Office of the United States Trade Representatives is trying to add a 100 percent tariff on motorcycles built in Europe as a way to protest Europe's restrictions on U.S. meat products due to their concerns over testing practices, the amount of hormones in beef, and fear of some kind of Mad Cow outbreak. It's a tit-for-tat move, doubling the price of Europe-built motorcycles as leverage to get easier restrictions for meats shipped from the U.S. to Europe. The AMA's stance is this: "The American Motorcyclist Association opposes the proposed tariff, because trade disputes residing within the boundaries of the agricultural industry should not be solved with trade sanctions levied against non-agricultural products."
A $5,000 KTM will cost $10,000 if this goes through, and a $10,000 Husqvarna will set you back $20,000. While the easing of restrictions may help U.S. farmers and meat companies, it will have a horrible toll on every motorcycle dealer in America that sells KTMs, Husqvarnas, Ducatis, BMWs, Betas, GasGas, and on and on. Let me turn this over to the AMA here, because this is a very big deal and we all need to act:
"There is no logical link between motorcycles and beef," said Wayne Allard, AMA vice president of government relations. "It is absurd to even consider such a move.
"We urge all concerned citizens to make their views known on this issue before the Jan. 30 deadline by using the AMA tools."
The Office of the U.S. Trade Representative is responsible for developing and coordinating U.S. international trade, commodity and direct investment policy and overseeing negotiations with other countries. The head of USTR is the U.S. Trade Representative, a Cabinet member who serves as the president's principal trade adviser, negotiator, and spokesperson on trade issues.
If the agency enacts this motorcycle tariff, serious and potentially irreversible harm will be done to American small- and medium-sized business owners selling the vehicles and to American families who buy these motorcycles for commuting and outdoor recreation.
Okay, back to Racerhead.
Ken Roczen Update (Chase Stallo)
Ken has been doing an excellent job (maybe too good of job, judging by his graphic post this morning) of keeping his fans in the loop by posting daily on Instagram. (You can check out all the updates here.) Today, we got more details from Honda.
Following his crash on Saturday, where he sustained a compound fracture to his radius and a dislocated elbow and wrist, as well as tissue damage, Ken was flown to Vail, Colorado, where he would be under the care of Dr. Randall Viola at the Steadman Clinic. Dr. Viola specializes in hard, wrist, and elbow injuries and is a team physician for the Men's U.S. Alpine Ski Team and a medical consultant for the Denver Broncos; he performed an initial two-hour surgery on Sunday evening.
According to Honda, this was to "clean the bone and surrounding area in order to reduce the risk of infection. To help reduce swelling, the seven incisions were left open until Dr. Viola closed four of them during an operation on Wednesday."
Per Honda, a third surgery is scheduled for later today to further clean the wounds and close some of the incisions. Roczen's agent, Steve Astephen, told Honda that they hope to have all the procedures completed by Friday, February 3. After that, the plan is for Ken to return home to Florida.
"This obviously isn't the way I was hoping the supercross season would go, but I've accepted the challenge and am putting all of my effort into getting healthy again," said Roczen in a statement. "I want to thank everyone at The Steadman Clinic, and specifically Dr. Viola and 'Team Viola' for all the care. It's great knowing I have the best people possible helping me through this. The support from my fans and the industry on social media has been incredible too. I especially want to thank my team at Honda, which has truly become like a family, and of course my other partners who have been behind me 100 percent. I look forward to getting back to racing as soon as possible."
Dungey Like Minnesota (Andras Hegyi)
Minnesota and Minnesota-born Ryan Dungey have more in common since last Saturday. Minnesota was the 32nd state to join the United States of America, and now Minnesota's most successful motocrosser ever, Dungey, has reached his 32nd victory in the premier 450SX class. And besides his 32nd win, Dungey has joined an elite club, becoming the fourth rider to win at least once in eight consecutive seasons in AMA Supercross.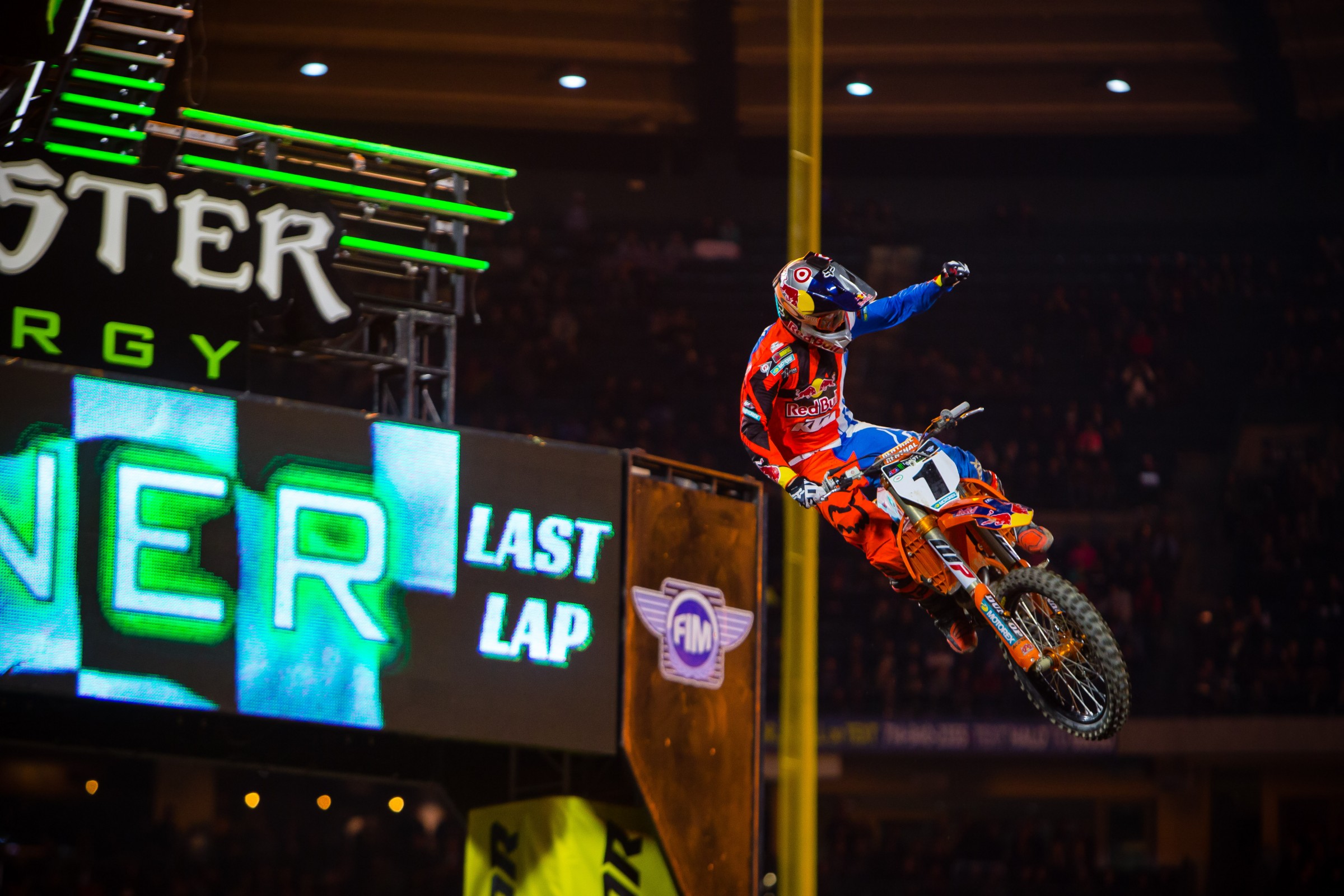 James Stewart: Bubba would win in 10 consecutive years between 2005 and '14.
Jeremy McGrath: The King of Supercross was able to win in nine successive years (1993-'01).
Jeff Ward: The Flying Freckle got wins between 1984 and 1991.
Ryan Dungey: Dungey has won every year since 2010, so this is the eighth consecutive season with a win.
Brayton's Other Honda (Jason Weigandt)
Okay, Ken Roczen's season has taken a turn for the worst, but there's no doubt that between his previous performances and Cole Seely's Anaheim 2 podium that Honda is making a big push. And a third Honda is getting serious help from the factory folks: Justin Brayton's #10 Smartop/MotoConcepts machine. Brayton's bike is somewhat of a rolling test bed of some other ideas—namely, using Showa suspension. Roczen and Seely selected KYB for their bikes (a trend that started when Trey Canard switched to KYB on his Honda in late 2014 and suddenly caught fire), but the suspension business is like the Canon/Nikon argument among photographers. One brand gets the upper hand, but never for very long. A few years before Canard's KYB switch, Showa had actually taken Ryan Villopoto's Kawasaki business away from KYB. This stuff changes all the time, so Honda wants to be armed with Showa info. It's on Brayton to provide that.
Tony Alessi, team manager over at MotoConcepts, told me he's shocked how much attention the team is getting from Honda, with three high-placed Honda people usually visiting Brayton's bike every Saturday morning. Just bringing in a new 2017 450 for Roczen and Seely is a challenge, but Honda wants even more.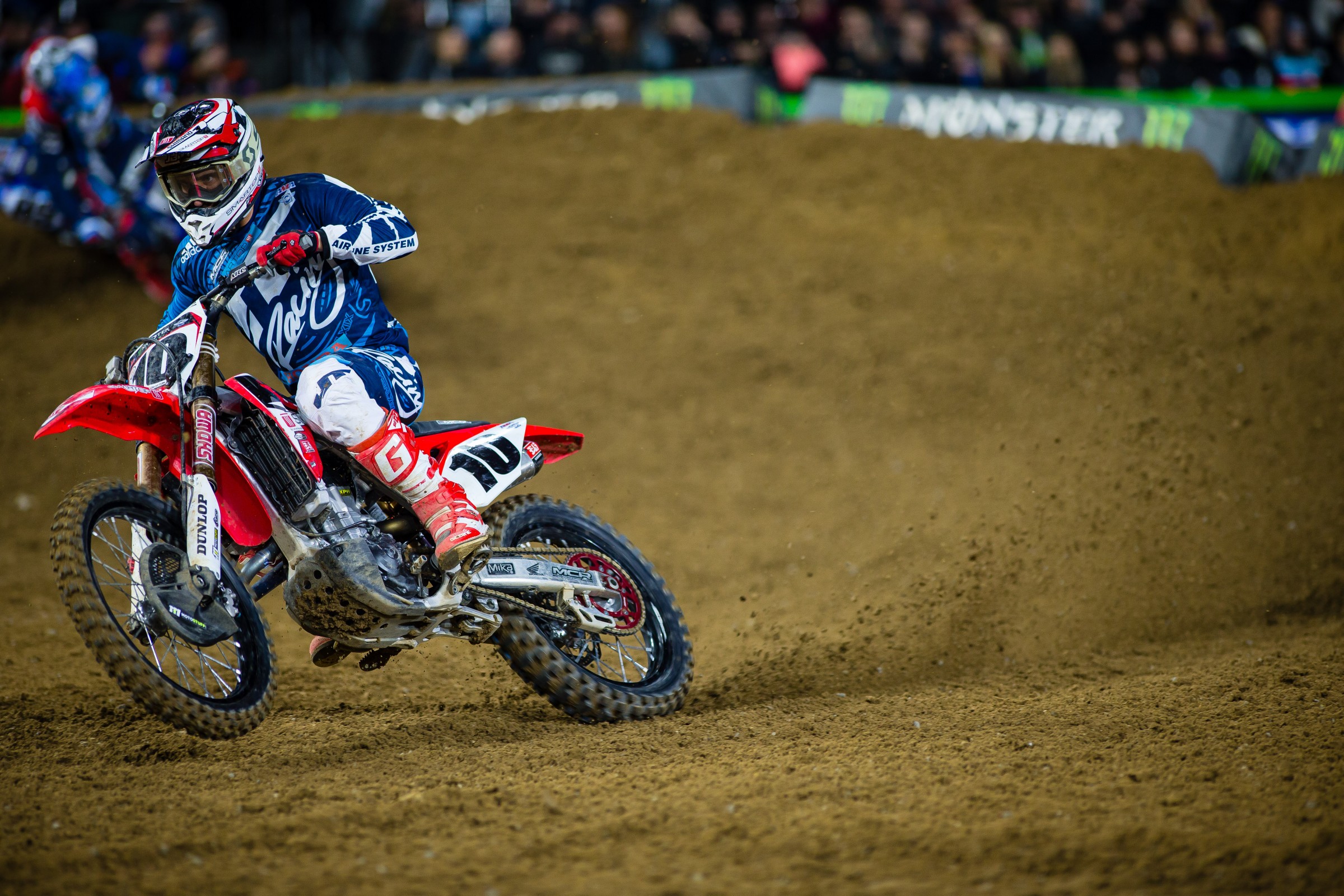 The downside is that Brayton's bike is changing quickly, especially since the 2017 Hondas were late arrivals. Brayton told me he's a guy who would rather find one setting and stick with it for a while, but not what's happening right now since new parts and pieces are coming in rapidly, such as a new shock right before Anaheim 1. Also, Alessi says a lot of the stuff they want to try with the bike can't be done, as most aftermarket manufacturers and vendors don't have 2017 Honda stuff up and running yet. So it's a big work in progress over there, and Brayton, currently 17th in the points, is struggling. The hope is that the bike will be sorted in a few weeks, the results will improve (Brayton is usually a top-10 lock at least), and they will have a huge head start on 2018 and beyond. Sometimes it's cool to get all that factory attention, but it's not always glory work!
Justin Hill (Andras Hegyi)
Mitch Payton has trusted Justin Hill again. The 22-year-old rider from Oregon had previously ridden for Payton's Monster Energy/Pro Circuit Kawasaki team between 2013 and '14. This season, the younger Hill brother has returned to Payton's team, and for the time being has paid back Payton's confidence. Hill is now having his best-ever performance in the saddle of a Kawasaki after the first three rounds. So far, he has collected a fifth and two podiums, including last weekend's win.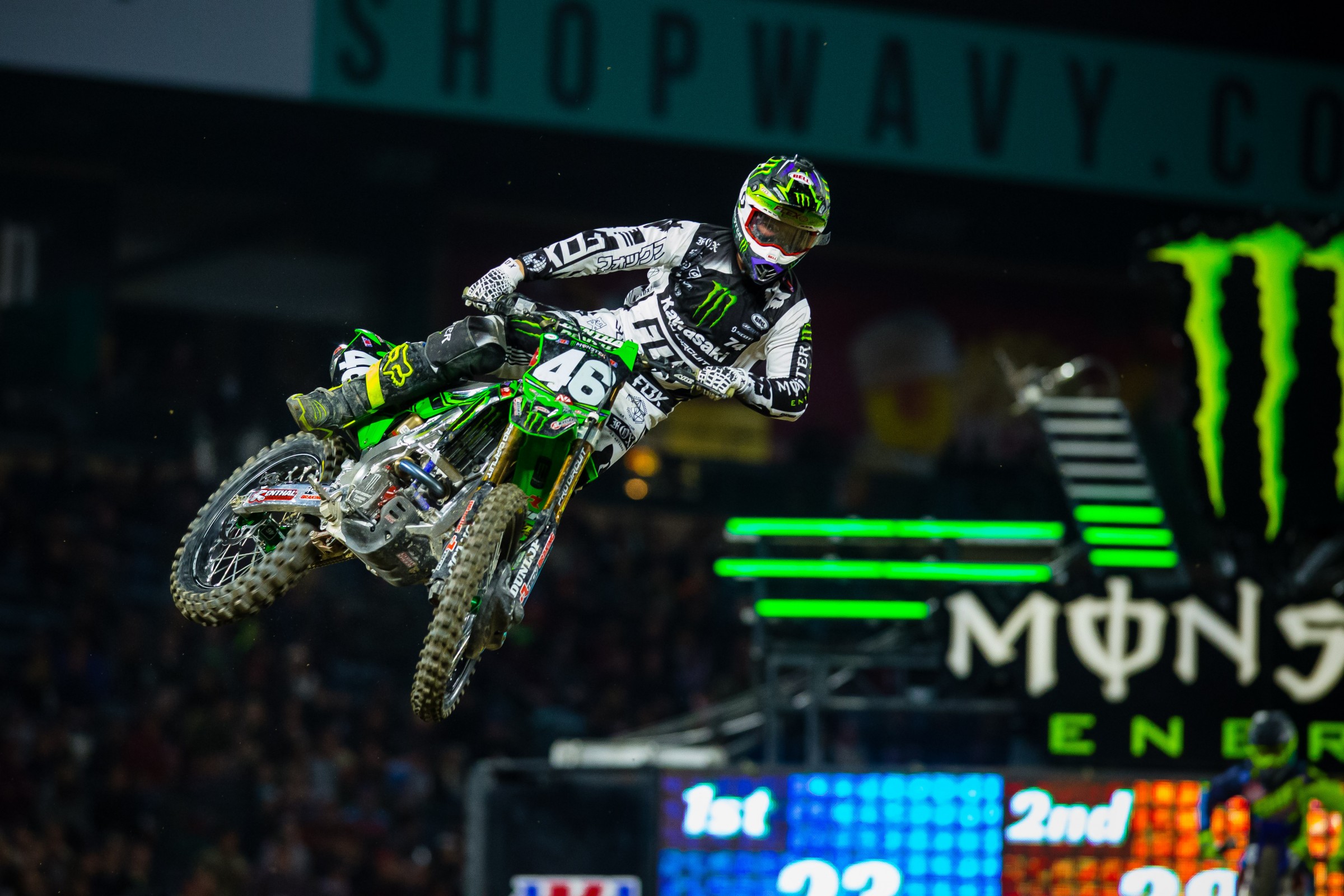 Pro Circuit is the most successful 250 team ever in the small-bore category, but since 2011, Payton's guys have been unable to be champions in Monster Energy AMA Supercross. And with this victory, Hill has become the 16th Kawasaki rider who could win in at least two 250SX seasons. The absolute Kawasaki record-holder here is the Scotland-born Dean Wilson, who was able to win in four different seasons aboard a Kawasaki.
Head-Scratching Headlines
"STEWART MAKES SUPERCROSS MAIN AT ANAHEIM II ON MICROBILT/PRBC YOSHIMURA SUZUKI" - Headline for press release regarding Ronnie Stewart's first main event appearance of 2017.
"Mom Seduces 15-Year-Old Boy By Trading Sex For A Dirt Bike And Nude Pics" – Elite Daily
Hey, Watch It!
1980s motocross legend, Scott Burnworth, talks us through his retro build and rides the 2017 RM-Z250.
Wil Hahn's not racing anymore, but Pulpmx went deep into the pits to get some memories of his time on and off the track.
Random Notes
The Mecum motorcycle auction in Las Vegas has become an international mecca for enthusiast of the collectible, quirky and cool. With over 1,000 bikes and memorabilia up for grabs, the auction hall is overflowing with bargains and deals of a lifetime. Everything from pre-teens Harley and Indians to new-in-the-crate 2007 Honda CR250s are going across the block from this weekend.
To watch live or register to bid on line go to Mecum.com.
---
An update on former pro motocrosser and X Games star "Mad" Mike Jones, who was seriously injured in a street bike accident:
Quick update on Mike: A bit of a setback & maybe a blessing at the same time? He had been progressing well, walking with crutches and some weight baring after the Docs cleared him to do so. Last week he started experiencing excruciating pain out of the blue. So when he went for an MRI to see if anything was wrong, out of the 4 screws in his femural ball, two screws were bent, one screw is rubbing on bone and the last one is rubbing on muscle from what Mike told me. So the decision was made to go in and remove the 2 screws that are rubbing and ultimately causing the high level of discomfort. The surgery will be tomorrow, Tuesday the 24th. He will again be off of work for an untold amount of time more due to this, so if it is in ur heart to help, they could sure use it. This is not them asking, they never have, but I am throwing it out there and will continue to spread the word for my brother. So please keep Mike & fam in ur prayers... Hopefully this will turn out to be a blessing.
Jones' friends have set up a GoFundMe account to help offset what are going to be astronomical hospital bills and also help his family while he's unable to work.
---
Around the Industry
—Pro Circuit Products, Inc. announced this week that James Coy has returned to the company as rider support manager. Coy previously worked for the PC race team, as well as factory Suzuki and KTM's Orange Brigade. Look for Coy at the upcoming Ricky Carmichael SX in Daytona.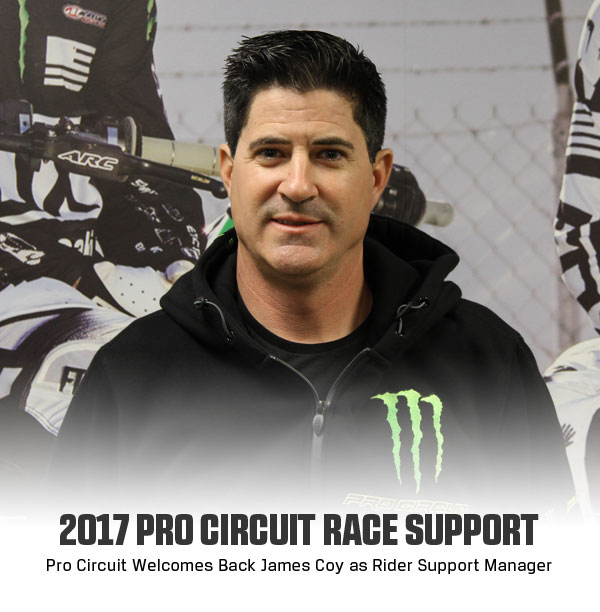 —Brian Wismann has joined Zero Motorcycles as the new vice president of product development. He will report to Zero's chief technology officer, Abe Askenazi.
"Brian's addition to the team further establishes Zero Motorcycles position as the global leader in the electric motorcycle industry," said Askenazi. "Few would argue with Brian's credentials and accolades, having led development of award and race-winning e-powered machines."
Wismann spent the last 13 years at Brammo, Inc., where he was responsible for development of the company's electric motorcycle and racing programs.
---
Heading to Glendale for the fourth round of Monster Energy Supercross this weekend? Stop by the Racer X booth—located in the Party in the Pits—to pick up a free copy of Racer X Illustrated.
You can also sign up or renew for just $20 (over 70 percent off the cover price) to get a one-year subscription, a FREE $25 Rocky Mountain ATV/MC gift card, and an extra issue! You can also get $5 off with a military ID.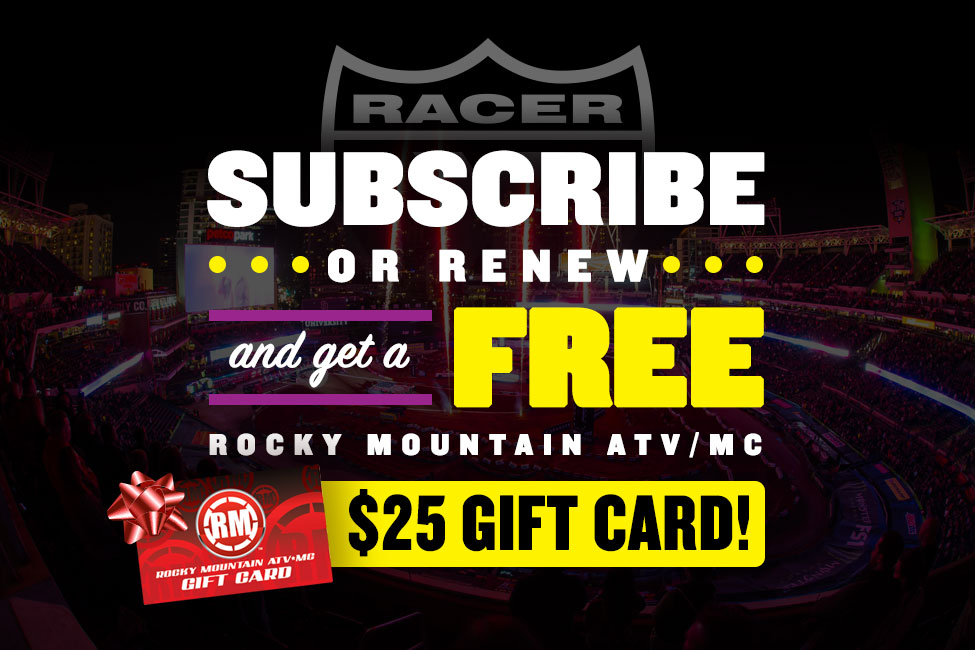 Stuck inside during the winter months? Head over to www.racerxbrand.com and keep your moto going through the off-season.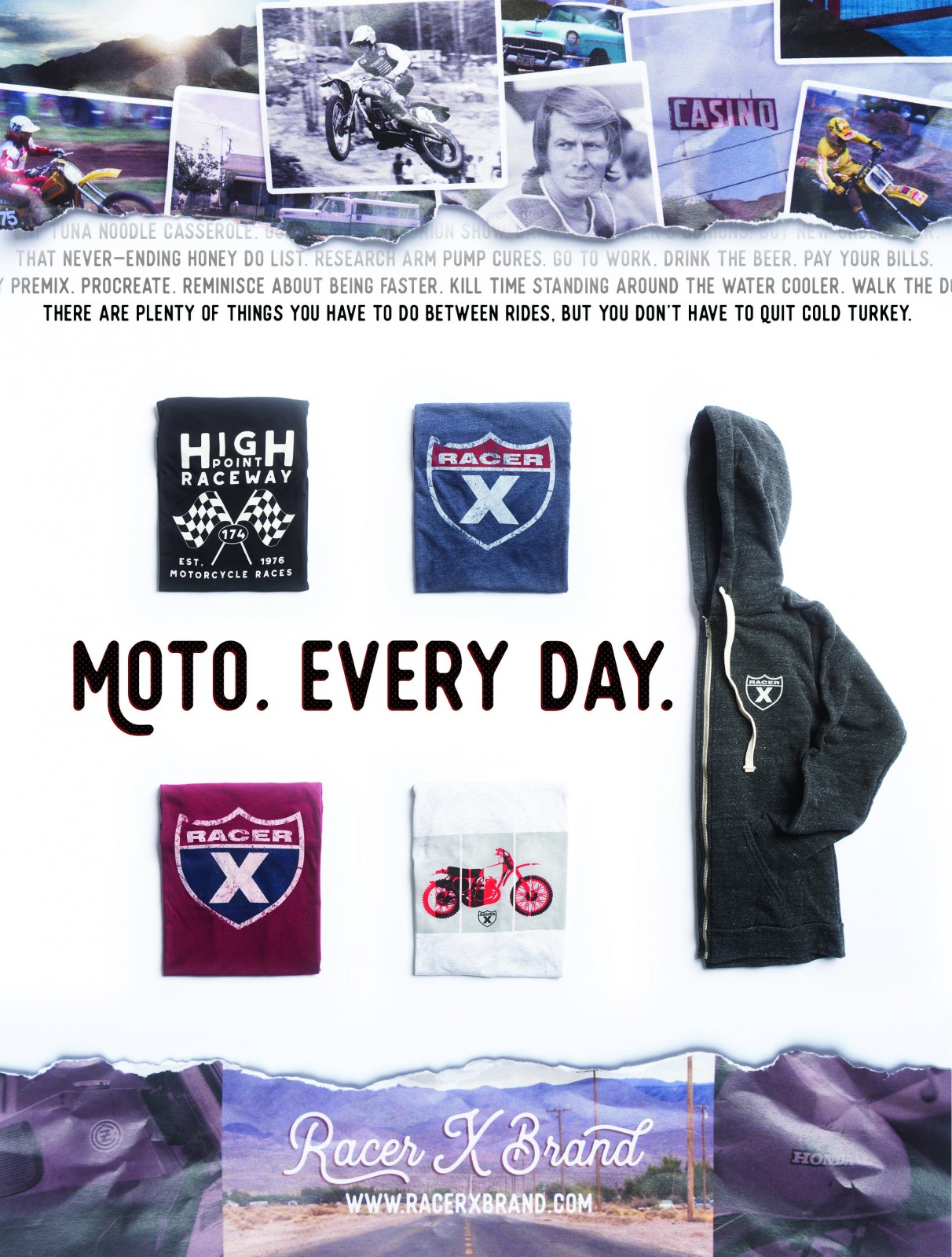 That's all for this week—thanks for reading Racerhead. See you at the races.