Angel Stadium
Anaheim

,

CA
Anaheim 2 (A2)
Monster Energy AMA Supercross Championship
Welcome to Racerhead. Supercross is up and running, returning to Anaheim for its second visit, and everyone is hoping the rains stay away. That's the easy part. The harder parts are happening far from Anaheim. This has been one of those weeks where we find ourselves immersed in a whole bunch of racing-related things, though not actually at the races. Some of these issues have folks up in arms, others down in the dumps, and maybe even a little confusion as to what exactly is going on within the industry and the world at large. Not all is well, like the legendary Lierop circuit in the Netherlands now being under threat of closure after neighbors lobbied against its existence on the basis of excessive noise. More on that later.
Closer to home, yet still with a boot in Europe, is the Office of the United States Trade Representatives' decision to add a 100 percent tariff on motorcycles built in Europe as a way to extract better terms and opportunities for U.S. meat products to get into European markets. It's a massive stretch, doubling the price of Europe-built motorcycles as leverage to get better deals for meats shipped the other way across the Atlantic Ocean. The AMA weighed in quickly, stating, "The American Motorcyclist Association opposes the proposed tariff, because trade disputes residing within the boundaries of the agricultural industry should not be solved with trade sanctions levied against non-agricultural products."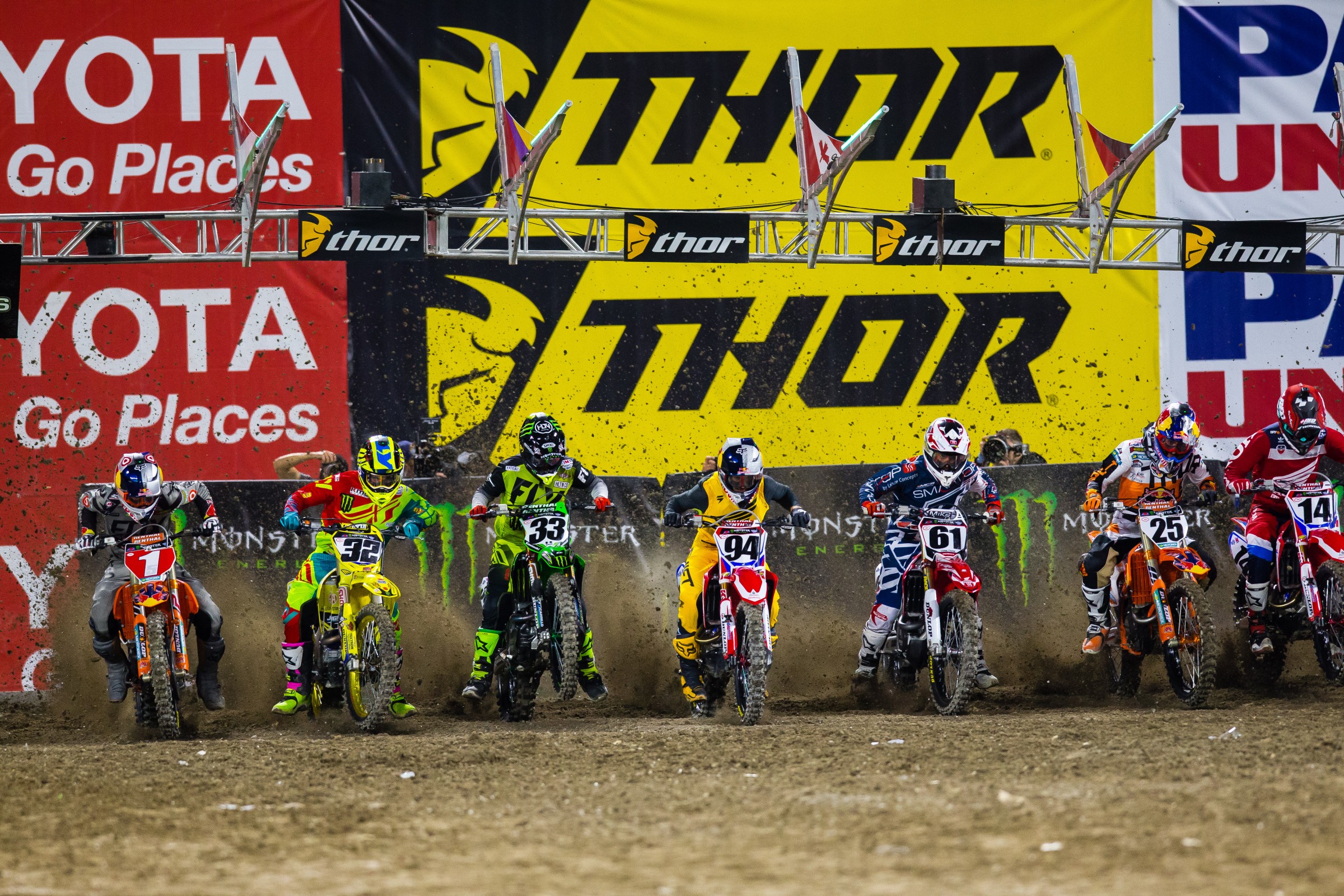 It all sort of reminds me of the "lead law" from a few years back, where, in a rush to protect small children from high levels of lead, they basically proposed banning all junior-sized motorcycles and minicycles, as well as bicycles, skateboards, and more. Cooler heads prevailed, and I hope they do this time too. Chase Stallo will have more on this below.
And then there was the announcement of a new class structure at Loretta Lynn's AMA Amateur National Motocross Championship, posted by the AMA and MX Sports. The new lineup dropped the Girls 9-13 class due to the low numbers of young girls trying to qualify and compete at the national championship level. For the past few years, the class went off on a split gate after the Girls "Senior" 12-16 Class, but that became problematic with 60 girls on the track at the same time (30 per class) with such a large age disparity. The rule change affected just a handful of girls—only 34 tried to enter the 30-rider Girls "Junior" 9-13 championship finals last summer at Loretta Lynn's Ranch—most of whom were old enough to compete in the Girls Senior class anyway. So began a series of angry phone calls, online petitions, social media posts, and even threats to boycott the event.
But then women's motocross advocate and journalist Abby Jacks of Chix MX hit me with a very interesting concept: Just open the one class a little more, like 11- or even 10-year-olds as the youngest, and 16 years old at the top, and also use the full starting gate, which would mean 42 finalists—so pretty much everyone still has a chance to race in a girls-only class. Last year the Girls 9-13 class had one 9-year-old, one 10-year-old, and three 11-year-olds; all would be eligible with this single, bigger class' slightly-expanded age range. It would also be more competitive, which is the point of a "national championship" event. We will be running that up the flag pole next week. Thanks, Abby.
There was some bad news too. Our colleagues at Vurbmoto made the tough decision to shut down their website at the end of this coming month, another sign of the recent tough times and a contracting motorcycle industry. Then we found out our friend Raymond Butts of Rocky Mountain ATV/MC just had his van full of bikes stolen near Angel Stadium in Anaheim, a charcoal-gray 2007 Chevy van with his son Cyrus' KTM minicycles in the back.
Let us know if you see or hear anything about it at the races this weekend.
Finally, the worst news of all: NorCal privateer David Gassin crashed hard last weekend at Prairie City OHRV Park in Rancho Cordova, California, and is now in need of your prayers, well-wishes, and maybe even some financial support. He suffered a broken back and is now paralyzed from the chest down, as well as other injuries that have him in ICU. Gassin is currently working with Road 2 Recovery to set up a fund. We'll provide details once we have them.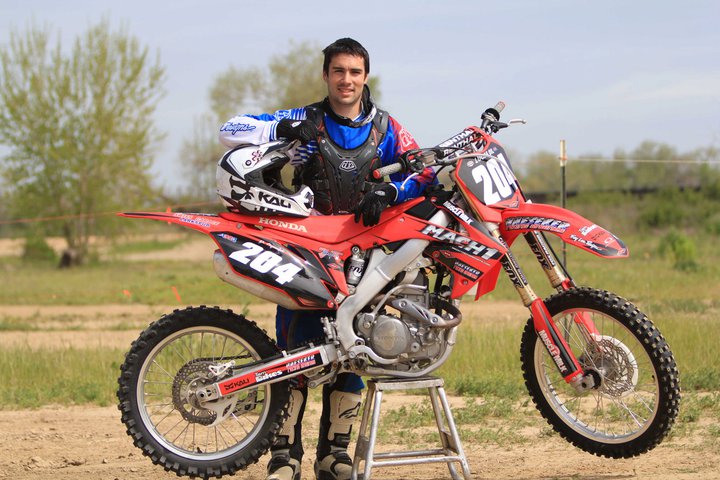 But even the worst weeks end, and this one ends with what we hope will be another excellent battle in Monster Energy AMA Supercross. Here's more on the week that was.
Reality Check (Aaron Hansel)
Being a moto journalist is a pretty cool job. You get to travel to cool places covering the coolest sport there is, all while hanging out at the races and helping tell the stories of the athletes who put a show on for us every weekend. Unfortunately, sometimes those stories take on a life of their own—quotes get used way out of context, and something that's more fiction than fact can get presented as reality.
I'm talking about a story recently posted on Gatedrop.com, in which a headline quotes Ken Roczen as saying, "I want to kick [Jeffrey] Herlings' ass!" The writer of the story credited Two Tribes, a regular feature I handle in Racer X Illustrated, with the info. Only problem is, Roczen didn't say those exact words, and the article takes what he did say way out of context.
If you're not familiar with Two Tribes, it's a lighthearted interview section where we ask two people an identical list of questions and put the answers next to each other. In this case, it was MXGP World Champion Tim Gajser and Lucas Oil AMA Motocross #1 Roczen. One of the questions we always ask is, "Whose ass would you like to kick?" It's an irreverent question, and I don't think anyone has ever answered seriously—and that includes Roczen when he gave a tongue-in-cheek response of, "Herlings." [Ed. note: When I asked a young Ricky Carmichael that question back in 1999, he looked me square in the eye and said with perfect comedic timing, "I would like to kick your ass."—DC]
Yet somehow that simple answer morphed into "I want to kick Jeffrey Herlings' ass!" The writer then took it a step further, suggesting Roczen has no respect for Herlings, and that his motivation for returning to the MXoN in 2017 (which he announced via a video to a German Supercross crowd) is solely out of a desire to beat Herlings. It's an example of a writer creating a story and searching for facts to support it, instead of writing a story based on facts. The reasons Roczen didn't race the MXoN the last two years are well documented—he underwent surgery to fix a back injury in 2015 and was switching teams in 2016. And whether or not Herlings is there in 2017 is not important to Roczen; representing Germany is what matters, which is what Roczen told us when we corresponded with him earlier in the week.
Whether it's Roczen or a triple-digit privateer in the back of the pits you've never heard of, these kinds of stories don't benefit anyone. They're a disservice to the fans, who are getting false information. They make all reporters look bad, and they misrepresent riders. Lose, lose, lose. (And you're better than this, Jonathan McCready.)
ROCZEN ROLLIN' (Andras Hegyi)
This is the best start ever for Ken Roczen, having won the first two rounds. With his wins, Roczen has begun putting an end to Honda's long dry spell in regards to supercross success. The last time Honda riders won two racers in a row came back in 2011 when Team Honda's Trey Canard and TwoTwo Motorsports Honda's Chad Reed captured consecutive wins in Houston and San Diego. The year before that, Kevin Windham won Seattle and Salt Lake City back-to-back. And the last time an actual Honda factory rider won two SX races in row? That hasn't happened since Ricky Carmichael won Indianapolis and Daytona in March '03.
Thanks to Roczen, this is the first time since 1999 that Honda has been able to get two wins in the first two rounds of a season (Ezra Lusk did it back in '99).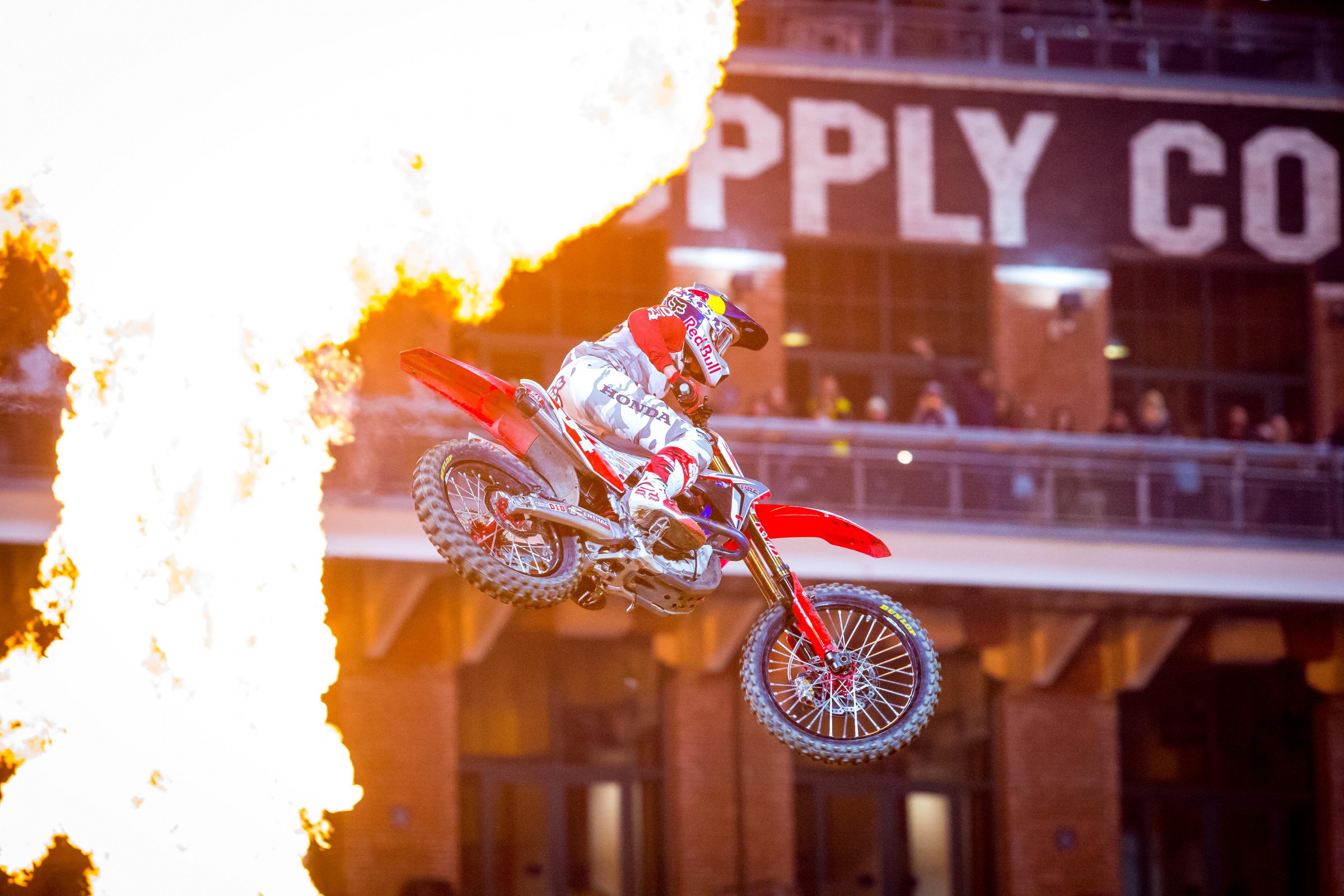 And check this out: Roczen is the first premier-class rider since 2007 who has been able to win the first two wins in a season. Between 2008 and 2016 there were many big names who were not able to get two wins in the first two rounds, including four-time champion Ryan Villopoto, three-time champion Ryan Dungey, and two-time champion James Stewart. And Bubba is the last one who was able to win the first two races in a season before Roczen, when he won the first two rounds in 2007.
250/450 SX riders with two wins in the first two rounds
| | | | |
| --- | --- | --- | --- |
| Year | Rider | Bike | Champion |
| 1975 | Jimmy Ellis | Can-Am | Yes |
| 1977 | Bob Hannah | Yamaha | Yes |
| 1980 | Mike Bell | Yamaha | Yes |
| 1982 | Donnie Hansen | Honda | Yes |
| 1987 | Jeff Ward | Kawasaki | Yes |
| 1989 | Ricky Johnson | Honda | |
| 1990 | Damon Bradshaw | Yamaha | |
| 1994 | Jeremy McGrath | Honda | Yes |
| 1995 | Jeremy McGrath | Honda | Yes |
| 1996 | Jeremy McGrath | Honda | Yes |
| 1999 | Ezra Lusk | Honda | |
| 2000 | Jeremy McGrath | Yamaha | Yes |
| 2002 | David Vuillemin | Yamaha | |
| 2007 | James Stewart | Kawasaki | Yes |
| 2017 | Ken Roczen | Honda | ? |
#47 IS COMING TO ANAHEIM 2 (DC)
With Malcolm Stewart getting back on track, it's time to return to one of our favorite little trivia deals in all of SX/MX. We researched every AMA Supercross and AMA Pro Motocross race since 1972 and concluded that no rider has ever won a race in either series or in any class wearing #47, and that's the number Stewart has for 2017. Last year, in strange coincidence of timing, both #49 (Martin Davalos) and #50 (Malcolm) won for the first time in history, and both in the 250SX East Region, ending the long dry run for those two numbers. Now Stewart can do likewise for #47, but it's going to be much harder since he's in the 450SX class now, and that's where the real sharks swim. No matter, it's great to have Mookie back, and I hope he shows everyone who passed him up for a 2017 ride why they might want to reconsider him next time they go looking for riders.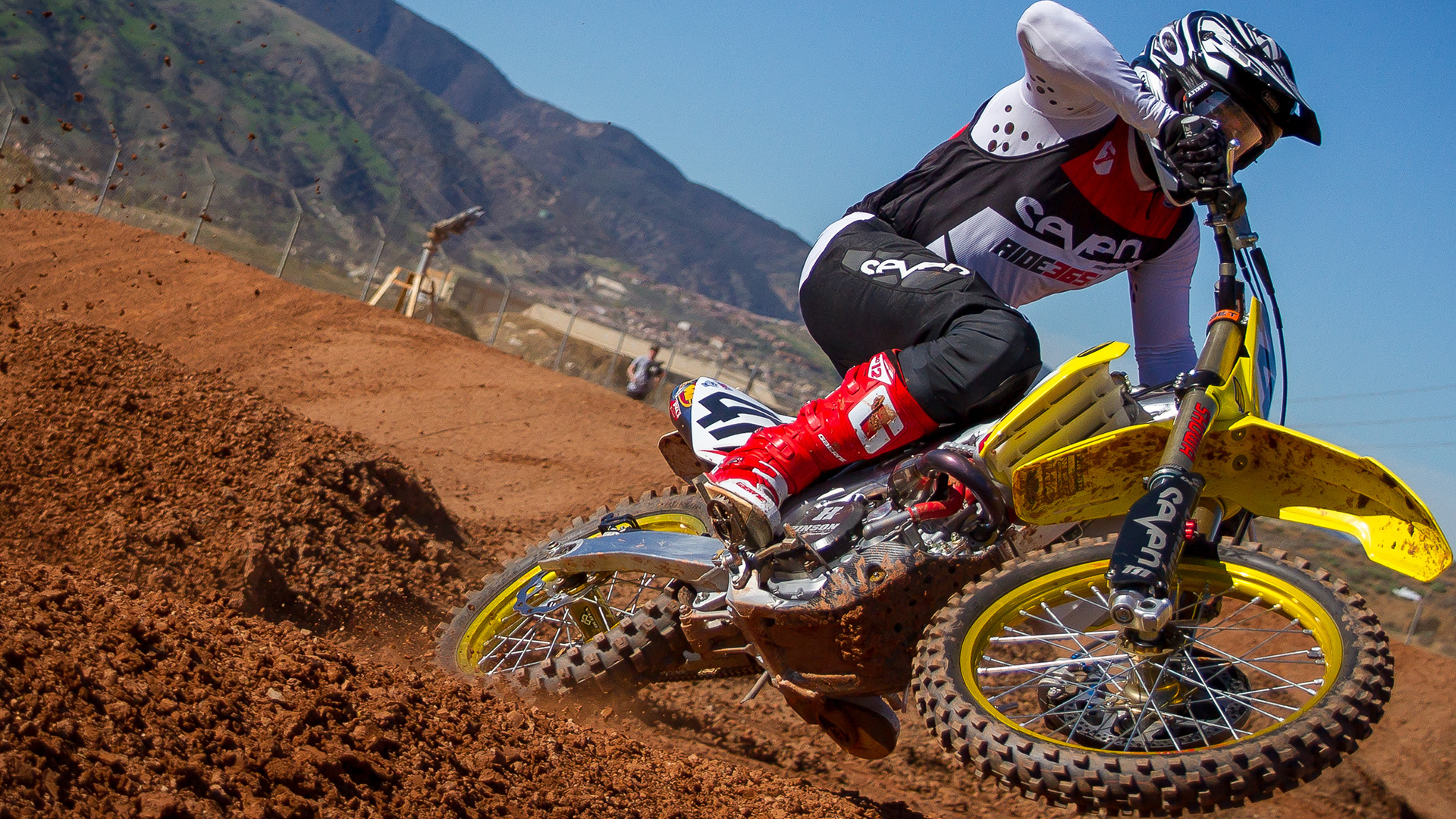 Pro Perspective (David Pingree and Jason Thomas)
Ping: After two rounds, we're starting to get an idea of what this season is going to look like. Ken Roczen always comes out firing, and he didn't disappoint at A1. Ryan Dungey did what he always does and found a safe spot on the box. Last weekend he proved he has the speed to run with Ken, and it set up a great rematch for this weekend's race. At this point it is Ken's raw speed versus Ryan's unwavering consistency. Which do you bet on?
Historically, Ken has a midseason slump and Dungey takes off with the points lead. This season looks to be closer than past seasons, and hopefully it will be a season-long battle between these two. The next question: can anybody else step up and join the fight up front? And how much motivation will that underlying rift between Ken and his former trainer Aldon Baker—who works with Dungey—be for either rider?
We all hoped the Marvin Musquin/Jason Anderson/Cole Seely/Eli Tomac/Trey Canard/Cooper Webb/Chad Reed group would be able to find an extra gear and race for wins, but at this point, that seems out of reach for pretty much everyone. Dungey and Roczen are on a whole other level two rounds in. Maybe the possible inclement weather this weekend will mix things up?
And what do these guys need to do to catch the lead duo? Honestly, I have no idea. Ken and Ryan are pushing so hard I think it comes down to being willing to push the limits for 22 minutes (or 24 laps at San Diego). This early in the season, I don't think any of those guys are comfortable doing that. Their best bet would be to nail a holeshot and see if they can run with them for a handful of laps. It's much easier to get sucked into a fast pace then it is to find that speed on your own. Either way, this weekend will be fun. Anaheim 2 ... let's do this!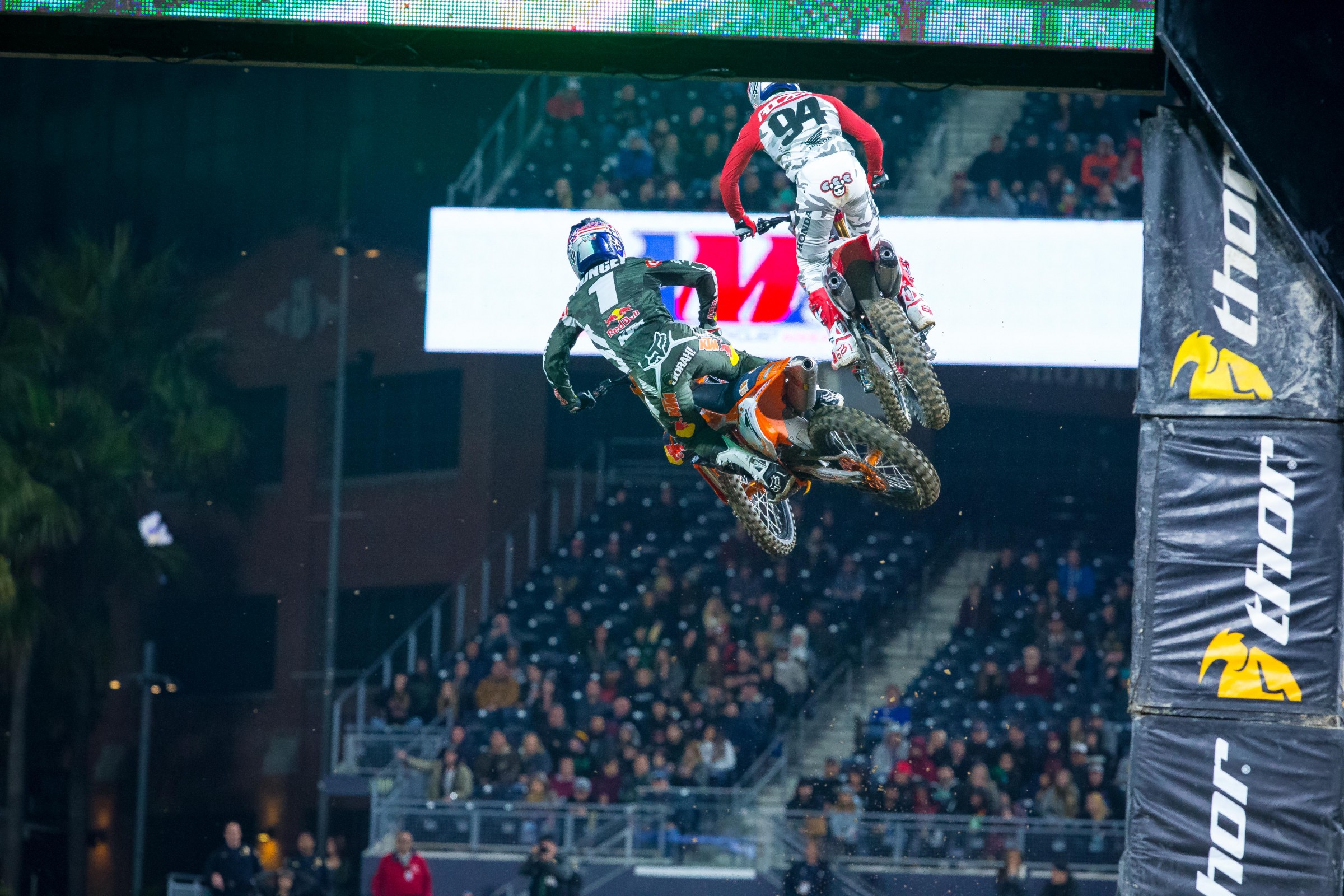 JT: Well, after two weeks, I have to agree with Mr. Pingree. It looks like Kenny and Ryan are the class of the field. Their ceiling seems to be a bit higher than everyone else's. The real evidence of that will be when the scenario plays out like we saw in San Diego. Those two are capable of pushing each other into a zone that the rest of the guys may not be able to reach. When they get out front by themselves, I don't think they will overextend like they would in a battle, so the level may not be unreachable for a guy like Anderson or Marv. That's their best shot to get into the mix: holeshot and hope they only have to fight one of the Big Two in a showdown. Otherwise, the race will be for third place all year.
McElrath's Double (Andras Hegyi)
North Carolina can be more proud of their rider Shane McElrath because he's now swept the first two rounds in the 250SX West Region. In doing so, the TLD/Red Bull KTM rider has become the 22nd 125/250 rider who has been able to win the first two rounds of either regional series. Shane is also in very good company, in that he joins Damon Bradshaw and Cooper Webb as the third rider from the Tar Heel state to open a season with two victories. And both Bradshaw and Webb went on to win the title that year. McElrath is only the second KTM rider who has been able to win the first two rounds; Jason Anderson did it in saddle of KTM in 2014, and he went on to win the championship that year.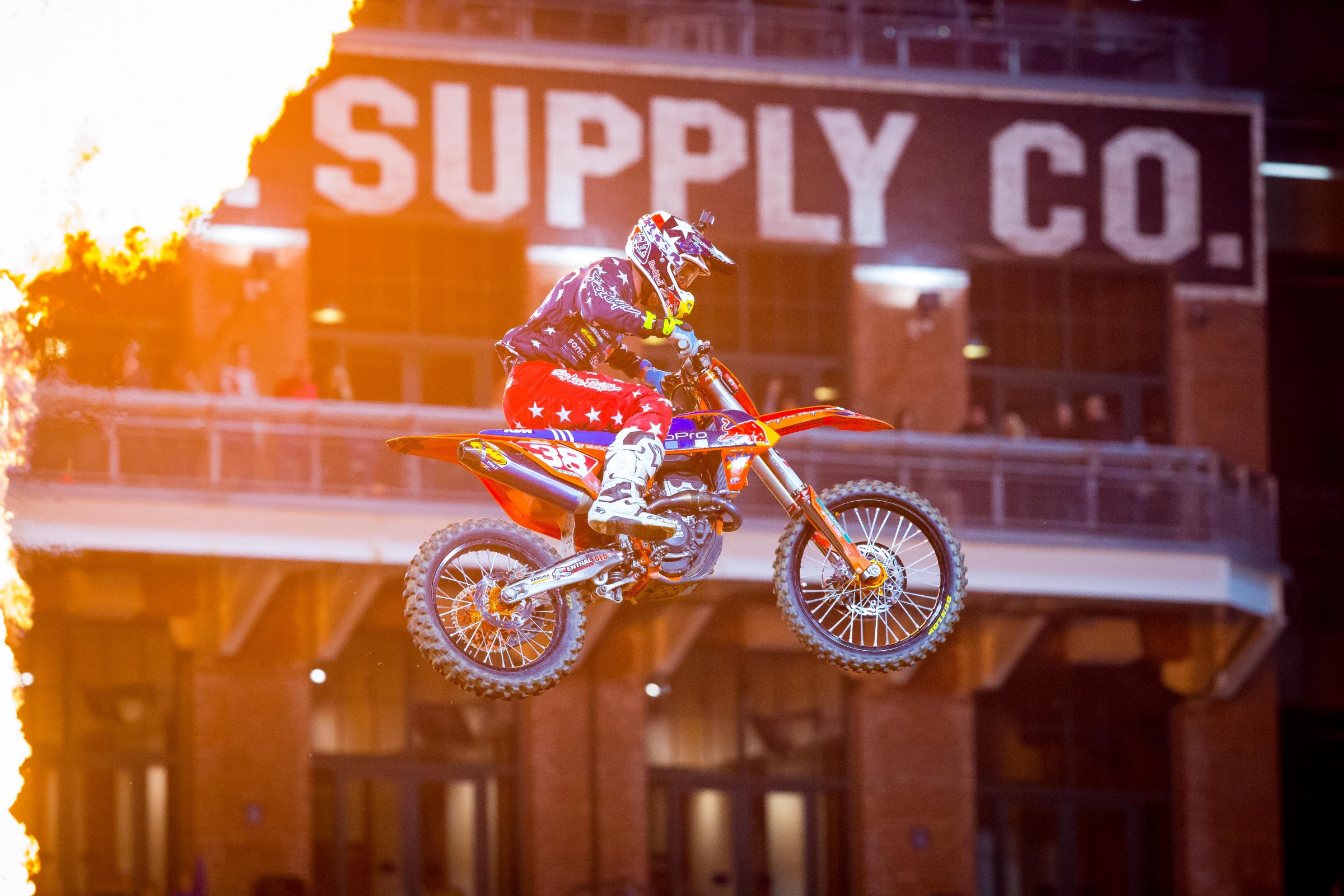 Breaking it down even more, of the 22 winners who the first two races in a season, only three riders were not able to be champion. They were Yamaha of Troy's Casey Johnson (1999), Monster Energy/Pro Circuit Kawasaki's Josh Hansen (2011), and GEICO Honda's Eli Tomac ('13). They all rode in the West Region. Every double winner in the first two races in the East Region became all champion.
Riders with two wins in the first two rounds in the West
| | | | |
| --- | --- | --- | --- |
| Year | Rider | Bike | Champion |
| 1988 | Jeff Matiasevich | Kawasaki | Yes |
| 1989 | Jeff Matiasevich | Kawasaki | Yes |
| 1995 | Damon Huffman | Suzuki | Yes |
| 1996 | Kevin Windham | Yamaha | Yes |
| 1999 | Casey Johnson | Yamaha | |
| 2004 | Ivan Tedesco | Kawasaki | Yes |
| 2010 | Jake Weimer | Kawasaki | Yes |
| 2011 | Josh Hansen | Kawasaki | |
| 2013 | Eli Tomac | Honda | |
| 2014 | Jason Anderson | KTM | Yes |
| 2015 | Cooper Webb | Yamaha | Yes |
| 2017 | Shane McElrath | KTM | ? |
Riders with two wins in the first two rounds in the East
| | | | |
| --- | --- | --- | --- |
| Year | Rider | Bike | Champion |
| 1985 | Eddie Warren | Kawasaki | Yes |
| 1989 | Damon Bradshaw | Yamaha | Yes |
| 1992 | Brian Swink | Suzuki | Yes |
| 1994 | Ezra Lusk | Suzuki | Yes |
| 1998 | Ricky Carmichael | Kawasaki | Yes |
| 1999 | Ernesto Fonseca | Yamaha | Yes |
| 2002 | Chad Reed | Yamaha | Yes |
| 2004 | James Stewart | Kawasaki | Yes |
| 2008 | Trey Canard | Honda | Yes |
| 2009 | Christophe Pourcel | Kawasaki | Yes |
| 2010 | Christophe Pourcel | Kawasaki | Yes |
| 2012 | Justin Barcia | Honda | Yes |
Jimmy D, The Leader (Chase Stallo)
A fifth-place at the Jacksonville Supercross back in 2010, as a full privateer, put Jimmy Decotis on the map. Since that time, he's built a cult following through his impressive performances as a privateer. He's had different opportunities through the years—a fill-in spot with GEICO Honda, a brief stint with Kawasaki in Europe—and even won the 2015 SX2 title in Australia. He returned to GEICO Honda last year, and while there were certainly ups and downs, Decotis put in good enough results to be brought back for 2017.
Last Saturday showed why the team brought him back. There are very few riders who can lead a supercross race—and for 10 laps, for that matter. In his career, Decotis—whether as a privateer or factory rider—has proven he can be a top-ten mainstay. Since his rookie year in 2010, he's garnered six career top-five finishes in 250SX and an additional 23 top-ten performances. But San Diego is what can separate riders. The ability to lead a race—no matter for how long—means a lot to teams and sponsors.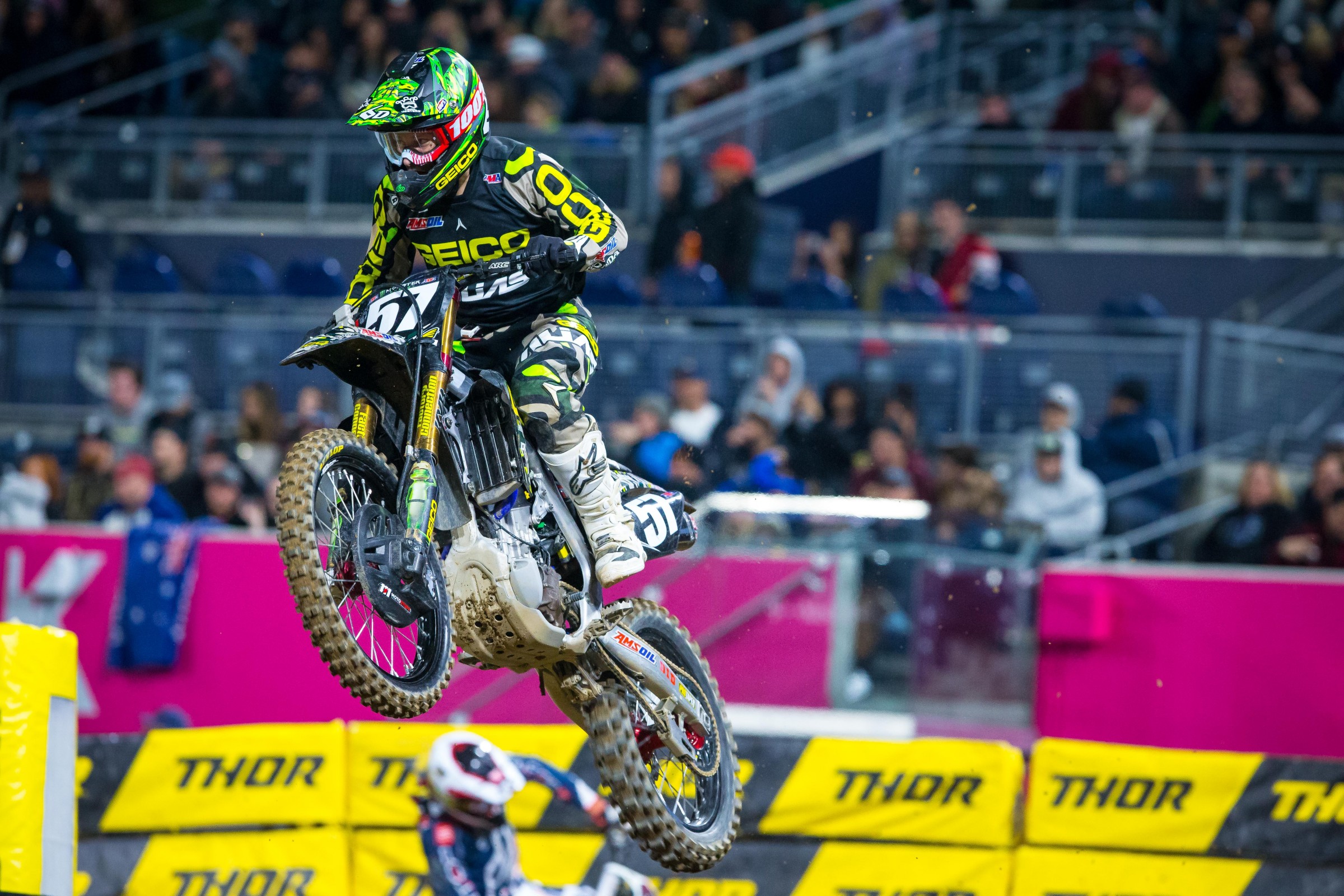 On Wednesday, Decotis talked with DMXS Radio about San Diego, and what transpired at the end of the race, where he eventually finished sixth.
"I think a little bit was mental. Marty [Martin Davalos] got on me, and I tried fighting him off for two or three laps, and obviously I sprinted pretty hard for in the beginning, so that didn't help my cause too much.
"I think I ate too close to the main event, or too much food," he added. "I don't know, I cramped up really bad—like a stomach cramp. And that affected me, but overall it was mostly just … I mean, there are no excuses. Mentally, I made some mistakes. When those guys got me I didn't execute the rhythms, I didn't stick to the program, I kind of just fell apart a little bit.
"It was my first time leading 10 laps. Next time we'll get 12 or 15 and the next time we'll get them all."
In a crowded 250SX West Region, it will be interesting to see if Decotis can continue to put his name at the top. You can listen to the full interview here.
Privateer Escapes the Island (Steve Matthes)
The CycleTrader.com/Rock River Yamaha guys had a decision to make when it came to replacing the injured-for-a-few-rounds Bradley Taft and after kicking it around for a while, they decided to call up Heath Harrison. You remember Heath, right? Last summer he put in a few great rides on the #99 KTM in the 450MX class.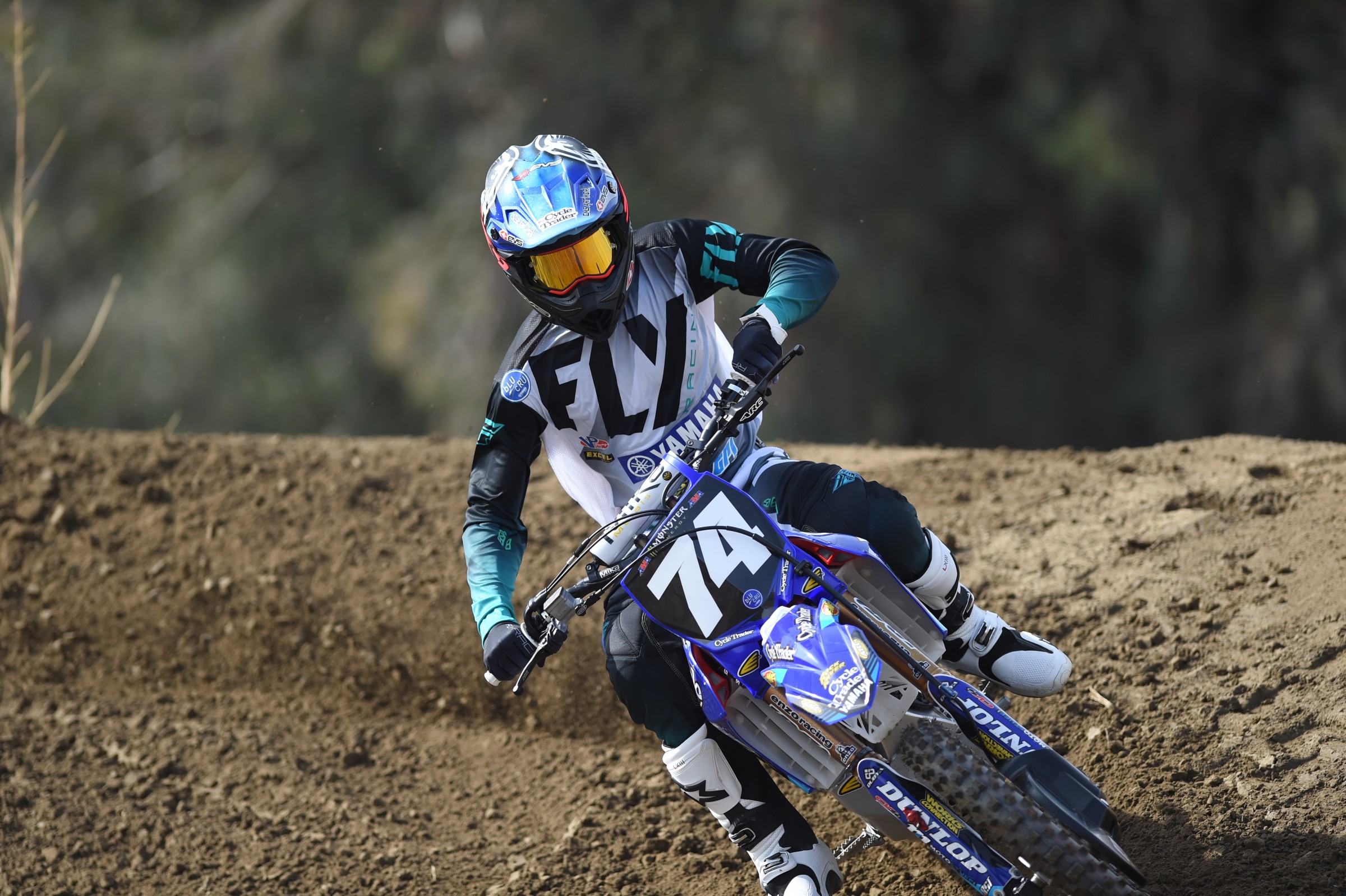 Harrison was racing Amsoil Arenacross and leading the AX Lites class (finished fourth last weekend in the main class), but I guess he will take the chance at the brighter lights of supercross for a few rounds to show what he's got. I interviewed Heath last year on the Pulpmx Show, he seemed like a good dude and congrats on getting off the island!
LIEROP IN TROUBLE (DC)
We received a note this week from our friend Jean-Paul Maas, a filmmaker from the Netherlands. Jean-Paul told us that the notoriously rough and sandy Lierop circuit is under attack from neighbors who are trying to shut the circuit down. Lierop was the site of Chad Reed's one and only Grand Prix win back in 2001, just before he moved to America, and it's also the place where Stefan Everts earned his 100th career Grand Prix win in 2006. Everts also swept both motos of the 2004 Motocross of Nations there, a race that Team USA didn't participate in because Ricky Carmichael was switching from Honda to Suzuki and James Stewart was moving up from a 125 to a 250. We searched for a little history of what's going on at Lierop and found this on the Facebook page of the MX Brothers: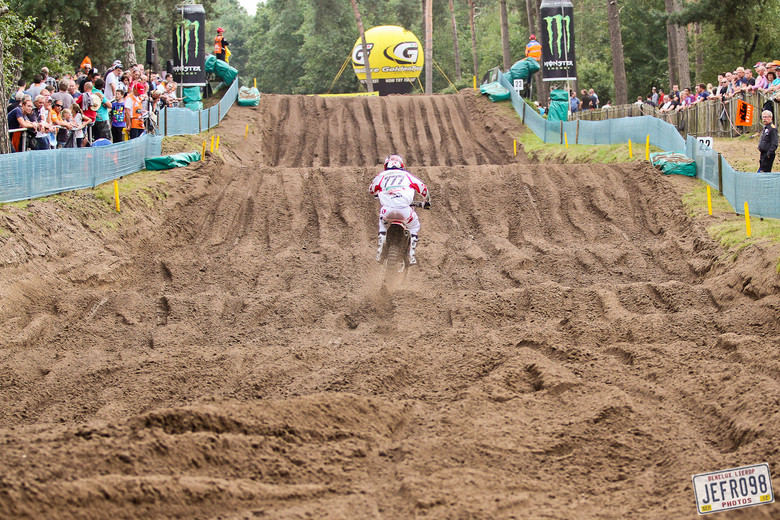 "Very sad news this morning! The motocross track of Lierop will be closed in June of this year. A track with great history in the motocross sport will not make history again. Several Grand Prix events and even the Motocross of Nations has been organised in Lierop. And now, thanks to some neighbours, the track will be closed forever! Where is the world coming to? If you buy a house near a motocross track you know you will hear some noise, STOP complaining!! It was your own decision to live next to a motocross track!!"
Jean-Paul is trying to organize a protest video of top voices in the motocross world explaining the importance of Lierop. Stay tuned for more on this battle to keep the place open.
And here's a lap around Lierop—before it got rough—from the MXGP a couple years back.
And here's a petition to sign and maybe help keep this special place open.
US, EU Tax Beef (Chase Stallo)
Note: We mentioned this in Word On... earlier this week, so if you've already read it, skip this part. But, we felt it's important to mention again.
If you're a fan of dirt bikes, or motorcycling in general, you've undoubtedly read reports of a proposal from the Office of United States Trade Representative that asks for a 100 percent tariff on small-displacement motorcycles from Europe. (You can read the entire proposal here.) Yes, a 100 percent tariff on, for example, a KTM 450SX-F. You're probably asking: why would the U.S. put such strict restrictions on motorcycles? Well, it doesn't really have as much to do with motorcycles per se, as it does with beef.
This isn't a new fight by any means. The U.S., one of the largest beef exporters in the world, has been fighting with the European Union for years about the EU's decision to ban many of the growth hormones U.S. beef has been raised on. So, the U.S., in an effort to pressure the EU, has put tariffs on similar goods from the EU, and from time to time, has included unrelated goods. In this case, motorcycles. The case has been picking up steam in the motorcycling industry, which would be greatly affected by the proposal, with the AMA releasing a statement this week.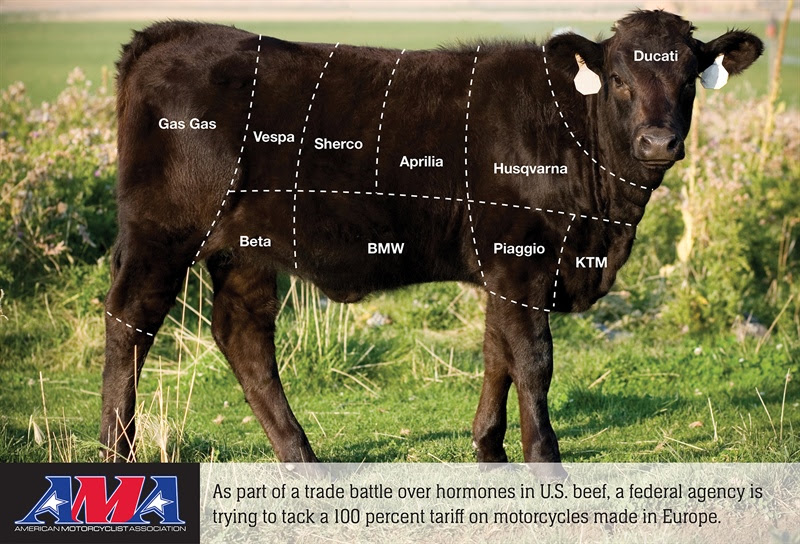 "There is no logical link between motorcycles and beef," said Wayne Allard, AMA vice president of government relations. "It is absurd to even consider such a move. We urge all concerned citizens to make their views known on this issue before the Jan. 30 deadline by using the AMA tools."
"Should the availability of motorcycles be hindered by these unjustified trade sanctions, dealerships may close, leaving countless Americans without jobs," Allard continued. "The negative effects of the proposed sanctions will not only harm the motorcycle sales industry, but will spread through the aftermarket equipment sector, recreation equipment sales, the sports entertainment industry and further down the line."
Both Revzilla and Asphalt and Rubber have a really good breakdown on what this all means. I urge you to read them. This, from Revzilla, is interesting:
There are reasons to think the threat is not as imminent as it may sound.
First and foremost, the USTR hearing is being held at the request of beef industry lobbyists to revive these old tariff proposals. (The deadline for comments is Jan. 30.) The beef industry can ask, but there's no guarantee it will receive.
Supporting that view is an 18-year history of these proposed tariffs on motorcycles not being imposed. Dig into the archives and you can find the AMA reporting on the issue in this article in 1999. The issue was also revived a decade ago, as the AMA noted in its news release this week.
So the good news is this might not happen, but this is not something to take a chance on. If you have a few minutes, click that AMA link above and comment. This would be really bad if it happened.
I'm Back! (Steve Matthes)
As I sit here in Vegas typing this, it's raining. And my friends tell me it's raining in Southern California, and more specifically, Anaheim. Press day was cancelled, the photos I saw look like the track is flooded and I'm sure the race this weekend isn't going to be peachy. It's with all of this in mind that I regret my decision to tell privateer hero Alex Ray a month ago or so that I would wrench for him at a round or two.
Ray doesn't have much help, his cousin (I think?) is working for him now and last week he won the LCQ and made it into the main event. So his results can only go down from here with me working on his bike. And then there's this mud. Ever heard the phrase FML? That seems to apply here.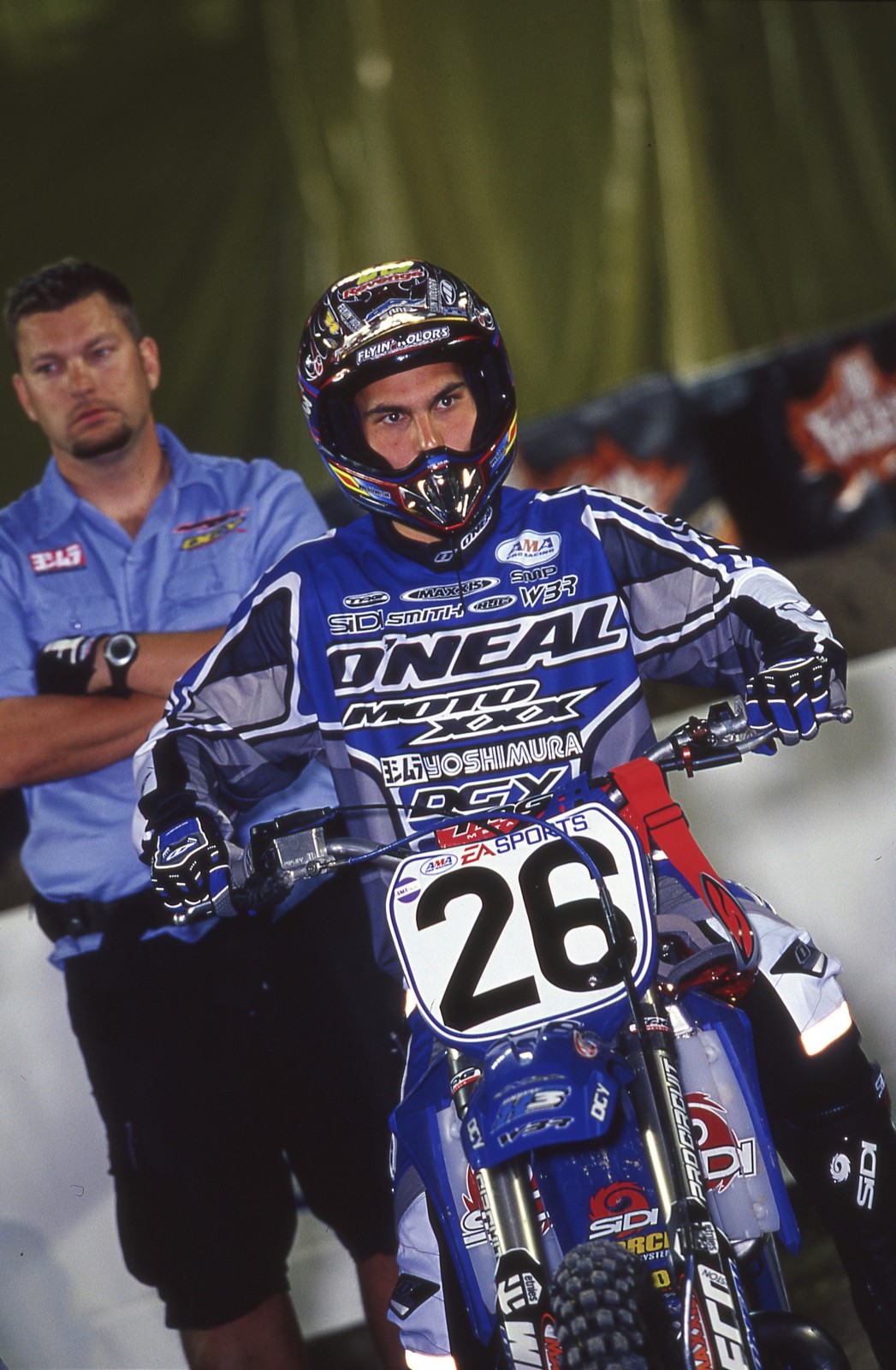 Since moving from wrenching to media (with a stop at Parts Unlimited for one year) I haven't spun the wrenches too many times. I worked for Ping at the World Vets and in Canada—we didn't win either time—and I built project bikes that Jeff Matiasevich and Micky Dymond rode (I don't think that counts but screw it, I'll add them to the list of riders I worked for!) but that's about it.
If you need to get a hold of me this Saturday at Angel Stadium, look for me drenched in champagne on the podium with the #314 Husqvarna while somewhere out there, Cory Keeney, Shaun Kalos, Ty Birdwell, Danny Smith, Kelly Smith, Nick Wey, and Tim Ferry are lighting a candle and wishing Alex Ray the best.
Hey, Watch It!
Racer X Films: 2017 Honda CRF450R Dialed In
GEICO Honda on CrossFit training
Malcolm Stewart on His Suzuki
Fresh Hot Pulpmx Links
Our moto nerd Travis Marks took some of the stats from San Diego and presented them in a way that's unique and helps you understand the race better HERE.
Of course David Vuillemin broke down San Diego SX in the only way he knows possible—by being very blunt and honest HERE.
Ben Lamay's racing Amsoil Arenacross for the TUF Honda team with points leader Jace Owen and Troy Bendgen (hi Racer X!) talked to the Alaskan Assassin HERE.
Tyler Enticknap was Just Short of his first ever 450SX main event and Corey Moser talked to him but was unsuccessful in getting ahold of Ryan Surratt who was Just Short in 250SX HERE.
Random Notes
Longtime Motocross Action managing editor John Basher has joined Joe Gibbs Racing Motocross (JGRMX) as the JGRMX retail brand manager. Basher will be responsible for growing brand through marketing, media, and sales initiatives.
"Being a part of JGRMX's rich heritage and working with a group of like-minded impassioned moto heads is a blessing," Basher said. "With unrestricted access to the sport's preeminent engineers and technicians, unmatched machining capabilities through the JGR NASCAR facility and my background in product testing, I can't wait to see what we come up with. JGRMX products have been, and will continue to be the gold standard in racing."
---
FOR SALE: Spotted this on Vital MX: "Over 62 acres located in Adrian GA. Zoned agricultural so no restrictions or noise ordinances! Dirt cheap taxes too, under $800 last year!! Check out @motovipga on Instagram or Moto-VIP on Facebook. Asking just $275k! Email for more info at: motovipga@gmail.com.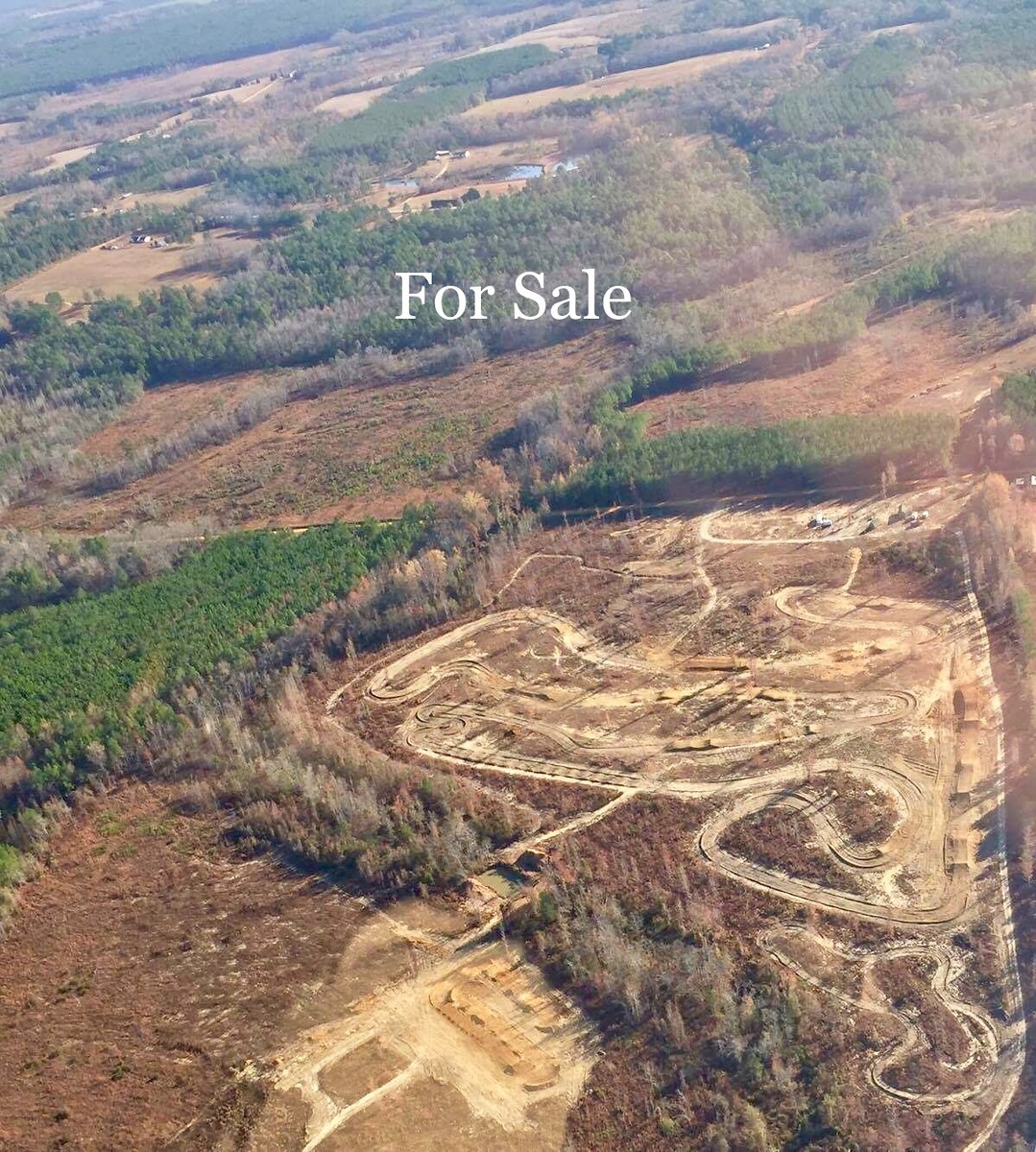 Malcolm Stewart landed the cover of Germany's Cross Magazin.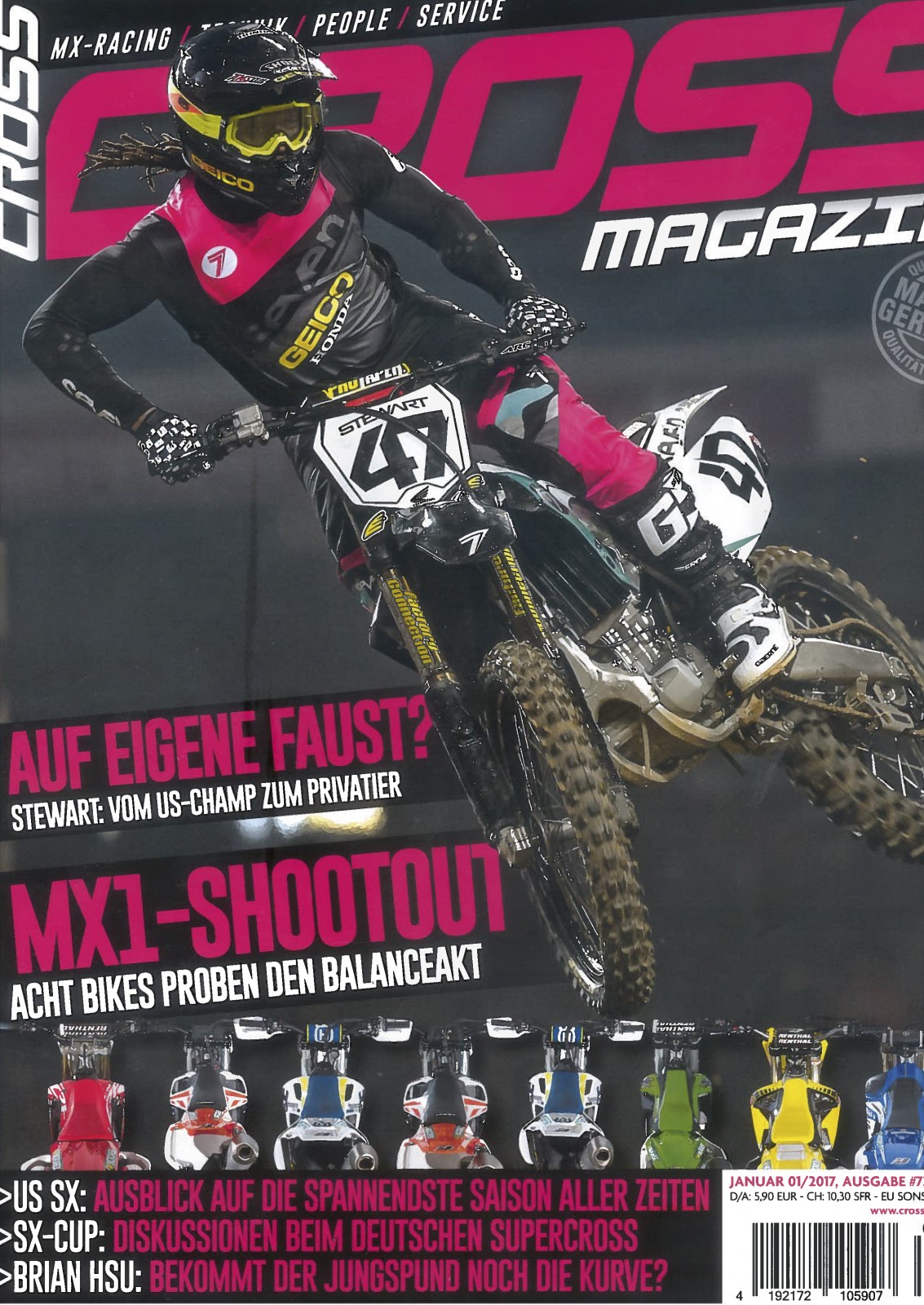 Ricky Carmichael was in California last week and shot an episode of Off Camera with Sam Jones. The show airs Monday, January 23 at 8pm EST and PST. You can watch it on DirecTV on channel 239, and AT&T U-Verse on channel 1114. You can see the show in the United States for the first 30 days, then the show can be purchased worldwide on the Off Camera website starting February 23.
Ricky and Sam also have a podcast of the entire interview that will be on released on Thursday, January 26, and can be listened to internationally. You can
Check out a couple promo clips:
Did you know that you can essentially get paid to subscribe to Racer X Illustrated? That's right—no tall tales here. Check out some of your options listed below to see how you can give a little to get more.
$25 Rocky Mountain ATV/MC Gift Card: No matter what type of subscription you buy--print, digital, print/digital combo—you're coming out ahead. You can pay $9.98 and get $25 back! We'll even throw a free digital issue on top of that so you have something to read immediately after you purchase your subscription.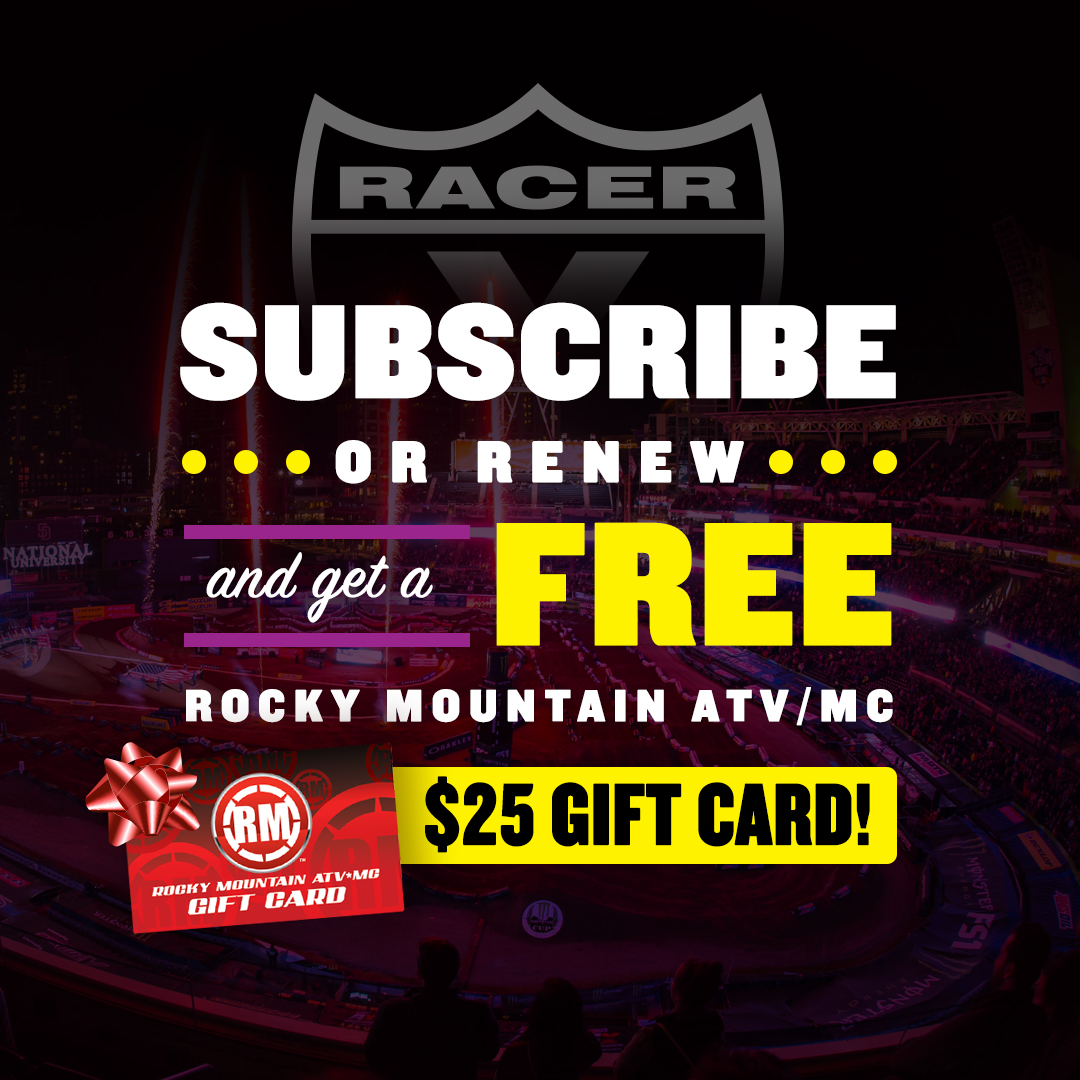 Koozies, Trailer Stickers, and Cooler Sleeve: If you look under the gift card image on the subscribe page, you'll notice a link that reads "Choose a Different Gift". Follow that if you're looking to add some more Racer X swag to the collection.
Supercross Hangout: Two free tickets with all-day pit access and an insider tour of the pits with our own Jason Weigandt and Steve Matthes. That's what's on the line and you have a chance win this for the Phoenix SX next weekend. If Phoenix goes well, we'll likely add more races to the schedule.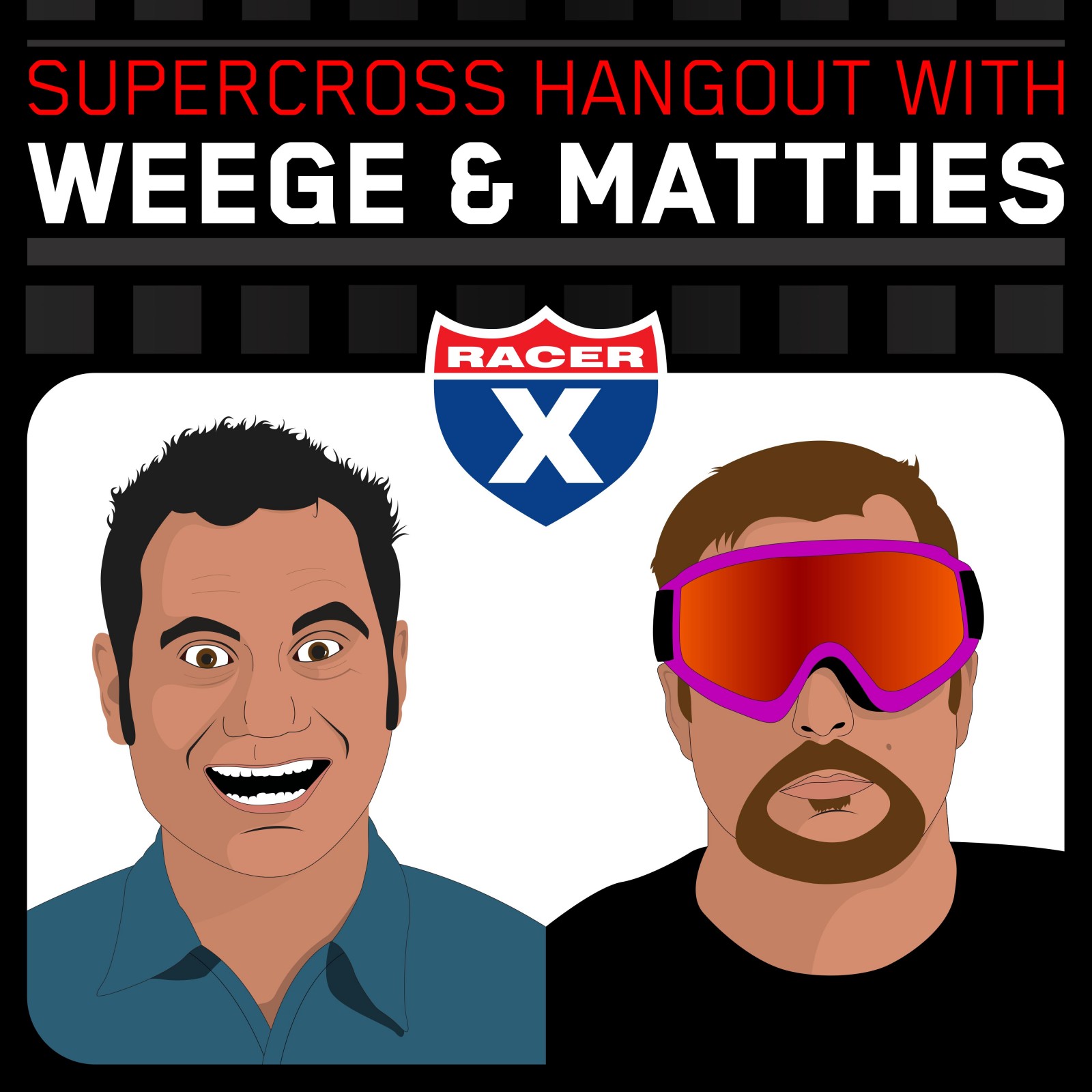 Military Discount: Last, but certainly not least, is our way of saying thanks to the hardworking members of the United States Armed Forces. We appreciate everything you do, and if you like what we do, you can pick up a subscription for as low as $4.98.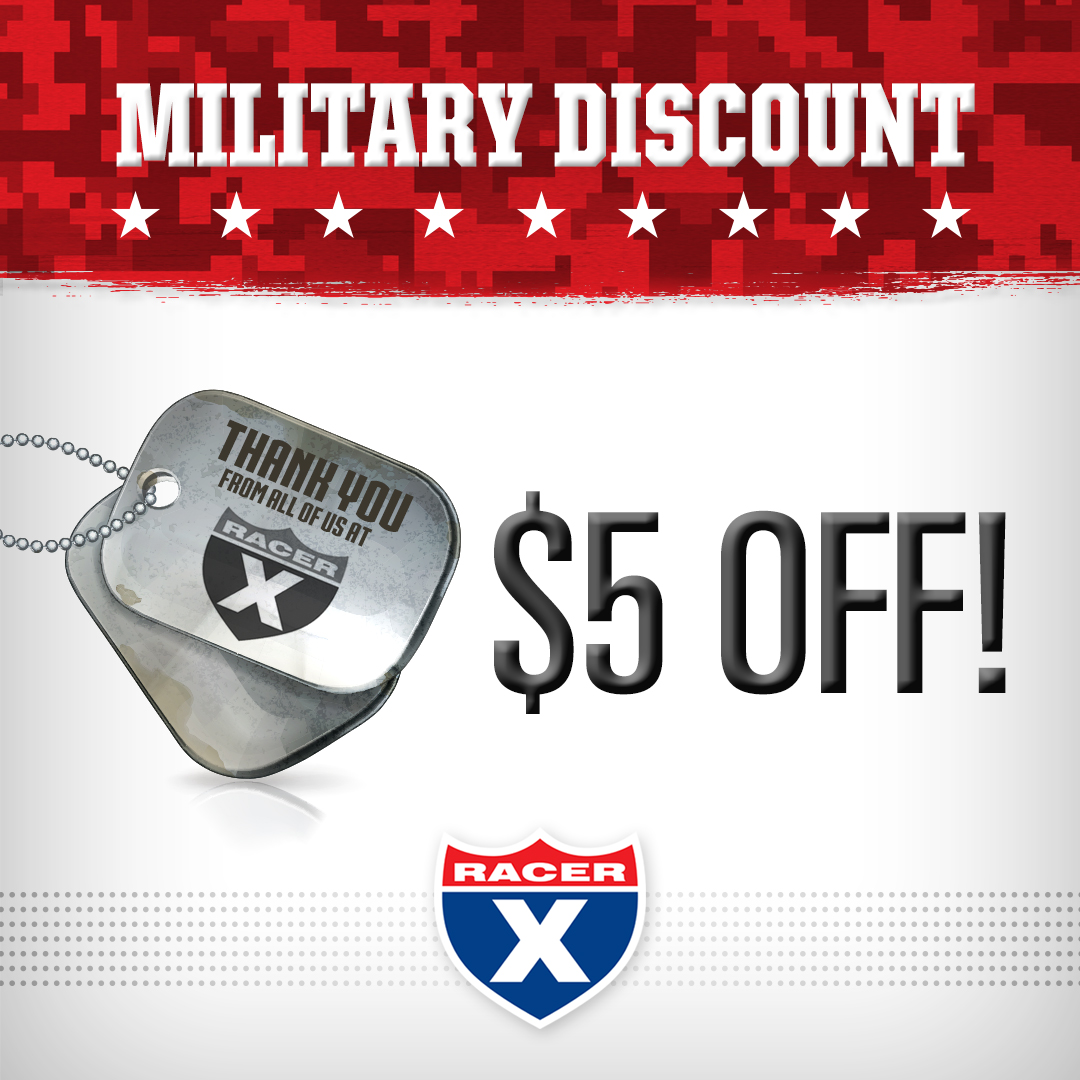 That's all for this week. Thanks for reading Racerhead. See you at the races.