Sam Boyd Stadium
Las Vegas

,

NV
Monster Energy Cup
Monster Energy Cup
The Monster Energy Cup has a reputation for producing some wild racing and crazy moments, but with so many top racers missing the event this year there was a concern it might not be the same extreme spectacle we've grown accustomed to watching every October. Luckily those concerns were put to bed and we had yet another entertaining night in Sam Boyd Stadium. To read how it all went down, check out the Race Day Feed below. To start at the very beginning of the day, start at the bottom of this page and scroll up. If you're only interested in the main events, summaries from each are directly below.
Main Event One
When the gate dropped in this one it was like the Nationals all over again—Ken Roczen nailed the holeshot and just took off for the win. Eli Tomac did his best to quickly get around Blake Baggett for second and go after Roczen, but even with clear track ahead of him Tomac couldn't put a dent in Roczen's lead, despite being the only rider to triple, triple, triple, triple, through the long rhythm lane. Roczen was the fastest man on the track in this race, and if he can keep riding like this we could be looking at another $1 Million winner. Behind Roczen and Tomac was Baggett, who dropped a few spots as the race wore on, allowing Ryan Dungey and Marvin Musquin by. Baggett ended up fifth, with Cole Seely, Chad Reed, Mike Alessi, Benny Bloss, and Nick Schmidt rounding out the top ten.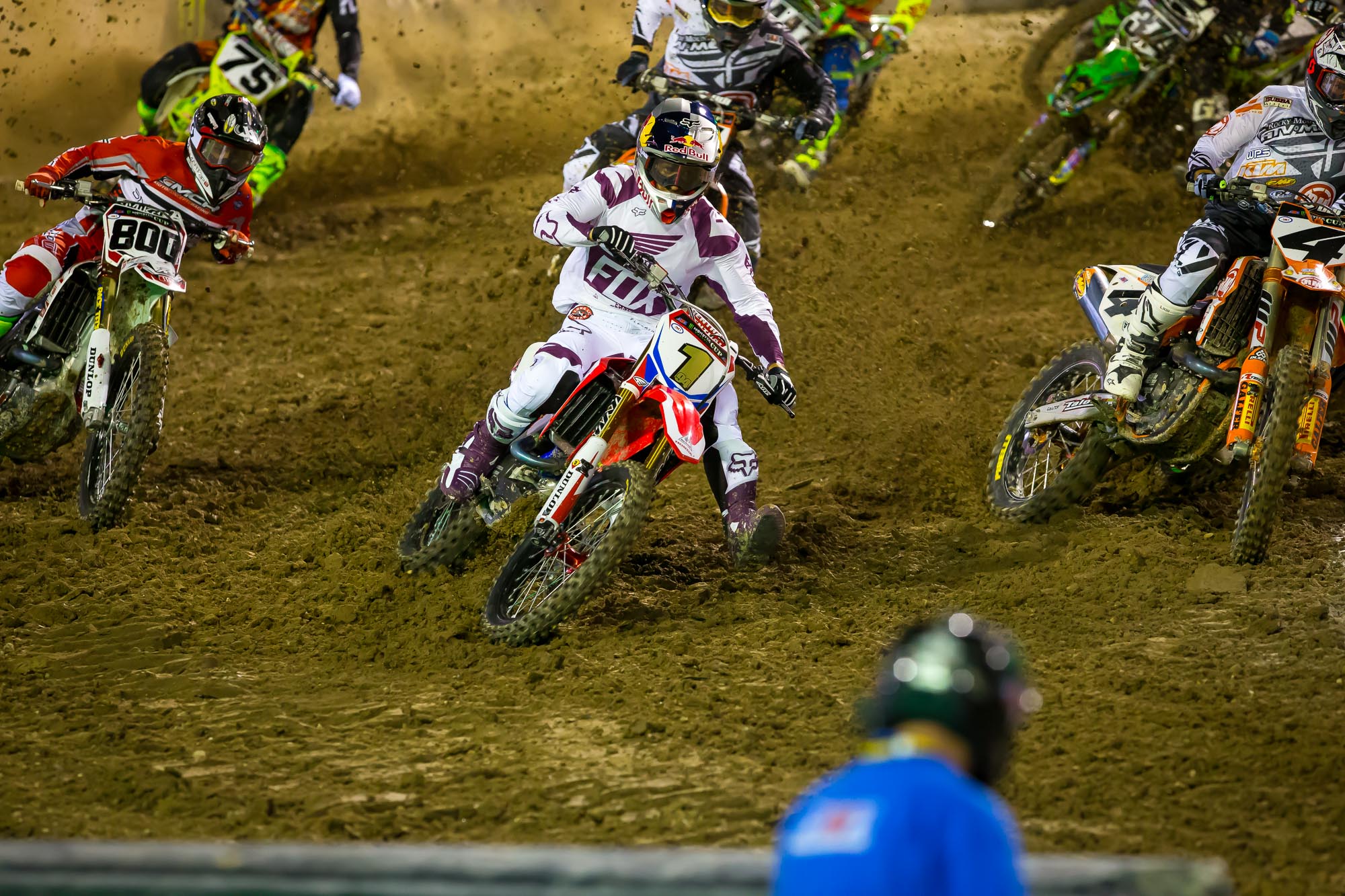 Main Event Two
Remember that talk of Ken Roczen possibly going home with $1 million after he completely dominated the first race? Throw it out the window. Roczen was looking good for another win in the second main event when he made a little mistake in a rhythm late and got off rhythm, which resulted in a spectacular over-the-bars crash which allowed Tomac to blaze by for the lead and eventual win. Roczen, somehow unhurt, tried to pick his bike back up and get back in the race but was unable to get his Honda to fire back up. Tomac had been keeping Roczen a lot closer in this race than he did in the first, but wasn't ever close enough to challenge for the lead. Ryan Dungey hung close behind Tomac and Roczen early on, but a few laps in started slowly losing touch. He finished second, and factoring in Roczen's disastrous race, Dungey has a very real shot at winning his first Monster Energy Cup.
Main Event Three
Ken Roczen nearly nabbed another holeshot but Chad Reed went up the inside and crossed the line first. One turn later he came up way short in a rhythm lane, crashed, and narrowly avoided getting run over by the pack. Up front Mike Alessi was leading with Roczen in tow, while Tomac got buried off the start and was in roughly tenth. Dungey was in fifth, but moving forward. A few laps in Roczen took over the lead, but the real battle was for the overall between Tomac and Dungey. Dungey needed to put a bike between himself and Tomac to win the overall, but Tomac was determined not to let that happen. With five to go the two both went by Alessi, and shortly after Tomac went around Dungey, cementing the overall win. Or so it seemed. Dungey caught fire, passed Tomac and went after Musquin. Had Dungey gotten Musquin, which he nearly did on the final lap, he would have won the overall but Tomac was able to hang on. With the win he takes home $100,000.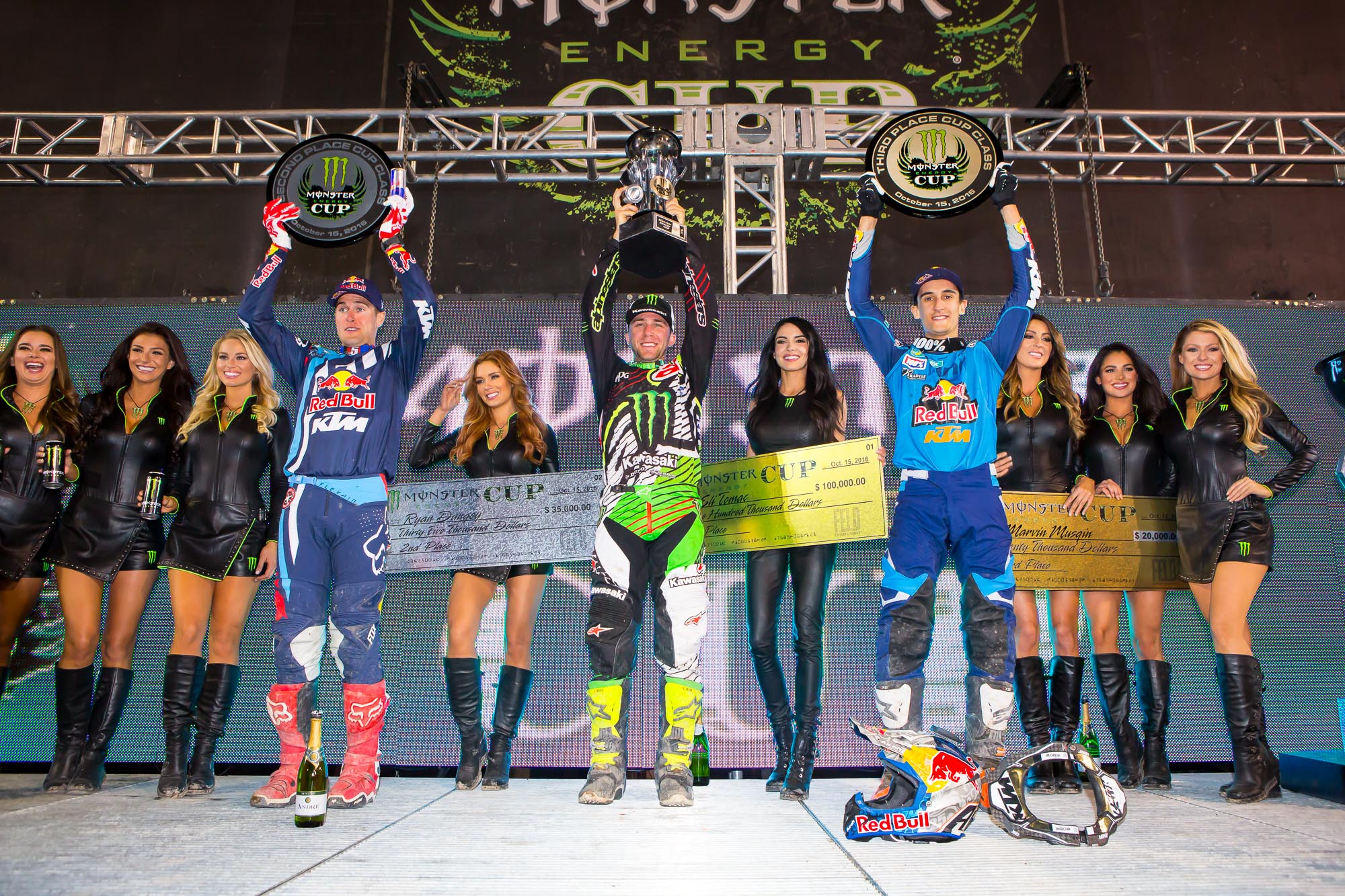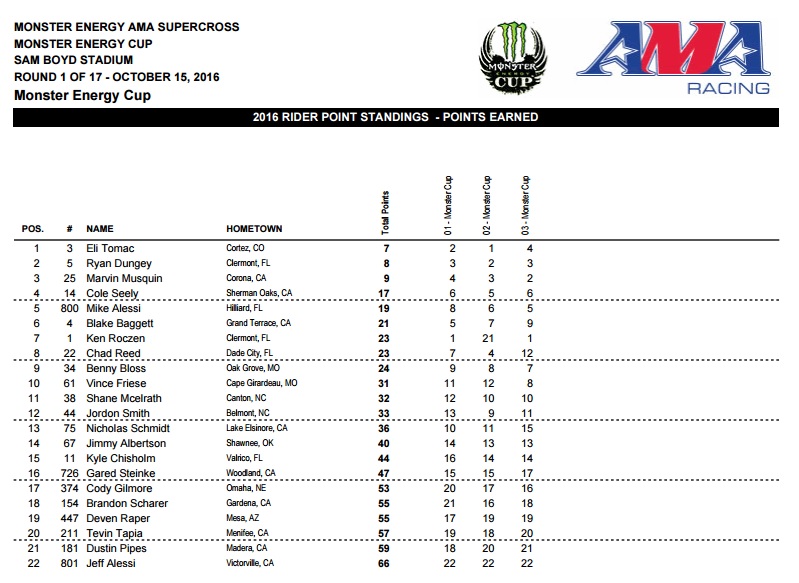 Amateur All-Stars Race One
After some banging on the start, Cameron Mcadoo emerged with the lead. A few turns later there was a pileup involving seven riders near the back. No worries up front though, where Challen Tennant and Mitchell Falk were chasing Mcadoo. Falk went by Tennant a couple laps in and put down a charge that saw him quickly close on Mcadoo and pass him as the two exited a rhythm lane. Mcadoo fought back and didn't let Falk get away, but one lap later he made a mistake in a rhythm lane that allowed Tennant by. Mcadoo would make another mistake later which dropped him down to seventh. Falk won, followed by Tennant, Sean Cantrell, Justin Cooper, Lorenzo Locurcio, Garrett Marchbanks, Mcadoo, Enzo Lopes, Dylan Walsch, and Ramyller Alves.
Amateur All-Stars Race Two
Cameron Mcadoo nailed another holeshot in this one, handing him not only the lead, but also the keys to a brand new Toyota Tacoma (a prize handed to any Amateur All-Star racer who could holeshot both motos). He celebrated by throwing a massive whip half a lap later. He was clearly feeling good out there and built a huge gap between him and Jayce Pennington, who was all alone in second. Behind him Dylan Walsh, Garrett Marchbanks, and Brandon Hartranft were battling hard for third. In the end Walsh was able to hold off the dogs for third, with Marchbanks and Hartranft rounding out the top five.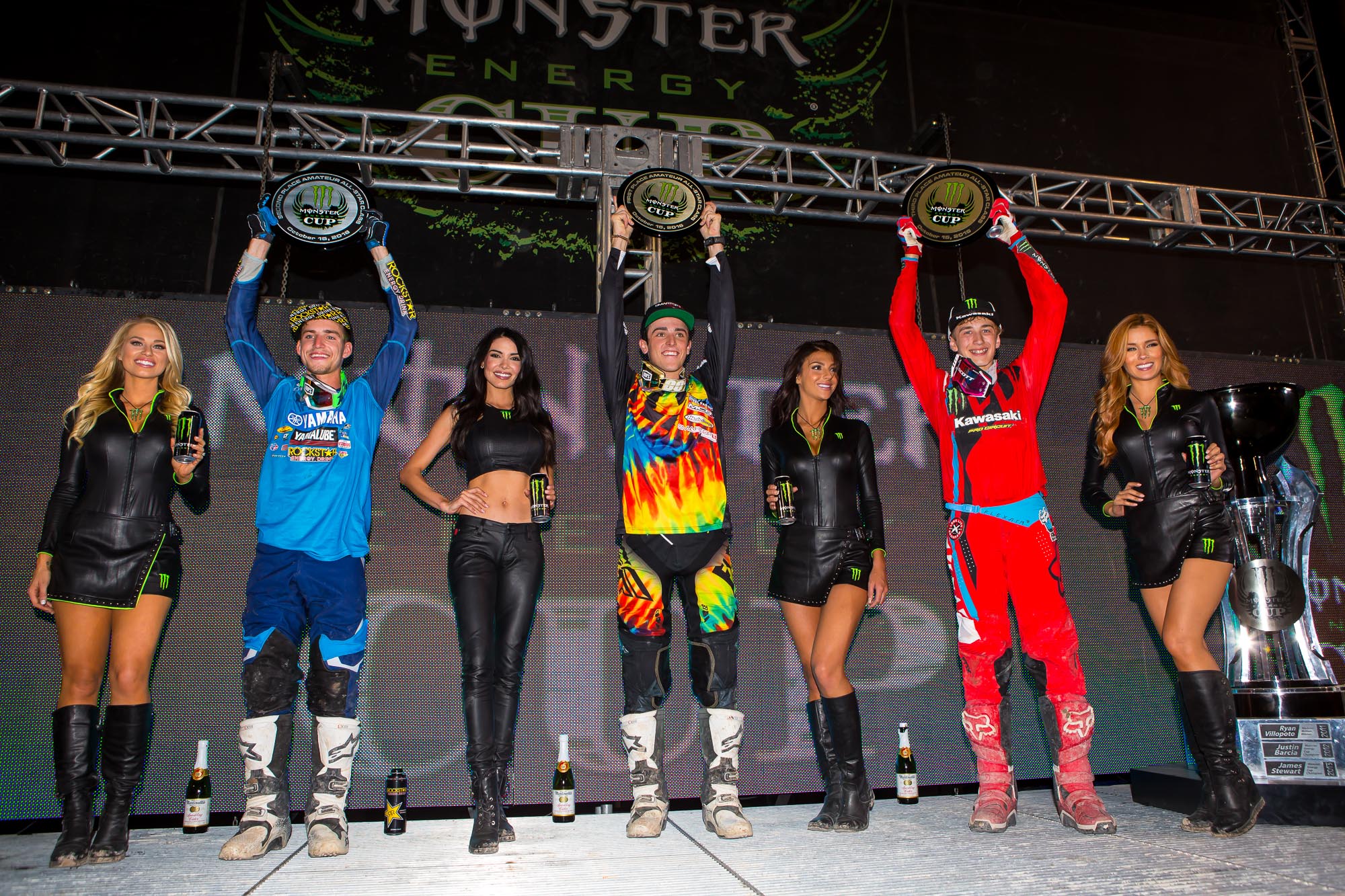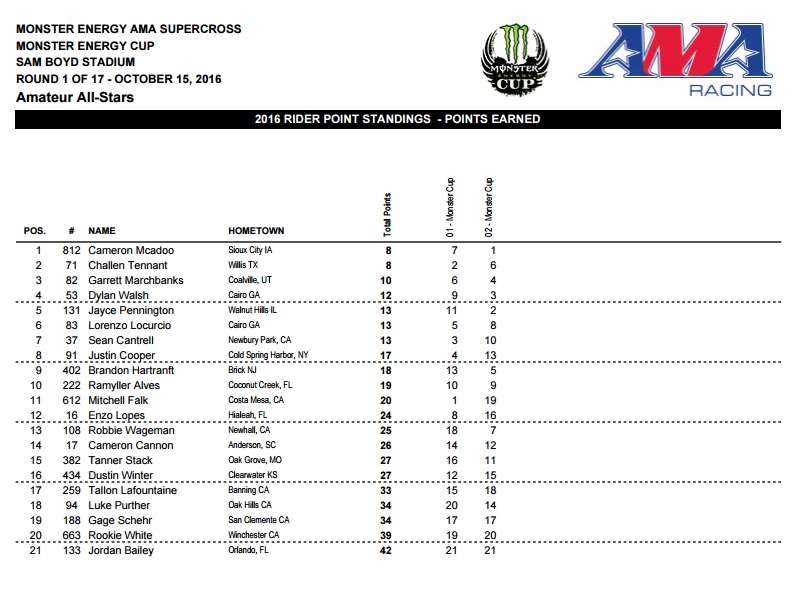 Super-Mini Race One
Stilez Robertson got out to the early lead in this one, with Seth Hammaker in second. That didn't last long though, as Hammaker was on a mission to get up front, which he did early. Hammaker then dropped the hammer and took off. Robertson was able to stabilize the gap at about three seconds but was never able to reel Hammaker back in. With one lap left it looked like Robertson had settled in a bit, but Carson Mumord was still charging and taking big chunks out of the gap between himself and Robertson. He was able to get somewhat close but ran out of time and finished third.
Super-Minis Race Two
Carson Mumford took the lead immediately in this one, but the heroes from the first race, Stilez Robertson and Seth Hammaker, weren't far behind. With four laps to go Robertson and Hammaker had all but closed the gap on Mumford and the three were nearly all side-by-side in the long rhythm lane. Robertson took the lead a few turns later, but Mumford didn't give up. Mumford was able to pass back into the lead but came up short on a jump in a rhythm lane and gave the lead back up to Robertson. Hammaker meanwhile, had made a bobble and lost a bit of time and was working on rejoining the fight until he went over the bars. Just like that a shot at the overall win turned into a ninth overall for Hammaker. Mumford kept Robertson close for the rest of the race but couldn't get back by him. Robertson's win earned him the overall.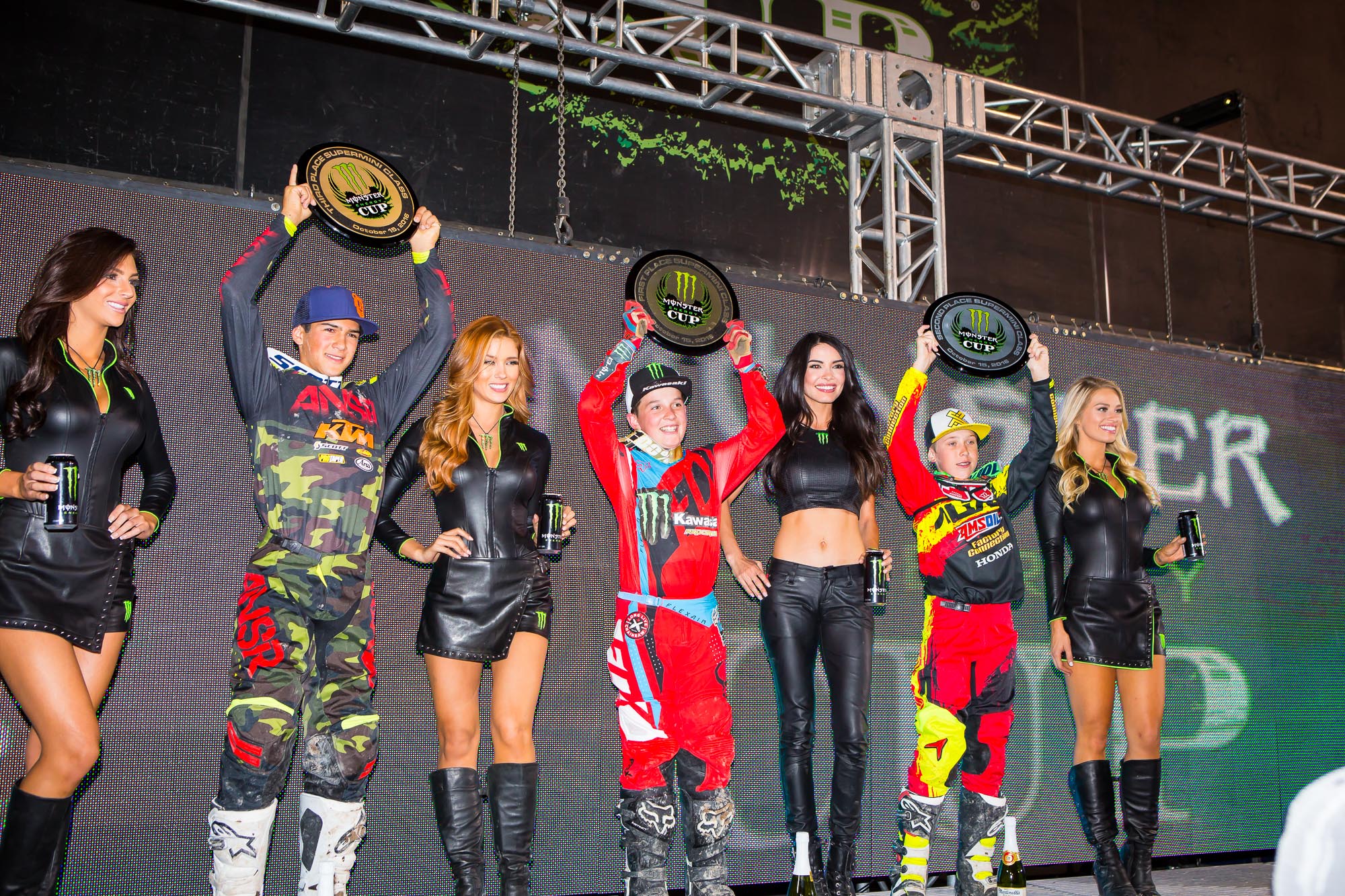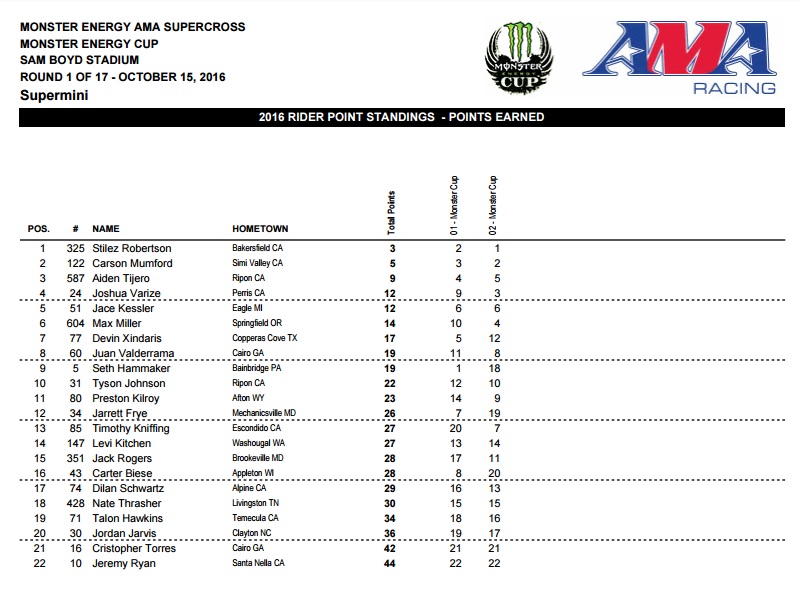 LCQ
The LCQ usually comes after the heat races, but since there are no heat races at the Monster Energy Cup, just timed qualifying, it's the first race of the night and is contested by riders outside the top eighteen from timed qualifying. For a look at qualifying times, scroll down.
Jeff Alessi and Tevin Tapia got the LCQ going by getting out to the early lead with Alessi slowly starting to pull away from Tapia. Deven Raper and Brady Kiesel held down third and fourth, but Dustin Pipes got into the mix and started going back and fourth with Kiesel for fourth, the final qualifying position. Then Kiesel went down and Pipes was able to get around Raper. Up front Alessi started fading a little and Tapia got by and took off with the lead. Pipes started pressuring Alessi but was unable to make the move before the checkered flag came out. Tyler Enticknap was catching Raper four fourth but ran out of time. Tapia, Alessi, Pipes, and Raper all transferred to tonight's mains.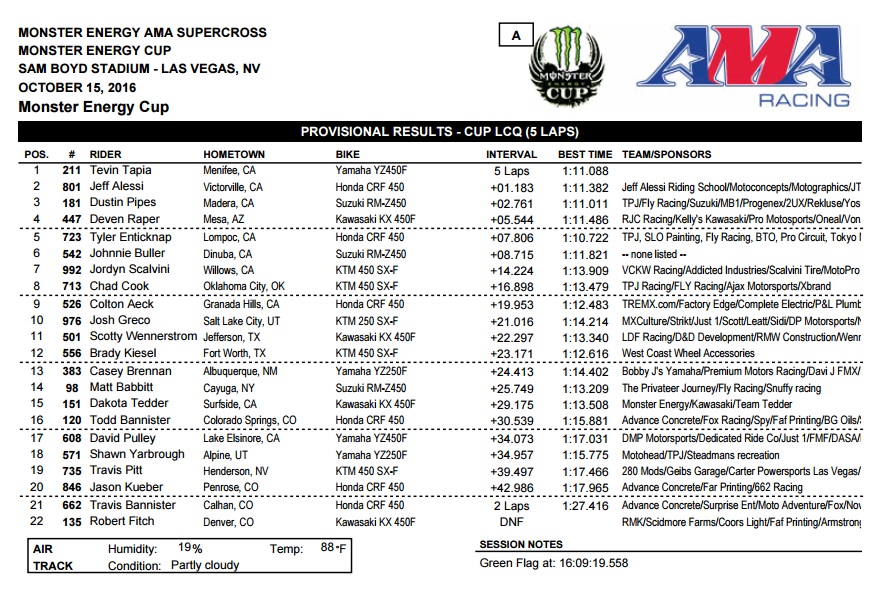 Second Timed Practice
If the way the second qualifier went is any indication of how things will go tonight, it's looking good for defending Monster Energy Cup champ Ken Roczen. Marvin Musquin was fastest early on, followed by Eli Tomac, but about halfway through Ken Roczen took over the fast time with a 1:04.721. Several laps later Roczen beat his own time, posting a 1:04.486. But the real excitement of the session came when Tomac uncorked a new line through the long rhythm lane. The established line has been double, triple, triple, triple, but Tomac used a small single located a fair distance from the end of the lane as a landing to go triple, triple, triple, triple. We'll see if he busts it out right away tonight or keeps it in his pocket just in case he needs it.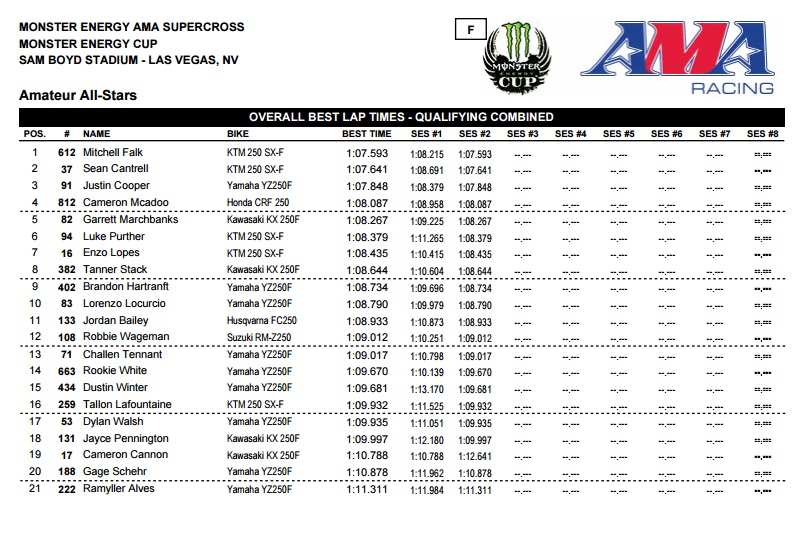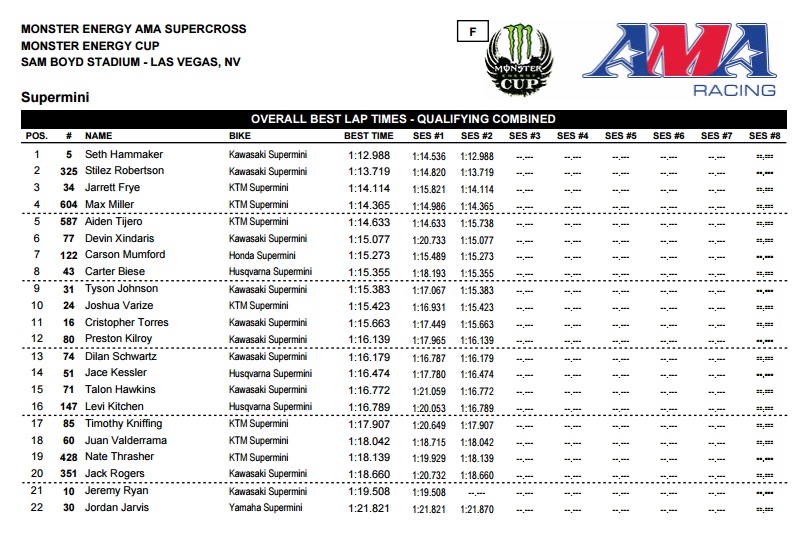 First Timed Practice
Ryan Dungey got things going in the first timed practice session by logging a fast time of 1:10.892, but it didn't take long for times to start dropping. Eli Tomac, Marvin Musquin, and Ken Roczen all took turns trading the fastest time, but Tomac finally set a time that looked like it would hold. With the session just about over the floor announcer thought so too, and started interviewing Tomac as the session's fastest qualifier. But then Musquin threw down a heater on his final lap to beat Tomac's time by roughly two tenths of a second with a 1:05.574.
The track is relatively easy, at least for these guys, and there's just not a lot of areas for the guys to make up a lot of time. The one place where some time could be made up is a long rhythm lane right next to the stands. Guys are experimenting with different combinations, but so far the fastest line seems to be doubling in and going triple-triple-triple out. So far no quad gods, but we'll see what happens in the final practice of the day.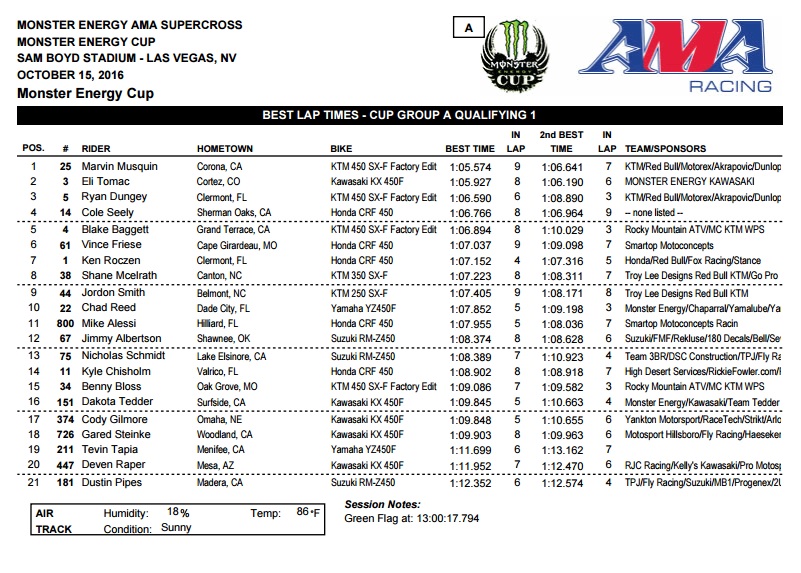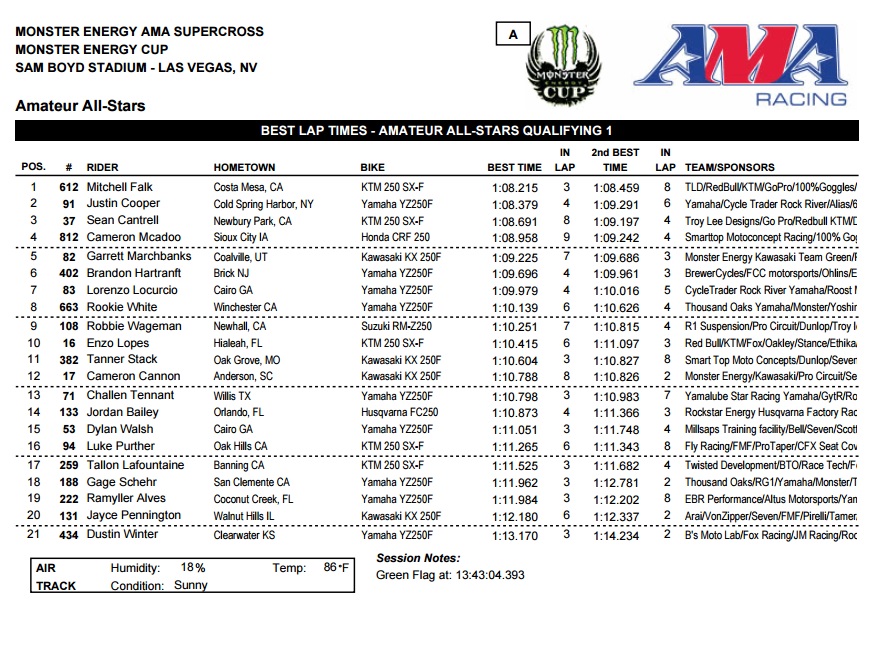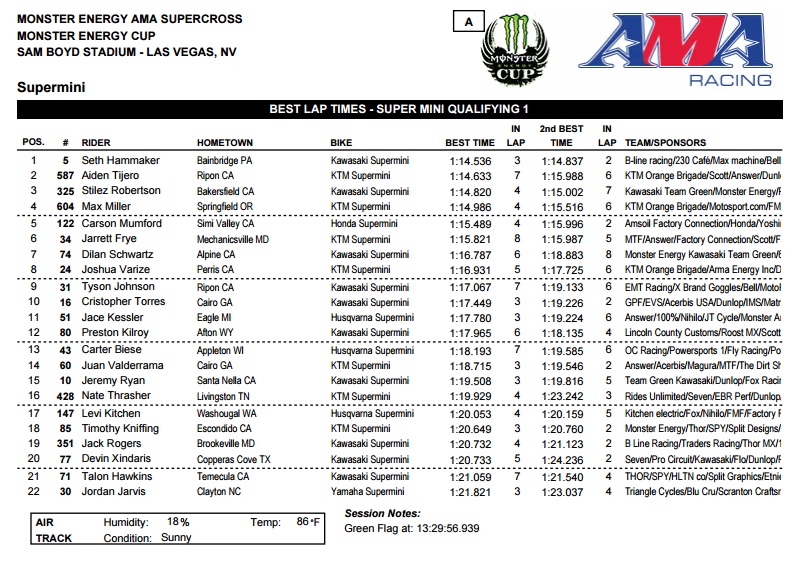 The Track
The track at the Monster Energy Cup is always a departure from a normal supercross track and this year's track, which features the traditional MEC Joker Lane and no whoops, stays true to the trend. Perhaps the biggest difference is the use of a massive downhill start, with the gate literally located at the very top of the stadium. The steep downhill portion is 165 feet long and is followed by 270 more feet of flat before the riders enter the first turn, a left-hander. The first forty feet or so after the gate are covered with a metal grate-like material to ensure roost doesn't get shot over the edge of the stadium as the riders blast into action. It's going to be a thrill to see a full gate drop in later tonight.
Getting back to the Joker Lane, here's how it works. It's a separate section of track that adds several seconds to a rider's lap time, and riders are required to take it once per main event. It's added plenty of drama in past years, as several riders, including Ryan Dungey, Ryan Villopoto, and Jason Anderson, have forgotten to take it. In yesterday's press conference Ken Roczen, Chad Reed, Eli Tomac, and Cole Seely all generally agreed the best time to hit the Joker Lane is on the last, or second-to-last, lap of the race. Any sooner than that and you could put yourself in traffic.
Elsewhere on the track are several rhythm lanes, a triple, and a long sand section the riders will jump into as they come flying down Monster Alley. The dirt had plenty of moisture in it this morning, but with the high heat and brisk winds it's going to dry out soon and will probably get pretty hard. Practice is set to begin shortly so check back soon for a report on who's fast in qualifying.
Morning Report
As usual, the MEC has plenty of storylines to follow, ten of which you can see here. Perhaps the biggest story to keep track of is how Ken Roczen will do on his new Honda. At yesterday's press conference he said he'd only ridden the bike nine times and viewed the MEC as an opportunity to get some valuable race time under his belt. He's the defending champ of this race, and whether he's got nine rides or nine hundred, you know he's in it to win it, especially with $1 million on the line.
Speaking of $1 million, here's a quick refresher on how the MEC works. There are three main events, with the overall winner being determined by adding the individual results together. The races don't have a point value assigned to them like Lucas Oil Pro Motocross, so the finishing positions themselves are added together. For example, if a rider goes 2-1-1, his overall score is four. The lowest score wins, and if a rider scores a perfect three by winning every single main event, he'll take home a cool $1 million. If nobody records perfect scores, the winner still earns a big paycheck—$100,000 to be exact. With so much money on the line and no consequences for losing, things could get wild!
Track walk is scheduled to take place shortly, so check back for an update soon after we get a chance to set foot on tonight's racing surface.