Ford Field
Detroit

,

MI
Detroit
Monster Energy AMA Supercross Championship
In the sport of motocross you often hear about riders dropping out of public school to become home-schooled. It's a rarity to have a rider finish public school, let alone think about college. However, some privateer riders are heading back to school to get their degrees. That is exactly what Florida State University's and BLUE Buffalo/Slater Skins Yamaha's Josh Cartwright is doing.
During his amateur career, which included a Loretta Lynn's title in College B/C (16-24) Class in 2013, Cartwright attended private school in Tennessee. "Once I won Loretta's my parents allowed me to come down to Tallahassee to pursue my dream of being a professional motocross racer, but they said I had to stay in school," Cartwright says.
So Cartwright moved to Tallahassee, without his parents, and completed his senior year at a new school. That's not a move most high school students would make! Upon graduation, he set his sights on the campus of Florida State and a degree in Computer Science.
"I've always been about education," Cartwright said. "I know in this sport not many riders make enough money to live off the rest of their life. They don't even have an education to fall back on and that's what I want to have."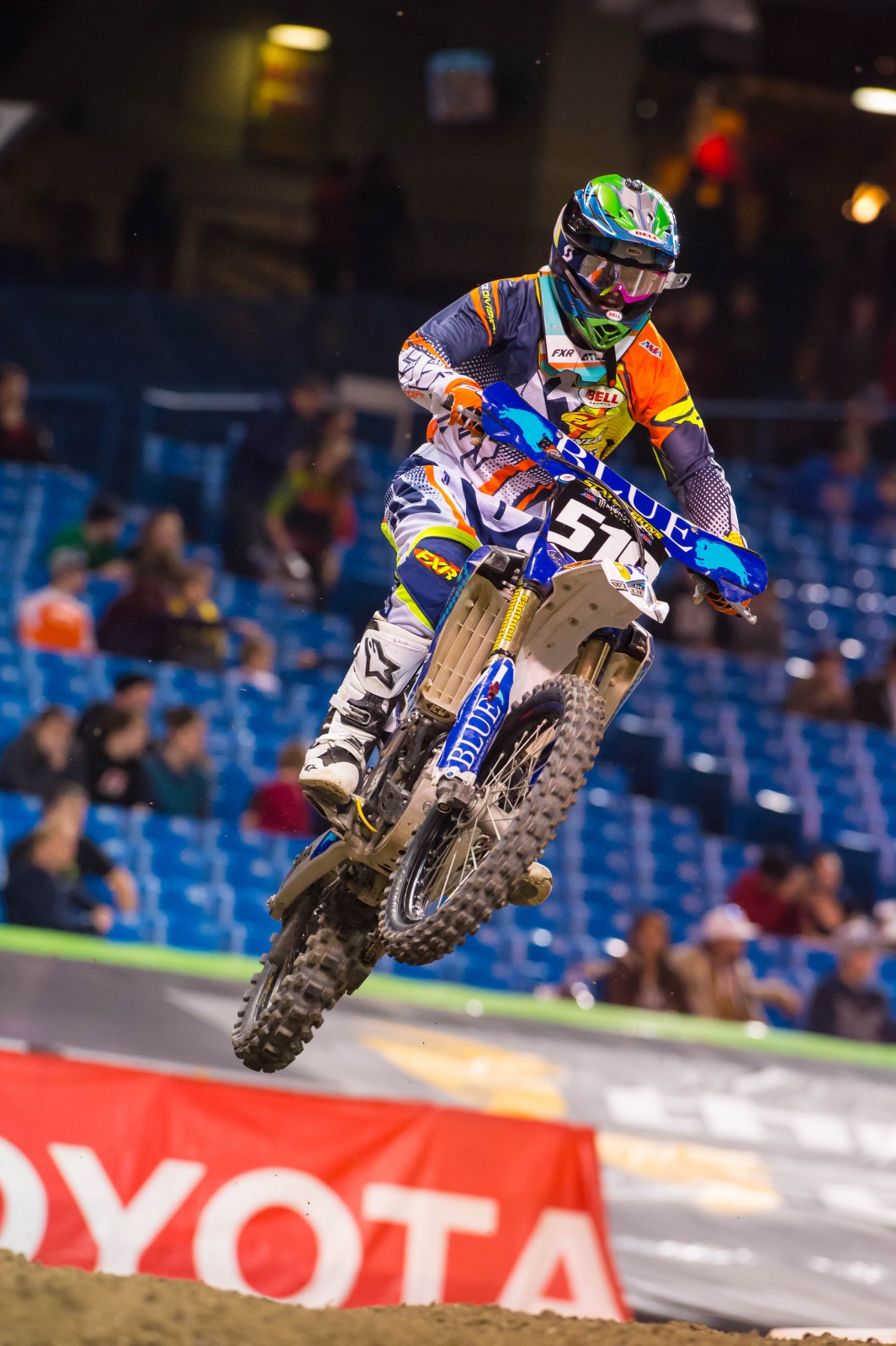 The past year has been full of highs for the 20-year-old sophomore. During his time in arenacross last year, Cartwright formed a bond with none other than Ricky Carmichael. The tie to Carmichael led Cartwright to train at "The Farm" this season with the Carmichael family and Gavin Faith, Joey Savatgy, and occasionally Austin Forkner.
"It's awesome to ride with them," he said. "The more I ride with people like that the better I'm going to get."
The way Cartwright has his living situation set up is valuable to his program. He lives between "The Farm" and the FSU campus, which allows him easy access to get everything he needs finished on a daily basis.
A normal day consists of school in the morning, and then after class he drives to the track. After riding, he'll grab a shower at home on the way back to school, and then go home to train and do homework the rest of the day. On Fridays he goes to class and then fly's out to the race right after.
With this busy schedule Cartwright still finds time to go bowling with his friends, a hobby that his crew does once a week.
When the East Region started this season, Cartwright was doing his own deal with help from personal sponsors, such as MX Culture who hooked him up with a bike. The BLUE Buffalo/Slater Skins squad was impressed with what they saw, especially after Cartwright qualified directly out of his heat race in Daytona. The team was down a rider after Andrew Silverstein went out with injuries and called up Cartwright to fill-in.
"They gave me an opportunity and I'm really grateful for that," he said. "I made a main in Toronto and I was planning on making the main again in Detroit."
Cartwright did not make it to the night show in Detroit because of an incident early in the afternoon in which he dislocated his shoulder. "I did it in practice off of the start," Cartwright explained. "I tried to get in front to get a clean lap because usually I start in the back. When I got to the first corner someone just cleaned out my front wheel and I had to put my arm down."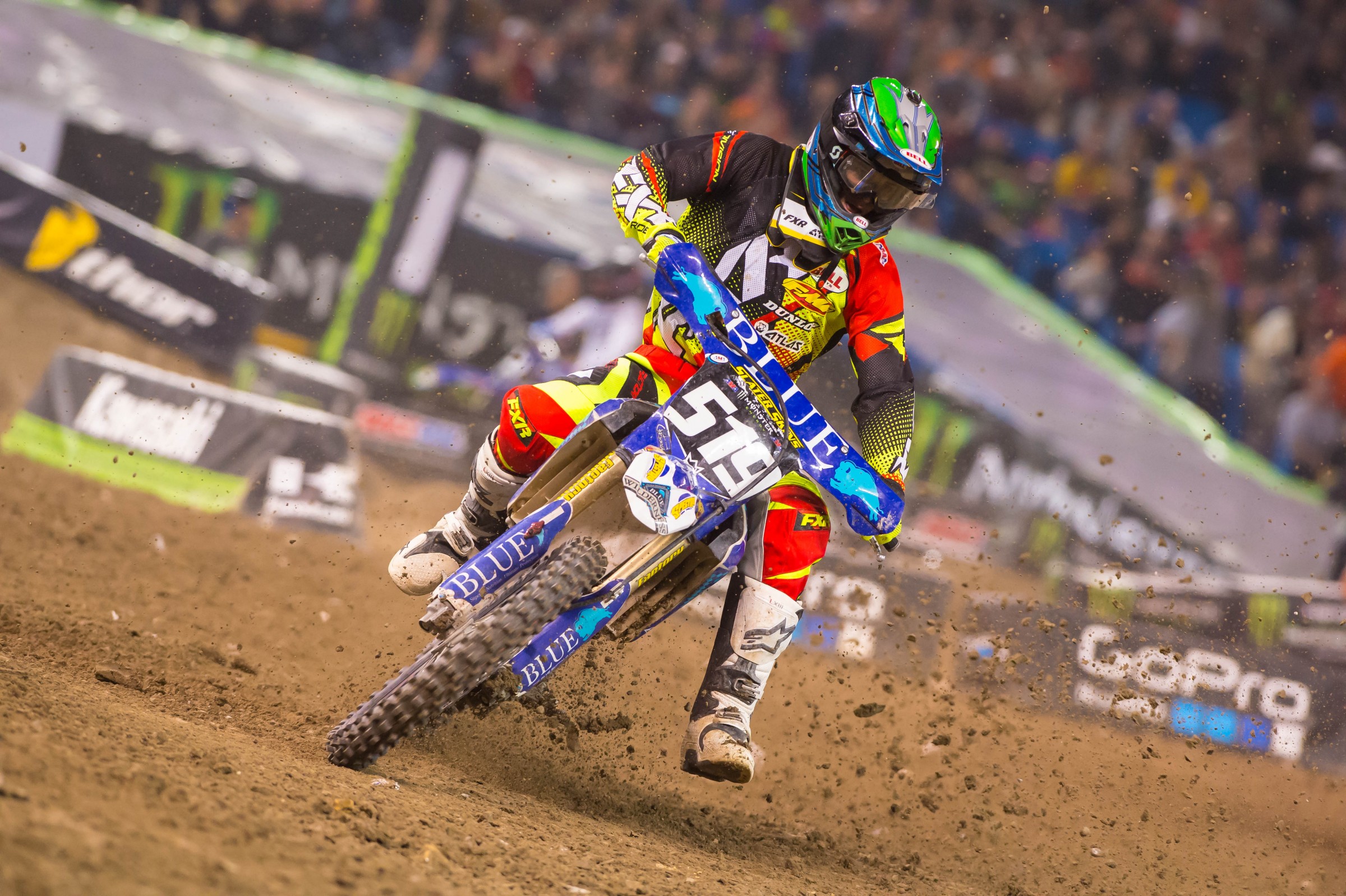 Cartwright went on to tell us that he's had experience with this injury before and he got it popped back in as soon as he could. However, the injury couldn't have come at a better time because the East Region has a three-week break before Indianapolis on April 9.
"Hopefully I'll be back by Indianapolis and show my team that I can be up there. I'm hoping for a top ten at the end of the year," he said.
Cartwright is happy that his hard work is paying off and he knows that once his days in motocross are done that it will be the start of a new beginning for him. He is set to graduate in 2018.
"When I'm done with motocross I'm going to be happy to have a job to fall back on," Cartwright said. "It's all going to be worth it."
Josh would like to thank: BLUE Buffalo/Slater Skins/Yamaha, Spectro Oils, Dunlop, FMF, MotoSeat, Lake Hill Motors, FXR, Bell, Scott, Sandboxkings, Enzo, Nihilo, Pro Taper, No Toil. Atlas, Alpinestars, Flyin Kolors, Wiseco, Crank Wrks, TLR, MX Culture, Galfer, and Excel for the support this season.