New York native Bobby Kiniry announced his retirement from the sport last week after a bad crash in Canada at an arenacross on October 9. Kiniry, 30, was never one of the superstars of the sport, but he was always right below them grinding away, logging some solid finishes, and going wherever he had to go in order to earn some cash. Always a great guy with the fans, Kiniry was a workingman's motocross hero and left his mark wherever he went. People just like him! We caught up to Bobby to talk about his decision and what's next.
Racer X: Bobby, you had a bad crash up in Canada; it sounded like it was pretty gnarly. What happened?
Bobby Kiniry: The crash was a pretty good one. There was a rhythm section with a three-three-one into the turn, and it was really hard to do on a little bike. I was one of the only guys really doing it. I was in about fourth place and was behind Chris Blose. They were struggling to do it. We were all in a tight pack, the first four of us. We were a couple laps in. I was trying to work my way to the front, and in doing that I wanted to get to the inside of Chris and jump the triple-triple. I jumped it all day and I didn't really hit it any different, but just went into a real aggressive endo and clipped the top of the second jump of the three with my front end, and it put me into an endo.
I hit the face of the third one body first, with the bike at my back. Legs were tangled in the bars. It crushed me and flung me back up in the air, and the bike landed on me again. Ended up really breaking my hip, dislocating my femur from my pelvis, tore my PCL, broke my collarbone, bent the plate in my collarbone, and hit my head. Knee brace broke and cut me open real bad. I had to get stitches in my leg. It was real fun! Doctors are telling me if I were to ride again, it would be about eight months from now.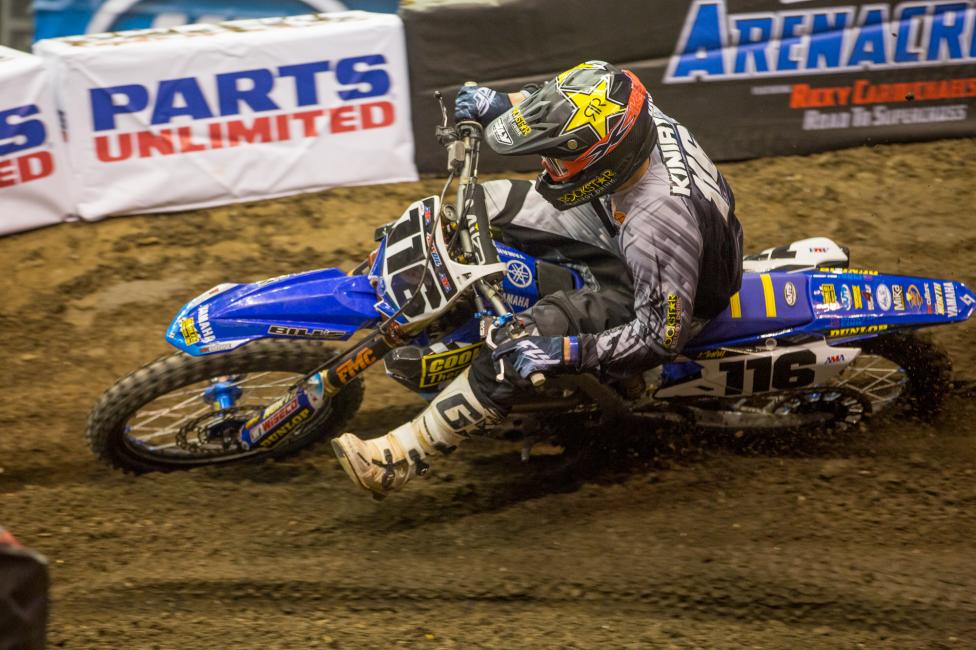 You're 30 years old. Did the decision to hang it up come easy after what sounds like an incredibly gnarly crash?
Yeah, honestly it was the worst crash I've ever had. Some things were kind of starting to enter my mind. I just turned 30—I'm getting old for our sport. It's kind of been creeping in my mind that maybe it's coming. I was going to try and get one more year out of it. I thought the last couple rounds that I had raced of the Canadian arenacross series went really well. I had a ride for the American arenacross series again. Things were looking up. My results were turning around after kind of a rocky summer. I was looking forward to racing again, but I was thinking it was going to be my last year anyhow. And then I had this real bad crash, and that was going to put me behind the eight ball, missing the whole arenacross series, and then putting me behind coming into the Canadian outdoors. I just didn't want to bang my head against the wall again all year.
I crashed a while ago also, and it just started to be a little more frequent, these big wrecks. I couldn't really understand why. In talking with some friends like Billy Whitley, Paul Carpenter, and Danny Smith, they had said that 30 is a benchmark in motocross for a reason. Some people get one or two years more, and some people get one or two years less, but your brain just seems to not be able to comprehend things coming at you that fast anymore. Not that you forget how to ride and you can't ride that fast anymore, but when something's going bad you can't react quick enough. That's the result and it happens to everyone. Buddy Antunez, [Kevin] Windham—everyone said the same thing. They just couldn't quite comprehend what's coming at them that fast anymore. The result is an injury. When you have a family and stuff, you can't afford to do that unless you're a factory guy making big bucks. That's just not the cards I was ever dealt. So I kind of really had to step back and assess what was going to happen the next time this went on and what I was going to do from there. It just seemed like I was banging my head against the wall trying to force it.
For a guy that wasn't a factory rider, you've raced all over the world, done well, made some money, and it's been a nice ride, right?
Yeah, I'm really happy walking away from motocross. It's been an awesome run for me. I made an actual career out of it. Like you said, I've seen the world. I got to do a lot of cool things, see a lot of cool places, and live my childhood dream. You can't ask for more than that. On top of that, like you said, I was pretty successful at it. I have had podiums in supercrosses, I won outside of our country, and been a consistent top-ten finisher in our country. I think that's something I always dreamed of when I was a kid was being in the magazines and being on the websites and stuff. I made a career out of being in the next pack of guys behind the leader, and really hung onto it for a long time. It gave me a lot of cool things in life. I've got a nice setup, a nice family out of it, a nice home, and nice toys. Motocross has been great to me. I got a lot of great fans and met a lot of great people over the years within the industry, and outside of the industry even. That's something that's hard to come by. You meet a lot of famous people—movie actors or other sports people—and that's something a lot of people would dream of doing. At least I can look back and appreciate it and say I got to live a pretty extravagant lifestyle for a little while. It was fun.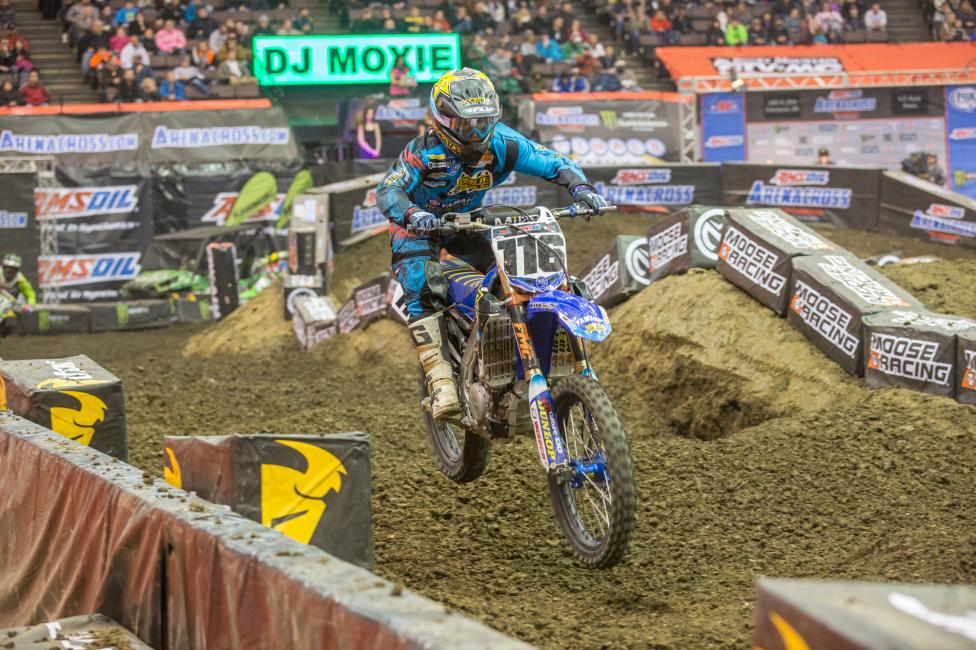 I was talking to Bones [Jim Bacon] from Pro Circuit about you. I know nothing about fishing at all, but he said you were a really good fisherman and you could make some money fishing. Is that something you're going to look into?
Yeah, Rockstar and OTSFF, those groups are really looking to step up and help me on my next sports adventure here, and that'd be the professional bass fishing. I'm going to put a good push in and try and get to the top of what would be the supercross level of fishing. I've got a good network of people within that industry, and I'm learning it. I'm getting pretty good at it. I've won a couple tournaments. Really starting to figure that market out. So that should be a fun new thing to keep my interest. Racing was always my job and fishing was always my hobby. I'm going to try and put some of my competitive nature into that and see what I can do. I got some people behind me that want to step up and help me with it from the motocross racing side. Just kind of try something new. It'll be fun.
Who do you want to thank?
Obviously, first of all, the fans. It sucks walking away from something like this. I know there's a lot of people that respected at least what I did, and that means a lot to me to know that people thought of me and were looking for me in the results and stuff. I think that's really cool. Obviously I appreciate everyone with their support with that. Obviously all the people such as yourself in the media that made my childhood dream come true, putting me in magazines and all that fun stuff. That's cool to see. All the teams and everyone that's ever helped me out. It's been a cool journey, and I'm glad to be a part of every program I was ever on, everything I did. It was always fun. I got my wife and everyone out of this sport. Just everyone in general for all the support over the years. It was a fun deal.
For some perspective on Bobby, we asked one of his old team owners, Forrest Butler, for his thoughts:
"Kiniry is one of those guys that I have remained good friends with ever since he rode here," said Forrest, of Butler Brother MX, now known as the BTOSports.com KTM team. "His ride was brief, with just one 250 West Coast SX campaign, but at the time he had already started to establish himself as a championship contender up in Canada, so his time with us was just for SX.
"Bob will be one of the guys to do very well in the industry post racing. He has the smarts and the personality it takes to be successful, and I see him being a success in the future with whatever work path he chooses. I'm proud to call him a true friend."