When Red Bull KTM's Ryan Dungey wrapped up the 2015 Lucas Oil Pro Motocross Championship, he joined a very exclusive club in the record books: He's only the second rider in AMA Supercross/Motocross history to have swept both SX/MX premier class titles on two different brands. Dungey first did it in 2010 aboard a Suzuki. That was the brand Ricky Carmichael rode when he did it for the fifth time in 2006, and the Suzuki he rode that season was the third brand he'd done it on!
Since Carmichael and Dungey would make for a very short list, we decided instead to list all of the riders who have swept both SX and MX premier class titles in a single season, going back to the birth of AMA Supercross in 1974.
BOB HANNAH: The first man to unify SX/MX titles was Bob "Hurricane" Hannah. The Yamaha factory rider, wrenched by recent AMA Motorcycle Hall of Fame inductee Keith McCarty, earned the 250 national and supercross championships in both 1978 and '79, then was unable to defend the titles in 1980 after he broke his leg while water-skiing in the fall of '79.
(Note: We are only counting major titles, not 250SX.)
MARK BARNETT: For three years (1980-'82), Suzuki's Mark "Bomber" Barnett ruled the 125cc Class in AMA Motocross, winning three straight championships. In 1981, he showed off his prowess on a 250 by winning the AMA Supercross title as well.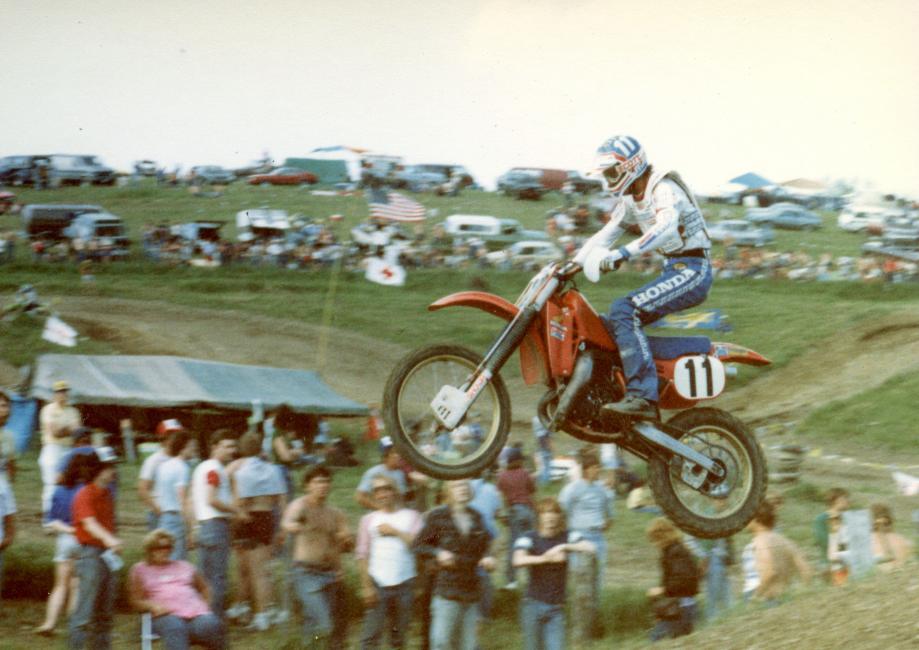 DONNIE HANSEN: Honda factory rider Donnie Hansen had an incredible breakthrough season in 1982, winning races for the first time in his career. In fact, Hansen not only won races; he swept the '82 AMA Supercross and 250 Motocross Championships; then he won a grand prix in Sweden to boot. But the following week, while preparing for the Motocross des Nations, he crashed while practicing in Germany and suffered a career-ending concussion.
DAVID BAILEY: Hansen's Honda teammate David Bailey picked up where he left off, sweeping both the '83 AMA Supercross Championship as well as the AMA 250 Motocross Championship. He also won what was then called the Wrangler Grand National Championship, which combined points from all races. He would wear a blue #1 plate in every race in 1984, which made for a weird situation in the 500cc Class, where Broc Glover was the defending champion. So the AMA just let them both wear #1 outdoors—Bailey's blue and yellow, Glover's black and white.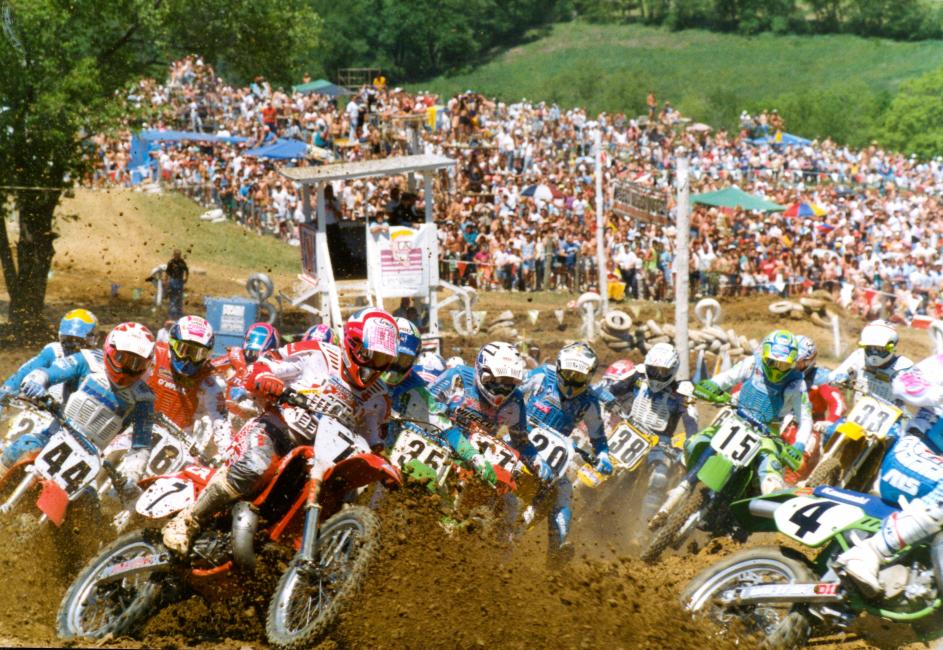 JEFF WARD: In 1985, Jeff Ward had arguably his best-ever season, winning both the AMA Supercross Championship and the 250 outdoor title; then he rode his Kawasaki KX250 to a Team USA win in the Motocross des Nations.
RICK JOHNSON: By 1988 Rick Johnson had pretty much established himself as the best rider on the planet. Like Ward in '85, he won both the AMA 250 Supercross and Motocross titles in 1986. Two years later, in '88, he won the 250 supercross and 500 motocross titles, then helped lead Team USA to win in the Motocross des Nations. RJ looked capable of another sweep in '89 before breaking his wrist at the outdoor opener in Gainesville, Florida.
JEFF STANTON: When RJ went down, it was a good thing that Team Honda had Jeff Stanton in the bullpen. He would sweep both AMA Supercross and 250 Motocross Championships in 1989, 1990, and 1992.
JEAN-MICHEL BAYLE: Here is the outlier: Jean-Michel Bayle is the only foreign-born rider to sweep AMA Supercross and 250 Motocross, which he did in 1991. But then the Frenchman one-upped everyone by adding the 500cc AMA Motocross Championship as well. With that series ending in 1993 (with Mike LaRocco as the last class champion), no one since has had the chance to add a third title in a single season. Also, no one had ever done it before. JMB is the one and only rider to win three national titles in one year.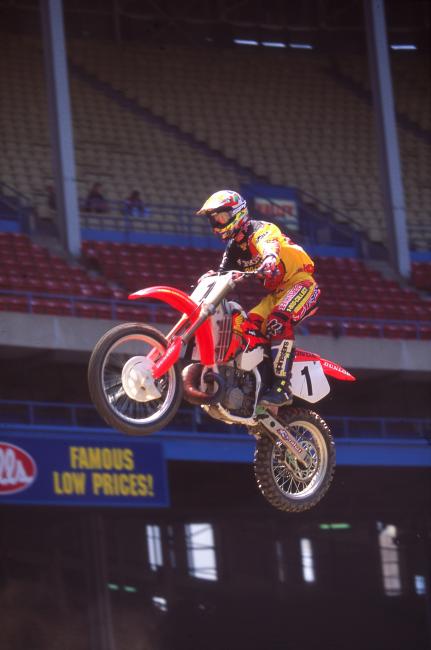 JEREMY McGRATH: There should be no doubt in anyone's mind that Jeremy McGrath is the all-time best supercross racer in the history of the sport, with seventy-two main event wins and seven AMA Supercross Championships—both records. The knock, however, was that he wasn't very good outdoors. He changed the perception forever by also dominating the 1995 AMA 250 Motocross Championship on his Honda CR250. That was the only time in his career Jeremy had a SX/MX sweep.
JEFF EMIG: McGrath's bitter rival, Jeff Emig, seized the opening he got when McGrath decided at the last moment to switch from Honda to Suzuki for 1997. Fro, already a two-time outdoor champion, won both the AMA Supercross and 250 Motocross Championships in '97 for the Kawasaki factory team. His mechanic? Jeremy Albrecht, now the manager of the JGR Yamaha team.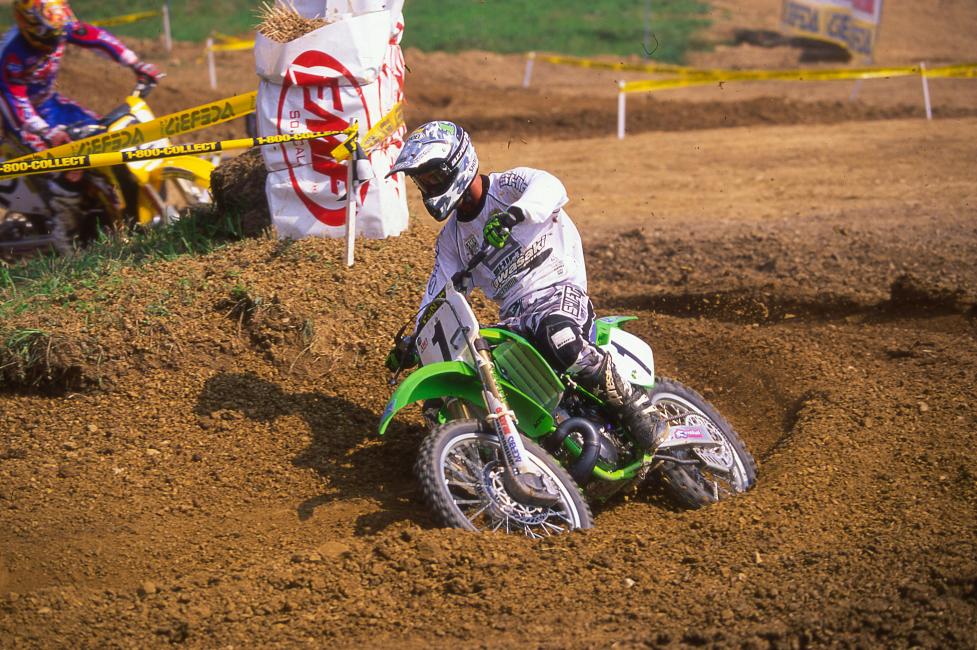 RICKY CARMICHAEL: We mentioned RC in the opening, but when it comes to records, there's not enough room on the Internet to list all of his accomplishments in regards to most race wins, titles, consecutive wins, etc. He also set the record for sweeps, winning the outdoor title every time he won the AMA Supercross title. In 2001 he did it on a Kawasaki, in 2002 and '03 he did it on a Honda, and in 2005-'06 he did it on a Suzuki! RC might have been able to do it in 2004 as well, but he suffered a knee injury while testing in the fall of '03 and had to sit out the AMA Supercross Championship that year. Here's another obscure RC fact: While he won five SX titles, he never wore #1 in an AMA 250 Supercross main event, opting for his trademark #4 instead.
RYAN DUNGEY: In 2010, Dungey won the AMA Supercross Championship and the 450 outdoor title on a Suzuki. He repeated that last season; only he did it on a Red Bull KTM.
RYAN VILLOPOTO: Last but certainly not least is Kawasaki's Ryan Villopoto. In both 2011 and 2013, the quiet man from Poulsbo, Washington, swept both AMA 450 Supercross and Motocross Championships. And before that he won three AMA 250 Motocross titles. Add it all up with his 2012 and 2014 supercross titles, and he his nine AMA national titles (four in AMA SX, five in MX) and he's second only to Carmichael on the all-time national championship list.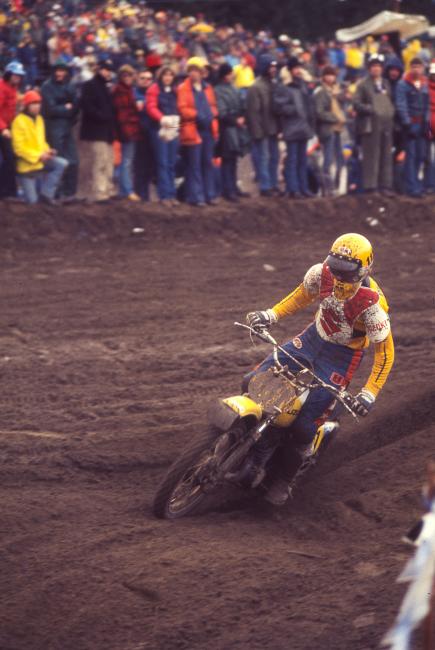 BONUS
ROGER DeCOSTER: From 1974 to 1977, Roger DeCoster won four straight Trans-AMA Series titles. The Trans-AMAs ran in the fall and brought many top European riders to America to compete on 500cc motorcycles. For a time they were bigger than both AMA Supercross and the outdoor nationals. DeCoster was also a five-time FIM 500cc World Champion (1971-'73, '75-'76). In those last two years, he technically won two major titles, because he was both Trans-AMA Champion and FIM World Champion!