Sam Boyd Stadium
Las Vegas

,

NV
Race Center: Monster Energy Cup
Monster Energy Cup
Going all the way back 1991 and the inception of Team Peak/Pro Circuit/Honda—the forerunner to the modern day Monster Energy/Pro Circuit Kawasaki squad—Mitch Payton and Jim "Bones" Bacon have watched well over fifty different riders compete for their Corona, California-based enterprise. Some of these racers were champions and many were race winners, but when it came time to go to the starting gate, every single one of them went there to win.
That brings us to the hills overlooking Southern California's Inland Empire. And it's here that Bacon and Payton are watching their latest potential champion, 17-year-old phenomenon Austin Forkner, prepare for Saturday night's Amateur All-Stars race set for the Monster Energy Cup at Sam Boyd Stadium in Las Vegas.
A lot has been said and a lot has been written about the six-time Loretta Lynn's champion in the past year—not to mention the titanic bidding war that broke out for his services for 2016—but Racer X wanted to take a look at the new Pro Circuit rider.
Racer X: Austin, it's three p.m. and one hundred degrees up here at the Kawasaki test track in Corona, California. What have you been doing here today?
Austin Forkner: I'm at the K2 Kawasaki test track up in the hills—kind of where everybody else has their test tracks—and I've just been riding and putting in laps and testing a little bit for Monster Cup. Now, I'm just kind of chilling and waiting for everybody else to be done. I did all my motos and stuff early today, and the track is kind of starting to go away because it's super-hot out and it's starting to get pretty dusty.
And you're off to Las Vegas tomorrow?
Yeah, I'm heading down to Vegas because I have some stuff I have to do on Thursday, and then Friday is press day and Saturday is the race.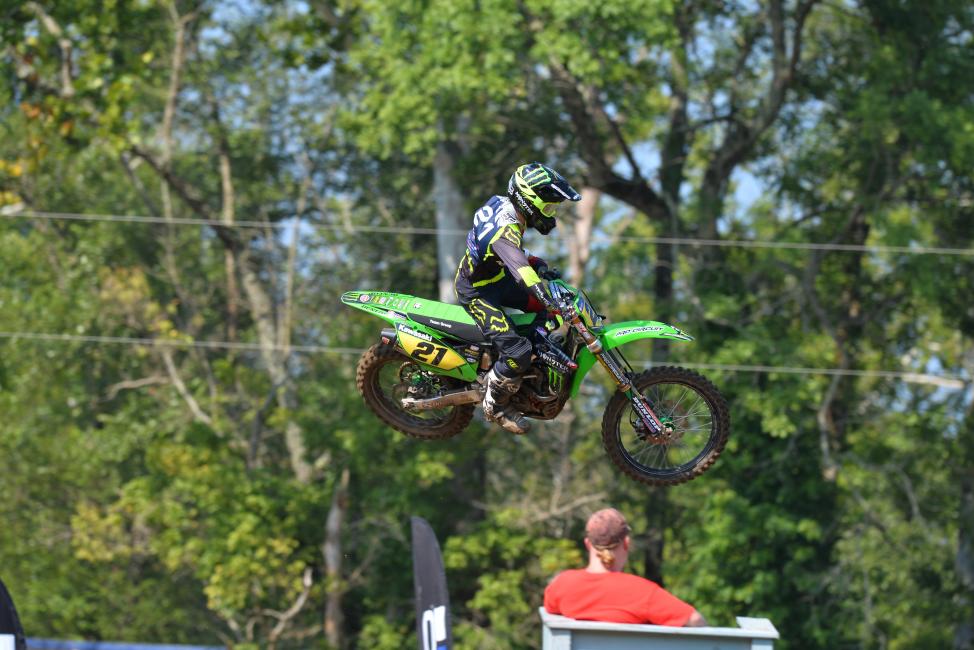 And you're going to ride press day at Sam Boyd, correct?
Yeah, I think I'm going to do the press conference, and then I'll ride the track with the pros and break it in and give input on any changes they might need to make. I rode press day two years ago on the supermini, but it was the morning session. Now I'll be doing the press day with all the other pros, which is good because if I'm not sure about a jump, I can follow the pros. It should be good. It's always good to get on the track early, so I'm pumped.
And the Monster Cup has been good to you, hasn't it?
Actually, I'm undefeated at Monster Cup. Both years that I rode it on superminis, I won every moto. Last year, I was going to going to go on big bikes in the All-Star Class, but ended up getting hurt. I was just getting on big bikes coming from superminis and I had some injuries, so we just thought it was best not do it. This year, I'm a lot bigger and a lot stronger, and I'm riding pretty good, so it should be good.
Who will be your primary competition on Saturday night?
Honestly, some guys have gotten hurt, so it's kind of like they're accepting alternates now. In the past couple of years, [Chase] Sexton's been fast, [Sean] Cantrell will be fast, and I think some of the A riders might be fast. I've been a B rider all year, but A rider [Mitchell] Harrison might be there, and [Tristan] Charboneau. It's really going to be mainly about the starts, and anybody will be fast if they get a start. Basically, I really won't know who's fast until after timed practice.
You're going there to win?
I won Loretta's and that was really my main goal for the year [note: Forkner won the 250B and Schoolboy 2 championships at Loretta Lynn's in August]. I'm just going here to have fun and to try and win. I'm riding really good at supercross right now. I'm running about the same lap times as the pros were running at the track here today. I know that I'm riding good in supercross, and that's kind of what Monster Cup is about: to feel like you're ready to ride supercross. Yes, I'm going to go there and try to have fun and try to win.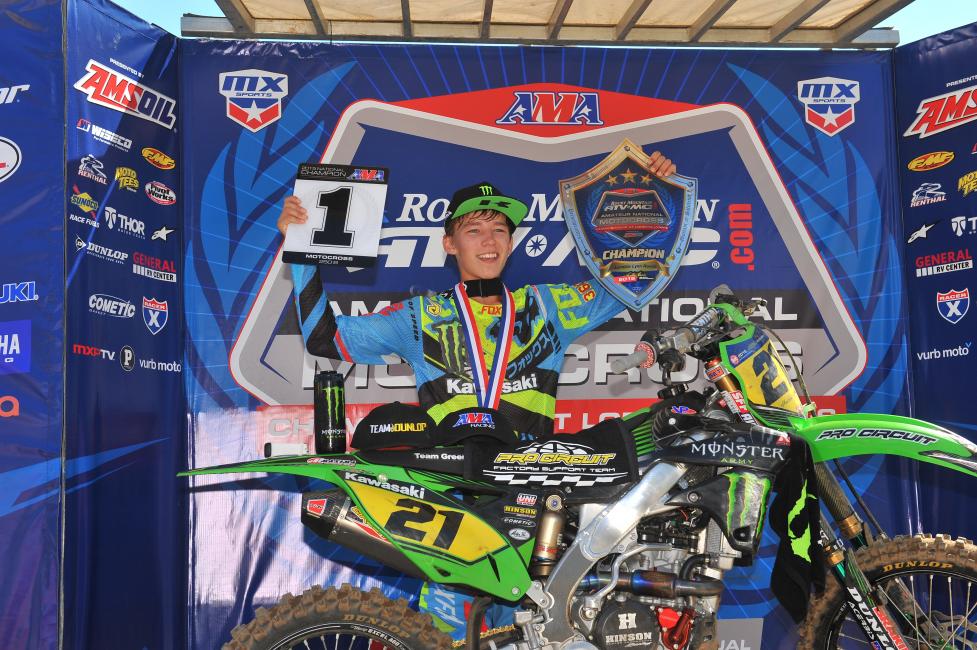 At Loretta Lynn's word broke that you had signed a four-year deal to ride for Mitch Payton's Monster Energy/Pro Circuit Kawasaki team. I know the plan is for you to make your professional debut in the 2016 Lucas Oil Pro Motocross Championship. What have you been up to since the announcement and joining the team?
I took, like, two weeks off after Loretta's because I had been training pretty hard. Since then I've basically been riding supercross and testing supercross. I've been in California and in Oklahoma at Robbie Reynard's place because that's where I train right now. I've been riding a lot of supercross to get ready for Monster Cup. Then I have to ride arenacross next year to get my supercross points, so I'll be doing that. My plan as of right now is to go to Hangtown next year and ride the whole outdoor series. As soon as I get my supercross points, it'll probably be right back to outdoors. Basically, after Monster Cup, I'll probably ride more outdoors than supercross, but I'll probably still ride a little supercross every now and then. I'm also still going to do some of the amateur nationals, like the Mini Olympics, and then Freestone and Daytona in the spring. It's kind of weird right now because I'm kind of going to be riding both motocross and supercross, and I'm going to have to have two different bikes. It's kind of weird because you change your mindset and your style and everything for supercross because you have to be spot on, and you can't makes mistakes like you can in outdoors. As soon as I get my arenacross points for supercross, then it's straight outdoors and thirty-plus-two motos to get ready for outdoors.
Arenacross, huh? The school of hard knocks deal, eh?
I mean, it's going to be interesting. I know for most of those guys, that's what they get paid to do. I'm not getting paid to do that. I'm just going there to get my points, so if I'm in front of them, they're going to do whatever it takes to pass me because they're getting paid if they pass me. Arenacross is aggressive anyway. I think it'll definitely get me ready for supercross. I just want to get through it safe and, hopefully, learn a little bit from it and go into outdoors and then start supercross next year.
So if I have it right, you've basically been riding and training as a professional racer since leaving Loretta Lynn's?
After I had it dialed that I was going to be riding for Mitch—and after I did super-good at Loretta's—I just wanted to get myself on a program as far as riding-wise and doing the workouts and doing the bike rides and everything I have to do. I've basically been putting in full days. So I've just been getting myself ready for that and working on some little things with fitness and cardio and stuff like that. I think I'm pretty fit. We'll see. I'm in good shape and I think my speed is there because I've ridden with some pros and I've done some pro races and I'm pretty close to pro speed, but I just think I need to be a little bit more fit and that's what I've been working on.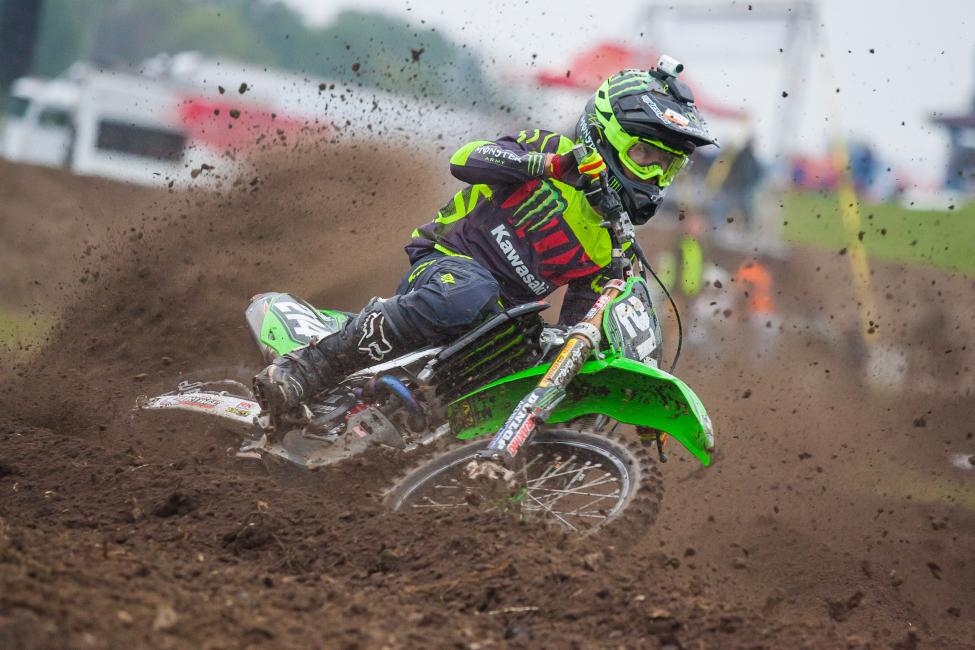 Who influenced you along the way with your racing? Were there certain professionals that you were inspired by or who you wanted to emulate?
Well, I've always been a fan of Trey Canard. I rode with him like my whole life. We would always go down to Oklahoma, and he was known as the guy in Oklahoma. Then he went pro and won his first supercross series. He's the guy I looked up to the most. I like [Ryan] Dungey a lot. A lot of people say he's not the fastest guy, but he's consistent and he's gotten hurt, like, once in five years. [Ryan] Villopoto was super-fast, but he'd get hurt more. Dungey is just consistent. He's winning championships and he's making good money. There's nothing wrong with being consistent, and he's consistently fast right now. Dungey and Canard are my role models right now, but back in the day, it was Ricky Carmichael.
Well, to a lot of young dudes out there, you're living the dream right now. Then again, you have to work awfully hard to make the dream pay off, don't you?
It's funny because I'll Snapchat in the morning before I come ride, and my friends will see that stuff and be like, "You're so lucky!" They're still in school and they'll see me and think I'm so lucky. I am so lucky because I get to ride my dirt bike for a living, but it's hard work and I'm working basically every day. It's a full-time job. It's kind of hard to believe, but I basically work from the minute I get up to whenever I go to sleep. I know when I come into the pros everybody is going to be saying, "Oh, he's just a rookie. He's not going to do anything," but I want to come in, and I want to come in hot. I'm excited for that, and I'm really just excited for my pro series. Basically, I'll have no pressure on me because I'm a rookie and I'm not expected to do anything, but if I could go out there and get some race wins or podiums or anything like that, that would be so good.