We are getting closer and closer to this weekend's FIM Motocross of Nations, and we have been counting down the days with our Monster Energy Team USA Countdown. Today we reach 2006 and an epic challenge in Great Britain when our best rider went down and the Europe's best stepped up for one last curtain call.
There have been more than a few extraordinary individual efforts that have almost overtaken the fact that the Motocross des Nations is a team race, like Danny "Magoo" Chandler in 1982, or Johnny O'Mara in 1986, or the heroic ride of Great Britain's Paul Malin in 1994. But those successes came on the winning teams. Other performances of an epic nature are sometimes lost to history because the rider's team loses the race, like Sebastien Tortelli on the 125 at Slovakia in 1995, Germany's Pit Beirer in 1997 in Belgium, Ricky Carmichael in 2003, or the fact that it was Andre Vromans who was actually the overall fastest man at Lommel in 1981, the year Team USA broke through.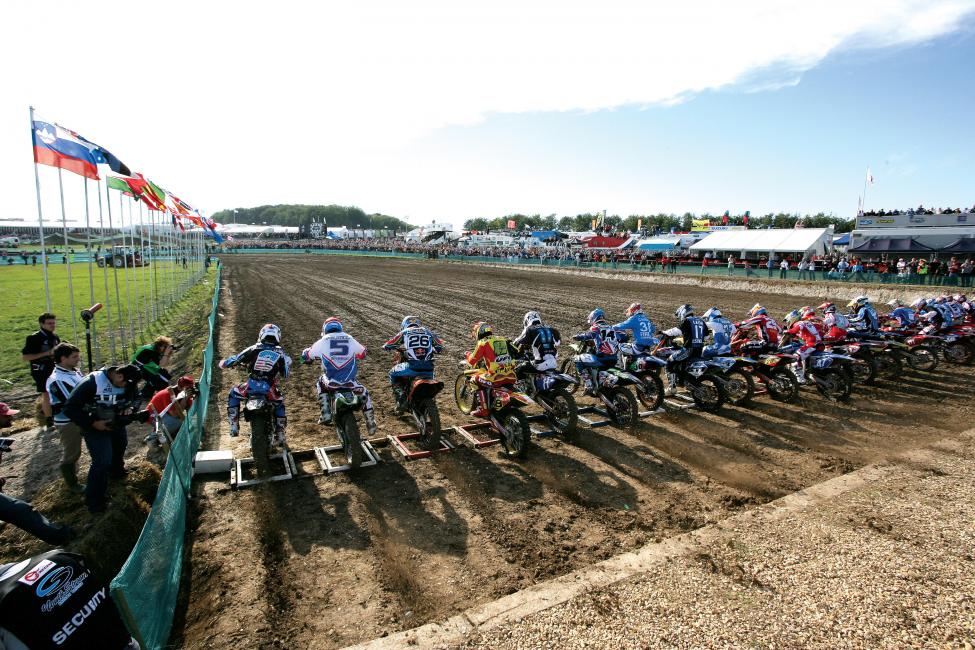 However, the one performance in a losing effort that stands out most in the history of the Motocross des Nations for a team that did not win must be that of Stefan Everts in 2006. Already a ten-time FIM World Champion and winner of one hundred and one races, Everts was the king of motocross in Europe with a reign running parallel to Ricky Carmichael's "Greatest of All Time" status here. And as the 2006 Motocross des Nations at Matterley Basin approached, it was shaping up as the last great showdown between the two, as Everts had already announced that he would retire following that year's Motocross des Nations, and Carmichael was about to announce his imminent retirement following the next year's Motocross des Nations at Budds Creek. The entire motocross world was going to have the chance to see Europe's best go up against America's best one last time.
But then came the last national of 2006 at Glen Helen, where Carmichael, riding a Suzuki, got himself pitched off the RM-Z450 while dicing with Kawasaki's James Stewart, landed on his shoulder, and, for all intents and purposes, the looming showdown with Everts, set for two weeks later, was over. Carmichael, who had led Team USA back to the top in 2005 and had never failed to line up for a national in his ten-year career, was not going to give up on the chance to race in England without trying. He did aggressive therapy and even delayed his flight to Europe in the hopes he could ride at the last minute, but three days before the race it became obvious that he could not race.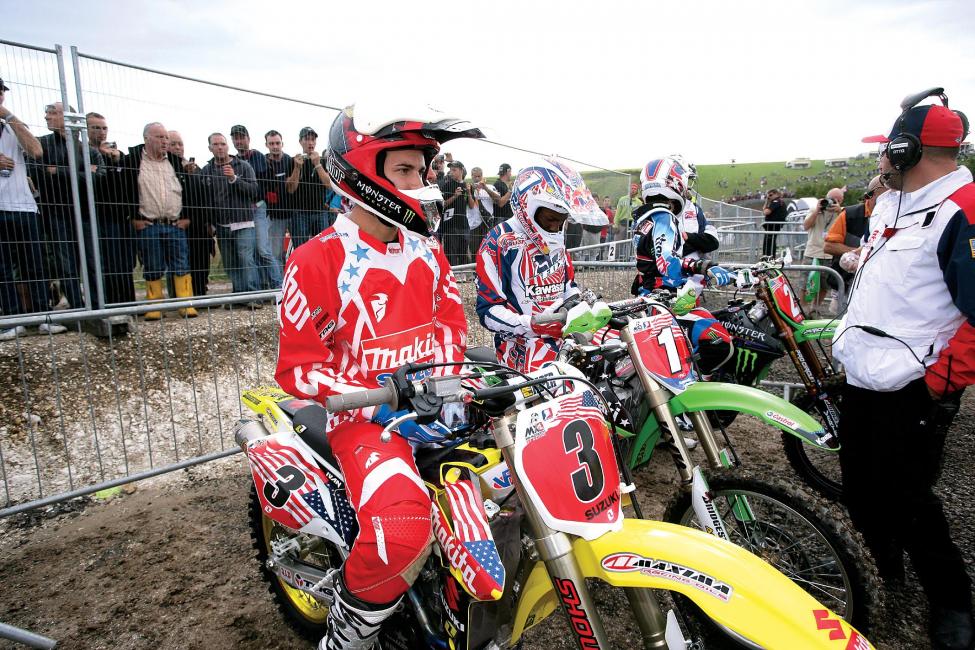 Still, the interest in the event was there because Stewart was going, and for the very first time would be riding for Team USA. Even though he had already established himself as the fastest 125 rider ever, Team USA did not attend the des Nations in 2002 after the race was cancelled at Competition Park, and then a format change in 2003 called for an all-big-bikes starting gate in Belgium. Team USA passed on actually going in 2004 since Carmichael was switching from Honda to Suzuki, and Stewart from 125s to 250s, and no one else really having much interest in going.
That changed in 2005 when RC and Roger DeCoster got the ball rolling again, but Stewart had such a bad year on his 250, breaking his arm in supercross and then crashing all over the place trying to keep up with the 450s of everyone else outdoors, that the U.S. sent Kevin Windham (450) and Ivan Tedesco (250F) to France instead. But now, in 2006, Stewart was on a 450, and he was ready to do the job. Ricky's replacement would be his Suzuki teammate Ivan Tedesco, a good fit since he already knew how the race was run and the bike was already there—he was just waiting for a definite "no" from Ricky. But Tedesco was a bad fit in that he had not raced all summer long due to an injury. His fitness would be a huge question mark.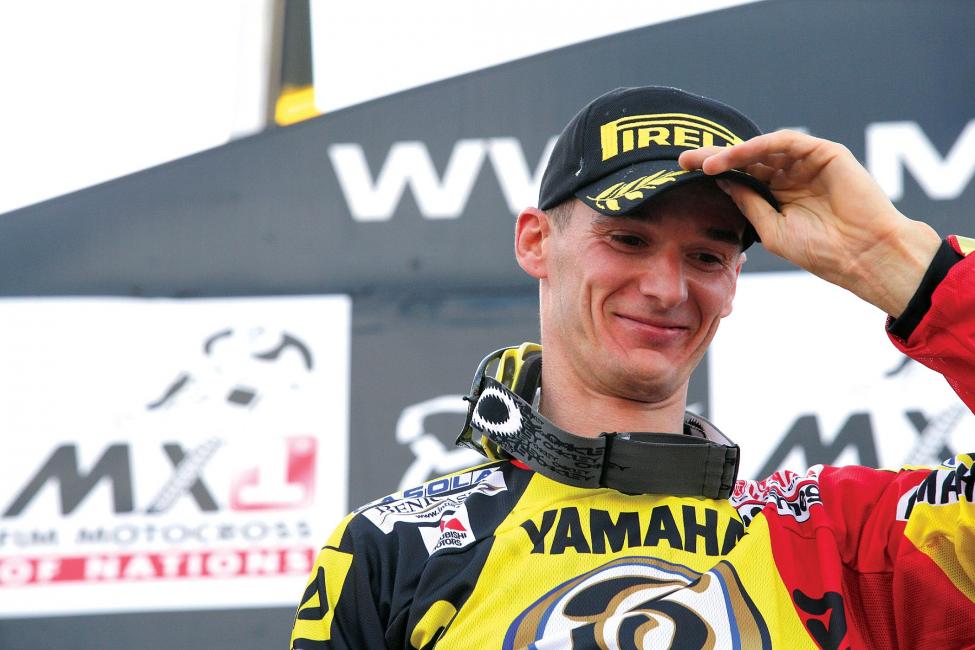 The answer came on Thursday, with Carmichael still flying to England, but only to watch. "I'm very disappointed," he said. "My bike was here and I was planning on racing up until the last minute, but the injury just didn't heal as fast as I would have liked, and it was a little worse than I thought."
The third member of the team would be something of a surprise—at least a surprise had anyone asked before the season started! By the time 2006 had ended, everyone knew that Monster Energy/Pro Circuit Kawasaki's rookie sensation Ryan Villopoto was the fastest man in America—and maybe the world—already.
So over to England went Team USA and a few busses full of Team USA supporters. They expected to see another win, and they would, but they also saw something even more incredible: the last masterpiece of Stefan Everts.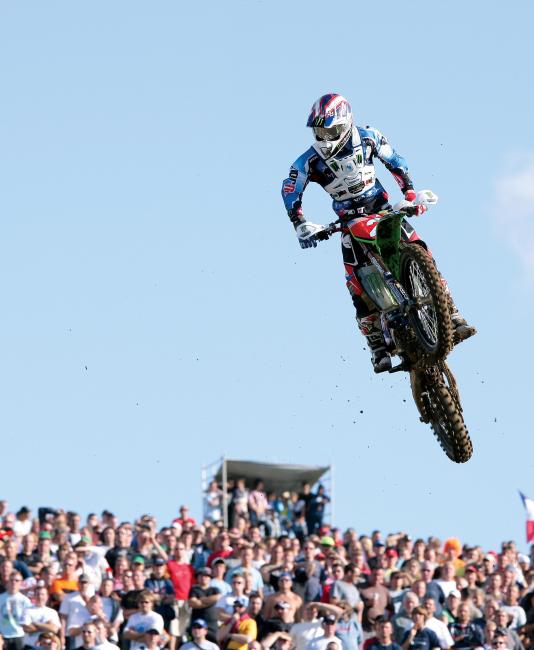 It began with the first moto, which was for MX1 (450) and MX2 (250) riders. Everts started out up front on his works Yamaha YZ450F, which was no surprise—he had won all but one of the GPs he entered in 2006. Stewart was close behind, but before he could get serious about trying to make a move he crashed, handing second over to the screaming 250F of Villopoto, who was making his Team USA debut and was leading New Zealand's Ben Townley and the Frenchman Christophe Pourcel. Stewart would come back up through and pass his teammate RV for runner-up honors, but Everts was gone.
The second moto featured MX2 and MX3 (Open) riders, which meant Tedesco would be coming off the bench to ride for Carmichael. Of course Ivan snatched the holeshot on his Suzuki and tried to get away from a super-fast swarm of 250s that included Villopoto, Townley, Pourcel, South Africa's Tyla Rattray, and Italy's Tony Cairoli, then on a Yamaha. Tedesco led for a short time while Pourcel crashed, and then Villopoto bounced the landing of a tabletop and went into a fence, losing a few spots. As Tedesco started to fade, it was Cairoli who would move up on his 250, overtake the former American 250 champion, and end up winning the moto outright—something only Steve Lamson had ever done before, win a moto outright on a smaller bike. But right behind him was Villopoto, who won the MX2 class outright.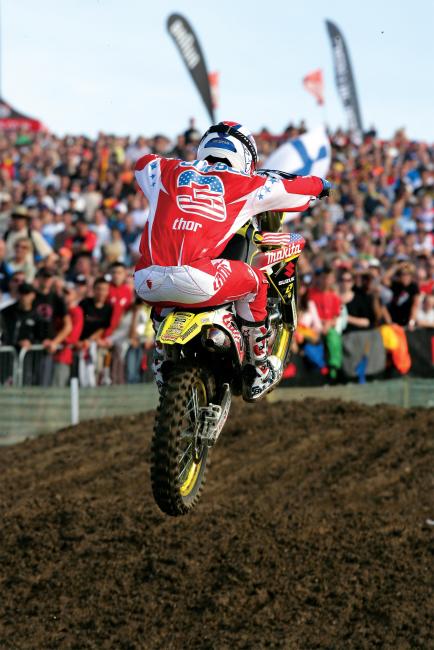 The Americans were sitting pretty, even though they had not won either of the first two of three motos. They would not win the last one either, though Stewart had a clear shot and a good lead in the early going. That's because Stefan Everts, with nothing to lose, put on a race for the ages, gliding around the Matterley Basin circuit with astonishing speed and technique. He reeled in Stewart, and then made a stunning pass around the outside of the Kawasaki rider, seemingly catching James off guard. And then he motored away, capping his career with a sweep of his two motos at his last Motocross des Nations. Stewart would stay in second, more than enough for Team USA to clinch the win over Everts' Belgian team, which Stewart stressed was his goal all along.
"To me this was all about the team," Stewart told Cycle News' Shan Moore afterward. "In the States, it is a little bit different—we race for ourselves. But here, it was a race for our country."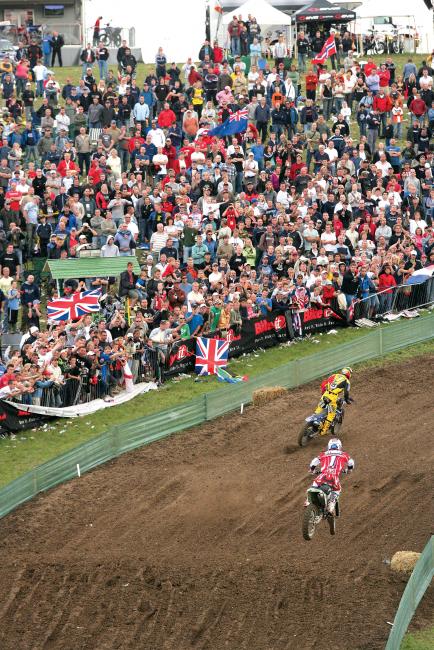 "It was a pretty easy win for me," shrugged Everts afterward, seemingly put off by the fact that Stewart didn't put up much of a fight. "James said he was riding for the team, but it was a pity that Ricky didn't ride. Probably he would have tried to race for the individual victory. However, it has been a great race for me, and I am happy to end this way."
Later that night, well into an impromptu victory party that Team USA was having inside the Alpinestars hospitality rig, the sliding glass door opened and into the party walked Stefan Everts, hoping to congratulate the Americans. Instead, as soon as Carmichael and team saw Everts, they were the ones who all got up and gave the King of Motocross a standing ovation.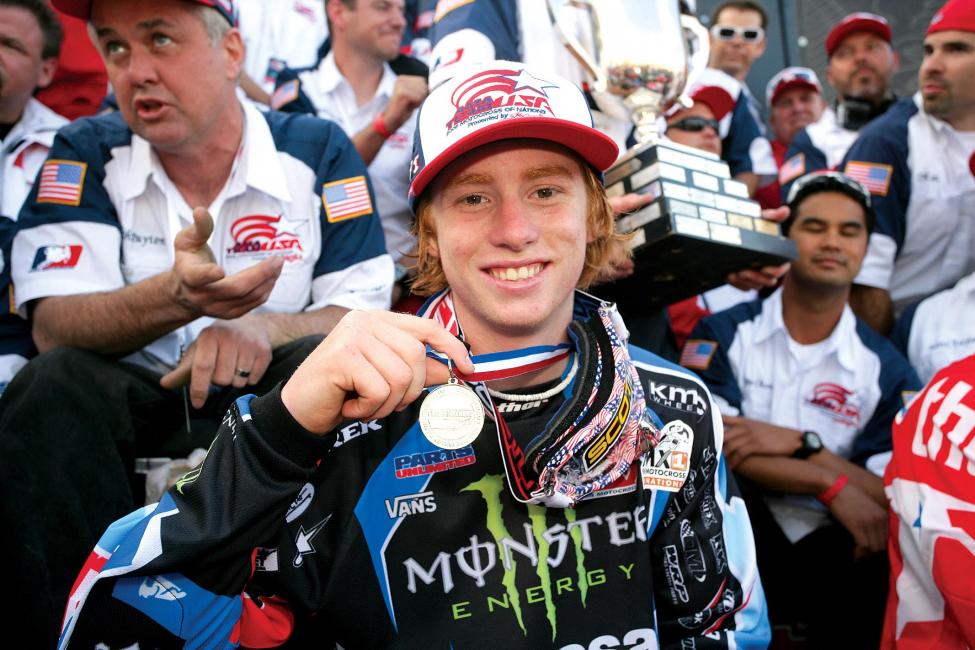 The King was now done, but the Americans were just getting started. The 2006 win marked their first time repeating as winners of the MXdN since 1993. And with the following year's race set for Budds Creek in Maryland, people were already counting on three in a row. We'll tell you about that tomorrow!
If you missed any previous years, you can view them all here.