RedBud Track 'n Trail
Buchanan

,

MI
Race Center: RedBud
Lucas Oil AMA Pro Motocross Championship
Welcome to Racerhead and a big happy Fourth of July to everyone out there reading, whether you're in the United States of America or somewhere else. Tomorrow is a massive celebration for the USA, as we were born as a nation on this day in 1776. It's a pretty big day for American motocross, too, since the July Fourth weekend means RedBud! (Add your own extra "eee" and "uuuuu" for emphasis.) It looks like it's going to be another epic afternoon at the Ritchie family's superb motocross facility, and the place is already filling up with families, fans, sponsors, and teams. They go because it's the biggest race on the entire schedule, an amazing track, and just a ton of fun.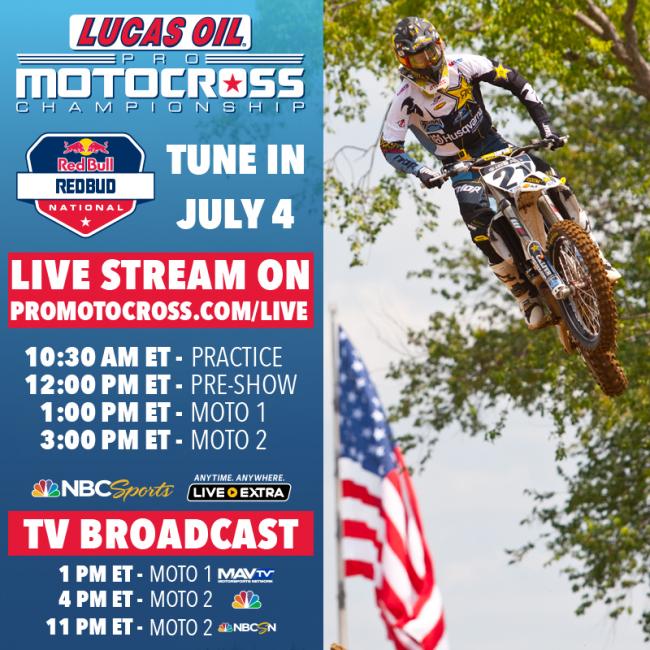 If you can't make it to RedBud in person, make sure you tune in to watch the first motos on MAV-TV or the streaming video here at Racer X Online at 1 p.m., via www.promotocross.com, and the second motos on NBC (450) at 4 p.m. and NBC Sports (250) at 11 p.m. Follow the hashtag #ThisIsMoto as well as #RedBudMX on your social media for updates and photos all day long.
Returning to the theme of America's Independence Day, I was kind of shocked by some of the messages we got when we posted this photo of the billboard out at the front gate featuring a photo of defending AMA 450 Motocross Champion Ken Roczen on his RCH Racing Suzuki…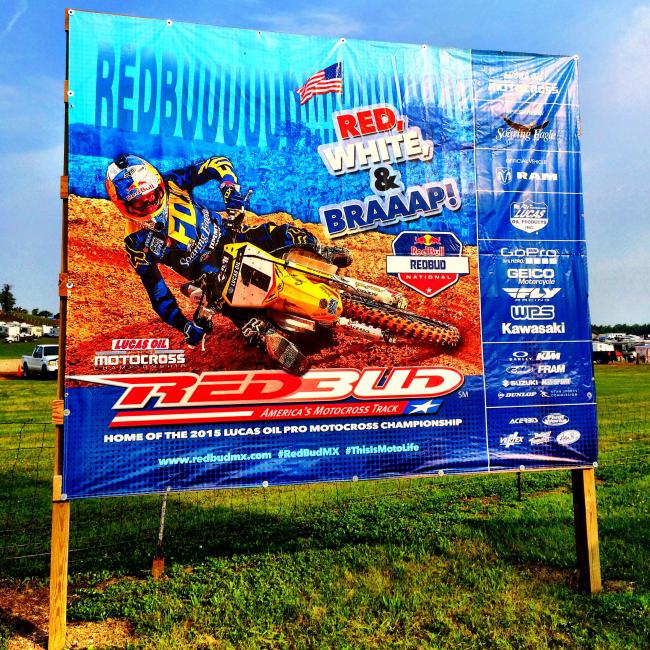 Let me use this space as a soapbox for one paragraph: Some followers were genuinely incensed that RedBud, which is all-American as baseball, hot dogs, apple pie, and Dodge Ram trucks (unnecessary sponsor mention), would use a foreign-born rider—especially one from Germany—on their billboard. Seriously. Like, totally pissed. Forget the fact that America is the land of opportunity, that many of our forefathers were not only German immigrants but British, Irish, French, etc., and that whole "melting pot" mentality that made this country great, not only as a society but as a motocross destination. Instead, let's beat on the people who throw this big motocross party every summer for having the audacity to not only run an image of the #1 defending series champ, but also the actual RedBud winner from 2014… Maybe it speaks to the quick, immediate gratification of posting something negative that none of the comments we had to erase mentioned the fact that "ze German" is on a Japanese motorcycle--and it was "ze British" we claimed our Independence from anyway, but I digress. Where's Jeff Gibson on that Cannondale when you need him? Or "Rocket" Rex Staten aboard that Harley-Davidson MX bike? And what about Evel Kniev… Hey, there's an idea!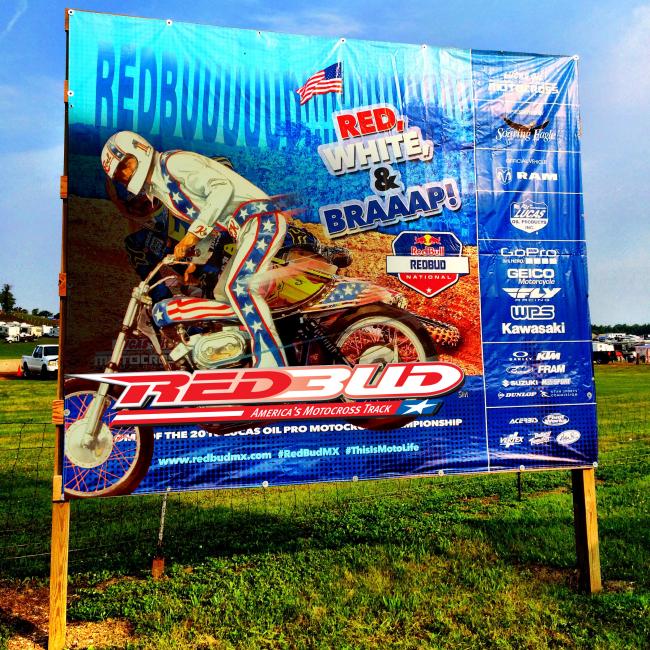 Maybe the billboard should have looked like this instead, because nothing's more American that that Star-Spangled daredevil Evel Knievel on his Harley.
Okay, looking back at last weekend's Budds Creek mudder, can I just admit that I was kinda, sorta, definitely hoping that Alex Martin would have passed his brother Jeremy (or really anyone else) at the very end so he could have claimed the 250 overall? Alex is a guy who's paid every due there is to pay as a privateer, stuck with it, and is now on the verge of finally winning some races. That's much different than younger brother Jeremy's path, which saw him sign with a good team out of the amateur ranks and soon reward them with wins in both SX and MX. In the craziness of all that Maryland mud, the brothers Martin found themselves 1-2 at the end of the first moto (advantage Alex) and then 6-7 at the end of the second moto (advantage Jeremy). As a result, series points leader Marvin Musquin (another fantastic and much-appreciated import, by the way) edged out Alex in a tiebreaker, as the second motos count for more when two riders end up with even scores. Musquin and Martin the younger have plenty of wins, and this title will be settled between them, but it would have been really cool to see Alex join his brother in the record books as a race winner, not to mention Christina Denny's entire CycleTrader.com/Rock River Yamaha squad—they deserve a win and I hope they get one before summer is over.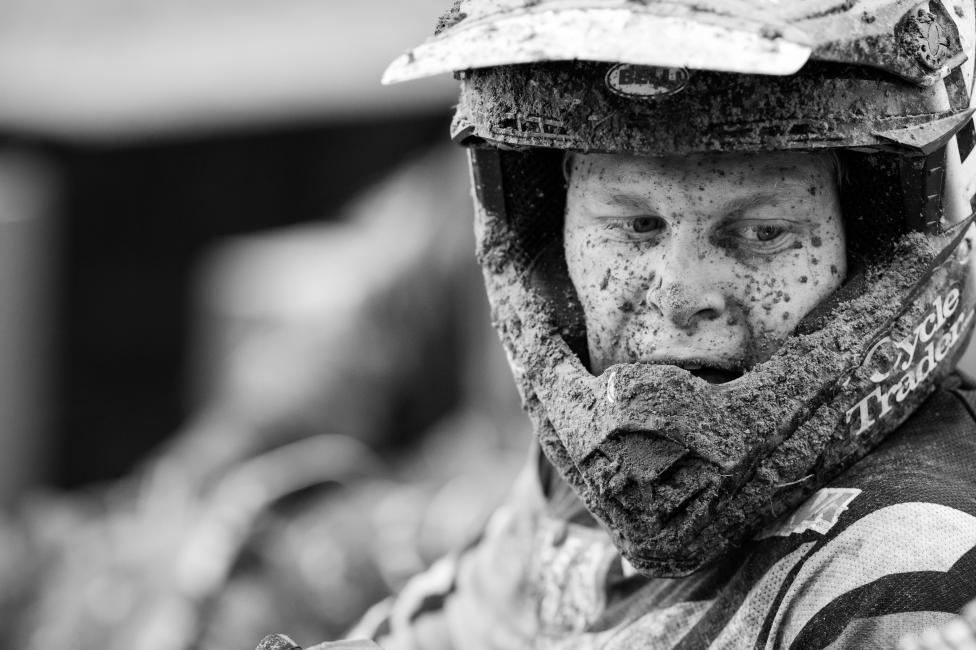 While we're at it, we should give special mention to the whole Traders Racing Kawasaki team, as Justin Starling holeshot the first 250 moto and ran up toward the front for much of the moto, then Waldorf, Maryland's own Tony Archer rode a fantastic moto the last time out with the 450s for a career-best eighth-place finish. Finally, the third member of the team, Nick Gaines, also had a career-best day with a solid twelfth overall.
Finally, Cody Cragg, a YZ250 rider from Lenoir, North Carolina. He went out and posted the best moto finish in who-knows-how-long and scored 8 points in the second moto. (On second thought, I will say Brett Metcalfe on a YZ125 at Glen Helen 2005, where he finished tenth overall.) Troy Bendgen spoke with Cody about his great ride in the mud right here.
My favorite part of Troy's interview with Cody is this:
Troy: You got thirteenth.

Cody: That's a childhood dream. I honestly thought that it would never happen. It looked like it was so far away. I never thought that I could do that well.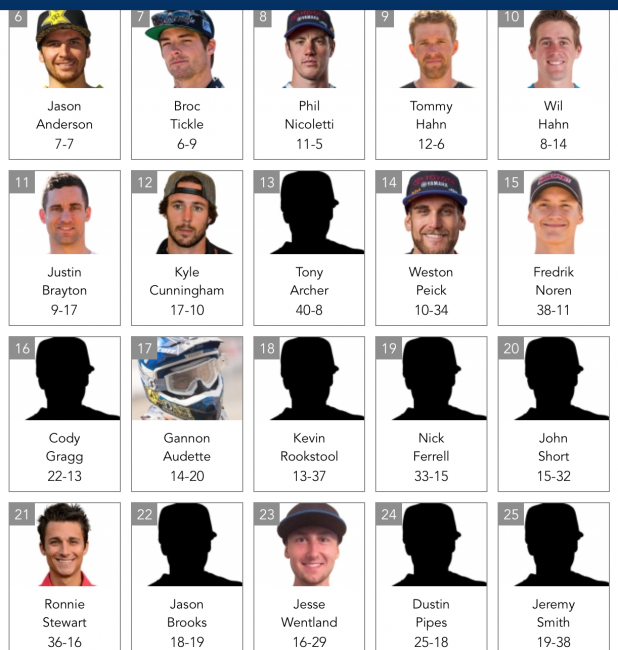 We've been all over all of the things that happened on a crazy, rainy day in Maryland, from the two-hour delay to the return-to-form of Justin Barcia, so I don't have much to add here except a pat on the pack for John Ayers, Mark "Bomber" Barnett, and everyone on the equipment who somehow kept that track from just sliding off the hills into that over-flowing pond. It got ugly there right before the last 450 moto, and some riders and teams thought it was time to call it a day. But everyone held tight, the rain stopped, and a good track—all things considered—allowed us to keep racing one more time. Thanks to the riders for going back out, as well as the officials, flaggers, and TV crew, and especially all of the fans who stayed through the storm to watch these guys race.
CHRISTOPHE'S RETURN TO FORM (Andras Hegyi)
After once again missing supercross without a ride, Christophe Pourcel seems to have found a comfortable home with Rockstar Energy Racing Husqvarna, as he landed on an overall podium for the first time in the 450 Class at Budds Creek.
Already an FIM Motocross World Champion and two-time AMA 250 Supercross Champion, Pourcel has had few chances to show his craft in the saddle of a 450 bike. In the past the French rider got podiums and GP wins in Europe's former premier class, MX1 (now MXGP). In 2011 he was unable to get podium in 450 with Yamaha, but this year has been more successful with the Rockstar Husqvarna team. He has become the twentieth foreign rider to get a podium in 250/450 MX, and the twelfth foreign crosser who was able to get podiums in both 125/250 and 250/450 MX. In the 250 Class, Pourcel is the most successful foreign rider with twenty podiums (though Marvin Musquin is now right behind him with nineteen after his Budds Creek win).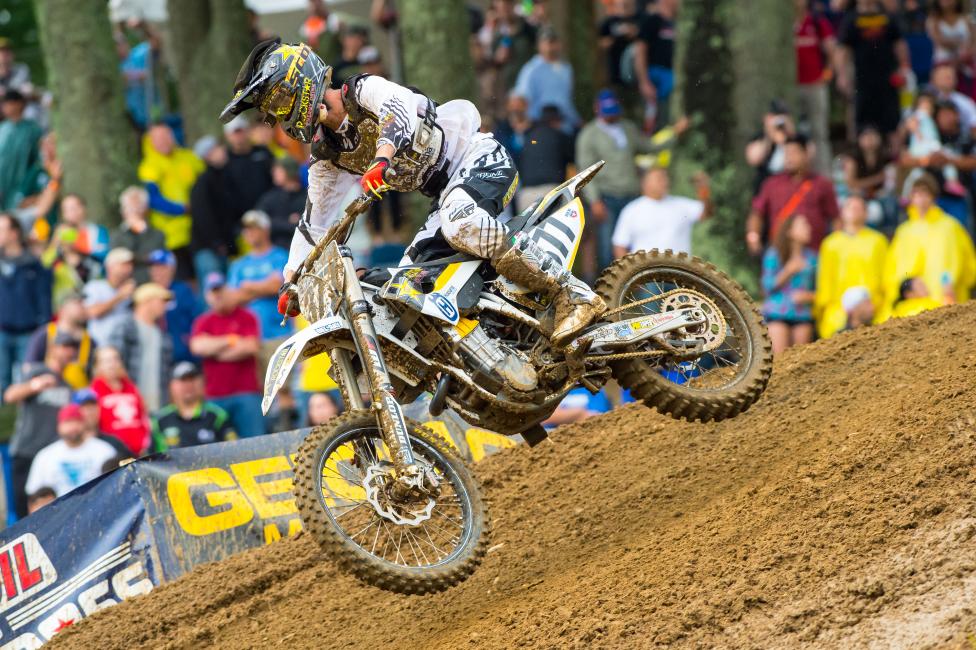 Pourcel's success is also success for Husqvarna. Following his teammate Jason Anderson, Pourcel became the second Husky rider to podium this season in this class. It's first time since 1974 that two Husqvarna riders were able to both get to the podium; forty-one years ago Marty Tripes and Kent Howerton were the two Husqvarna guys to get podium in same season. This is also the first time since 1974 that Husqvarna podiumed in three consecutive races.
Foreign riders with podiums in 250/450 National Motocross:
Chad Reed (Australia): 44 podiums
Greg Albertyn (South Africa): 23
Sebastien Tortelli (France): 22
Ken Roczen (Germany): 13
Jean-Michel Bayle (France): 11
David Vuillemin (France): 11
Pierre Karsmakers (Holland): 9
Brett Metcalfe (Australia): 9
Michael Byrne (Australia): 7
Grant Langston (South Africa): 6
Ernesto Fonseca (Costa Rica): 5
Mickael Pichon (France): 4
Gunnar Lindström (Sweden): 4
Ben Townley (New Zealand): 2
Cody Cooper (New Zealand): 2
Stephane Roncada (France): 2
Ross Pederson (Canada): 1
Clement Desalle (Belgium): 1
Tyla Rattray (South Africa): 1
Christophe Pourcel (France): 1
Foreign riders with podiums both in 125/250 MX and 250/450 MX: Jean-Michel Bayle, Mickael Pichon, Stephane Roncada, Chad Reed, Michael Byrne, Brett Metcalfe, Ben Townley, Tyla Rattray, Ken Roczen, Ernesto Fonseca, Grant Langston, Christophe Pourcel
Also, Christophe took a lap around RedBud yesterday with the Vital MX on-board camera, which you can check it out right here.
MXDN MASH-UP (Steve Matthes)
It's not too early to start thinking about Team USA's line-up for this year's Motocross of Nations in France. Of course, we all know that USA has lost three in a row for the first time since the late 1990s, and is currently tied for its longest drought since USA first won in 1981 (at least, in years they've sent a team). We started talking about it on the Fly Racing Moto:60 Show HERE because there's no doubt the team is being thought of right now by Team USA manager Roger DeCoster.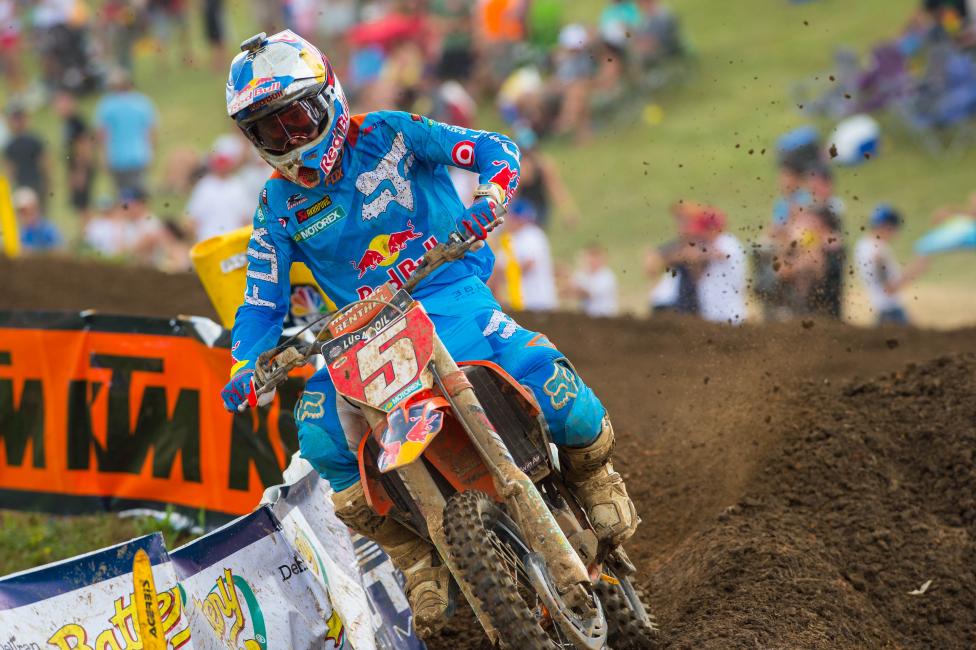 You'd obviously go with Ryan Dungey. He's gone the last six years in a row, always answering the call to represent his country. Jeremy Martin looks good to go again for USA, as he's in the mix for the 250MX title. And if everything goes to plan, the next-top-finishing American in the 450 Class would go next, be it Justin Barcia, Blake Baggett, or Jason Anderson, right?
Well, to me, maybe not. Doing the same thing year after year and expecting different results isn't ideal in my mind. In my opinion, Team USA might want to think outside the box when it comes to this year's team. Honda HRC's Trey Canard is coming back soon, and I'd wait to see how his speed is before selecting the team. We saw Trey go on a run at the end of last year, and he's one of the world's best riders.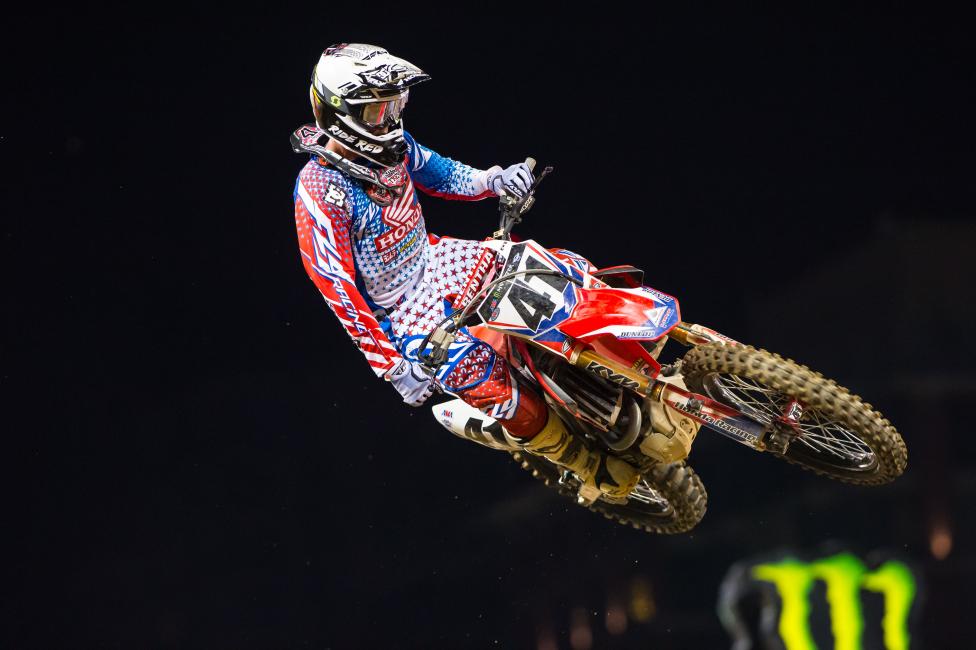 Or what about (and like many other countries do) putting a 450 rider on a 250 bike? GEICO Honda has bikes for a rider like Canard to jump down to. Or with the great bikes Yamaha has, why not think about putting Barcia down there—like DeCoster did in 1987 with Hannah or '88 with Ward? Let's think a little bit about this year's team selection before just doing the automatic thing. Technically, the team's bikes can be shipped after the last national and still make it there for the race, so picking the team anytime soon is, to me anyway, not the smartest move. The powers that be at Team USA should open their minds up a bit and really think about their options. And I was joking on the show about sending James Stewart... but what about sending James Stewart? Think about that one for a while.
And, no, we probably shouldn't wait to see how Ryan Villopoto does when he gets back on the bike, because we may be waiting forever.
PUBLIC SERVICE REMINDER (DC)
Um, Steve Matthes is from Canada, so let's not let him pick our team for the MXoN. Let's let The Man, Team USA Manager Roger DeCoster, do it, … Yes, I know he's actually from Belgium, but he's actually won that race more times as a rider or as a team manager than anyone. Period.
BARCIA AND YAMAHA (Andras Hegyi)
The 23-year-old Justin Barcia has become the sixty-fourth winner in the history of 250/450 AMA Pro Motocross, going back to 1972. It was his first win since 2013 Monster Energy Supercross, and his first on anything other than a Honda. Barcia also became the eighteenth rider in history who was able to win in all four categories in AMA SX/MX: 250 and 450 supercross and in 250 and 450 motocross—a distinction riders could only manage after the 125/250 SX Class was introduced in 1985. The other riders are Ricky Carmichael, Jeremy McGrath, James Stewart, Ryan Villopoto, Ryan Dungey, Chad Reed, Kevin Windham, Mike LaRocco, Mike Kiedrowski, Jeff Matiasevich, Jeff Emig, Damon Bradshaw, John Dowd, Doug Henry, Ken Roczen, Trey Canard, and Eli Tomac.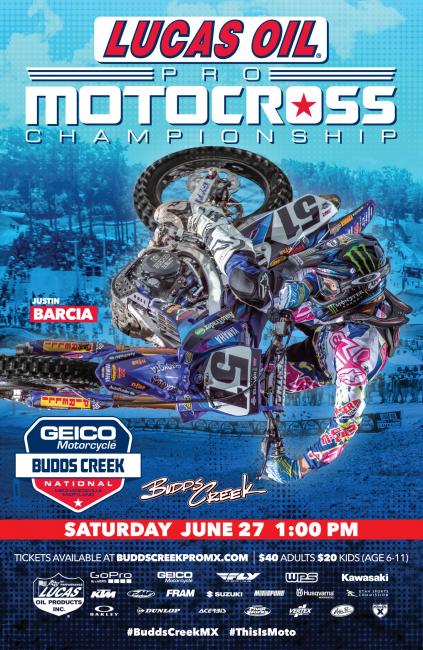 Barcia is the twenty-first Yamaha winner in 250/450 AMA Pro Motocross, and this marked Yamaha's seventy-fifth overall victory in this division. The last Yamaha winner was Matt Goerke, who won on a similarly weather-battered race at Southwick in 2009.
YOU BETTER RECOGNIZE (Steve Matthes)
Okay, I love reading our friend Andras' stats and all that he contributes to this Racerhead column each week. However, let me correct him on his stat for foreign riders to collect a podium at a national. Although we've improved on the stat collection in our sport, too many times I see a stat of all-time national winners, and it's like the 500 Class ceased to exist (which it did after 1993). For decades the 500s were in a legitimate class that featured some of the best riders ever. And then from 1986 to '93, all the riders in the 250/450MX classes were forced to the mighty 500s for half the summer.
Yet our stat collection just seems to ignore the 500 Class time again. Riders like Broc Glover, David Bailey, Rick Johnson, Mike Kiedrowski, and Mike Larocco collected a lot of wins on the 500s and aren't recognize, which is weird because it was basically the same guys from the 250s for eight years. And before that, it was stacked for many years…or as stacked as 125s were, anyway.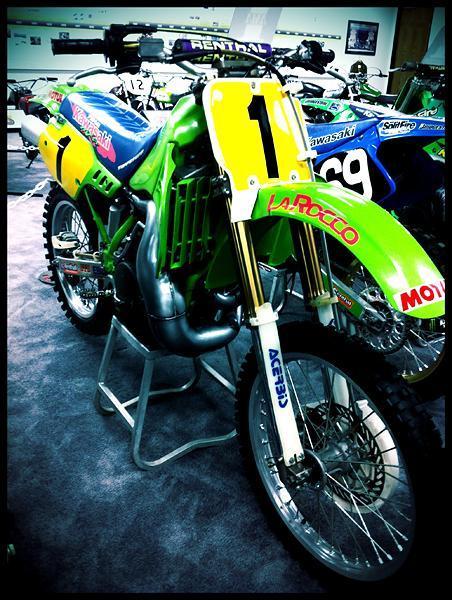 So we need to change this and recognize the 500s in the all-time wins department. Ross "Rollerball" Pederson collected a third at Hangtown in the 250 Class (which was awesome), but he also finished third in the 500 Class later that summer at RedBud. So, scratch that one and give me a two for Rollerball and Canada! Oh, and happy Canada Day everyone! (Editor's note: See what I mean. -DC)
BROTHERS WITH TROPHIES (Andras Hegyi)
When Alex Martin grabbed his first AMA Motocross podium with his runner-up finish at Budds Creek last Saturday, Alex and Jeremy Martin became the sixth pair of brothers who have each earned a podium in the history of Lucas Oil Pro Motocross. The Martins joined the Joneses (Gary and Dewayne), Grossis (Bob and Billy), Pomeroys (Jim and Ron), Vohlands (Tallon and Tyson), and Hills (Joshua and Justin).
Coincidentally, the Martins were not the only brothers to both make the top ten in their class at Budds Creek, as the Hahn brothers (Tommy and Will) both made the top ten in the 450 Class. And if this list were to be about brothers scoring podiums in SX racing, Tommy and Will would be on that list, along with James and Malcolm Stewart.
EVEL PROMOTIONS (DC)
Evel Knievel has been gone for some time, but the King of the Daredevils is enjoying a rebirth of sorts with two new documentaries, and his star-spangled helmet will likely never be forgotten. Evel even had a small role at RedBud's press day yesterday, as longtime PR guru Pat Schutte told me he "took a page out of Knievel's promotional ways by rolling out fifteen brand new Ram Trucks and lining them up alongside LaRocco's Leap. Staging the local TV cameras accordingly, this'll give at-home TV viewers a better perspective of the height and distance racers attain off the Leap. Add the MX racing angle that these guys do this lap after lap with thirty-nine of the greatest motocross racer in the world battling to get ahead of him and it'll no doubt drive our point home. I'll snap a few shots for Racerhead. Long Live Knievel!"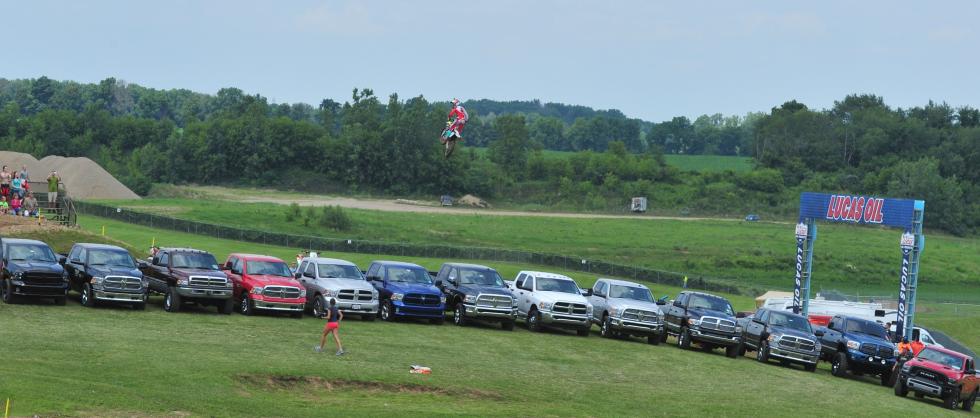 SWEDEN (DC)
The MXGP folks are in Sweden as they resume the FIM World Motocross Championship. In the MX2 series, points leader Jeffrey Herlings will make a go of it despite the broken collarbone that knocked him out of the last race in Germany. But the former MXGP points leader, IceOne Husqvarna's Max Nagl, announced on the team's website that he's still not fit to race following the ankle injury that knocked him out of Germany as well:
"Words can't describe just how disappointed I am about my MXGP championship campaign. But as everyone knows in motorsport injuries can quickly change things. I am working hard so that when I return I will be able to give a strong end to the season. I really wanted to race in Sweden but it is just too early. The support I have received from my fans all around the world has been amazing, so a huge thanks to them, the IceOne team and all our sponsors."
French Yamaha rider Romain Febvre has the momentum, having won the last three rounds and climbing from fifth to first in the point standings. Eight-time champion Tony Cairoli is still in striking distance, and now that he's had a couple more weeks to heal his injured arm, look for him to start picking up the pace to keep Febvre from getting away.
WHAT THE HELL MOMENT OF THE WEEK
Not sure what this says, but it's obviously a play on Marc Marquez's love of motocross and his rivalry with the master, Valentino Rossi.
And check out the cover of this week's Cycle News, as Rossi won one of the most thrilling MotoGP races of all time at the Assen TT last week in Holland. It kind of says it all about what happened in the last two turns.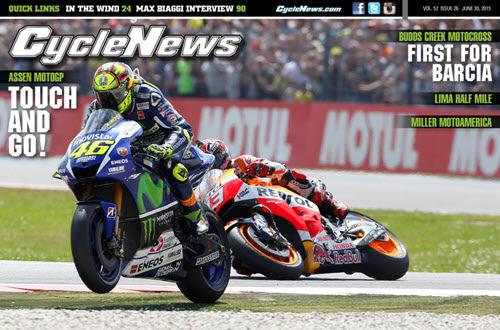 NEVER FORGET …
Eric Johnson dug up this win-ad gem from July Fourth, 1977.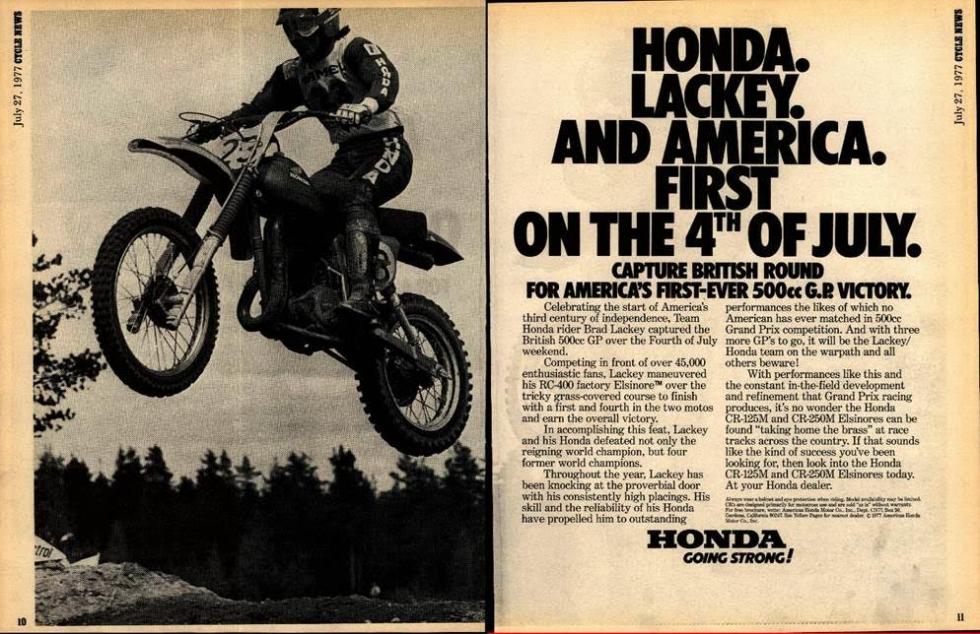 HEY, WATCH IT!
If you loved Evel Knievel like we did, you're going to love this new documentary that's available right now on iTunes. Check it out.
There were some folks on the infield that actually enjoyed the two-hour delay, as you will see in this video by the Lucas Oil girls.
Don't miss James Stewart's dissertation on his game-changing scrub.
Shift MX chose a unique venue to show off their new line of gear on Jeff Emig and Jeremy "Twitch" Stenberg, which you can see right here.
And believe it or not Adam Cianciarulo's holeshot in the second 250 moto at Budds Creek marked the first holeshot of the series for the Monster Energy/Pro Circuit Kawasaki team. Here's what it looked like from his HERO4 GoPro HD camera.
PULPMX LINKS
Troy Boy profiled MotoSport.com/GPI Honda's Kyle Peters this week HERE.
Moser texted up Kyle Chisholm to get the scoop on his, uhhhh, wonderful Budds Creek race HERE.
Swizcore writes a farewell to TwoTwo Motorsports HERE.
David Vuillemin answers some pertinent questions from Budds Creek HERE.
POETRY FOR THE SOPHISTICATED CYCLIST (DC)
Gotta love Brett Cue, super-nice and super-fast and always packing a big whip. He posted this on Wednesday:
Went rippin' and snagged this killer shot
Who would have thought
That while riding in any spot
You too can get the shot I got
When you have your own @getkillershot
@motosportinc @ride_365 @smagical @daytondaft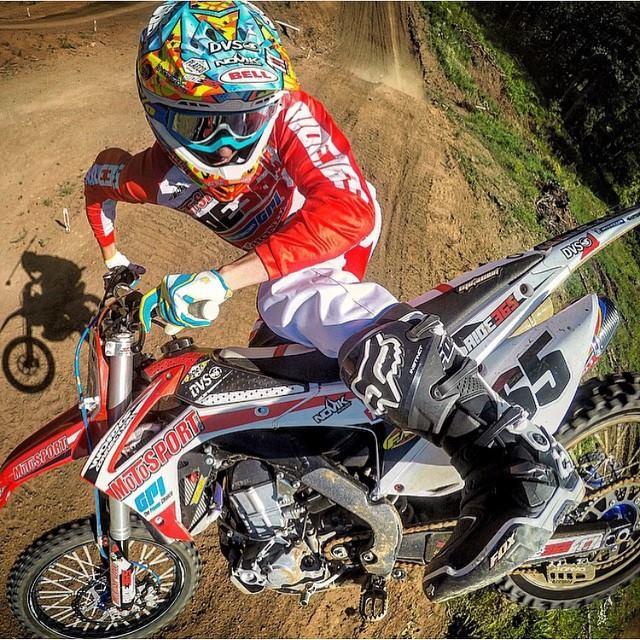 RANDOM NOTES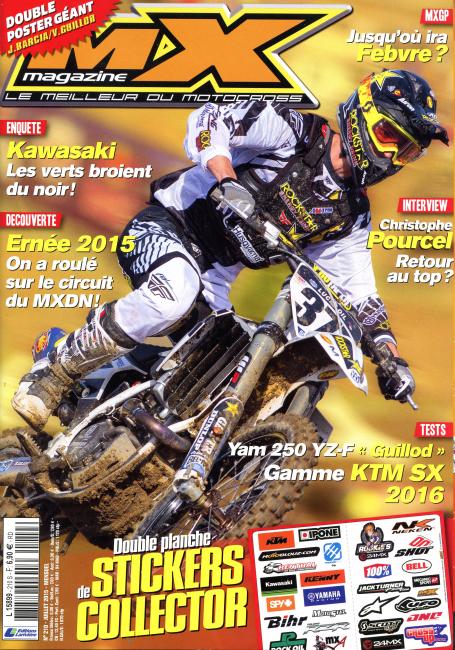 Congratulations to ProTaper's Paul Perijbinos on making the cut for two classes at Loretta Lynn's, which is rapidly approaching at the end of the month.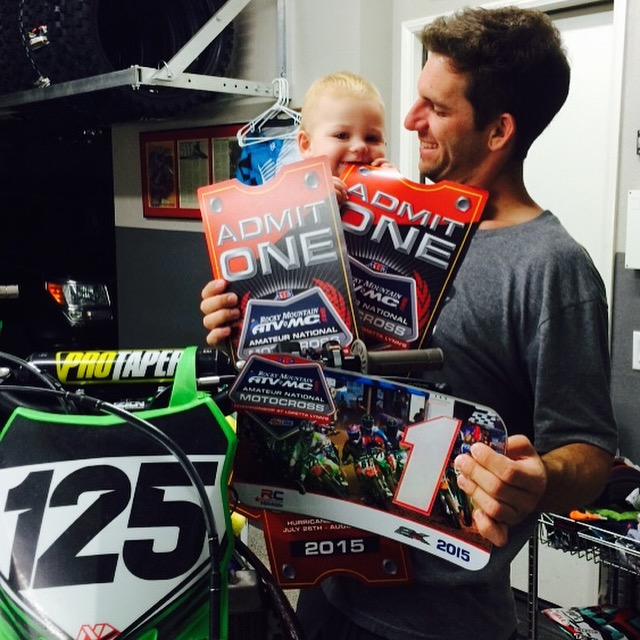 The Detroit Free Press ran a feature article on Michigan's own Broc Tickle ahead of the RedBud National. Check it out here.
Here's a note we got from our longtime friend and BMX colleague Craig "Gork" Barrette from USA BMX and the American Bicycle Association:
"Four years ago the ABA (us) bought the assets of the soon-to-be-bankrupt National Bicycle League sanction and formed USA BMX. With the buyout, I was stoked to find these gems: the very first membership newspapers for George Esser's NML - CYCLES TODAY, and what would eventually become the NBL and their paper BICYCLES TODAY. Our intern has just finished scanning these first issues and since there is enough MX stuff covering the whole Florida motocross scene of the early- to mid-seventies, I immediately thought of you. Check 'em out at http://issuu.com/pullmagazine."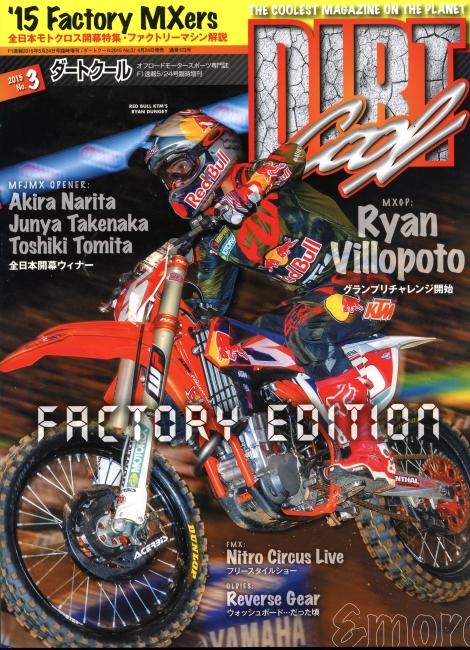 Friends of Marty Tripes, led by Jim Beauchamp and Keith Lynas got together on Marty's birthday last Monday to surprise him. Beauchamp shocked Marty when he presented a painting of Marty winning the first-ever Superbowl of Motocross at the Los Angeles Coliseum back in 1972 as a 16-year-old. English artist Rob Kinsey was commissioned to capture this moment in history, but struggled to find any great reference photos and ended up working from a newsprint b/w photo, researching all the colors and also adding the LA Coliseum peristyle, crowds etc. as a backdrop. Kinsey also added a small twist, including both Jim & Keith in the crowd behind fencing taken for photos of them both in '72. Marty was moved to tears when presented with this gift from his many friends.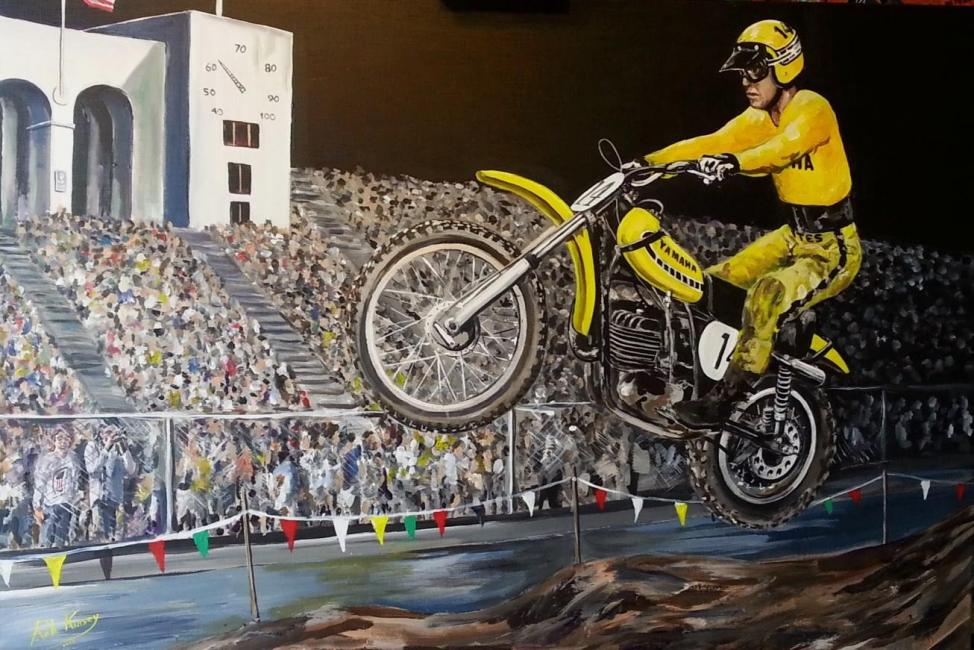 Headed to RedBud? Don't miss your chance to spend all day in the pro pits with the Racer X All-Day Pit Pass!
For $50, you get thirteen issues of Racer X Illustrated plus an all-day pit pass. If you're buying more than one pass you can get a multi-year subscription, or you can give the subscription as a gift. This offer is good for both new and renewing subscribers.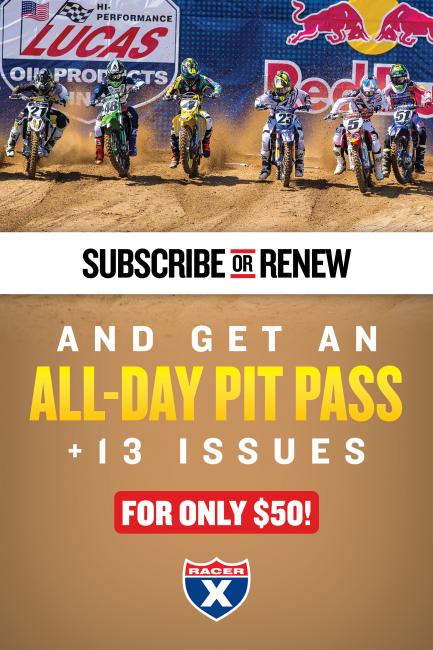 Set up your spot in the infield with this 30x60 towel featuring HRC Honda's Trey Canard.
Just stop by the Racer X booth on vendor row to subscribe or renew and get thirteen issues of Racer X Illustrated plus a Trey Canard beach towel for just $25!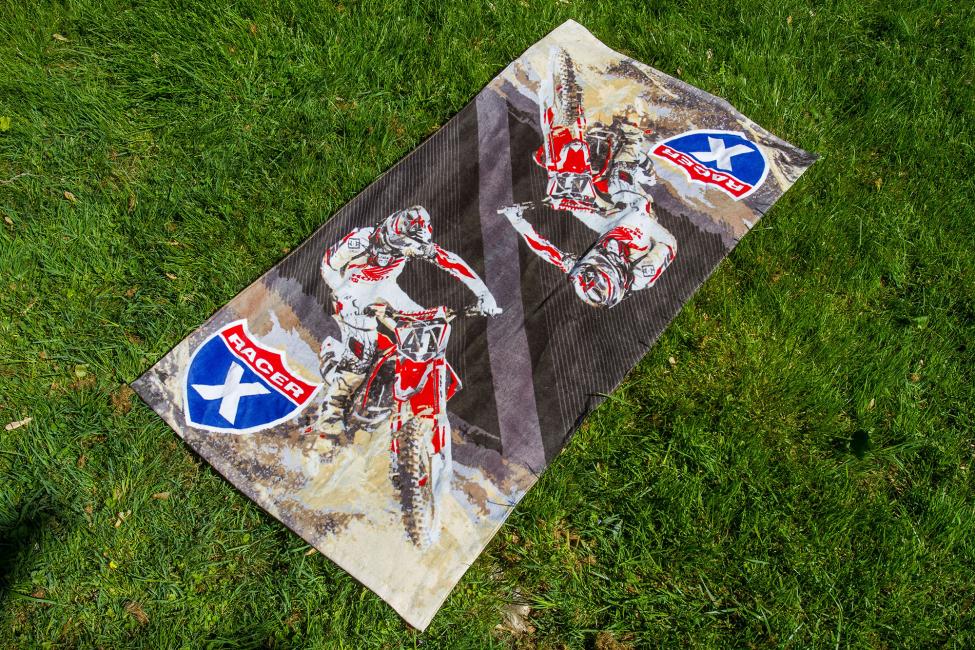 Don't forget stickers are always free at Racer X! Be sure to stop by and get your 2015 RedBud event sticker.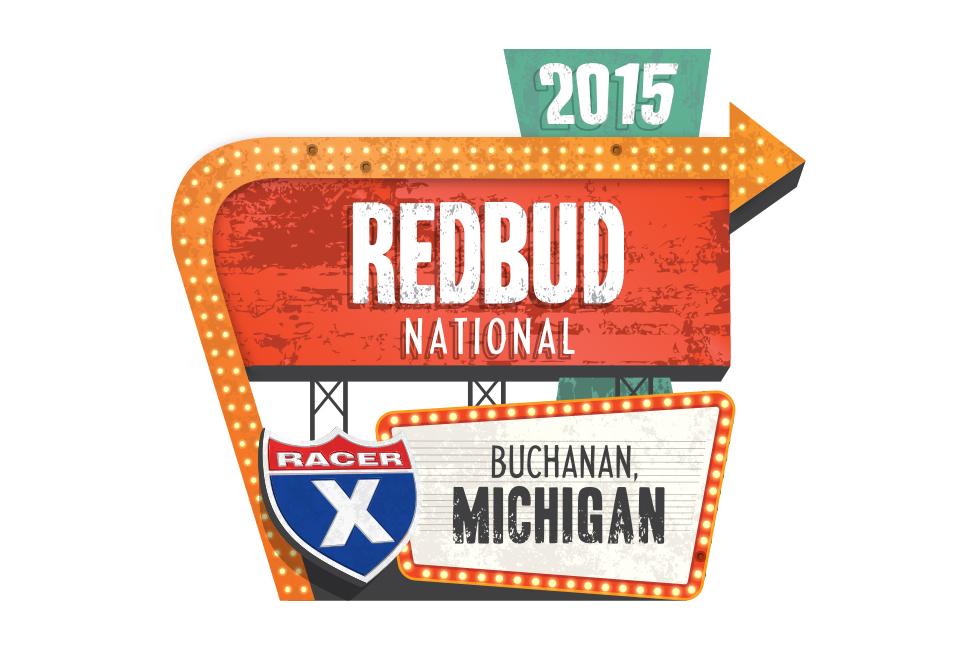 DeCal Works is sponsoring the RedBud round of Racer X MotoDynasty Fantasy Motocross and will be giving out prizes to the winners of each class. Click HERE for a chance to win.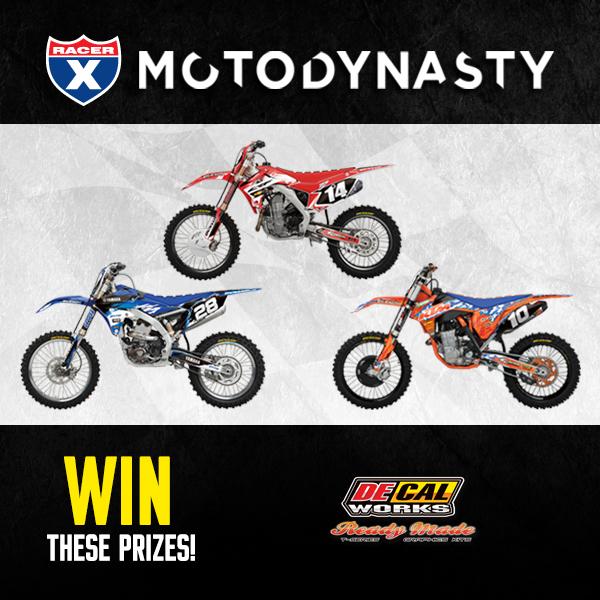 That's it for Racerhead. Thanks for checking us out. Have a safe and fun Fourth of July Weekend, and see you at the races. Happy birthday, America.
For more from Canada, check out DMX Frid'Eh Update #26.