Munn Racing Husqvarna's Ben LaMay had a bomb dropped on him early this supercross season when the CycleTrader.com/Rock River Yamaha team dropped him from its roster. The long-time privateer was forced to scramble to try and figure something out, and thanks to Chip Munn and his dealership, Ben landed on his feet as a Husqvarna rider and turned lemons into lemonade with some nice rides in the second half of the series. I called up the "Alaskan Assassin" to get his take on the year.
Racer X: Ben, you had a nice second half of the supercross season. You got into the top twenty, which is a money paying position. Good job, bro.
Ben LaMay: Everything has been really good. I made every main since I got on the Husqvarna. I started progressing really fast. When I jumped on the bike, I adjusted to it fairly quick. There was still a little bit of adjustment to be made. Obviously a big change in motorcycles, but I adjusted pretty quick. I just did the job at hand and did my best. I was pretty happy with the way the season went. I got sick in Santa Clara and had a pretty bad finish there. But other than that I was pretty happy. I got two thirteenths and ended up twentieth in the points, which got me a big paycheck.
Vegas is always a weird race and has long lap times, Monster Alley, and all that. How'd that main event go for you on Saturday?
Pretty good. I had a lot on the line to be honest. I won the GoPro Cup [privateer bonuses] and I got twentieth in the championship. I was sitting like 4 or 5 points out going into the main. I had a lot on the line, but I wanted to get it done. I had a good time. The whoops were definitely the sketchiest part of the track. Other than that I thought the track was awesome. It flowed really, really good and had some big jumps. I enjoyed the main. It was good. It was definitely long, but it was fun.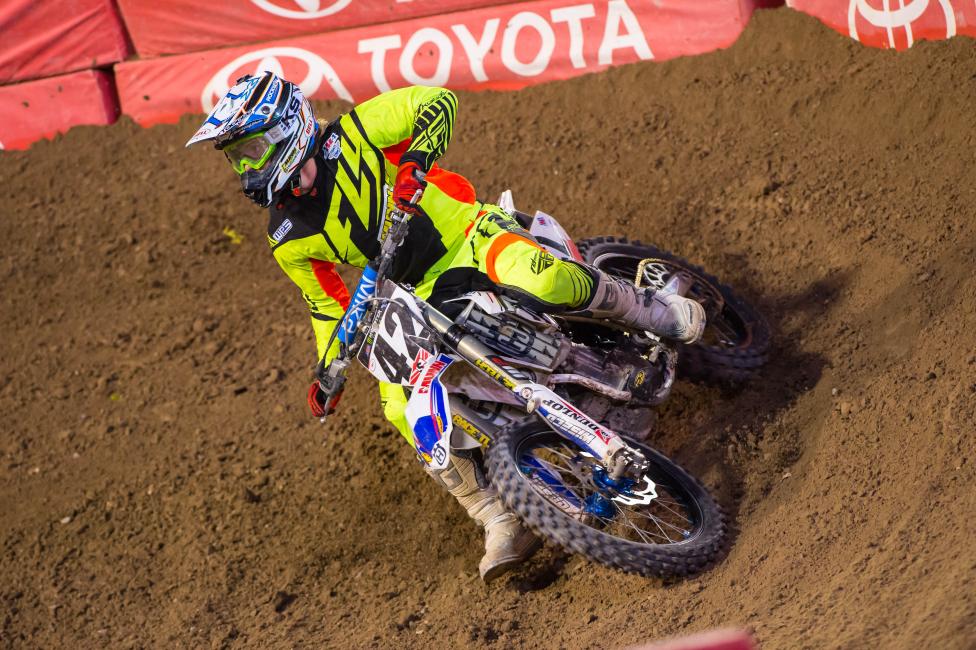 I probably should know this, but what's the GoPro Cup?
GoPro puts on a series kind of on its own inside of the series, and any privateer that wears the GoPro, you have to make the main and then they just accumulate all your points. Me and [Kyle] Partridge were neck-in-neck all the way through. We were only 1 point different from each other going into the last main.
Is there money for that?
Yeah, ten grand.
You rode Yamahas for a long time, and now you're on a Husky. What do you like better on the Husky, and what maybe was better on the Yamaha?
The Yamaha itself is kind of its own bike. The Honda, Suzuki, Kawi kind of got their own little package. So it was a big change, especially going to the steel-frame bike. But I enjoyed the feel of the Husky better. To me, it seemed a little bit lighter and it seemed a little bit thinner in the seat/knee area where you really ride the bike. I was able to ride it a little bit more aggressive than the Yamaha. The engine that we had with Yamaha was factory and it was fast. It was a really strong engine. So my engine was really, really strong on the Yamaha. It was good on the Husqvarna, but I think it was a little bit better on the Yamaha. I definitely want to look into getting a good motor package for my Husky and being able to get some holeshots.
If someone had said to you after getting let go from Cycle Trader team that you're still going to get twentieth in the series, you're going to win this GoPro Cup, you're going to get a couple thirteenth, would you have believed that? It was a nice rebound from what could have been really devastating for you.
I'm happy with it. It was definitely a big shock getting let go, but it is what it is. To me, it's their loss and my gain. I don't have any regrets on it. It's their decision. I've moved on to bigger and better things. I like my bike and the people around me right now. Everyone's supporting me still. I think if they would have believed in me a little bit more and stuck with me, I think they could have seen some good performances. I've got some really good heat races, some semis, some good main event finishes and ended up the season… This is actually the best supercross overall I've ever gotten. I finished like twenty-second two years ago, and this one I got twentieth, and I missed three or four rounds. Like I said, I'm happy with it, and no regrets, for sure. Looking forward.
Munn Racing, Race Tech, just a few of the guys that stepped up and really helped you out.
For sure. Race Tech, they're really, really awesome guys. They were great to work with all season. And the Munn Racing guys, they were always there for me needing any parts. Every weekend, if I needed something different, they were on the phone trying to get it. My bike was good and I enjoyed going out there and racing and not sitting on the couch. They definitely stepped up for me, and I thank them.
You kind of got the help through Vital MX message board, right? That's kind of how Chip Munn saw it and decided to help you?
Yeah, exactly. I just posted on Vital that I wasn't going to do any more racing this year and then he says, "Hey, I got two bikes for you. Do you want to race?" So I said, yeah, let's do it.
You're trying to get some funds and get going outdoors. Munn will help you out to an extent. What's the latest on outdoor motocross for Ben LaMay?
Right now, it's pretty up in the air. It's not looking very good to do the whole series. I'll probably do one or two or three races. I don't know yet. We have a rig lined up that we want to get to be able to do the whole series. Chip Munn is down to do that with me, but we don't have the funding to do all the fuel, driver, all the parts, everything like that to get across the country. It's a big chunk of change and something I guess we don't have. If we can get a sponsor or some people to help with that, then definitely you would see a team be out there with me and Husqvarna for sure.
What was your best race this year? Which one stands out?
Not Vegas, because I didn't really feel like I was that strong. New York, I think I rode pretty solid. With the ruts, it was really, really difficult to be consistent, and I felt like I was pretty consistent. I got a holeshot in the heat race, and I got eighth in practice and then thirteenth in the main. So I think New York was definitely the best race of the year.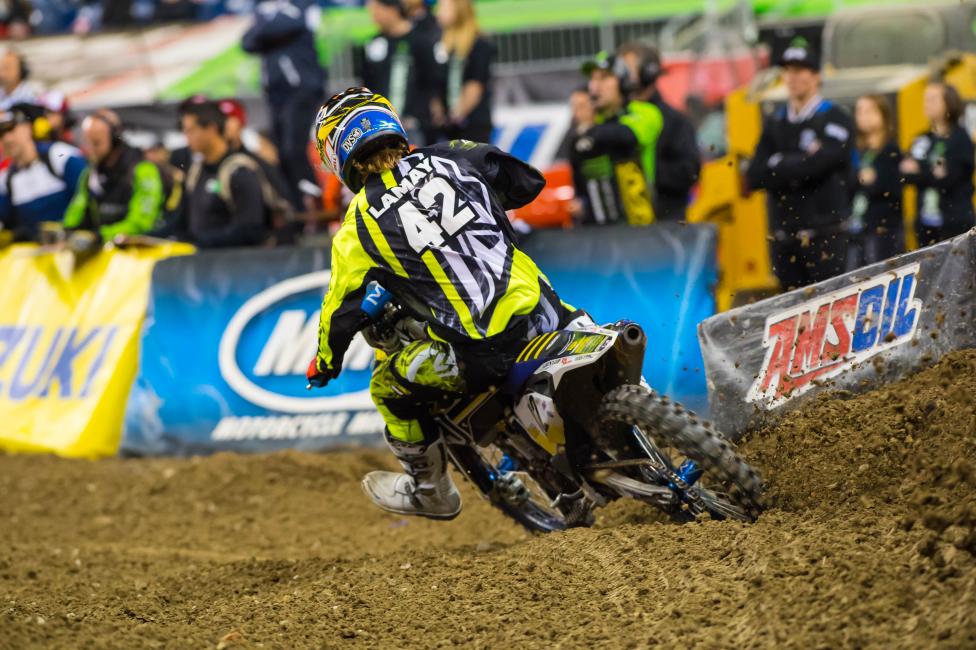 If you don't do Lucas Oil Pro Motocross, what will you do? Will you try to make some money at races here and there?
There's a couple money races that I have on the calendar to hit. If there are a couple close nationals, I might do Hangtown and Glen Helen just because they're close and then kind of sit back and try to figure out what's next. Trying to hit some money races and local stuff just to pay my bills and just have fun and ride motorcycles—do it for the fun of it. I'm not really too stressed about it but I definitely want to go race the Nationals. I got twelfth overall last year, and I feel like I've learned. I'm a lot more mature now, and I think I can finish in the top ten this year. It's kind of a bummer when you get dropped from a good ride that you had no reason to get dropped, and then now you're kind of stuck. But I'm dealing with it and I'm not really too stressed about it.
I think you're a better outdoor guy than an indoor guy. It'd be great to get you out there. I feel like you could do some damage.
I know I definitely am a better outdoor guy, but you've got to be good at both. Unfortunately, supercross pays the bills and motocross doesn't. We'll see what happens.