Sam Boyd Stadium
Las Vegas

,

NV
Race Center: Las Vegas
Monster Energy AMA Supercross Championship
By Jason Weigandt and Steve Matthes
Eli Tomac, GEICO Honda, Second in 450SX
Racer X: What happened there?
Eli Tomac:Just overshot the double a little bit and was a little bit front-end high. Front end kind of landed light, and then it just popped up and rebounded and popped up my front end. At that point it was just regroup. Then, when I got up I was a little bit…it just kind of took me off my game there a little bit. And plus Ryan [Dungey] was riding great too. We were almost identical pace, I think, whenever we were bumping each other.
What kind of a pace was that for you guys?
We were pushing each other. I think it was a comfortable pace for us, but I just made the mistake. At the beginning I thought I had a little bit better line in the whoops, and then I got close to him on the dragon back but never made a move in there. I thought I would wait, but when I crashed at that point it doesn't matter.
Take me through when you guys were battling back here. It seemed like you passed each other back and forth just all the way around that sweeper.
That was a lot of fun because I got him on the inside and then he slingshot back through. It was just fun at that point because we know we both race clean. We're not going to do each other dirty unless one guy gets really mad. That was a bummer, washing out. – Jason Weigandt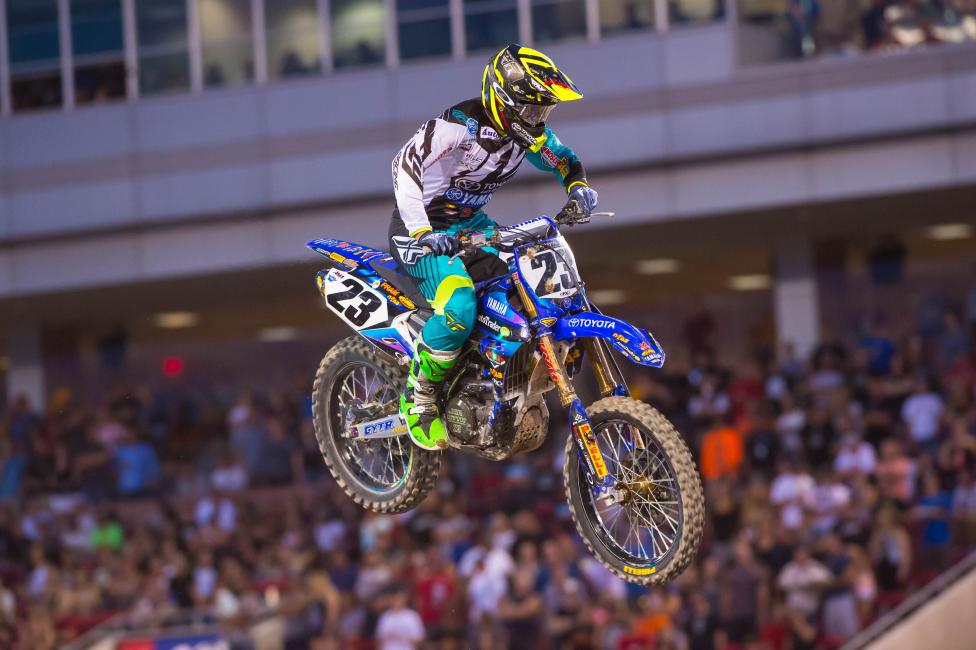 Weston Peick, Autotrader.com/Toyota/JGR Yamaha, Third in 450SX
Racer X: Outstanding ride. Talk us through it a little bit.
Weston Peick: I'm stoked, man. I can't be more pumped. I've had a rough season and rough last weekend as well. I hurt myself really bad. To come out here and end up on the podium at the end of the round, I feel solid. I just can't thank the team enough, the whole JGRMX, Auto Trader, Toyota, Pirelli, Fly Racing. Everybody's been still backing me this year. My trainer Buddy Antunez, my dad, mom, everybody. It's been crazy. It's sick, man. I'm super stoked. I'm going to go out and have some fun, party. Got to get my head straight for outdoors.
You had a good race, especially at the very beginning with Chad [Reed], and you held him off. [Cole] Seely was also there a little bit.
I actually pulled away with the leaders and ended up crashing right before the finish line, lost about ten seconds. And then Reed was all over me. He tried for about four or five laps. Then I think he started fading back, and I just rode my own race, rode smart, and ended up on the box.
I saw you bust out the triple off of the dragon's back like halfway through all of a sudden.
I'd been doing it a little bit all day. It's pretty clean. It's a little sketchy, but you've just got to get into it and just balls out; that's what it takes to obviously get on the podium. So I'm stoked.
I remember you battling Chad here like two years ago for fifth as a privateer, and we were like, "Oh my God." Now it's just normal.
It's definitely come a long way with the backing and just coming up from nothing. I've struggled a lot in my career, and to finally be at the podium and having the backing like I do of my family, trainer, and my team is incredible. If it wasn't for all those people, I wouldn't be here today. – Weigandt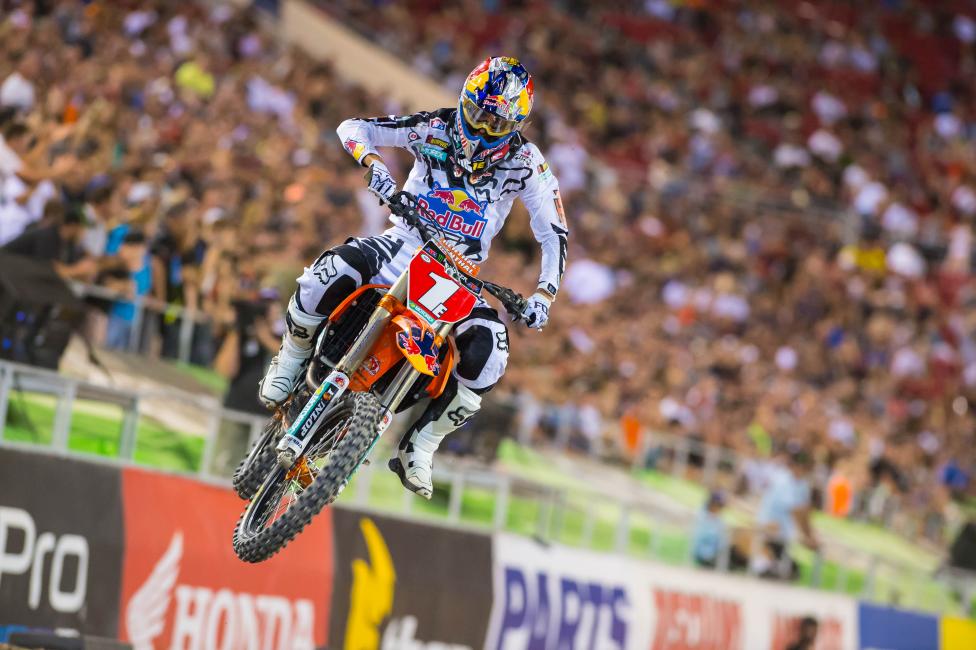 Marvin Musquin, Red Bull KTM, First in 250SX
Racer X: It was a little bit of a bummer Cooper [Webb] couldn't race too.
Marvin Musquin: Yeah, that's a huge bummer, for sure, for everyone. Everyone was really waiting for the battle between me and Cooper. I was excited. That's the sport. We crash sometimes, we make mistakes, and we get hurt. We also have to be safe because the season is not finished. We have a new season in two weeks, and it's outdoors. [Justin] Bogle and [Jeremy] Martin decided not to race. I understand, yes and no. It's cool to be here in Vegas and to have the possibility to get a win, even a podium. I'm really glad I was here and wearing that #1 plate. I really enjoyed that day. I will never forget the day. It's awesome.
It's fun to see you and Ryan [Dungey] both with the #1 plates in the photo shoot earlier today.
I'm happy for myself, but I'm really happy for the Red Bull KTM team. You look at everybody and everybody is smiling. They do a great job all week long and all the time nonstop. And then to win one more time—I think seven times this year we won together with Ryan. Six or seven. Congratulations to Ryan and to the team. I think that never happened before. We are real teammates. We have the same team manager, the same bike in different classes, same trainer. But to win the same day, it's awesome.
You look like you're having fun now with these whips, the heel-clickers, the burnouts. You're having a really good time with this.
Yeah, I really want to enjoy that. Tomorrow I'll be watching it on TV or on the Internet, and I'll be like, I should have done that. So that's why I try to enjoy it as much as I can. But I'm really happy.
Like, you mean you notice mistakes, or you wish you whipped it more?
Everything. But I think today was pretty good. I don't think I could have done it better. I'm thinking about the lap after the race. I really want to thank the fans. They were amazing today. It's funny, little details like in New York I won the race, but it was hard to realize that I won the championship because I was happy that I won the race. So I was like, I won it, but also the championship. And then I came to the podium the wrong way and no one was there. I was like, oh, no, that's a bummer. So I had to ride across the other side of the podium because everyone was on the other side. So it was kind of funny. It's things like that that I'm like—I should have done that. But it's funny and that's why we try to enjoy it. But today that was a perfect day. – Weigandt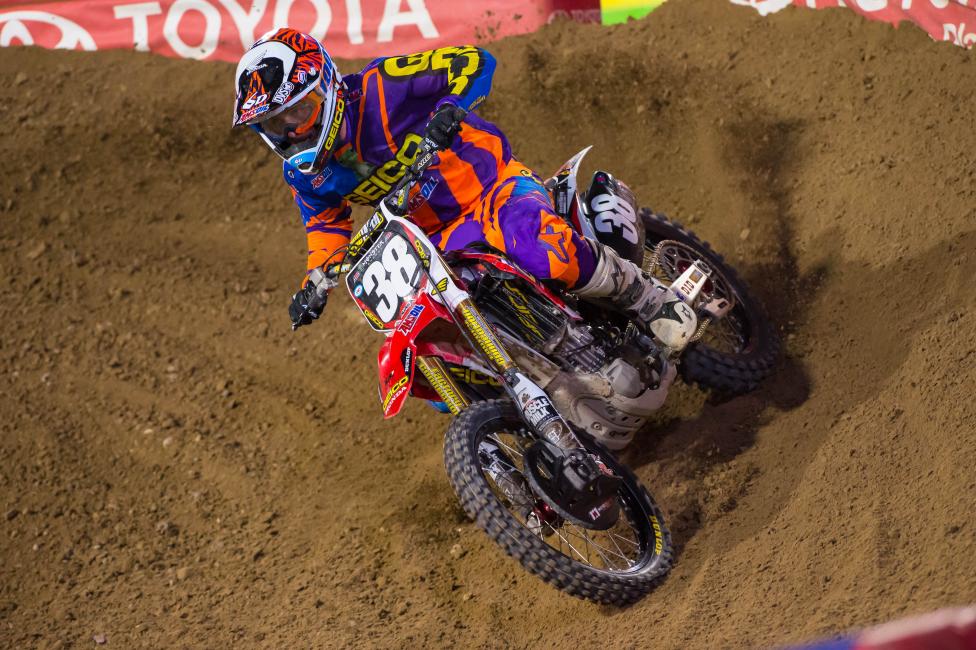 Matt Bisceglia, GEICO Honda, Third in 250 Shootout
Racer X: Where did you come from?
Matt Bisceglia: Quite a ways back! I got shuffled around in the second corner, but honestly, I just rode like myself. I rode like I know how to ride instead of going through the motions—I went out there and did my job. I don't know what else to say. I had people that I wanted to beat, and I wasn't going to stop until I passed him.
Is this a breakthrough of sorts?
I hope so. I definitely think it is. Good way to end the season. It was awesome
Do you get more psyched up for and East/West thing instead of a regular main?
I don't know. I honestly don't think it's that much different because the West was so tough this year—it was brutal. Then you add in a few fast guys from the East; it definitely makes it tough, but it's something I try not to overthink. – Weigandt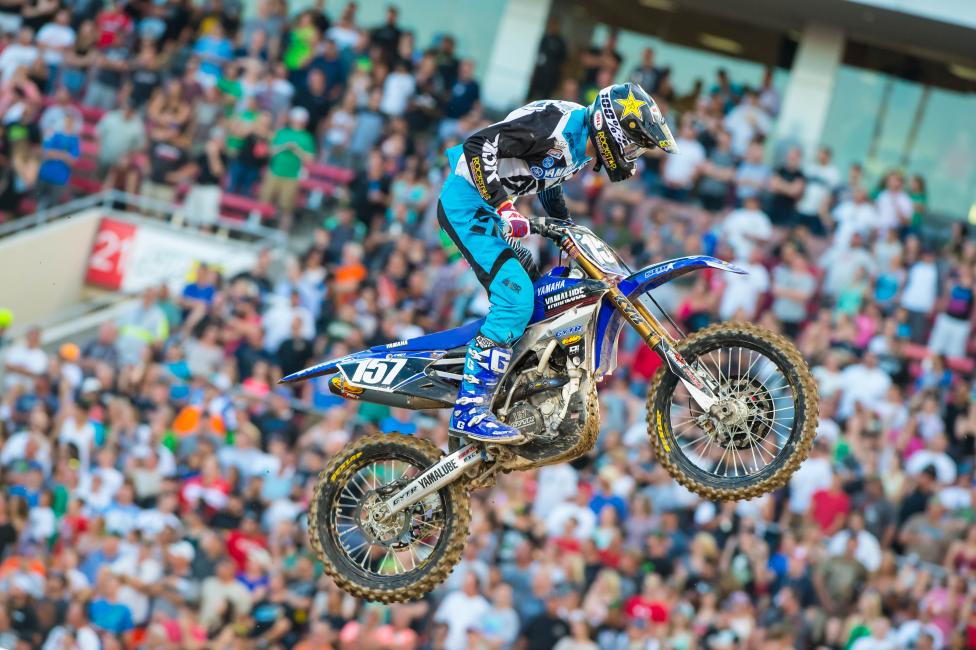 Aaron Plessinger, Yamalube/Star Racing Yamaha, Fourth in 250 Shootout
Racer X: Your teammate Cooper Webb was up in the press box, and we were talking about the race. He said 157 is getting third. This is when you were pretty far back, and I know [RJ] Hampshire pretty good, and I'm like, "I don't know, I think RJ's got it." He had a nice gap on Bisceglia. But guess what? You almost did it!
Aaron Plessinger: I got off to a pretty hairy start. I think I was fourteenth coming down Thunder Alley. But I just put my head down, charged and all of a sudden I was right there behind Bisceglia and Hampshire. I really wanted to catch them. I started catching them, made a few mistakes, and Bisceglia kind of ran Hampshire high. And then me and Hampshire went back and forth for a little bit. And then I went for Bisceglia, but it was too late and he succeeded.
Sometime around lap eleven or twelve you lost a few tenths. Seemed like it did some damage.
Yeah, I think I cased the triple-triple or the triple-double before the finish…it was a tricky track.
Before the race they announced you were rookie of the year. Congrats. What did you think of your season?
Yeah. I thought it was pretty good. First two rounds I got fifth. Third round I got seventh, I think, and it was pretty much up and down from then on, but I was pretty much stoked with it. – Steve Matthes