Levi's Stadium
Santa Clara

,

CA
Race Center: Santa Clara
Monster Energy AMA Supercross Championship
With both championships spoken for, the main question coming into Santa Clara was if the champs would back it down a notch. After all, the points are irrelevant at this point, and nobody wants to get hurt pushing the envelope with a season of Lucas Oil Pro Motocross just around the corner. But, when the night was over, it was clear that even a brand new supercross title isn't enough to make Cooper Webb or Ryan Dungey go easy on the throttle. Start at the bottom to read how the day played out in chronological order, or start at the top to skip straight to the mains.
450 Main
Barcia got the holeshot in this one but before long he started sliding back pretty quickly. He would have finished farther back but Tickle crashed while going for a pass when he landed on the back of Barcia. Barcia survived without crashing but Tickle had to remount. Chad Reed had a good start too, but he came up short on a triple in a rhythm lane and restarted in dead last. Up front was Ryan Dungey, who did what he's been doing all season, which is get a good start, work into the lead and click off laps. Eli Tomac got a mediocre start and was taking small bites out of Dungey's lead, but it turned out to be too little too late. Dungey took another win, followed by Tomac and Weston Peick, who took the first podium of his career.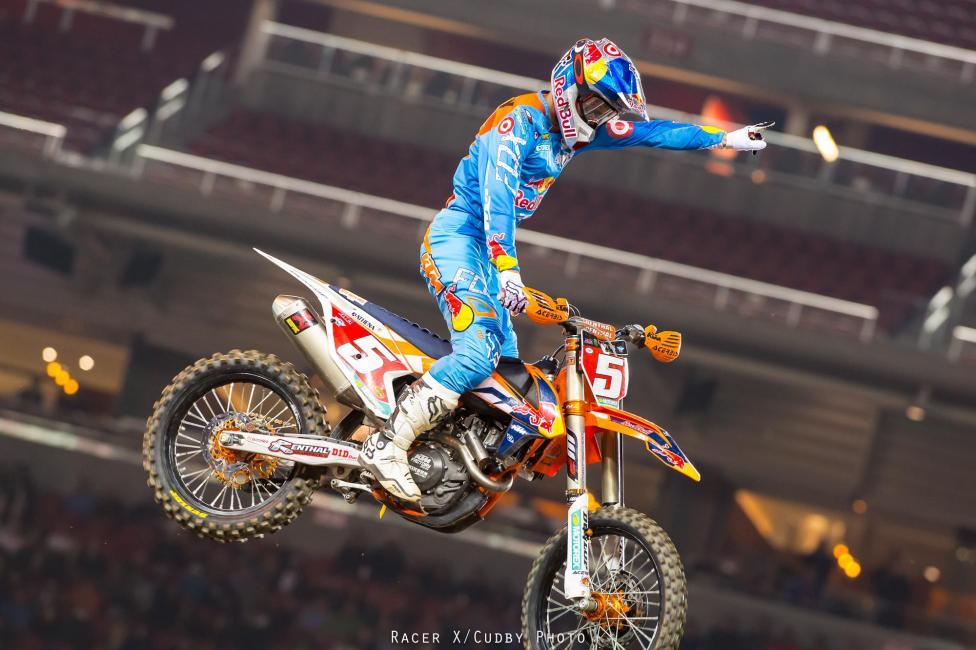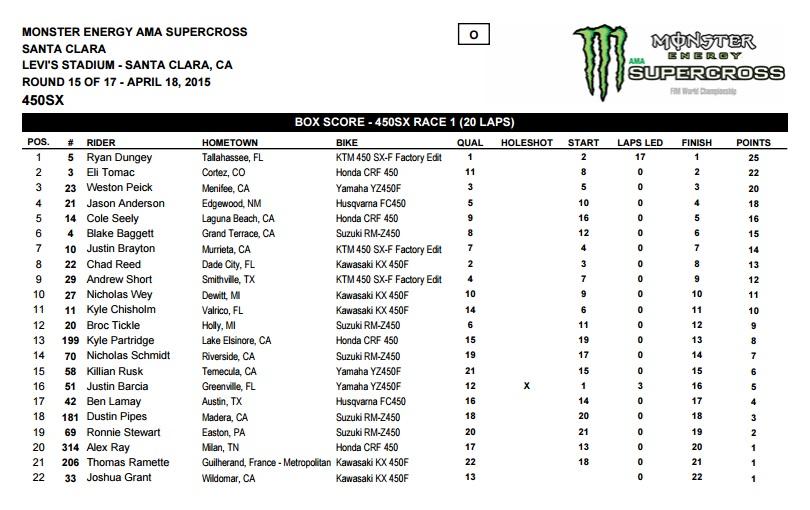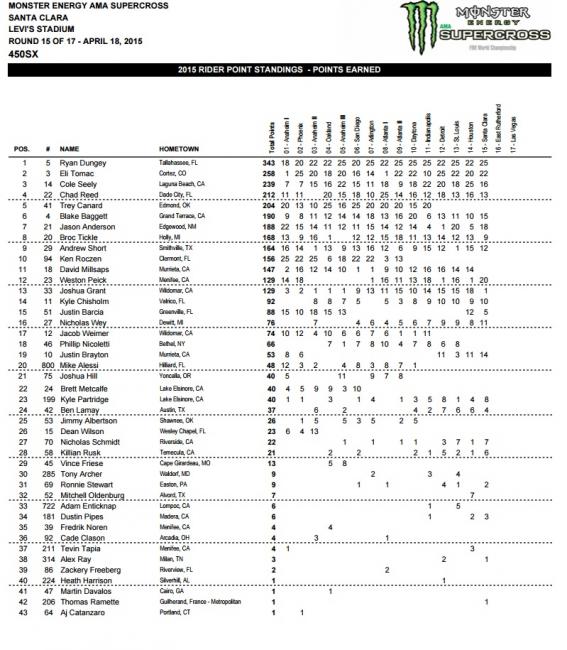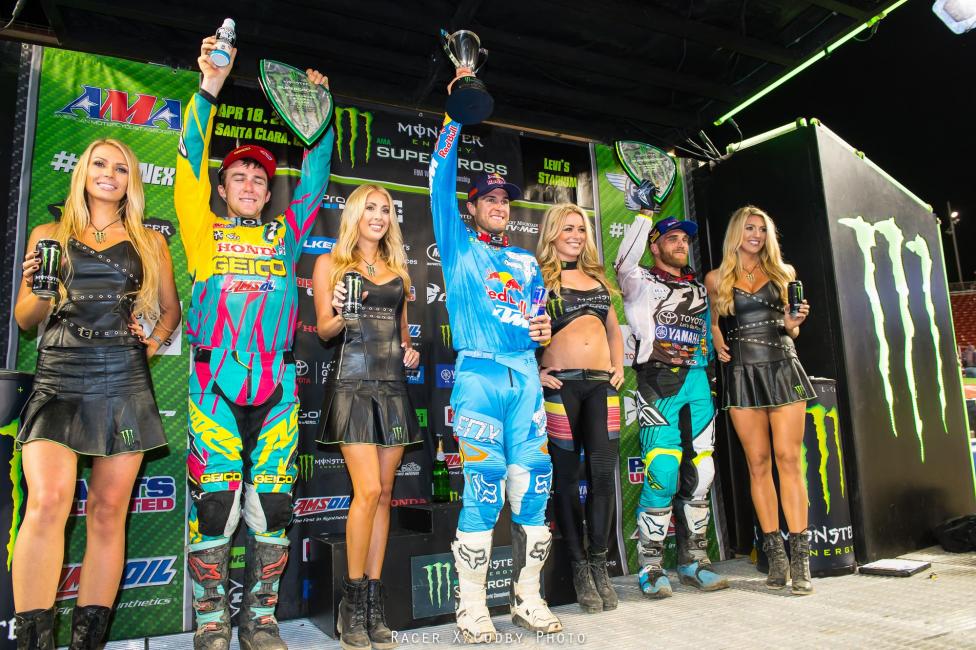 250 Main
The 250 main started off with one of the biggest first-turn pileups of the year. Tons of guys went down, with Zach Osborne getting the worst of it by far. Most everyone popped back up pretty quickly though, and there was no restart. Josh Hansen was the benefactor, and he took off with a decent lead up front. But Aaron Plessinger hunted him down and started checking out, only to go down all by himself when he pushed the front in a corner. Several laps later he went down again, and at race's end all he could muster was seventh. Back up front Cooper Webb was charging and was challenging Hansen for the lead. Webb pulled alongside Hansen in the whoops but Hansen stood him up in the following corner. But then Webb pulled out the scrub of scrubs in the next triple and took command of the race. Half a lap later Hansen pulled off with what looked like mechanical problems and pushed his bike out of the stadium. At this point the guys were pretty spread out, with Justin Hill second, Alex Martin third, and Malcolm Stewart fourth. It stayed that way till the checkers too, with Shane McElrath founding out the top five.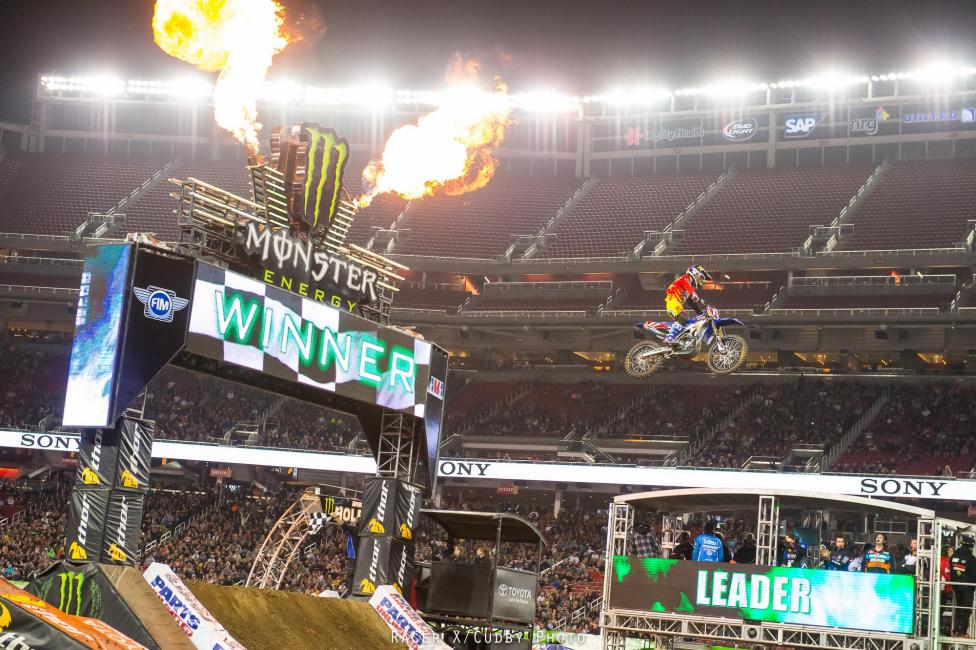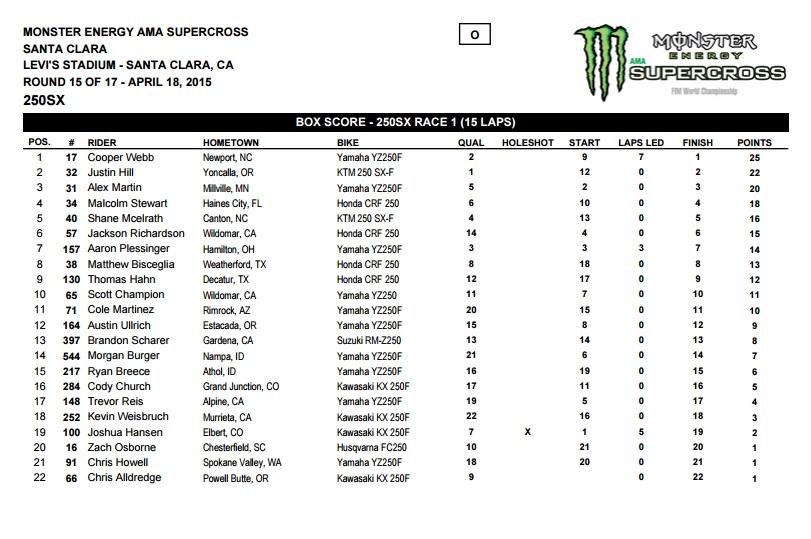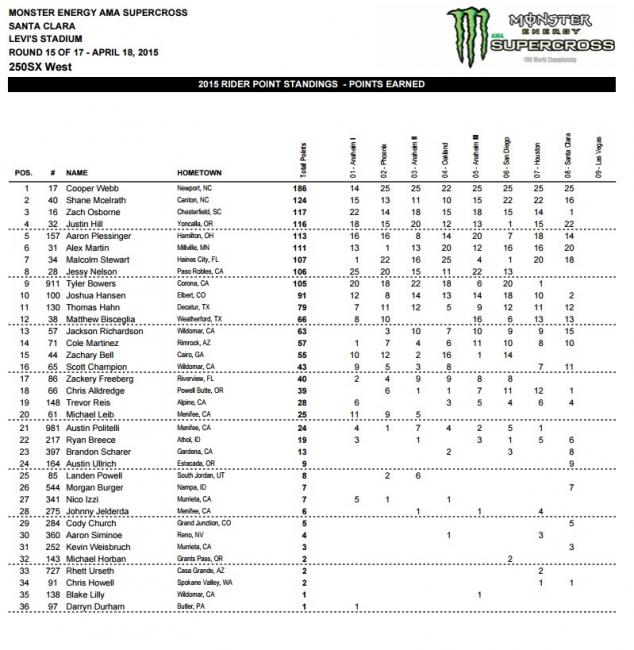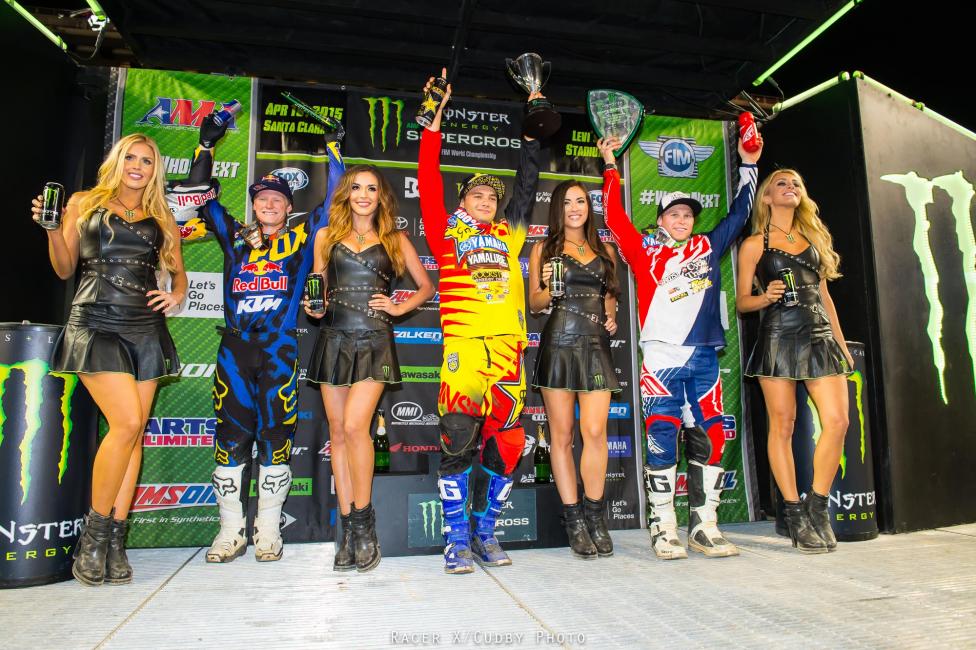 450 LCQ
Ronnie Stewart took off with the lead, but Nick Schmidt, who had a painful looking crash in the semi, hunted him down and took the lead. Other than that there wasn't much battling—the top four were pretty spread out and a good distance from the field. Schmidt won, followed by Stewart, Killy Rusk, and Thomas Ramette.
450 Semi 2
Not a whole lot of action in this one. Josh Grant got the holeshot, but Seely took the lead immediately. Tomac passed Grant shortly thereafter and was closing on Seely but ran out of time. Seely, Tomac, Grant, Kyle Partridge, and Alex Ray advance. Ray celebrated making another main by doing a nice burnout before heading back to the pits.
450 Semi 1
Nick Wey got the holeshot in this one, and with just two more rounds left in his career, it just might be his last. He was fired up and built a nice lead over Justin Barcia, who kept making small bobbles in a rhythm lane. Barcia closed it up at the end, but Wey hung on for the win. Nick Schmidt had a crash that left him on the ground holding his leg, but he was able to eventually hobble off under his own power. Wey, Barcia, Kyle Chisholm, Ben LaMay, and Dustin Pipes advance.
250 LCQ
Trevor Reis got out to the early lead and pretty much disappeared. Behind him were Dalzell, Morgan Burger and Cole Martinez. Martinez was moving forward after a bad start, and he finished second. Heartbreak of the night goes to Joe Dalzell, who crashed two turns from the checkers in qualifying position. Reis, Martinez, Burger, and Kevin Weisbruch advance.
450 Heat 2
Brace yourself for this, Andrew Short jumped out to the early lead. Cole Seely took the lead halfway into the first lap though, and Chad Reed followed soon after. Justin Barcia and Broc Tickle were having a great battle for the final transfer spot, with Tickle eventually edging away. Then things got a little crazy. Teddy Parks had crashed right before the finish line and a track worker was taking his bike off the track, but he didn't get it out of the way quick enough and Cole Seely T-boned the bike as he was coming through. That handed the lead, and win, to Chad Reed. Afterward Seely was extremely heated and gave John Gallagher an earful. Reed, Short, Tickle, and Blake Baggett advance.
450 Heat 1
Ryan Dungey kicked off the 450 heats with a holeshot, but Weston Peick quickly passed into the lead. Yes, Weston Peick made quick work of the reigning champ and even started building a gap. Dungey rebounded and started closing it up, but a bobble in a rhythm lane gave Peick some breathing room. Dungey closed it back up and put an aggressive move on Peick and cut him off in a corner. Peick tried to return the favor a couple turns later by jumping deep into the turn, but Dungey was just out of range. Good thing for him too because it would have been a slam. Dungey, Peick, Jason Anderson and Justin Brayton advance.
250 Heat 2
Shane McElrath and Matt Bisceglia jumped out to the early lead, with Bisceglia giving up the lead to McElrath before tripling back into it. It didn't last too long though before Cooper Webb and Malcolm Stewart came through. It looked like Stewart might make a run on Webb, but he got a little out of control in the whoops, came into a corner hot, and went halfway over a berm. He kept it on two wheels though and only lost a few spots. Webb took the win, with McElrath, Stewart, Bisceglia, Zach Osborne, Tommy Hahn, Jackson Richardson, Ryan Breece, and Chris Howell advancing to the main with him.
250 Heat 1
Alex Martin scored the first ever holeshot in Levi's Stadium but it didn't take long for Justin Hill to take the lead. Martin then made a small bobble in a rhythm lane and lost spots to Aaron Plessinger and Josh Hansen. Plessinger and Hill took off, with Hill taking the win, while Martin battled back and retook third from Hansen, who is racing with some bruised ribs. Hill, Plessinger, Martin, Hansen, Chris Alldredge, Scott Champion, Brandon Scharer, Austin Ullrich, and Cody Church advance.
Injury Updates
If you've been reading the Race Day Feed you know that Austin Politelli and Adam Enticknap left practice early with what appeared to be injuries. We checked in with both, and the news isn't great of Enticknap, who broke his wrist (scaphoid) when he got cross-rutted in a rhythm lane and went down hard. He was surprisingly upbeat when we talked to him, and says he'll undergo surgery and be back on the track as soon as possible.
The news is better for Politelli, who got banged up when he crashed in the whoops. He left with a sore wrist and ribs, and initially wasn't sure whether or not he'd be able to race, but when we checked again the team said he was in.
Second Qualifiers
Qualifying has ended here in Santa Clara and it's the usual faces up front. In the 250 ranks Cooper Webb topped the field but it didn't come easy—Malcolm Stewart and Justin Hill both held the fastest lap several times. Austin Politelli was going for it too, but unfortunately he went down in the whoops and prompted a red flag. He got up after a few minutes, but left the stadium sitting in the back of the Asterisk Medical Mule. No word yet on his condition.
In the final 450 A qualifier Cole Seely looked better than he did in the first, and he even spent some time at the top of the board. Some guys also started figuring out some different lines in a short rhythm lane with two tables, including an on-on-off line that looked pretty quick. We'll see who pulls the trigger on what when the main event rolls around. Adam Enticknap had a bad crash in this one and left the stadium gripping his left wrist pretty hard. We'll post an update on his condition when one becomes available. Nick Wey had his fastest lap cut due to stopping on the track.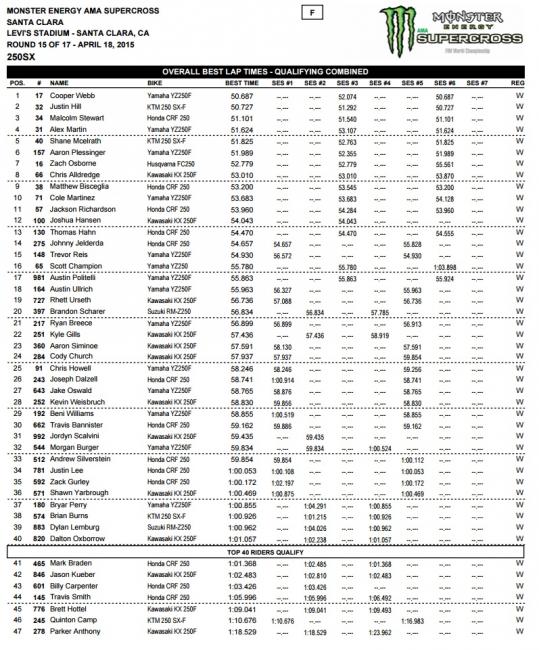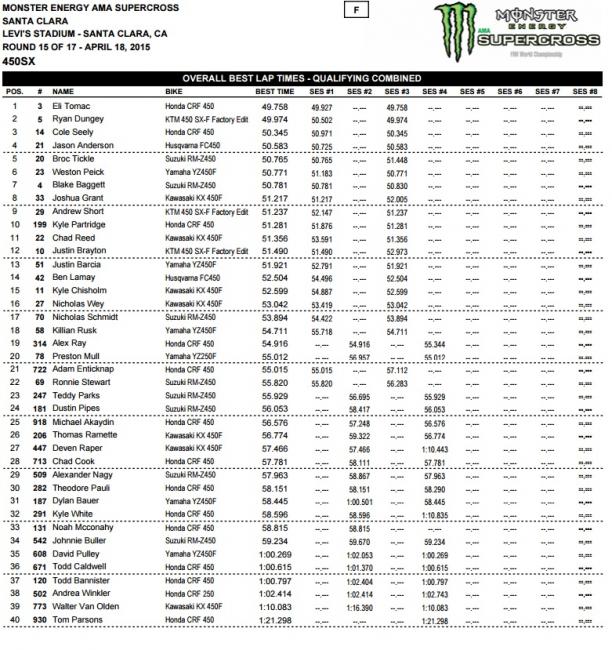 First Qualifiers
The first qualifiers were relatively uneventful here in Santa Clara, and so far there hasn't been much variation in rhythm sequences. In 250 action, Malcolm Stewart, Justin Hill, and Cooper Webb all took turns holding down the fastest lap until Webb had a crash in the whoops. He didn't look shaken up, but after getting back up and remounting he pulled off and went back to the pits. Expect him back for the second qualifier. After that it looked like Stewart would post the fastest time, but Hill busted out a heater on the final lap to top everyone.
Scary moment for Shane McElrath in this one when he got a little squirrely in a rhythm lane, went off the track, and nearly careened into oncoming traffic. Fortunately he was able to reign it in before making contact with anyone. Josh Hansen's fastest lap was deleted from this session due to exceeding sound limits.
The 450 qualifier saw names like Weston Peick, Jason Anderson, Ryan Dungey, and Eli Tomac all top the board, with times steadily improving as the session wore on. Nobody really looked superior to each other, but Tomac was the only rider to dip under 50 seconds. Justin Barcia left this session early, although we're not sure why. Reed didn't look like himself either, which could be a product of an incident in untimed practice when he went over a berm and off the track to avoid another rider. He didn't go down, but he didn't look very loose after that.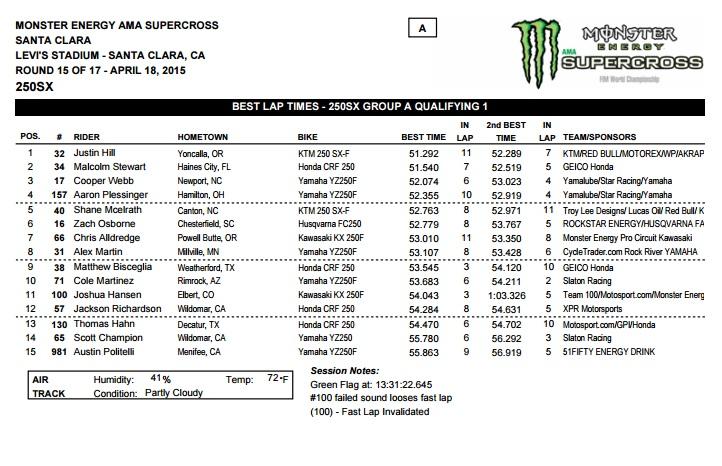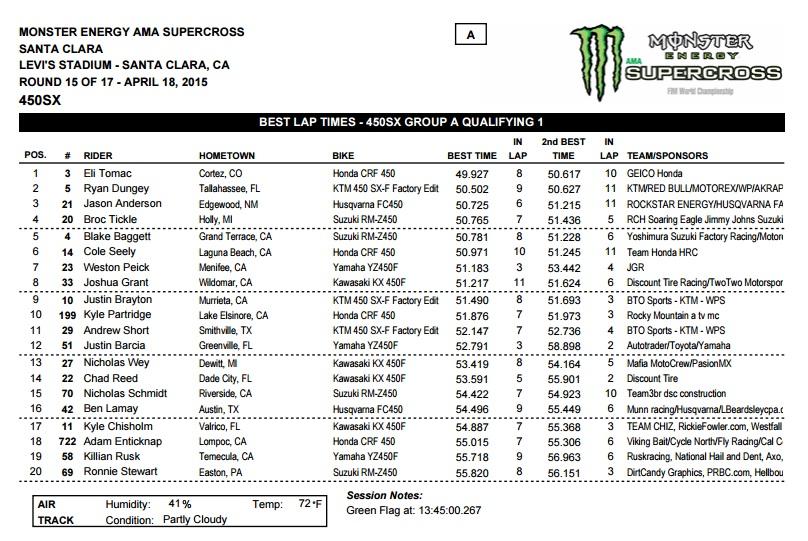 Morning Report
Even though both championships are wrapped up, there's still plenty to talk about, and right now the big news is the termination of Davi Millsaps' contract with Monster Energy Kawasaki. There are plenty of rumors swirling, but right now the people who really know what's happening aren't saying much and the team isn't even here—the truck literally didn't show up. Kawasaki isn't disclosing any further details, and for legal reasons, probably won't. You can read Millsaps' latest statement here. If any solid info pops up we'll be sure to let you know.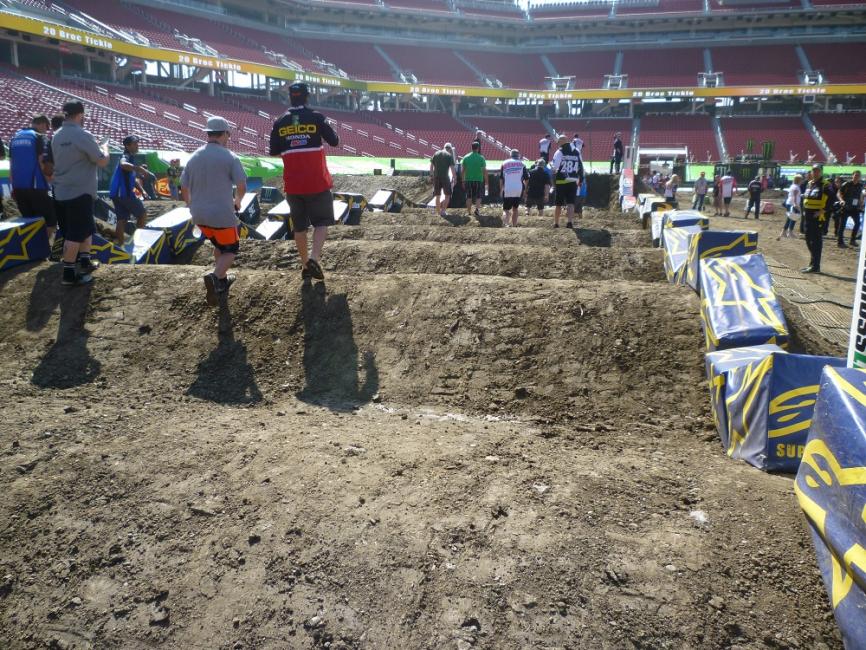 One thing we do know for sure is that the racing will continue tonight. The track itself looks pretty challenging with steep jump faces and big whoops, and the whoop section is broken up by a steep wall jump in the middle. The dirt is very rocky, so much so that endurocross jokes and Unadilla references were the norm during morning track walk. Don't be surprised if some of the riders throw on handguards.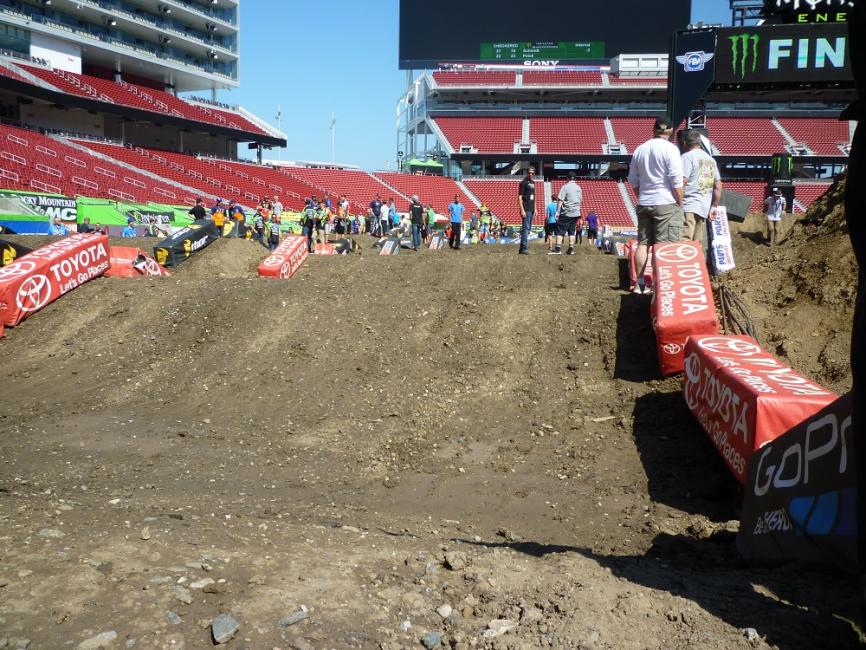 Practice sessions are scheduled to start shortly, so make sure to visit this feed again soon. You can also catch the action via Twitter, @racerxonline.