FMF Factory KTM's Kailub Russell is threatening the record books in American off-road. He's started this year's Amsoil Grand National Cross Country Series, presented by Maxxis, with four straight wins, and he's led every lap—that's basically twelve straight hours out front. He's also trying the Kenda AMA National Enduro Championship Series, presented by Moose Racing, this year and leads the points. We talked to him about his recent victory at the VP Racing Fuels Big Buck GNCC, and just how far he can go.
Racer X: Sounds like you're driving somewhere.
Kailub Russell: Yep. Actually going to get a massage.
A massage!
Yeah!
I thought you might actually be going riding. Does that happen?
Not when it's raining.
You have mud races, dude. You've got to get used to that.
[Laughs] I think I'm used to the mud enough to not ride in the rain.
That's true. The mud, that's not even an issue for you anymore these days, right? You seem like you're okay with it.
I'm good. Lately I've done well in every mud race I've been in, unless I broke down.
Is that something you actually worked on, or did you just figure something out? Were you good all along?
I guess I was good all along. I just had to get over it mentally, I guess. Everything kind of changed when I started winning. Winning does funny things to you, man.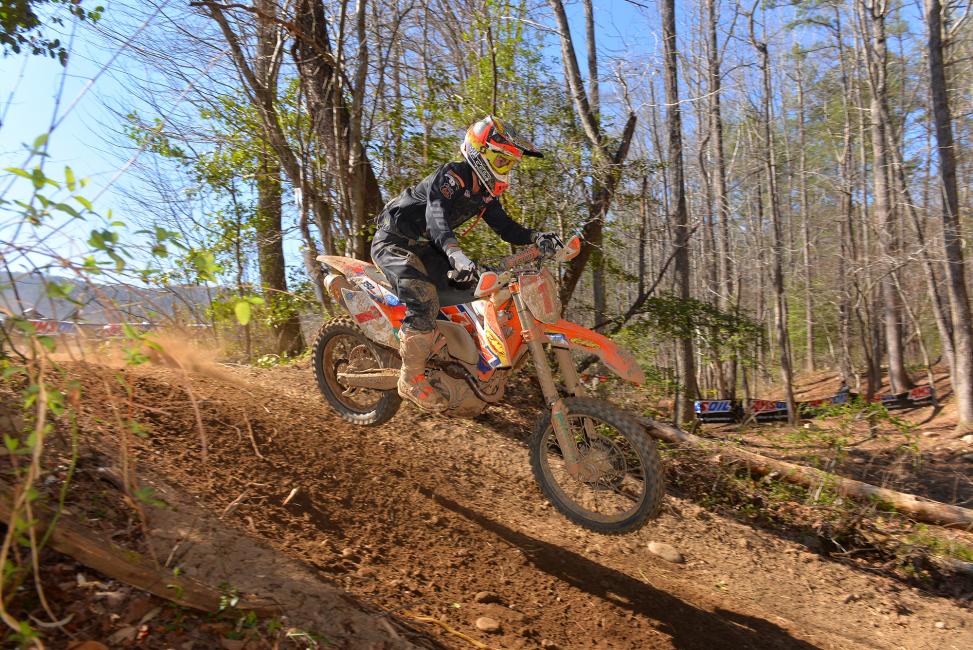 Well, that's where we're at now. There was a rumor you were even sick for this one? Were you not quite right?
I wasn't sick on the weekend, but I was sick the week leading up. I got sick on Monday evening, and I was really bad off Tuesday and Wednesday. I took some antibiotics up until Friday morning and then I got off of them. I don't know if it's true or not, but I've always heard antibiotics kind of take your edge away in a racing aspect. I definitely didn't feel quite as strong at the end of the day, but I toughed through it. I didn't feel terrible [but] I didn't think I felt 100 percent the whole day.
Once you've got momentum it doesn't seem to matter so much.
I've just been kind of trying to put a game plan together for race days. I focused a lot on making sure when I walk the track that I remember as much as I can. That way on the opening lap I can just sprint as hard as I can. In off-road, you don't get to practice on the track, so it's kind of hard to put down your best lap in the beginning. That's what I'm trying to work on now, just putting together my best lap at the beginning and getting away from guys. Then, once I'm comfortable, I just kind of maintain. I've got my own little secrets that I don't want to give away too much, but, basically I kind of know what I'm doing out there.
I don't remember the first lap or starts really being your specialty. It seems like your starts have gotten better, too, along with the first lap. You're up there almost every week now.
It's really good. We finally got a good motor package and some mapping and stuff. That's kind of what were lacking before is just getting the bike to turn over [start] faster on the dead engine starts. My bike's been firing really quick. It's been really good the first four races. I got two holeshots. I think I've been top two or three going around in the second turn every race so far, so it's been really, really good.
Halfway through this one it looked like Josh Strang was making a little run. I think he got within about twenty seconds. Did you get the word that he was coming?
Yeah. It's kind of part of one of the things I do. Actually, he closed up quite a bit. I had a nasty little crash there the lap where he made up a bunch of time. I just kind of sprinted out for the lead; then I kind of bide my time. As soon as he starts to put on a charge I get back on it.
It's so weird how so many things can happen in the GNCC, and you've had different tracks here for four weeks and it's the same thing. It's you and Strang. Strang tries to make a run halfway. It's crazy to me that each race is working out so similar.
Yeah, I've just been getting good starts, and I know what I want to do during the race. Everything's just been kind of falling my way so far. I've had a few mistakes I need to work on. I definitely have a bunch of areas I feel like I can improve on. I've kind of gotten really familiar with my bike and with the setup and everything. I feel like I'm riding better than I ever have.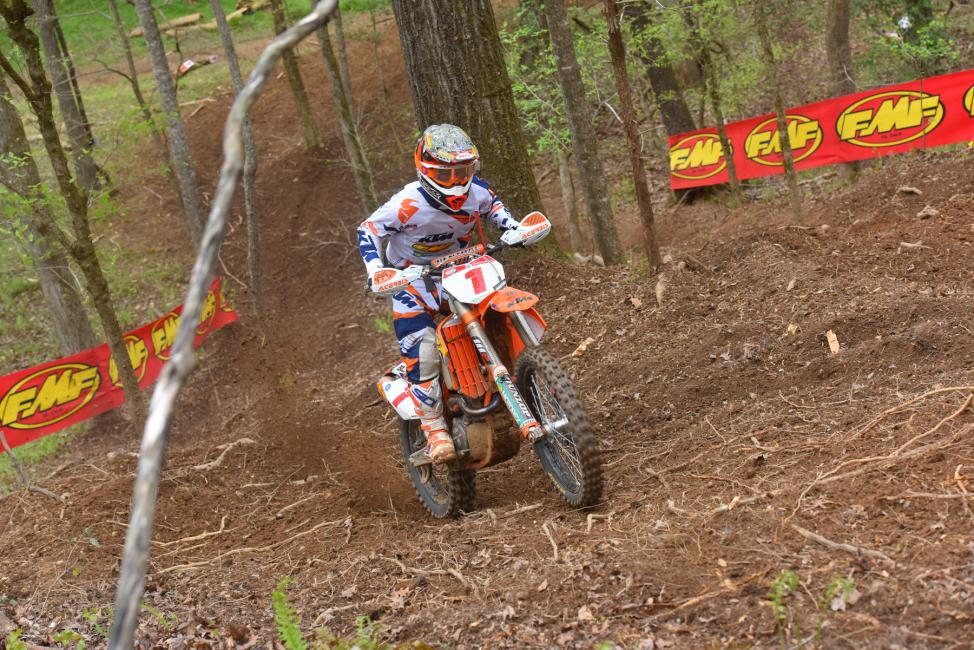 You're also dabbling in some other things—you're doing the National Enduros too, right? That seems to be going your way, also. How different is that?
It's a lot different because there's no controlling the race. The only thing you can control there, and not saying that I'm controlling anybody at a GNCC, but I feel like my strategy and how I go about things at GNCC, it's just not the same thing for enduro because you're racing on time and short sprint. The tracks are a lot tighter. It's difficult because I don't enjoy the tighter woods. I know how to ride in the tighter woods, but it's kind of a lot different because the test sections are so long. You start out really fast and it's really easy to… You're trying to sprint as hard as you can the whole time, but I kind of find myself losing focus in enduros, just kind of being a little bit bored out there. You don't know where anybody's at; you don't know the splits or anything. I think that's the toughest thing for me. And I can't say I really know how to win yet. I've never won one, but I do have the points lead. I'm still outside looking in.
So, you actually think you have room to even improve there?
Yeah, I feel like we can get some things going here soon. I'll be starting to ride the new bike here pretty soon. I think that's going to be real beneficial in the enduros. The new bike's unreal. I got to ride one a couple weeks ago, and I was pretty impressed with how it handled and all the changes they've made. It's a big difference. It's the best bike I've ever ridden.
Well, we've seen what the new KTM has done in other series, so I'm not surprised to hear that. For you, GNCC, you grew up doing it, and you've figured it out. Do you like branching out the way you're doing? Your ISDE result was good, and the enduros are going well. Do you enjoy focusing on some other things right now?
That's the only contract obligation I have, is the GNCC only. But there's a short career span and I'm not getting any younger. Now, I can potentially make twice the money and it's working out so far. It's one of those things where I kind of made a deal with Antti [Kallonen], the team manager, to do the enduros, and I'm kind of meeting my expectations somewhat. I'm going to keep doing them and see if we can't get some wins and maybe the championship.
What does it do for your reputation? The problem with off-road is that the series are all split up. One guy wins a title, and they're like, "Well, is he the best guy out of everybody, or is he just the best guy where he rides?" So, if you stack up your ISDE stuff, national enduro, and GNCC, I think it changes the whole conversation about you, where you're known as a guy who pretty much wins almost everywhere he goes. That's a big difference.
Yeah, it is. It's really tough because in motocross and supercross you're able to focus on one thing at a time. We have several different series and they're all quite different and drastically separated, and we'll race back-to-back weekends. You've got to really shift your focus each weekend. I think that's one of the toughest things. I think that's why nobody's ever won a national enduro title and a GNCC title in the same year. They're totally different. If you were to mix motocross and supercross together and have a supercross one weekend and an outdoor the next weekend, there's probably going to be guys that are more favorable to one than the other… the results are going to show.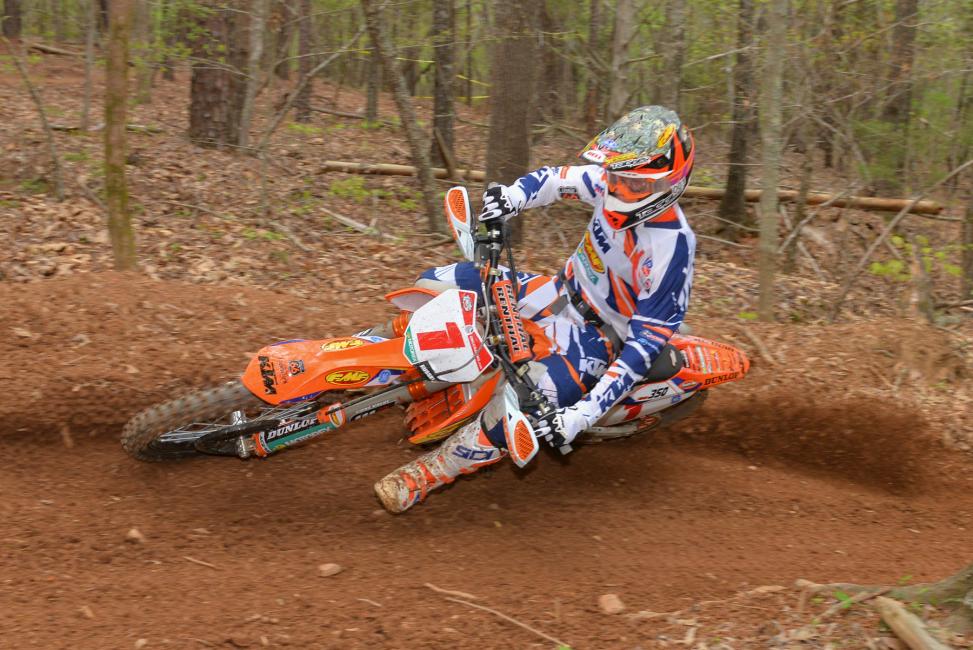 You've won the first four GNCCs this year, and you've won the last couple titles, but you can't go to these races taking anything for granted on the GNCC side. I would think that almost gets tough.
Yeah, it does. I've won so much that I expect to win on the race day. Growing up as a kid, I remember the days leading up to a race I'd always think to myself, "Am I going to win? How am I going to ride? How am I going to do this?" All these kind of questions going through your head. I've kind of eliminated all the doubt and all the questions, because now I just let everything kind of come to me and just happen. I try not to predict the future, so to speak. Going to the race, I obviously know that I can be beat and I'm not being arrogant or cocky or saying, "I'm going to smoke these guys." I just kind of do my own thing and do it to the best I know how. That's all I can do.
At 4-0, do we even talk about sweeping the season? Should we even bring them up yet, or are we not there yet?
Yeah, I definitely don't think we're there. The only thing working in my favor is I'm on a roll and I've got momentum and it's kind of tough to break into that. Strang, he's no slouch and he's not cutting any slack. He's still charging hard. He's not broken down yet. He's not giving up.
Maybe in the fall we can talk about this if the streak is still going.
There's still a lot of racing left and a lot of hours to be on a bike.