Our esteemed colleague Jason Thomas has headed to Europe a little early for the upcoming 2014 Motocross of Nations in Latvia. Over the course of the next few weeks, JT and his traveling companion Chad Reed have a ton of stuff planned—including riding with Valentino Rossi and hanging with Tony Cairoli. JT will be documenting it all on Racer X Online. Check out his third entry from Italy.
Entry Three: Hanging with Rossi and Cairoli
Welcome to Latvia! I just arrived into Riga and am getting excited for another Motocross of Nations. The last few days in Italy were pretty cool. On Thursday, Chad Reed and I ventured into Venice and toured around the water taxis. There is so much history in Venice. We were blown away by the canal system and how much there was to take in. After a few hours of wandering around the old city, we hopped a boat back to our beach villa for the night. On Friday, we made the trek to Verona, home of Athena/GET. We got the official tour of their operations, and they took us out in Verona for dinner. My friend Dan Truman works for the company and I was sponsored by them in my racing days, so it was a good day to see old friends.
Saturday we headed back to the VR46 Ranch down in Tavullia. This was round two of riding with the legend, Valentino Rossi. It was much more mellow this time around, as he was the only MotoGP rider there, and other than his academy riders, we were the only visitors. We all had our turn at following Rossi around, and I was smiling from ear to ear. I think most Americans underestimate the scope of Rossi's fame. In Italy he is king. Being able to ride with him on his personal track and then sitting around and bench racing about the battles is something that just isn't fathomable for most. Coolest of all, he really is just a normal guy, albeit with abnormal talent. We had dinner with Rossi and crew before heading off to Rome Saturday night.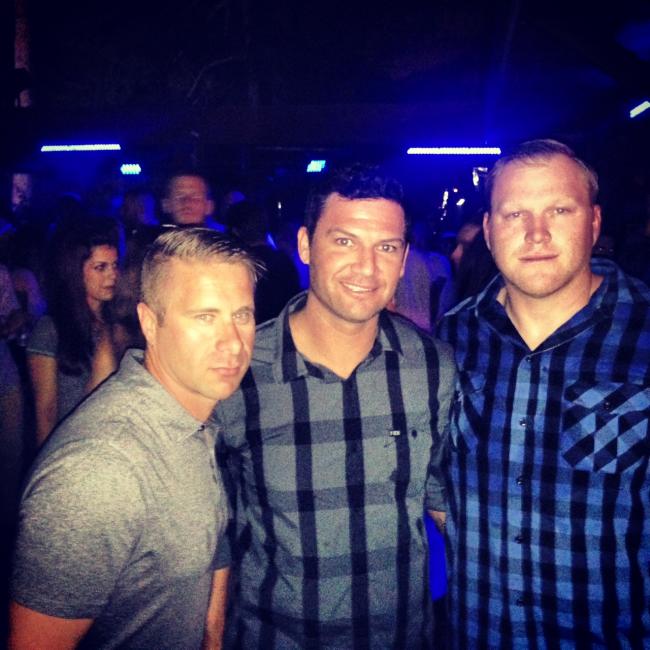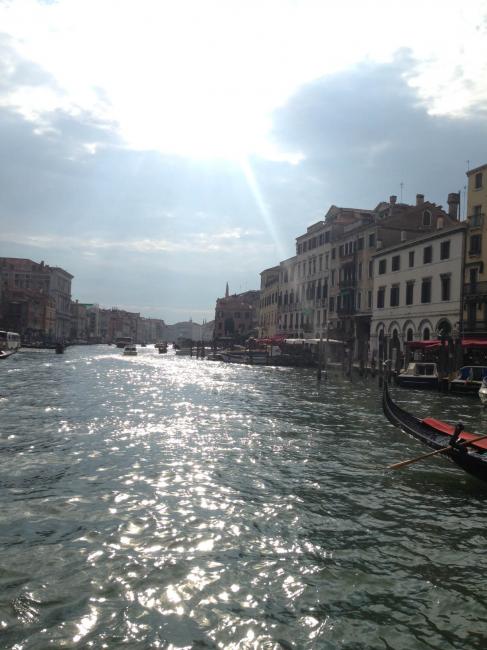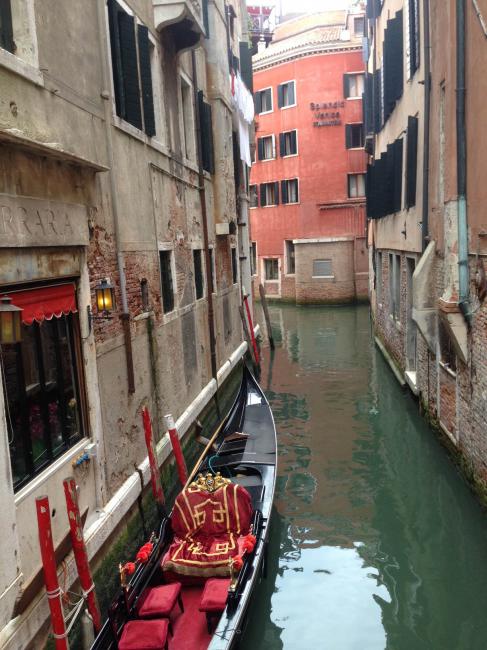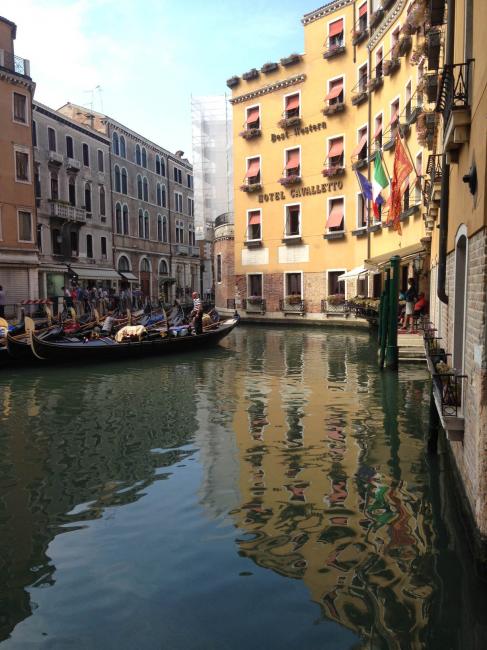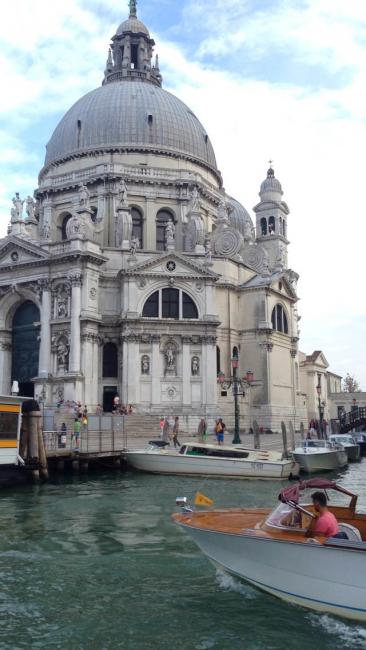 Rome turned out to be a great time. We met up with Tony Cairoli upon arriving and spent the next day with him at his house in Civitavecchia, just north of Rome. Cairoli showed us the benefits of eight world titles. His house is set upon a hill above the sea. The house is only about a year old, and it's state of the art in every way. He has a resort-worthy pool area that overlooks both the Mediterranean Sea and the Italian countryside. It is not hard to see why he chose this spot to build his dream home. Inside the house, his trophy room looks like a museum. He has all of his race win plaques displayed, along with every set of gear from key moments in his career. He has old bikes from previous years, as well as all of his championship bikes. It really is a humbling room to walk into. Surely, there's so much success and hard work behind all of those memories. Tony took us into Rome on Sunday night for dinner, and we all traded stories about our collective decades of racing across five continents.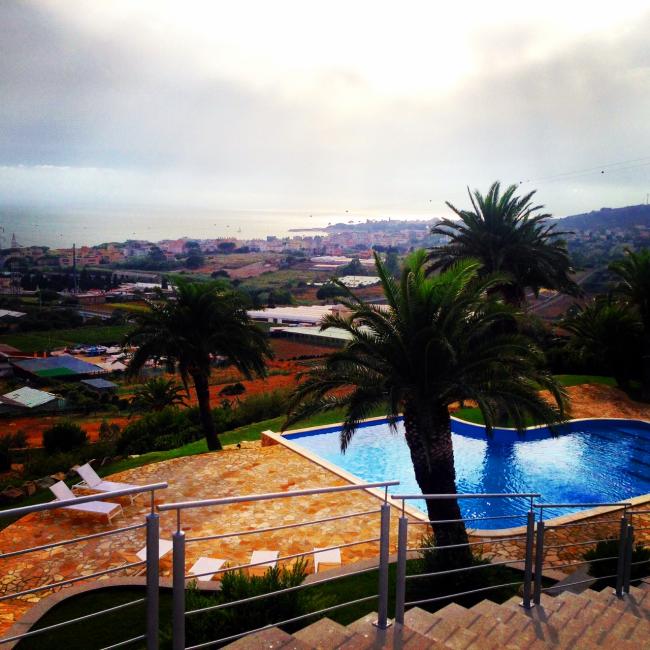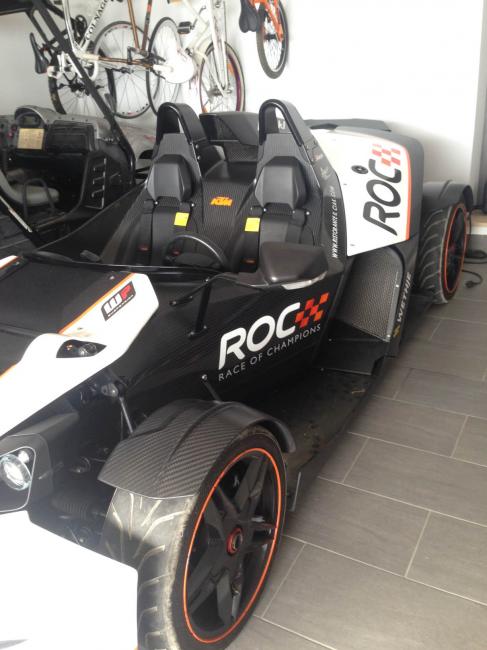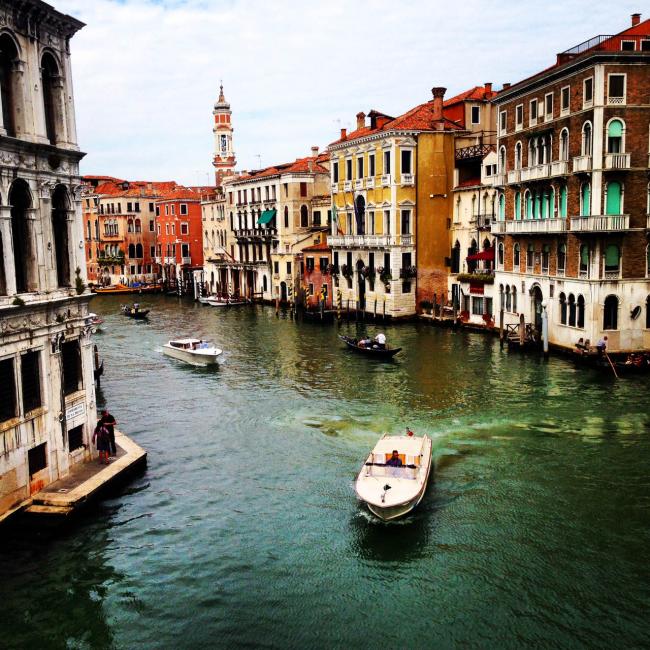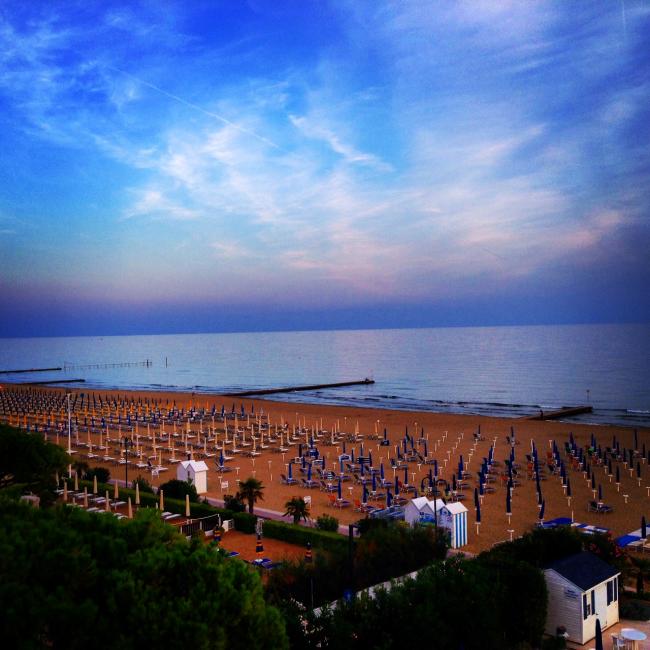 Having just arrived into Latvia, all attention is now on the looming MXoN. Eli Tomac and the GEICO Honda contingent were on my flight, and Team Australia is just arriving as I type this. The next few days will consist of lots of organizing and then some riding on Thursday. After ten days of traveling Italy, I am ready to get back to the motocross scene and watch what I consider to be the most intriguing motocross event on the calendar. Talk to you guys in a few days!
Entry Two: Riding with Rossi
Tuesday, September 16 was one of the coolest days ever. Chad Reed and I had the privilege of joining some of the world's fastest road racers out at Valentino Rossi's Ranch in Tavullia, Italy. The discipline was flat track, and neither Reed nor I had any experience on the slick. Rossi custom built the track and used a combination of substances to increase the level of difficulty. Just what we needed!
The day started at the VR46 offices where Rossi houses his Moto 3 race team and multimillion-dollar clothing and collectible lines. We broke bread with Vale, Marc Marquez, the Honda crew, and a few other staff members. The mood was light away from the racetrack, even though Rossi and Marquez are battling over the biggest championship in motorcycle racing. Everywhere you turn in the town of Tavullia, you are reminded that you are in the hometown of Rossi. VR46 is housed at the edge of town, leading to the multitude of road signs, flags, banners, and murals in tribute. It truly is Vale's town.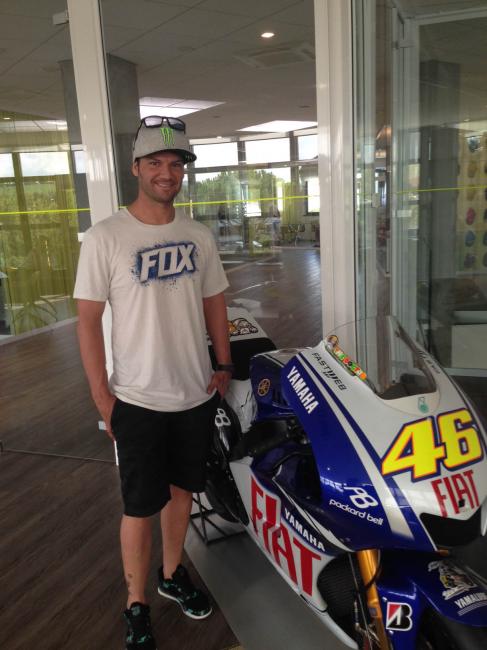 Upon arriving at the ranch (which is easily seen from the elevated roadways above), we were greeted by MotoGP rider Bradley Smith and many other world-class road racers, including Loris Capirossi. There was a bit of bench racing before everyone suited up and headed out onto the impressive circuit. Marc Marquez, aboard his works CRF450 flat tracker, was immediately fast. Rossi and Marquez would trade lap times all day and show just how talented they really are. Reed was picking up the pace quickly on Vale's Kawasaki 450 (he has every brand of bike on hand) and steadily dropping his times as well.
Bradley Smith and I were sharing a Rossi edition WR450F and working out the very different technique for flat track. The riding went on until dark, and it was a constant battle amongst everyone trying to raise the bar. Marquez ended up winning the super pole, with Rossi a close second. Watching those two along with some of the up-and-coming racers was eye opening to their talent level. It left Reed and I searching for a motocross track to even the score! It was all in good fun, and even though we were far out of our element, it is always a great time if on two wheels.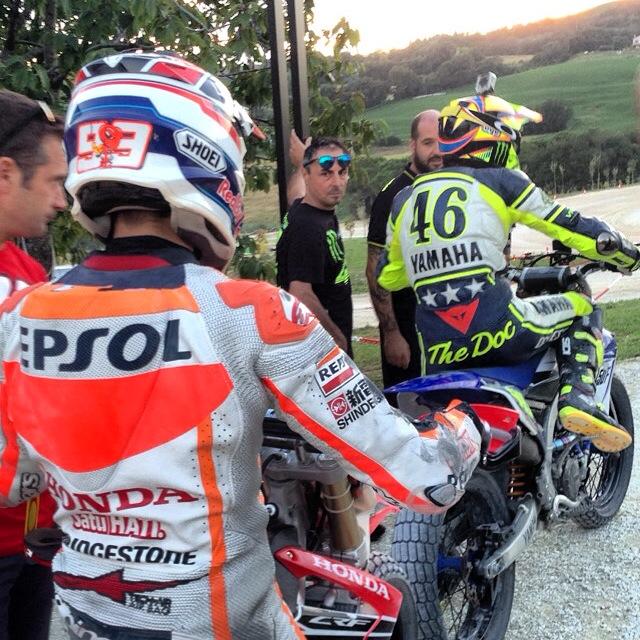 Rossi, ever the host, had set up a massive dinner for everyone in attendance once the riding had concluded. That lasted well into the night. With the Dorna group (MotoGP's promoters) on hand to video the event, we all got to replay the day's action. There were plenty of laughs to be had, and jaw-dropping displays of skill as well. At the end of the night, everyone thanked Rossi for an unreal experience and headed back to their houses and hotels.
Today, Reed and I made the trek up to Venice in hopes of playing tourist tomorrow in the old city. We are relaxing on the beach and recounting yesterday's riding, and of course Reed is having a good laugh at my unorthodox techniques while trying to follow Rossi around the track. The good news is that we are headed back to Rossi's on Saturday for more! I will check back in a day or two—and certainly after round two of Rossi Ranch!
Entry One: Rossi Wins
What a first weekend! I flew into Bologna on Thursday and attempted to recover from the unavoidable jet lag that accompanies a trans-Atlantic flight. I had a full day before Chad Reed arrived and we began our weekend amongst the MotoGP crowd. Once we arrived in the Italian Riviera, the skies had cleared from the rain on Friday morning and showed us a beautiful sunset over the Adriatic Sea. Being Valentino Rossi's home race, the vibe was definitely all about the nine-time world champ. There are VR46 signs all over the Italian countryside, and the locals are not shy in their adoration of Rossi.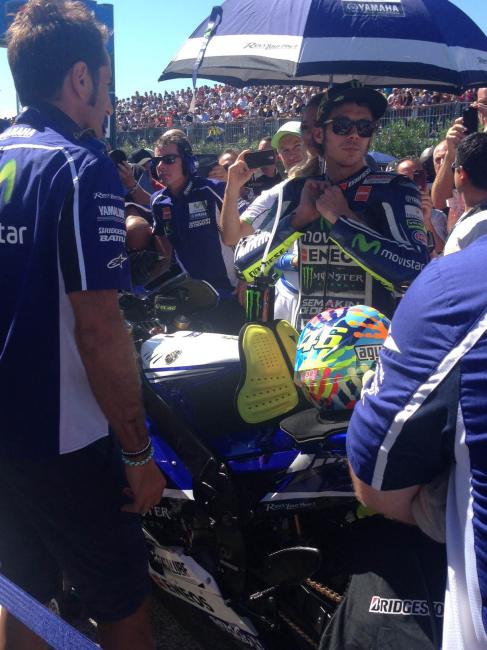 While riders spent the day practicing and qualifying, we were fortunate enough to be guests of Rossi and the Yamaha team, so we spent most of our day watching them work and prepare for each session. Qualifying is similar to the motocross world, but there is much more emphasis put on the data and computer analysis. It is still a very intense part of the weekend, as millions of fans as well as corporate sponsors are hanging on each qualifying position with breathless suspense. It is an eye-opening experience to see how advanced their equipment is at the highest levels of motorcycle racing. Saturday night was pretty mellow as everyone was preparing for race day. Reed and I were still both battling jet lag so we went to bed early.
Sunday morning was just electric. The closest thing I can compare it to is Anaheim 1 in the motocross world. All of the fans are so happy to see Rossi at home and Italians, specifically, are just incredibly passionate as well. They were cheering him all the way around the track, whether he was warming up, on a qualifying flyer, or leading the MotoGP race. As we closed in on race time, the anticipation grew into frenzy. We were in the garage and shielded from the chaos, but just outside the crowd was immense. Everyone inside the Yamaha garage was confident, but as everyone knows with racing, it's always a guessing game once the green flag flies.
The race itself was a great one if you are a Rossi fan. He took the fight to everyone and forced points leader Marc Marquez into a mistake. As the laps wound down, the crowd was on the verge of riot. Rossi is one of the biggest motorsport stars in history, and to win in his hometown was a massive event. The fans jumped the walls and were all over the track.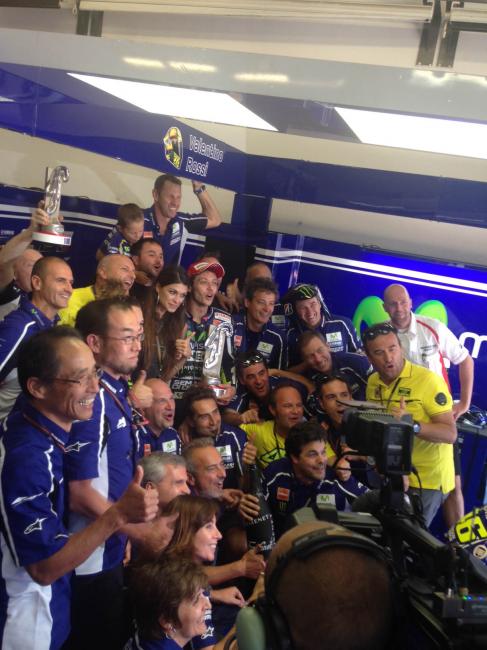 It was sheer chaos for hours after the race, and chants of "Vale, Vale, Vale" rang through the air well into the night. Reed and I were front row for the celebrations and congratulations. To see all of the work and nervous energy come to fruition was a great experience, and I certainly feel lucky to have been there for that particular race. That race will go down in history as Vale's return home victory.
Tomorrow we are headed to Rossi's ranch to do some riding with the likes of Rossi, Marquez, Bradley Smith, and Jack Miller. Oh yeah, and that Chad Reed guy also. I feel like I will be a bit low on talent in that group! It should be the day of a lifetime, though, and I cannot wait.
Talk to you guys about that soon!