Welcome to the Racerhead and the first week of the off-season, which means I am, of course, on the way to the races. The Lucas Oil Pro Motocross Championship ended last weekend at Miller Motorsports Park in Utah with a brand new 450 champion in Red Bull KTM's Ken Roczen, who held on for his first big-bike title in his rookie year of being full-time on the 450. Yamalube/Star Racing Yamaha's Jeremy Martin emphatically put the hammer down with another overall win. And the Utah National itself turned out pretty good despite heavy rain all Friday night. Credit for that goes to John Ayers' and Marc Peters' track-prep decisions. It was a good race on a much better and shorter track than last year—maybe fifteen seconds too short, actually—but I'm sure that will change. Congratulations to the whole Red Bull KTM team, the whole Yamalube/Star Racing Yamaha team (more on their records later), and special thanks to all the folks who participated in the series, followed the series, and continue to help this sport and this series grow.
So what race is this weekend? The Soaring Eagle Resort & Casino's Edge of Summer MX in Mt. Pleasant, Michigan, a brand new event that will feature a lot of top privateers battling it out for the $50,000 prize money on a track designed by Ricky Carmichael and built by Mark "Bomber" Barnett. The pictures I have seen so far make this look like a major-league track and a good payday for guys at the end of a brutal, rough summer of motocross. First-time events are always fun and interesting, and with the exception of the 3:30 p.m. appointment I have with a giant television in the nearby casino to watch my beloved West Virginia Mountaineers take on a lot more people's beloved (and vaunted) Alabama Crimson Tide, I look forward to getting out there on the track and helping out any way I can.
But I want to start with a salute to Ken Roczen, the former world champ who bet his career on coming to America to compete for the prime years of his career and has proven wildly competitive in all aspects of racing. He is switching teams and brands here soon, but he gave Red Bull KTM a solid send-off with this championship. He's also placed well going into Monster Energy Supercross in 2015, where he will likely take over for the likely-departing-for-Europe champion Ryan Villopoto. We've been talking about this for most of summer, but in listening to Eric Johnson's interview with RV's former teammate, close friend, and now future teammate Tyla Rattray, RV will become the top export to leave the States since, well, maybe forever. Or at least 1989, when six-time AMA Motocross Champion Broc Glover decided to spend his last season in Europe on a KTM after a dozen years on Yamaha.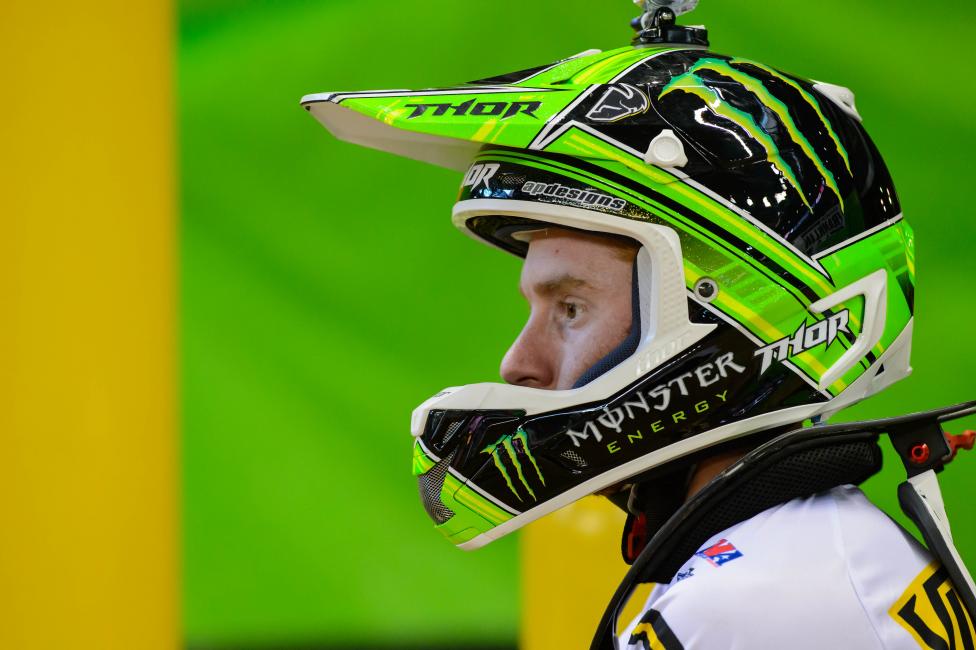 Villopoto does nothing half-assed, so I expect him to go there and give it all he has to take down the legendary Tony Cairoli on the MXGP circuit. Our loss is the gain of Grand Prix fans, and there will certainly be more fans in the U.S. interested in seeing how an eight-time AMA champ like Villopoto does against Cairoli, Clement Desalle, Jeremy Van Horebeek, Gautier Paulin, and the rest of the guys. For a preview of their talent and speed, watch next weekend's Brazilian GP and then the Grand Prix of Mexico on September 14. As a fan of GP motocross since my dad told me that both Brad Lackey and Jim Pomeroy were moving to Europe in 1973 to try for world titles, I can't wait to see how this all turns out. In the meantime, I'm sure the vacated #1 plate in supercross here will inspire a war between Roczen, Ryan Dungey, the red-hot Trey Canard, a healthy Eli Tomac, the returning-to-action Davi Millsaps and Justin Barcia, the moving-on-up Jason Anderson, Dean Wilson and Cole Seely, veterans like BTOSports.com KTM's Andrew Short and Josh Grant, Justin Brayton, Jake Weimer, and many, many more, and of course the man I will never, ever count out again until he tells me it's time, Chad Reed. RV is leaving an opening for a new champion, beginning in January at Anaheim, and it should be a fantastic winter and another great summer outdoors.
A couple of thank-yous before I hop on this plane to Detroit (and stay tuned for some major sign-jousting from there): Thanks to Mark Carter and all the folks from NBC Alli Sports, Lucas Oil, and MAVTV for helping get all of the races out to the world. Thanks to all the promoters, because I think every track had upgrades from just a year ago, and the trophies this year were fantastically diverse. Thanks to all the riders and teams who continue to allow us to put up the starting gate and then drop it on some truly bitchin' racetracks, and thanks to all the AMA officials and MX Sports personnel who were there every weekend to do the really hard and unheralded work of working with the riders and the rulebooks, scoring the races, getting there early, and staying late. And thanks of course to the fans all over the world who keep watching these races and growing the sport. A rising tide raises all boats, and this tide seems to be swelling right now. Thanks to Glen Helen, Hangtown, Thunder Valley, Muddy Creek, High Point, RedBud, Budds Creek, Spring Creek, Washougal, Unadilla, Ironman MX, and Miller Motorsports Park for building (and bettering) all of their tracks.
And a nod to the NBC/MAVTV announcing team of Jason Weigandt, Grant Langston, and Georgia Albertson, plus the in-truck and on-track crews of Chris Bond and Jeff Manhart for such great TV shows.
Enough with the thanks (and sorry I missed you, Carrie, but you let Mom buy dinner last night, so "Thanks, Mom!") and on with Racerhead.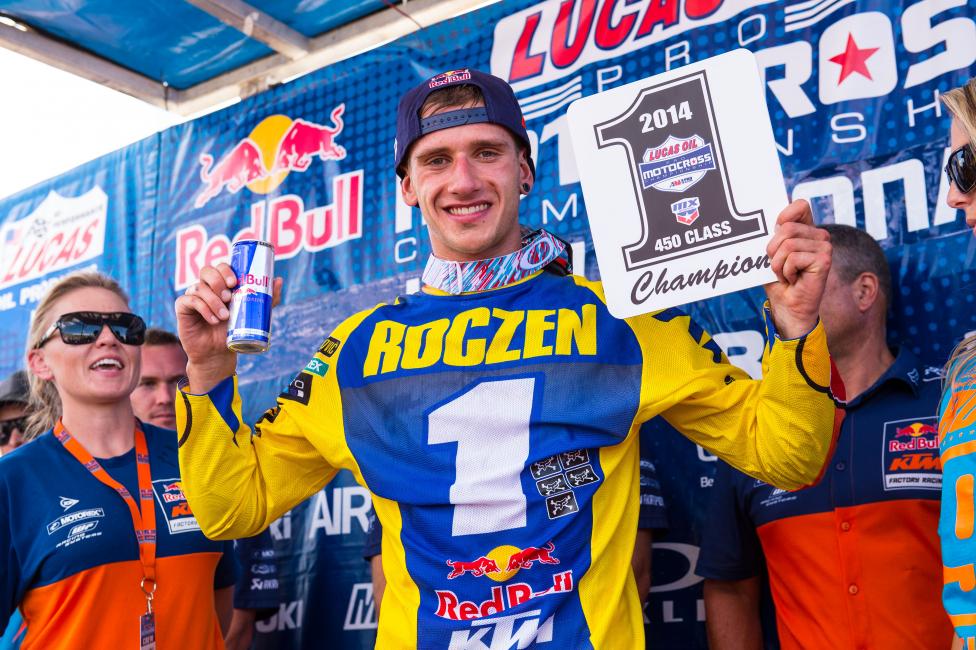 YAMAHA RECORDS (Andras Hegyi)
Almost all every week we could see record after record for Yamaha in the 250 Class. This season saw Yamaha get the most wins and the most podiums ever in a season, with Jeremy Martin earning the brand its seventh overall win in Utah. The former record was six wins in a season. In 1978 and in 1992, Yamaha had six victories (all six in '78 went to 125 champion Broc Glover; all six in '92 went to 125 champion Jeff Emig).
Yamaha also picked up their seventeenth podium in Utah. The former record was from 1996 when the brand of three diapasons got fourteen podiums. And newly crowned champion Jeremy Martin got ten podiums this year, tying John Dowd's performance from 1998. Yamaha also got first and third place in overall points standing this year, the same final results from 1977 for Yamaha, with Glover winning and Bob Hannah third.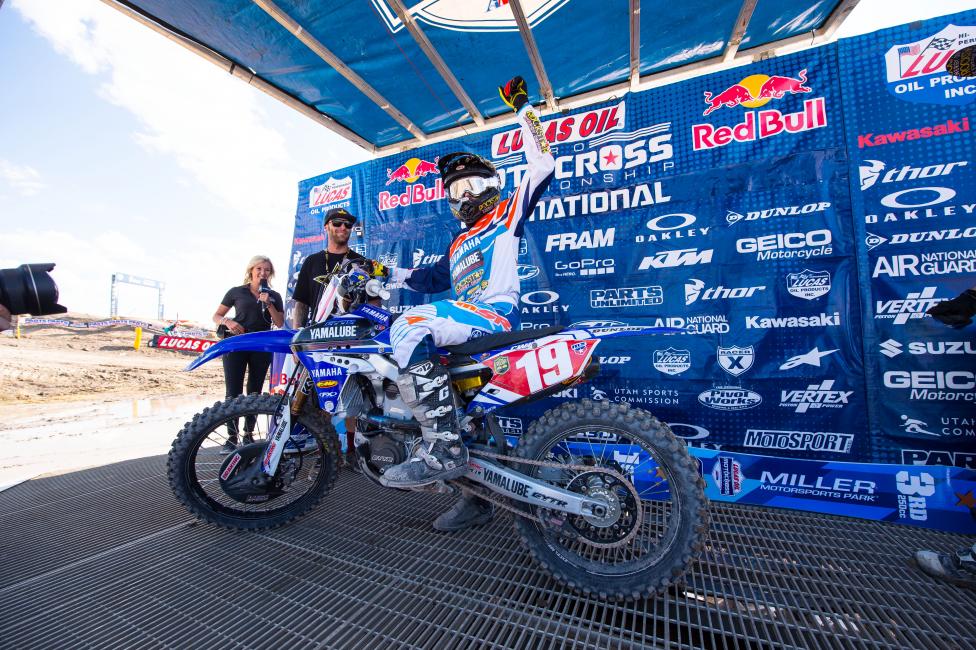 MISSING CHAMPION (Andras Hegyi)
When Monster Energy Kawasaki's Ryan Villopoto finally announced he would undergo surgery in May, it left the team with a huge void to fill. Despite the best efforts of replacement rider Brett Metcalfe and Jake Weimer, Kawasaki was unable to win or even get any podiums in the 450 Class. That also happened in 2012, when Villopoto missed the season due to a broken leg in supercross, as well as in 2004. All told, this is the sixth season when the Greens didn't win nor get podiums in the same year in what used to be the 250 Class before 450s took over. Before 2014 it happened also in 1972, '74, '75, '82, '03, and '04. Obviously, it will be very difficult to replace a rider of high caliber as Villopoto, Kawasaki's all-time biggest winner.
OH, WHERE ART THOU #6? (Steve Matthes)
Over on Pulpmx.com, thanks to GET's Dan Truman, we posted up a projected 2015 national number story here, and we're all really waiting on 2014 250 Class Champion Jeremy Martin to really lock these down. Cole Seely, Justin Bogle, and Cooper Webb are all getting permanent numbers next year (they all finished inside the top ten overall in combined points), and Seely says he's taking #21, Bogle #19, and Webb #17. It's Martin who's holding it up as he decides between #14 and #6. Martin, because he won a national title (450 SX, 250 MX, or 450 MX), gets the option to pick a single-digit number. We have #6, #8, and #9 open (with Ivan Tedesco's retirement announcement), and when I reached out to Martin earlier this week, he said he was waiting to see how the numbers looked on a bike before choosing.
But I'll just go ahead and say it now: Hope you enjoy that #14, Jeremy! Why do I say that? Because for whatever reason, rider after rider has passed on the #6 since it's been available. Ryan Villopoto even waited a year to take Jeremy McGrath's #2 instead of picking the #6! What's wrong with the six, people? The last guy to run it was, ironically enough, Martin's team manager Steve Lamson, who picked it as his permanent number when the system came in for the 2000 season and retired in 2005. Maybe Martin picks it, but I'm not holding my breath. Poor #6. Maybe it is the loneliest number?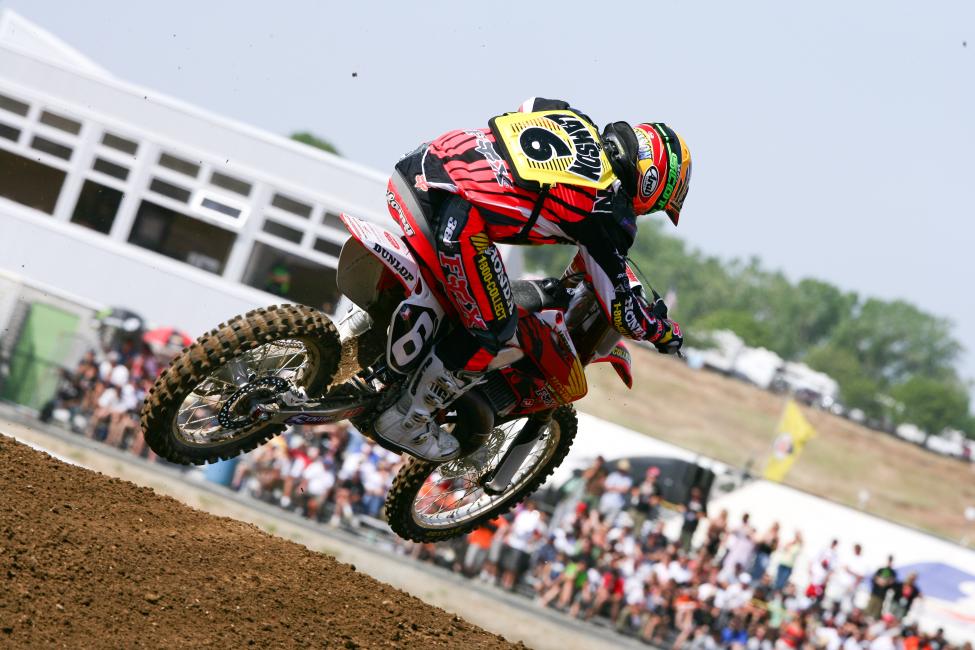 18 DAYS (Matthes)
That's the amount of time I think you fans will have to wait for the next official PR statements announcing some rider swaps. I think September 15 we'll see the Justin Barcia-to-JGR Yamaha PR, and that will be followed by Justin Brayton to BTOSports.com KTM. Wil Hahn's deal at Monster Energy Kawasaki is done, but not sure when that will be announced (same time as Davi Millsaps to the team, one would think). Yamaha generally waits a long time before they announce their lineups for the next year, but I've heard that because in years past we've seen riders pounding laps on their new Yamahas yet no one can talk about it, Yamaha will release the info sooner this year.
EXPLODING MOOSE (Matthes)
Sounds like the MX Sports Awards Ceremony after the Utah National was pretty fun and I missed a good time. There were plenty of videos going around (check Roczen's own Instagram, but only AFTER you look at DC's sign-jousting) of 450 Class champion Kenny Roczen enjoying himself afterward, and I think that's awesome. If you're worried that a video of a 20-year-old drinking beer while doing burnouts will immediately cause a bunch of children to become homeless alcoholics, I think you have bigger problems in this world. It's cool to see our guys loosen up a bit (figures that Chad Reed is in the video—he takes "loosening up" to a new level sometimes), and good for Roczen. We live in a world where everyone has a camera in their hands, so he had to know this was going to get out. And I don't think he cares. He just won $1.5 million when he crossed the line in the second moto. What would you do?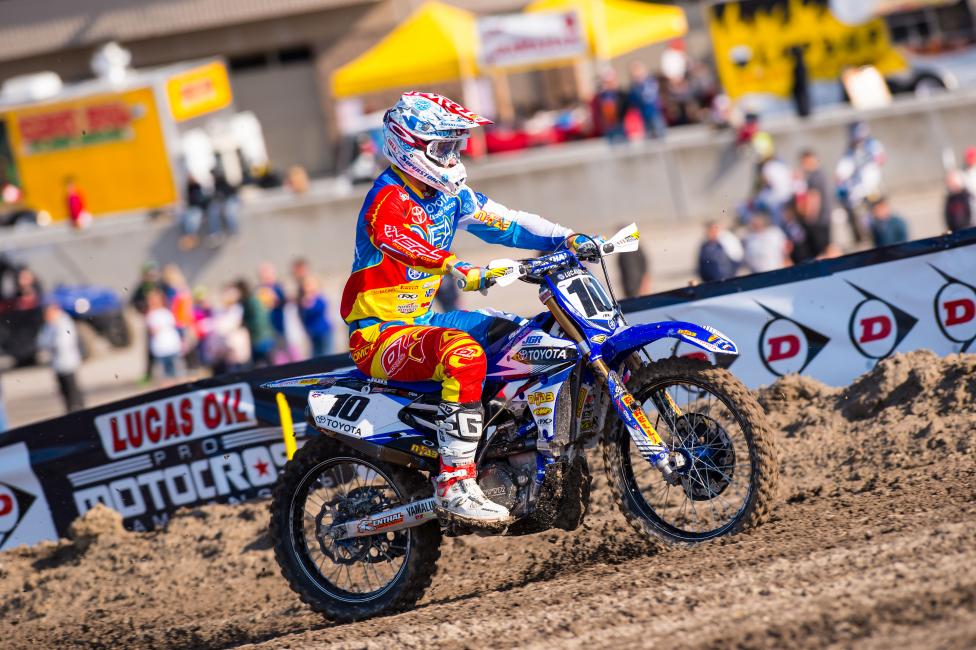 SEMIFINALS START TODAY! (Jordan Roberts)
Unless you're one of the many amateur videographers that entered the contest over the past seven weeks, the first day of 2014 Racer X Film Festival, presented by MotoSport and ISAW, kicks off today! It's been a long and tedious process, but we've finally narrowed down our selection from a large group of talented videographers to the following eight semifinalists:
Lee-Michael Bransgrove - South Africa
Jared Conley - Indiana
Stephen Erikson - Illinois
Patrick Evans - North Carolina
Max Hind - Great Britain
Maxime Messier - Canada
Lloyd Ramsey - South Africa
Luke Wolhuter - Australia
With the amount of quality entries we've received this year, we're glad our job is done and over with. Now it's up to you, the viewers, to decide who will transfer to the finals and ultimately win. The semifinals start today at 4:30 p.m. EDT with North Carolina's Patrick Evans going head-to-head against Australia's Luke Wolhuter. Head over to filmfestival.racerxonline.com to vote for your favorite video.

A DESPERATE PLEA FOR CLICKS (Matthes)
Yay, Team Canada! I'm helping out my motherland to get to Latvia for the upcoming MXoN by auctioning off a trip for two to Las Vegas, including a two nights' stay in a hotel and a rental car. And the best part is you get to sit in on a taping of the Pulpmx Show! Here's the eBay link.
Adam Cianciarulo is not Canadian, but he did go to Toronto once, separated his shoulder, and destroyed his supercross season... Anyway, here's a link to Cianciarulo helping out Team Canada.
Wil Hahn is also helping out Team Canada MX here.
Jason Thomas previews the 450 Class in 2015 in his Hammerhead MX Pulpmx column here.
David Vuillemin answers the questions from the last round in Utah in his Scott Motosports column here.
Tony Blazier profiles perhaps the greatest Honda CR250 ever made here.
HEAD-SCRATCHING HEADLINE OF THE WEEK
HEY, WATCH THIS
Motorcycle Superstore Accepts ALS Ice Bucket Challenge
Matiss Karro at MXoN 2014 track in Kegums, Latvia
Racer X Films: Remastered, Utah
RANDOM NOTES
An amateur motocrossers Honda was recovered on July 25 in Orange, Connecticut. The bike has a Pro AMA 6080 sticker as well as other stickers on the front plate. The bike's vin number is: JH2ME0S09SM701864.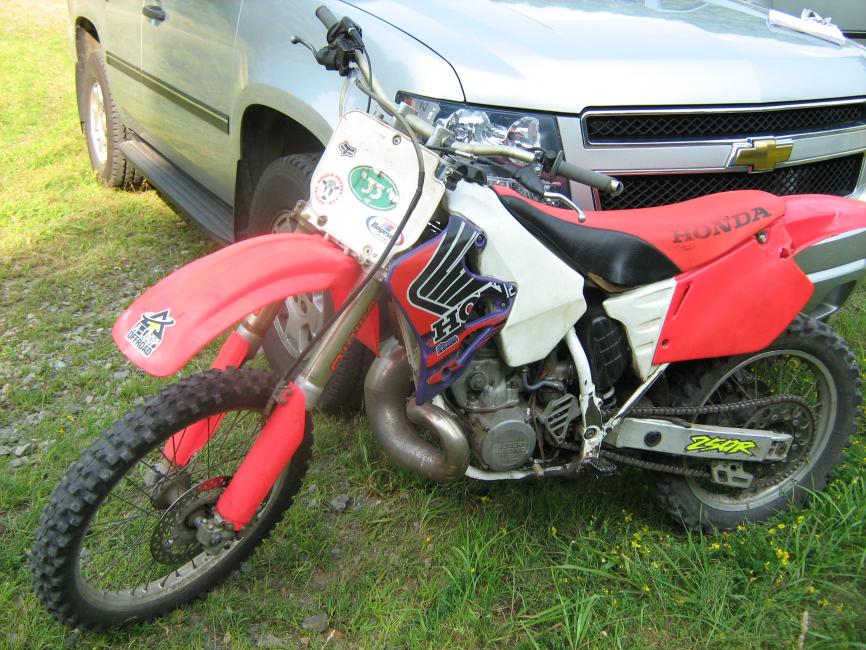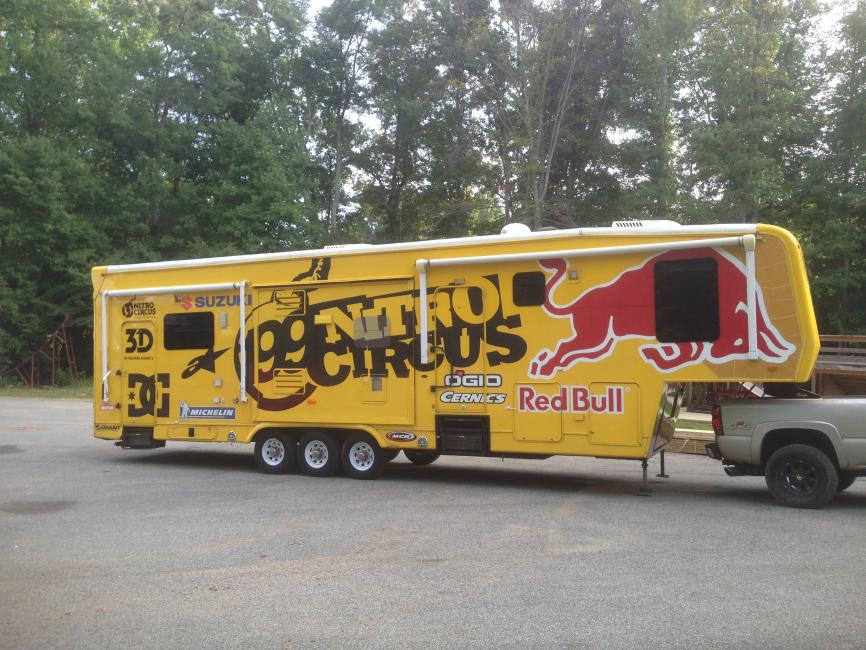 Thanks for reading Racerhead—sorry it's a short one. See you at the races.