Miller Motorsports Park
Tooele

,

UT
Race Center: Utah National
Lucas Oil AMA Pro Motocross Championship
By Jason Weigandt and Aaron Hansel
Jeremy Martin, Yamalube/Star Racing Yamaha, 1-1 for first overall in 250 Class
You didn't have to literally even race today or do anything, and instead you go out and go 1-1. Was that a coincidence, like pressure off? Do you think you would have done this anyway?
I did some testing last week at the farm, and we came up with a setting for the shock that was a lot better. I think it was evident today it was a lot better. I was a lot more comfortable and stuff. I think that had a big key factor in today's performance.
Are you serious? You tested after you won the title? You then went to work and tested the motorcycle? It wasn't good enough?
No, it was just a minor little tweak. It was enough that the lap time was a lot faster and stuff. It was a little thing that improved a lot of areas.
How good does it feel to go out there and win this? There's got to be something in the back of your mind, like "Don't let these guys win, to get any edge for next year." It's an awesome way to go into the off-season, I've got to think.
It's good. I won the championship a round early. I had [Blake] Baggett and [Cooper] Webb and a bunch of people who were putting up a fight halfway through the season, and I got picked for Team USA and stuff, so to be able to go 1-1 here today is nice because it was kind of like this is why I'm the champ, and this is why they picked me for des Nations, so it was nice.
Were you almost surprised yourself, the way you took off in these motos? You've won a lot of races this year, but it was one of your better days.
For sure. It kind of reminded me of the first two rounds. It was a good feeling. I got out there, I got good starts, and I rode smart. I chose good lines. I felt crafty like [Christophe] Pourcel out there. It was good. I really enjoyed today, and I made sure that when I won after the second moto that I really enjoyed it. I fist-pumped more than I should have maybe, but it's going to be a long off-season and it's a long season until next year, so I just really want to enjoy it.
I asked the same thing to your teammate: did you see this coming for your team a few years ago? You were a top amateur, but when you signed with the team they hadn't had this success yet. Did you know this was coming?
I know when I first originally signed with them they were kind of breaking through with [Kyle] Cunningham and [Ryan] Sipes won a few supercross races. Then the following year it was kind of like a rough season for them. I said, "If I work hard and I do what I need to do, I can get results for that team and I can be in contention for a championship." Last year I was really solid at the end of the outdoor season. The bike is so much better this year, what Yamaha gave us, that I knew I was going to be up there for sure.
The wins, the title this summer, how does this carry over to the supercross next year? What do you have to work on between now and then?
I think as a racer you're always kind of fine-tuning and trying to get better. The moment you settle, especially when you're on top… I think I remember watching [Ryan] Villopoto say it's really easy to slip off the top. You got to keep working hard. I think the momentum from this outdoor season is going to be good. I got my first race win at Vegas in supercross last year. A lot of eyes are going to be on me and wanting to see if I can qualify for my first supercross race.
Do you think you're stronger in one [more] than the other, or is it just circumstances right now?
I'd like to say I'm pretty good in both, but personally I enjoy the outdoors. You got to be a man, and you got two really long motos, and it's hot, and you got to know how to set your bike up. Supercross is fun, but you race late at night and stuff like that. But I do enjoy both of them, and I really want to have some success in supercross to say that I'm not just a motocross guy.
Do you have any more of an idea of what to expect here going into des Nations in Latvia? I know you've never been to Europe. I don't think you're super familiar with even the format of the race and all that. Have you been studying anything yet?
I've been watching a little bit of footage of the race on YouTube and stuff. And I talked to Baggett a little bit after the second moto about what it's like. I've got Dungey—he's right there too—so he kind of helps fill me in on stuff. It's going to come along good. I think I'm going to handle it pretty well.
What's the coolest thing that's happened to you since you wrapped up the title? I've seen award helmets, just all kinds of stuff. What's been the coolest thing?
I think for me personally, the coolest thing was when I saw the helmet that Bell gave me. It was a gold number 1 helmet, and that one really made it sink in. I was like, "Wow, that's pretty neat. Definitely not going to wear that one. It's going up on the wall in the house." – Jason Weigandt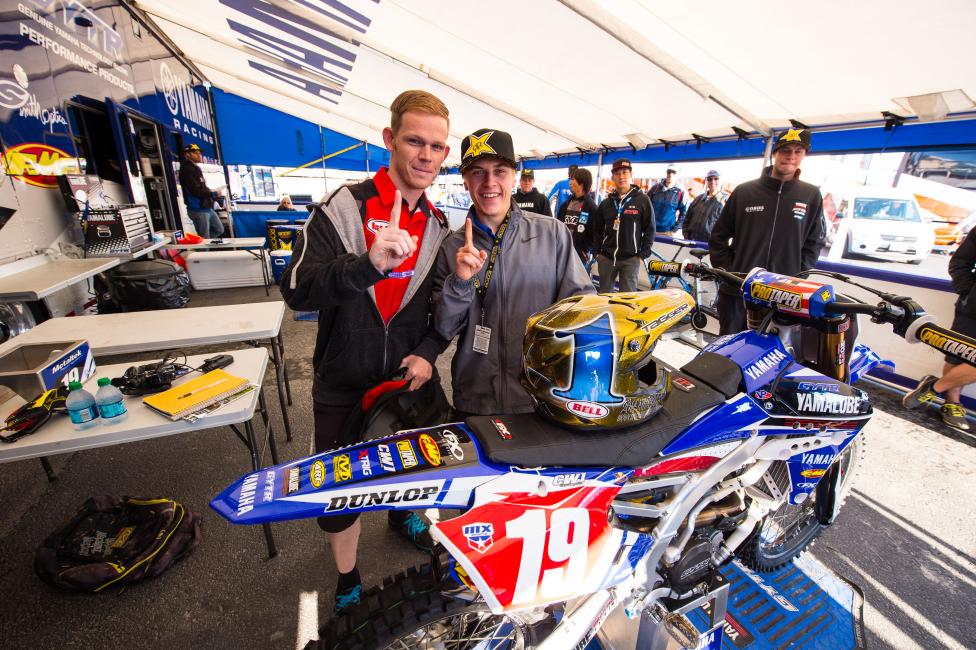 Blake Baggett, Monster Energy/Pro Circuit Kawasaki, 3-3 for second overall in 250 Class
There was a battle for second today. Do you care about finishing second? Does that mean anything to you after you've won a championship like you have?
I don't get bonus for second, so no, but I was going to make sure that somebody wasn't either.
You just want to beat whoever you have to beat?
Nobody was getting a bonus!
Take me through your motos then. The last few weeks have not been awesome for you. This was pretty good. Were the last few weeks just weird, or did you feel off? What changed today?
I just showed up in Utah and rode my bike to the best of my capability; that's it. Some days are my days and others are definitely not.
If you ever figure that out though…
I don't know. I might have to call somebody with some upper power to find that.
Take me through the motos today. It was crazy; the first couple laps of each moto, there were like twelve of you guys battling.
Yeah, it was, definitely. The track was a lot better this year than last year. It wasn't like Desert Storm 2013. It was better this year with the rain. It turned out pretty good. Of course I wasn't up there off the start, but just fought my way up to the front. I just charge until I see the checkered flag, and whatever place I'm in, that's what I'm in. I gave it everything I got both motos, and that's what I had. I didn't have anything special.
Are you at least glad the way you feel? I remember sitting in this room last year and you talking about wrist surgeries and trying this and trying that. Are you at least in a better position than you were when last year ended?
Yeah, I definitely think that healthy-wise I was healthier this season. There were quite a few mishaps that we had, but I just kept fighting back, and it worked out the way it is. But definitely healthier. I missed a supercross round and wasn't ready for the first one because I broke my foot, and then got hit in the eye. As the season went on everything kind of got better. Definitely my eye got better. Just kind of looking forward to continuing on and keep plugging away at it.
I think at the beginning of the year you said there was a chance you might have to get a cadaver eye. Are you feeling good now? Can you avoid that?
I'm pretty good, but the pupil band still hasn't healed itself and they said that within four- to-six months if it doesn't heal itself it never will. It's super bright. I still have to run tinted goggles. The only time I got to run clear goggles—it kind of felt nice—was when it was raining last weekend. The vision is back—the colors aren't the same—but it's not an excuse. It is what it is, and it's good enough to win races and just keep plugging away and trying to get as many championships as we can throughout my career. – Weigandt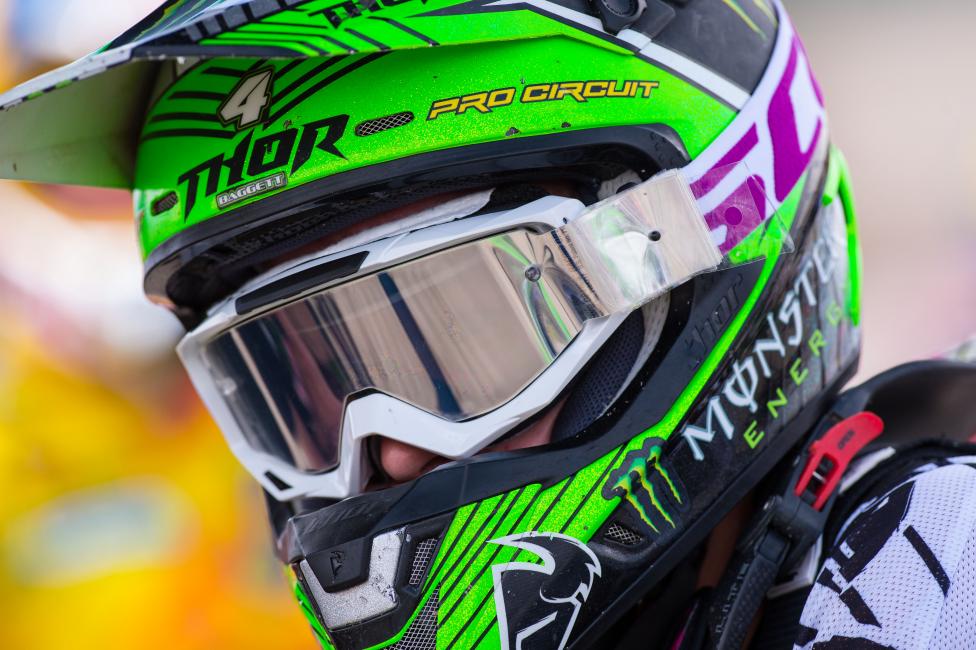 Cooper Webb, Yamalube/Star Racing Yamaha, 2-4 for third overall in 250 Class
Just talk about your day. I know you wanted to go out there and get second in points and you didn't get it, but you still rode pretty good.
Yeah, I felt like I rode really good. I finally got a holeshot, which helped the cause in the first moto. Rode a little tight first moto, but got second behind Jeremy. Second moto just didn't quite get the start and gave it all I had and just came up short.
Are you normally a guy that struggles with starts? This summer's been rough. Is that normally your deal though?
I don't know; it's hard to say. In supercross I had really good starts, but they're so different. Supercross it's a lot of technique, and outdoors it's pretty much who's hooked up and on the fenders fastest. It's a lot different, but I'll try to get those down for next year.
I know that you wear your emotions on your sleeve and you wanted second and you didn't get it, but overall the big picture, your second full season here, it's been pretty good.
For sure. Obviously, when it comes down to the last moto and you get beat, it sucks but overall I would say my seasons have been unreal. From where I was last year and even in supercross, to have a season like this, to even be a championship contender, to win races, to get on the podium, is a huge step for me. This was my first full season, so I learned a lot and I look forward to next year.
Talk about that second moto. It was you and Blake just right there the whole time.
Especially the first lap, we passed each other like three times. We were both going for it. I knew what I had to do; he knew what he had to do. We caught those guys and it was a little hard to pass, so I was trying to get around them as quick as I could to try to get a gap before he passed them. So I went all out and just kind of ran out of energy I guess. Kind of felt twenty-five minutes in, that's all I had. And then he got around me and walked away with it.
If I understand right, you guys came into that last moto even on points?
Yeah, we were tied coming into the last moto.
Just talk about the evolution of the team. You were a really strong amateur rider, but the time you signed on we didn't know that this was coming. So did you think you were taking a risk, or did you know that this Yamaha program and Star Racing had this in them?
Really, I didn't have any other options. Me and Jeremy kind of went through the same thing. Obviously, me and [Jeremy] came through together. He was always on Kawis; I was always on Hondas. I guess at the time when GEICO was—I think they had just won two championships—I thought I would go there. But honestly I'm happy where I am. I think it worked out for the best. I think it's cool to see the evolution just in the two years that I was an amateur and since me and Jeremy turned pro. Like you said, I don't think anybody saw this coming. I think our team did, but obviously if somebody would have said at the beginning of the year that we would be one-two-three guys, they'd laugh at us. So it's cool. The whole team is awesome and I think next year we're just getting better. – Weigandt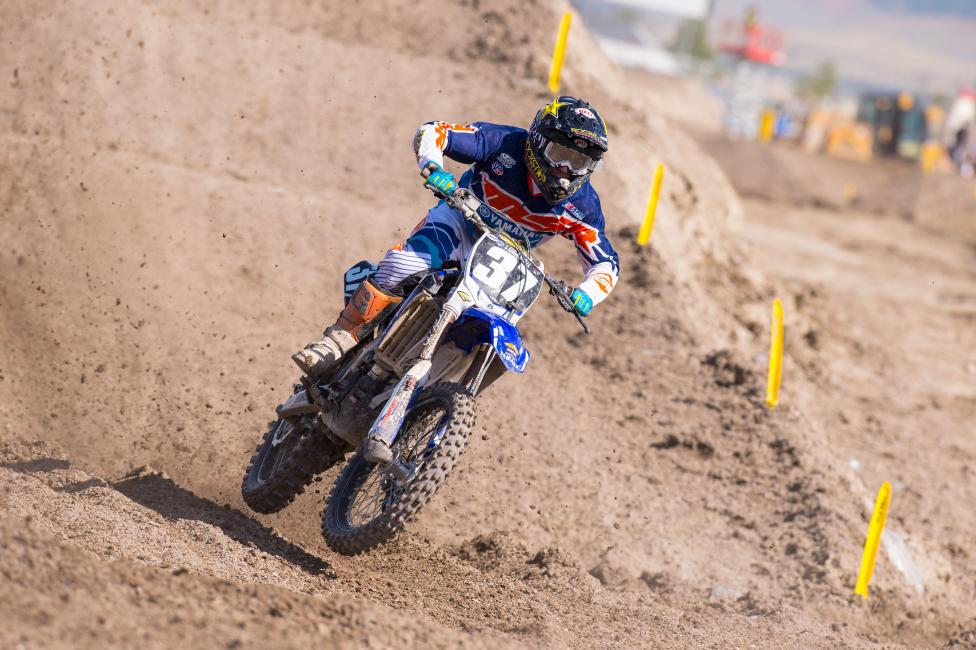 Erik Kehoe, Valli Motorsports Yamaha team manager, DNF-DNS for thirty-ninth in 250 Class (Christophe Pourcel)
What happened in that first moto with Pourcel?
I didn't see the actual incident. Christophe was riding pretty well—he looked a little tight—but I think he and Dean Wilson got together in a corner and they ended up both going down. It looked like he had some pretty good tire marks on his side. He was really sore and couldn't ride the second moto.
Thoughts on the year in general?
Overall, I think it was successful. Christophe is a competitor, and I think he did what he wanted to do by coming back and showing that he was competitive. The team came together so quickly—a new team, a new bike, and a lot of testing and getting used to the bike was all happening during the season. It was tough for him to get through that, but he proved he's fast and he proved that the bike is competitive. He got a lot of holeshots and was the fastest qualifier a lot of times, and I don't think that really surprised anybody. So overall I think it was a good year for him in coming back, getting his feet wet, and getting the ball rolling. I don't know if he'll be back next year or not. I know there's been a lot of talk and discussion, and he's a racer—he wants to race. I don't know where he'll be; our whole team was pretty much on a four-month contract. Now everything will go back to the shop and the situation will be reevaluated.
What about you personally?
Right now I'm taking it one step at a time. The travel and everything is pretty tough, but this was a fun project to work on. The Yamaha crew is pretty good to work with, and I'm looking at a couple different projects so we'll see what's next. — Aaron Hansel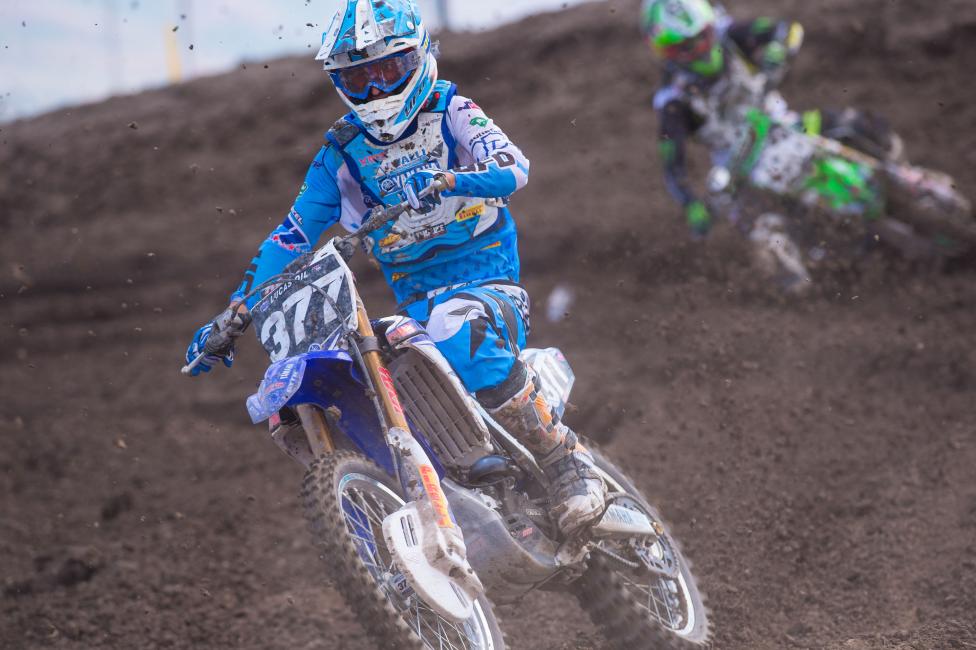 Chris Alldredge, Monster Energy Pro Circuit Kawasaki, 5-8 for sixth in 250 Class
The motos were good today. I was happy! I got better starts than I'd had and all week, and it was fun like it always is. I'm having a blast racing pro motocross! That's why we do it, right? Anyway, came off a decent start in that first moto and worked my way up and didn't really know what position I was in until my mechanic wrote on the board that I was in fifth. I was like, "Oh man, fifth!" It was a goal of mine, and that's where we ended up in that moto. But man, all these guys are in such good shape and are so gnarly! To be able to go that hard and that fast for thirty minutes plus two laps, twice—it ends up being like an hour and ten minutes—is amazing. This was a rough track too, so coming out with a sixth overall today makes me happy. I bettered my finish at Unadilla, and that's all I can ask for. Now I just have to keep working and get better.
Up in the box we thought you were going to get Marvin Musquin in that first moto. Did you see yourself inching closer?
I made some passes early, then I made a mistake and couldn't hit that big quad. Then Pourcel, Baggett, [Zach] Osborne, and all those guys got me back. Then I just tried to follow Baggett through, but like I said, these guys are all in such good shape, and to go hard like that for thirty minutes, I got a little tired and I didn't want to make any mistakes. I've kind of been crashing a lot lately and I wanted to fix that today.
Speaking of that big quad, I think you were the first 250 to do it in qualifying.
Yes, I was! I saw the 450s hitting it, so I was like, "If the 450s are doing it I can do it. It's easy." So I came out on the first lap of the second practice and said to myself, "It's now or never. We're going to find out right now whether or not we can jump it." I made it and then I know Blake followed me off it right after that. He saw me hit it and knew it was a no-brainer. But the track was awesome today. It was tough, rutty, and rough and I'm excited to race pro motocross.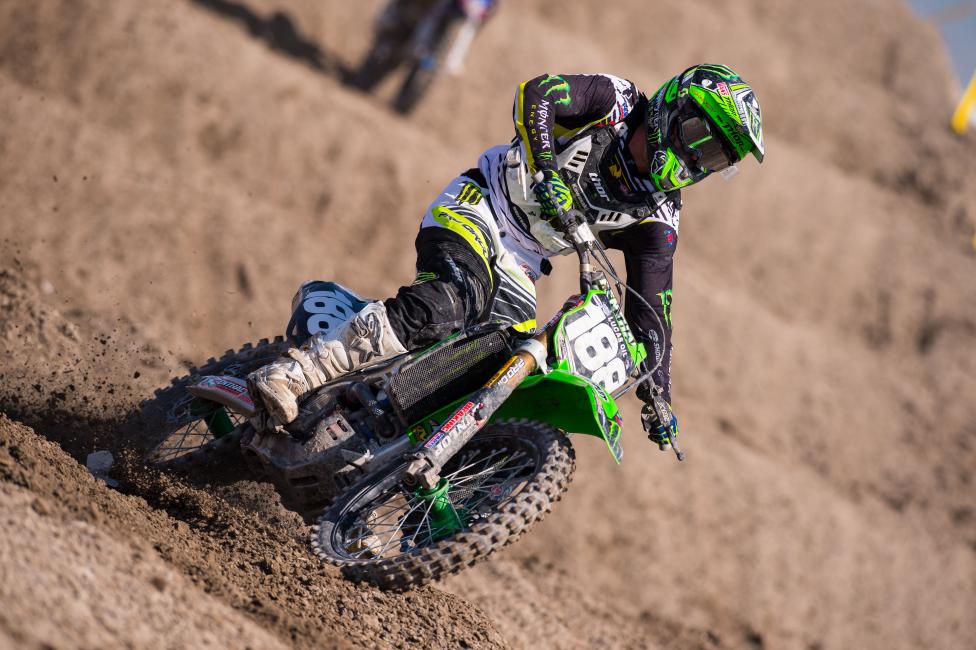 Talk about your overall experience of the three pro rounds you've raced in.
I didn't have any expectations, probably because I had no idea what to expect. I just came in with the mindset that anything could happen. These guys are hired professionals just like hopefully I will be.
You are!
Oh yeah, that's right! So, just to be on the same gate as them was an honor for me.
Did you have anyone running it in on you? Any welcome to the pros moments?
No, I didn't really have any of that. A second or third overall at Loretta's is good, but I thought that was bad for me, and after doing that I felt I had no room to talk about anything. I had no confidence coming in—I wasn't winning doing the amateur stuff—and was just waiting quietly to see what would happen. I'm not trying to make any enemies out there, so I was just trying to hold my line and be aggressive when I could.
Three high profile rookies came in after Loretta's, and you had the best results. Feel good?
I'm not going to lie; it is nice at the end of the day to see that you did better than the other rookies. But when the day is going on, the ultimate goal is just to go out there and do the best – Hansel