Miller Motorsports Park
Tooele

,

UT
Race Center: Utah National
Lucas Oil AMA Pro Motocross Championship
Team Honda Muscle Milk's Trey Canard ended the Lucas Oil Pro Motocross Championship with a flurry, taking moto wins at Unadilla and Indiana, and then sweeping Utah with 1-1 scores and the overall win. Trey won four of the last six motos!
Again, much of it points to a switch from Showa to KYB suspension. Canard explained some more about it after the Utah race.
Racer X: What has happened these last couple of weeks? You were good all season long, but it's gotten better and better.
Trey Canard: I think comfort. It's no secret we made changes with the bike. For me it was an instant comfort level that I hadn't had all year. I think that just builds your confidence level, and you can go faster when you're comfortable. I think these last few races were; I've definitely I got to attribute that to the team. I had a lot of fun.
Talk about your mindset coming in. You had won some motos coming into this weekend but you hadn't gotten the overall. It seemed like today you had the full focus and I'm going to win this race today, I've got to win this race today.
I've been through such a roller-coaster career, and I felt like if I didn't win today then it would be hard for me to continue to try to win. Just because even before I won a moto at Unadilla, you really start to lose belief that you can win. So for me I really wanted to put two motos together and just kind of give us a little bit of, I don't know, chugalug, to kind of go up for next year.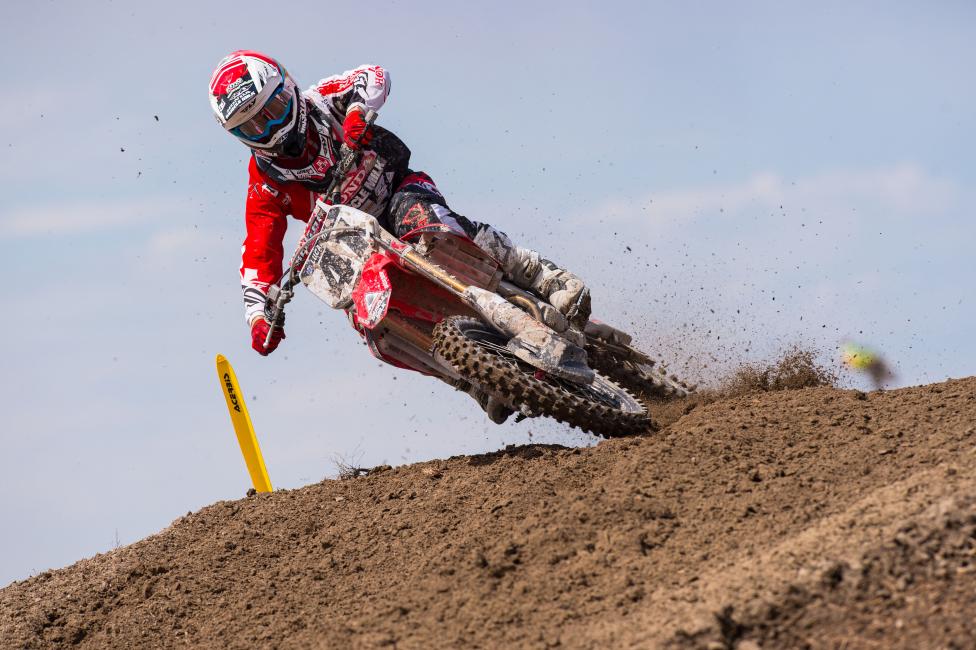 That's my next question—what does this do for you for next year? This is an awesome way to end it.
Yeah, this is way better than last year. I think last year I ended with a twelfth or something, so it was a great way to finish the season. I'm really excited. I think the team is moving in a really good direction right now. It's good to see Eli [Tomac] doing well on a Honda. I don't think it's been too much of a secret; Honda hasn't really done extremely well over the last few years. It's exciting for me to be a part of Honda and to see them kind of up there in the mix again. I feel good about things. I'm excited.
Even though you had momentum coming into this race, the racetrack still plays a part of it. Was this a good track for you?
Yeah, I think it was good because from this morning, my perspective was "Wow, they did a really good job," because this morning was a quagmire. It was a mess. I think it was even worse for me than last week, just because the ruts had no give in them. It's hard for these guys because we're not in a motocross venue. We're at a road race venue. So it's hard to really make it a track that we can compare it to a RedBud or a Millville or something. But overall I think they did a good job. I think the track had a lot more flow to it than it did last year. I agree with Eli [Tomac]; I think it could be longer, and I think they could have slowed it down a little bit. But I can't complain too much; I had a good day.
Talk about your starts, too.
Starts were good. I know in this type of condition when it's soggy and stuff, especially like last week, I just really wanted to get good starts, so I tried to really focus on that. I was pumped. I took a different approach to it. A lot of the guys, like Kenny [Roczen] and Ryan [Dungey] and Eli all went way inside, and I went probably three over from the box, which I think really helped me because I could sweep around rather than have to brake.
And your starts have been really good the last few races. Is that something you've worked hard on recently or just came around?
I think it's just the whole package. When you're comfortable and you feel good about your bike, it just boosts your whole morale. Your training weeks are a lot easier. You're not fighting the bike. It puts you in a right mindset. I think you need the right mindset to go out there with forty guys trying to get one thing.
In most motorsports, if you don't have the equipment you're not going to win, but this sport is so much the rider, also. Did you know all along that you were just changes to the motorcycle away from being able to beat these guys, or do you start to doubt yourself and just think that it's you? How do you separate what's you and what's bike?
I never want to make excuses, so a lot of times, of course [I think] it's me. But when we tried this stuff it [the difference] was instant.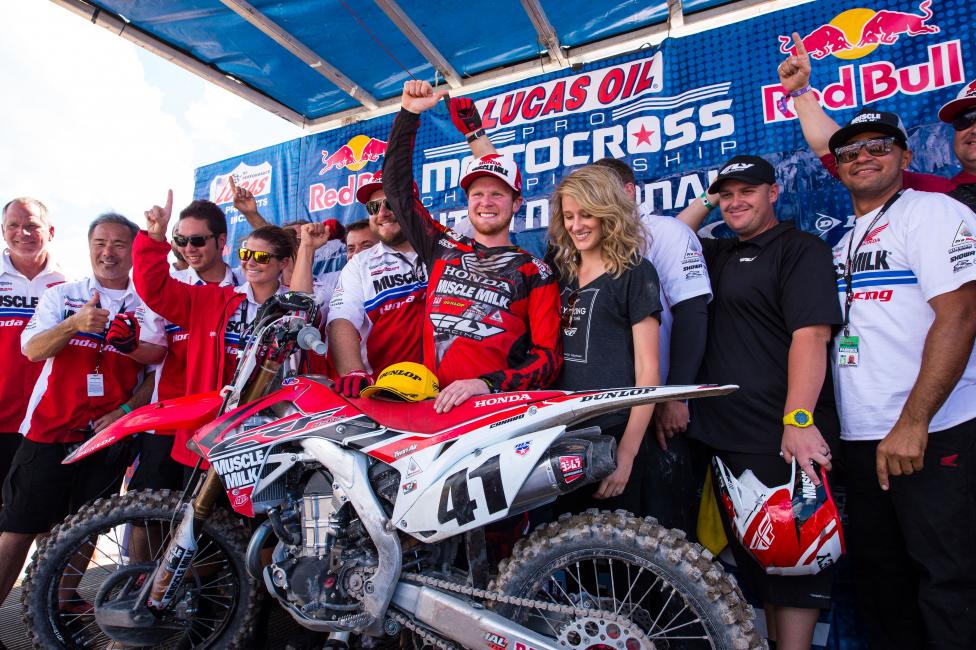 What's the difference you feel between before and after?
Like anything there's going to be certain characteristics within different pieces. Whatever the characteristic is about what I've been riding, I've really agreed with. I just feel that I have a lot more front-end feel than what I did have. The last stuff held up really well. It didn't bottom. But I just never had a feel, and it was really hard to ride. It made you really tired because you were just holding on the whole time. That was probably the biggest difference, and the shock too.
So you're talking about the feedback to you so that you know what the front end's doing?
I have to ride harder than I want to ride a lot of times, and when you come in and the bike reacts like it wants to shake the bars out of your hands, it's a scary place to be. You can't really charge that way. And I don't want to put down Showa at all. I feel like there's characteristics about what I've been riding that I really agree with, and I've got a lot of that from the feel.
What are you planning on for the off-season? International races, Monster Energy Cup? What's up for you?
I did Bercy and Genoa last year and I had a blast, but I think it would really cut into my preparation time. It makes you really tired to go over there, especially when it's that late in the year. I'm going to stay home. I'm going to Monster Cup. I think we've got some stuff to nail down as far as components for what we're going to run next year. That's the first goal, and then going from there.
Sounds like testing time?
Yeah, Tuesday we're right back at it.