Ironman Raceway
Crawfordsville

,

IN
Indiana
Lucas Oil AMA Pro Motocross Championship
By Steve Matthes, Chase Stallo, and Jason Weigandt
Trey Canard, Team Honda Muscle Milk, 3-1 for second overall in 450 Class
Let's back up and let's talk about moto one for a bit. Tell us how the day started off for you.
It was good. I tried to put in a really good lap in practice because I knew the start was going to be so key. I was pumped that I was third and then I got back to the truck, and they were like, "You were ninth because B practice was faster!" So I was still able to get a good start. Made some pretty good ground right away and I pulled a pair of goggles and then had really clear vision and was going to try to put in a good charge on Kenny [Roczen] and fell over, stalled the bike, and kicked on it for a minute. Then Ryan [Dungey] got me and I made a couple more mistakes. I was able to kind of pull together by the end of the moto. But okay moto two was awesome. It was just a lot of fun. It's a lot of fun to be able to do that. I was just pumped for every lap. Got a really good start and just tried to throw up as much roost behind me [laughs] as I could and just put in solid laps. I was really comfortable.
It looked like you were attacking. Is that confidence coming from last week or things that have gone your way lately? It seemed like right off the bat you were fast in both motos.
I just felt comfortable. I've felt more comfortable on the bike recently than I have all summer. When you're comfortable you're full of potential. I think that was it. Last week definitely did help; it was a big confidence booster. Hopefully get one of these things together [and win the overall].
What was the deal with the fans in that second moto? They were going insane for you.
I have no idea. I was going around the track and I'm like, "Why are they cheering?" Kenny must be really close. I don't know. I was pumped. It's such a cool feeling to be coming around the track and be able to hear it. It reminds me at like Motocross of Nations when all of USA was just cheering us on.
It looked like you were desperate to figure out a way to do a fist pump or some kind of move to reward them, and you were really trying on the last lap to give them something.
For some reason every time I've been in the lead on the last lap all I can think about is Grant Langston fist pumping over a triple when he crashed right after it. So I try not to do too much, but it was just hard to contain the joy.
I know at this point it's a long season for a lot of people, but are you wishing we had like ten more races? Things are really going your way right now.
I've had a lot of fun the last two weekends; that's for sure. It's exciting to come to a race and feel comfortable. It's fun to do well. But I am ready for a break for sure. We're all at this point; we're ready for a little break. It's nice to have a week and not feel the pressure. This really gets me excited for next year. – Jason Weigandt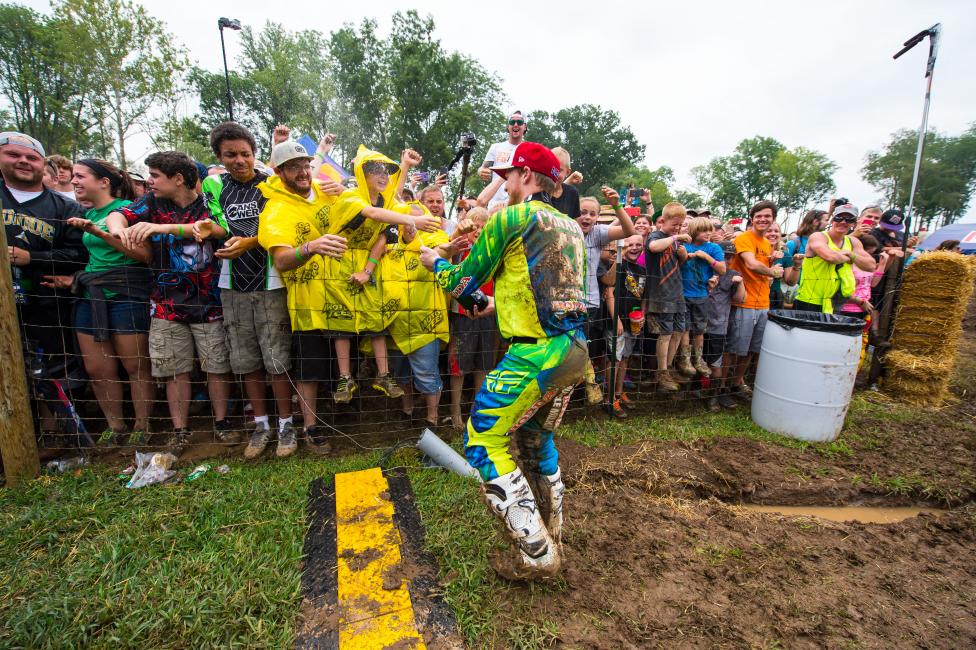 Ryan Dungey, Red Bull KTM, 2-9 for overall in 450 Class
Tell us a little bit about your day today.
Well, it was a little rougher. The first moto wasn't too bad. I got a decent start and was able to end up second. That was good. The second moto, that's where the downfall was I got a pretty decent start, was in there with the guys. They sheared that rut over and I just seemed to sit and spin in it and I really wasn't going anywhere and guys were just passing left and right. I didn't really understand that. It was tough in those conditions coming from behind. No excuses, though. I tried my best to make the passes I could, and I actually got caught up with a little bit of mud and ended up ninth so that's not ideal, especially at this point in this championship series with this. The mud kind of threw a little curveball at us this weekend, so that wasn't ideal. But I tried to make the best of it. It wasn't a matter of not trying. I did the best I could and lost some points. But taking it week by week, race by race, that was my goal coming in, and all I can do is the best I can do every time the gate drops, so that's where we're at.
Explain what happened in the second moto. Was that the start that you got caught in a rut or was it the first lap?
They tried to do maintenance on the track with the dozers and what would happen, they would pretty much shear the ruts over each other so it really didn't do any good for anybody. You just would get into that… it got thicker. It seemed like it got tackier and thicker as the day went on instead of soup like it was earlier in the day. I was right there with the top guys, I hit some of that mud, and I just started going nowhere. Really sticky, kind of bogged the bike down a lot. Guys were just passing me left and right.
You've had some good mud races in the past. What were your thoughts this morning when it started raining like that?
If anything it takes a little pressure off because there's so much that can happen in a mud race that it's out of your control. Staying on two wheels, being consistent, and I've been in the championship series before. It wasn't like a disastrous day. We lost I think 13 points but back in like '09 Pourcel. He had two terrible motos [in the mud at Southwick] and I was 13 points down and I left there 17 points up. I know it could have gone either way. Today it just happened to go Kenny's direction. He did a good job of getting starts. I know that's where he benefitted from. Even him going down twice I think in the second moto, and he still ended up second. So it's just hard. The mud, you lose your goggles. I just fought a lot of those circumstances today, but we all did.
You seem like you're taking it pretty well. You still could potentially win the title next week. What are your thoughts going into that? What are you going to do?
Just focusing on myself. Nothing changes. Hopefully we get a good track next week and the weather's good. The goal is to go out there and win races and get maximum points, and if the championship works itself out and it happens, then great. I still believe in it and I still have hope and faith and all that stuff, but it's looking a little slim. But you can't give up. It's like Trey had a deal, he came from behind in 2010, but by no means, I don't wish anything bad on anyone. If I get a win, and I don't get the title, then it wasn't meant to be. The middle of the championship we were starting to kind of get things dialed in and figure it out. We had a hole to dig out of. We closed that gap now pretty good I'd say. Today it just was a reverse effect. In these conditions it just throws a huge curveball. It's racing—it's what we all got to do. – Jason Weigandt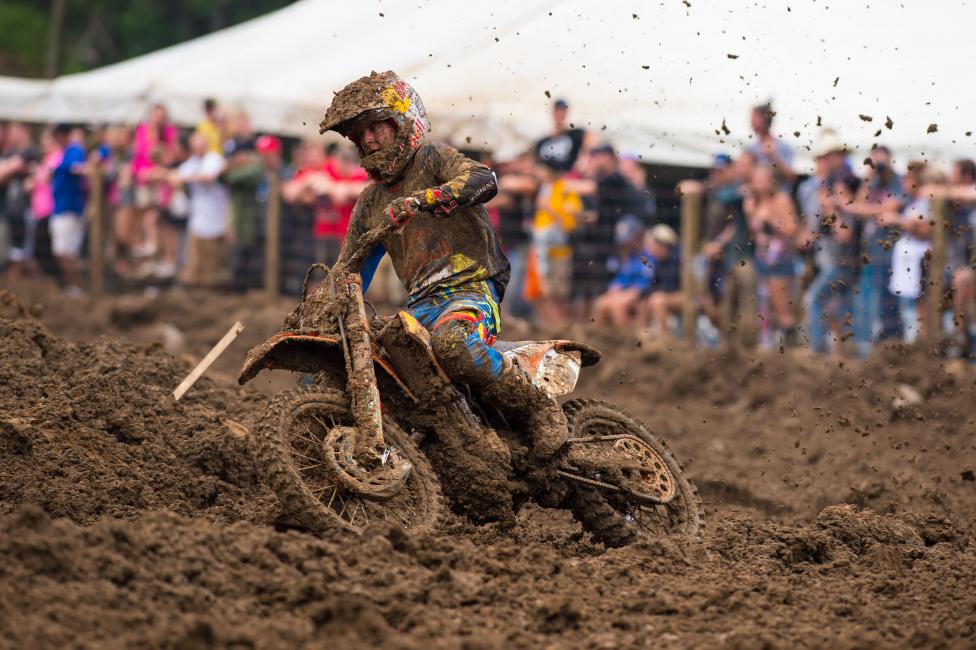 Chad Reed, Discount Tire Racing/TwoTwo Motorsports Kawasaki, 7-6 for sixth overall in 450 Class
I felt solid actually coming into the week. Like I said on our podcast, until the last month I've been basically chilling at home with the kids and with Ellie. It's kind of been my off-season. Maybe I just need to have a little fun again. I felt decent coming into the weekend and then practice went well. I got good starts both motos, like I was up there. Second moto I actually was about fourth out of the gate, and then I don't know if I wasn't aggressive enough or it was one of those situations where I found myself in the wrong place, wrong time. Second turn, third turn, it was just kind of like a chain reaction of finding myself in the wrong place. So that was kind of a little bit of a bummer.
And then I basically just had to let the race come back to me. Eli [Tomac] darted off and got goggles. Then I just tried to put my head down. When Dungey passed me he wasn't really going anywhere. Obviously, I've been in the championship hunt before, and I was kind of like, "Dang it, do I really want to mess with him?" I like him and I'd rather see him get good points. I was kind of like, "Okay, I'll just kind of sit with him." He kind of wasn't really going anywhere and then he made a mistake and actually kind of got stuck, and I passed him and then I just found my rhythm, and unfortunately towards the end there lost my goggles. Then just couldn't get by JG [Josh Grant] or [Andrew Short] Shorty.
Nice little battle there. I don't know if you knew that Sipes was third, but it was Sipes, Shorty, you, Grant, Peick. There wasn't a lot of passing going on but it was at least exciting.
I didn't know who was third, but I could see Sipes was there. Then I saw Shorty and obviously JG. Honestly, I actually felt like my pace was easily… kind of in normal conditions maybe pass those guys and go to third. I just didn't have any goggles on. I was just kind of a passenger really. But overall it was good. I felt like some of the feeling that I've been chasing is just coming back. I hate to say it but we're back on a spring fork and maybe that's why. But hopefully next week we'll have the same kind of comfort that we had this week. – Steve Matthes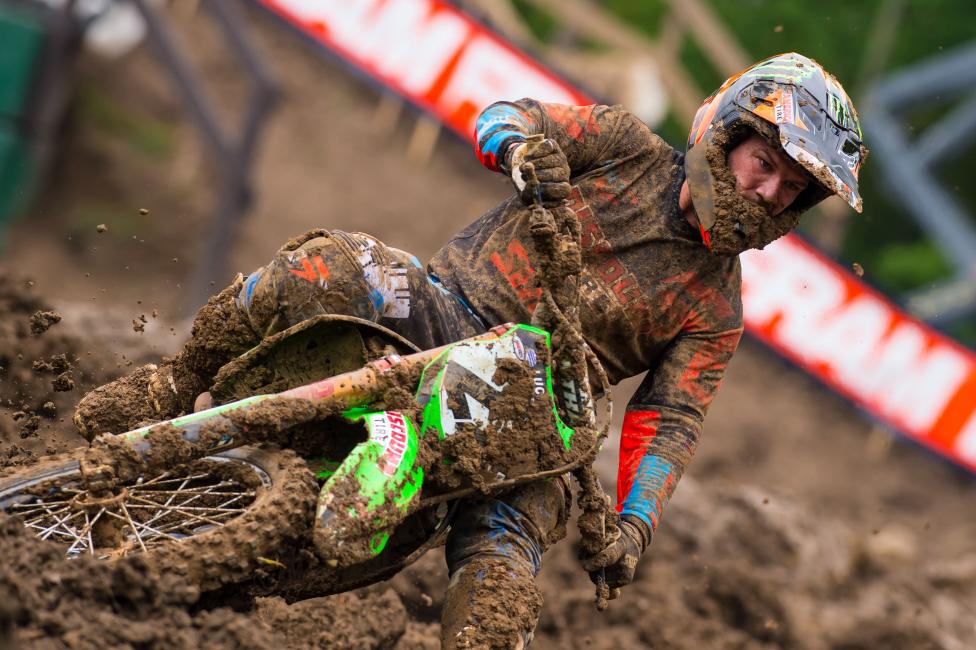 Andrew Short, BTOSports KTM, 8-4 for fifth overall in 450 Class
Good day for me, even though it was muddy, and I'm not the best mud rider. First moto, bad start and still came through to eighth. Second moto, really good start and finished fourth, best finish of the year. If I could have gotten around Sipes I could have been on the [overall] podium, they told me, but coulda, shoulda, woulda. I feel like this outdoor season didn't start the best, but it sure has gone well lately.
Good battle. You Sipes, Grant, and Reed right behind you.
I didn't know who it was—and Peick was in there, too. He was going for it. Going off the big hill, he like shot left. I was like, "Dude, you don't want to go that way." Start was huge. If I had started behind those guys, I honestly probably wouldn't have beaten them. It was mud-related. They pushed that mud off, and once you were off the main line, you were in that. – Matthes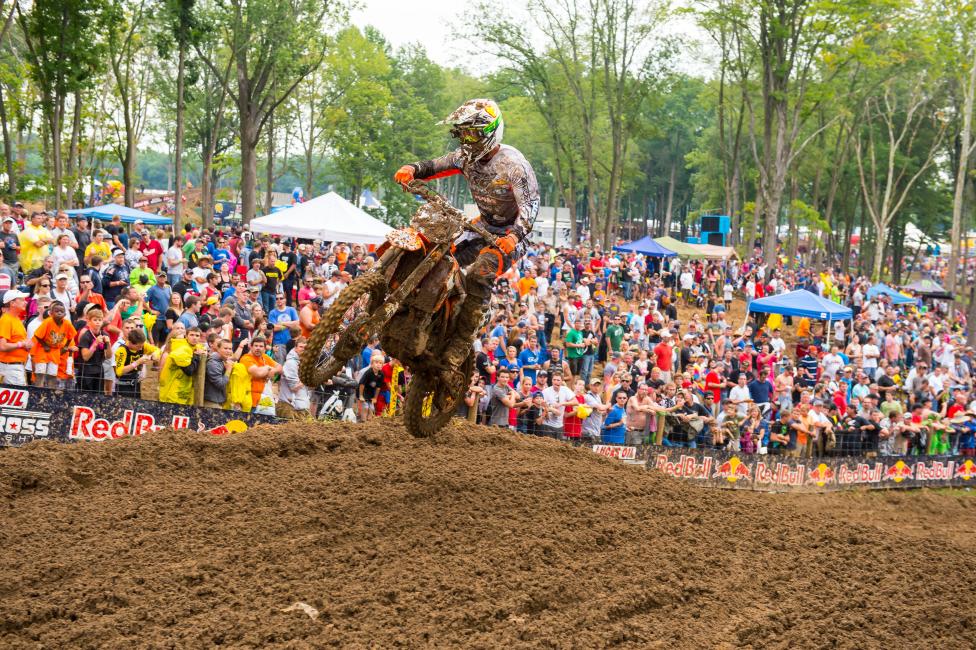 Fredrik Noren, Team Honda Muscle Milk, 9-8 for ninth overall in 450 Class
Two come-from-behind rides for you today, and in tough conditions like this. What's your strategy when you get bad starts like you did?
I don't really have a strategy, just go for it, I guess. Just try to make up as many spots as possible, as soon as possible in the moto since that's where most people kind of packed up. But just go for it I guess.
What happened in that second moto? Looks like you stalled it or something, and then you were about ten seconds back before you even got going?
I don't know. I felt like a big D rider, stalling the bike off the gate. I didn't rev it good enough and just spun super good, so I got a good jump off the gate and then like four feet out on the start line I was just sitting there. But yeah, it stalled on me. We had to get going again. It was a good moto for sure. My riding was feeling really good. I didn't think I was eighth whenever I crossed the finish line. That was good. I was happy with that.
Do you panic at all when something like that happens?
Not really. It is what it is, just try to make the best of it. You can sit and be bummed out about it, but it's not going to help you anyway, so it's just try to regroup and get going.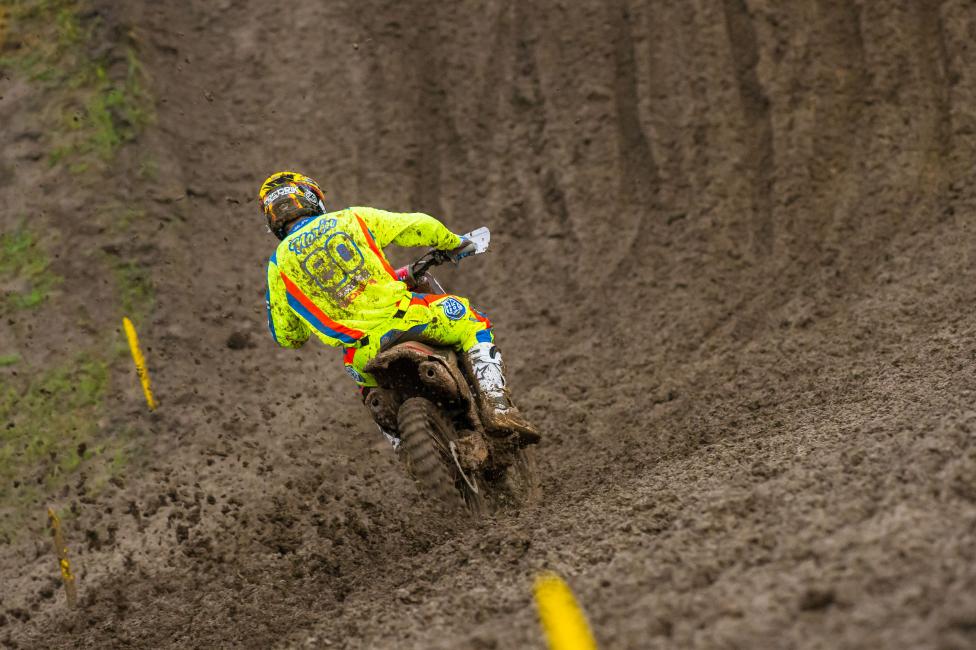 And when you went around Dungey you didn't think you were in eighth. Where did you think you were?
I don't know, really. He hadn't given me the board and stuff; I guess I missed it. I don't know where I was at. I felt like I passed a lot of guys but not that many guys.
Where does this rank as far as coming all the way back and passing a guy like Ryan Dungey at the end? It's got to be up there.
It's pretty cool. It's the first time I ever passed him. He's second place in the championship, so it's cool to pass such an experienced and a fast guy.
And probably don't want to give it up right yet. Still striving to continue this ride?
For sure. There's only one race left and I wish we had ten more races. It's so much fun every weekend to just go race and hang out with all these people. It kind of sucks a little bit. — Chase Stallo