The first-ever Thor Indiana National was a hit despite trecherous conditions all day. Rain hit at 7:30 a.m. and barely let up throughout the morning practice sessions, plus, more bad weather threatened. It never really opened up big again during the motos, but the damage done during practice was all it took, and the track was a mess. It wasn't the worst mudder ever, but it was muddy enough to shake things up, and certainly the worst mud race the series has seen in years.
But those dark clouds had a silver lining for Ken Roczen, who has said all season long that he like all tracks, and doesn't even mind if it's muddy. Roczen's years of European mud experience paid off when he grabbed the first 450 moto holeshot, and once Trey Canard crashed while in second, the German took off with an easy moto win--his first in a month. In moto two, Canard edged him for the holeshot, and Roczen made a few mistakes to let Canard get away. No matter, Roczen had the overall with 1-2 scores and opened up legit breathing room in the championship standings with one round to go. He's back up to a 20-point lead over Ryan Dungey.
However, it wasn't quite as easy as Roczen made it look. "When I saw that rain it really relaxed me a bit, I actually like these conditions," he said post race. "I needed that start, things haven't been going to well. But me and my mechanic, we said at the beginning of the season, not too high not too low. I went to the starting line really visualizing that start, just picturing myself getting that lead. The thing is, though, this was the first mud race I've ever done on the 450, and it was a lot different than riding on the 250 in the mud."
Dungey's first moto was okay, as he nearly crashed in the first turn, saved it, and rallied back for second. But moto two was a tough one. On the first lap, he hit a bottomless rut and buried his bike, getting stuck and losing a ton of ground. He'd fight back to eighth, without gogges, then lose more ground and end up ninth, handing over a pile of points to Roczen. "It's just a racing deal and that's how in goes in these conditions," explained Dungey post race, still trying to keep his chin up heading into the Utah finale.
Oh, Trey Canard was good again. He's on fire lately! He crashed a few times while chasing Roczen in moto one and ended up third, but in moto two he scored the holeshot and pulled away for the moto win--his second straight second-moto win. Canard says he's feeling much more comfortable on the bike lately, and having more fun at the races. Sure would be cool to see him pull off and overall before the season is out--there's not much time left, though.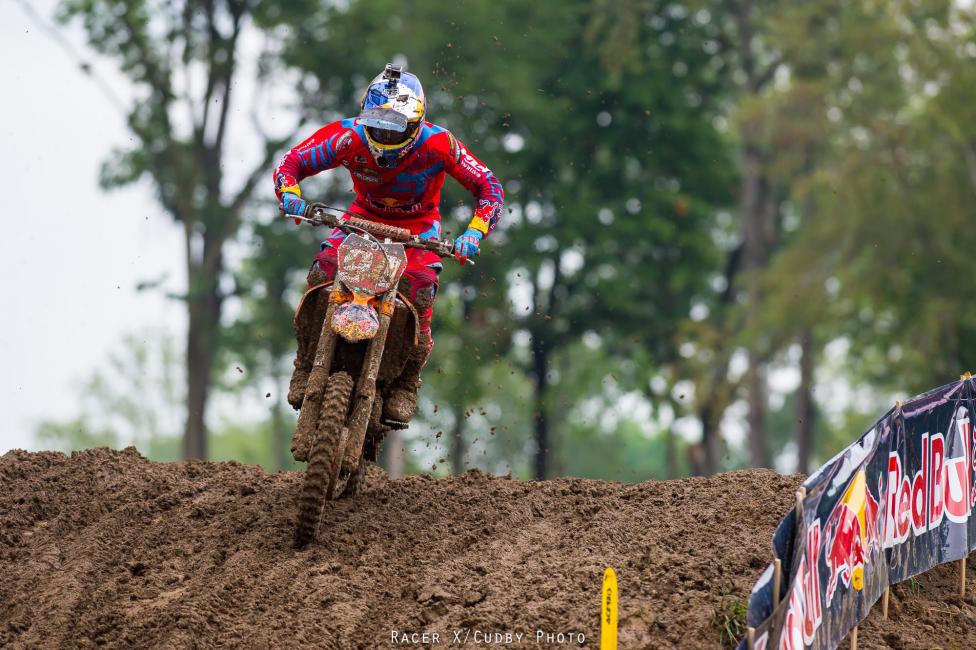 In the 250s, it's all over. Jeremy Martin is your new National Champion, finishing off a consistent season with second place in a muddy first moto to wrap the championship. He didn't even know he won the title when he crossed the line, but busted into tears when his team explained the news. "This is the greatest day of my life," said Martin when presented with the number-one plate.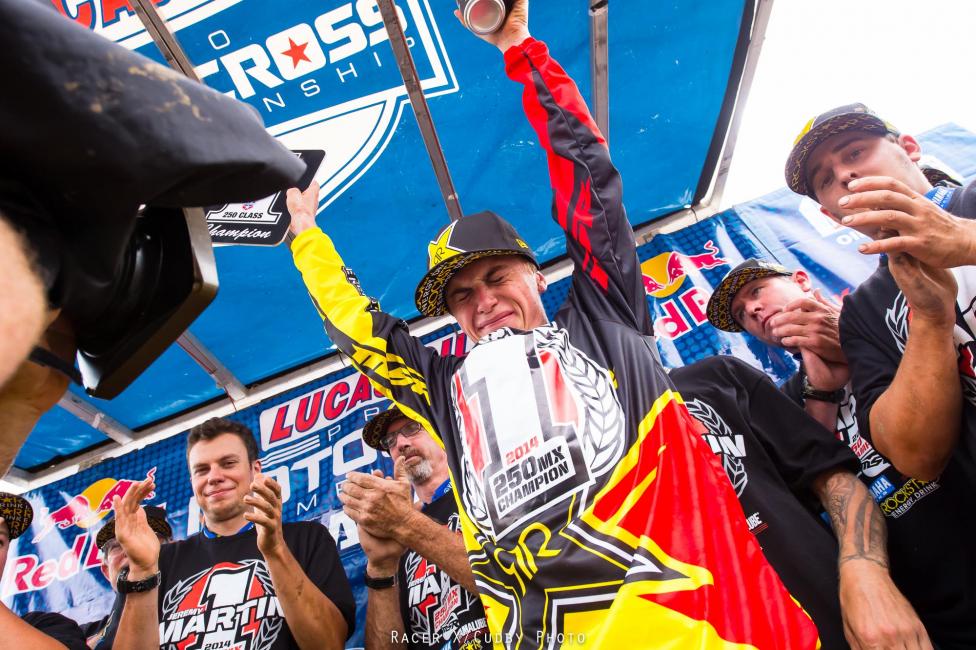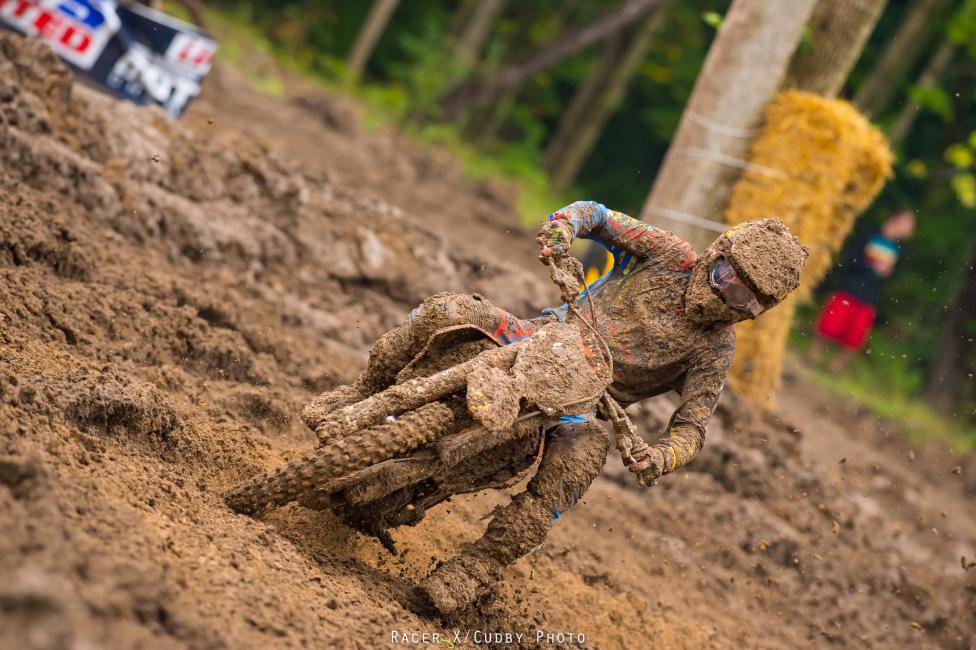 But the mud was the great equilizer in the 250s. Martin, perhaps with a championship hangover, had a bad second moto and didn't break the top ten. Meanwhile in moto one, Jessy Nelson grabbed the holeshot, took off and scored his first-ever moto win (and the first for his team). Nelson stormed back to holeshot moto two, and for awhile looked set to take the overall. "I don't know why, but I've always felt comfortable in the mud," said the California native.
Ah but Nelson's bid for the overall was broken up by Joey Satatgy, who made a pass for the lead after Nelson fell while leading moto two. Then Nelson tightened up, started making mistakes and going backwards, leaving Savatgy temporarily in the overall lead with 4-1 scores. Not so fast. The French duo of Marvin Musquin and Christophe Pourcel busted through to get to the 1-2 spots in the moto, respectively, and 3-1 scores were enough to give Musquin his fifth career overall win here in the U.S. "Yes we ride mud a lot in Europe, but I don't think I've had one mud race here in the U.S., and I live in California and we don't get any rain there, so it had been a long time," said Musquin.
Savatgy and Nelson ended up second and third overall, but it was still a big day for the podium noobs, and they both mentioned the confidence it gives them going forward. Nelson credited bike changed that helped him nail the starts, while Savatgy talking about rebuilding himself after a long string of injuries.
In the 450s, Andrew Short continues to do what Andrew Short does. Short challenged Ryan Sipes for the final podium spot in the second moto, and although he ultimately fell short (no pun intended), his second moto fourth, coupled with an eighth in the first moto, was good enough for fifth overall. With two more top tens this weekend, Short has nineteen straight top tens. Yeah, you know, doing what Andrew Short does.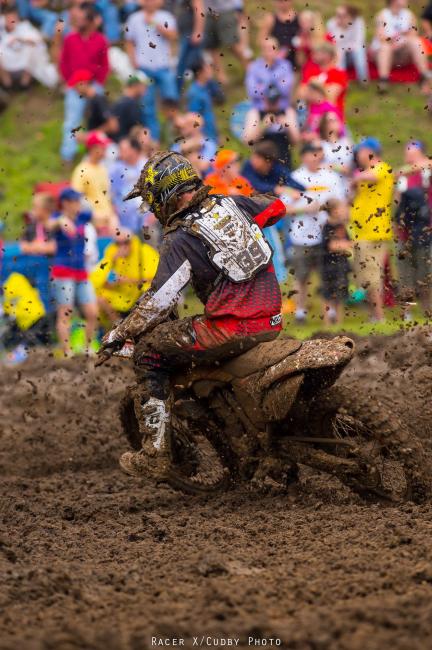 Speaking of Sipes, the Kentucky native basically walked away from pro motocross at the beginning of the 2014 to purse a GNCC career. He later decided to ride High Point, and did well. With Davi Millsaps injured all summer, Rockstar Energy KTM decided to help Sipes. Seven month later, Sipes is on the podium—his first career moto podium in the 450 Class. Sipes will return to the GNCC series after Utah, and will race the same at the same Ironman facility—for GNCC—in October.
Chad Reed had his best day of the season at Indiana. After pulling out of the second moto at Washougal due to a back injury, and crashing in the first moto at Unadilla at the next round, Reed had three straight races where he scored zero points entering Indiana. At Ironman, Reed finished 7-6 for sixth overall.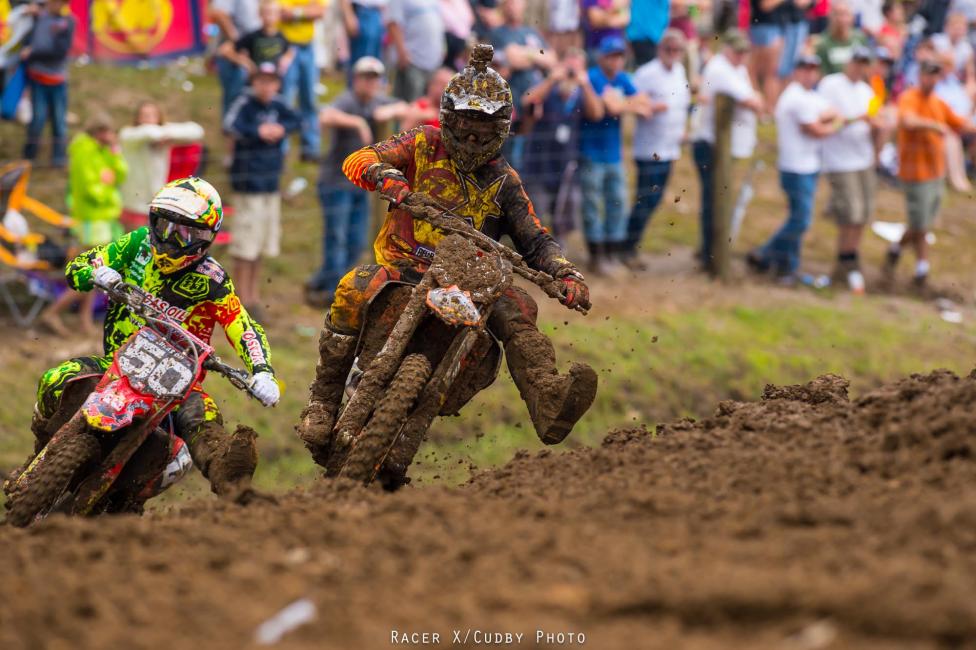 Fredrik Noren continues to shine in his replacement role with Honda Muscle Milk. Following a hard charge to ninth in the first moto, Noren stalled on the start in moto two, but was able to fight back to eighth—catching and passing Ryan Dungey in the process. Noren still isn't sure what he is doing for 2015, but said he'll know more after he returns from Latvia, where he'll ride for Sweden at the Motocross of Nations.
Josh Grant returned for a concussion suffered at Washougal. Grant had to recover from a bad start in the first moto to settle for 12th, but was back at the front in moto two and finished fifth. Grant ended the day eighth overall. Justin Brayton's day ended early as he reportedly injured his knee in the first moto. We will provide more information as it becomes available.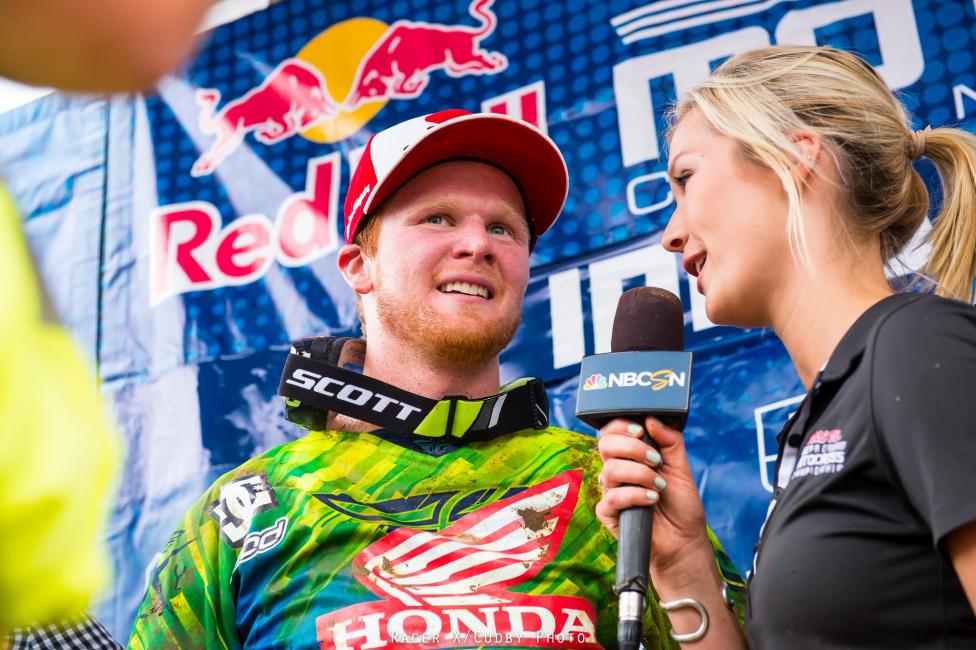 Following his first overall since 2010 at Unadilla, Christophe Pourcel was strong at Indiana. He started nearly dead last in moto one and bounced back to finish ninth. In the second moto, he maneuvered past Joey Savatgy and Jessy Nelson to latch onto the rear wheel of Marvin Musquin and made it interesting in the last few corners, but ultimately fell short of the moto win. Pourcel just missed the overall podium, finishing fourth.
Cooper Webb fell short of his title aspirations, but he ended the day strong with a fifth in moto two. Coupled with a sixth in moto one, Webb finished fifth overall.