Unadilla Motocross
New Berlin

,

NY
Race Center: Unadilla
Lucas Oil AMA Pro Motocross Championship
By Chase Stallo and Jason Weigandt
Ryan Dungey, Red Bull KTM, 1-2 for first overall in 450 Class
Definitely seemed like you were feeling it here down this stretch. Second half of the season's been pretty darn good for you.
Yeah, just trying to really focus on each moto. I know it's easy to get lost in the championship, and want that. That's the goal; that's ultimately what we're shooting for, like every season that comes about. But being where we're at now, we've got some points to make up, so I'm just really trying to focus each moto at a time and not leave nothing on the table.
That first moto was pretty tight. You and Ken [Roczen], it was like those yo-yo battles. He'd get close; you'd pull away. Did you know he was back there the whole time?
Yeah, I could sense him, especially when we got to the bottom of Screw U and then I couldn't see him, because he was right on my tail. As the moto went on I was trying to open it up a little bit more. He kept the pressure on the whole moto. I was able to open a gap at the last couple laps, but he was definitely keeping there. But we needed that moto win; that was important for us.
How hard is it when you have a guy behind you to push on this track? You've got to put it in the ruts, and if you get bounced out of line by going too fast, you're in big trouble.
In the first few laps I was out there, I felt like my lines were good. There were a few areas I could hear him come up on me. You kind of adjust to that. I'd switch my lines. I actually tried quite a bit of different stuff, being out there in the lead, which is unlike me to do. But just searching around, trying to find a better line. I actually found a few better ones. There were some outsides. Trey [Canard] was doing a good job today, like in practice he had the fastest times. Studying that you could see he flowed to the outside of the track in a lot of outside lines, which I think the insides were so deep. So moving around a little bit I was able to find some good lines and settle into it in a good, hard pace. It wasn't super hot here, so that intensity, all of us were going pretty all-out.
You've taken some pretty good chunks out of the points lead. Does it feel like a momentum shift to you?
A lot of people will say that, but honestly I'm just trying to focus on giving it my best, what I can control, and let go of all the things that I can't. Just really focus on being in the moment and doing my own deal. I know if I can get up front, it's more than just getting up into the lead and racing—these days you got to really attack and go strong, and a guy's going to be right on your tail, so that focus has got to be even higher. But answering your question, yeah, I know in the back of my head where we're at. But until it's all said and done, I want to approach each race the same as I have been the last few.
Talk about the first lap of the second moto. I think you passed both JGR guys and Kenny in, like, one straight. Do you remember that? You were just battling with them, and you went around everybody.
Well, he passed me. He came up on the inside. It kind of spooked me. He did get around and then we followed a few lines and we got to those rollers in the back and they all bunched up. I was like, "Dude, I'm going to go outside. I'm not going to sit here on the inside with them all." Ended up getting by two of them, Kenny being one of them, and then down the straight I got by. But the bummer part was the start wasn't great but also by the time the first lap went around those guys had five, six seconds on us. I was like, "Wow, they definitely took off." I knew it was going to be tough to catch them, and I was really pushing hard. I knew Kenny was behind me right there, putting the pressure on. I was able to close that gap. It might have been hard to get by Eli, even if he didn't make that mistake up that hill. Any more sooner, I would have landed into his rear fender. So that was good that we didn't do that. Then I set my sights on Trey about two and a half laps to go, and I was pushing. I give a lot of credit to him. Coming back, all that he's done, if somebody's got to win, it it's cool to see him. Nothing taken from him. He rode a solid race, and we came in second, and I secured the overall and made up some points, too. We needed that better start. That was where it all started.
Yeah, but he made it look good, making a pass was exciting.
But I want to make it as easy on myself as possible. For you guys it looked maybe fun.
How important was it in your catch-up phase here to hit Unadilla at this stage of the season? You have two track titles here, recent ones. You're hitting your stride right at a time when you come to Unadilla.
Unadilla's tricky. It can be tough on you, or it can be good, like today. It's a track that it can reach up and bite you quick. At this point in the season it just so happens this is the third-to-last round and it is go time. It's time to start doing what we're out there, supposed to do, expecting that from myself. But you never kind of know what you're going to get here. It's rained the last two years, as far as just the track because when it rains it's super rutty. Those guys said it was the roughest; I have to disagree. I think last year was even gnarlier with the ruts, because we got rain. This year it seemed pretty dry, but they tilled it and watered it a lot, which I think made for great racing. It started getting dry there at the end, but it was a good Unadilla.
I think this is the first time you've battled with a teammate being in the same truck. Is it anything different?
I mean, yeah, it is the first time with a teammate battling. I think at the end of the day when everything going forward, you've just got to do your own deal and focus on yourself. Whether he's on my team or another team, he's a good rider, and we all know that. You can't underestimate good guys like that because they'll sneak up on you and surprise you. But he's strong, and now we both have motorhomes, so we both kind of stay… He's in his; I'm doing my deal. And we see each other right before we go to the gate and on the gate, and that's pretty much it these days. We're just both in the middle of it and want to do good. There's respect though; I think that's the important thing. Not a lot of friendship in motocross but there's respect. That's a key thing. – Jason Weigandt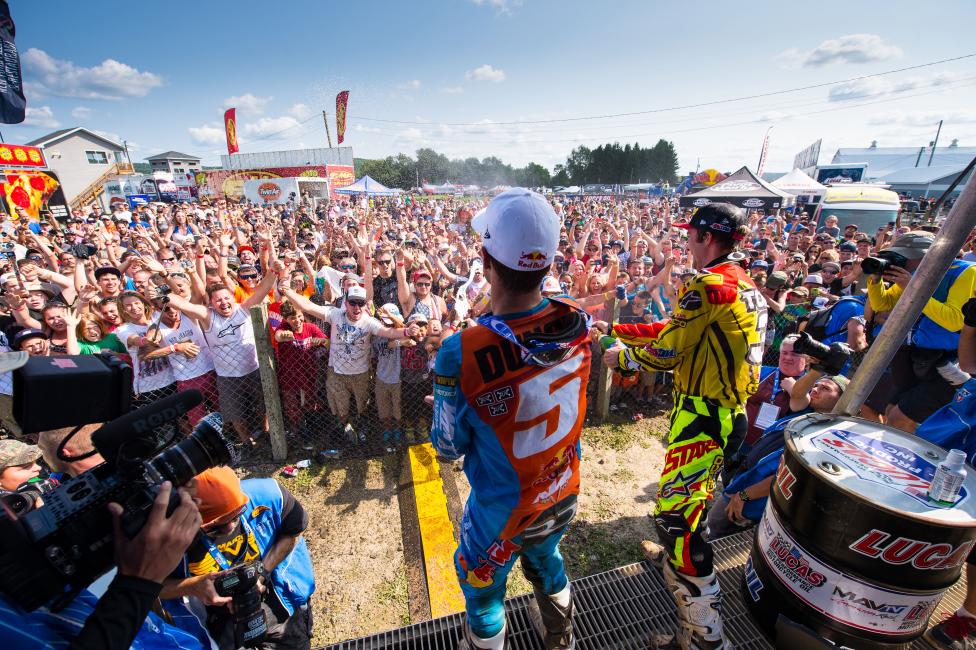 Eli Tomac, GEICO Honda, 3-3 for third overall in 450 Class
Take us through the motos. How'd the day go?
The first moto I didn't get a super good start. I was somewhere around fifth or sixth. Had to make a couple passes. Orange guys were up front early. I tried to make a little push somewhere in the middle, maybe before halfway or just after. Then I just kind of struggled to stay with them. I think I might have had the fastest lap, but that didn't matter if you only do it once. I just kind of had to back it down and kind of cruise to third in that first one. Second moto rolls around and I almost got the holeshot. I don't know if I did or not. [Justin] Brayton was right there. So that was a really good start for me there. Led the first few laps, but then Trey [Canard] got me. I think it was at the bottom of Screw U, bottom of that hill there. He squared me up. Then we had a really good battle for a little while. So that was fun. It wasn't fun eating the roost but it was good to dice with him and to see some Hondas up front.
You guys pulled a huge lead. You had like seven seconds on the KTMs early. Did you realize how fast you were going? Clearly, you guys were pushing each other and stepping up the pace.
I felt really on it. I was obviously the slower guy; I got passed. Once I got behind Trey, I kind of got a little fired up and stuck on his wheel for a while. The nail in the coffin for me was I missed a step-up in the back section; there were some rollers, and that's actually how Dungey got behind me because he closed up on both of us basically. Then that was it.
After the first moto you told me that you wanted to make some adjustments to your bike. I talked to your mechanic Frye, and he said that you guys did some stuff with the shock. What did you do? Did that really make a difference in the second moto?
It did make a difference. I felt like I could push him a lot harder. For me, I was just too soft, is the basic way to say it. In the first moto I was kind of hanging off the rear end of my bike.
Tell me about this track. You said you struggled a little bit in the first moto, but I'm sure everybody struggles a little bit; it's not perfect. It's not possible probably to have perfect laps every time.
No, I thought this was the roughest Unadilla. It started out pretty wet in the morning, and then a lot of the ruts—they were almost square. Everyone was going straight in and it had a big, nasty hook at the end of it on the exit. So that wasn't much fun. It was just different.
How about some thoughts on the drug testing? What do you think, and how hard is it to come up with a usable sample after a day when you've been sweating all day long?
I just sat in there for over an hour. Sometimes you can go right away. But I'm all for it. It needs to be in our sport. – Weigandt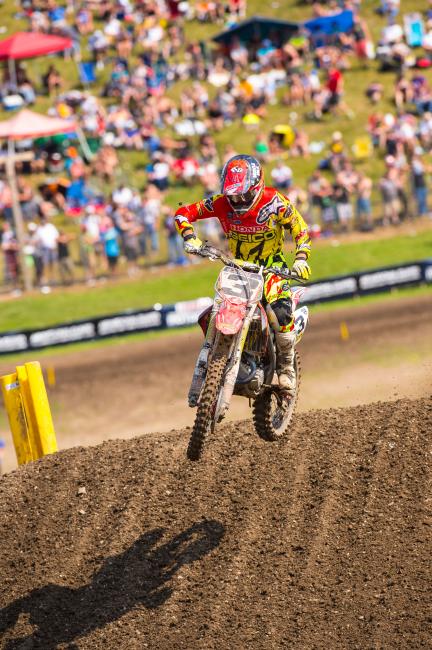 Fredrik Noren, Team Honda Muscle Milk, 8-10 for tenth overall in 450 Class
We were just talking about it you're almost to that next level from where you want to go from ten to six. You're close.
I'm so close right now I feel like, dude, just break into that next step. Eighth and a tenth for this weekend is really good. I'm happy with it but I feel like it's time to move up a little bit in positions. But it's good. Hopefully I can move up to the next step next weekend at Indiana and maybe get sixth or a fifth or something like that. That would be awesome.
And you're consistently there, where in the past it may have been a tenth here and then a DNF or something. Now you're consistently 8-10. But you want to strive for more because you're that consistent.
Yeah, I've been working a lot on being consistent this year. It was kind of like past year—I was fast, but I crashed a lot. This year focus on maybe not… I wouldn't say slow it down, but start thinking a little bit, maybe being a little smarter. Just being consistent.
The old, go slower to go faster?
Kind of that thing. So far it's working really good. But also, like you said, now when I've been up, I'm up here at eighth, tenth, I want more. It's a good weekend but let's get more. It's good.
This weekend your parents came in from Sweden for the first time in a long time. That had to be special.
For sure. They flew in Thursday. They haven't been here since 2011, and I haven't seen them since October. It's pretty special that they're here and cheering me on and just hanging out with them. We're going to go to Niagara Falls tomorrow and do a little sightseeing and just hang out with them. They fly back on Monday, so it's just a short trip for them, but for sure it's really cool that they came out.
They were probably waiting for you to get in the big rig so they can come and hang out in comfort.
[Laughs] Yeah. They like this. They want to keep seeing me under this rig so they can come here too. – Chase Stallo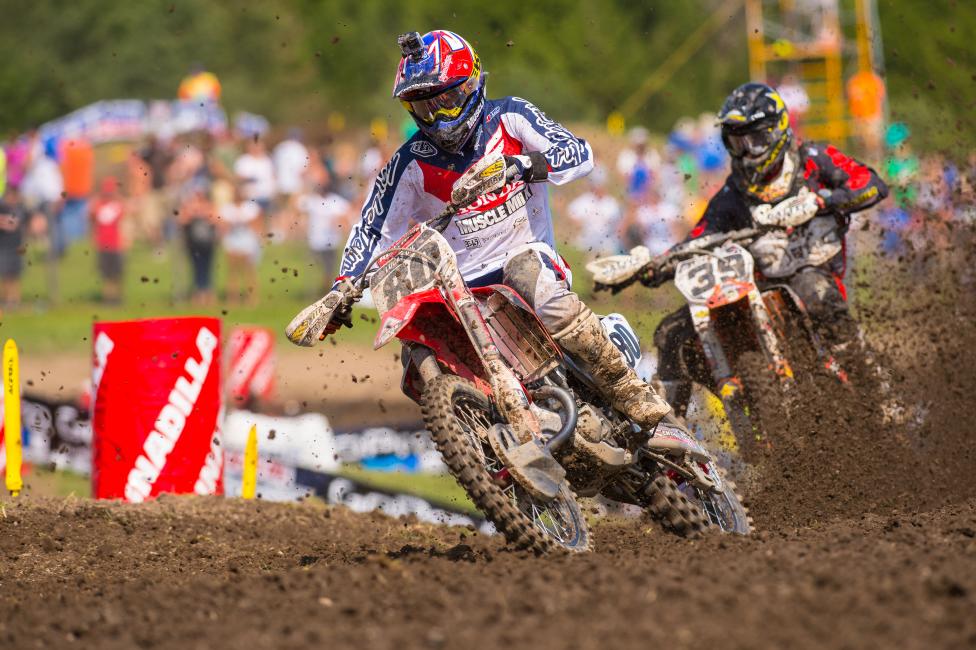 Phil Nicoletti, Toyota/JGR Yamaha, 7-9 for eighth overall in 450 Class
Where does this rank? Holeshots at home.
It was up there. It was awesome. It was cool that they let me go out for opening ceremonies, too, in front of the hometown crowd. It was unreal. It's good to see everyone cheer and see all the faces on the sidelines that I grew up with. So it was awesome. I wish I would have been able to stay up there a little bit more. First moto I got seventh. Second moto I had an awesome start again, was second or third. I just mentally and physically blew up after the halfway mark. Went back to ninth. Went 7-9 for eighth, so I'm happy. It's my last one, but I'm grateful the team let me do this weekend and see all the hometown crew, so it's good.
I heard you were doing Endurocross; is that right?
We were thinking about going to give that a whirl. See if we can go try and destroy some bikes. It would be something different. I'm looking forward to it. I have no idea what I'm getting myself into. I'm just kind of getting thrown to the wolves, but I'm excited. I'd like to even come up and do the GNCC up here and just kind of test the waters on some different stuff and see how it is. We'll see what happens.
So, what's the plan? Do you stay into training for this stuff, or are you just kind of like, "I just want to go race?"
Obviously, I like to go race but at the same time training never stops. You always maybe have a week or two weeks off, but you can always improve on base training and this and that. The past week and a half I honestly haven't done much, just went to Loretta's and watched all the Club MX boys. It was good to see all them do well. Like I said, training never stops. I'll always still play ride and stuff. We'll see what happens.
And into the busy season of free agency. Obviously you probably can't tell us anything, but just talk about that process. How stressful is it? What do you have to do?
It's not easy on any rider. That's why everyone.. if everyone could get a two-year deal, they would. It's just kind of a real sigh of relief. It's tough. The market's tough, a lot of contracts up for guys, good guys. It's tough because there's a pecking order just like anything. Everyone deserves more than what they get, without a doubt. But it's just the way the sport is, and it's tough, it's grueling. But you just try and have fun. We'll see what happens. Hopefully I can try and come up with something within the next two or three weeks, something falls out of the sky. We'll see what happens.
And when do you start to worry? November, December?
In the past I went all the way to mid-December before I even knew what was going on. For me right now, I think I'm ahead of where I've ever been so it's good. I still don't know. I'm still trying to play it by ear to see what happens. - Stallo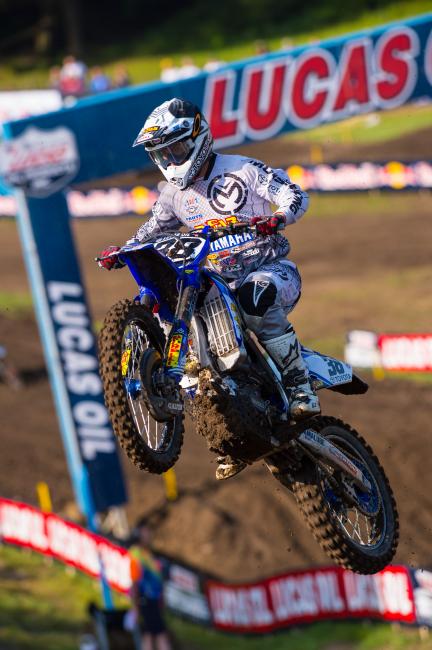 Ben LaMay, CycleTrader.com/Rock River Yamaha, 15-12 for fourteenth overall in 450 Class
Take me through the day. How'd it go?
It started out pretty rough in practice. I was just not feeling it. The track was pretty gnarly with the ruts. I think I ended up qualifying sixteenth, which was one of my worst of the year. But I knew it was just practice. Going into the motos, keeping a level head. I wanted to get some good starts and didn't get that in the first moto. It was a pretty rough moto, but I pulled out to a fifteenth, which was pretty good. Definitely not what I wanted but it was decent. Track was really, really gnarly. Second moto I wanted to really get up there and get in the top ten. I had a good start, and then there was a big pileup in the second turn, everybody went off the track. Like I said, the track was just gnarly. It was really hard finding good lines. The harder you pushed the worse you got on lap times. You had to just really mellow out and be smooth and be consistent. I got a twelfth in the second moto so I was pretty happy with that. Yet to crack the top ten, but two more rounds to go.
How do you attack a track that's this tough?
It's pretty gnarly with the way the ruts are. Most of them are really, really long and deep. Try to stand up and just squeeze the bike a lot and look forward. You make a lot of mistakes. A lot of people were making a lot of mistakes. The biggest thing was just being consistent and just taking it lap by lap.
Is it the old "go slower to go faster?"
Yeah, definitely. You really wanted to push hard and catch that guy in front of you because he was right there, but then you'd make a mistake, and then you'd lose two seconds or three seconds. Then you're like banging your head against the wall like, "Man, I wouldn't have done that." So you just got to be real mellow and go slower to go faster. - Stallo