Every year after Loretta's, someone will ask me "Who won the big classes?" But the very point of the race is that every class is considered equal, and none are bigger than others, especially if you're trying to scout future talent.
That's why each year we put together the Redux Loretta's Code Breaker. Once you introduce the variety of ages, bike sizes, physical and mental maturities, and other elements, you send up with a dizzying array of classes and champions—so much that you'll still struggle to figure out who really impressed. To really figure it out, you've got to crack the code on what each class means. And that's what we're going to do here.
The Youngest
Loretta's offers four 50cc classes. The first two are for beginner-type riders aged 4-6: one class for the venerable stock Yamaha PW50, and the other for the slightly faster stock KTM 50. These classes are hilarious to watch because the bikes and riders are so small, the helmets are so big, and the bikes are so quiet that you can literally hear moms and dads yelling encouragement and advice at their riders. And, invariably, that advice is "Go, (fill in name here), go!"
The crazy thing is, even at age five you're seeing a talent discrepancy, because the fastest kids don't even race these two classes. They race Cobras in AMA Class 1 (4-6). The Cobras are the opposite of the PWs—they're way fast and way loud. By the time a rider is good enough to run up front in this class (yes, the established veteran players of a class for six-year olds), they've got some style. This year's winner, Kace Evans, was running a huge orange Mohawk wig on top of his helmet.
Next comes AMA Class 2 (7-8), which is usually dominated by Cobras, but had a strong KTM presence this year (attention every other manufacturer: KTM is coming for you in every class and every discipline). This year's champ is Nick Romano, whose parents own a dry cleaning service in New York. Fughettaboutit! Romano has great style already, standing up around the whole track like he's Stefan Everts.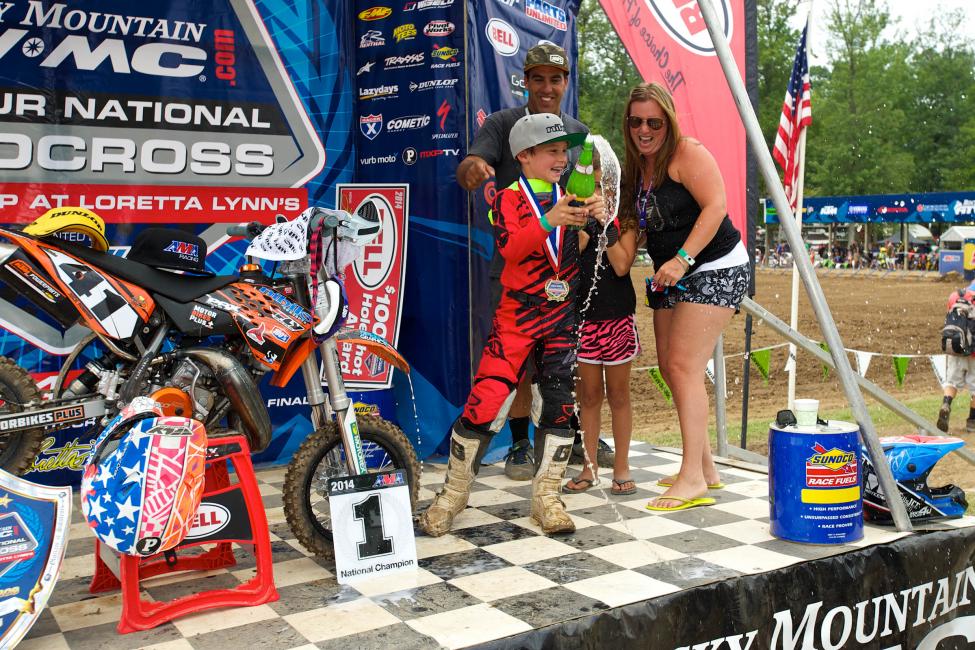 Now It Means Something
The 65cc classes come next, and that leads to a precipice for 50cc champs. The 65s pack real gears and clutches, so that's a big difference from 50s, and the ages get mixed up. There are 65 Stock (7-9) and 65 Stock (10-11) classes, and also 65 (7-11) mod. In that mix, some of the 50cc kings keep on ruling, and others fall to the wayside. Credit to Jett (with two Ts) Reynolds, who managed to carry his 50cc speed over to the 65 and claim two titles this year. Jett is part of that Bakersfield, California gang that owned the 50cc classes for a few years and is now starting to infiltrate bigger bikes.
Jett has a potential rival, though, in Josh Varize, who won the 65 Class that Reynolds wasn't in. They squared off together in 65 (7-11), and Varize won the first moto, then had troubles in the rest and went 37-6 to Reynolds' 1-1. Varize is part of a budding group of KTM riders who ride and train down in Southern California, at Perris, Milestone, and places like that. I know, I know, newsflash that California churns out good riders, but seriously, California has had a talent dry spell that matches up to its drought. Seemed like everyone was coming out of the Southeast for the last decade, so it's good to see the West Coast get some swagger back—fittingly, Varize has a sponsor called West Coast Chill.
There is a catch between squaring up Reynolds and Varize: Varize is nearly two years older. Birthdates are meaningless at the pro level besides remembering when to hook up your favorite rider with some love on Facebook. But down here, two years is huge.
Where the Playground Legends Play
In a newsflash as shocking as hearing good riders come from California, we present this info: Team Green has a lot of fast kids. Incredible, I know. Impressively, KXs swept the four 85cc classes, with Stylez Robertson taking the (9-11) titles and Garrett Marchbanks sweeping Mini Senior (for riders in the 12-14 age range). Of the two, Marchbanks was slightly more impressive, because those Mini Sr. ranks are a real talent sweet spot. Eleven-year-olds can still race 65s if they're small enough, and 14-year-olds sometimes race full-sized bikes. But, traditionally, everyone in the 12-13-age range races 85s, so if you're winning there, you're beating everyone. Marchbanks was on fire in his races, winning four of his six motos, and claiming the AMA Youth Rider of the Year award.
Robertson is the lead dog of that Bakersfield Bunch, crushing the 50 classes a few years back. The jump to 65s was a little precarious, but he seems to be on the right track again now—however, he's got a rival in Pierce Brown. Brown and Varize are the KTM answer for Reynolds and Robertson, and these battles could go on forever. Further, Brown and Robertson are almost the exact same age, and I'm secretly hoping someone Googles this story in 2020 and realizes what a genius I was for pointing out this rivalry early. Stylez Robertson Pierce Brown. There you go, Google.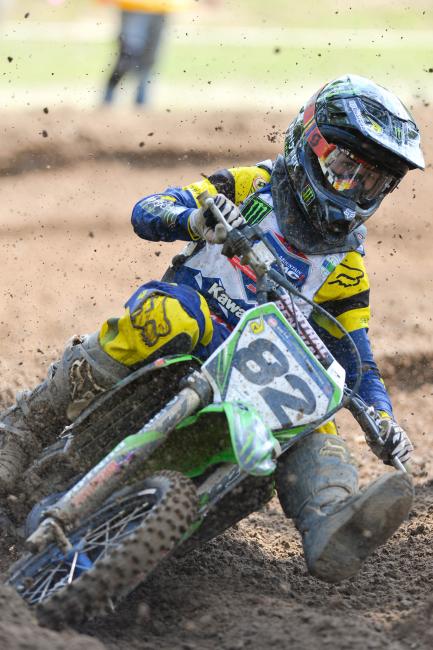 Marchbanks and Brown are from Utah, by the way. The state hasn't had this kind of talent since Stockton and Malone.
This was a big year for Robertson and Marchbanks, as you'll see via the "Winning on 85s means you're legit" stat. I'm going to give you some names of riders who delivered two 85cc titles in the younger divisions in same year: Damon Bradshaw, Jimmy Button, Nick Wey, James Stewart, Mike Alessi, Nico Izzi, Justin Barcia, Jason Anderson, Adam Cianciarulo…each one eventually had a pro factory ride at some point in his career.
Super(b)
For some reason the Supermini Class has gotten out of hand with talent. This is the 'tweener division for riders too big for 85s but not quite big enough for full-sized bikes, so they race on punched out 105s with larger wheels. I think Supermini was the deepest class at the ranch this year. Why is this class so popular now? I have two guesses:
1. Back in the day, graduating to "big bikes" meant 125 two-strokes. Now it means 250 four-strokes. I could see parents, riders, and teams holding back an extra year now before jumping on a 250.
2. The average motocrosser seems to be getting smaller. Back in the 1980s you had a bunch of lanky guys in David Bailey, Rick Johnson, Broc Glover, and Ron Lechien, who were all well over six feet tall. Jeff Ward was considered an exception to be so fast "despite his height," but today, tons of fast guys are built like Ward. I don't know why this is happening—I asked Johnson once and he thinks it's because suspension was so bad back in the day that there was a bigger advantage to just being taller and stronger. Either way, smaller kids seem to be faster now—so it makes sense that there are more fast kids piled up in Supermini instead of on full-sized bikes.
Austin Forkner made a strong case for "next" at Loretta's. Actually, he's made that case for a while now (remember, he killed the Supermini race at Monster Energy Cup the last two years). He didn't win both Supermini titles this year due to a crash while leading a moto, but he won his other class and proved to be the best of a very fast bunch. I'm not kidding, there are at least eight legit future pros in this year's Supermini division. Whenever they all move up, the B classes are going to be stacked. But wait just a minute.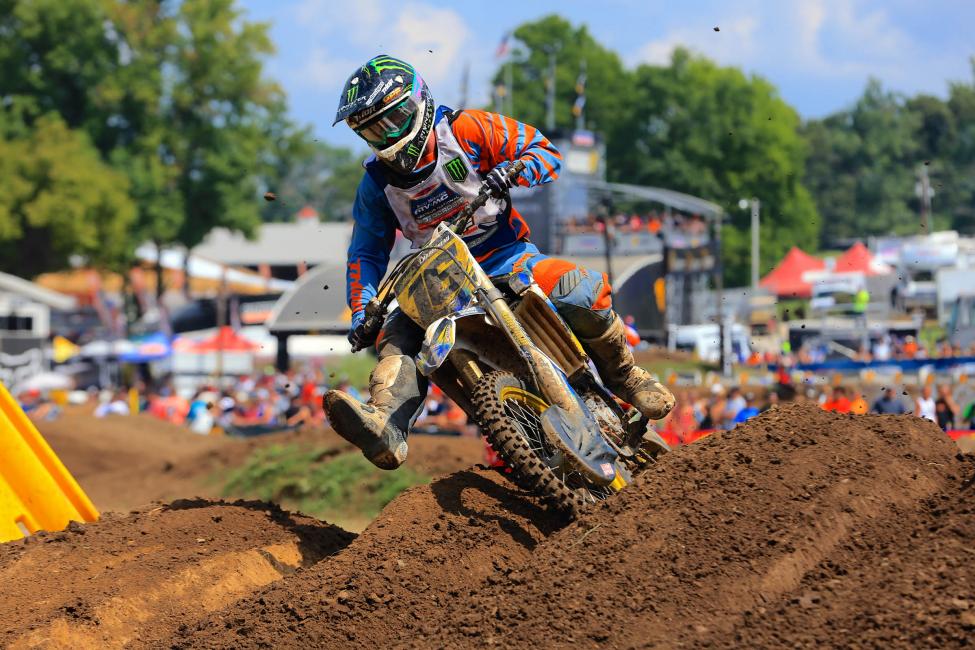 B is for Breakout
If you've cleaned up on 85s and/or Superminis, stay healthy, and keep your head straight, you're on the direct path to fame and fortune. But it's possible to hook onto the gravy train even if it doesn't work out on minis. The Schoolboy and B classes represent the first classes during the transition to big bikes, and a few riders find their groove, suddenly, there. Recently, I'm thinking about Trey Canard, Dean Wilson, Justin Bogle, and Aaron Plessinger making their big breakouts in the B ranks. None had won minicycle titles at Loretta's.
This year's B is for Breakout star is Tristian Charboneau. He's a Yamaha rider from Washington, who, like Bogle, Canard, and Wilson, was a front-runner on minis but couldn't get over the hump. Suddenly, he's blossomed and taken the AMA's new Top Amateur award for the best B rider—he won titles in his two classes. With so many top A riders graduating to the pros, next year could be Charbonneau's turn to shine.
However, there's a collision course coming with all of these Supermini kids about to move up, and lately, there's been a trend of fast A riders sticking around and racing again the next year. You've also got the Schoolboy classes, which jam in between the Superminis and the A and B classes. Schoolboy used to be the hot class for the fastest riders, because a 15-year-old A rider could race 125s in it—i.e. James Stewart or Davi Millsaps. You can blame four-strokes or something, but now Schoolboy is all muddled with one class still for 125s, and another for 250Fs, but they both carry B/C designations. Schoolboy still produces some of the best battles of the week, but gauging the future success of its top riders is harder than it used to be (Stewart and 'Saps were guaranteed hits as pros; this year's champs, Jon Ames and Dylan Merriam, are a few years out, so it's hard to say).
A-okay
If you're really advancing through the ranks, one of two things happens. If you're James Stewart or Mike Alessi, you blow through the B Class so quickly that you pretty much skip it and go A. Or, if you're Justin Barcia or Eli Tomac, you stay in B and dominate so badly that you just turn pro instead of going A. Either way, you're the fastest amateur in the country within a year of leaving the minis. Congrats, you've just become one of the richest people in your age bracket.
Other riders develop more methodically. This year's A classes had some legit talent on the precipice of real success, but all followed winding roads to get to this point. RJ Hampshire dominated, and he was a nobody just two years ago. Jordan Smith has always had great talent, but lately he's been injured. Plessinger broke out last year in B and was good, but not spectacular, in A this year. Chris Alldredge has had a terrible run of injuries, but finally healed up and started winning a ton at the other big races this year. What do these four have in common? They have guaranteed factory pro deals.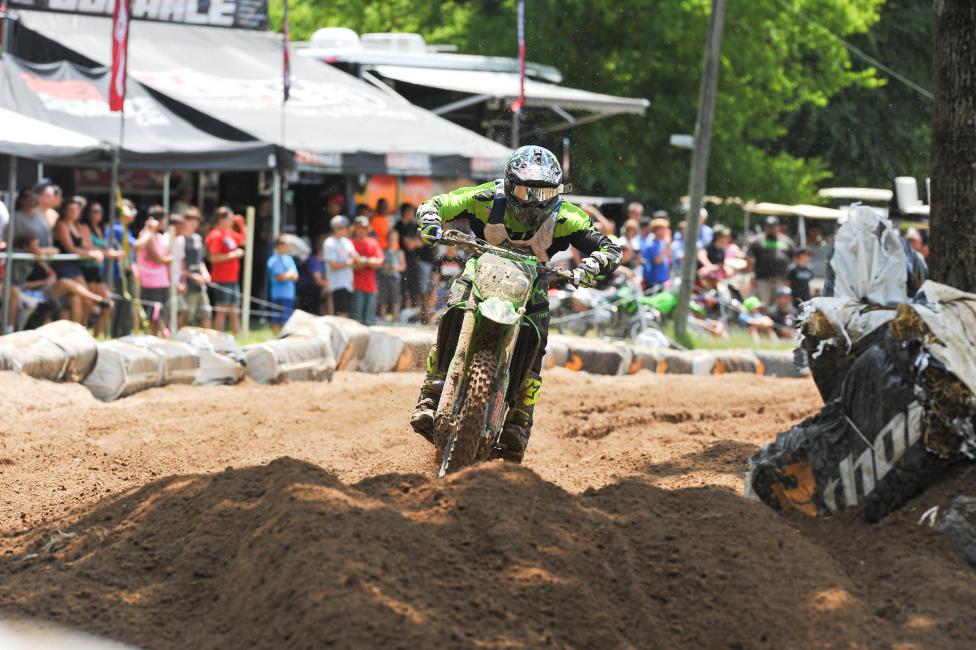 This is the biggest new trend in amateur motocross. Once GEICO Honda figured out a way to break Monster Energy/Pro Circuit Kawasaki's stranglehold on the pro 250F scene—by grabbing the best amateurs earlier than anyone else—all the other teams had to react. Now Kawi is more aggressive moving riders up (Justin Hill, Cianciarulo, and now Alldredge), and Yamaha is coming on strong. KTM is putting a similar program together via a pro satellite team that I can't name yet (but I can give you its initials: TLD).
So the teams have this figured out. Now the riders are reacting. If you don't have a factory ride leaving Loretta's, you're looking at a tough road as a pro, and hence, some riders refuse to leave! Luke Renzland, Nick Gaines, and Colt Nichols, among others, elected to stay in the amateurs an extra year in hopes of a breakout, and a pro deal. Gaines and Nichols were close, but Renzland made it, winning 450 A for the second year in a row, pressing Hampshire in a moto, and getting picked up by CycleTrader.com/Rock River Yamaha for Unadilla this weekend.
Dreams still come true at this place, but the memories are getting more complicated. Same place next year, we'll try to explain it all again.