By Denny Stephenson
Man, does time fly. It seems just like yesterday all anyone could talk about was Ryan Villopoto's "will he or won't he" decision on racing this season's Lucas Oil Pro Motocross Championship. Now, with nine rounds in the books and only six motos remaining in each class, the only relevant question is, "Who is going to win these titles?"
It seemed like a few weeks back Ken Roczen and Jeremy Martin were dominating and had both classes locked up. But, not so fast, my friend. Apparently someone didn't give their teammates Ryan Dungey and Cooper Webb the memo. And lucky for us fans, it looks like we will watch both titles go down to the wire. But let's back up a bit and take a quick review of the season so far.
The opening round kicked off at Glen Helen. Yes, the beast of all motocross tracks was back on the schedule. This track kicked my ass back in the day and was actually my last ever national. The place is gnarly. But local boy Josh Grant knows this track well and landed back on the motocross map with an incredibly impressive opening moto win. If that wasn't enough of a surprise, Jeremy Martin utterly destroyed the 250 Class in both motos. You remember the kid who didn't even qualify for the first two rounds of East Coast Supercross? Well, this was clearly a new JMart.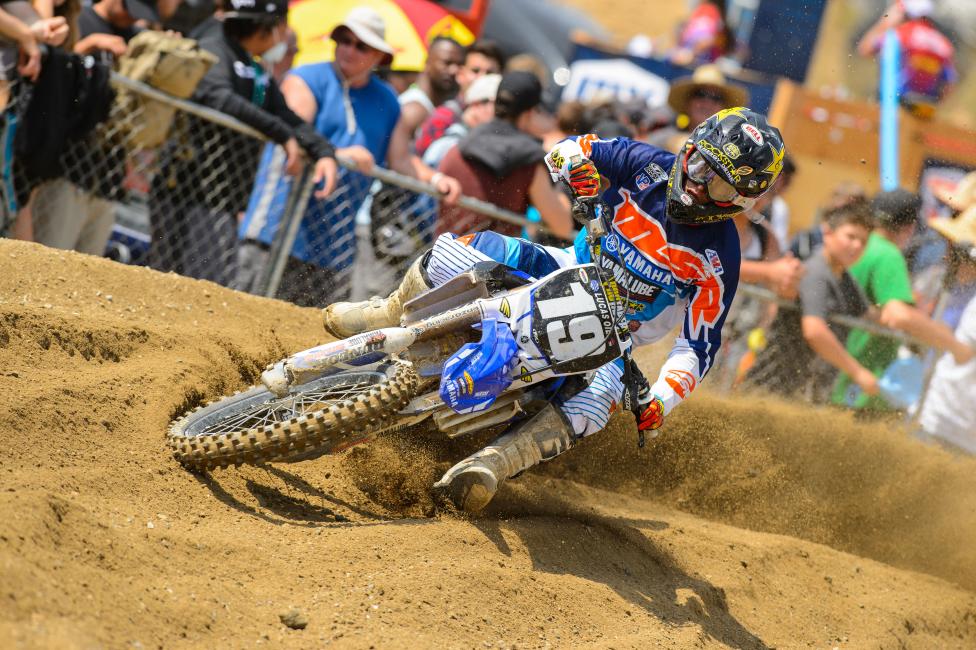 The second 450 moto was one for the books, as Roczen led until the final two corners, when Dungey literally stole the win, overall, and red plate from his fingertips.
Glen Helen still claimed its victims as early season favorites Zach Osborne and Dean Wilson left with injuries, which dashed both of their title hopes before round one was even in the books. Another reminder: motocross can be a destructively cruel sport with a terrible sense of humor.
From southern California, the caravan headed north to Sacramento and the Dirt Digger's Hangtown Classic. Talk about a facility and track that has been overhauled over the years! What was once kind of a dry, dusty wasteland (I'm being dramatic) is now one of roughest tracks on the circuit, with tons of sand and sawdust added and lots of concrete and big permanent buildings built in the pits. Hangtown has come a long way since the flood of 1991.
As for the racing, it was another red plated #19 runaway in the 250 Class. Some may have thought Glen Helen was a fluke, but Martin ended those questions quickly. While his teammate 'Lil Coop kept pace with another pair of seconds. The 250 Yamaha train was rolling strong.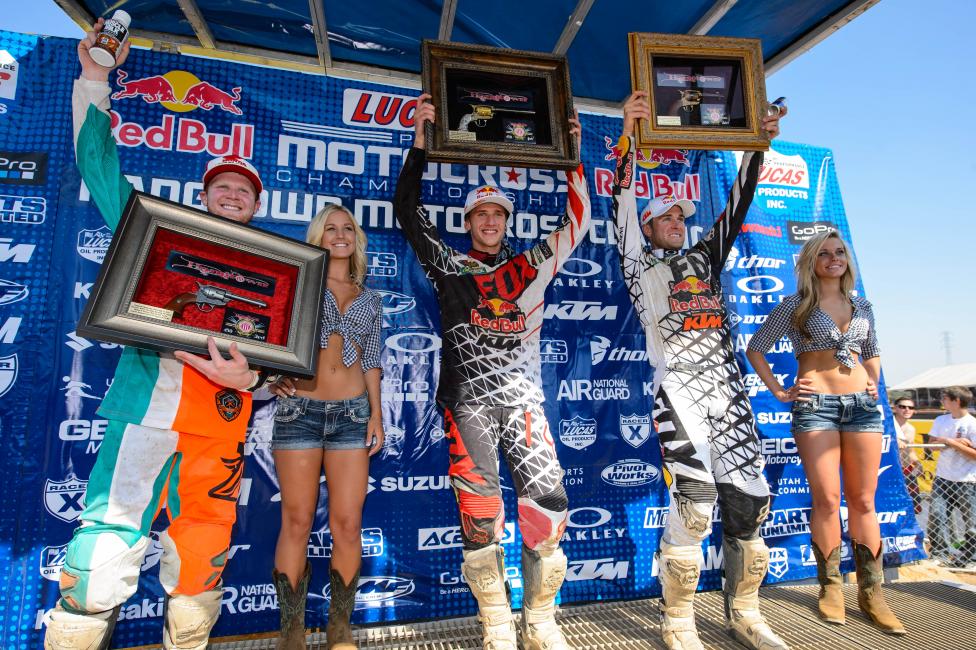 In the 450 Class the German rookie put on a clinic and got his first career American big bike win in dominating 1-1 fashion. Doesn't this kid realize he's the rookie? The newbie? The foreigner who needs to respect his American elders of Dungey, Stewart, and Reed? Isn't he supposed to be tired from a long season of supercross? As Steve Matthes wrote in his Observations following Hangtown, "All of us 'experts' are really taking an ass-kicking thru two rounds I tells ya." I guess that's why they actually race these things. And that's why we love this wacky sport.
Round three headed to Colorado—home of the first national under the lights and also the Motocross des Nations back in 2010. Yes, I said "des". It was always "Motocross des Nations" and never "of Nations." Ever! Sorry. I've lost train of thought now. Pet peeve of mine. And man was that "des Nations" weekend a party. Whew. Seriously? Red-Bull vodkas and Jager bombs in the infield? If there were a stripper pole and stage, our group would still be there. But I digress…
Yeah, Thunder Valley this year. It was the return of a couple of the vets. Blake Baggett and James Stewart showed flashes of old brilliance with moto wins. BB4 won the overall, while Seven went 1-3 and avoided all track-crossing camera men for second overall.
Martin got his fifth moto win in a row, but showed he was human with a couple falls in moto two. But he continued to hold the elusive red plate reserved for the National MX points leader and all GNCC pros. Roczen got the 450 overall and went back to the KTM team truck to rub it in his teammate's face. I'm guessing. I mean, that's what I would've done to Budman when we were teammates.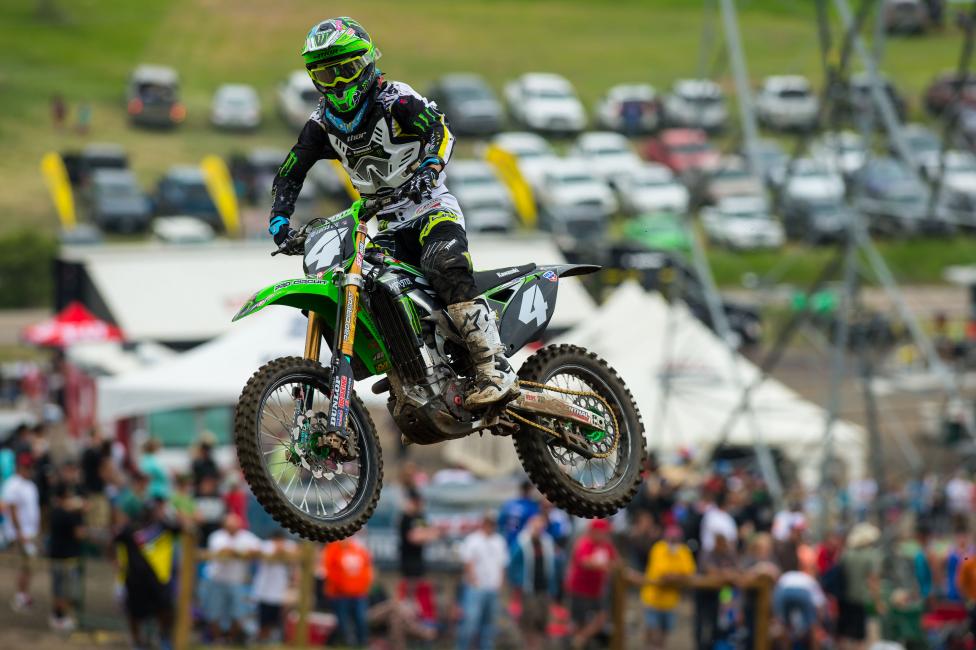 Time to head east to High Point for round four, and once again the old vets refuse to go away quietly. Baggett and Stewart throw down double moto sweeps for the overalls. A couple new faces on the podium, with the Sooner Boomer Trey Canard going 4-2 for third overall and Jason Anderson, with a 7-2 that was also good for third overall.
I'm an Anderson fan after his increase supercross season. Love watching this kid ride a motorcycle, and was actually predicting him to get a win sometime this season. I bet it happens at Budds Creek. That's my prediction, and I'm sticking with it.
I remember getting a wreck-less driving ticket one year in Morgantown, WV, near the hotel. Chicken ran out in front of my car, and I had to slam on the breaks to avoid making road kill out of the bird. Cop heard the squeals and pulled into the parking lot with lights a flashing. I tried to explain what happened, and I'll never forget his response" "Boy, if you weren't wearing such heavy boots, maybe you could use the brake more properly." That's what you get for wearing Doc Martens with shorts.
Off to Tennessee and round five. I've never been to Muddy Creek before. It's been around forever, and the Southeast has been starving for a national. Well, they got one, and from what I've read, the fans love it more than corn bread and moonshine.
Lil' Coop picked up his first career national win with a battle to the death first moto with Baggett and moto win in the second. He netted the overall with 2-1 scores. I had a chance to work with the Webb family while I was at Smith Optics back when he was on 50s and through his mini career. He has an incredible family, and it was really fun watching his success as a pro.
The 450 motos saw the return of Eli Tomac, and boy did he make his mark quickly. ET3 jumped out to an early lead in moto one, and I thought, "Is Eli really going to win his very first 450 moto?" Remember that he showed up as a rookie to Hangtown and won his very first pro national a few years back. Had he done it again on the 450, that would have been pretty epic. But the KTMs made their moves, and Tomac ended the day 3-3 for third. Still pretty awesome.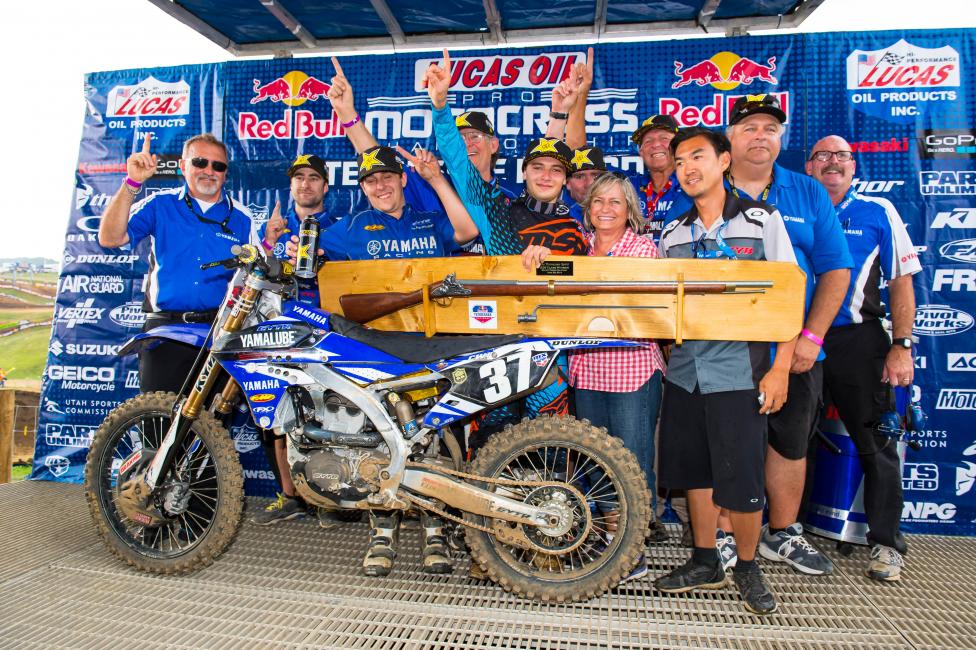 ReddddddBuddddddd! Ain't no party like a RedBud Fourth of July party. No sign of JLaw this year, but the races still happened. And on America's birthday, Ze German, kicked the Americans' butts. Roczen had a 1-1. The other points leader, the all-American Jeremy Martin, took the overall in the 250 to give the red, white, and blue something to cheer about. ReddddddBuddddddd! Let's blow some stuff up! The points leaders were back on their game.
From one Bud to another, Budds Creek was round seven. I loved this track when I raced. It was always one of my favorites and Jonathon Beasley is one bad dude. He owns the track in case ya' didn't know. This was also home to a Motocross des Nations, which to this day is easily the most incredible race I've ever been to. I've never seen so many people surround a racetrack like they did that day. I think people are still trying to get out of the infield, and are stuck in the tunnels somewhere.
Baggett picked up another overall win, while Martin grabbed second. And Anderson raced to his first career win in moto one. Told ya' I thought Budds Creek was his place. The 450 was once again a KTM show with Dungey and Roczen swapping moto wins. To look back on it now, this might be where Dungey starts breaking Roczen down. They may have pushed in points, but it was hot that day, and Dungey hadn't even broken a sweat on the podium and Kenny looked tired. Dungey knows if it continues to stay hot, he's the stronger of the two.
Round eight and a road trip! Millville is the closest national to my place in Omaha, Nebraska, and I try and make it up every year. This year three of my buddies and I grabbed a trailer and a Tahoe and made the drive up Friday. Something I've learned when camping out and am lucky enough to have pit passes at Will Call, make sure you get there before 5 p.m., because if Will Call closes, you'll be stuck paying the fifty dollars or so it costs to get in for the weekend.
So, this year we made it a point to get on the road early enough to make it by 5 p.m. Well, we pulled into the track 5:07 p.m. and I see AMA's Sonni Finch and the others packing up their stuff and heading to the rental cars. I literally jumped out of the car and sprinted down the hill yelling, "Waaaaait!" First words out of their mouth, "Denny, where the hell have you been?" After some groveling they finally gave me a smile and let us get our passes. Remember, I won my 125SX title in 1990 when they gave you a rock, a case of Coors Light, a carton of Camels, and handshake, and said good work kid. That was the series' bonus. I needed those fifty dollars.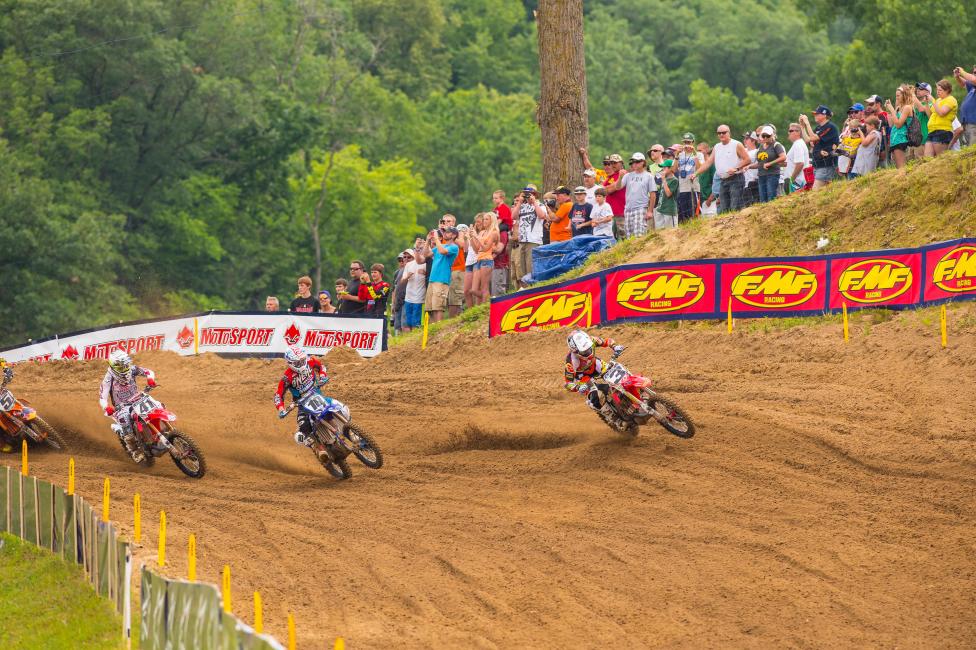 To the shock of everyone in the industry, and the fans at home and in attendance, Martin won the overall and then walked across the pits, through his front door, and sat on his couch. Yeah his family owns the track and their house sits fifty yards from the sand whoops. But we all knew that. It just makes for such a cool story. I never had a home race that meant exactly that
Johnny T's boy Tomac got his win and in DOMINATING fashion. One-1 and the KTMs had nothing for him. I'd like to give congratulations to my boy behind the scenes, Budman Antunez. Bud has been working with Tomac since he was on 80s, and the old coach must know what he's talking about because lil Eli (who ain't lil no mo) is fast and has some great technique and style. Nice work, team Tomac.
And we have finally caught up to round nine, which took place last weekend in Washougal. I had a love-hate relationship with this track when I raced. Sometimes I'd do well. Sometimes I'd flounder on that slick dirt like I was a novice. I did, however, pull both holeshots in 1990 and proceeded to fall in that front right-handed sweeper after the whoops and finish. They had watered, and I tucked the front end. Bayle ran me over. So there's that.
And weird things happen at this race. Not your normal results. It's a difficult track to make up time and get through the pack. So, get a good start and ride consistently, and you have a good shot of a good finish. Enter the Frenchman Marvin Musquin. He's quietly had a pretty successful season so far. And he owned Washougal: fastest qualifier in both and 1-1 moto scores. Impressive.
Speaking of French Oakley Bomb winners, it can't go unnoted that Christophe Pourcel has won fifty-three of them and has eighty-five Holeshot Awards this year. Not sure what to think of his season. I'd have to call it a success, really. He hasn't won and has had some pretty epic fades, but you never know what's going through his head. I hope he's happy with his results and we see him back fulltime next season.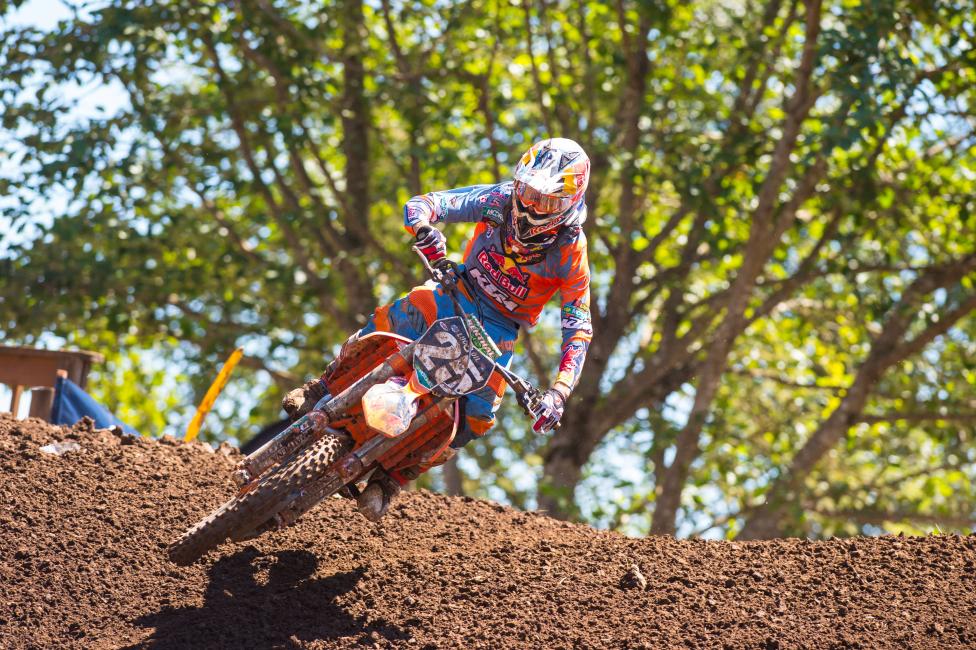 The 450 Class saw Dungey also sweep both motos to complete a four-moto route for the Orange Brigade. Has that ever happened before? I can't imagine it has. This isn't Europe for goodness sake. Oh, and Roczen laid a stinker. Well, if you can say 3-3 is a stinker. I guess 94 has a bit of a thumb injury, but who knows. His point lead is down to 14 with only six motos left.
So there you have it: my view on the races. My opinion of how things wrap up? I honestly see Dungey pulling this thing out. I just do. He's just a machine. And like we have talked about in the past, a full season of seventeen supercrosses and twenty-four motos is wearing on the rookie. And Tomac showing up is all Dungey needed to make up points quickly. If the #5 does indeed win this thing, I'm thinking a lifetime supply of Wheaties and Target gift cards would make a nice gift for the Tomac family.
The 250 Class is all Martin's to lose I think we can all agree. Webb won't make it easy, and I love how stacked the class is, with new guys stepping it up each week. Justin Bogle just needs to get a little more confidence. Anderson needs to stay off the ground. Musquin will win more motos. And Pourcel will win fifteen more Oakley Bombs.
I didn't bring up the James Stewart WADA deal because, well, I kind of forgot until just now, and honestly, it's too touchy of a subject for me. I don't know all the facts, and from what I'm hearing, there's even more to the story. But again, it's easy for me to sit at home at watch the races, but not being at the track, it's impossible to know what's really going down with this deal. At the end of the day I hope everything works out for Stewart. The sport needs him, and selfishly, I love watching him race his motorcycle.
Now, the TV package. It can be a little confusing, but seriously, people, shut up with the complaining. You can watch the first motos live on any mobile device. I watched a lot of them sitting in a lawn chair while watching my son play baseball. And trust me; that was fantastic. I also think Weege and Langston are doing a great job. Grant is going to give old Art Eckman a run for his money when it comes to his "Langstonisms." I'm thoroughly enjoying the coverage.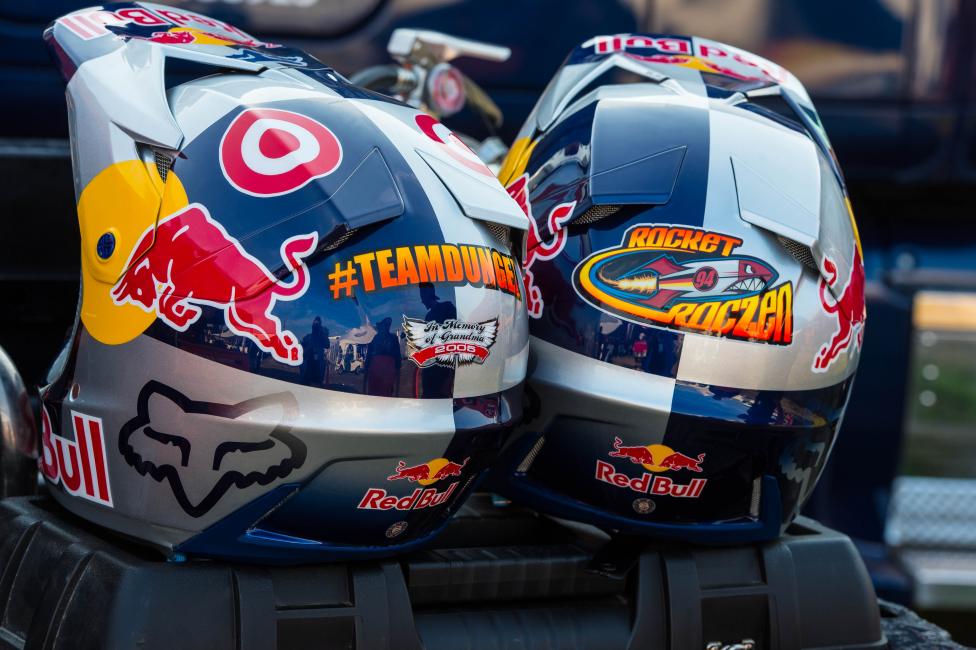 Last but not least, I picked myself up at Reedy Team TwoTwo hat up in Millville. I'm a friend of a few of the guys, and they set me up with an official team lid. I'm a huge Chad Reed fan and like to represent. Plus I like hats.
Anyway, sometime on Saturday evening the hat was sitting on the table where we camped and someone snaked it. I thought it might be one of the kids parked next to us. So, I asked them that night and the next morning if any of them had seen the lid. I got a no man, you must a lost it.
Later, one of the kid's dads found me on social media, said he'd found the hat hidden under one of the seats in their rig, and wanted to mail it to me. My point? I think this is pretty damn cool. Kids will be kids, but the people and fans in this industry are legit. As my old friend Davey Coombs would say, "Top Shelf."
Thanks for reading and long live the Nationals. Supercross is great fun but motocross is bad-ass.