Ryan Dungey and the Martins will deservedly garner most of the attention in their home state of Minnesota, but another District 23 alumnus shined at Millville. In his first 450 Class race since switching to the bigger bike following RedBud, second year pro Mitchell Oldenburg—who currently resides in Texas—finished thirteenth overall. En route to a twelfth in the second moto, Oldenburg caught and passed an icon—Chad Reed. Oldenburg described it as "a dream come true" and one he will never forget. We caught up with Oldenburg this week to talk about his 450 Class debut and much more.
Racer X: You made your 450 Class debut at Millville last weekend. What prompted the change?
Mitchell Oldenburg: We've had some bike problems at the three nationals I did [prior]—High Point, Muddy Creek, and RedBud. I didn't finish the first motos—the bike kept breaking on me. So we came home and regrouped and thought, well, let's try the 450 Class. Jim Lewis with Merge Racing had a motor, and I threw it in my brother's [McCoy] bike and went and tried it out. I loved it, so we decided to try the 450 Class out and it worked out pretty good.
How much time did you have on the bike prior to last weekend?
I've been practicing on my 450 quite a bit. I can't afford to build a practice 250F like my race one, so I've been practicing on my 450 and racing on my 250. So the switch wasn't really that big of a deal. It wasn't a big deal because I was practicing on it so much, but I've never really rode a 450 with a motor before. When I hopped on that, I actually feel in love. It has so much power and is so smooth.
You had a nice battle with Chad Reed at Millville. What was it like to battle, and ultimately pass, a guy like Reed, who you grew up watching?
It was actually pretty crazy. I grew up watching him, and the first supercross I can remember going to he won the Lites Class. To catch and pass him was amazing for me. Just to be on the track with those guys who have accomplished so much in the sport is one thing—to be battling with them is another. It was definitely a dream come true, and something I can check off my bucket list.
When you battle someone of Reed's stature, is it something you're conscious of? Does it amp you up?
Not really. I try to focus ahead. Everyone I'm racing is a big name. It's hard not to get caught up in that, but at the same time I'm out there trying to prove myself and get a ride and prove to everyone that I can do it. Honestly, when I saw I was catching him, I got my second wind. It was the carrot dangling in front of me. I really wanted to beat him. But I'm like that with anybody, not just him.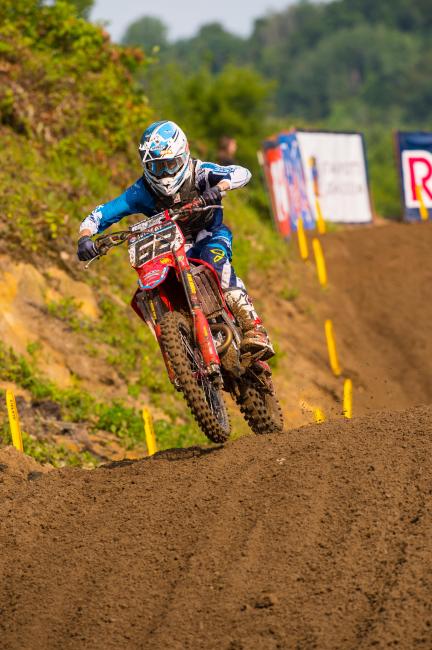 In the 450 Class, you're racing with a lot of veterans, which in turn provides a different style of racing. Did you notice the difference?
Yeah. Big time. It seems like the 450 Class paces themselves a lot more. I kind of learned this weekend that it easier to get tired a lot faster on the 450. The first moto I don't think I paced myself enough. I think I tried sprinting too quick, and it ended up biting me in the butt a little. I think I'm in good enough shape, though, to where I can make the motos no problem. The 250 Class is just a sprint, where in the 450 Class, it seemed like it was a little more laid-back at the end, and everyone finished where they were at. Whereas in the 250 Class, it was down to the wire with anyone in the top twenty. It was a big difference for sure.
Is it more of a thinking game, where you need to know when to pace yourself and when to sprint?
For sure. I think the first few laps everyone gets settled into where they are at and go from there. For me, I think I'm in good enough shape where I can go and lay it down early and still be strong at the end. I think just getting a good start will help me the most. My starts weren't the greatest this weekend. It's something I need to work on—something I've always needed to work on.
"I really feel like if I keep doing what I'm doing and plugging away, a win is in my future."
Although you have lived in Texas for a while, and still live there, you were born in Minnesota. Was it nice to go back home?
Yeah, it was pretty cool. I got to see a lot of friends and family. I actually grew up three or four hours north of there, so I didn't really get to ride Millville that much. It was cool to go home, though. My grandparents came down. My cousins—pretty much my entire family. To do as well as I did in front of them was awesome.
Recently, there has been a lot of talent come from Minnesota—Ryan Dungey, the Martins, Zack Williams, yourself, among others. Is it cool to see so many riders make it to the highest level from Minnesota?
For sure. We've always had a lot of talent up there; it was just a matter of who wanted to do well. I think the era I grew up in, with Jeremy and Zack and those guys—I think we all wanted it so badly that we all worked really hard. Growing up it was a group of five or six of us, and we raced every weekend and battled every weekend.
Do you think that competition elevated your riding ability growing up?
Yeah, for sure. I think moving down to Texas was a huge part as well. When we first moved down here, I got into the routine of always practicing and I got away from racing, which I think hurt me. I think racing is what makes you better and helps you know what you need to work on. When we moved down here, I started riding with Matt Bisceglia, and Tommy and Wil Hahn were right next door to us. I saw what Wil and Tom were doing, so it was easy for me to get a program built off what they've done and their success. Watching them and being able to pick them apart and do what they do is huge for my program.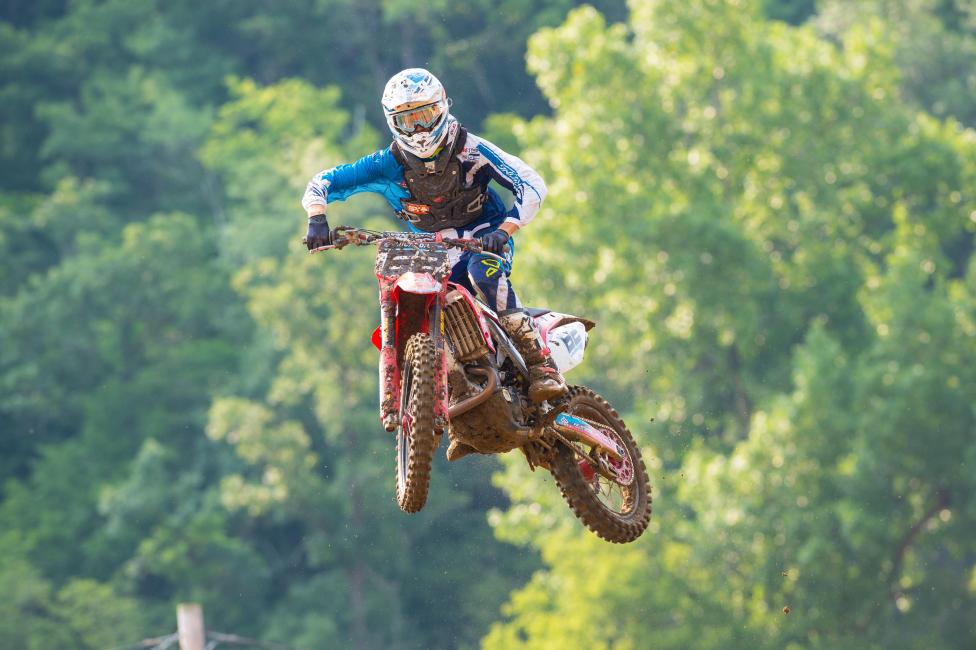 I know your brother has wrenched for you in the past. Is he still a part of your program?
Yep. He came to three of the four outdoor races I've done this year. He's got his graphics business—designsbyocd.myshopify.com. He does graphics, signs, t-shirts. So he's been doing that. Go check him out.
The original plan for you was a limited schedule outdoors. Is that still the case?
Yeah. I'm going to miss Washougal this weekend. The plan right now is to go to Unadilla and Indiana. I may go to Utah, but it's probably not going to happen.
Tell us about riding a limited schedule. Does it help you in that you get rest, or does it hurt because you're not in race mode all the time?
I think it's a little bit of both. Right now I feel like it's go time. Millville felt like my first race of the season because I haven't finished a first moto before then. I haven't really been racing every weekend. I've just been doing half the first moto and the second one. I was really excited to get to Millville and complete a race. That's what kind of sucks right now, because I'm ready to go, and there are only two more races for me to do. Right now I still feel like it's the first race of the year.
You're in your second year and still striving to get a factory ride. Is the pressure heightened because you only have two races left?
Yes and no. For me, I just want to win. I think anyone that goes there every weekend wants to win. Regardless of what bike I'm on or who I'm riding for, I want to do it for myself and prove that I can do it. I can't do anything half effort. I want to do it all out. I learned a lot last year doing the outdoors, and I feel like I came into this year very prepared compared to last year. I've been working really hard with Beau Boynton. We've been in the gym four days a week, riding four days a week, and really putting everything together. I feel like things are starting to turn around for me, and I want to do the best I can. I really feel like if I keep doing what I'm doing and plugging away, a win is in my future. I don't know if it's going to be next year, two years, five years from now, but I feel like I have the talent that I can eventually win. I just want to be the best I can be.
Thanks, Mitchell. Anyone you want to thank for helping you this season?
I want to thanks Lewis Long Racing, Core MX Performance, Hensel Electric, Peer Brothers, Vertical Adrenaline, FMF, Sikolene, SPY, Shoei, Atlas Brace, FLY, Dubya, ICW Radiators, Dunlop, Works Connection, Renthal, Fit-in-Wise Sports Medicine, Beau Boynton, Volkswagen of Corpus Christi, Larsons Cycle, Renegade, OCD Graphics, Merge, and my mom and dad.