Wait a minute … we've got a big change on our hands. GEICO Honda's Eli Tomac just ripped the Millville win away from the dominant Red Bull KTM duo of Ryan Dungey and Ken Roczen, going 1-1 after a series of duels to notch his first 450 win ever. Looks like last year's 250 National Champion is ready to make a run for victories late in the season—although he's out of title contention since he missed the first few races with a collarbone injury.
He talked about it all in the post-race press conference.

Racer X: You have to sit back and wonder, "What if I had been at Glen Helen?"
Eli Tomac: It would have been nice to have been there, but it's just the way things go. This sport's brutal. Going in today, honestly, I didn't feel that good in practice. Just the way the track was prepped, it was muddy on top and had a hard base. I thought it was going to be like a little bit deeper sand. But it was different. Maybe this track is changing. In the motos, though, it seemed like the track did come around to my riding style and to my bike, so I just really had a blast.
Take us through that collarbone injury. We're ridiculous in what we expect for injuries. We're like, "Oh, that guy's going to get it plated and come back in 10 days" or something. Was that even an option? Just take us through your decision process.
That was a bummer because it wasn't like a clear answer for that injury. It was just barely broken off to where you can plate it, but we actually had three or four different doctors say no. [They said] For a normal person there's no way we'll plate this thing. But we found a few guys who said they would [plate it]. I didn't feel like it was the right thing to do in my gut. Now that I'm in this position I feel like I made the right choice.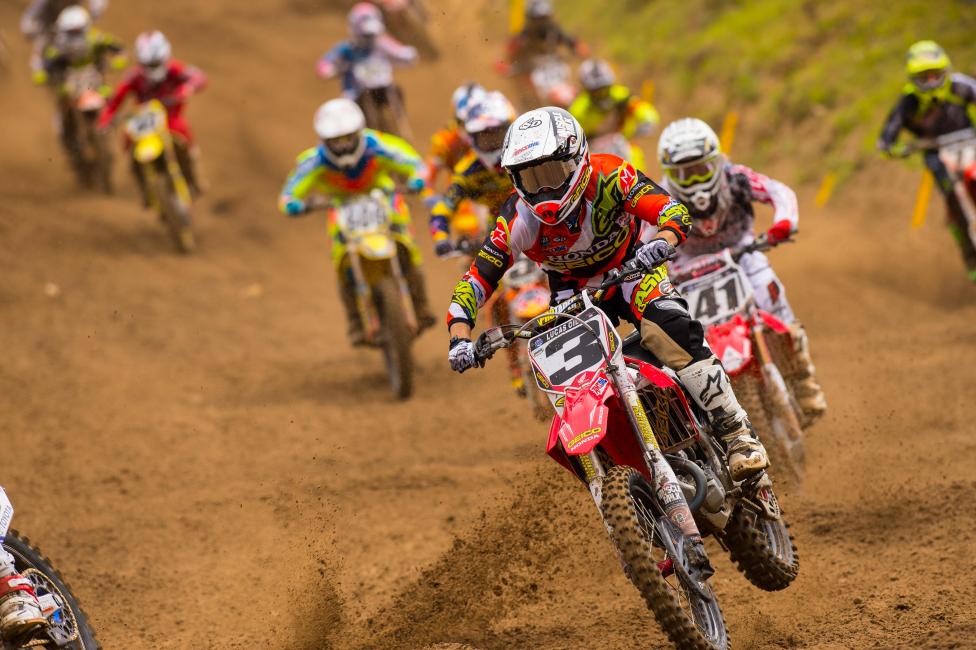 What do you think needed to change here these couple of weeks? The difference between being on the podium and then today taking the win.
Just getting back to racing. You get more comfortable. Honestly, today I got better starts. I'm really comfortable on this type of track. That's just the way things fall and getting comfortable.
Take us through that first moto battle with Ken Roczen. It was pretty good. You caught him, and you were sitting there for a while. Then when you went for it, he was fighting you off pretty well. It seemed like a good race.
It was. We battled … I don't know how many laps it was. But we went back and forth a little bit. There were two or three times where I was like, "Oh, I got him" and then he got right back by me, once over the big table-top in the middle and once going down the downhill. He scrubbed past me there on the bottom of it. It was weird; it was almost like he would let up a little bit, but then gas it when I was right next to him. So I was like, "You letting me by or are you not?" [Laughs] It was a good, fun fight.
In the 250 Class you were inconsistent with the starts. We were thinking you were one of the bigger guys. You pulled great starts today. Is there a chance now that you've got the starts dialed, you're on the 450 and they're going to be good from here on out?
All the starts I've had this year have been a lot better. Besides last week, they weren't really too awesome. For me it's an easier bike to do starts on.
Were you worried in that restart second moto?
I was pretty deflated! I was like, "You've got to be kidding right now." When I first saw the red cross flag. I was like, "Wait, I just holeshotted. Why are there flags out?" But I had a really good gate pic, and the way my rut was behind the gate and in front the gate was really good, so I was like, "I can pull it again."
Was there any part of the track where you felt like you had the advantage over the two KTM guys?
I felt like I was better in the last half. I know in the second moto Dungey was catching me in the first half, I think, in the second part of the rollers coming back at us. That's where I felt like he was catching me. I had to take a look back over the Chadapult once to see where he's going. I think he was just catching me in the rollers.
So you felt some heat from Dungey. Did you think a battle was coming? I think he got held up and you got away. Did you know all of that was going on, or were you just riding your own laps?
I did know he was getting close to me. I started to feel him there, actually started hearing him. I was like, man, it's going to go down. I know this dude loves this track. He's a proud guy for this state. I knew it was going to go down to the wire.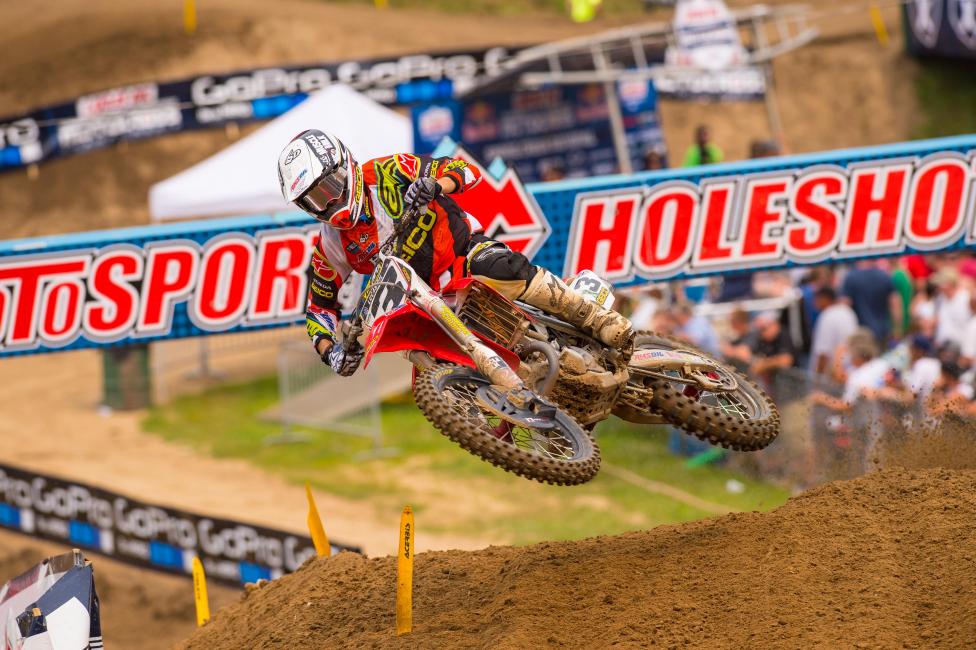 I know you said this track is good for you, but from here on out you've got to think this is repeatable, right?
I do. Next week at Washougal—that place can be love or hate. You don't really know how your bike's going to be there, because honestly, if you don't have a good, hard-pack, clay track, you don't know what to expect there. Last year and a couple years before, I didn't get along with it. Probably going to have to see what happens there, but the rest of the tracks coming after that I do get along with pretty well.
How does it feel to win again? You had these weird setbacks all season long. Is it a relief to finally get back?
It was! First moto I was like, "Yes!" The way this year is going that was a huge relief.
If you're selected for the Motocross of Nations team in the 450 Class, I guess it would probably be MX3, which is the open class; are you down?
Oh, yeah. I'm game. We need revenge from last year. No more supermans this year!