Budds Creek Motocross
Mechanicsville

,

MD
Race Center: Budds Creek
Lucas Oil AMA Pro Motocross Championship
Red Bull KTM Ryan Dungey's 2-1 performance at the Budds Creek National, Round 7 of Lucas Oil Pro Motocross, stopped a five-race skid for the former champion. Points leader Ken Roczen lost zero points on the day after going 1-2 for second overall. GEICO Honda's Eli Tomac would round out the overall podium.
In the 250 Class Blake Baggett captured his third consecutive victory at Budds Creek with a dominating performance in moto two. Yamalube/Star Racing Yamaha's Jeremy Martin would finish second, with Rockstar Energy KTM's Jason Anderson capping the podium.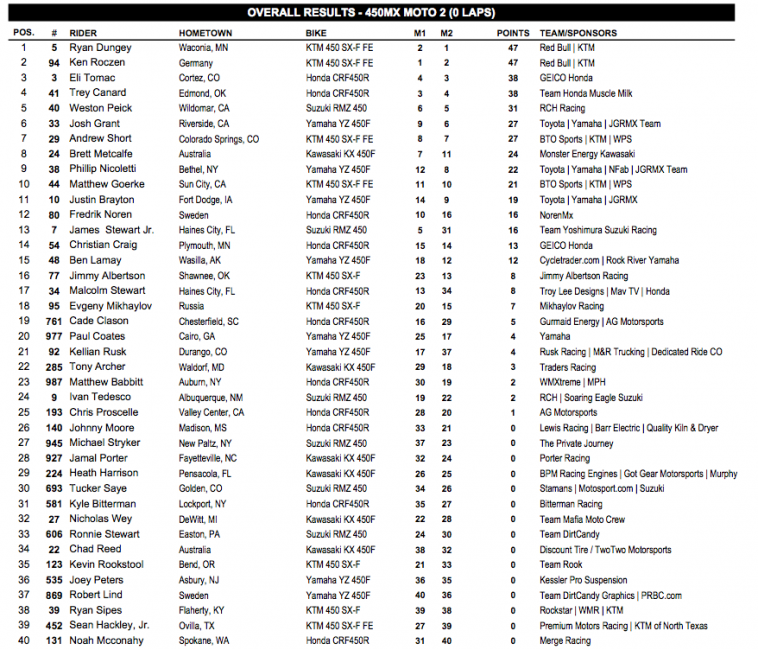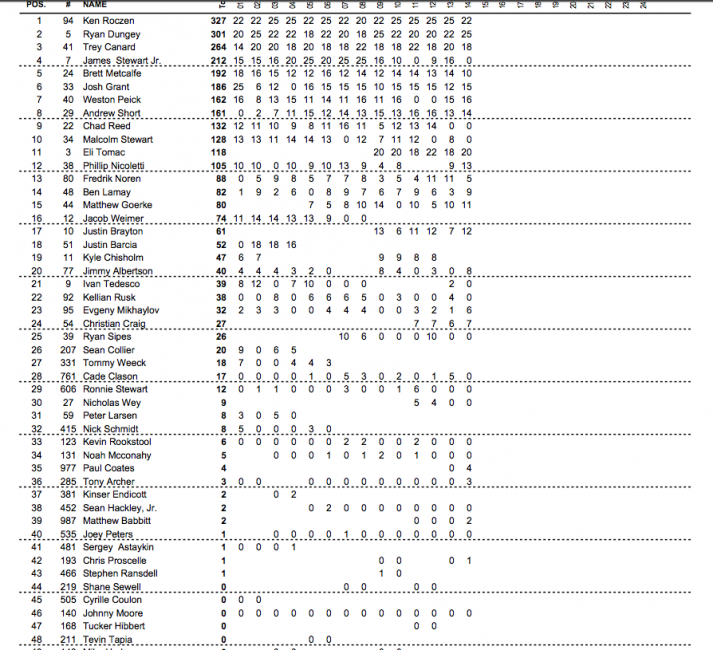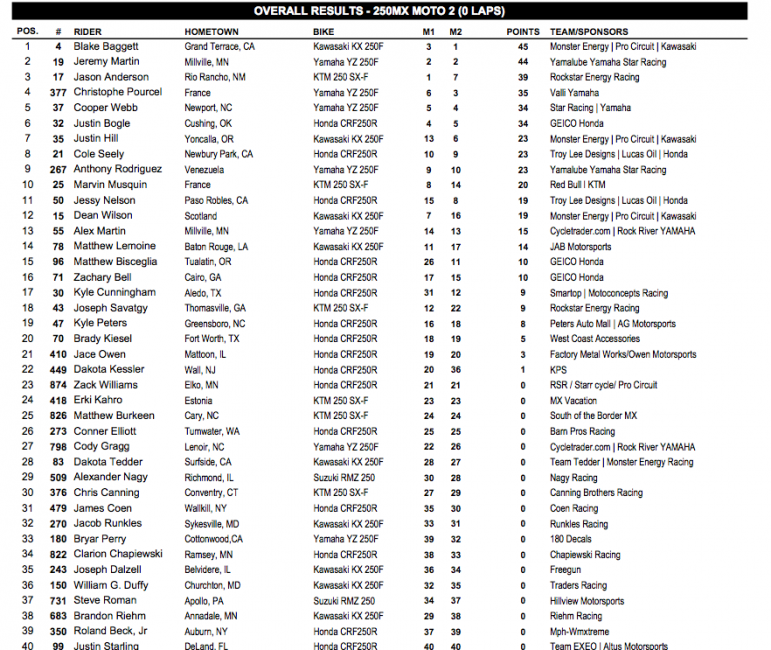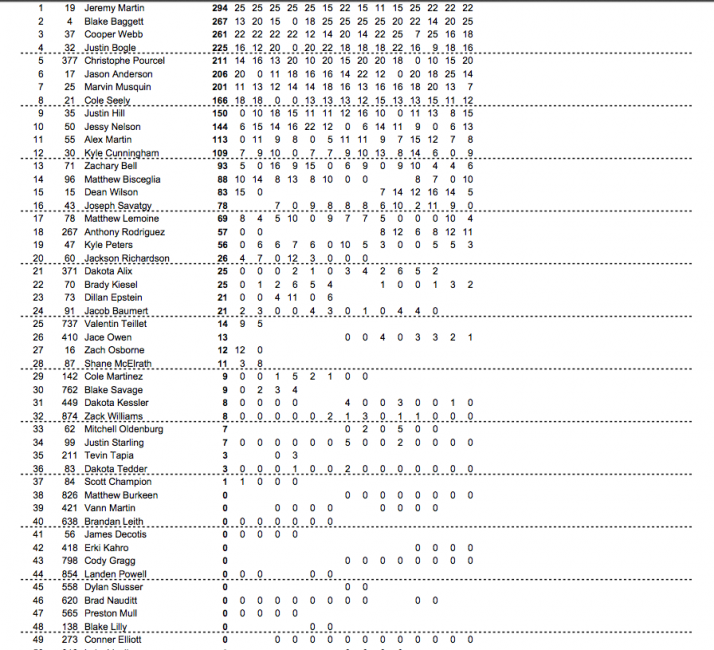 250 Moto 2:
Blake Baggett likes the heat. Blake Baggett likes Budds Creek. Blake Baggett has now won three straight at Budds Creek, joining Steve Lamson ('94-'96), James Stewart ('02-'04) and Ryan Villopoto ('06-'08), as the only four riders in 125/250 history to three-peat. Did we mention Blake Baggett likes Budds Creek?
Points leader Jeremy Martin made a claim for the overall early, pulling the holeshot in moto two. A big pileup ensued behind, gathering Musquin, Savatgy, Seely and Wilson, among others. Musquin would finish fourteenth in the moto.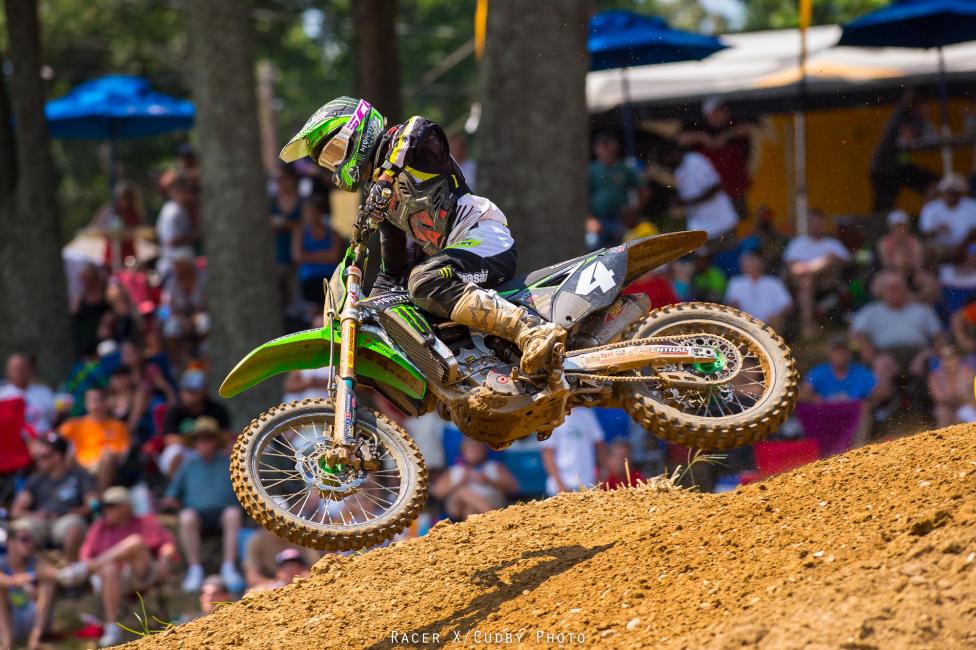 It wasn't that Baggett won the overall—we did mention he likes Budds Creek—it was how he did it. After slicing past Christophe Pourcel for second, Baggett was nearly six full seconds back of Martin. It wouldn't matter much. He picked up the pace even more, cut the lead to within one around the six or seven minute mark and then blew past Martin in the rollers. He went on to win by more than fourteen seconds. Let's repeat: fourteen seconds!
Martin has to feel stunned, but can't be too disappointed, as he only lost one point to Baggett and gained points on Cooper Webb.
Pourcel, Webb, Justin Bogle, Justin Hill, Jason Anderson, Jessy Nelson, Cole Seely and Anthony Rodriguez would round out top ten.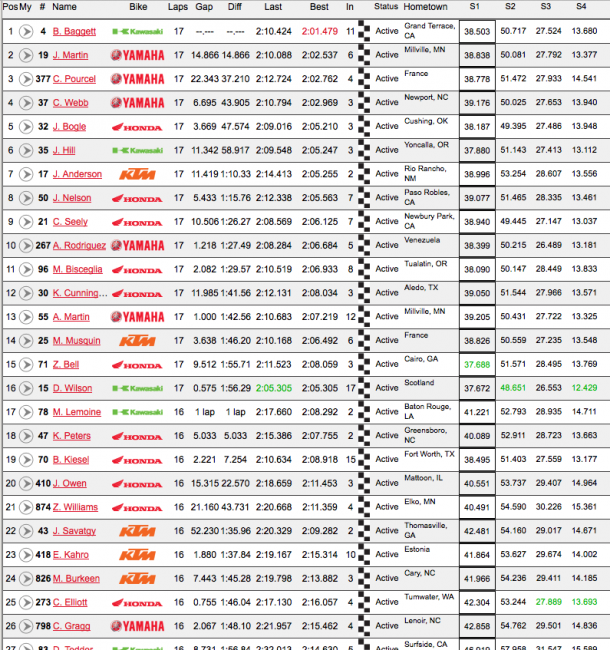 450 Moto 2:
Ryan Dungey may have won the battle, but the war belonged to Ken Roczen. With just two moto wins entering Round 7, Dungey needed to get back on track in moto two, after falling nearly thirty points down to Roczen after a second earlier in the afternoon. And he did. Dungey lead start to finish to capture his third moto win and his second overall on the season.
That was the good news for Dungey. The bad: He gained zero points and is still twenty-six back of Roczen with five rounds remaining.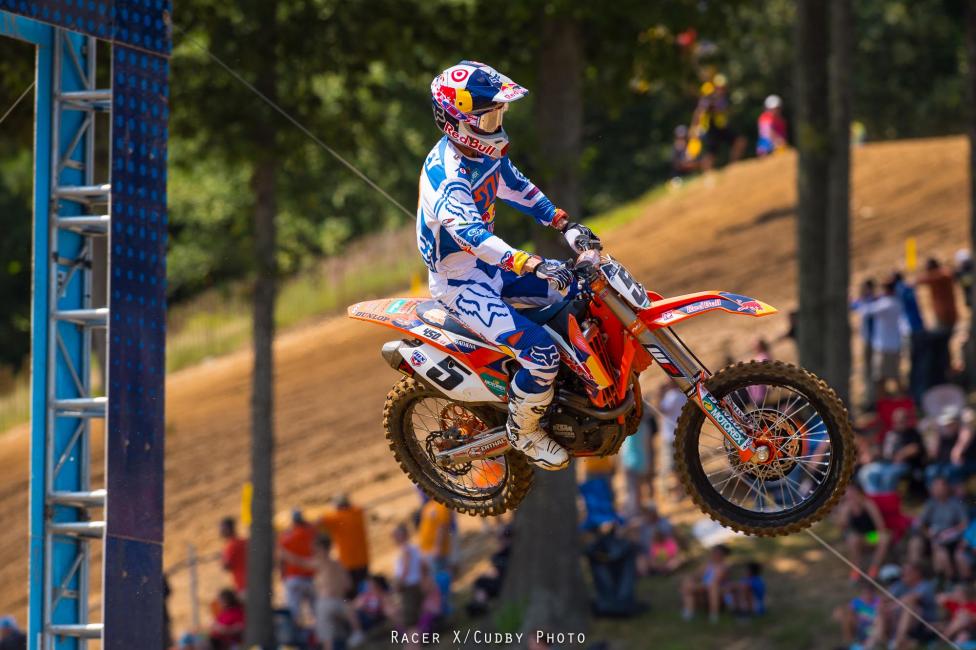 Trey Canard, James Stewart and Eli Tomac all held the final podium spot at one point. Canard and Stewart exchanged blows early, allowing Tomac to catch on the rear. Stewart looked to have the spot, and held it briefly, but Canard fought back to regain the position. Tomac eventually passed Stewart as well. Stewart went down late in the race and pulled out with bike problems.
Tomac, at points, was the fastest guy on the track and almost cost Roczen points—making a late effort to catch Roczen for second. His valiant attempt fell short, but Tomac proved he will be a wild card going forward.
Canard and Weston Peick finished fourth and fifth, respectively. Josh Grant, Andrew Short, Phil Nicoletti, Justin Brayton and Matt Goerke would finish inside the top 10.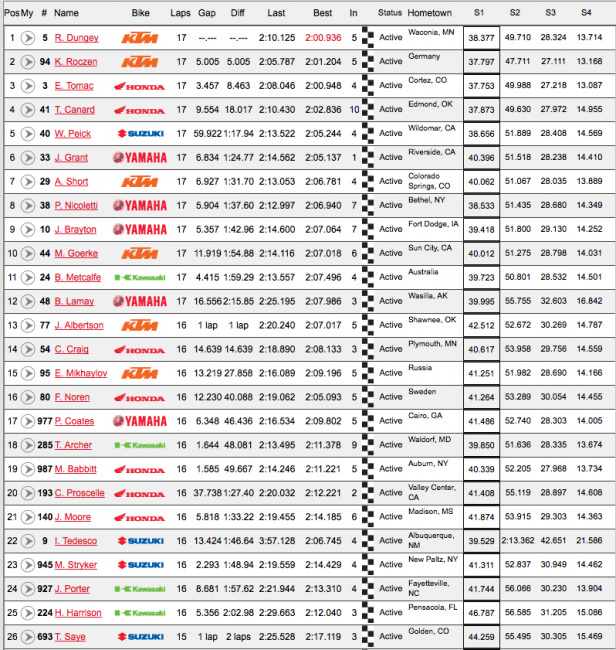 250 Moto 1:
Over the past few weeks, the younger crop of 250 riders—many of whom have never raced him—have spoken to the degree of difficulty in passing Christophe Pourcel. With impeccable line choices, Pourcel makes you work. He makes you go where you don't want to go. Jeremy Martin found this out at Budds Creek.
GEICO Honda's Justin Bogle clipped Pourcel to garner the holeshot. After Rockstar Energy KTM's Jason Anderson moved past Pourcel, Martin would go on the attack. Pourcel, meanwhile, would go on the defensive—pushing Martin wide at every point he could. Up front, Anderson had moved past Bogle and opened a more than five second gap on Bogle and Martin. When Martin finally forced his way past Pourcel, he had seven seconds to shave off Anderson's lead. He cut it to just over one with a lap to go.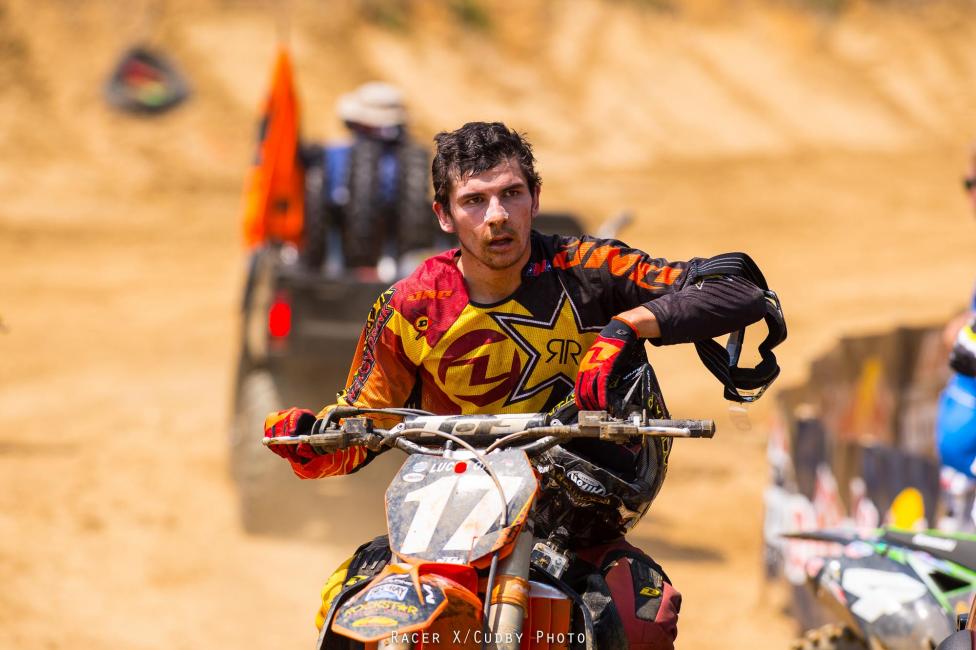 After a mad last lap dash by Martin, Anderson would squeak out his first career moto win by just over a second on Martin. Baggett—following an unfavorable start … again—would get to within a second of Martin on the final before finishing third.
Pourcel wasn't a factor at the front, but he may have played a role in determining the winner.
Bogle, Cooper Webb, Pourcel, Dean Wilson, Marvin Musquin, Anthony Rodriguez and Cole Seely would round out top 10.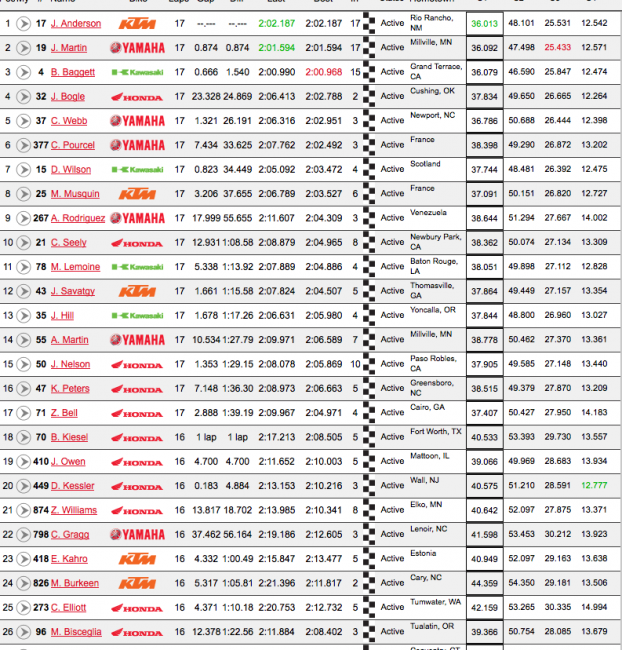 450 Moto 1:
In a little over half a season in 450MX, Ken Roczen has established himself as the heir apparent in the class. Today, on a track Ryan Dungey has won two of the last three, Roczen further supplanted himself. He now has a nearly thirty point lead on Dungey with eleven motos remaining.
Toyota/JGR Yamaha's Justin Brayton was the early leader ahead of teammate Phil Nicoletti and Honda Muscle Milk's Trey Canard. With Dungey and Roczen lurking, Canard dashed to the front. Muscling past Brayton, Canard was able to put another rider between himself and the KTM duo. Moments later Dungey was past as well, taking Roczen with him. An uncharacteristic mistake from Dungey opened the door for Roczen, who took full advantage. He stalked Canard briefly before pushing his way through to the lead. Dungey eventually followed suit, but it wasn't enough as Roczen had already built a five second lead.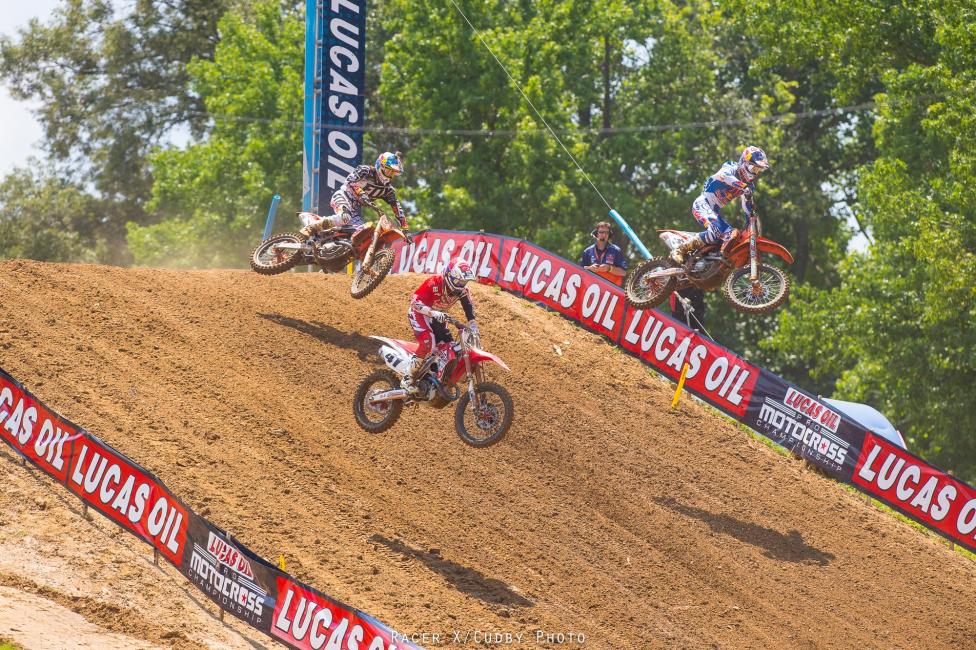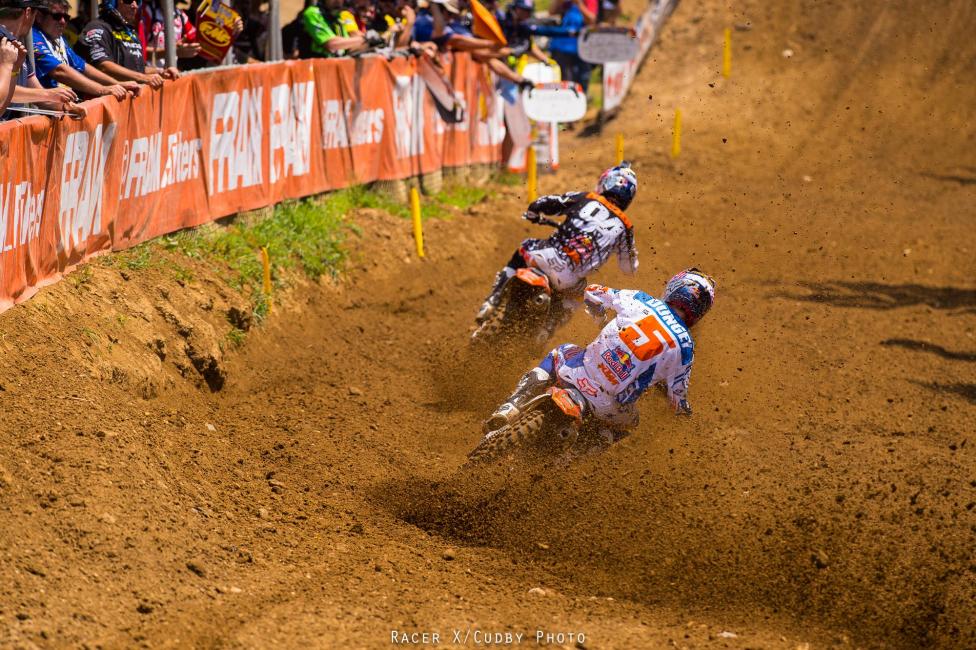 Canard was able to hold off a late charge from Eli Tomac to capture the final podium spot. An unforgiving start for James Stewart lead to a fifth. Weston Peick, Brett Metcalfe, Andrew Short, Josh Grant and Fredrik Noren would cap the top ten.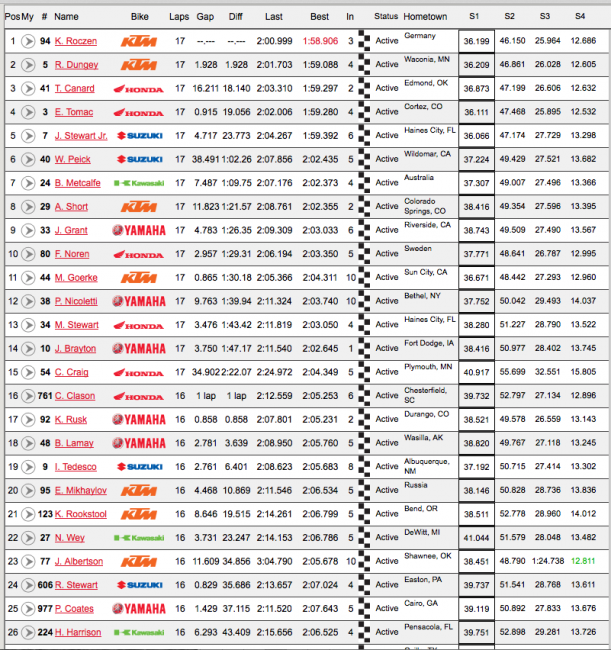 Practice Report:
A thick cloud of humidity layered the Southern Maryland Budds Creek facility early this morning. The unrelenting heat as yet to let off, producing what is expected to be the first hot race of the season. Temperatures are expected to climb into the upper 80s at race time, with the humidity expected to cause bigger problems.
For the 25th time in history, Lucas Oil Pro Motocross has traveled to Mechanicsville and there are not many changes to report in regards to the layout, but the dirt is expected to be a little more dry and hard pack than previous rounds.
Following a 1-1 sweep at RedBud a week ago, Red Bull KTM's Ken Roczen is twenty-six points clear of teammate Ryan Dungey. Carrying an average finish of 1.58, and just over 103 laps lead, the rookie from Germany has planted his stake in American motocross. At the mid-way mark, Roczen has lead 94 more laps than Dungey, who has just nine on the season.
But it was Yoshimura Suzuki's James Stewart leading the field after practice. Stewart's 1:57.748 in the first practice would hold up over Roczen's 1:58.217 in practice two. Dungey (1:58.604), Trey Canard (1:59.049), and Eli Tomac (2:00.6410) would round out the top five.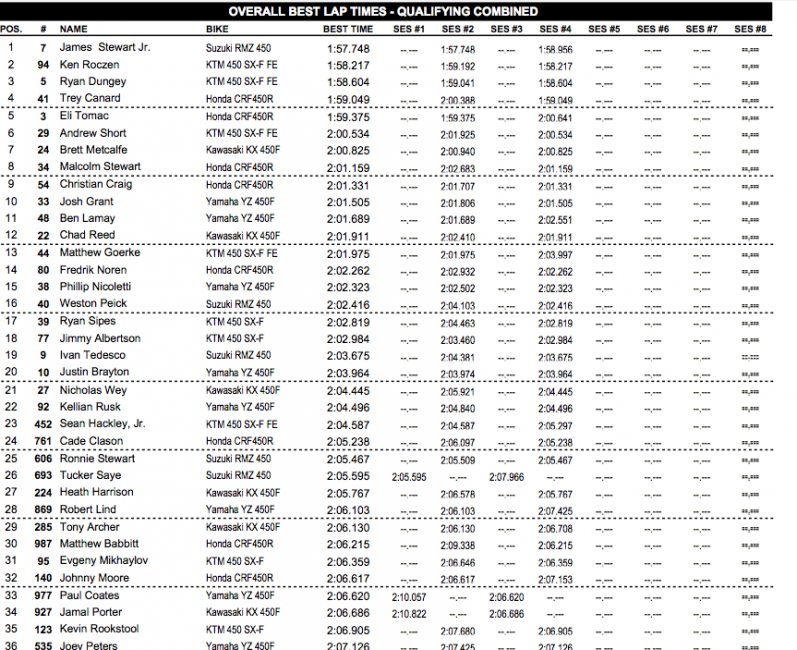 RCH/Soaring Eagle Suzuki has Ivan Tedesco back for the first time since High Point. He qualified nineteen this morning. JGR/Toyota Yamaha will have a three-man crew this weekend with the return of Phil Nicoletti. As part of the JGR pilot program, Nicoletti was guaranteed three outdoors, but due to Justin Brayton's early season injury the team extended it to six. Since he missed RedBud last weekend, Budds Creek is expected to be his last race of the season.
We talked to Christophe Pourcel a few weeks back and he told us it was no coincidence that he's fastest laps came late in the practice—he likes to pick his lines early and then charge late. On cue, Pourcel shot to the top spot late in practice two, and captured the Oakley Bomb Award with a 1:59.331. Jason Anderson, on the heels of last week's podium, was second with a 2:00.105. Points leader Jeremy Martin (2:00.225), Marvin Musquin (2:00.498) and Blake Baggett (2:00.529) would round out top five.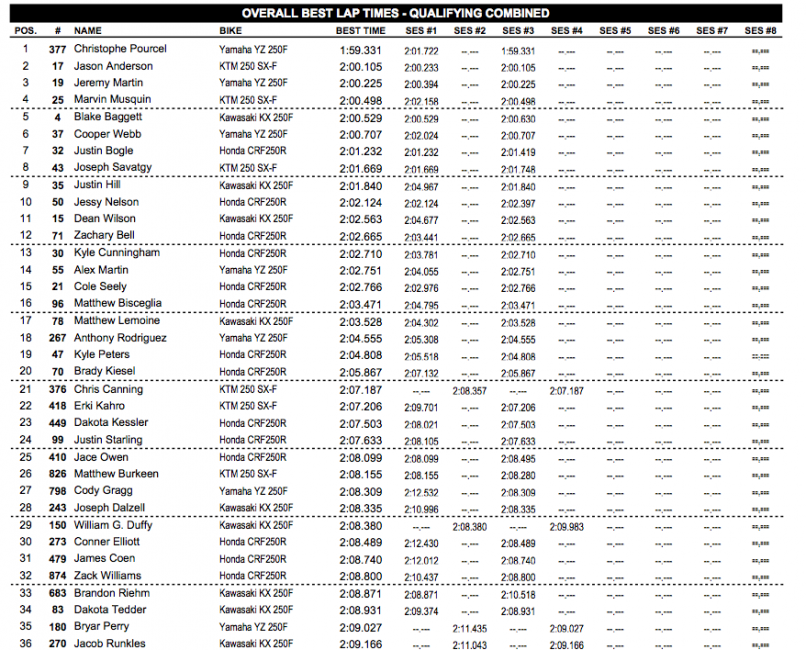 Two weeks after his foundation was beginning to show cracks, Jeremy Martin rebounded at RedBud. A 1-2 performance from the points leader extended his lead to twenty-three over teammate Cooper Webb and twenty-eight over Blake Baggett. Baggett has won two straight in Southern Maryland and thrives in hot weather. Only three riders in 125/250 Class history have won three in a row at Budds Creek— Steve Lamson ('94-'96), James Stewart ('02-'04) and Ryan Villopoto ('06-'08)—an exclusive club Baggett hopes to join this weekend. The 250 Class has only seen three winners this season (Martin, Webb and Baggett), but have had plenty of company at the top. If practice is an indication, the 250 Class will be closer than ever this weekend.
Tune into MAVTV or Promotocross.com at 1:00 pm Eastern to catch live coverage of the first motos. NBC Sports Network and NBC Sport Live Extra will carry coverage of the second motos beginning at 3:00 pm Eastern.