RedBud Track 'n Trail
Buchanan

,

MI
Race Center: RedBud
Lucas Oil AMA Pro Motocross Championship
REDDDDBUUUUUDDDDDDD marked the halfway point of the Lucas Oil Pro Motocross Championships, and our two points leaders going into the race left looking real good for both titles. Both King Kenny and "Jumpin" Jeremy Martin (hey, it's the best I could come up with) stamped their title hopes with some great rides.
Of course, it goes without saying that RedBud was epic and all that you want a national to be. Great fans, nice layout, and absolutely fantastic weather added up to yet another Fourth of July dirt bike race that made just about everyone happy. However, in the true spirit of the curmudgeon that I am, there were a couple of things that I wasn't happy with.
First up, why shorten the track so much? Last year Ryan Villopoto's fastest qualifying time was a 2:15, and this year Roczen's fast lap was a 2:02. THIRTEEN SECONDS! I'm not sure why it was done—maybe there is a reason, but c'mon man, why so much? The track designers took out a whole up and down off-camber section that was challenging for the riders. You know what shortening up the track does? It makes it a bit of a shit-show with the leaders running into lappers really soon and potentially hurts the races. We saw last week at Muddy Creek that it was a bit of a mess, and this year, two of the front-runners got passed because of issues with lappers. Was there an issue with RedBud last year? Why shorten a great track when, in my opinion, it hurts the races?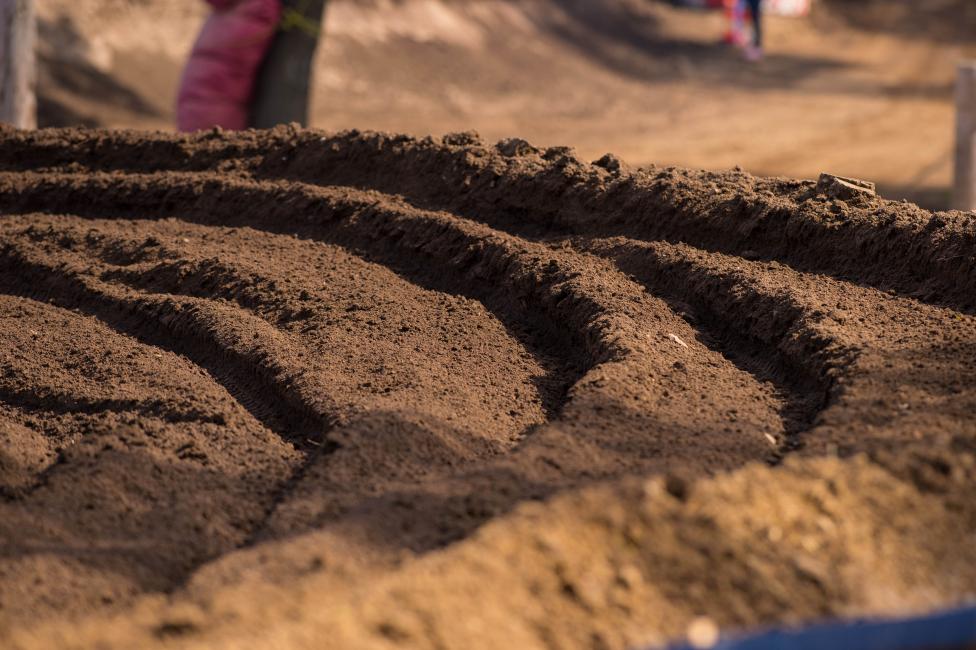 Also, there was another 100-foot plus uphill triple out there on the other side of the famed Larocco's Leap. Why do we need this on a motocross track? The Leap is great. It's iconic, and it should stay there. We don't need another jump just like that, do we? I don't know man, maybe I'm just grouchy right now, but I didn't like it, and combined with the track shortening, it made me upset. I also walked uphill to school both ways and liked it.
After the race I saw Roczen pulling wheelies on Chad Reed's mountain bike, and we had a good talk about a bunch of stuff. Something I can mention was that I told him I thought he would be very good this year, but I didn't think he would be THIS good. Simply put, he's on another level from everyone else right now. It's dangerous to draw conclusions race to race (not that knowing that fact really stops me sometimes), but Roczen has it all together right now. He told me that he wished he could race Budds Creek the next day because he was so on top of his game. He also chided me for not thinking he could do this well. C'mon though, we knew he would be good, but who had him winning six motos through the first twelve?
The way Roczen sliced through the top contenders in the first moto and took off was impressive. The way he wore down Trey Canard and took off with the win in the second moto was perhaps better. Canard passed Roczen back on the opening lap of moto two and put in a determined ride. But the German was right there and eventually got by. To Canard's's full credit, he hung with Kenny, but his lap times started getting higher and higher, and eventually he crashed. And Roczen rode off with the win. It wasn't the balls-out "I'm faster zen you" Roczen that won the moto. It was the "I can make ze power for longer than you" Roczen that captured the win. He went faster for longer, and it was death by a bunch of little cuts for the competition.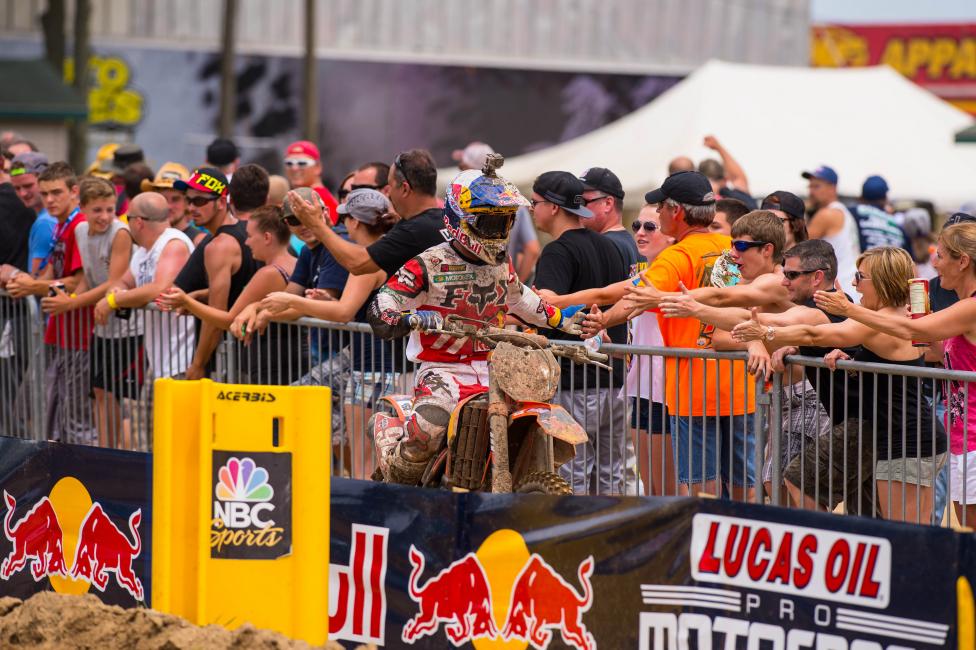 At Glen Helen it looked like it was going to be Ryan Dungey and Roczen who were going to fight for this title, but as the weeks go on it seems that Dungey is falling back into the clutches of guys like Canard, Eli Tomac and when it all works out, James Stewart. Dungey had a goggle issue in one moto, as well as a possible broken wheel in another that held him back this week, but he's got to start making up some points on Roczen. I'm surprised that he's not up there more consistently to be honest. I'm not writing him off here, but he's going to need some luck to make up these points. I just can't see Roczen finishing off the podium unless his bike breaks (HIGHLY doubtful) or he DNF's due to a crash.
Martin had to do something, anything, to slow down this Blake Baggett train. Since going 1-1-1-1-1 to start the season he's gone 6-2-6-10-6, and his once massive point lead had dwindled to under ten points. I had a feeling that Martin would answer this weekend at Redbud, and he truly did in amazing fashion. In the first moto he got the lead and the number four of Baggett was coming. Like a shark slowly trailing its prey before striking, Baggett was going to use his usual bag of tricks on Martin. He was going to use his fitness and speed to wear Martin down, and then strike late in the moto to take the win. We all knew this, right?
In fact, six out the last nine laps Baggett was faster than Martin and pulled to within a second of the Yamaha kid. BUT two out of the last three laps Martin stepped up and was faster than Blake! Martin was getting caught and knew that he had to do something, and that's exactly what he did. It was impressive for sure, and I'm sure Baggett and his crew thought it was only going to be a matter of time before they got back on top. Martin showed up big time, and the race within the race was fascinating to see.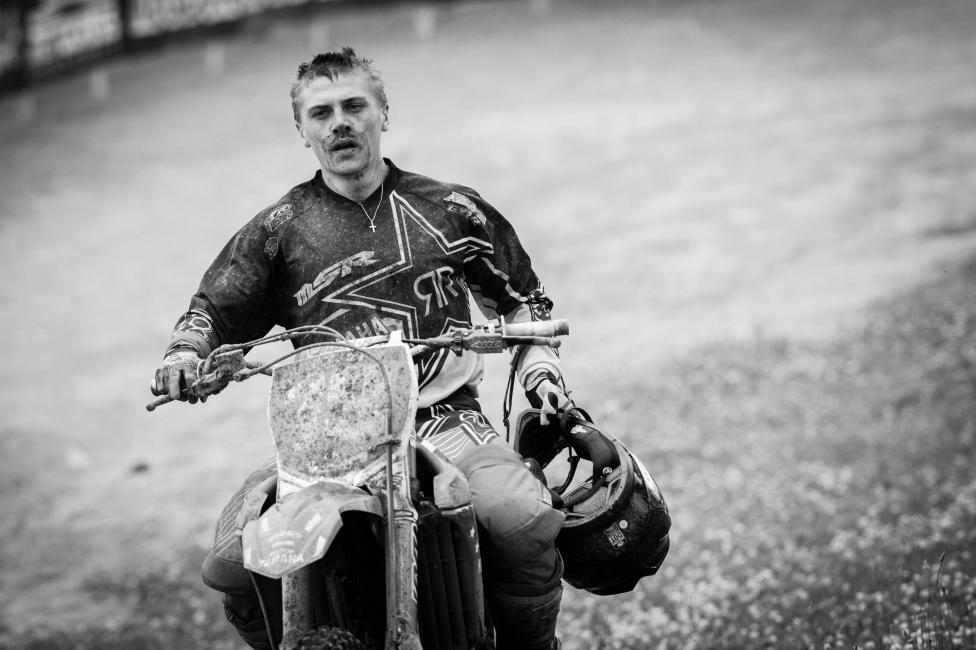 In the second moto, Cooper Webb passed Martin as he was going for the lead on Justin Bogle. Martin could never get Webb back, but he was right there. If Webb had made one small mistake, Martin would've had a perfect day. As it was I think Jeremy Martin answered a lot of questions this weekend. His lead went to twenty-three over Webb and twenty-eight over Baggett, whom I consider to be his number one title threat. Redbud showed all of us a lot about Martin's skill, speed, and character.
I'm going to be very interested in Christophe Pourcel's results the next few races. The Frenchman crashed out of the first moto after leading a couple of laps and finished eleventh in the second moto after a bad gate pick. In almost every interview I've read this year, Pourcel talks about not wanting to crash, about not pushing it, and you can see that he really rides within himself out there. And hey, he's had some big get-offs, so I can't blame him. Anyway, with his crash out and all those points lost this weekend, I wonder if we'll see a tamer, even somehow milder Pourcel in the coming weeks. I don't know for sure, but I'll be watching to see how he reacts after this weekend.
Great to see Honda reach out to privateer Freddie Noren and put him on Justin Barcia's empty Honda CRF for the rest of the summer. As I wrote a few weeks ago there are lots of definitions of privateers, but there's no doubt the Swede Noren is a privateer. He pitted out of a van for Pete's sake! Anyway, Noren rode the works Honda a week and a half ago and had the option to sit out RedBud since he didn't have more time on the bike. Like any sane privateer would do, Noren wanted to race and went out there on Saturday on the aluminum-framed works Honda after riding his steel-framed KTM all week. And he put in what I think were terrific results. He went down on the first lap while in the top ten and worked his way to seventeenth. Second moto he started up front and in a more-than-respectable-ride, finished tenth.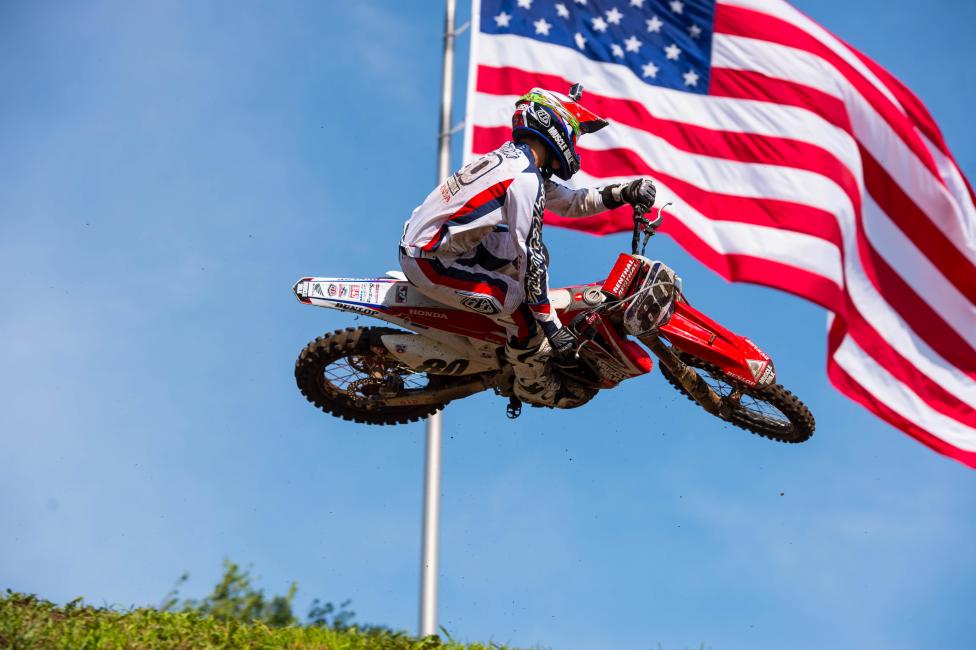 It's so cool to see "big bad Honda" do this for a guy, and it's a really nice story. Noren seemed to be incapable of wiping the smile off his face every time I saw him. In talking to the Honda guys they seemed stoked to be able to help out this privateer, and Canard seemed happy as well, but then again, Canard always seems happy.
Let's take a look at the results, shall we?
250MX Results
1. 19 Jeremy Martin; Millville, MN; Yamaha YZ 250F; 1 2- Jeremy needs a nickname. "J-Mart" just isn't cutting it, and that's lame anyways (I have used this, though, so I suppose I'm part of the problem). Up top I used "Jumpin" but that might be even lamer. Anyone?
2. 25 Marvin Musquin; France; KTM 250 SX-F; 4 3- "Moving" Marvin "the Martian" "The Marv Attack" Musquin (now THAT is a nickname!) was very good at RedBud. There were three or four laps in the first moto where Musquin was the fastest rider on the track. Slowly but surely he's getting his speed and endurance back to where he was last year. A great ride for him.
3. 17 Jason Anderson; Rio Rancho, NM; KTM 250 SX-F; 3 4- Anderson has been a little bit unlucky this year in terms of stuff going sideways on him late in the race to cost him a good finish. So it's about time that he's rewarded with a podium due to the bad luck of others.
4. 4 Blake Baggett; Grand Terrace, CA; Kawasaki KX 250F; 2 7- And there it is- the bad starts strike Baggett again. We thought that maybe he'd cured his Achilles heel after a few races where he was up front but like a moth to a flame (or me to pizza) he can't help but get a bad start. A great ride in the first moto was ruined by a bad start in the second. It didn't help that he tangled with a lapper and went down while in fifth. After he lost a couple spots and got one back, he tipped over again.
5. 37 Cooper Webb; Newport, NC; Yamaha YZ 250F; 14 1- Nice recovery by Webb to win the second moto after a crash in the first one. He backed up that Muddy Creek win with this effort and maybe, just maybe, this isn't going to be a Baggett/Martin fight to the finish like so many of us thought. A 14-1 moto score reminds me of 1980's 125 national scores.
6. 15 Dean Wilson; Scotland; Kawasaki KX 250F; 9 5- Wilson tangled with Seely in moto one and it left them both on the ground. Afterwards Wilson said that he had the inside and it was a racing incident.
7. 21 Cole Seely; Newbury Park, CA; Honda CRF250R; 8 6- Seely said it was not a racing incident and he was a little ticked off at Dean. Either way, both guys did pretty well, and if they hadn't taken each other out, they would have done even better.
8. 55 Alex Martin; Millville, MN; Yamaha YZ 250F; 6 9- Yeah Troll! Martin puts in one of his best rides in the last few years with this finish. He got good starts, charged hard both motos, and if it wasn't for a bent shifter late in moto two, he might've finished even better. Martin credited his rides for the lack of Phil Nicoletti's black cloud following him around, as Phil wasn't there this weekend.
9. 32 Justin Bogle; Cushing, OK; Honda CRF250R; 5 12- The Bogle Monster was on it this weekend. He was looking great for a podium in the second moto, when he jumped off the track and ate poop. I was impressed with him getting up and continuing to fight. Nothing wrong with his day at the Bud despite his overall finish on paper.
10. 35 Justin Hill; Yoncalla, OR; Kawasaki KX 250F; 10 8- Hill had a pretty crap day last week due to his elbow/wrist/hand injury, so this is a pretty good performance considering he probably wasn't 100 percent.
11. 30 Kyle Cunningham; Aledo, TX; Honda CRF250R; 7 15- Kyle has been coming around the last few races and probably would've had another top ten in the second moto, but he swapped and went down in the sand whoops on the opening laps.
12. 96 Matthew Bisceglia; Tualatin, OR; Honda CRF250R; 13 14- The Bisch got the holeshot in the first moto and led a lap. He's not fully recovered from his High Point crash, so it was a tough go for him out there and he went backwards. Still, you have to learn how to walk before you can run, so I'm sure the next time he's up front he'll have a bit better idea of the pace and intensity up there.
13. 267 Anthony Rodriguez; Venezuela; Yamaha YZ 250F; 15 13- Keep on building some momentum for the rookie and nothing wrong with this finish.
14. 71 Zachary Bell; Cairo, GA; Honda CRF250R; 11 17- With RJ Hampshire and Jordan Smith coming onto the GEICO team next year along with Bogle and Bisceglia already there, it looks like there's no room for Bell. Or is there? He's been having a decent outdoor season, and with GEICO's history of not giving up on guys (see Hahn, Wil or Bogle, Justin), you wonder if the guys might make room for Bell in 2015.
15. 43 Joseph Savatgy; Thomasville, GA; KTM 250 SX-F; 19 10- Savatgy got a great start in the second moto and put in a nice score. I spoke to a couple of Rockstar KTM guys and Savatgy is definitely in the running to go back to the team but this summer is the deciding point on that decision. The team wants to have three 250 riders and Jason Anderson on the 450.
16. 377 Christophe Pourcel; France; Yamaha YZ 250F; 39 11- I was talking to Pourcel's manager Erik Kehoe this weekend, and he said that a lot of people had enjoyed his Racer X Podcast a couple of weeks back. Then Kehoe said that he wished Pourcel would want to do more media interviews because it could help him out.
17. 50 Jessy Nelson; Paso Robles, CA; Honda CRF250R; 12 41- Nelson was working his way up in the second moto (got up to eleventh) when another rider went down in front of him and he crashed out. Bummer bro.
18. 371 Dakota Alix; Jay, VT; KTM 250 SX-F; 16 19- Six straight point scoring motos for Alix in a row now, which is a nice change from the start of the season. If Dakota ever makes it big, I'm going to claim that going to Canada to race a couple of nationals a couple years ago is what did it for him. In fact, if he goes on to win championships, I'll just claim he's Canadian.
19. 410 Jace Owen; Mattoon, IL; Honda CRF250R ;18 18
20. 47 Kyle Peters; Greensboro, NC; Honda CRF250R; 37 16
450MX Results
1. 94 Ken Roczen; Germany; KTM 450 SX-F FE; 1 1- If you're wondering, like I am, why Roczen is moving to RCH Soaring Eagle Suzuki next year when he's a German riding for an Austrian company and is already winning, and why the OEM he's currently on would give him a blank check, then wonder no more. From what I gather in talking to people close to the situation, it's really his desire to get a better bike that prompted this move. I still wonder though how much the WMG Agency (which represents Roczen AND RCH) controlled this whole situation to help its "own" team out and persuaded Roczen that he needed to move. Just spit-balling here…
2. 3 Eli Tomac; Cortez, CO; Honda CRF450R; 4 2- Look at this, Tomac just might win one of these things before long. And why not? He ran with, and beat, Roczen last year. That was pre-Aldon Baker for the German, though. The best part of Tomac's day was stopping for a Bear Claw for me that his dad John bought and gave me that morning. This just in. ELI TOMAC RULES.
3. 5 Ryan Dungey; Waconia, MN; KTM 450 SX-F FE; 3 3
4. 41 Trey Canard; Edmond, OK; Honda; CRF450R; 2 4- On one hand it was great to see Canard fight so hard with Roczen in the second moto to try and win, but on the other hand I can't help but think that the fight to hold off and then stay with the German might have cost him later on. You can't tell a rider to not go for the win, but a 2-2 day looks nicer than a 2-4 day. Either way, Canard rebounded nicely after a not-so-good Muddy Creek.
5. 29 Andrew Short; Colorado Springs, CO; KTM 450 SX-F FE; 5 5- Another nice day for Shorty. He had a titanic battle with Josh Grant late in the second moto and got by him when the Toyota/JGR Yamaha rider went off the track with half a lap left. Short is so underrated that at this point, perhaps, he's overrated because of all the people that talk about him being underrated.
6. 33 Josh Grant; Riverside, CA; Yamaha YZ 450F; 6 6- Grant definitely has cause to be a little upset with James Stewart as JS7 tried to make an inside line work before The Leap, and both riders went down in a heap. I can understand Stewart's desire to make passes quickly but that wasn't the spot for it. He would've gotten Grant at some point, but this wasn't the spot. Despite that fall and another off-track excursion in the second moto, Grant rode pretty well to consistent 6-6 scores.
7. 22 Chad Reed; Australia; Kawasaki KX 450F; 8 7- This was…better for Reed. In talking to him after the race, he wasn't that pumped, but it was a better ride for the two-two than we've been seeing. Before practice I was in his lounge with Scott USA's John Knowles while he was changing for practice, and he seemed to be in a great mood as we all spent some time making fun of JT$.
8. 24 Brett Metcalfe; Australia; Kawasaki KX 450F; 7 8- Metcalfe was one small tip-over away from fifth overall. Grant, Reed, Metcalfe, and Short (in the second moto) had a nice battle going on, and any one of them could've wound up on top.
9. 10 Justin Brayton; Fort Dodge, IA; Yamaha YZ 450F; 10 9- Brayton's second race back, and it went better than his first race. And I would bet this weekend that he'll also be a bit better. I spoke with him after the race about next year, and as of now he doesn't have anything with anyone. WHAT IS JGR WAITING FOR????? I cannot believe that he might not end up back there. For years, riders living and embracing the North Carolina life was a problem, yet here is a great rider, nice guy, low-drama dude that loves it there, and JGR doesn't want him? C'mon Coy…don't make me call Joe.
10. 11 Kyle Chisholm; Clearwater, FL; Yamaha YZ 450F; 13 13- Chiz did the pick-up thing again, only he was in his Canadian gear deal Alias instead of Fly last week. Last week he went 12-12 and this week 13-13, so that's pretty good on a bike that's not exactly equal to the riders around him. Tenth overall with these two moto scores is a pretty sweet deal.
11. 80 Fredrik Noren; Sweden; Honda CRF450R; 17 10- I asked Fast Freddie if he had ever tested before. He replied, "No, not really," which is awesome. My advice to him was to not make stuff up—if he can't feel a difference when testing then make sure he says he can't.
12. 48 Ben Lamay; Wasilla, AK; Yamaha YZ 450F; 12 15- Lamay qualified well, which is a big step for him. Ben doesn't have any problem going thirty minutes plus two laps, but he has a weakness for the one lap sprint speed. At RedBud he showed that his raw speed was better, and combined with his fitness, it worked out pretty well. He's staying with Andrew Short right now and trying to shadow him to see what he can learn.
13. 44 Matthew Goerke; Sun City, CA; KTM 450 SX-F FE; 11 16
14. 54 Christian Craig; San Diego, CA; Honda CRF450R; 14 14- Craig "retired" last year, and I always have to laugh when fans and riders say they've retired. Nothing against Craig or anything, but "retired" means you don't have to work anymore. Craig and many other "retired" riders really just…what's the word for it…quit. Ah yes, that's the word. They quit. Anyway, I'm getting off topic here. Craig's doing the next three races as sort of a fun deal, and showing that his skills are still there. Right off the couch he goes 14-14, and although he looked pretty tired there in the second moto, it was a great ride. Cool story here bro.
15. 34 Malcolm Stewart; Haines City, FL; Honda CRF450R; 9 32- Mookie didn't have a good day at the Bud. He crashed in the first moto while up front and had to work damn hard for his finish. Second moto, with a lap and one turn to go, he ate crap and knocked himself out.
16. 39 Ryan Sipes; Flaherty, KY; KTM 450 SX-F; 23 11- Sipes can't get out of his gear deal that pays him, so he's not on the Rockstar Energy Racing KTM team officially. They're helping him out, he's pitting off to the side and really the whole Ryan Sipes/Rockstar Energy Racing KTM thing is perfectly confusing just like the Davi Millsaps/Rockstar Energy Racing KTM thing.
17. 7 James Stewart Jr.; Haines City, FL; Suzuki RMZ 450; 39 12- Stew crashed into Grant in the first moto, and both riders went down pretty hard. With a bent-up Suzuki, he went to the pits to regroup for moto two. Of course he went down really hard in the second turn in that moto and spent the rest of the race working his way up. Rough couple of weeks for JS7 and his fans.
18. 27 Nicholas Wey; DeWitt, MI; Kawasaki KX 450F; 16 17- Look who's back! Wey is doing a couple of races this year, and his first one was RedBud in front of his Mafia Moto Crew's, well, crew. Wey was hoping to do a bit better than these results show, but as we all know, it's hard to just jump into a series. That's why Eli Tomac needs to be applauded.
19. 606 Ronnie Stewart; Easton, PA; Suzuki RMZ 450; 15 34- The Candy Man scored a season best fifteenth in the first moto and was fifteenth again in the second moto when I assume he crashed. That started a slow descent to a DNF for Stewart. Between Mookie, James, and Ronnie, it wasn't a good day to be a Stewart at RedBud.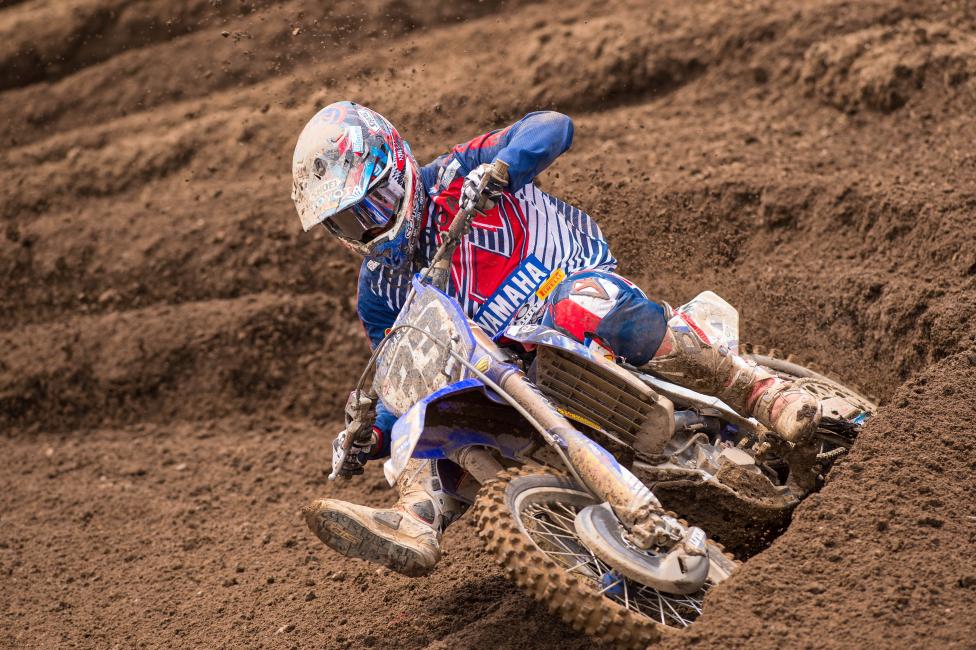 A few more news and notes from RedBud:
- There were forty-one riders that started the 250 motos, when there are only supposed to be forty. Turns out the MX Sports scoring people made a mistake and didn't log in Dakota Tedder's time, and gave the last spot to another Jake -- Loberg. Once they logged Tedder's time, Loberg would have been bumped into 37th place, but they couldn't locate the Loberg to tell him to line up for the LCQ, so they just gave him the forty-first spot. Years from now this could be a trivia question. It would've been awesome had Loberg went on to WIN the race, but sadly, he went 29-38 on the day.
- I wrote last week that I thought it was 50/50 that USA would send a team to Latvia for the Motocross des Nations, and as of last week there hadn't been anyone officially spoken to. Well, this week that changed a bit, as Trey Canard was approached about whether he would like to do it. If a USA team goes, I would look for Canard, Tomac, and whoever wins the 250 title, which will probably be either Martin, Webb, or Baggett. We shall see though…
- Ryan Villopoto was at RedBud doing some TV, signing some autographs and also being annoying to me. Which is his usual self. I talked to him for a bit, but he didn't reveal his future plans. Like he would really tell me, anyway, right? I do live in Vegas, so that makes me a betting man, and I would bet money on him either retiring or racing the GPs next year, with retirement leading by a nose. I do not think he'll be racing in America next year—he's never been concerned with chasing titles and records, and he's got more than enough money for his kids kid's so that's not a factor. I think the race-the-GPs thing comes from just wanting a more relaxed schedule and having a bit of fun with a change of scenery involved. Stay tuned on this one…
Thanks for reading this little column. I appreciate it…more than you know bro. Email me at matthes@racerxonline.com if you want to chat about this race or really anything.