The first 2015 models are hitting showroom floors and we got our turn to ride the new Kawasaki KX450F this week at Milestone Raceway. There are quite a few things that have been refined this year but the big news is the addition of the Showa TAC (Triple Air Chamber) fork. This is the same fork that many of the factory teams have been using for the past two racing seasons and it is the direction of the future.
Lots of talk about air forks the last few years, and Kawasaki and Showa folks explained one of the biggest advantages of the air fork is the ability to carefully tune the fork without having to pull it off and change springs, valving or oil height. The three separate chambers give you an infinite range of adjustability for weight, speed and rider preference. The inner chamber has a direct effect on ride height, so if you want the fork to ride higher in the stroke you add air pressure there. The outer chamber changes the bottom of the stroke so if you want a firmer or softer feel deeper in the stroke you add or remove air there. The bottom chamber is a negative chamber that actually offsets the pressure from the top two chambers. This has the biggest effect on the initial feel of the fork. Small chop and chatter would be addressed by working the air pressure in this chamber. With this much adjustability there is certainly a learning curve for every rider and I believe that is why we are hearing mixed reviews from pro riders. The 2015 Kawasaki also pairs the new fork with a new Showa shock to balance out the machine. In additional, every KXF450 comes with a pump that is perfect for adjusting fork air pressure.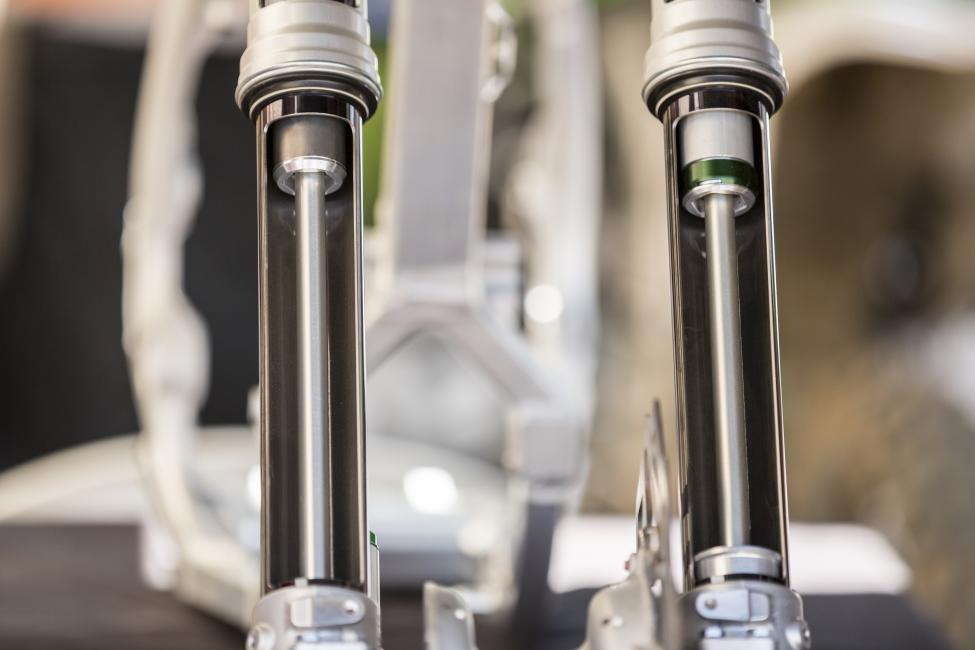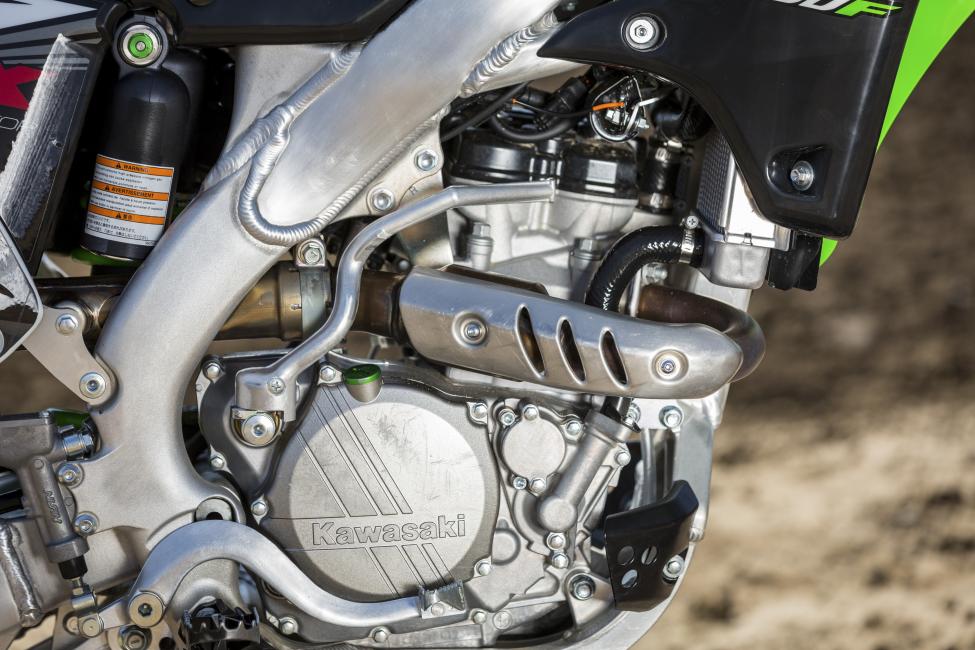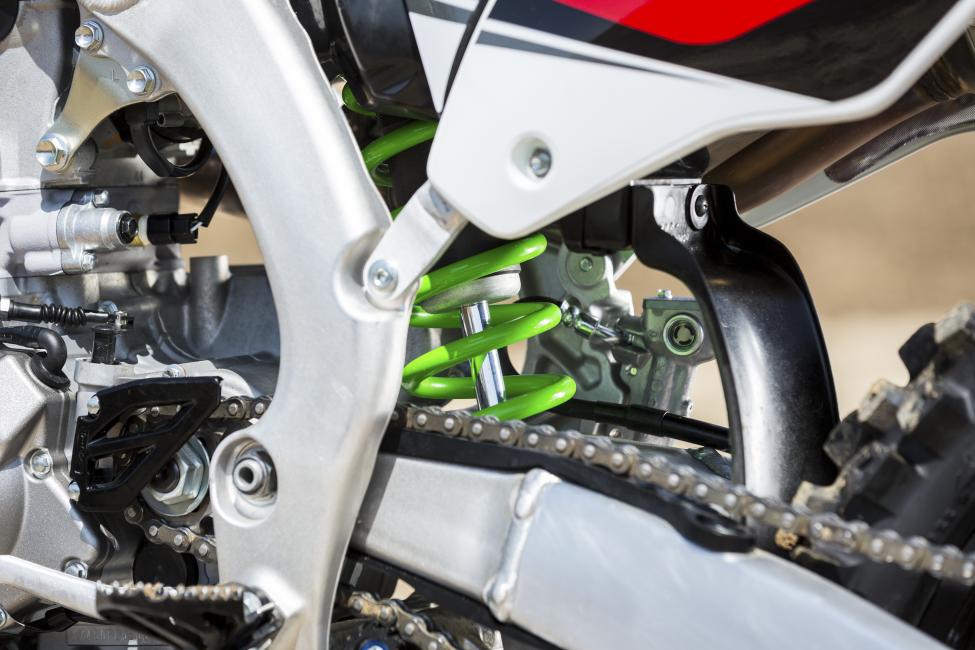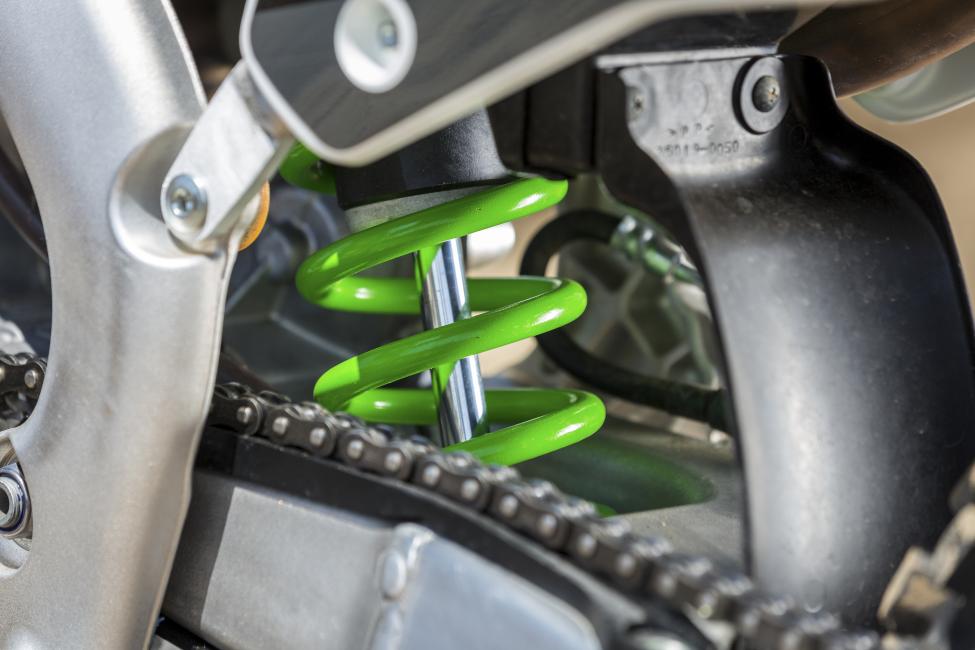 Other changes on the big, green machine include ECU updates, a self-locking axle [which means you'll no longer need to buy a Costco-sized box of cotter pins], a bridged box piston that increases compression and air flow inside the engine, a lighter subframe, green anodizing on the engine parts and a green shock spring, a larger 270mm front brake rotor [a Braking model] with a 240mm rotor on the rear and lighter axles. The KXF also features adjustable footpegs [5mm up or down], and adjustable clamp and bar mount that provides four different handlebar positions, and plug-in couplers and an optional DCI kit for the ECU that allows you to choose your own mapping. Between the highly adjustable fork, bar and peg mounts and ECU, Kawasaki has really made an effort to make this bike adjustable so that riders of any size or skill level can find a personalized fit and feel.
Sean Borkenhagen rode the new 450 for us and gave us his initial feedback after a day of riding the bike. To hear Sean's comments and see the bike in action, check out the Matty Fran video HERE.