High Point Raceway
Mt. Morris

,

PA
Race Center: High Point
Lucas Oil AMA Pro Motocross Championship
By Jason Weigandt, Chase Stallo and Steve Matthes
Ken Roczen, Red Bull KTM, 2-3 for second overall in 450MX
Even on a little bit of an off day, you're still able to put in a solid, consistent ride. That's how you win championships, I guess.
I'll take a second. I was happy with my first race with my riding but I made a few mistakes, which kind of made it tough on myself. I didn't get a start both motos. Second moto, I felt like I was riding good, about three-quarters in the race, I started pushing again. I got a little bit held up. I don't know how many times I couldn't jump that double there at the bottom. So there was a gap between me and the guys in front of me but I could close that real quick. I feel like if I could have made the move I could have taken off a little bit. But it's just the way it is. I'm still happy with everything, but it's about keeping it consistent and not getting too high, not too low. It's all good.
It seems like everyone always says this track is a Euro style track or a GP style track. Is that true? Do you find any connection to what you would race over there?
Yeah, I would say this is one of the tracks that actually kind of fits Europe. Unfortunately today I felt like it was kind of tough to pass because everybody somewhat took the same lines. Again, you just kind of got blasted with roost. So trying to switch it up I guess sometimes you take a line that isn't really that fast and then you have to work your way back close to the guy in front of you. I think I'm going to work on my starts quite a bit now. I'm happy to go back to Florida. I think in a couple of weeks we'll bounce back.
How much did this track change over the day?
It's kind of funny, in that first practice I usually like it like that, but I've honestly never ridden a 450 in mud. That's just how it is. It was really sticky so the bike was super heavy and it was almost weird, and I never really had a clear lap. I usually like it when it's like that. So it changed a lot. I feel like in the first moto I still slid out quite a bit and it was slippery in some spots, but it was better in the second one. We got ruts, we got bumps. It was a good racetrack but in my eyes everybody somewhat took the same line.
What do you think happened off the starts today? Can you describe what happened?
I honestly don't know. I think in the first one I just got a little bit off balance and that threw me back. In the second one I think I came together with someone, but everything kind of happened so fast you're just focusing on trying to get up front. I just need to get a jump and get up front. I think that would make it a lot easier.
You had really good battles in both motos with Ryan and Trey. Talk a little bit about each moto and those battles.
First moto I was about 15th I think after the start and I worked my way up. I was going really good and I think went by [Phil] Nicoletti or someone and then I hit neutral so that messed with me, but I think I had a good flow going. And then I went down. That's what I meant with little mistakes that kind of set me back a little bit in the first one. I honestly got a little lucky there at the end because Trey [Canard] crashed. We don't want anybody crashing but I think I still had something up my sleeve to make a run for it. Second moto, same thing. I got around Ryan and then, unfortunately, I always took the same line in that one turn and he took the inside line and it was actually much faster so he got me back right there. I got into some contact with some lappers, actually. Unfortunately he slid out and allowed me to get back by. I tried to push toward the end to get a little closer to Trey and finished the moto in third. It was a second and third for me, which is good and I'm happy that everything's still good. We got a little bit of a break now and should be good.
With the championship being as it is, and you know that now there's a very good possibility James Stewart can win some motos, you know your teammate's capable of it. How do you approach it?
I want to keep battling up front all the way. Just want to click some wins off and just try to get as many points as I can. If that doesn't happen I just want to be up front and in the mix. Sometimes I honestly don't care that much about the positions just because I just want myself to ride good. Like I said, if I don't get a start I at least want work my way up there, and if it only ends up being a second or something, as long as I ride good, I'm happy. I try not to think about the championship, to be honest. I just want to race and we'll come back strong. If I can take this weekend as a bad weekend, I think there's nothing wrong with that. – Jason Weigandt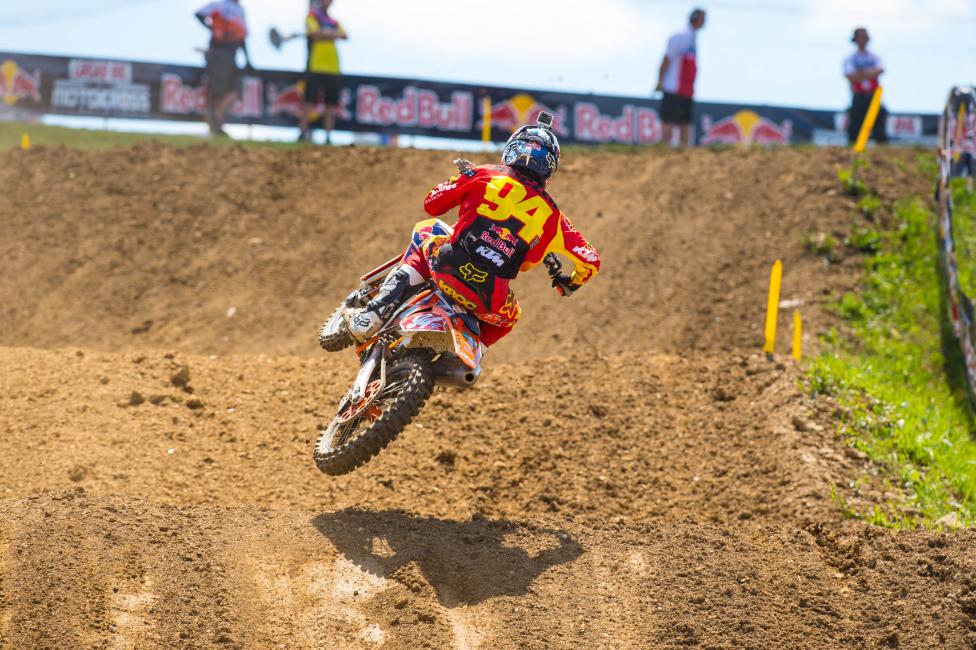 Trey Canard, Honda Muscle Milk, 4-2 for third overall in 450MX
It was a great day. Practice didn't start off great and even the first moto I wasn't too excited. I was pretty uncomfortable. I was just trying to go fast. I knew those guys were going a little bit faster than me but I just wanted to fight. I just want to win! It's been so long. So I was fighting. But I think we made a really good change for that second moto. It really helped a ton. I felt so much better. I was turning really well. I had a lot of fun racing. Kenny was right, there was a lot of lappers. I missed that big double three or four times and that makes it really difficult. You lose a lot of time right there. I was kind of bummed, I got right up on James and I felt like I could make a charge at him, and I missed that double and kind of lost hold of him. But it's been a really good day. I think the second moto really kind of gave me a little boost going into this break to hopefully I'll make some good progress and have fun training and riding.
You had a lot of pressure on you in that second moto. Talk about how you dealt with that?
I don't know. Really I just felt good. I knew Dungey and Roczen were there pretty early. I was really just trying to focus on James. He's ahead of me in points as well as those other guys. To say we're not thinking about the championship I think we'd be lying. We all want it. That's why we're all trying to be consistent, we're trying to win races and gain as many points as we can. So I really wanted to beat him. Really I just want to win a race. I haven't won a race since… well, never in the 450 class [outdoors]. It's been one that I really wanted to do. I've been close a couple times. Hopefully we can get that this year. I guess to answer your question, I went off on a tangent there, really I just tried to think of James and trying to push forward. – Jason Weigandt
Phil Nicoletti, JGR Toyota Yamaha, 8-12 for tenth overall in 450MX
Tough break in the second moto, losing the rear brake.
The second moto was going a lot better than the first. I got off to good starts in both motos. The JGR bike has been unreal off the gate. We made awesome suspension changes for the second moto, which made a big difference. Everything was clicking, I had a good flow, and right around the 17 minute mark the screw on my brake came loose and I lost my rear brake. Usually I lose it from overuse, but today was a different case. It happens, it was a fluke deal. Ended up twelfth, but it was really hard to battle because the pace was slow for me. I'm happy, we had some good weather today, although I wish we would get a hot National so we can get some manliness out of some guys.
It seems like you're a little more comfortable on the East Coast.
I like these tracks. Here you always have something to put your wheels up against. In California you kind of have to let the bike drift and flow a little bit and I struggle with that. Today the track was really rutted, it was pretty gnarly. Top soil wise I didn't think there was much left, but I understand the whole rain dilemma and how it puts a damper on track work. It takes a lot of the sketchy parts out there. They cleaned up the ruts, which made it a lot safer for us. But by the end of the moto it was pretty gnarly. – Chase Stallo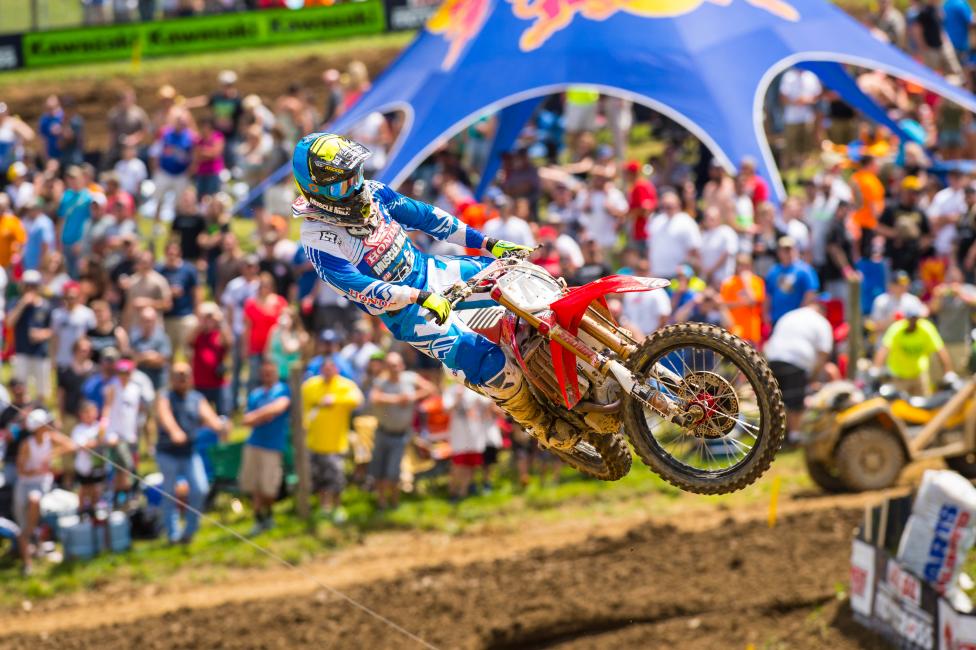 Roger DeCoster, Red Bull KTM Team Manager (Roczen and Dungey)
Stewart rode great, took the win. Your two guys though still looked great. They had some good racing today.
Yeah, the racing was good. It was good for the fans. For us, it was the starts basically, especially the first moto, they cost us. It was tough between the good guys to pass each other. James rode good. You have to give him credit. He did a good job, good starts, and didn't make any mistakes.
And Ryan Dungey's two small little crashes last weekend and this weekend have kind of hurt him in the points. It doesn't take much for these crashes to add up after a while and next thing you know you're down in quite a bit of points.
Yeah, you're right. The mistake today cost him a few points. But I prefer to have him make a mistake by trying and picking up the pace than just riding and being content with finishing fourth.
Do you feel like he's doing that a little bit more?
Yeah, definitely. I think it will pay off in the long run. – Steve Matthes
Brett Metcalfe, Monster Energy Kawasaki, 9-7 for ninth overall in 450MX
Too bad you fell in the first moto. Had a good decent day going into the second moto. Did you just get a bad start?
Well, back up to that first moto, things were going well. I was right there. And then when I fell, kind of all my momentum stayed there for the rest of the day. Honestly, I didn't do great when I got back up and rode around. I had a better start in the second moto I think, actually. But just didn't have anything really after that. We actually improved the bike for the second moto. It was better, but that [race] was on me.
At some point you started losing some time and it's very unlike you, so maybe that's why I was thinking you crashed or you made a mistake or something.
Kind of, that first moto one got me a little bit there. No excuses. I obviously wasn't on my A game the whole day almost, I felt like. Just struggled a little bit. Second moto I just wanted to ride it out. I wanted to get out of here, honestly. – Steve Matthes