High Point Raceway
Mt. Morris

,

PA
Race Center: High Point
Lucas Oil AMA Pro Motocross Championship
By Jason Weigandt, Steve Matthes and Chase Stallo
Jeremy Martin, Yamalube/Star Racing Yamaha, 2-6 for second overall in 250MX
Tell us a bit about your day.
It was good. Woke up extra early this morning because of the TV broadcast. They had the full program a little earlier. The track was pretty muddy and slick. The first practice session I came out just smiling ear to ear because I enjoy the rutty conditions and it was slippery and slimy so I had a blast out there in practice.
What happened on the starts?
First moto, I kind of put myself in a little bit of a pickle. I was prepping my gate and the gate dropped for the parade lap. I noticed that my gate wasn't down all the way into the dirt, and I dug out around it too much. When I went off my front tire hit the gate. So it popped up and I kind of did a little bit of a wheelie. And I kind of did it in both motos. The holeshot device kind of came undone.
Did you use the same gate both motos?
[Laughs] No, I moved over one.
In the second moto it was a lot drier. You were talking about how slimy it was in one. How much did the conditions change for you?
The conditions changed big time. There were lots of lines out there but there was only one or two good ones that you could make passes with, I felt like. And the track was really fast. We just watched the 450 guys and it was like a freight train. Stewart got off to a good start. He went 1-1 today. You look at Trey and you look at the Dunge, he was trying to make a move on Trey there for that second moto for a little while. He was going inside, outside, he was trying, and couldn't quite make it happen. I had a little bit of a hard time. I didn't get off to two good starts today. I just didn't commit, especially in that second moto, commit to making some passes. I should have been a little more aggressive and kind of came in there and said, "Hey, I'm putting this blue bike in front of you!"
Now that you have the red plate, does it seem like guys are racing you differently? Is it a target or does it seem unsafe when you're going through the pack like that?
I noticed when I had the win streak going that everyone was really, really trying to put me down. But it doesn't bug me. I've made jokes and stuff before, you go up to Minnesota and you race the hare scrambles, the double A class, they run red plates. So I just have this red plate because I'm going to race the hare scramble on a weekend. It's fine. I don't even notice it anymore, to be honest. -- Weigandt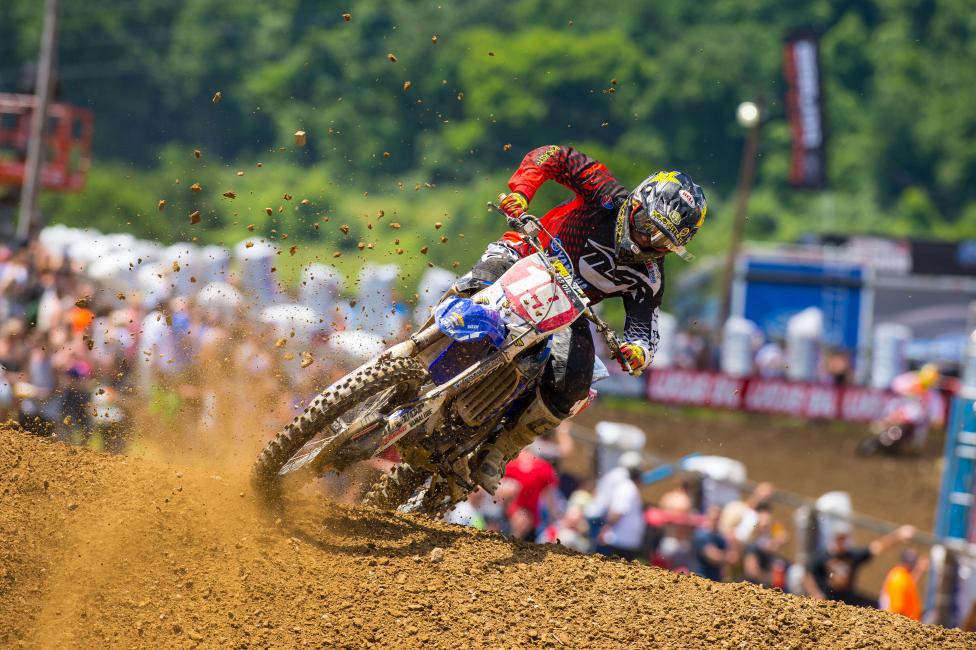 Jason Anderson, Rockstar Energy Racing KTM, 7-2 for third overall in 250MX
Did you think we'd have to wait for round 4 to have you visit us here at a press conference?
Definitely not. I thought I was going to definitely be up there a little bit quicker but I've had a few little issues. Even at Glen Helen I should have been on the podium. I just had a couple issues. I definitely thought it would be a little bit better start to the season but just with my issues... I think I'll just keep getting better from here on, especially with this break we have coming up this next weekend. It's going to be a good race at Muddy Creek.
We know before the Vegas Supercross final you rode through a rib injury, then you had some other issues. Are you 100 percent right now? Are you still getting close and this break will help?
I felt pretty recovered the Monday after Vegas, but then I just had weird, small things going. I got my wisdom teeth pulled, which is random. I broke my tailbone. I had strep and viral infections like a week before Hangtown, so it's just been one small thing after another and I just feel like from here on out as long as I can stay healthy and keep progressing I'll keep getting better.
Just talk about your motos.
First moto I didn't get too good of a start and then worked my way up. I was behind [Marvin] Musquin and [Christophe] Pourcel and just couldn't get around them at the end of that moto. Then the second moto I got a good start and ended up second. I made the move on Pourcel and probably I was actually riding the best I have this season so far. I think from there on I feel like I just keep getting closer to what I think my potential is.
Was that you that hit Pourcel going for the pass on the face of that big double?
He went to the outside and I went to the inside. I thought he was going to let off but then he still went for it. I didn't get too close, but I definitely thought I would spook him enough to where he would roll it, but he ended up jumping it. He's definitely a tough guy to pass, that's for sure!
Break right now. We're headed down to Muddy Creek. You had quite an illustrious amateur career. Have you been through the Muddy Creek scene quite a few times?
Yeah, I raced there before at Loretta's one year. I like Muddy Creek. I'm not fantastic at there but I feel like I'm a solid dude there. I think I'll be good there for sure.
Of the tracks left on the series, which ones are you really looking forward to getting to?
I guess I would say I'm more of a soft track guy, like a Red Bud, Millville… Kind of bummed they threw out Southwick because that was my favorite. And even though I said I like the soft stuff, I'm pretty good at Washougal. I like Washougal, so looking forward to that. -- Weigandt
Justin Bogle, GEICO Honda, 4-4 for fourth overall in 250MX
You were leading, lost the lead in the first moto, but a good second moto. You've still got to be happy. Maybe you're pissed, because you didn't win, but I still think it was a good day.
Yeah, it was a good day. It was a good learning experience today. I haven't led laps, I don't think. It's been a long time either way since I've led laps outdoors.
You led Unadilla, didn't you? Early, your first year?
I led Pala my first year, I think. Maybe I led a few laps last year like at Utah or something. Other than that, I don't know. It's been a long time. So good learning experience to get up there and lead some laps. Felt a little bit flat that first moto. I just didn't have it. Those guys rode good, made the passes on me. I tried to hang tough there and learn something, and picked up on the spots where I was slower in that second moto but I just didn't get the start that time. All in all a good day, consistently up in the top five. Good step in the right direction. Still got a lot of motos. I'm still trying to get up there and I need to be getting up on that podium every weekend, so that's my goal. Like I said, progression over perfection here. We're making progress and I can't be mad at that. – Steve Matthes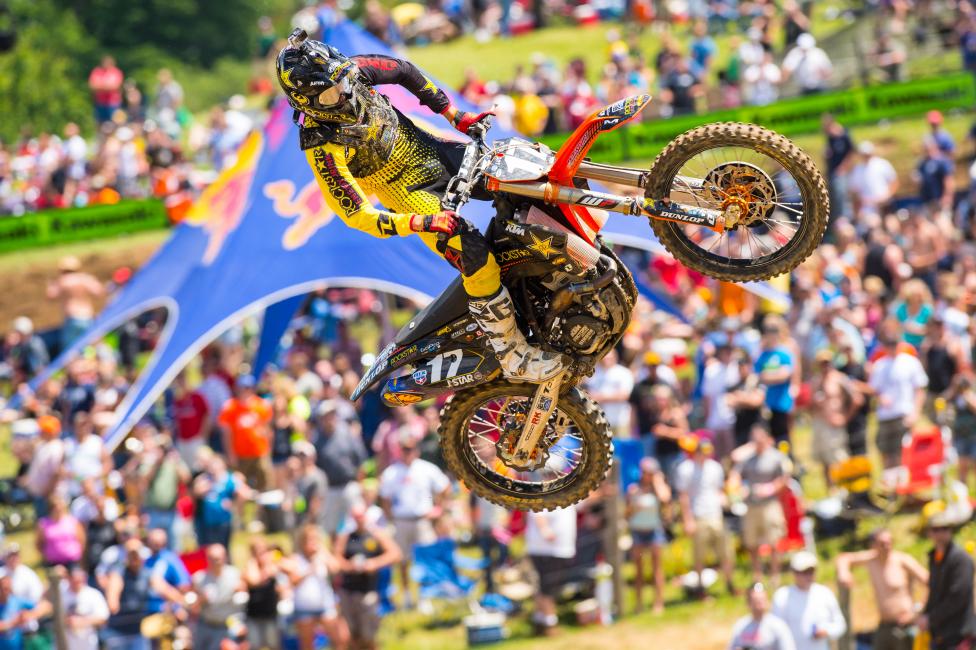 Cole Seely, Lucas Oil/Troy Lee Designs Honda, 8-9 for ninth overall in 250MX
It was an okay day. Just kind of struggled all day long with flowing, really. Not really anything with bike setup or anything like that, just personal. Just couldn't really find my groove all day long. I don't know. This track's technical and it's tough. It was muddy earlier on and then all the muddy lines hardened and it was very technical. I'm bummed at myself but at the same time I got to kind of take it for what it is and go home and learn from the day really.
What's funny is, even on your bad days this year, they're still as good as your good days in the past outdoors, and then your good days are podiums.
That's true. I still ended up top 10, an 8-9. That's good. It is good, looking at the stacked field and how many fast guys there are out there, but it's not where I want to be and where I think I should be. I just see a lot in myself and I'm just bummed. I just kind of disappointed myself today. -- Weigandt
Jessy Nelson, Lucas Oil/Troy Lee Designs Honda, 38-15 for seventeenth overall in 250MX
First moto I got a bad start, started working my way through and I spun out in a turn. Guys I had just worked on passing passed me back, so I was kind of rushing everything to get back around them. I made another mistake and crashed, same spot where Malcolm [Stewart] and [Jake] Weimer crashed in the first moto, I got landed on. Bike was all twisted up, so I had to stop in the mechanic's area. About three laps passed before we had it fixed, so I went back out there—a little late! Next moto, I was just kind out of it after that crash. It was pretty bad, getting landed on.
The first few rounds where pretty awesome for you. Can you just write this off?
I'd like to. I'm going to go home and put in a really hard week and then taper it the next week before the race. -- Weigandt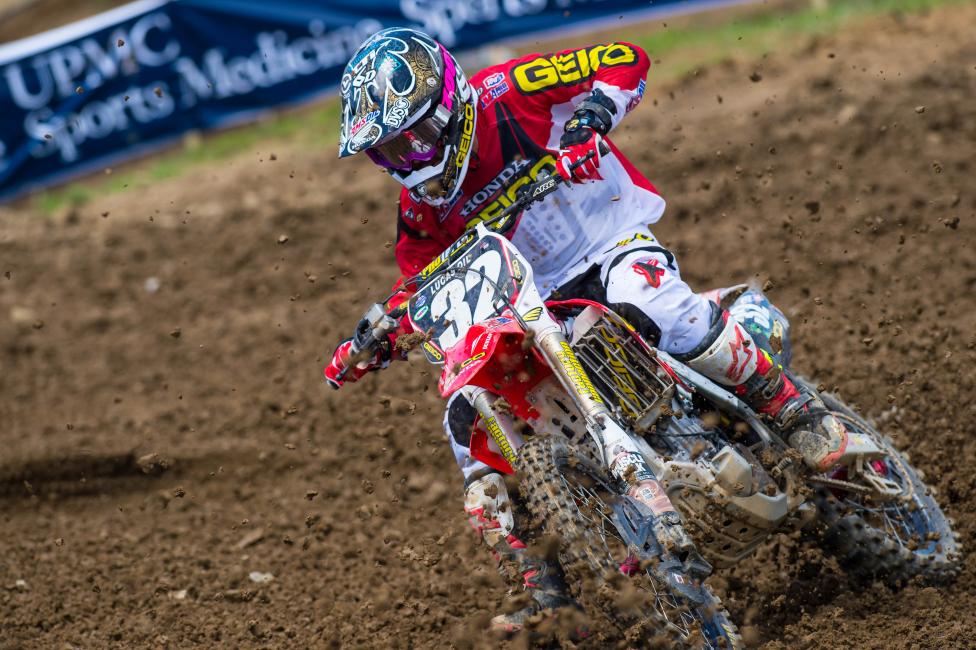 Kyle Peters, Gurrnaid Energy/AG Motorsports/Peters Auto Mall, 11-16 for fourteenth overall in 250MX
We saw some big improvements from you today.
Yeah, just kind of getting back into it. Last weekend I qualified seventh and this weekend I qualified tenth, so the speed and fitness are coming, just have to keep working on it. Eleventh in the first moto wasn't too bad. I wish I could have stayed in the top ten, but it happens. The second moto the lens popped out of my goggles on the second lap, and that messed me up. It is what it is, you just have to move on.
The 250 Class is deep this year. Guys that finished ahead of you are names like Musquin, Anderson, Bogle, guys that have won championships.
It's fully stacked. The top 15 are basically factory guys. It's definitely tough, but it's good for the sport, good for us. I'm just ready to get up there and start running with those guys.
The team was able to keep Gurrnaid Energy on for outdoors. What have they provided for the program?
They helped out a little this year, but we are really focusing more for next year. Just trying to get it all settled before it's too late, honestly. The whole team is awesome—my dad, Al Albiker [AG Motorsports], Rocket Exhaust. Our bikes are really good, which is the main thing. Everyone loves it, everyone gets along, so it's a fun atmosphere.
Especially in the 250 Class, bikes are extremely important, particularly for a non-factory team…
We have a few different people helping us this year and the bikes rips. Can't thank those guys enough. It's just me right now. I just get a little more fit and get a little more speed and we'll be right up there. –Stallo