High Point Raceway
Mt. Morris

,

PA
High Point
Lucas Oil AMA Pro Motocross Championship
Wait, wait, don't hand this title over to Red Bull KTM yet. Yoshimura Suzuki's James Stewart came to life with a moto win last weekend at Thunder Valley and followed it with a 1-1 day to take the UPMC Sports Medicine High Point National over the weekend. Is James ready to make a title run? He certainly seems like he's in a good place, judging by his smiles in the post-race press conference. We hit record on it and here's what we got.
Racer X: 1-1 afternoon. You made quick work of the riders that you were in front of. Were you kind of surprised to see Chad Reed up in front of you early on?
James Stewart: Both motos it was kind of a little bit old school. But it's funny, I haven't really raced him outdoors. I think the last time we both really raced in the same series outdoors was 2006 or something like that. It's been a while. After practice and stuff I knew the track was going to dry a little bit more and there was some more speed there so I just wanted to try to get around [him] as quick as we could. Was able to do that. I was kind of excited about coming in this weekend. We made some really good improvements on the bike. I was happy. The last couple days I rode it, it got better and better. I'm not really too fond of this track, I had some pretty big get-offs here. It's always in my mind. This track, kind of like Unadilla a little bit, is one I've just got to overcome, so it's definitely nice to get a win. It's the first time I've done that in a while, going 1-1. I think we'll go back and just keep on working and go from here.
Last week a moto win, this week two moto wins. Are you feeling that your comfort zone is back in that number one spot?
All year, even through supercross, I felt like we were pretty close, with myself and the team on the bike, we were pretty good, whether we won the races or not. We were always competitive. Today, and even, last weekend and even though I ended up third in the second moto, I felt pretty good, physically riding. Today I was just happy that I was able to find the speed whenever I needed it. It was one of those races where I can kind of see the gap and just kind of play off of that and pick it up when I needed to. I kept getting caught up with lappers and losing time, but it's been a while since we had just kind of speed in reserve. The pace that I was running today, I felt really comfortable doing it. Just from where we started at Glen Helen, getting sixth place, and then the first moto at Hangtown, not going that good, and finally getting on the podium in the second moto there, but to win a moto last weekend and to come out like this today, we're just gradually improving. I feel like once we move on to the next few tracks, it should get good.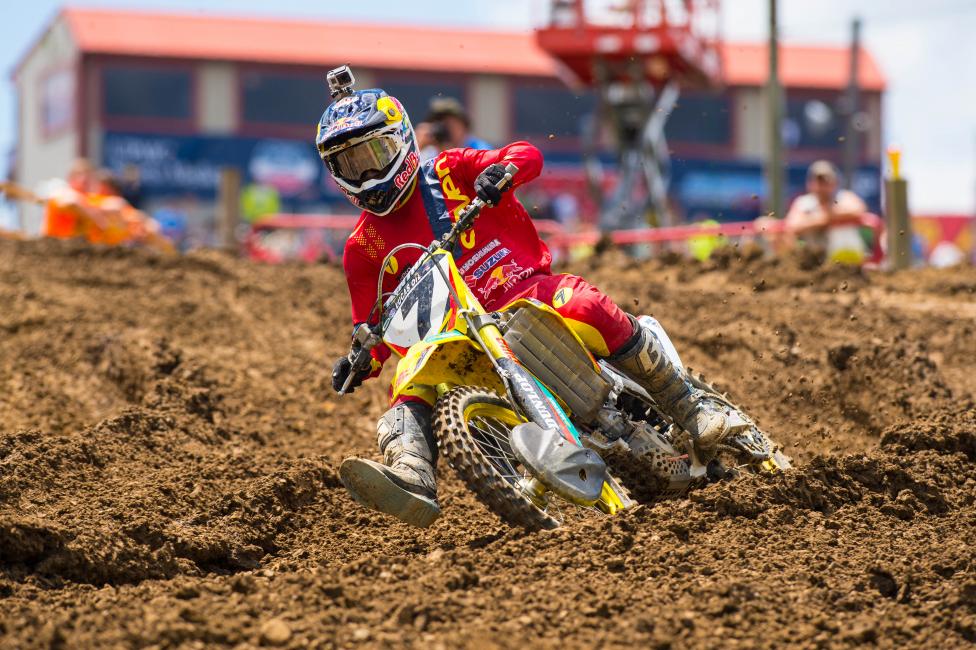 Did your mindset change at all? You've had races where you had a sizable lead, today they were close at times and obviously you were trying to be consistent in everything you do.
When you're way out front there's opportunities to kind of float off and go in a different land, but I think today and the last week that we've been testing I've kind of been back at one with myself and with the bike. So to me it was about hitting lines… It's one thing being out front and knowing you're not that fast, and thinking you'll get caught. It's another thing being out front and knowing that you can pick it up if you get caught. So that makes it a little bit easier to know that. But for sure, I think the hardest thing today was just dealing with some of the lappers. Once they got in the main line, the ruts were so long the to pop out of them was pretty tough. To me, the first moto was great, the second moto was probably more fun than the first moto to me. I enjoyed that one more. But either way it's fine. I just like racing with these guys.
I think you alluded to this, but bike setup is more critical than ever. You can't just blow past dudes every week like maybe other guys who used to dominate, or even you. Is that where we saw the difference between round 1 and round 4, just getting the setup right?
Yeah. I'm not going to blame it all on the bike. I think we struggled. It's one thing, you struggle with the bike, it's another thing to get in the mindset that you are struggling with it. So even though we were, I kind of fooled myself out of it and didn't want to use that as a crutch. In the first two races, the first couple motos even though we were struggling on the bike I really didn't ride that good also. I think the good thing this year the team sees how hard I work, even for the supercross season. They're not looking at me and making excuses. We understand that if we get it better we can win races. I think the last couple weeks we have kind of done that. Like I said last week, the team only builds the parts, I take them. I'm the guy that's testing, I'm doing all that stuff. You've got to keep putting effort into it. And today was just special to kind of leave California and be able to come here and go 1-1. I think it was just nice for the team to feel that way again and for myself. We knew we had it but there's one thing proving it, and for sure we did.
When you have wins like this, it seems more and more lately it fires you up. The crowd I think fired you up too.
Like I said last week, it's nice to be kind of, once they start at the bottom, but it's one of those things that we struggled pretty bad. We go into Glen Helen and get whooped, and we go back as a team, we're just sitting there like, "Wow, what happened?" So to just kind of come back from that, it feels good. It's kind of the same thing as supercross. To go out there and DNF the first race, even though we were super fast, it sucks. You dig yourself out of a hole and come back. So today was just nice. We haven't just done it, but we built it, and solidified what we've believed, [which is] that we can win. To come here and win on a track that I'm not really too fond of, that's nice. But I think from here on out my schedule and my training and everything's kind of been the same whether we win or lose, so I'm not really going to change too much on that. It's just nice to start feeling like I think I should be able to ride. Just build off this and keep going.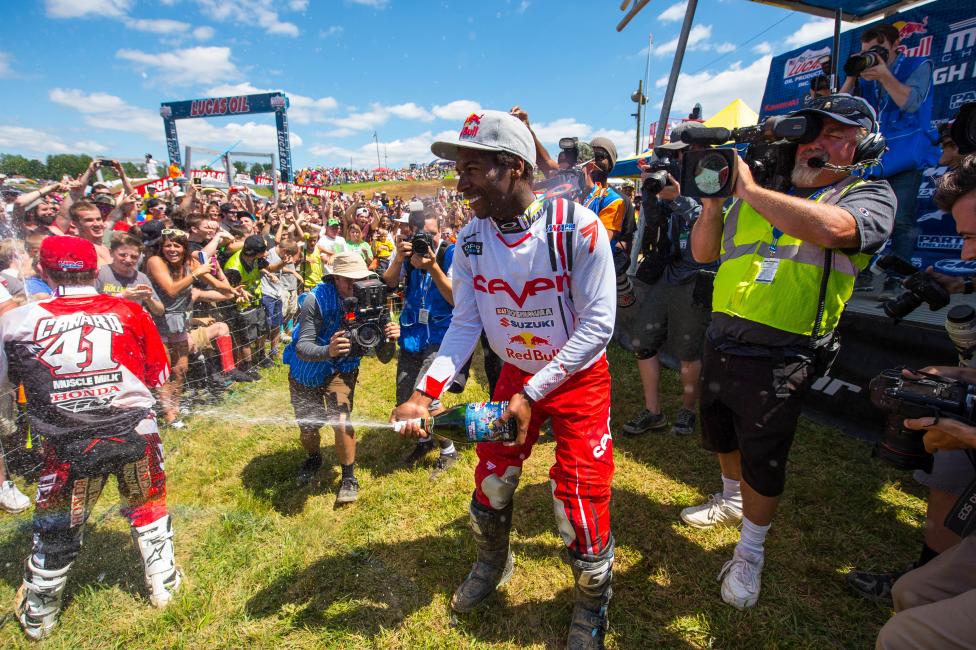 You've explained that you're comfortable with your training, the whole program. What do you think the next year or two hold for you? Are you going to stick with the team, we hear rumors, maybe you'll retire… We know you've signed a contract. What's the future look like for you? Obviously, today it looks pretty bright.
Like I said before, I've been really enjoying racing and a lot, even last year. But obviously be able to just enjoy racing and also be competitive getting wins, that's even better. I feel like my race craft has gotten even better. I do feel like I still have a lot in the tank. To say I'm going to walk away or not, it's kind of hard to say. Yeah, today I'm like, "No!" But I think at the same time as long as the guys want me on the team and we're having fun and I'm competitive, that's good, but I'll never take a factory spot from somebody who deserves it. So if I'm out there floundering around in 10th place, I shouldn't have that ride. But at the same time hopefully I'm not back there doing that! Racing's fun to me now. The prior 3-4 years ago it wasn't. So to be able to do something and having fun at it, it'll be hard to make that decision when it has to be made, but I'll make it whenever it has to be.