Fowler Wins Second of Year at Mountaineer Run
MASONTOWN, W. Va. - N-Fab AmPro Yamaha's Walker Fowler earned his second victory of the season at the third running of the Rocky Mountain ATV/MC Mountaineer Run GNCC, which took place on Saturday in Masontown, West Virginia. The 2014 AMSOIL Grand National Cross Country Series presented by Maxxis, an AMA National Championship, reached its halfway mark this weekend with Round 7 of the 13-race championship series, and Fowler proved that there's still plenty of racing left to go in 2014 as he closed the points gap on current leader and reigning XC1 Pro ATV Champion Chris Borich.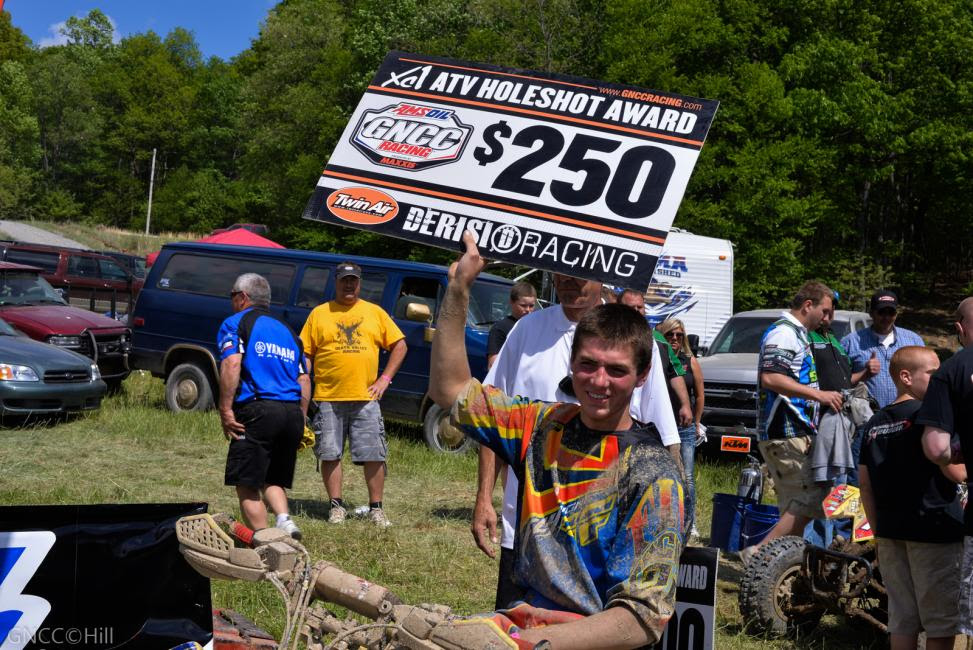 Jay Shadron captured his first-ever $250 Twin Air/DeRisi Racing Holeshot Award Photo: Hill
It was XC1 rookie Jay Shadron who captured his first career pro class holeshot to earn the $250 Twin Air/DeRisi Racing XC1 Holeshot Award. From there, the Waynesburg Yamaha rider held an impressive lead over the seasoned veterans of the class, including five-time champ Borich, Brent Sturdivant, Fowler and BNR Motorsports/Loctite's Kevin Yoho, who all ran inside the top five early on.
Around the halfway point, things began to heat up as Fowler took over the lead, with Team Maxxis' Borich hot in pursuit. The duo battled back and forth for the lead position in the final laps of the two-hour race but in the end it was Fowler who prevailed with the Round 7 victory.
Walker Fowler captured his second win of the season in West Virginia Photo: Hill
"Chris is really hard to beat straight up. I could see myself on the box but I knew the win was going to be tough," Fowler said. "When you can get out with a good start and get a lead and make him chase you, then you have a better chance. But to beat him straight up, it's not easy at all."
Borich finished a close second place, marking only his second loss through the first seven rounds of the season. The five-time champ holds the lead in the championship standings as the series heads into the eighth round of the series.
"I caught Shadron at the end but he was rolling really well," Borich said. "I tried to put my hammer down then and tried to catch up. I tried to be smooth but it got sketchy in some spots out there."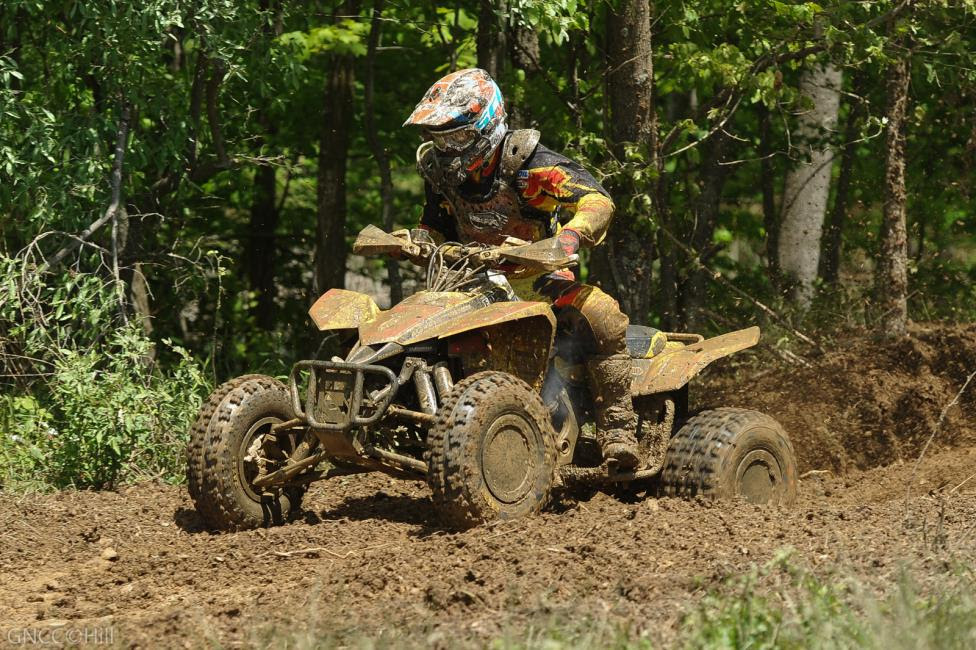 Chris Borich finished second overall at Round 7 Photo: Hill
Meanwhile, a battle for third place ensued between Shadron-who was looking to capture his first career podium finish-and West Virginia native Adam McGill, who won the Mountaineer Run GNCC in 2013. RacingPowersports.com/CST Tires/PirateMX.com's McGill made a valiant charge from outside the top five, where he caught and eventually passed Shadron on the final lap. McGill held on to finish third overall for the day, where he currently sits third in the championship standings.
"I started putting the hammer down, and I felt really good all day," McGill said. "I kept pushing, pushing and pushing but I just couldn't catch up to these guys."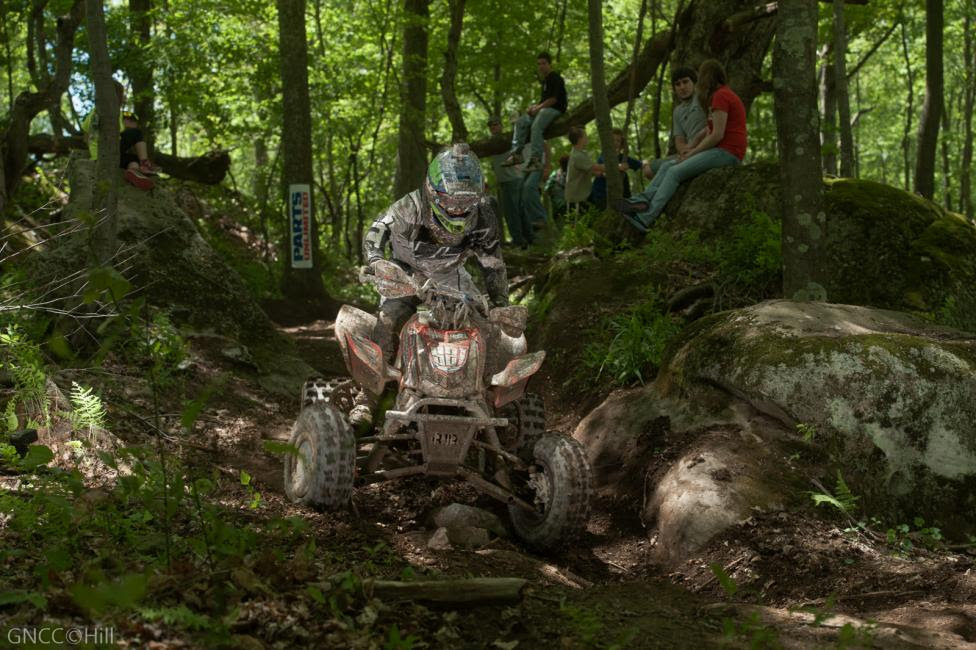 Adam McGill finished atop the podium in his home state of West Virginia Photo: Hill
Shadron finished fourth overall for the day, which is a career best for the Pennsylvania native. West Virginia's very own Brent Sturdivant had a stand out ride in his home state, where he finished a season-best fifth place in the class and sixth overall for the day.
Maxxis/FLY Racing/ATV Innovations Landon Wolfe finished sixth in the XC1 Class, while DWT Racing's Jarrod McClure came in seventh. Josh Merritt finished eighth in the class, GT Thunder's Brian Wolf came in ninth and Yoho rounded out the top ten in the class.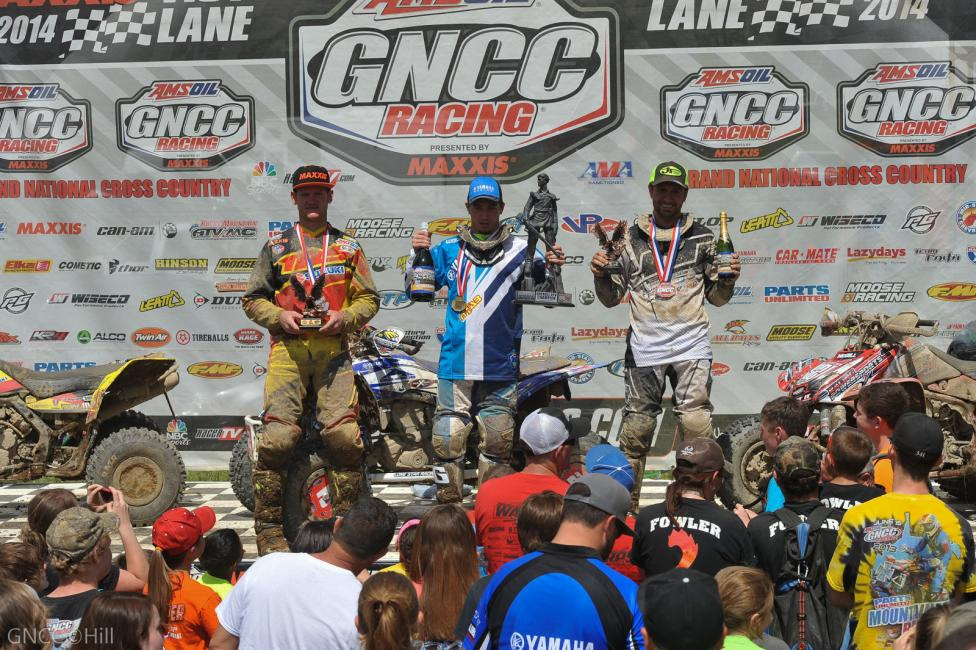 XC1 Pro Podium: (left) Chris Borich, Walker Fowler, (right) Adam McGill Photo: Hill
It was a tough day for Precision/Maxxis Tires Chris Bithell, who experienced mechanical issues almost immediately off the start. Bithell was able to push his way inside the top ten but the problems arose once again and ultimately ended the day for the Pennsylvania native, who now sits in fourth overall in the championship standings.
N-Fab AmPro Yamaha's Cole Richardson closed up the points gap in the XC2 Pro Am division after capturing his fourth win of the season at Round 7. Richardson led all four laps, where he topped the second place of Marshal Goings by over four minutes after two-hours of competition.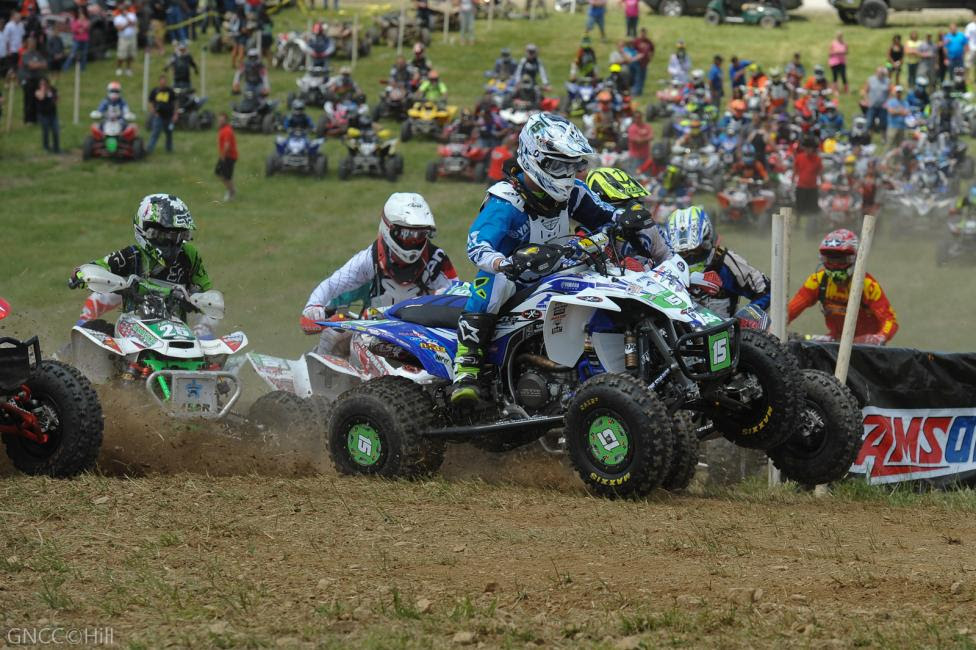 Cole Richardson secured his fourth win of the season in the XC2 Pro Am Class Photo: Hill
SICC Racing's Goings now leads the XC2 Pro Am championship standings by a mere five points over a hard-charging Richardson.
XC2 Pro Am Podium: Marshal Goings, Cole Richardson, Marty Christofferson Photo: Hill
New York's Marty Christofferson made his second straight appearance atop the XC2 Pro Am podium, where he maintained a solid and consistent third place all afternoon after claiming the $100 All Balls Racing XC2 Pro Am Holeshot Award. Christofferson now holds third place in the championship standings after seven rounds of racing.
10 a.m. overall podium: (left) Westley Wolfe, Cody Collier, (right) Kevin Trantham Photo: Hill
In the 10 a.m. amateur race, the #201 of Cody Collier battled it out with Schoolboy (13-15) competitor Westley Wolfe for the overall position all morning. Collier prevailed once again to earn the $125 GT Thunder Amateur Overall Award, in addition to the honor of topping the entire field of racers on the overall time clock. Wolfe earned second overall for the day, as well as the runner-up position in the Schoolboy Class.
4x4 Pro Podium: (left) Michael Swift, Kevin Trantham, (right) Bryan BuckhannonPhoto: Hill
Joining the young guns atop the overall podium at Round 7 was 4x4 Pro Class winner Kevin Trantham, who finished third overall for the day. Trantham's victory marks his third 4x4 Pro Class win of the season, where he now holds the points lead in the championship standings. Factory Polaris/UXC Racing's Michael Swift secured his best finish of the season, as he came through just seven seconds behind Trantham for second place in the highly competitive class. Swift's stellar ride also earned the Tennessee native another season-best finish of fourth overall. ATV Parts Plus/Can-Am Bryan Buckhannon rounded out the 4x4 Pro Class podium with a third place finish in the class and sixth overall for the day.
Side-by-Side podium: Can-Am Chaney Racing, Can-Am/JB Racing, Can-Am JB Racing 44Photo: Hill
Round 3 of the Side-by-Side racing series embarked upon Marvin's Mountain Top on Saturday, as Can-Am driver Kyle Chaney took his first win of the season in West Virginia. Chaney got off to a great start, where he led all six laps of the nearly one-hour competition. Chaney's Can-Am teammate and fellow Ohio native, Tim Farr, started off around the fifth place position but the Round 2 winner quickly put himself into striking distance of the leaders, finishing just 14 seconds behind for second place. It was yet another Can-Am machine that finished in the third place position, as team driver Larry Hendershot put forth a season-best performance for his hometown crowd in nearby Marietta, Ohio.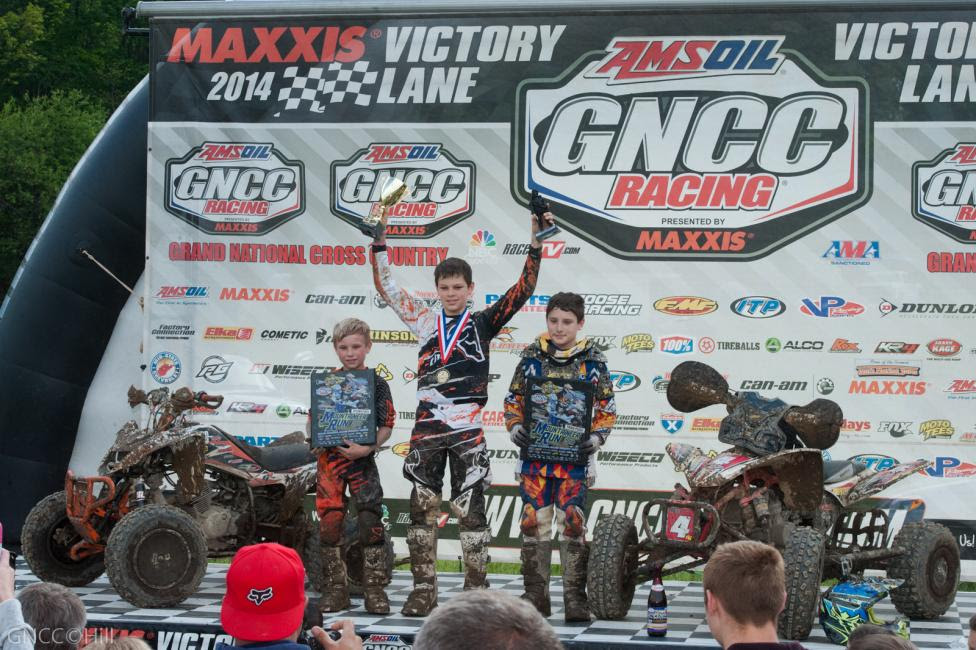 Youth ATV Overall: (left) Tim Sroka, Brandon Frazier, Dylan Walraven Photo: Hill
In the Youth division, Florida's Brandon Frazier returned to the center of the podium with his sixth overall victory of the season. Frazier also earned himself yet another victory in the 90 Open (12-15) Class. Pennsylvania's Tim Sroka landed a spot atop the overall podium as well, earning second place in the 90 Open (12-15) Class and second overall. Georgia's Dylan Walraven made his second appearance on the overall podium this season with a third place finish in both the 90 Open (12-15) Class and the overall tally.
The 2014 AMSOIL Grand National Cross Country Series resumes June 7 and 8 with the Wiseco John Penton GNCC in Millfield, Ohio. For more information on the series, visit www.gnccracing.com.
Stay up-to-date with exclusive content from the AMSOIL GNCC Series by following the series Facebook, Twitter and Instagram.
Rocky Mountain ATV/MC Mountaineer Run GNCC
Masontown, West Virginia
Round 7 of 13
Saturday, May 24
XC1 Event Results:
Walker Fowler (YAM)
Chris Borich (SUZ)
Adam McGill (HON)
Jay Shadron (YAM)
Brent Sturdivant (HON)
Landon Wolfe (SUZ)
Jarrod McClure (HON)
Josh Merritt (YAM)
Brian Wolf (HON)
Kevin Yoho (YAM)
*Overall National Championship Standings:
Chris Borich (196)
Walker Fowler (158)
Adam McGill (128)
Chris Bithell (103)
Jarrod McClure (102)
Cole Richardson (87)
Brycen Neal (70)
Brian Wolf (68)
Marshal Goings (68)
Braden Henthorn (67)
*Indicates that the Overall National Championship Standings will determine the 2014 National Champion.
XC2 Event Results:
Cole Richardson (YAM)
Marshal Goings (HON)
Martin Christofferson (HON)
Blake Kramer (YAM)
Randy Hamilton
Jonathan Fugate (HON)
Luke Upah (HON)
Luke Shepherd (HON)
James Green (HON)
Thomas Koontz Jr (YAM)
XC2 Series Standings:
Marshal Goings (175)
Cole Richardson (170)
Martin Christofferson (132)
Fred Marley (109)
James Green (96)
Randy Hamilton (94)
Thomas Koontz (87)
Blake Kramer (87)
Jonathan Fugate (83)
Brody Livengood (61)