Glen Helen Raceway
San Bernardino

,

CA
Glen Helen
Lucas Oil AMA Pro Motocross Championship
250MX Moto 2 Report
Other than a red flag on the first lap that was brought out when Anthony Rodriguez went down hard, the second moto was nearly a carbon copy of the first for Jeremy Martin and Cooper Webb. Martin took over the lead on lap one, opened up another huge gap and didn't look back. Absolutely nobody had anything for him, and he was able to deliver Yamaha their first 250 National win in years. Webb fought his way past Wilson, Pourcel and Baggett to take a lonely second. Blake Baggett rounded out the podium in third, with Seely and Pourcel filling out the top five, respectively.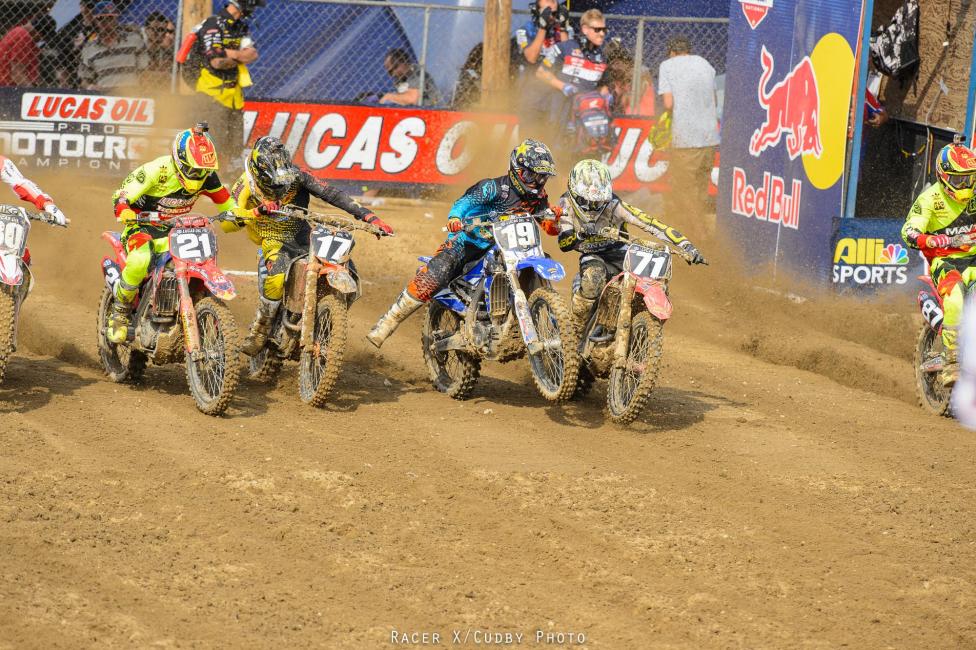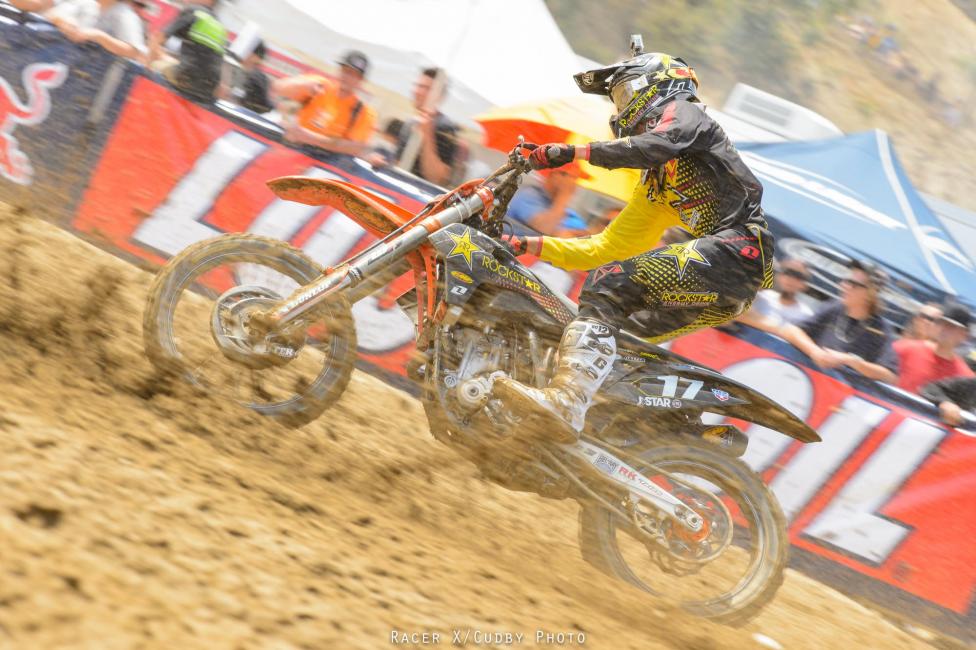 Bummer for Dean Wilson, who was putting together a decent moto in fifth until he went over the bars on one of the steepest downhill sections of the track near the end of the race. For a few scary moments he didn't move, but after several minutes he was helped off the track by medical officials. Turns out he had a severe cut on the back of his knee that's going to require surgery. Jason Anderson DNF'd late too, because of a blown motor.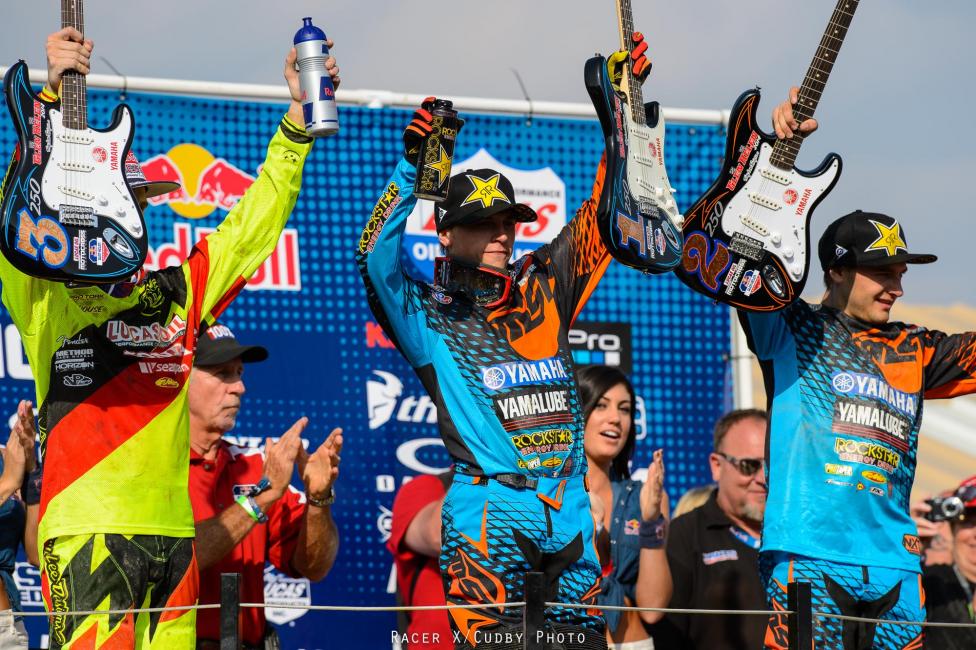 250MX Moto 2 Results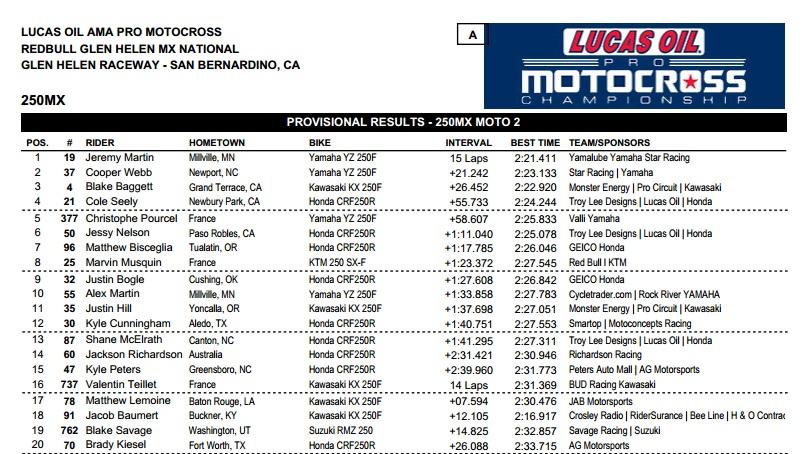 450MX Moto 2 Report
This time around it was the orange bikes up front through Talladega Turn. Ken Roczen edged out Red Bull KTM teammate Ryan Dungey for the early lead. Honda Muscle Milk's Trey Canard followed the duo up in third, but the KTM riders slowly began to separate themselves from the field as they clicked off laps in the second moto.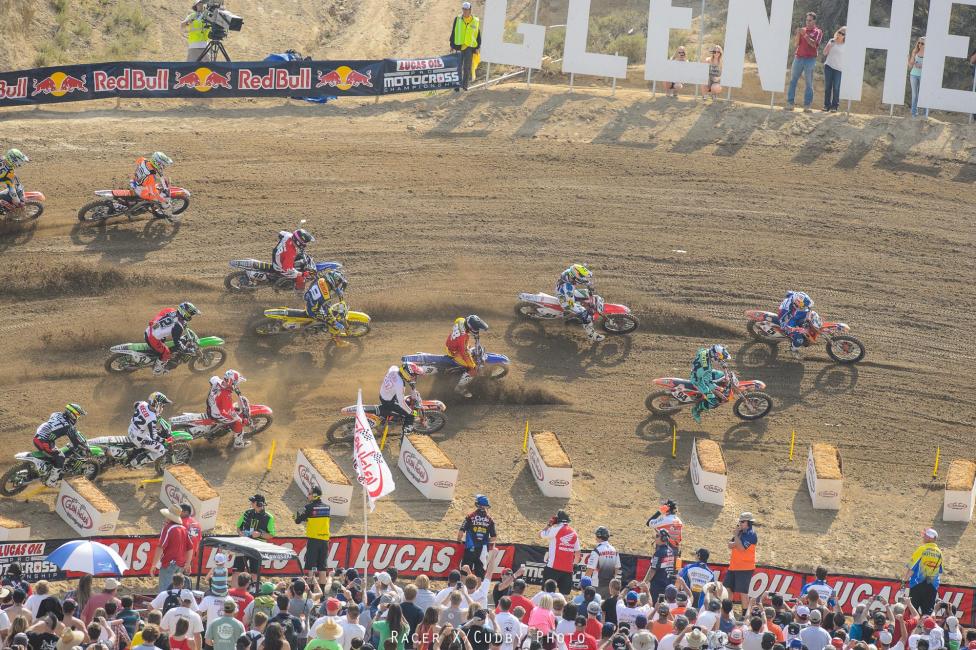 Dungey shadowed Roczen for the majority of the moto. He'd oftentimes lose ground on Roczen, but would find other areas of the track to regain it. Lapped traffic became a factor for Dungey later in the moto, and even though lapped traffic is typically a make-or-break factor for the Minnesota native, he rallied to keep Roczen in his sights.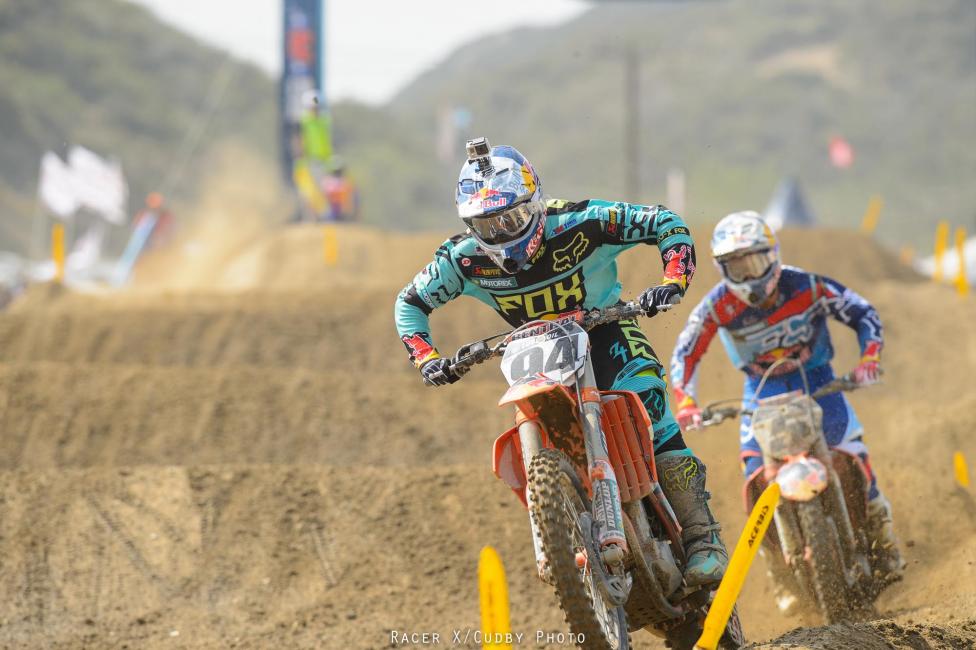 Similar to the first-moto battle between Josh Grant and Roczen, the two leading KTM riders didn't really turn on the heat until the two-lap board came out. They drag raced side by side up Mt. Saint Helens, but Roczen held the fast line going into the hairpin at the top of the hill to exit out front. Dungey stayed all over Roczen as they entered the last lap, but whether or not he'd be able to pull the trigger was up to question.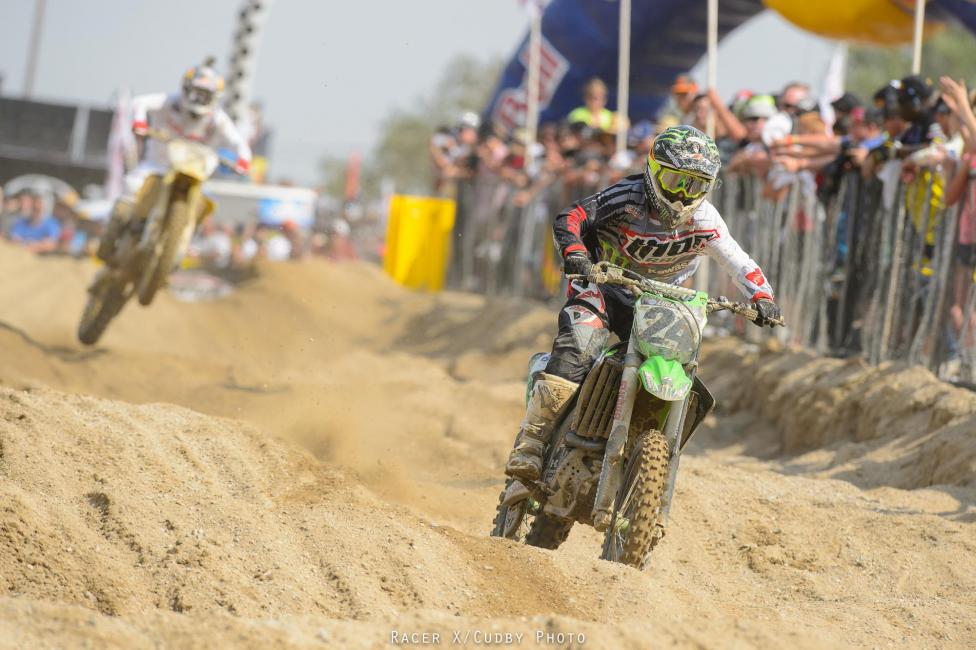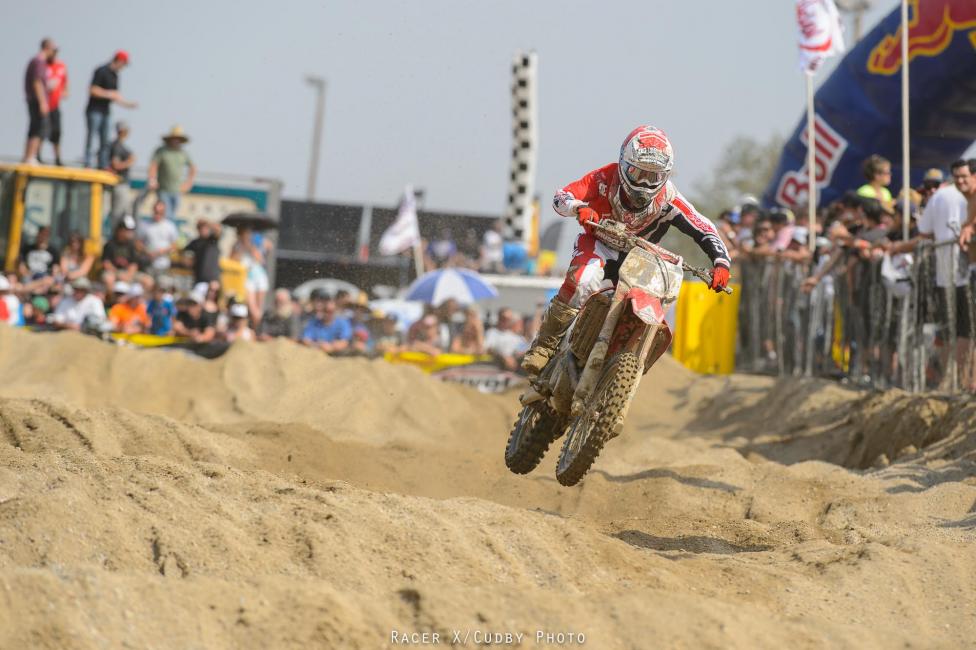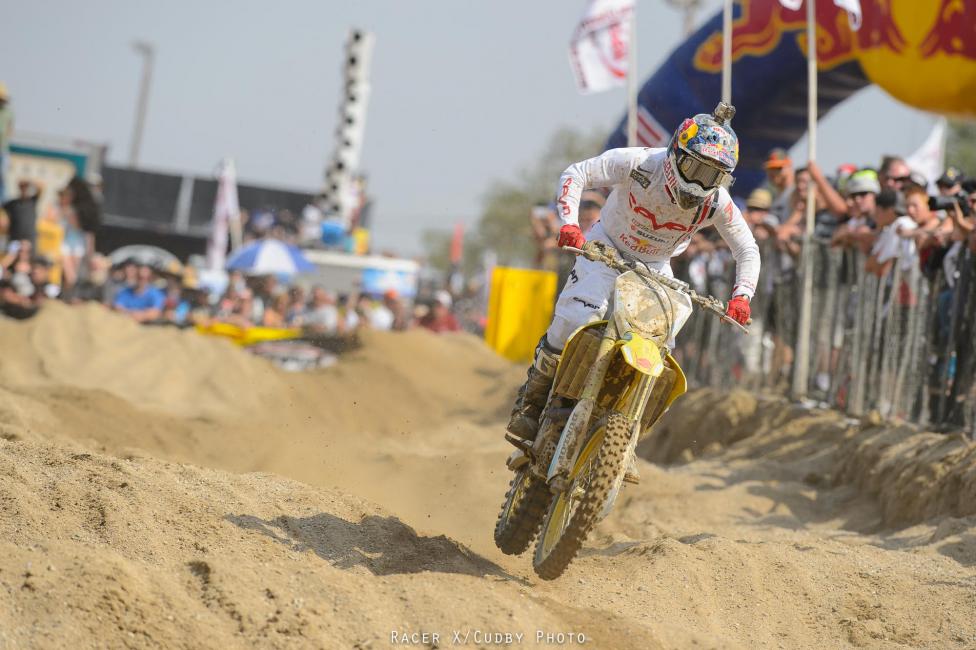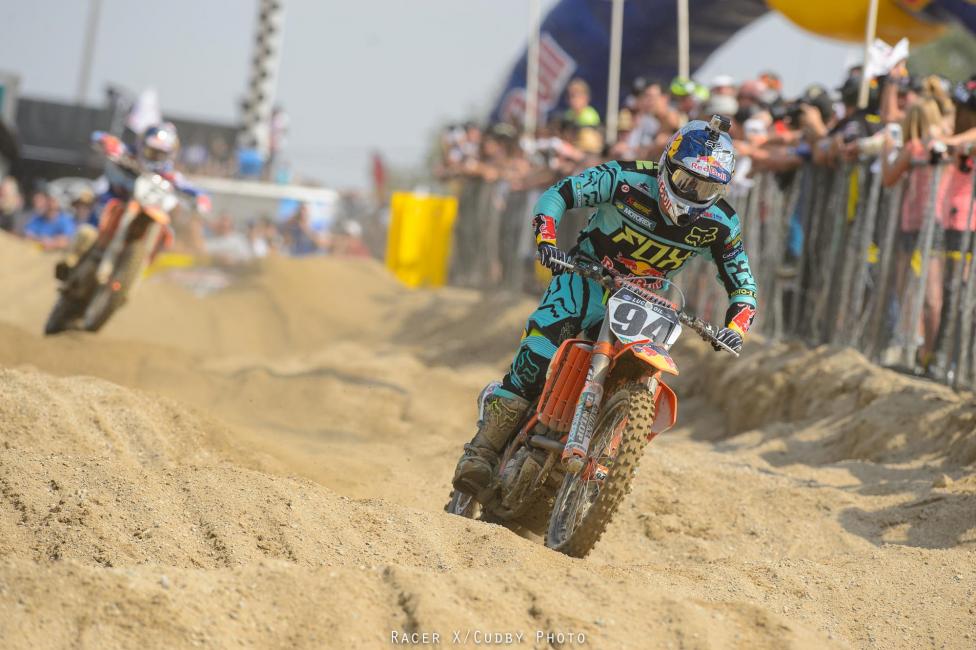 The two Red Bull KTM riders were not only battling for the moto win, but with Roczen in second and Dungey in third in the first moto, the overall was up for grabs as well. Just as Roczen looked to have the win in the bag, Dungey successfully went for the block pass with only a few turns left. Roczen attempted retaliation, but Dungey left no doors open en route to the moto and overall win. Canard finished in third with Justin Barcia and Bret Metcalfe rounding out the top five. -Jordan Roberts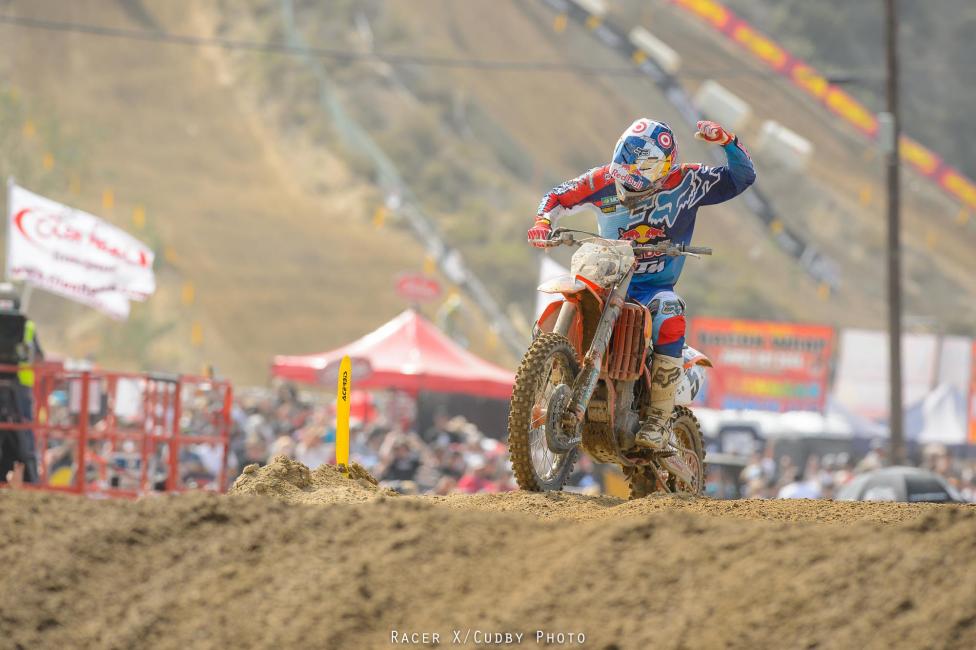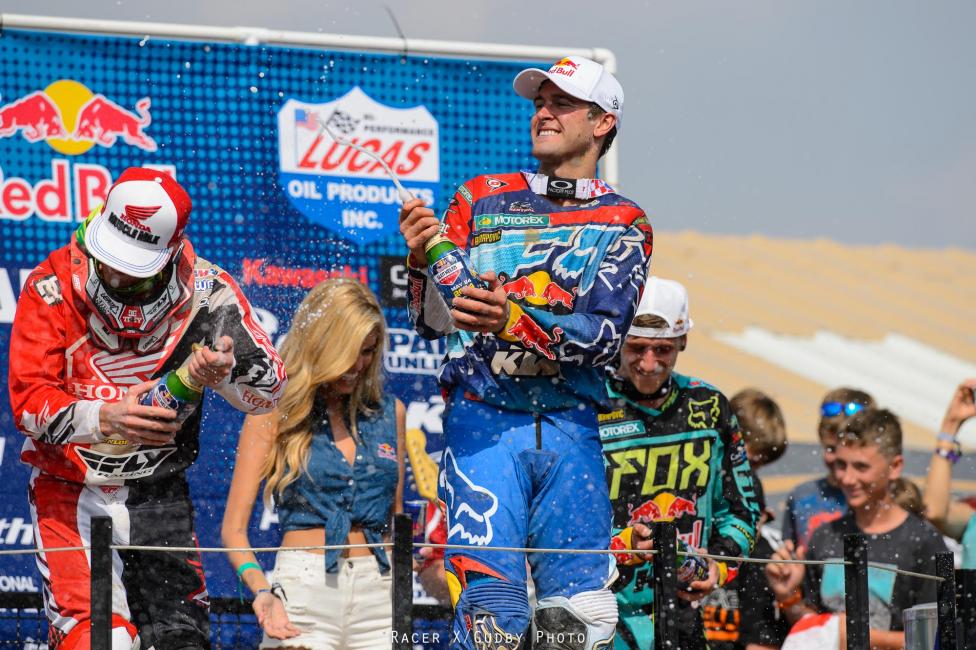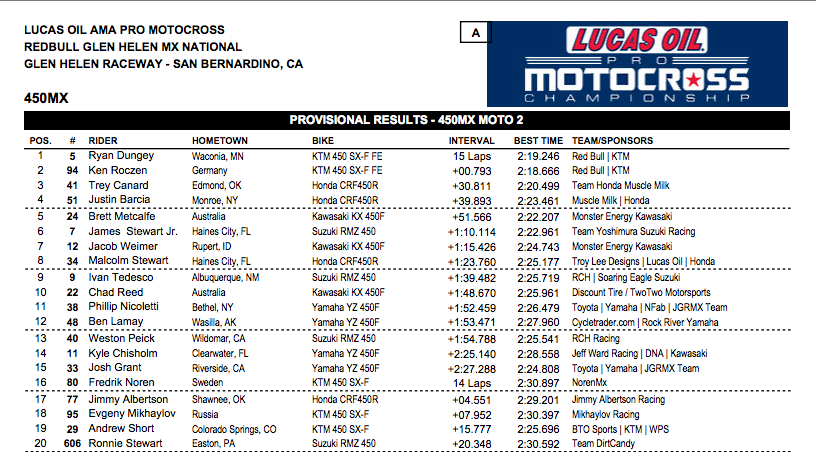 250MX Moto 1 Report
Yamaha was undefeated at this point, thanks to Josh Grant and Jeremy Martin. Sure, there's only a moto in each class in the books so that doesn't mean much right now, but we had to say it because it's only a matter of time before another brand wins. But if Martin races the remaining 23 motos like he raced the first, the other teams will be hard pressed to get a victory. Martin took the lead from Zach Bell early and proceeded to completely smash the field. He checked out almost immediately, never receiving any challenge from anyone and won by an enormous margin. We're talking Ricky Carmichael proportions almost, folks.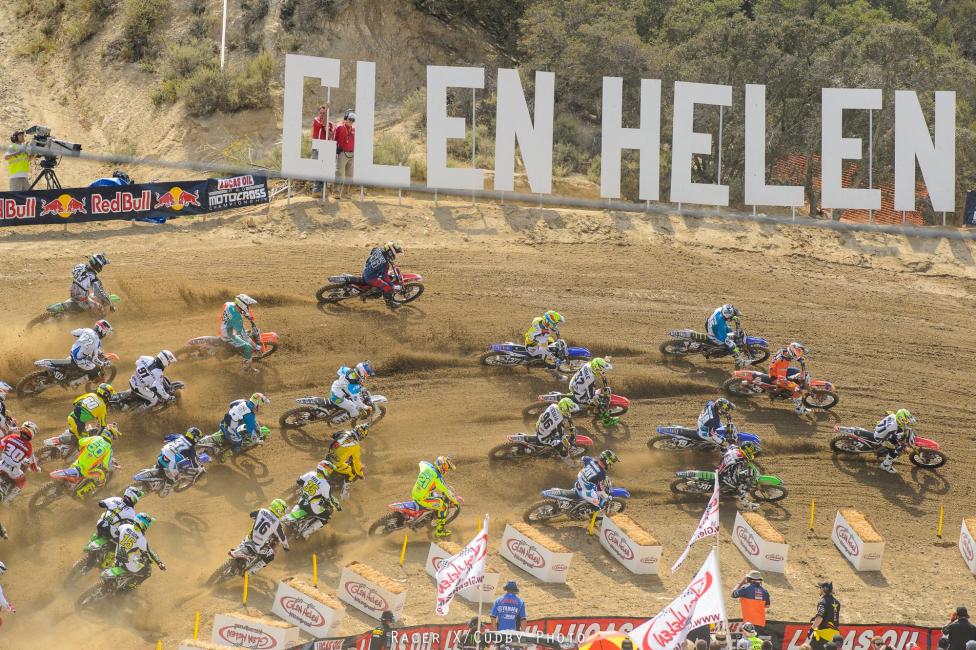 Cooper Webb also had a great race, clawing his way through the pack from outside the top ten to take second place from Cole Seely in the closing stages of the moto. Seely, who rode a great race in second until nearly the end, must have been having flashbacks from supercross when he saw Anderson also in his rearview late in the race. Like Webb, Anderson came through the pack to get on the podium in this one.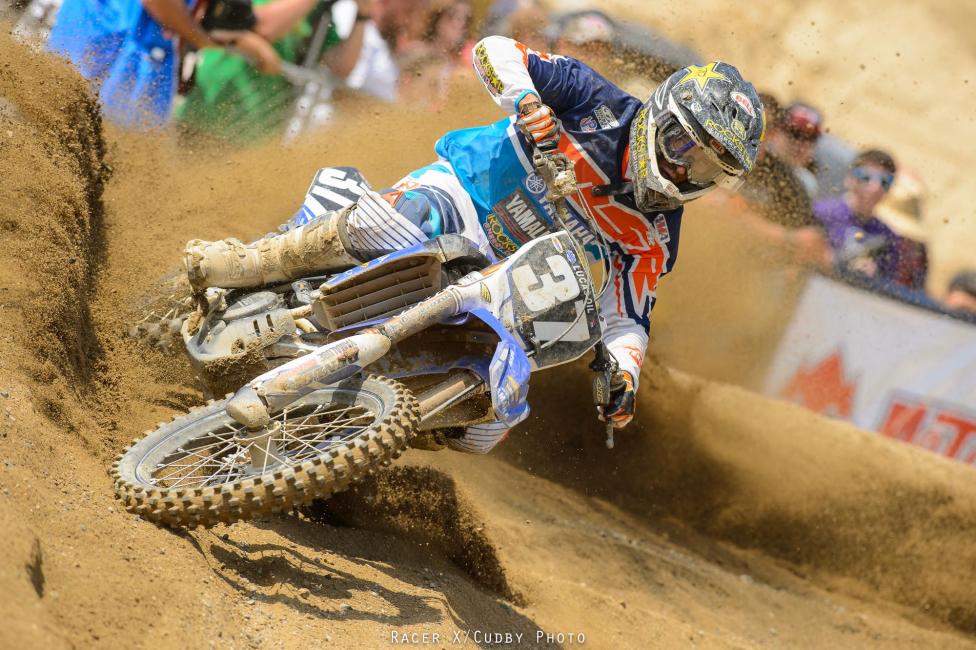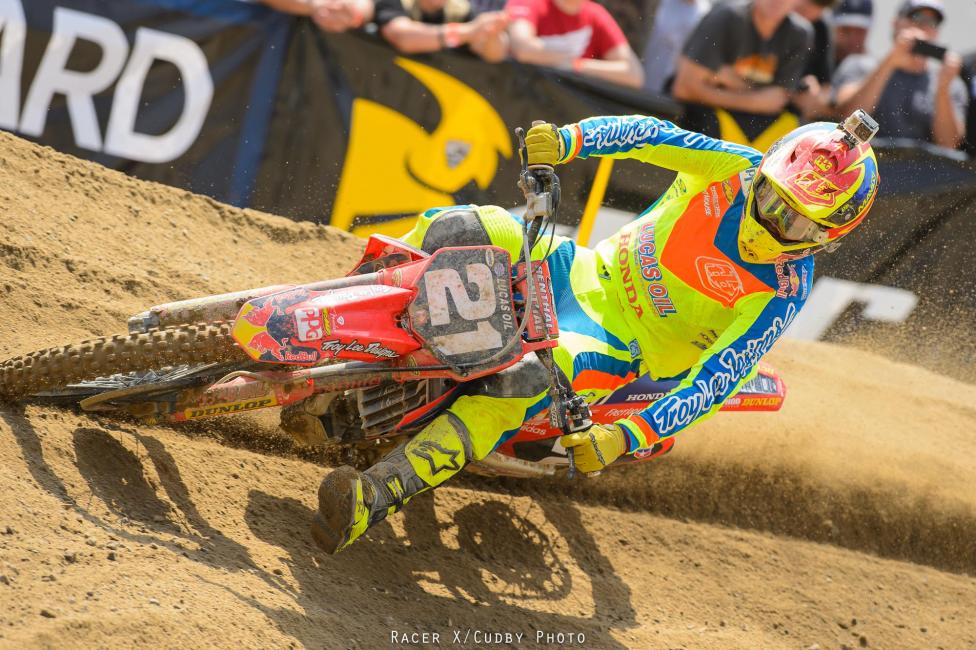 Elsewhere, Dean Wilson and Blake Baggett spent a good portion of the race battling, but they were barely inside the top ten at the time and were never a factor up front. Same with Christophe Pourcel, who couldn't recover from a so-so start and finished seventh. -Aaron Hansel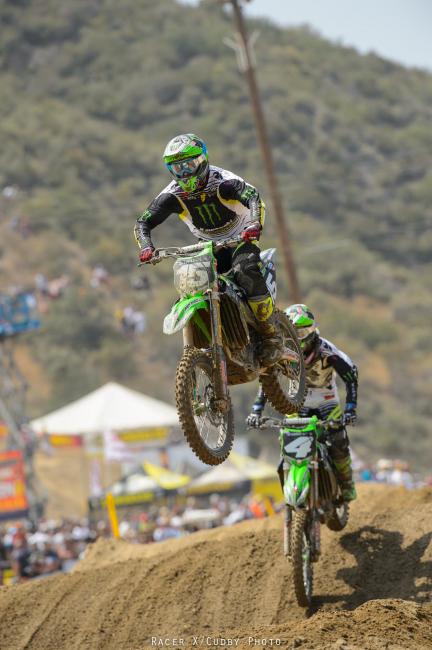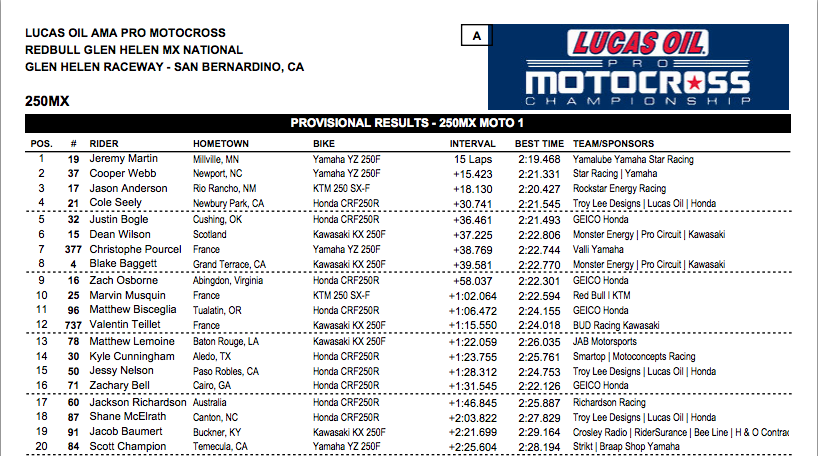 450MX Moto 1 Report
Glen Helen's Talladega Turn was painted blue and orange in the first 450MX moto of the Lucas Oil Pro Motocross Championship. JGR Toyota/Yamaha's Josh Grant and Phil Nicoletti held the first two positions over Red Bull KTM's Ken Roczen and Ryan Dungey through the first turn and beyond. Grant opened up a lead over the field as the two KTM riders battled with his teammate for second.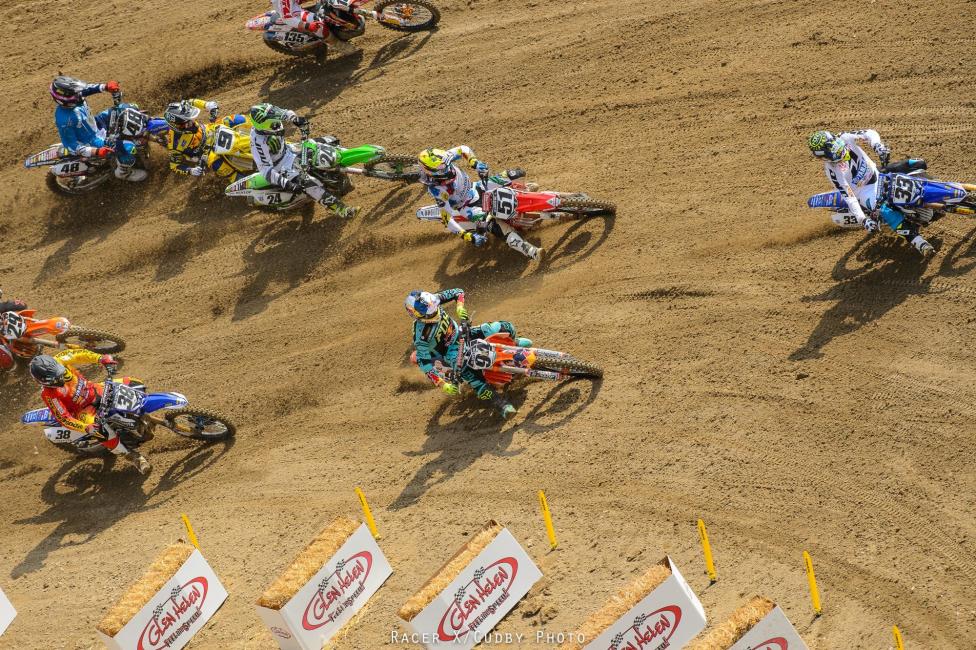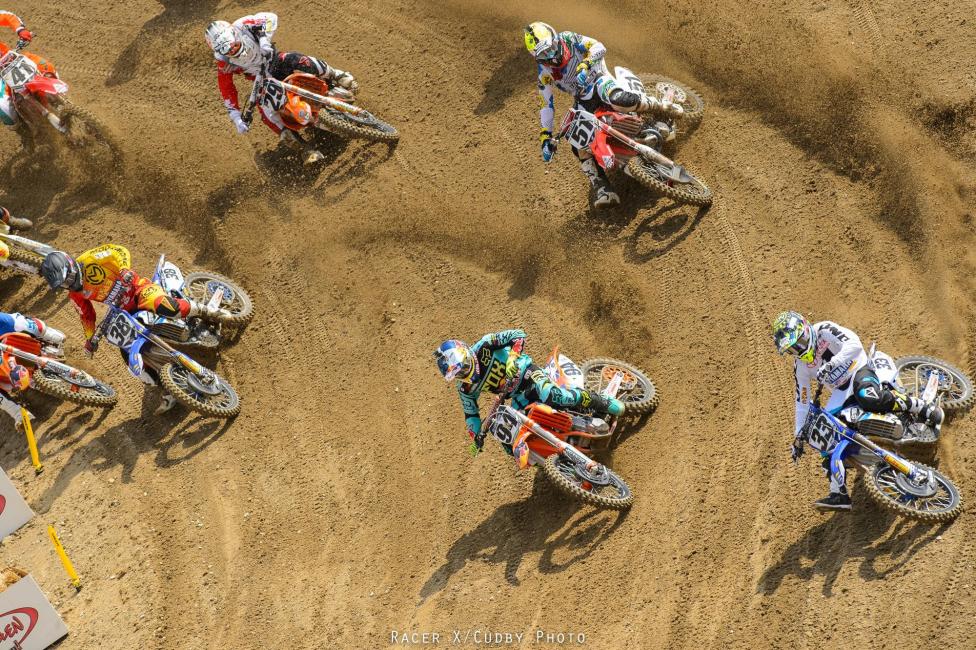 Nicoletti began to fade, allowing Roczen, Dungey, Justin Barcia and James Stewart access to the top five in quick succession. Trey Canard made quick work to catch up to that top-five group as well.
Stewart took the inside through Talladega Turn around Barcia for fourth, but a few laps later, Canard passed Barcia and later tangled with Stewart. Both riders went down in a sandy corner following the finish line area.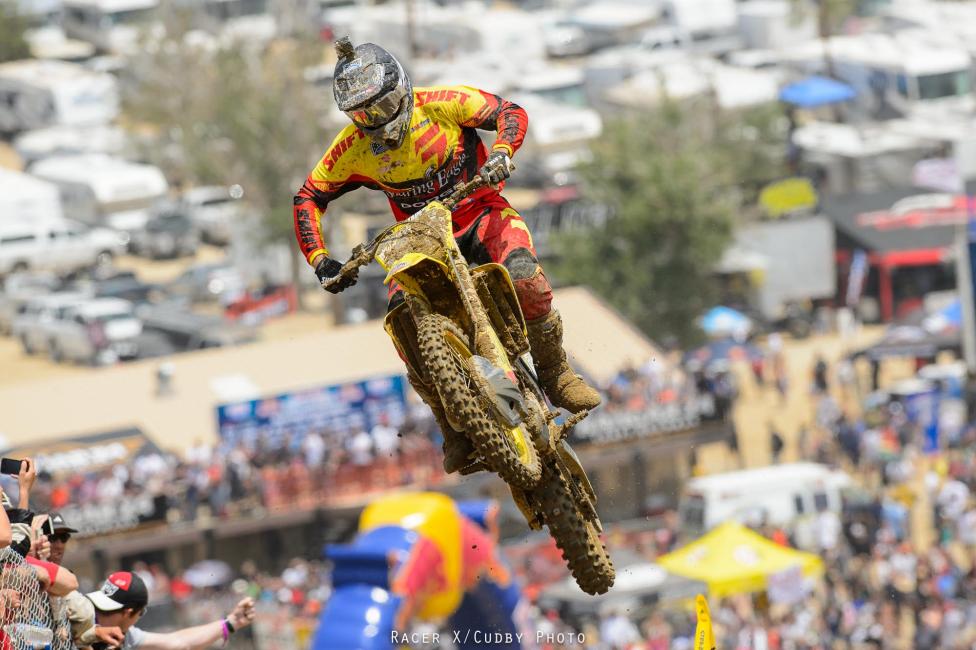 Barcia looked to be set for a solid fourth-place finish—Grant, Roczen and Dungey were long gone—but suffered a mechanical DNF with a broken chain late in the race. Andrew Short would also break a chain moments later in the exact same section.
Roczen turned up the heat on Grant once the white flag came out. The two raced spectacularly around the Glen Helen circuit through the duration of the last lap. Roczen had a shot at Grant on the inside of the last turn, but Grant rocketed late and wide out of the berm to inch Roczen out for the first 450MX moto win of the season. Dungey followed up in third while Brett Metcalfe and Weston Peick round out the top five. -Jordan Roberts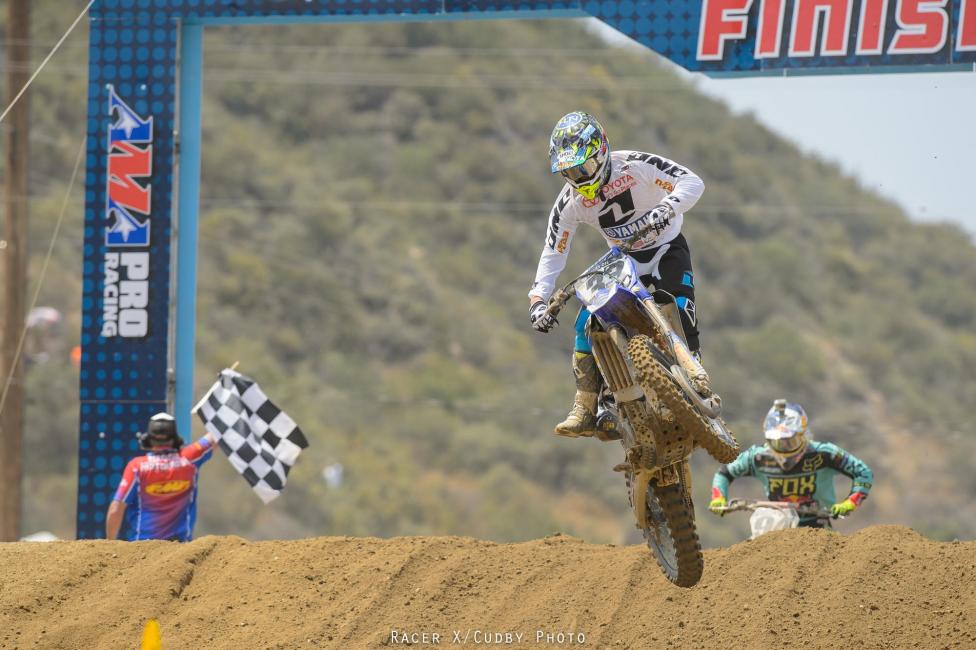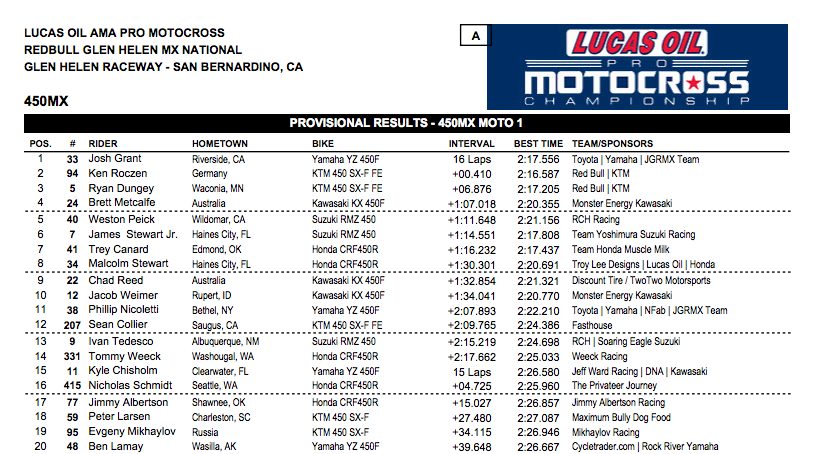 Practice Report
Welcome to the race day feed from round one of the 2014 Lucas Oil Pro Motocross Championship, coming to you from Glen Helen Raceway in Southern California. The air is cool and crisp, the track is absolutely stunning and the smell of race gas, mixed with the scent of blooming desert flowers, is in the air. In short, it's a perfect day for racing, and everything this venue is known for—a spectacular, ultra-fast banked first turn, huge hills and massive elevation drops—are all on point today. The big hills are quite steep too. How steep? Fire hoses have been fastened to hillsides in the steepest places just so spectators can get up them (expect more than a few drunken spectators to crash out and DNF today) and some of the track Mules are unable to get to the top of the hills. The dirt is fantastic too, and right now is holding the perfect amount of moisture. Big ruts have also developed, and the track is going to get downright nasty and punishing when the world's fastest riders pound out their motos this afternoon.
Speaking of the world's fastest riders, it was none other than Valli Motorsports Yamaha's Christophe Pourcel who set the fastest lap time in the first qualifying session. There's been a lot of speculation about how the Frenchman will do in his return to the American racing scene after being absent for several years, but if this is any indication, it doesn't appear as though his recent time off has hurt him at all. He didn't look like he was pushing too hard, either. On the other side there was Yamalube Star Racing Yamaha's Cooper Webb, who was aggressively charging and looked very fast. When the times came back though, his fastest lap was sixth. Dean Wilson was second fastest in this session, with his fastest lap about a second slower than Pourcel's.
Pourcel was fastest in the second session too, besting his first hot lap by more than a second. Jason Anderson shaved two-and-a-half seconds off his time to qualify second overall, followed by Jeremy Martin, Webb and Dean Wilson.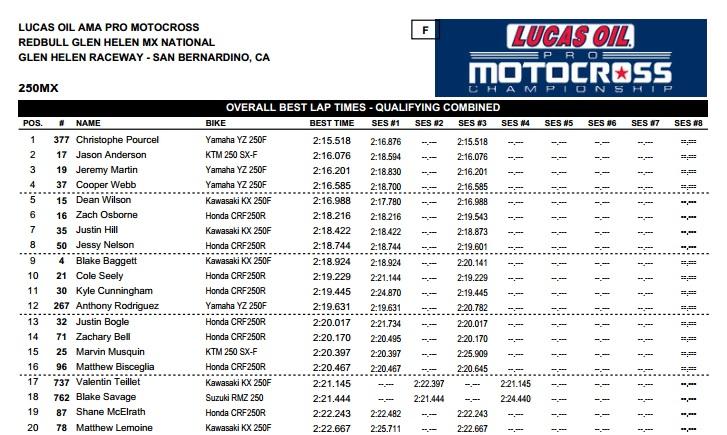 In the first 450 session it was no surprise when Ryan Dungey was fastest, and it was no surprise that James Stewart was a close second, about half a second behind, with Justin Barcia nipping at his heels. The order changed in the second session, but nobody was able to top Dungey's time from the first session, including Dungey himself. When practice ended it was the Red Bull KTM riders, Dungey and Ken Roczen, holding the top two overall spots, followed by Trey Canard, James Stewart and Justin Barcia. -Aaron Hansel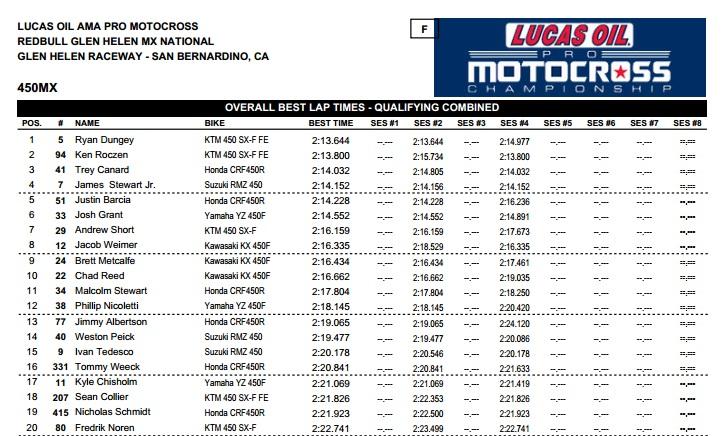 Be sure to check this feed often and follow us on Twitter (@racerxonline) for news on what's happening at round one. For full qualifying results, go here.