"Hello," said the booming voice on the other end of the line. Without any further conversation, I immediately knew I had finally found who I was looking for.
Tracking down current and accurate contact information can be a tough process, especially for those that leave the sport and move on. Art Eckman was one of those cases. Several false starts resulted in bounced emails and non-working phone numbers. But now, with one quick word, I knew I had found the person I was looking for.
Art Eckman spent more than a decade as the primary voice of the sport. He covered supercross and motocross from 1991 through 2002, starting with voice over work for the famous MotoWorld show. As he progressed, Eckman became one of the top television broadcast personalities in the sport, alongside his color analyst David Bailey.
In bench racing circles, the duo of Eckman and Bailey is often referred to as the benchmark for race coverage.
Racer X: Art, what are you up to these days?
Art Eckman: Well, I've been on the air for 47 years or so. After I left motocross, maybe ten years ago or so, I did some auto racing and some voice over work, and used my pipes… but then I retired shortly thereafter. But after three months of doing nothing, I was bored to death. I missed the writing, editing and production elements of doing the work. So I was looking for a job that would allow me to use those skills. And I found one. So for the past five years, I have worked as a consultant for the Director of Athletics of the second largest university in Georgia—Kennesaw State. Our school is a state university, and we have 31,000 students. We are second only to University of Georgia in terms of size.
What exactly are you doing for the University?
We are putting together a football program from the ground up. It goes right back to my experience in video, but it's different because I cover all segments of the program. We will be in one of the top conferences. Starting a program like this is amazingly time consuming and expensive. You are buying band uniforms, making locker rooms and all that comes with it. It was like I felt with supercross and motocross: you find yourself in the building process, and what you start continues on after you're gone. I have a sense of pride in starting this, and that's what is fun for me.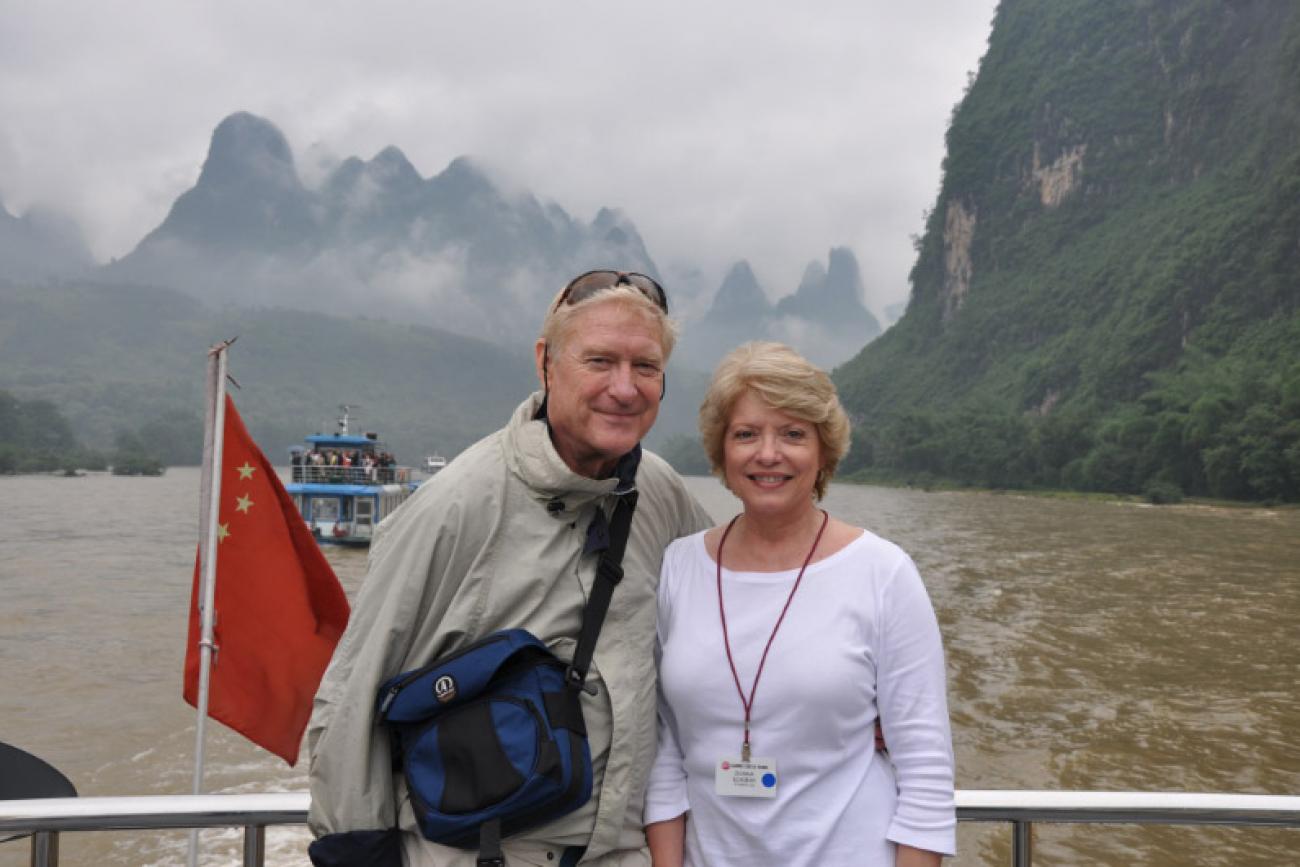 What exactly were the years you covered motocross and supercross?
The first race I covered was a supercross in San Jose, California, in 1992. Mitch Payton's team had Buddy Antunuz and some kid named Jeremy McGrath. That McGrath kid was not even shaving at that point in time! They raced in Spartan Stadium, which was too small. I think during practice, one rider even went into the stands with his bike! McGrath went down in first turn in the main, and was dead last. He came back and passed every rider to win the race. It was pretty wild because it rained all morning and we prepared all these stories about the rain and the clay, and how it would affect things. But then this wind came up and it dried out. We had no stories to run with!
How did you get your start in broadcast journalism?
It started as a joke for me, actually. I was in high school and playing football, except I was an awful player. After one particularly miserable play, I came back to the huddle, and Terry Baker, he was a friend who eventually won the Heisman Trophy, he told me get out of there and get on the PA system and call the event. He said my voice was better than my skills. It was pretty funny! So my career started in my hometown of Portland, Oregon. I was first a TV sports anchor before I got into radio broadcasting, where I covered AAA baseball. I worked in Portland, San Francisco and Atlanta. I went on to work two NBA All-Star games, covered the San Francisco Giants, did the play-by-play for Oregon State, Georgia Tech, and Stanford as well as the University of San Francisco basketball team.
Man, you must have some stories from those days!
Oh, do I ever! The wildest team I traveled with was the Super Bowl-winning 1976 Oakland Raiders. There was book written about it, the title was Badasses. That was one crazy deal. I also covered the Olympics, followed Bill Elliot in NASCAR, Evander Holyfield in boxing, and covered both the Indy 500 and Monaco Grand Prix in F1. About the only thing I didn't cover was women's mud wrestling! But supercross and motocross was a highlight of my career. I was working at WXIA in Atlanta and producer Dennis Torres got me started doing Motoworld stuff, and I just got more involved over time. But one of the challenges was traveling almost every weekend of the year, and all over the country. It created some great friendships, guys I am still tight with today.
It was [another old MotoWorld producer] Scotty Mac gave that me your number!
Yeah, for sure. Scotty Mac, Chet, Doug, Ben the stats guy, it was really a good team we had back then. We spent so much time together on the road, it was crazy.
Tell me some of your favorite stories from your motocross years?
Oh, where do I start? Bloopers. There was one that involved Mike LaRocco. Mike was being blocked by two other slower riders. Mike always had a burning desire to win, it was like a roaring forest fire inside his heart. I said something like, "Look out, they are rubbing plastic, hold on, The Rock is going to split the two, hang on, get out Vaseline, I am coming through!" That was a good one. Some people didn't like that though!
Another one was the helmet camera. Back then no one wanted to wear it, because you had to wear a backpack and it was heavy. McGrath kept refusing to wear it, no matter what. Finally, the one time, the one race where he did agree to it, he comes over a jump in Atlanta and lands on top of Mike Craig. We got the whole thing on video, but McGrath never again wore that camera! He thought it was bad luck after that deal.
What was it like working with Jeremy?
Oh, for sure, McGrath took the sport big time. He was right talent, and could handle Jay Leno, and everyone in-between. Few times in history can one person do what he did for an entire sport. He would take constructive comments from the media and improve his show and presentation each time we talked. He really changed the sport for the better. He was the right thing at the right time. I was honored to be part of that and to work with him.
What else sticks out?
One of the most terrifying things was Doug Henry's crash at Budds Creek in 1995. On the tape, all you see is Doug's shadow taking off. He stayed on his bike, and shattered his back when he landed. Then the next time he was racing at that same track, I saw one of the most impactful video shots I have ever seen. Doug crashed and broke both his arms pretty bad. He got up, walked over to the fence line and had a fan take off his helmet before he sank to the knees in pain and despair. To happen to the same guy at the same track was crazy.
What was it like working with David Bailey?
Wow! David Bailey was the most inspiring friend I have ever had. It was more than a special broadcast partner. He is still a great friend of mine. In fact, I'm flying out to California to have dinner with him this July. We had no live shows back then, it was live to tape, so we had to record the shows in post in the Atlanta studio. David had to fly to Atlanta during the week, and then to the races on the weekend, which was tough for him. But David taught me the sport, and I taught him television. His story is humbling and inspiring. We became very close, and our talks were very personal at times. In one of his columns in your magazine, he summed up our relationship.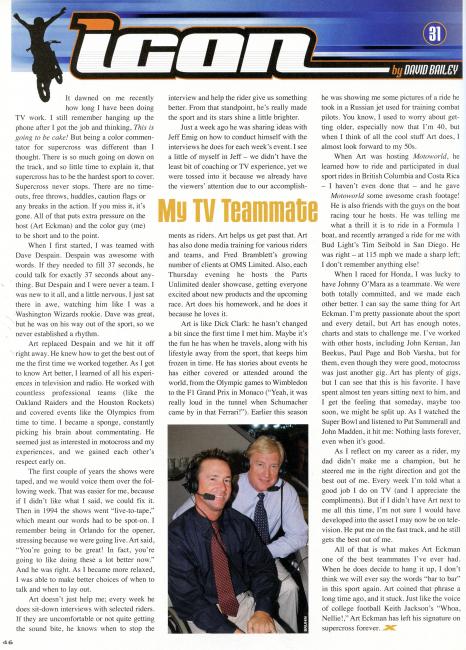 Anything funny that sticks out from those days?
There was a scenario in Las Vegas that comes to mind now. The track, it used to go up on the roof of the dressing rooms. I think it was Damon Huffman and Shane Trittler. Huffman was in front of Shane, and had just landed from a jump. Then all of sudden, the guy comes from behind him, like he was shot from a catapult. It was Shane, and it was just his body, he flips completely around and landed on Damon's bike perfectly. It looked like he was hitching a ride! He put his arms around him, tapped him on the shoulder, and it was the wildest thing I have ever seen.
I remember that! But no one got it on tape, right? There is no footage of that?
Yup. The bitch of that one was no footage of it exists. The camera that was covering that part of the track was not working, someone spilled a beer on it or something.
But in general, doing the sport, you see so much of the athletes. For the real winners, the tough guys, the race is the vehicle that brings the character out of them. That is what made it so fascinating to cover, the character of each guy, and of course, the lack of it in some instances.
So, how did you feel about your choice to retire?
Well, I announced my retirement in Las Vegas at the end of supercross in 2002. It was good. Carmichael gave me his championship helmet, the same one he wore that night. It's right in front of me right now here in my office. I told Ricky that if there was a fire, his helmet is the first thing I'll grab! I still have my watch from the promoters as well, and I wear it proudly every day. During my time, I tried to add credibility to broadcast, I was trying to be more mature, and going back to talk about the traditions of the past. I felt past traditions were being ignored with present stuff that we were seeing. Ben Bridges was my research guy. If there was a record to be broken, he would prompt me, and I would have him look for certain things. There were interesting facts to be learned, but you had to know where to look. Now it's all on the internet.
What about your family life?
I live right in Atlanta. We have been here now 36 years. I was a bachelor father raising two daughters and I met Donna in Houston. We got married pretty quickly and that was it! My daughter Kara lived in Paris and was an international model, but now she is married and has two children, and lives in New York. My other daughter Christine is autistic and lives in a group home. She is doing very well. I have two grandchildren; they are 16 and 17 years old. One of them is a competitive fencer and the other wants to be a film producer.
Well, Art, thanks for chatting and catching up with us. It is great to hear you are doing well!
Thanks! I'm now thinking about retirement for the second time, but only after this football program is launched. I've been blessed to travel all over the world and meet some fascinating people. I'm 72, but I don't feel my age at all. Hey, one last thing: if any of our old TV people are around Southern California in July, make sure to look me up. I'll be out there visiting David and would love to catch up with some of the old crew!