Glen Helen Raceway
San Bernardino

,

CA
Race Center: Glen Helen
Lucas Oil AMA Pro Motocross Championship
Brett Metcalfe has 20 podium finishes next to his name in The Vault, our historical motocross statistics site. He's also identified in this collective as a top three finisher in both the 2008 and 2009 250 National Championships, as well as the runner-up in the 2011 450MX title war. Metty, of Australia, also won the Canadian MX Series last year. In 2014, he may still be considered an underdog, but he will most definitely be up front in the Lucas Oil Pro Motocross Championship.
Serendipitous, fortuitous or just plain having worked hard to earn or create his own good luck, Metcalfe will be in possession of the recently sidelined Ryan Villopoto's full-on factory Monster Energy Kawasaki KX450 in the Lucas Oil Pro Motocross Championship.
Read on as Metcalfe explains how this once-in-a-career opportunity came to be.
Racer X: Brett, in interviews or stories we've done in the past, you've called yourself an underdog. The thing is, however, you've been a contender for a National Championship on three or four occasions. I think your competitive history in the sport may be lost on some people.
Brett Metcalfe: Yeah, I think it does and I think that's why I feel I've been placed in that underdog category. What I do goes under looked. I'm not a loud, noisy guy off the track making a lot of hype. I just kind of go about my business professionally and show up and race as hard as I can and that's what I've done my whole career. But like you said, I've had two back-to-back third place finishes in the 250 Lites Motocross Championship. In the 450 Class, I was second in 2010 and fourth in 2011, and that was against heavily stacked fields. RV and Dungey have just been the next little level above me, but there aren't really many other guys who have been there. I have some good credentials, so coming into this year I definitely don't feel like an outcast. I know what I've been working really hard for over the past few months.
When did you start thinking you might have to put your Canadian plans on hold due to this opportunity back in the U.S.?
Realistically, there were rumors floating around the industry that RV was hurt. The rumors came up to my ears, but I didn't believe it because you look at the guy racing and he looks incredible. It was hard to believe. Basically, how Kawasaki approached me was: "As of now, we're not sure what's going to happen with the Nationals. RV may have a knee injury that he is going to get checked out. In the meantime, we're not sure, but we may have a position to fill." So they gave me a test ride on the bike a week ago last Tuesday. They were like, "Just do a test ride on the bike so, just in case, let's get things a little bit more prepared." With the injury that Ryan had, I think he may have known it in his own mind, but I think he waited until the end of the season. That was probably smart on his behalf. Obviously, once everything happened, I moved straight into that spot. Kawasaki was smart. They had a backup plan with bringing me in. Everything kind of fell in line for me. As far as sponsors and my Canadian team—Leading Edge Monster Canada Kawasaki—Kawasaki led this whole deal. Kawasaki approached me, and then the Leading Edge team, and it just kind of works out real nice for Thor, Parts Unlimited and Monster—all the sponsors from both sides of the border. It was a perfect fit for everybody. Everyone was on board and everyone signed off on it before I was able to. It all boiled down to what did I really want to do and I chose to go with this ride in the U.S. and to give it a good shot.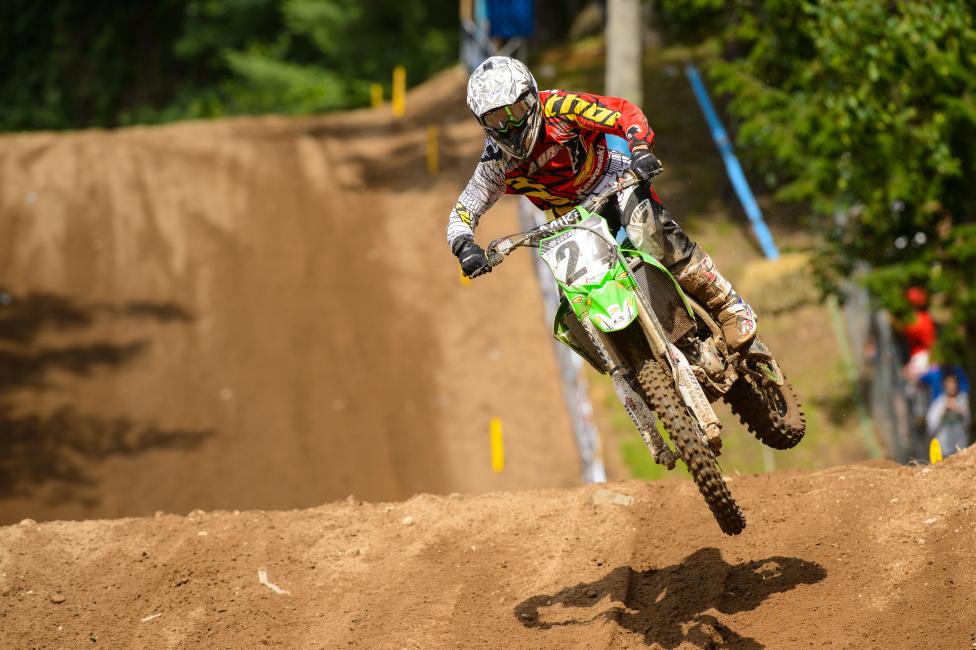 So during all of this you were just sort of in your own orbit, huh?
Yeah, I was just kind of lingering there. [Laughs] It was a really, really weird feeling. I was just kind of sitting there thinking, "Is it going to happen? Is it not going to happen?" I had been working hard for the last four months, since January, preparing to race Glen Helen anyway. I was then going to go on to the Canadian Nationals and defend my championship. I always had it in mind to prepare for Glen Helen. I was going to race it on my own. Now I'm ready to go. I'm fit and healthy and feeling good.
And you're not all black and blue and bruised up like the supercross guys are…
Exactly. I've been through that season, too, and it's so difficult to ride at the level you need to be to be competitive every single week. It's really cool to see some different avenues now that show our sport a little bit more from the inside, but it still doesn't show how difficult it is, week-in and week-out, to be at the top of this sport and what it takes.
It can be argued that the bike you now have and the team you are now a part of are the very best in the world.
Yeah, I wouldn't argue with that. The team's credentials are amazing. Moving in there is a great opportunity for me. It's awesome to get back on the U.S. circuit. I'm really looking forward to that and I'm excited about jumping back in there. The bike is phenomenal and the team is great. The people and everyone on the staff seem really good and on point. I can't wait.
Will Mike Williamson be working on the bike for you?
Yep. Basically, I'll just be coming in and using the same platform that Ryan has there.
You raced the last three Nationals of 2013 and did quite well.
Yes, I did Southwick, Unadilla and Elsinore. It was a full-on privateer effort.
Well, that all goes back to the underdog thing, doesn't it? On your very own you went five-six at Southwick, ten-six at Unadilla, and ten-eight at Elsinore. You didn't finish a single moto outside the top 10.
Exactly. That was something I was pretty proud of. The machinery, everything, was basically a very similar spec to what we ran up in Canada. Everything was production based. I had a little bit of help for Kawasaki and some OEM parts and real small bits and pieces here and there. It was a really awesome effort and I was really proud of it. Being top 10 in every moto was what I was looking for. My goal out of doing those three Nationals was to finish inside the top five in points. If I calculated all the points over those six motos, out of everybody, I ended up in fourth. I know where I'm at and I've always kind of been able to run the pace. Moving into the Monster Energy Kawasaki team, I expect to do well.
And Jake Weimer will be your teammate this summer, correct?
Yep. Jake is still on-board and he's healthy. I think both of us together are going to push each other. We've been racing together for many years.
Is Kawasaki expecting you to go really well? That's a dumb question, but you know what I'm saying…
[Laughs] Well, honestly, they haven't really said too much as far as that. One thing is quite clear: They don't expect me to jump in there and fill his [Villopoto's] boots. They know that the guy is a very special rider on the track and that no one can fill those shoes. But they feel confident in me and what I've shown already. They're keeping an eye on things and they know I'm working hard and I'm not flopping around. I was dedicated to prepare for the Canadian Nationals and Glen Helen just like I was racing the whole series, so they know that and they know what I've done. They definitely expect good results, but not more than what I expect out of myself too.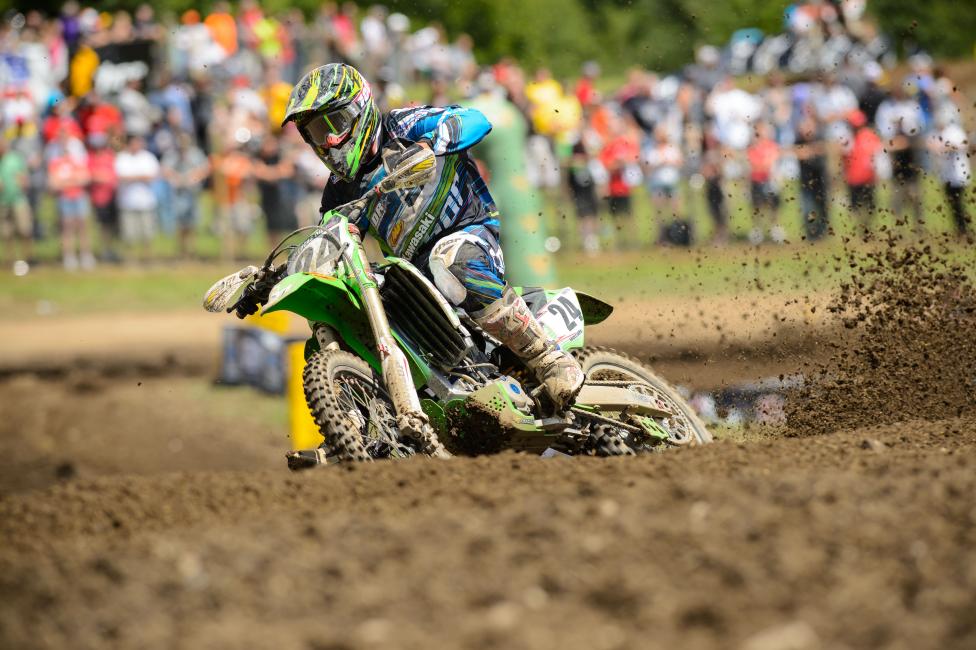 As far as looking out over the competitive landscape that will be the Nationals, what are you expecting?
The field is always stacked. Every year there are so many good riders. The level keeps getting raised every year. To be honest, I'm really not focusing on anything else but myself. I'm not really focusing on one guy. I know everybody is going to be good. I'm just making sure that I'm going to be good. That's all I really care about. How I fit into the field, I don't know. If I come out and win both motos at Glen Helen, that's great. If I go top 10, then we've got some work to do. If I'm outside of there, then we've got a lot of work to do. I don't know how I'm going to fit in. I raced a few Nationals last year and I know the equipment and the preparation I had and I know I'm better, substantially better, at this point right now. I've had a great four or five months of training and preparing for this. I'm ready to go. What I've done in the past has been awesome, I'm happy with my career at this point. If I can take it to the next level and do better, I'm definitely going to try and do that.
Looking to Glen Helen. Can you win it?
I'm showing up there, basically, to try and win that race. That's what I'm going for. We'll see where we are, but that's my mentality as of now. I learned a lot last year. Last year was a big learning curve year for me. Going up and racing the Canadian Motocross Championship and being able to win that championship was huge experience for me. Whether the level was the same as the U.S., it wasn't. But there were great riders up there and I got accustomed to winning motos and handling the championship and bringing it home. That was a big feat for me. I haven't been able to do that down here in the U.S. To get that experience of how to control yourself was huge. Now I can bring those pieces into my game. I'm just going to attack this championship just like I did up there. Right now I'm going to race as hard as I can and do well for the Monster Energy Kawasaki team, for myself and for my family. I'm going to leave it all out there on the table.