Amsoil Arenacross Amateur Champions Crowned in Vegas
LAS VEGAS – The fastest amateur arenacross riders converged on Las Vegas' South Point Arena on Sunday for a full slate of action for the 15th Annual AMSOIL AMA Amateur National Arenacross Championships (ANAC). This yearly showcase of amateur talent featured competition across 29 classes of all ages and skill levels, with 28 winners ultimately being crowned AMA National Champions and several others receiving highly coveted distinctions.
Following a day of practice on Friday, the entire field of 464 riders entered Sunday prepared and ready to do battle on the track inside South Point Arena. Heat Races commenced in the morning, setting the field for an afternoon of Main Events that would ultimately determine who would be crowned the winner of each class.
Each of the competitors at ANAC earned their spot to race for a national championship by competing at Amateur Day during one of the 12 rounds of AMSOIL Arenacross, featuring Ricky Carmichael's Road to Supercross. Riders were eligible to qualify from one of four different amateur regions –South, East, West and Central.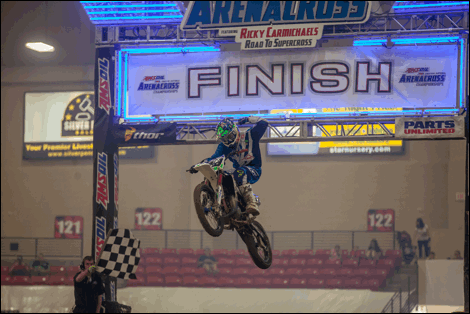 Of the 29 classes that were in action at ANAC, several drew greater attention from those in attendance. The AMSOIL Dominator Supermini class provided a chance for the top three finishers to secure their spot in the Supermini class at this October's Monster Energy Cup in Las Vegas. In the end, Texas rider Zane Merrett emerged victorious to win the national championship aboard his Kawasaki, outlasting Tanner Ward, of Canada, and Jack Rogers, of Maryland.
Additionally, the Expert class was closely watched as California rider Johnnie Buller grabbed the national title aboard a Suzuki, with Kentucky riders Dylan Rouse and Donald Alford rounding out the podium. In the Pro Sport division, Texas rider Brandon Glenn, who enjoyed a solid season of competition during the AMSOIL Arenacross season on a KTM, captured the national championship. Buller and Rouse followed to complete the podium.
At the conclusion of a loaded afternoon of Main Events, an additional 25 riders were crowned AMA National Champions following victorious outings in their respective classes. In addition to his AMSOIL Dominator Supermini triumph, Merrett capped of a memorable and successful day of racing by also securing the AMA National Championship in three additional classes – Senior Mini, Supermini 1, and Supermini 2. In addition to Merrett, three other riders claimed multiple national titles – Jordan Torres (50cc 4-8 & 50cc 7-8), Steve Thinger (Over 30, Over 35, & Over 40), and Justin Cooper (AX Lites Intermediate, Schoolboy 1, & 2 Stroke B/C).
Some of AMSOIL Arenacross' most recognizable names were in attendance on Sunday to support their amateur counterparts, including reigning four-time AMSOIL Arenacross Champion Tyler Bowers and groundbreaking rider Vicki Golden.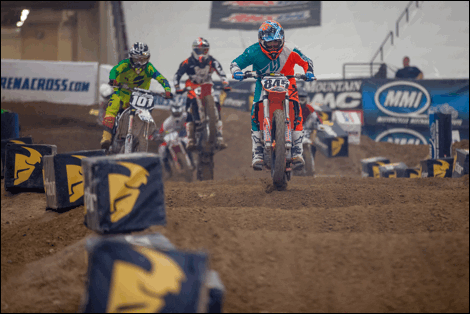 2014 ANAC Champions
Italics denotes non-national championship class
50cc (4-8): Jordan Torres – Watsonville, California – Cobra
50cc (4-6): Hayden Bodo – Farmington, New Mexico – Cobra
50cc (7-8): Jordan Torres – Watsonville, California – Cobra
65cc (10-11): Talon Hawkins – Temecula, California – KTM
65cc (7-9): Syrus Butts – Goshen, Utah – KTM
AX Intermediate: Damon Back – Roosevelt, Utah – KTM
AX Lites Intermediate: Justin Cooper – Cold Spring Harbor, New York – Yamaha
AX Lites Novice: Zach Thinger – Roseville, California – Kawasaki
AX Novice: Caleb Schmidt – Willcox, Arizona – Honda
Beginner: Charles Knox – Pylesville, Maryland – KTM
Collegeboy (16-24): Dylan Rouse – Florence, Kentucky – Honda
Expert: Johnnie Buller – Dinuba, California – Suzuki
Girls (7-13): Jordan Jarvis – Clayton, North Carolina – Yamaha
Junior Mini (7-11): Jeremy Ryan – Santa Bella, California – KTM
Over 25: BJ Smith – Mayfield, New York – Honda
Over 30: Steve Thinger – Roseville, California – Kawasaki
Over 35: Steve Thinger – Roseville, California – Kawasaki
Over 40: Steve Thinger – Roseville, California – Kawasaki
Pit Bike: Tyler Zuech – Morgan, Utah
Pro Sport: Brandon Glenn – Mesquite, Texas – KTM
Schoolboy 1 (12-16): Justin Cooper – Cold Spring Harbor, New York – Yamaha
Schoolboy 2 (13-16): Jake McKinney – Hamersville, Ohio – Honda
Senior Mini: Zane Merrett – Crowley, Texas – Kawasaki
Supermini 1 (9-15): Zane Merrett – Crowley, Texas – Kawasaki
Supermini 2 (13-16): Zane Merrett – Crowley, Texas – Kawasaki
Women: Amanda Brown – Pasadena, Maryland – Honda
2 Stroke B/C: Justin Cooper – Cold Spring Harbor, New York – Yamaha
AMSOIL Dominator Supermini: Zane Merrett – Crowley, Texas – Kawasaki
Arenacross.com 50cc (4-8): Tucker Nelson – Garnett, Kansas – KTM