Sam Boyd Stadium
Las Vegas

,

NV
Las Vegas
Monster Energy AMA Supercross Championship
Everyone knew Justin Bogle had the 250SX East Region Championship locked up except Justin Bogle. He somehow managed to convince himself otherwise so he could stay focused and log good rides in Las Vegas—and when he didn't win either the 250 East finale or the Dave Coombs Sr. East/West Shootout, he was pissed.
Then it finally sunk in. He really is, now, the 250SX East Region Champion. Then he did this superb interview with us. Bogle's got himself some personality.
Racer X: They had to invent a new term for you: you were a pending champion, probable champion. This is a weird situation.
Justin Bogle: Extremely annoying was what my last couple weeks have been. Everyone has been talking about it since before New Jersey even. I don't even have the red plate! I'm like, "You guys are out of your minds. I still have to go out here and earn this thing!" Coming in here this weekend it appeared to be locked up. But who knows?
You still weren't thinking that way?
No. I wanted to come out and have a good race. I came out, I got a good start, I got a holeshot, I led for five laps. Jeremy was going for it and he was riding really good. We banged bars pretty solidly one corner. I was thinking championship. I made it happen. Would have liked to get a win but I didn't have it in me tonight. Shootout was a bit rough for me. I was battling with Cooper [Webb] for 4th, 5th, kind of where we started. I was kind of starting to get in my groove and I think we were about to start having us a pretty good battle, and I had pretty dirty cross rut. Biggest jump in the rhythm section that I could find, I decided to see what those Tuff Blox were all about. For everybody wondering, you don't want to land in those in a rhythm section. I got super lucky.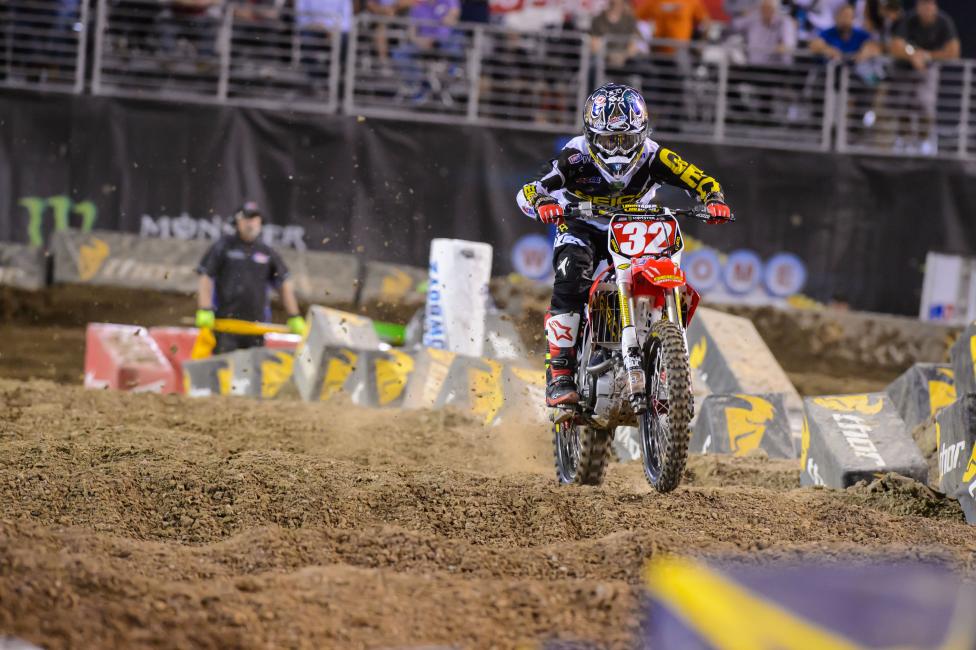 It could have been dirty.
Oh yeah. I got super lucky and I flipped into more Tuff Blox, got up, had to make sure everyone knew I was safe. Then I had to sit back down and collect myself because I was not feeling so hot. That was a rough one.
It's the gold wheels, bro.
The gold wheels were really, really cool. My bike looked extremely, really dope with that. I've been talking management in and out for a few weeks now.
It was your idea? You wanted the gold rims?
Yeah, for sure. I actually had a photo shoot a couple weeks back and I was like, hey, can I maybe for this do some gold rims? That's all I said at the shop. But I had to come up with a pretty solid proposal. I had to go to all the team guys. My mechanic was all for it. He loves it.
If he likes more work.
He's down for more work if it makes it look cooler. And he knew it made me happy. It made me really excited to ride. So in my opinion that's the best my bike's ever looked.
And it had the number one on it though, that's kind of cheating.
It had a red number 1. But it looked good with the gold rims. The gold rims are cool. I was out here just … it was throwback '90s for me. I was doing nac-nacs, shout out to MC. I was doing the gold rims thing, that's a bit of a '90s, '80s thing. Just enjoying myself. I didn't have the best night. I actually spent a good portion of my night just pissed at myself, sitting back at the track after the shootout just not happy with how I rode and how everything went tonight, but then moved past that. It's finally sinking in that I just won my first championship. It's incredible. I couldn't be happier for the people around me and my team.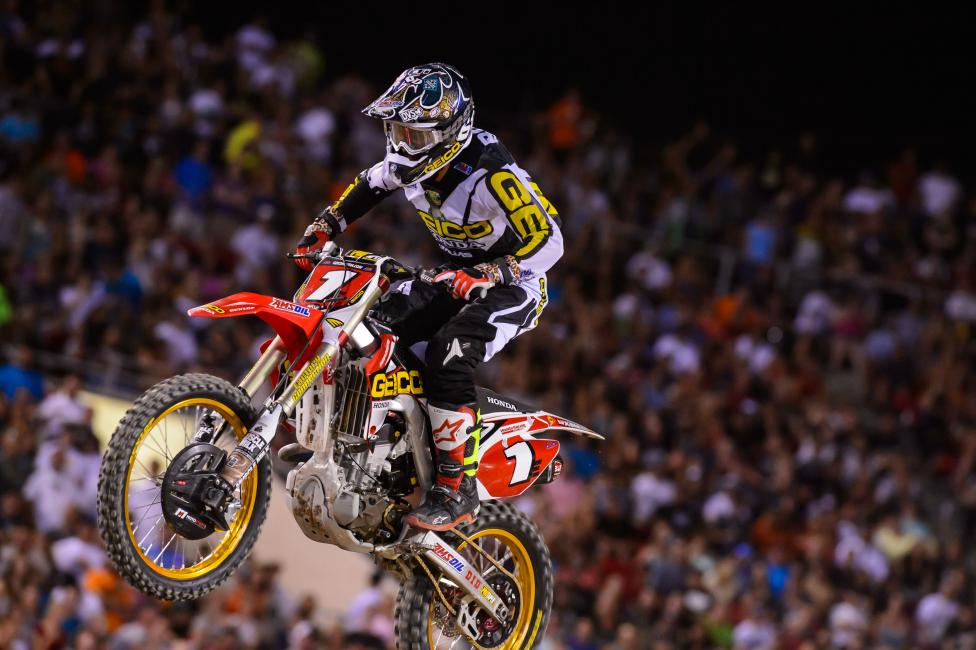 The thing is you were kind of on the ropes. On the outside we speculate about everything. I don't know if you were worried, but you were on the verge of missing supercross two years in a row. It had been a while since you'd even raced a lot. Results weren't awesome. Were you getting nervous? Like, where am I going here? Did you get to that point?
It's tough, man. Last year missing supercross with the wrist, both wrists, issues that I had, kind of using outdoors as like a building block for me, that was tough. I was dealing with some pretty gnarly dudes at that point and I was kind of not in the best position mentally or physically yet. This off-season I really got to give it up to my trainer Ryan. That man has been 100 percent the best thing that's happened to my career. Pretty awesome to be able to share this experience with him. There's been moments in this off-season where I was just getting screamed at on top of a mountain on a bicycle. It was tough. I was in a back brace all December. Once I started being able to train it was like, all right, do you want to make this happen and if you do it's going to suck. It's going to be hard. It definitely did suck but 100 percent worth it, every bit of it.
Is it just regular training stuff you would have done normally or did you have to throw in stuff for your back, muscle work and stuff like that?
I definitely had to do some extra things. My back is still kind of weak. I still have ribs popping out all the time but luckily I have Dr. G in my corner and he's there to put me back together any time I need it.
So you're still not quite perfectly healed up from that?
I don't think that's ever the case in this sport. It is what it is. I came back very early, a lot earlier than I probably should have if we're going by doctor's terms, but I wanted to make a run at this thing pretty bad. There were a few moments where it looked pretty bleak. Daytona comes to mind where I just got 5th and I was really not happy with that. Regrouped, luckily, like I said, the great people in my corner, my trainer, we really, really put in a lot of time mentally and physically and regrouped. My next few races were a 2nd, a 1st, and a 2nd, and from there things just started kind of going my way. It's just been an incredible journey.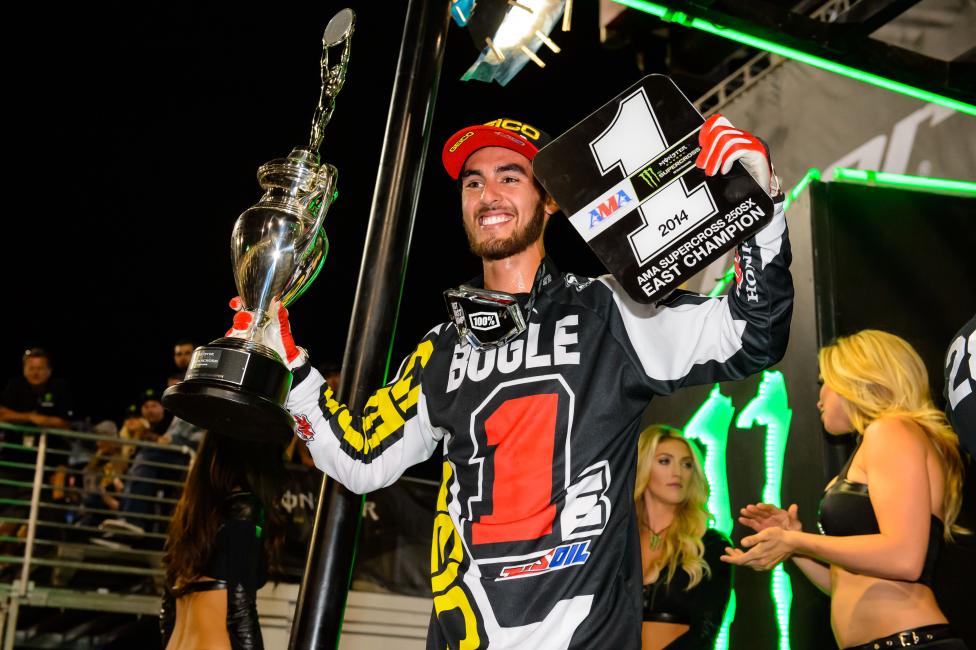 The year opened with you in 5th behind [Vince] Friese. And you were like, I'm glad to just ... finish! I'm good. I got a race under my belt. Number one plate, was that even crossing your mind in any way, shape, or form after Dallas?
Honestly if you go back and watch interviews from me this year coming in, once I decided I was racing the week before Dallas—because I only rode for a week and a half, two weeks, a couple weeks before Dallas—once I decided I was racing that was always the goal.
The title?
Yeah, for sure. I at least wanted to be in the hunt, battling for it. I knew it wasn't going to be easy. I knew it was going to be tough. There were times it looked extremely bleak. But by the grace of God it's just worked out exactly how we had it planned with Ryan and Dr. G. We had a plan and it's kind of played out to a tee, man. It's kind of incredible that it's happened. It's been tough and it's been a really rough couple of years but it makes it all worth it.