TEAM USA NW is proud to announce its eBay auction. This auction is being launched to raise funds that will offset the cost of shipping the team's race bikes over to the UK for the VMXDN at Farleigh Castle, UK, in September. This is an opportunity to support the team, as well as a chance to win an official TEAM USA NW t-shirt signed by a past or present motocross legend!
T-shirts signed by the following motocross legends are available for bid:
Roger DeCoster
Jeff Ward
Broc Glover
Marty Smith
Mitch Payton
Ryan Villopoto
James Stewart
Eli Tomac
Mike LaRocco
Josh Hansen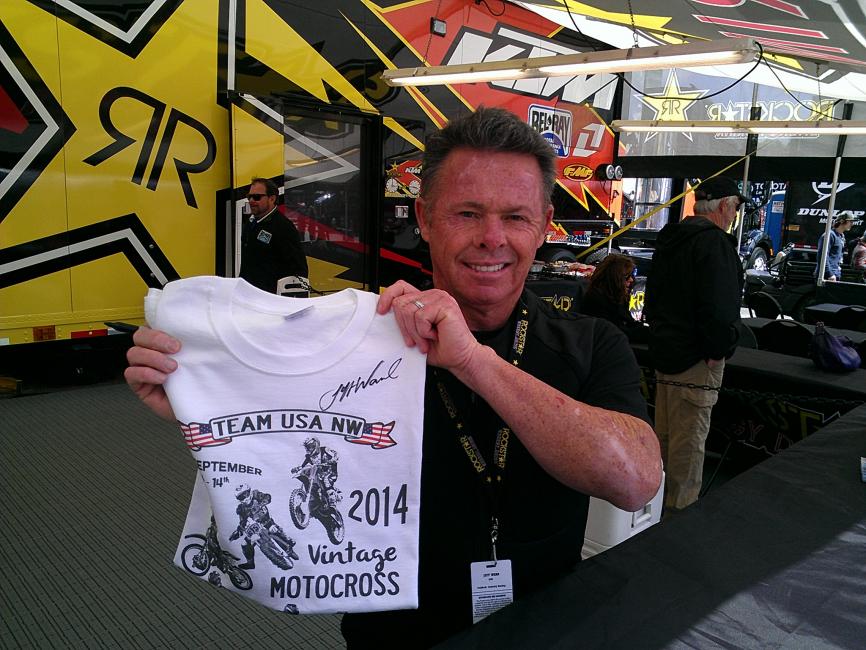 Team USA NW members include Dave Eppig, Steve Miles, Dallas Nyblod, Monte Price, Kevin Spencer and Mark Sullivan.
Below are the following eBay item numbers:
Marty Smith ebay item #111337190073
James Stewart ebay item # 111337196388
Mike LaRocco ebay item # 111337201727
Eli Tomac ebay item # 111337206676
Roger DeCoster ebay item # 111337210558
Ryan Villopoto ebay item # 111337214791
Jeff Ward ebay item #111337220178
Broc Glover ebay item # 111337227716
Mitch Payton ebay item # 111337235467
Josh Hansen ebay item # 111337239342