Twilight. Saturday. Lake Elsinore Motocross Park. Jeremy McGrath, seven-time supercross champion, is sitting in the meeting area of his 18-wheeler burning time before his race at the LOORS "Southern California Shootout." This isn't a motocross race, no sir, it's the fourth round of MC's journey to be a champion in this sport called closed course off-road truck racing. McGrath means business here – in fact, he's funding this entire race effort out of his own bank account – but way down deep, he's still a motocross guy. And he's about to prove it.
"Hey, it's on!" he exclaims. It is on – literally and figuratively – Fox Sports 2. It's 4:30 p.m. Pacific time and the power trio of Ralph Sheheen, Jeff Emig and Ricky Carmichael flash upon the high-definition TV present in McGrath's hauler. It's race time back in East Rutherford, New Jersey, and despite the fact he has a big truck brawl to fight in a few hours (a battalion of mechanics are just outside wrenching on his burly P2 race truck), McGrath's thoughts and observations turn full-center on the penultimate round of the 2014 Monster Energy Supercross Championship and the host of back stories that go along with it. And that's when we turned the voice recorder on. It's been a little while since we caught up with MC, so no better time than the present.
Racer X: Jeremy, watching you out there with you truck an hour ago … Man, it looks so much like motocross. How different is it?
Jeremy McGrath: Well, I still ride a lot of moto. I still test for Honda and stuff like that so I'm riding a lot. As I've said before, the hardest thing about racing the truck is that it's a sliding truck. Driving a truck is a lot different than riding a bike. Bike's lean and in this sport you have to slide. With bikes, when you're racing, you want to go low. The shortest way around the track is usually the fastest, right? When I come here, to this truck track, I have to switch over to truck racing lines. There's a thing called the cushion that keeps creeping up higher and higher. For me, mentally, it's harder to get myself to go up that high in the corner because you're leaving the door open if someone is racing you. Yeah, then again, I think all the jumping and stuff here is just like supercross. These jumps don't look that big when you're sitting here looking at the track, but when you go around this track at 80 miles per hour, suddenly this track becomes a supercross track.
Supercross is so much about athleticism and style and expression. Is it hard to let that go? I mean you're strapped into one of these 4,000-pound trucks with a six-point harness as well as head and neck restraints. You're known for your Nac-Nac on motocross bike, but there's no such thing here, huh?
No! No! There's no style here. My image on the truck and here in the pits and all that is the Showtime I get these days. There's no styling on the track or nothing. You just have to get the results. Your truck set-up better be right or you're going to struggle to be up front. These things are heavy and they have a lot of horsepower but there are a lot of pieces that you have to have right. I'm still learning. It's taken me five years to figure this stuff out.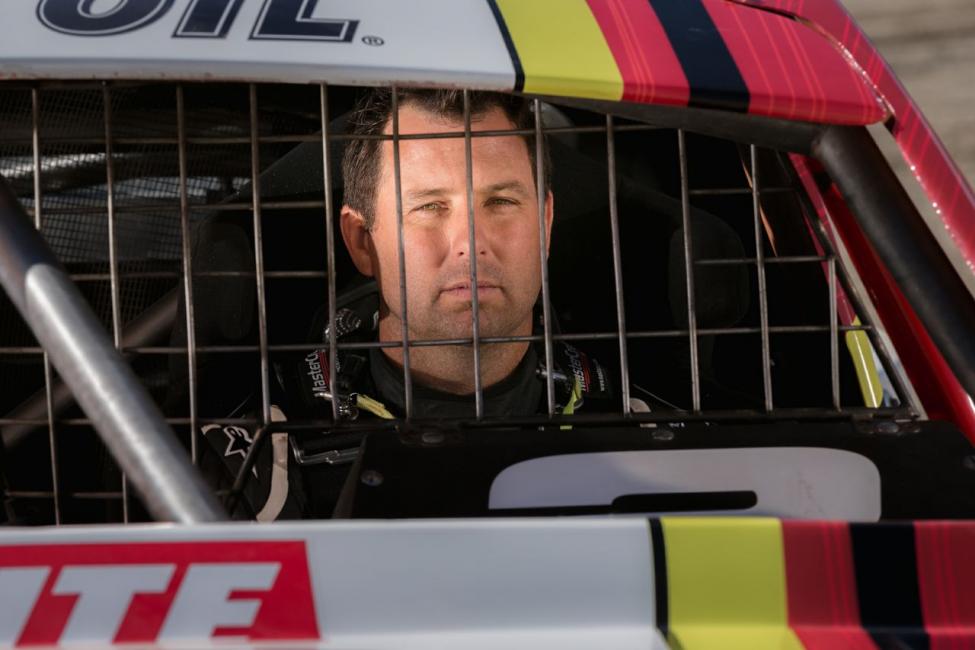 Downshifting here a bit. How much is moto still a part of your life? Is it still a huge part? Is it memories? A mixture a both?
You know what? Moto is my life. I'm a moto guy. I'm a truck racer now, but this is truck racing. When I go away from here I'm a moto guy. And I'm a moto guy here. Everyone knows me from motocross, not from this. I'm still trying to succeed at this, and this is a personal thing for me. I'm still riding a ton and still working in the moto industry. My life is moto. I don't drive my truck every day or every other week, I ride my dirt bike all the time.
I notice a number of car racers utilize social media to "check in" while they watch the supercross broadcasts on TV. All these dudes seem to truly admire the sport and it got me to thinking that motocross truly is the coolest, most stylish and athletic motorsport there is. I don't think anything touches it.
Yeah, I think so. I think you're right. All the dudes are serious athletes. It's a physical beat-down and everyone wants to be styling and everyone has their own little edge to them. It's funny, being a motocross guy, you look at something else. Driving sports are cool, but riding a dirt bike and the physical aspect of it is incredible. I go through phases some weeks or months where I'm like, "Ah, I'll just kind of mellow out on my moto thing." But then moto pulls me right back in.
Speaking of beat-downs. What's your overall take on the 2014 supercross season?
It started out awesome. I think what you can see is that you can see some stuff in the making. It was a good year to see a guy like Roczen. Barcia is kind of hitting his stride a little bit late in the season. He's picking up some speed. Tomac had a couple good races. I think, though, we're going to see a changing of the guard here before long. I think it's going to be in the near future here – probably next year. [Laughs]
If you had to look into a crystal ball, what do you think is going to happen? Who do you think you'll see floating around in that crystal ball?
I think there is only on name that stands out and that's Roczen.
You like him, don't you? I've heard you say things.
I like him. He's bad ass. He's like a little Showtime. I like his style, I like his edge and he's cool. I like how he seems like he loves what he's doing and that he has a lot of passion for it. That means a lot to me because that's how I was. I'm tired of the kids or the same dudes doing the same podium speech. To me, it's sad when you see a guy up on the podium and he looks like he is miserable. Why? These kids don't realize how great of a job they have. To me, it's lame. I love the sport so much that I hate to see that these guys look like they're miserable.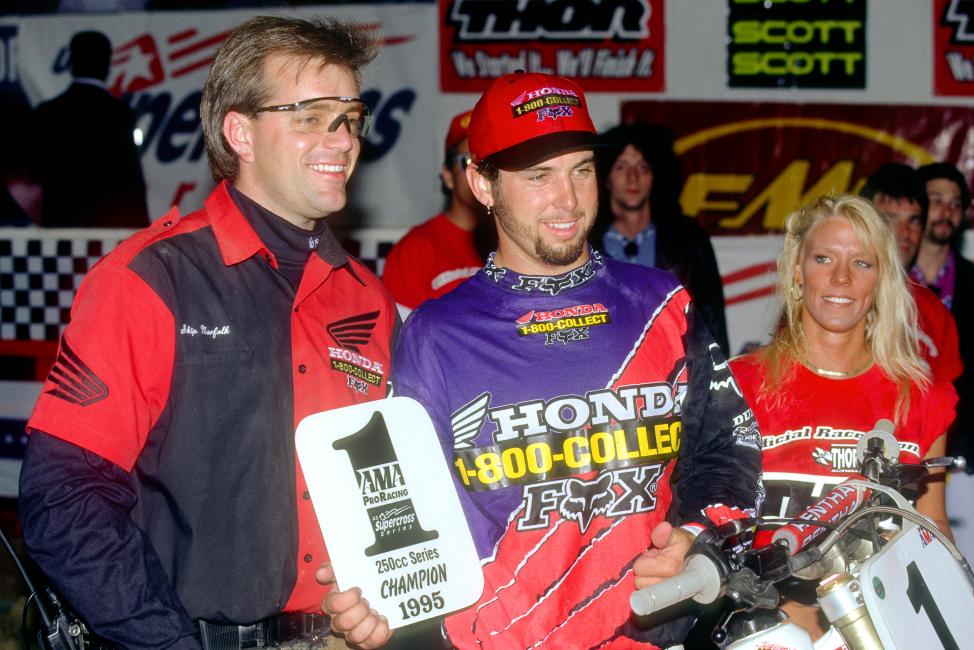 Villopoto is going to wrap up his fourth straight supercross championship tonight. Is he having fun?
I had a long interview with Villopoto last week, and they're going to show it in one of these supercross shows, and I asked him, "Hey, are you having fun?" And he couldn't really answer me. I was a little bit thrown back by that. I was kind of like, "Man, you're making millions of dollars riding your dirt bike and you're winning. So what that you have to do motos and you have to train and all that. Try a real job." They all seem like that. I'm not just singling him out. They all seem like that. Roczen seems like he's having fun.
Barcia wears his heart on his jersey sleeve.
No, he does. I like Justin a lot. He's a wacky little kid. I heard he's going to Yamaha now and that's going to be interesting.
Can Justin win races?
Ah… Next year, '15, is going to be Stewart, Villopoto and Roczen, still.
Really? Anybody else?
I don't see anyone else in there – not battling for the championship.
What about Chad Reed? What did you think of him this year? He was something else before he got hurt.
Chad was amazing. I thought he was great. I was real proud of him. First of all I was blown away. I thought it was the end of him. For him to come back and win like that is pretty amazing stuff. What that did is buy him another year or two to keep trying to win. If he didn't do that, he probably would have been so miserable he would have had to wrap it up. He's got a lot of confidence right now. I think he's going to feel good and I think he's going to have a shot at winning some races. He could be in it, too. But do I see Barcia in there for the long run? No, I don't. He's a little sporadic yet. But Roczen is good enough to be in there. Dungey is going to be down the order a little bit.
What's your take on Ryan's [Dungey] season?
I think he's the unknown guy – the unseen guy. He's great, but he's the unseen guy because there's no flare or no flash. There's nothing about him that stands out. He hasn't really won, but he's had some nice finishes. He hasn't really had that one moment or that wow race in a long time where Stewart has had these great races and Villopoto has, too. He's getting overshadowed pretty good. I think he's about where he should be.
Did James surprise you this year?
You can tell his bike set-up changed this year for the better. He's been riding something that's been unrideable for a while, regardless of how bad-ass he is. James is a real streaky rider. When he has momentum, he's great. When he doesn't have it, it's hard. I do think he has found his stride and he's kind of rejuvenated himself. It's hard with him because at any given moment he can be the baddest dude that there is. That style does not play well for a championship.
He could have been a champion this year. He really could have.
He spazzed out at round one. If he wouldn't have done that, it would have changed a lot of things. That's just James. That's what we know. That's just how he is.
RV played it smart all along this season, huh?
I think Villopoto did the perfect thing this year. I don't think he could have beat Stewart at those events where Stewart was going so well. I don't think Villopoto had the stuff to beat him at those races. The last few weeks, Villopoto kind of found his stride. I think at the beginning of the year Villopoto was just trying to wait and see how it was going to shake out and then he'd start to build his momentum. Villopoto knows how to win a title. He might have raced for points at a few of the races, but the races he could win, he certainly went out and won.
He's going to match your four-straight championships record. Are you cool with that?
Yeah, I mean it's cool. Every year it seems like someone is trying to match one of my records and that's kind of weird. I haven't won a title in 14 years.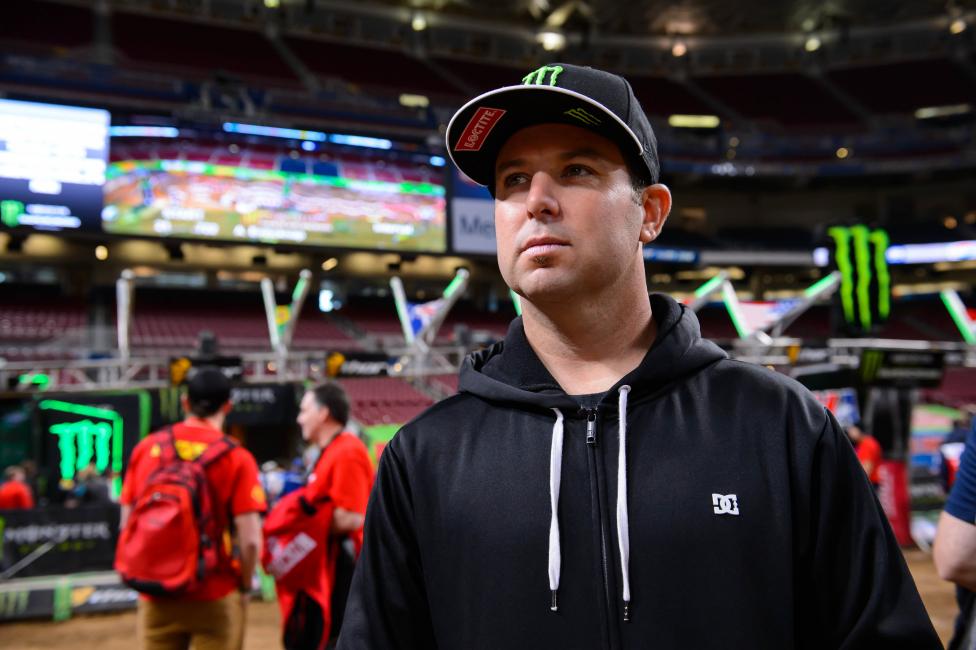 Will James get to that 72-win mark?
No. Nah. He's at 50. He'd have to win all next year and the year after that. Come on. He's got 23 races to win right now. Some people don't even get that in their careers. Not even close.
What about the 250F kids? Do you see any diamonds in the rough there?
Nah. Not really. I mean everyone thought Dean Wilson would be able to be the guy, but in the last few weeks he's been making rookie mistakes all over the track. The kid's great, but he's just a mental case. Bogle seems like he's finding his stride a little bit. It's a bummer what happened to Davalos. I like little Justin Hill. He's kind of finding his stride. I like that. I like him. He's got some confidence, which I like. Cool confidence, not arrogance. It's a confidence. There's a difference between arrogance, cool guy and confidence. Arrogant I hate.
What do you think about Adam Cianciarulo's performance this year?
I think he's done good, but the whole show and how they worked up to that deal is kind of funny to me, but I like Adam. I think his interviews are cool and his parents are cool. He did good. He's done good so far, but the next part is going to be hard for him. I'm sure. He won his first supercross, though. There's something to be said for that. That's crazy. That's good. That's pretty amazing.