The number one plate in the Amsoil Grand National Cross Country Series, presented by Maxxis, has not been kind. The last rider to successfully defend a GNCC #1 was David Knight all the way back in 2008, and since then each champion has run into bike problems and injuries. When this year's #1, Kailub Russell, ran into mechanical problems in the mud at round one a few weeks ago, it appeared the course was set.
Kailub's not giving up. He won an even muddier race at round two in Georgia and a less-muddy-but-still-pretty-bad race Sunday at the FMF GNCC in North Carolina. Now he's up to second in points, three behind FMF KTM teammate Charlie Mullins. We called Kailub to get an update.
Racer X: You've gotten really good in mud races, apparently. You've done really well in these last two—is that something you've worked on?
Kailub Russell: I won't necessarily say I've done anything to change my riding ability in the mud. I've got the talent; it's the mind over matter thing, just getting your head straight before you go to the line. I never knew I could do it, now I know I can, so I feel like lining up in a mud race I feel like I'm the best at it. I go to the line feeling like I can win, and the last few mud races I've won.
The Georgia race a few weeks ago saw a crazy amount of rain. Did I hear before the race you were actually hoping it would be a mudder?
Yeah, for sure. Mud is a great equalizer and I know my abilities there, and I know I have the machine to get me to the finish line. In the mud races some guys are going to get in there that aren't normally in there, everyone has a shot, and that's exactly what I was hoping for as far as points. I was hoping it would end up in my favor, and it did.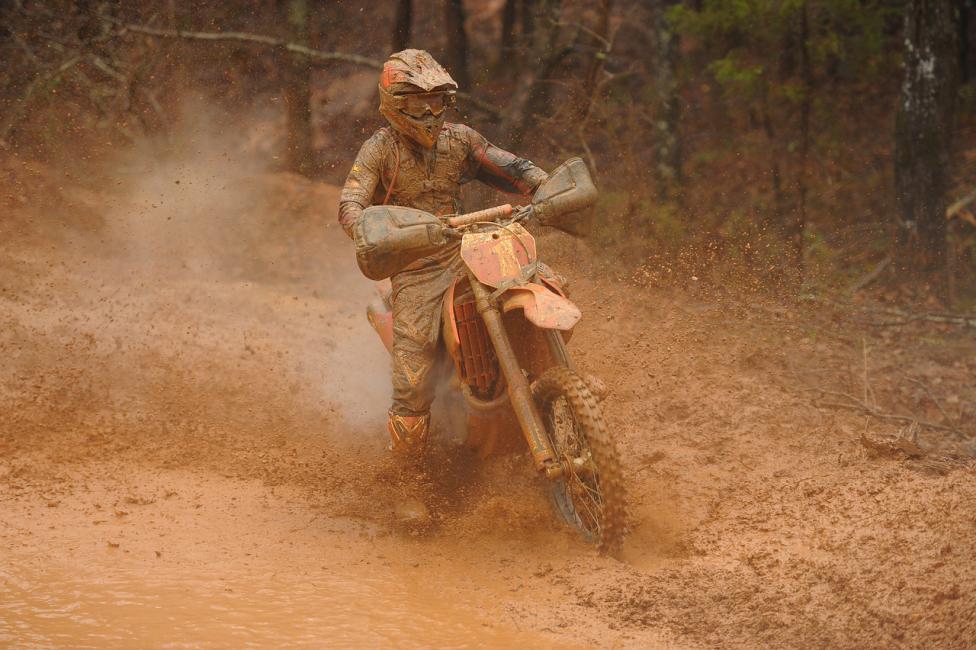 How crazy was that one? Different guys led, Grant Baylor took the lead even though he started a minute behind on the second row. Did you know where you were at all times?
It was pretty crazy to begin with. I was pretty much dead last off the start, my bike didn't fire. I just took it easy because I knew guys would be getting stuck. I just picked my way through. I knew no one would run away with it on the first few laps. I never knew exactly where I was at, there was so much carnage going on! You had to be smart and patient, you really didn't know what was deep and where you could go. I finally got into a groove there just as the XC2 guys [250cc, starting on row two] caught us and got in the mix. Then I made a mistake and got stuck, lost my goggles. Grant opened up a little bit of a lead there, but I was able to reel him in and get by him. I pushed really hard to try to get a minute on him, but I wasn't sure if I was going to be able to do it. I pushed hard with no front brakes and hardly any back brakes. I was just able to squeak that one in there.
When you have a long mud race, do you try to preserve the bike? Are you worried about the clutch and brakes?
I've never been very hard on a clutch to begin with, so I'm not too concerned about that. The brake issue, that was because the track was so muddy and gritty. We weren't smoking the brakes, we were just wearing out the pads straight out from riding. I went through the front pads in two laps, and the rears were pretty much toast at the end—I don't even know how they were working at all.
How bad was the North Carolina one? It looked pretty bad in the morning but did it turn out okay in the afternoon?
It was kind of bad in its own way. There weren't that many places where you would get stuck, but the track's kind of one lined and pretty tight. We're basically in the two four-wheeler ruts the whole time and turning them into dirt bike ruts. I knew the start would be key, and I pulled that out of the bag. It was really tough the first lap. It was slick and chunky. They basically took slop and dozed it, so it was super thick, skatey and unpredictable. Then it tacked up and rutted up, and it was hard to get around lappers. I've got a trials bicycle now, and I've been doing a lot of work with [new KTM teammate on the west coast] Taylor Robert. I think the balance came into play because the track was like a slot car race. I think doing a lot of work on the trails bike helped me do stuff I normally wouldn't have been able to do—I would have been doggy paddling through the ruts.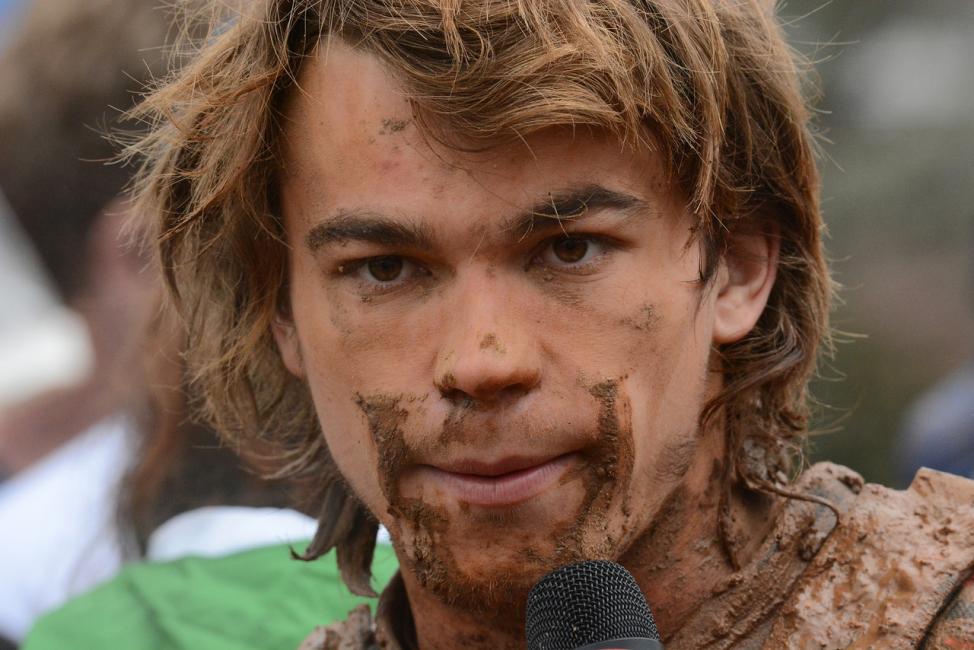 You said you actually got a good start. How often does that happen? I feel like I never see you get good starts—is that something you're even worried about?
Not really. If you look at the last three GNCCs prior to this last one—the last one last year and the first two this year, the guy who won started dead last. I knew it was going to be more important here so I put more emphasis on it. But if my bike doesn't fire right away, I don't stress on it too much, I know I have the ability and the time to come from behind. I don't think it's that important anymore.
Last year you went on a big win streak at mid season, and you told us you actually started riding less during the week and it helped. Have you kept that going, or did you hit it hard to get ready during the off-season?
I've been doing a lot of trials stuff, really. I spent a lot of time at Taylor Robert's house in Arizona, and we did the King of the Motos race out there. I'm focusing more on those types of skills because once we get up to the northern races it gets rocky and slick and that's going to help. It has kind of brought out the fun in riding again, because you're not just pounding out motos. Obviously I know how to ride a bike in general, I'm just fine-tuning some skills and become more of an all-around rider.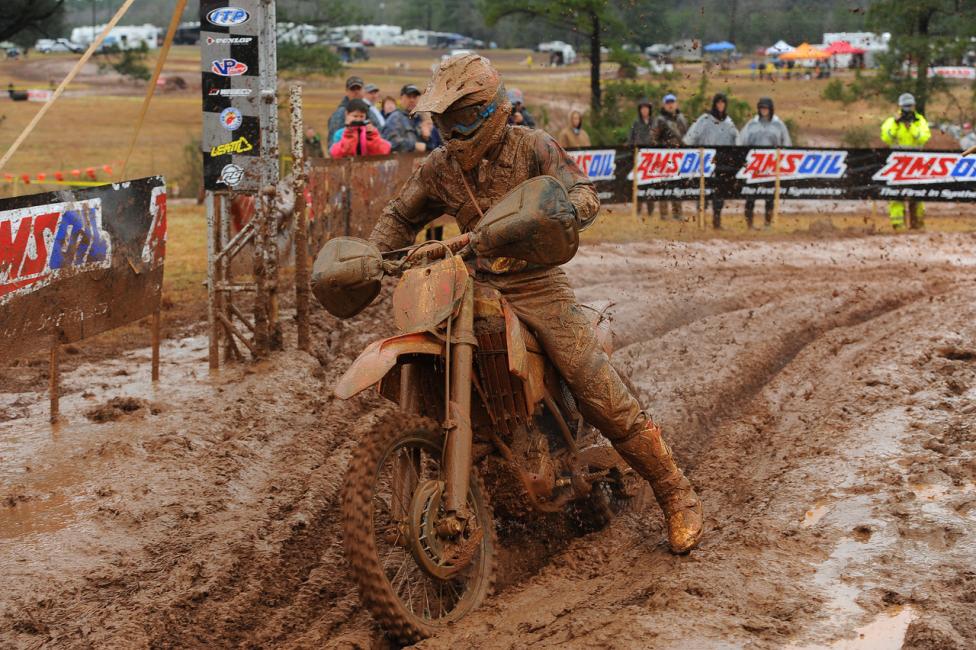 Are you riding non-stop during the week now? Last year you said the less you rode the better you did!
Yeah I think last year I was just kind of getting over it. The less I rode the more ready I was on the weekends to hop on my bike and go. I've actually built an EnduroCross track to practice on, and I've been riding with my little brother-in-law who is starting to ride more. We made a corner track and I'm helping him get over some stuff on the EnduroCross track. I'm just fine tuning my skills and having fun with it.
The points—are you even worried about that? You've won the last two races so you're riding fine, are you worried about not having the points lead?
I am. We're three races in and the field has kind of already been established now. Paul [Whibley] had a DNF so he's 30 points back or so, so right now it's me and Charlie [Mullins] and Josh [Strang] is right in the mix. I needed to get some wins to get back in the hunt—I don't want to settle, I don't want it to come down to the last round like it has the last two years. So I'm doing my damndest to get a healthy points lead. I want to win as many races as I did last year, which is not going to be an easy feat. Josh, he's riding really well and finding his place, I think he's about to have a breakthrough race here, so I need to stay on my game.