If you watched the Daytona race last Saturday night, you were probably left awestruck by James Stewart's ridiculous launches off the jump in front of the starting gate, particularly when he was chasing Dean Wilson in the heat race. Here's a short, stunning video from the broadcast.
With that mind-blowing leap, we decided to devote this week's List to some famous launches that were as unexpected as they were remarkable. With a nod to the late Danny "Magoo" Chandler, for whom we could have devoted an entire list of epic launches (and crashes), here are a few great moments of more recent vintage that didn't necessarily end in crashes…
In case you missed the last lap of the Daytona 250 LCQ, there was a fantastic battle for the fourth and final transfer spot between two hard-charging privateers, North Carolina's Ryan Zimmer and Kentucky's Jacob Baumert. Baumert got the spot, but Zimmer got the record for the longest distance off the finish line jump! Check it out. We spoke with Baumert and Zimmer this week to get their take on the battle.
And on that note, we remember Weston Peick and Bobby Kiniry's 450 LCQ at Daytona 2013, which had a similar sprint across the finish line.
Last year at the Grand Prix of Thailand, French title contender Gautier Paulin launched a massive quadruple jump that seemed like something out of Mad Skills Motocross!
How about Monster Energy/Pro Circuit Kawasaki's Blake Baggett at Freestone a couple years back, when he was launching the wall jump there into the whoops—the jump was supposed to slow everyone down, but Blake used it for a ridiculous launching pad.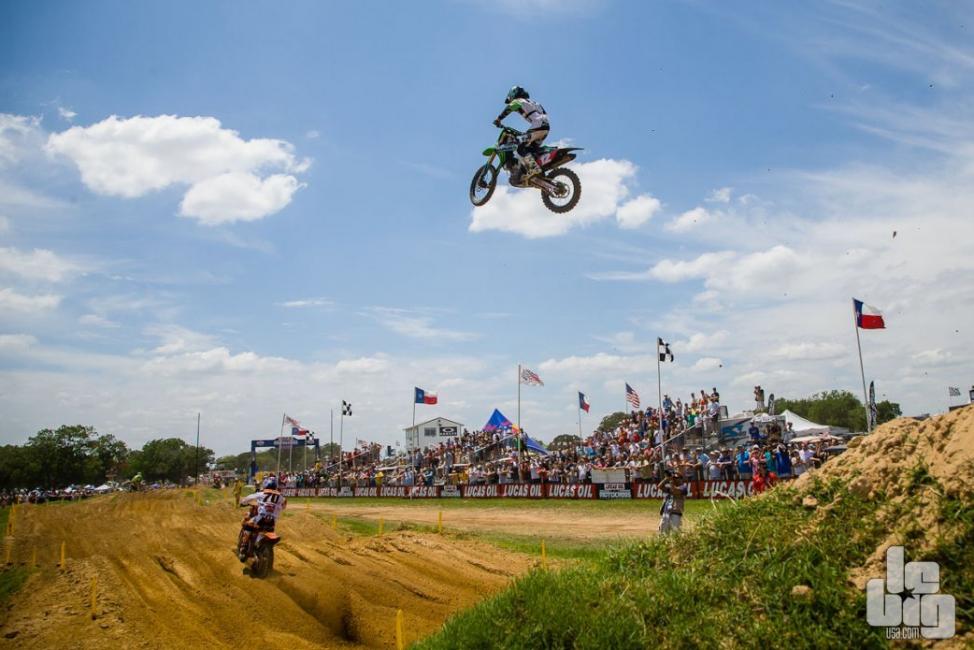 James Stewart has another amazing moment from Daytona in his catalog, from 2011 when he was riding Yamaha. Check out his launch over the "wall jump" at Daytona, with amazed commentary by Ralph, Emig and RC.
And here's an even younger James Stewart, on his Kawasaki KX 125 at RedBud doing LaRocco's Leap—no easy task on a tiddler.
How about a nod for Team USA at the 1996 Motocross des Nations, where the trio of Steve Lamson, Jeremy McGrath and Jeff Emig literally flew over the heads of several riders in each race, taking the high line over a downhill quadruple jump that seemed more like a supercross section laid out on a ski slope! Lammy was doing heel-clickers off it, while Emig, riding the big and powerful Kawasaki KX500, seemed like he was flying a Zeppelin above the pack!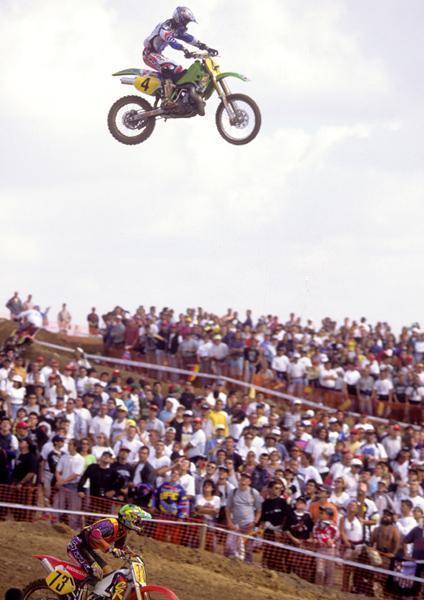 One of the most iconic photos in Paul Buckley's library of amazing motocross images was his shot of Erik Kehoe trying to hold off Jeremy McGrath in the second moto of the 1993 Gatorback 125cc National. Even though Honda of Troy won many other races along the way, I truly believe this was the best for the Fifth Dragon and the late Phil Alderton…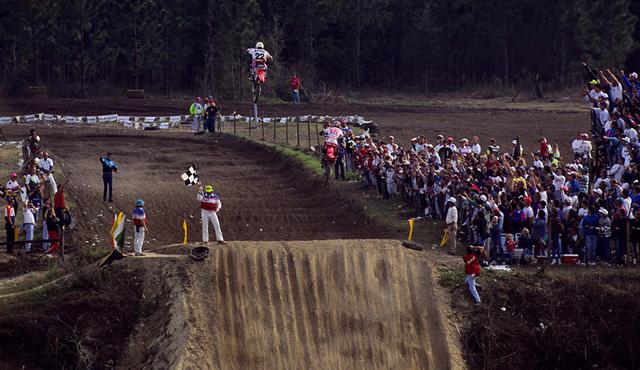 How about a nod to the late, great Georges Jobe, who blew minds in England back in 1984 by launching from what seemed like a bomb crater at Hawkstone Park in order to get past Andre Malherbe in the British 500cc Grand Prix. The moment was later immortalized on canvas by our friend Rob Kinsey and presented to Jobe before his death two years ago from leukemia. Godspeed, Georges.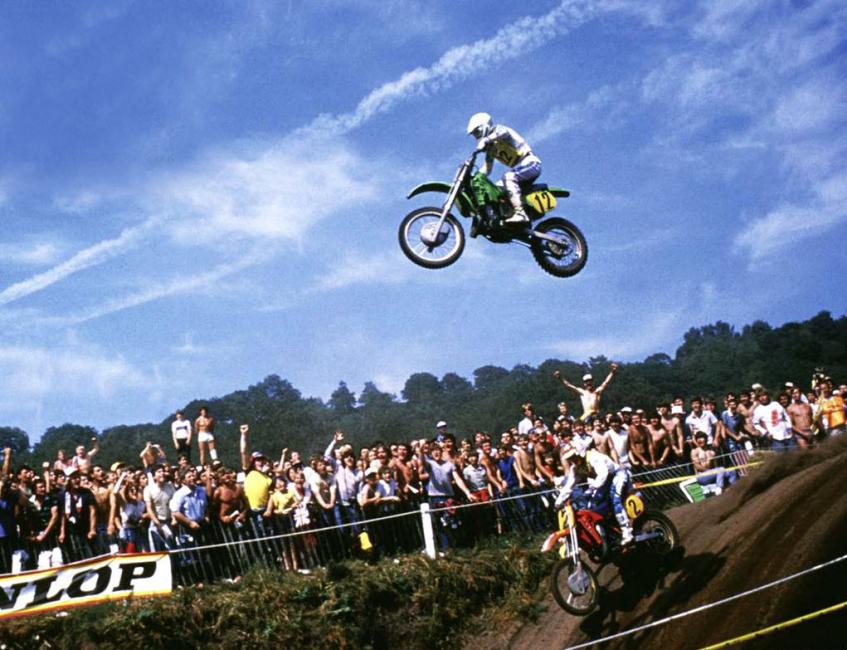 Finally, in 1984 at the Daytona Supercross, Team Honda's David Bailey won the main event, but it was the battle to the finish line between then-Yamaha-mounted Ricky Johnson and champion-to-be Johnny O'Mara, who launched his works Honda in an all-out bid to beat Johnson, clearing one of Gary Bailey's infamous "gator pits" in an epic leap that caught everyone off guard. You can read all about the moment and the jump right here.
Did we miss your favorite "over-the-top" moments? Please share them in the comments below!