Brian Barnhart drives the Monster Energy Kawasaki team semi. His precious cargo for 2014 includes the motorcycles that belong to Ryan Villopoto and Jake Weimer, as well as the all the parts, tools and details that go along with a multi-million dollar racing program.
You could say Barnhart is the most decorated transport driver in the paddock, having hauled bikes for Jeremy McGrath, James Stewart, Ryan Villopoto, and many others. Over the years, his teams have won 15 titles at the highest level of the sport.
Each of those riders have had very different programs and styles, so we were curious as to what "Big B" has learned working beside each one of them. Here's what it's like to be part of so many winning programs over nearly 19 years of working in the pits.
Racer X: Brian, what's happening? I want to talk with you about all the programs you have been part of, but before we jump into that, what can you tell me about yourself? How did you get started?
Brian Barnhart: Well, I grew up near San Diego in Santee. It's basically the next town over from El Cajon, which was the place to be back then. I rode as kid for fun, but never really raced. But every one of my friends was into riding, and we used to go out and watch all the teams test and ride just a few miles from my house. It was funny back then, we would hear through word of mouth that Ricky [Johnson] was testing out at his house, and we would all ditch school and go ride our bicycles over there. Sometimes you would see Rick, Jeff Stanton, Broc Glover and a bunch of others. I wanted to be part of it. I wanted be in the game. So I started out working for some local pro guys as a wrench, and I bounced around working locally.
So you actually started as a mechanic?
Yup. I would talk to all the factory mechanics, and tried to show my face whenever the races were in California. I knew I wanted to be at the factory level, but I started with the local guys. Around 1996, Larry Brooks was still racing at that time but he was also looking for a driver for his team's rig. I contacted him, but I was only 23 at the time and didn't have much experience driving. All the existing trucks, the drivers were all older guys, so no one would talk to me about driving their truck. I went to DeCoster, and tried to get my name in front of him. Then in 1997 Larry hired a guy to drive for Chaparral, but he lasted only a week or two. Larry was in a jam, so he gave me a call and off I went.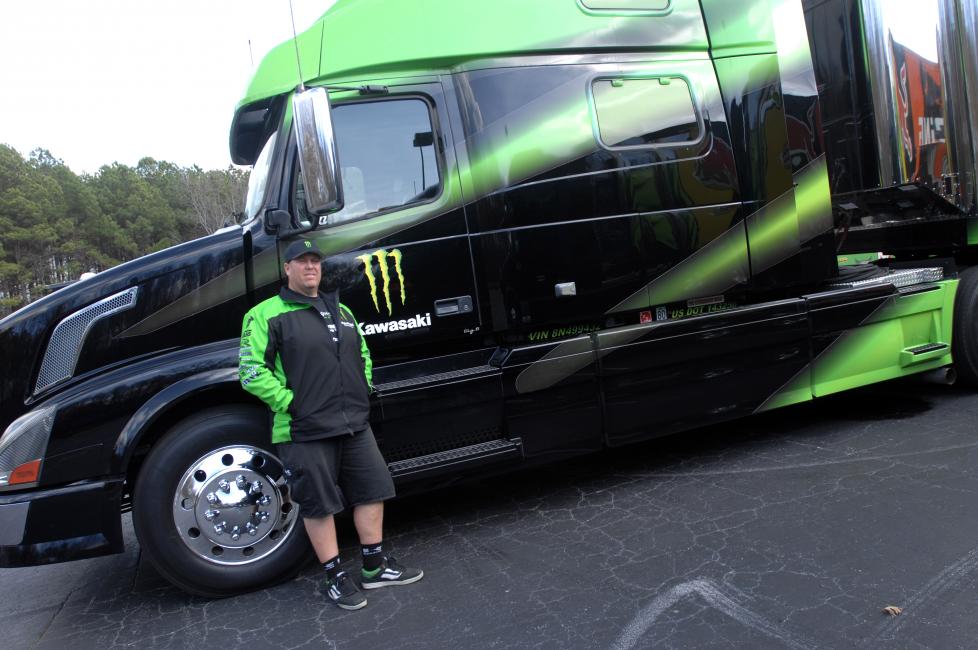 What kind of experience did you have at that point?
Well, that's a funny one. I had my CDL, so I was good on that end. Larry put me right in that truck. I had driven locally, but never across country, and actually I had never driven a truck outside of SoCal, or that was so low to the ground. I also knew nothing about log books or weigh stations! So, yeah, I think I might have bluffed a bit about my experience, but I was really convinced I could do a good job with it.
So how were those first few trips? Any close calls?
It was hectic! But back then most of the mechanics didn't fly, so they traveled with me. So one day I had six mechanics in the truck plus myself. We got to the first weight station, and I had no idea what I was doing. The cop was all, "You, come over here, we have to have a little talk." Lucky, he was actually cool. So then at my second race, I knew I had to hook up with some of the other drivers who knew what they were doing. So I just followed those old timers and learned about the log books and everything else. I did everything they did, but tried to do it better. If George Ellis polished wheels for 10 minutes, I took twenty. Just stuff like that.
Where did things go from there?
In 1997, Chaparral had six mid-pack riders. We were just another team. In 1998, Dave Damron, the Chaparral owner, wanted to do things differently. That's what turned it into [Jeremy] McGrath's team. When I got back from the last 1997 race, Larry let everyone go and started over again, but I stayed on. We were the first semi-private factory backed team. It worked out well. We raced from 1998 through 2000 and McGrath won the supercross titles. Then at the end of 2000, Damron pretty much pulled out, and Jeremy wanted to start his own team. We all committed to him [Jeremy] in the middle of 2000 and for the following season. Then he started his program, and stayed there from 2001 through 2003.
That's right, 2003 he had that KTM deal. I forgot about that!
Yes, that was the year he decided to retire early on in the season. We (Larry and I) were going to take the year off, and then come out in 2004 with a new bike and new rider. But then factory KTM stepped in and hired Larry to be its team manager. He took me along and plugged me in as driver, and Jeremy helped out. I was at KTM maybe another eight months or so that year.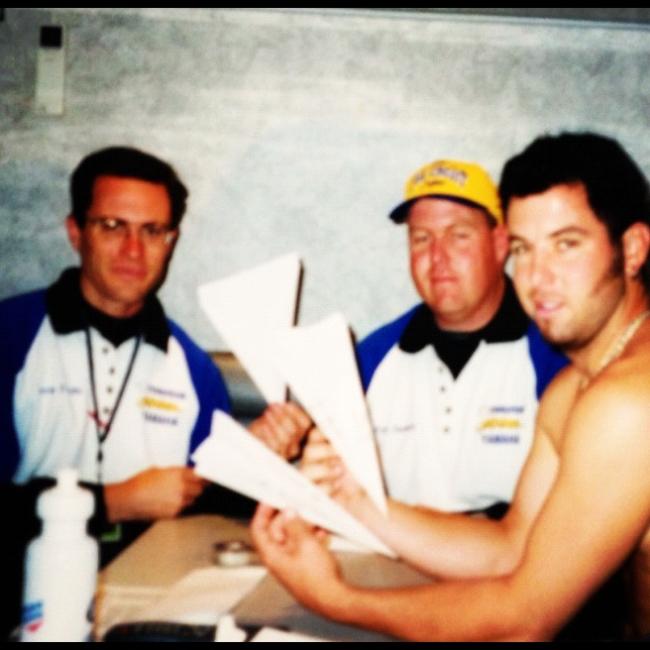 So how did you land at Kawi?
Kawasaki called me and asked me to come over. They really wanted to improve the team's look and presentation, and they liked what I did with Jeremy's program. I stated with Kawasaki at the end of 2003 to get ready for the 2004 season. I think we had [James] Stewart and Byrner [Michael Byrne] that season.
How many championship programs have you been part of?
I think it's around 15 championships, including all the outdoors and 250 regional stuff. I've been very fortunate to work with some of the best riders in the sport, between Jeremy, James and now Ryan.
I want to dig into the differences between winning programs over the years. You've worked with three of the top guys, what are some of the differences?
Oh man, where do you start? I think a big piece of it is the era of the sport. Jeremy was all about having fun. It didn't matter where he was, he just wanted to have fun. We could be playing cards, going to the clubs, or whatever. The main focus was keeping him happy and making sure he had fun—even when we did laps at the test track, we made sure it was fun for him. We had to be positive around him and always just keep it easy and low key. But back then, there were no heart rate monitors or hard core trainers like we have now. But that game changed when Ricky hired Aldon.
What was it about the fitness that changed things, and with Ricky?
In my view, Jeremy could haul ass for 9-10 laps and then just hang out and cruise for the rest of the race. He would get a 30 second lead by lap ten, then back it down and just cruise along for the final ten. But Ricky saw that, and realized to beat McGrath, he would have to come on strong at the end of the race. That's what did Jeremy in. It got real serious, real quick and now it's standard practice to put in hard work with all the eating, training and riding.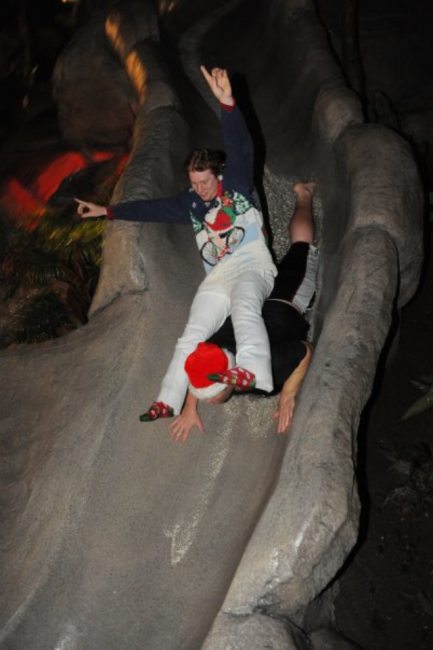 Then James came along.
That's right! James comes along, he saw what Ricky was doing and he gets serious about beating him. But like Jeremy, James had a ton of natural talent, and sometimes he rode faster than what the bike could take. Those were the final days of the two stroke and I think it was harder for him when he moved up. James was totally different than Jeremy. James was a great kid, but he was very shy. I didn't get really close with him. But with James, there were a lot of people coming around that were part of his group. Every time he hit the track, it was amazing to watch. I do all the team video taping, so I'm always watching what the bikes are doing and how the suspension and set up is working. Every time I turned the camera on for James, it was just awesome to watch him. He has so much natural talent.
And then what about Ryan Villopoto? He moved up from Mitch's program, so you probably knew him pretty well already?
I did, and we talked a lot before be moved up. But in my opinion, when he came on the scene in the 450 class, he really thought he could just keep doing what he did with the Lites stuff. But he was only doing 6-9 races, and now it was 17 races he needed to train differently. I don't think he had a program at that time that really pushed him to the edge. He was a kid back then, coming off a successful Lites program, and still eating normally, including some fast food and what not. But he figured that out pretty quick and made those changes.
What about on a personal level?
Ryan is more like Jeremy, he likes busting everyone's balls, hard. He plays tricks on people all the time. He's a real ball buster. He's a fun person to be around, but he's also very, very shy. He doesn't realize how many people are tugging on him all the time. McGrath embraced that stuff with the fans, he was really good with it. But Ryan's not focused on it, and it's not really his personality. It's hard to explain, but I think Ryan is just more of a shy guy with people he doesn't know. And you know, fans can take that the wrong way at times, which I hate to see.
What about behind the scenes, how have the programs of travel and logistics changed?
I think it is a lot more impersonal now. Guys don't come to the races three days early anymore, and for the most part, they don't go out to the local restaurants or the local bars. Now they stay home as long as they can and fly in at the last minute. And they do that mainly so they don't have to take any time off from training. But back in the late 1990s, guys would stay on the road longer and have fun. Now it's fly in and fly out as quickly as possible.
You've seen plenty along the way. If something doesn't go right with the rider or team, where do fingers get pointed?
Well, the rider always blames the bike. The bike has no voice. It might have been the bike, but it's almost always the rider's attitude. At supercross, I can usually tell how things are going to go earlier in the day. You know when it's going to be a good night. The rider's attitude always carries him through to the results. When they're down, it's our job to pull them out of that slump. Anything you can do lift them, it's key because it's such a mental game for them.
So, you live much of your life on the road, yet I understand you are married to some racing royalty yourself! Tell me about your family?
Ha! My wife Megan has been around the sport for way longer than me! Her father is Roy (Janson, formerly of the AMA and Clear Channel Entertainment, now with our sister company, MX Sports) and she's been going to races forever, and so she knows about the travel. Her dad was always at the races. We live in Menifee and have two kids, Riley and Brandon. It's hard being on the road as much as I am, but it comes with the job. I've been spending some time trying to learn fuel injection, and perhaps broaden my horizons with a different position within the sport and the team. But for sure, Kawasaki is one of the best teams to work for in the pits. When things get really hectic, they'll send me home for a week or so, but Meagan is strong and loves the sport and team, so she's cool with me being gone. It would be tough to be married to someone who isn't in the industry or doesn't understand what we do every week.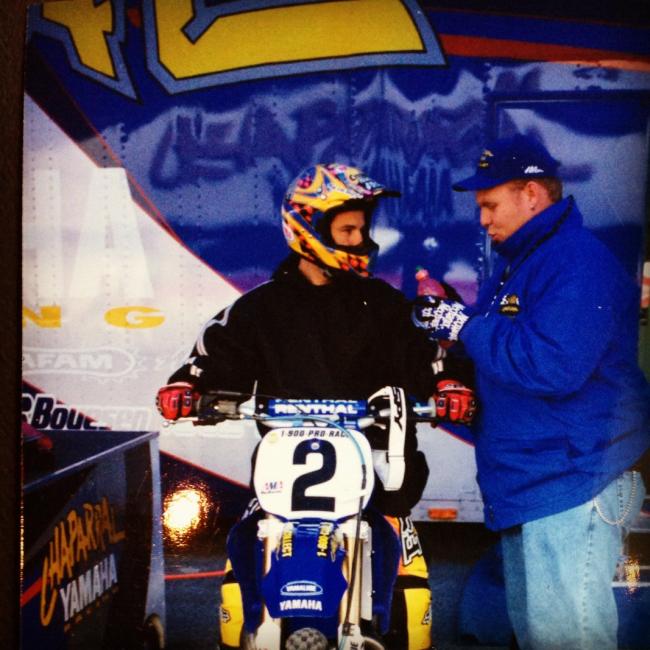 Okay, without naming names, what is your craziest team manager story?
This is a good one. A bunch of us were eating dinner the other night. Goose [Mike Gosselaar] was there. And someone asked why there aren't more fights in the pits, and between the teams. Me and Goose started laughing, I think it was 1999 or so. Goose worked for Ezra, and Ezra kind of took out Jeremy one night. Jeremy came back to the truck and was pissed. So we were all pissed, and Larry decided to go over to Honda and maybe rough them up a little bit. You know, at the moment, emotions can get to you. But it was pretty funny, Larry got over there first, and was ready to go. It was just the three or four of us, but we almost fought. I remember Larry just peeling off through the crowd, jumping over baby strollers and fans and on his way to Honda, all fired up.
Well, I guess if you mess with a rider, you are messing with his team as well. One last question, how has the technology on the trailers changed since you started?
I think the biggest thing is the slide outs. The trucks can't go longer and higher because of state laws about truck lengths and weight. So we have the slide outs. On our new rig, we have the center of trailer and lounge. But every trailer is different, and the inner working of the teams effect how the trailer turns out. I had ours custom built to our specific way of doing things, which is different that what the other teams do. Aside from that, it all comes down to presentation and the look of the pit area.