Qualcomm Stadium
San Diego

,

CA
San Diego
Monster Energy AMA Supercross Championship
Well it was bound to happen. The incredible season that was the 2014 Monster Energy Supercross Championship was finally dealt a kick to the nuts. And we could have been spared all this misery if Chad Reed had only been able to finish five more turns! Instead, he hit Ken Roczen's back tire in the whoops and crashed hard into the face of a jump. Hurt shoulder and wrist, peeing up blood, it was all there for Reed. Let's hope he can make it to Dallas or get back real soon, because what a season he was having. I heard that even the Grinch was a fan.
***This just in: Reed's going to try and race Dallas with fractures in his T-1 (back), scapula (shoulder blade) and wrist (wrist—got you!). And to this I say: Good luck, Chad—you're going to need it!
San Diego has always been a special place for Reed, so it's ironic that San Diego 2014 could potentially represent a tipping point in the 2014 championship. Reed's storybook season could have an all-new chapter or perhaps be closed. Stay tuned…
The track in San Diego was … eeh. It wasn't great, it wasn't terrible, it was just eeh. Hey, I think the tracks have been pretty good this year and everyone's allowed a mulligan at some point. It was weird to see sub-fifty second lap times on such a big stadium floor. There were big whoops, but the section was not nearly long enough. There was also a glorious quad, but just about everyone did it. There was a tricky dragon's back section and only one triple (and by the way that's all we ever need), so that was good, but man, the track should never be that short in a stadium that size. The cost of the dirt is probably one of the greatest expenses to the promoters of supercross so sometimes I wonder if they sometimes just simply don't want to buy more.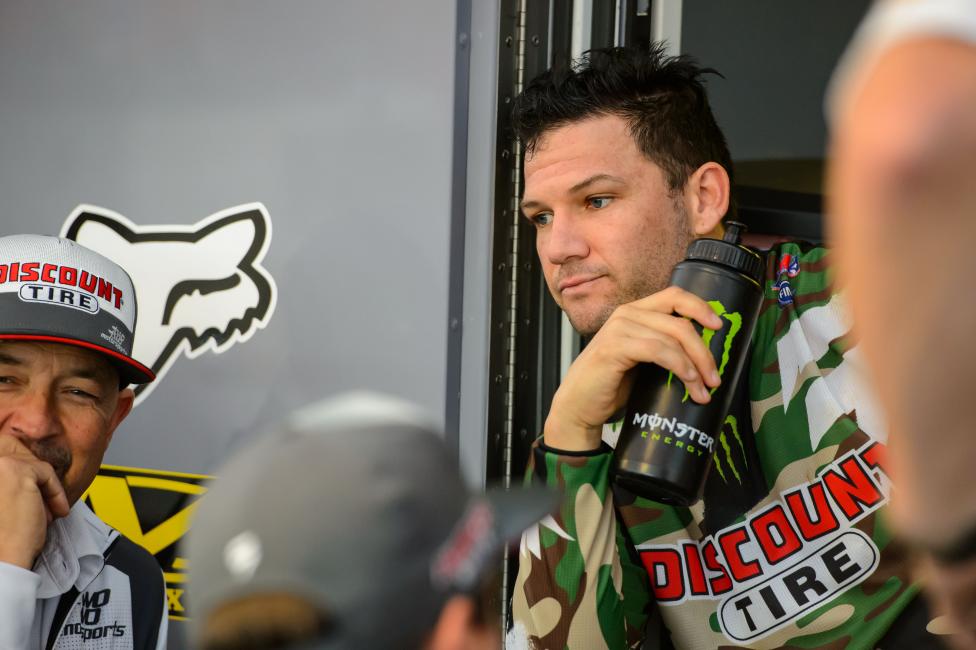 We all knew it was coming. It was just a matter of time. James Stewart waited until the last California round before putting together a perfect race. Well, as close to perfect as one can expect in this world of supercross. Stewie was on it all day long—he was fastest in two of the three practice sessions and fastest overall when it was all said and done. And in the main he passed Ryan Villopoto on the first lap to take the lead.
Twenty laps later, we have the fourth winner in six races, and Stewie now sits fourth in points with some of his favorite tracks coming up (Atlanta and Daytona). All season long, I've said Stewart looks a little different this year. He's using his tremendous skill here and there (quads, bro) but if things don't work out, he's taking what he can get and looking forward to the next week. I realize that if my mom had a package she'd be my dad but if you gave Stewie a tenth at A1 (and keep in mind he was passing for the lead when he went down) he'd be within ten points of the lead right now. And that's with being sick in Phoenix.
Stewart's a different guy off the track also. He's stopping to smell the roses a bit and enjoy the fact that win or lose, he's a rider that fans want to see. The James Stewart of yesteryear didn't always come out to hang with his team and fans if things didn't go right. These days, he's in a better place. In talking to people on his team, I get the sense they all like working together. Admittedly, Stewart's had a tough time in the past always trusting his team (some people would say that Stewart and his family have a hard time trusting a lot of people), but I see a real chemistry with team manager Mike Webb, the Suzuki guys and "Team Stewart," which consists of his trainer, his buddy, his publicist, his Seven gear rep and his family.
Ryan Villopoto finished second and third the last two weeks. Normally this might be cause for alarm for RV and his fans but to that I quote the great Bobby McFerrin, "Don't worry, be happy." Last season at this time Villopoto had two wins and three podiums but was twenty-seven points out of the lead. This year he's first in the points with a nine-point lead, two wins and four podiums. So he's ahead of last year's pace by a good amount. I know it's a bit weird when the dude who has won basically half the supercrosses he's ever entered sort of looks like he "settled" for a third and a second, but trust me, RV was trying hard. It just didn't happen. I'm around the Kawasaki truck quite a bit (thanks for the new creamer guys!) and I sense absolutely no stress or worries when Villopoto doesn't win. He's managing this series well and like Stewart, he'll be better on the East Coast.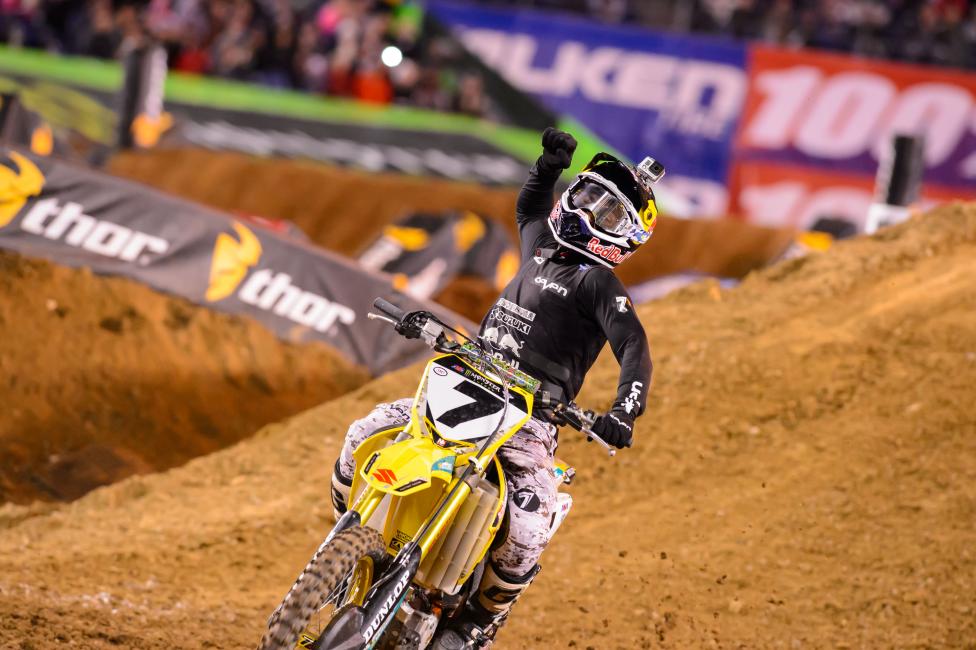 I interviewed Pro Circuit's Mitch Payton a lot last year after the races. It wasn't a great season for his mighty team and more than a few times Mitch was visibly upset with Justin Hill. He would say that Hill just had to "get better," that it was the Kawasaki/Team Green people who pushed Hill onto Payton and that the kid needed to work harder. Last year was only so-so for Hill, definitely not one in which anyone would've thought that "race winner" and "Justin Hill" would be used in the same sentence.
But then something changed. It's very hard for a rider to look in the mirror and realize that they're blowing it. The top talents are brought up with everyone telling them how awesome they are. And many of those people are friends, relatives, or people you're paying. They're certainly not going to tell you anything to upset you, right?
Justin Hill came into 2014 a changed man, and he was finally rewarded with his first professional win in San Diego. He rode a fantastic race in passing a downed Dean Wilson and never looked back. The kid is going to be all right. Before the season, I interviewed Payton and asked him about Hill:
"Not so impressed with last year in supercross or maybe outdoors either. I think so far right now if I could have videotaped him last year at supercross and you saw him this year, you would think last year it was a different guy. It's a very important year for Justin but I believe in him and I think he will be much better."
And in the pits afterward I found Justin and he told me this in regards to the differences from last season to now:
"I went home and just reevaluated how I wanted to do this. I reevaluated everything. I knew I wanted this, I knew I wanted it real bad. I went home and started working for it. I just really got more mentally tough this year. Last year I was, 'I'm pretty good, I should be able to kind of squeak in and do pretty good.' But that's just a terrible way to think about it.

"You have to take this seriously. It was kind of a wakeup call. I needed a bad year to really propel myself to where I am now. It was a wakeup call for me because I just thought about it for a long time. I left Elsinore with not a good season. It was the last race of 2013 and I was like, 'Man, I'm not happy with that. Let's figure this out.'"
One win, two podiums and third in points after six races; I'd say that Hill has indeed figured it out.
Now about this Chad Reed fellow. What a bummer for him, his team and his fans. I don't know how he's going to try and race Dallas but I suppose if anyone can it's him. Reed's crash wasn't anyone's fault; it was a racing incident where three guys were battling for third on the last lap. Reed got a bit of whiskey throttle and gained some speed in the whoops while moving to his right at the same time Roczen moved to his left and bingo, bango, the 22 was on the ground. I wish it didn't happen but sometimes bad things happen in this world.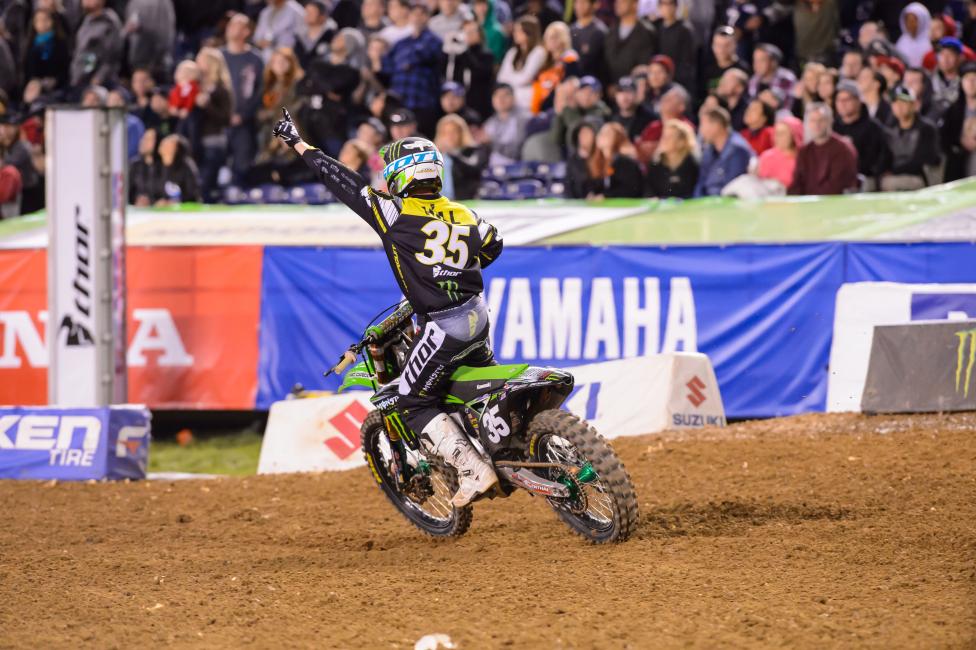 So let's talk about something good before I just start crying. How about this Weston "The Nihilist" Peick guy? There's no doubt he's the most improved rider I've seen in many, many years. In 2010 on a Yamaha he didn't place above fourteenth in any supercrosses and he had plenty of DNQs. On a Kawasaki in 2011, he didn't qualify for seven out of the sixteen races but got closer to the top ten. In 2012 he started getting a little better and split his time between a privateer Kawasaki and a fill-in Star Yamaha ride. Last year he seemed to battle with Bobby Kiniry in every LCQ but started putting in some nice rides here and there, cumulating with a strong ride in Las Vegas. But then again, most of the top guys are mailing it in by that point so Peick's finish wasn't mind-blowing.
Well, in 2014, he's blowing everyone's mind. With his fifth in San Diego he moved into the top ten in points, and he did it from the LCQ after crashes in the qualifying races. He started the main in fourteenth and I watched him blow by some great riders like they were B Class dudes. He was basically coming up on big name guys and just moving them out of the way and taking off. He caught and passed Eli Tomac and Justin Barcia late in the race! The guy's on a roll right now, no doubt about it. Privateer power for Peick!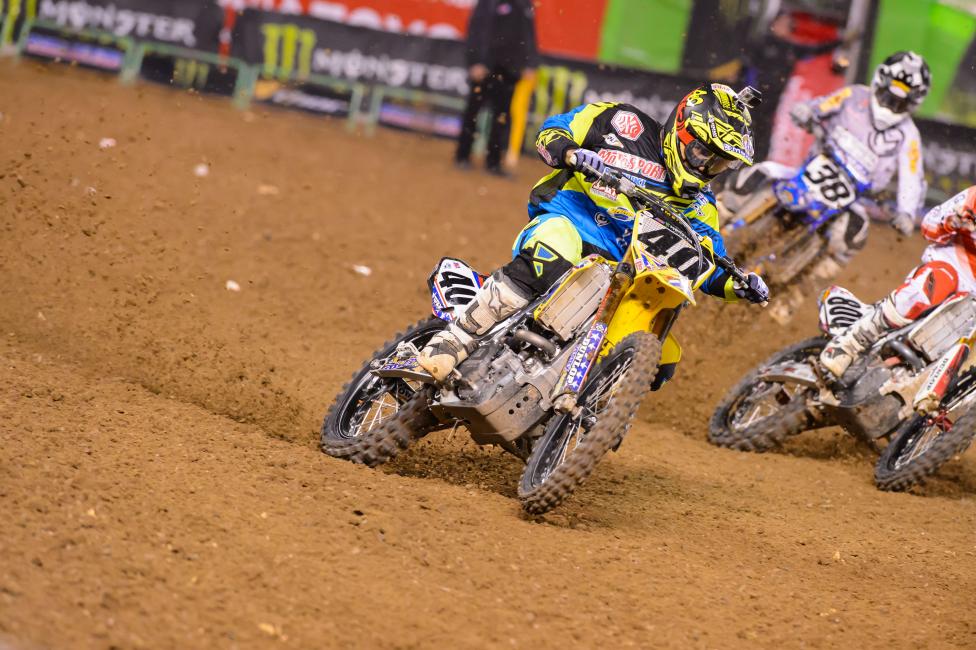 We had a question on the Racer X Podcast that went like this: If a bunch of pianos fell on Peick right now and he wasn't able to race anymore supercrosses, would he have done enough to get a salaried ride next year? Weston's getting a salary from his gear and sponsors but he's also paying expenses so slow your roll when you start yelling on why he shouldn't change anything. I'm talking about a real honest to goodness salary with a good bike, expenses paid and all that. Would he get that if his season ended right now, just based on his last few rides? Has he already done enough? I say yes. After six rounds, this guy's no fluke—he's just this good.
Let's take a look at the results shall we?
250SX RESULTS
1 35 Justin Hill Yoncalla, OR Kawasaki KX 250F
2 17 Jason Anderson Rio Rancho, NM KTM 250 SX-F- Anderson has now passed Seely twice on the last lap, had Mookie take him out and got into it with Jessy Nelson in practice in San Diego. Poor Jason, he must be having nightmares of Troy Lee Designs riders just attacking him and around him over and over.
3 34 Malcolm Stewart Haines City, FL Honda CRF 250- Another podium for Mookie and I don't get it. He's too big for a 250F! Even big brother James admits that but somehow, someway, he makes it work for him.
4 21 Cole Seely Lake Elsinore, CA Honda CRF 250- Yeah, I thought Seely would be better. I picked him for the win in a our pre-race podcast HERE and when you start right behind your title rival and he beats you by thirteen seconds, well that's got to suck. Seely has been dealing with some stomach issues this year and said he had food poisoning the week leading into San Diego. The good news for Seely is all momentum stops now. Brand new series when it picks up and he's just four points behind.
5 87 Shane McElrath Chesterfield, SC Honda CRF 250- Quietly a nice supercross season for Shane, who is a rookie in the class. This was a career best for him and as he said on the PulpxMX Show on Monday, he wishes he didn't have to stop now.
6 50 Jessy Nelson Paso Robles, CA Honda CRF 250- As I said last week, Nelson and McElrath always seem to be together and look-ee here! In qualifying, Anderson felt like Nelson was jacking up his fast lap, and they got into it. Nelson claimed innocence and once again, for the 8149th time in supercross history, two riders had vastly different views of an altercation.
7 89 Michael Leib Menifee, CA Honda CRF 250- Another good finish for Leib and I know he said that the funds were low but with Trey Canard still out, Weimer possibly out, Reed possibly out I would get a 450 and hit the East Coast. You can actually make a profit by making mains in the 450SX Class. There's approximately seventy-four bikes under the Teddy Parks and Team Gus privateer teams, and I bet they can squeeze one more in there, no?
8 84 Scott Champion Orange, CA Yamaha YZ250F- Scott Champion is having a nice season on the West Coast so far. And my wife tells me he's dating a Monster Girl so sounds like 2014 is going A-Okay for The Champ.
9 66 Jake Canada Sun City, CA Honda CRF 250- Nice ride coming from way back (went off the track in the first turn I believe) to get this strong top-ten finish.
10 111 Dean Ferris MURRIETA, CA KTM 250 SX-F- Ferris' hometown peeps from MURRIETA, CALIFORNIA have to be pleased with his 11-10-11-10 finishes the last few weeks. Consistent, bro.
11 83 Dakota Tedder Surfside, CA Kawasaki KX 250F- Tedder got the holeshot! Nice job for the privateer but like Shorty in the 450SX Class, it's got to be a bit of a bummer to get a career best start and still end up where you usually finish. I still think week in and week out this has been Tedder's best supercross season ever. Maybe it's the coaching of Josh Hansen that has been helping.
12 565 Preston Mull Livingston, CA Yamaha YZ250F
13 65 Zackery Freeberg Riverview, FL
14 37 Cooper Webb Newport, NC Yamaha YZ250F- Webb crashed in the main but he's got to be encouraged by his heat race where he hung with Wilson for the entire thing.
15 830 Ruben Alanis Monterray, Mexico KTM 250 SX-F- The Ruben Strikes Back!
16 737 Valentin Teillet Lake Elsinore, CA Kawasaki KX 250F- I don't know, I just thought he'd be better. He still looks like he's going a lot faster than he actually is.
17 97 Topher Ingalls Carmel, CA Honda CRF 250
18 973 Jean Marrone LA MEDE, France Suzuki RM-Z250- A lesser-known French rider, Marrone has made the last two main events and that's good to see. Man I wish we could get a Canadian rider every now and then to just show up and put in steady rides. What in the name of Kyle Beaton has been going on up there?
19 222 Chris Howell Spokane Valley, WA Yamaha YZ250F- All three career mains that Howell has made have been through the LCQ. Quite a way to live your life; on that edge, like he was Maverick in Top Gun. Weege always likes updating me on "Cairoli's" status out there on the track. Hey, #222 on a Yamaha. I get it Weigandt. [Editor's note: I don't have any other jokes to share on Twitter about Chris Howell so I keep going there. Anyone have suggestions? @jasonweigandt]
20 397 Brandon Scharer Gardena, CA Suzuki RM-Z250- My wife doesn't like meeting new people, it makes her all nervous and stuff but somehow on Twitter she has bonded with Scharer's mechanic over the Howard Stern show (of which she is a super fan). I had no idea about any of this until she was cheering on #397 out there in the unseeded 250SX practice. Anyway, good ride for Brandon.
21 15 Dean Wilson Wesley Chapel, FL Kawasaki KX 250F- That sound you hear is the final nail being driven into the coffin of Dean Wilson's 250SX title hopes. His first three races were not great, so even Wilson's recent resurgence left him no room for error. Well, in San Diego he made an error. Amazingly enough, despite incredible skills, Dean Wilson has failed to win a 250SX title. What a bizarre footnote in Wilson's career when it's all said and done.
22 143 Michael Horban Grants Pass, OR KTM 450 SX-F – Horban is back! I don't know where he went but I believe this is his first race of the year.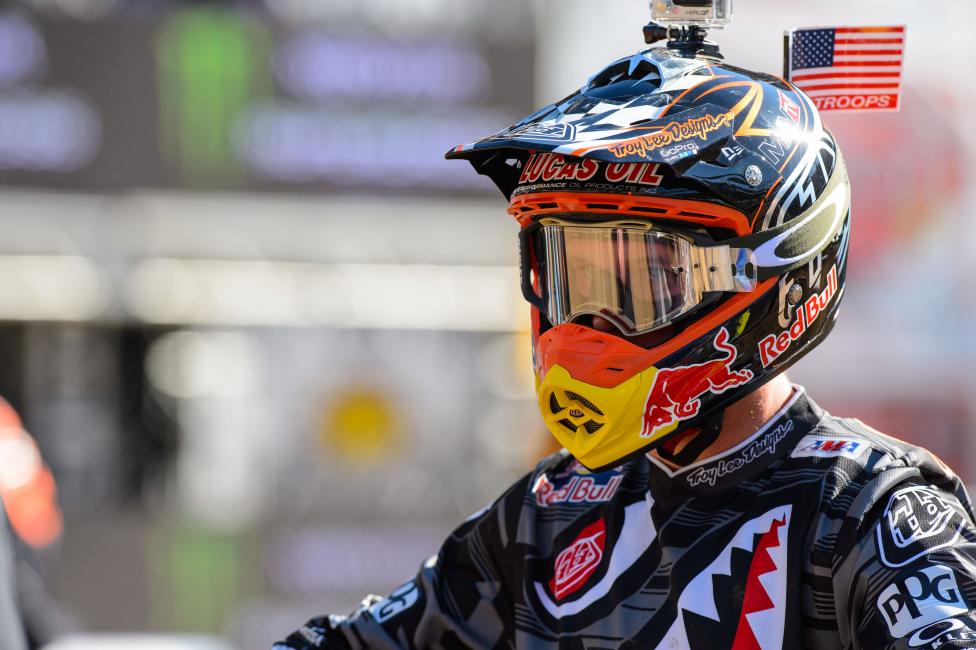 450SX RESULTS
1 7 James Stewart Haines City, FL Suzuki RM-Z450
2 1 Ryan Villopoto Seattle, WA Kawasaki KX 450F- The Kawasaki guys should run the green side panels and rear fenders every single week. I do not understand Kawasaki and these other OEMs going with white or black fenders. Stop trying to invent something cool. Be what you are, bro. If you're Kawasaki, you're green. That's it! You don't need white anywhere on your bike. If you're Honda, you're red! YOU CALLED YOURSELF THE RED RIDERS FOR YEARS FOR PETE'S SAKE!!! Ok, breathe, relax…
3 94 Ken Roczen Murrieta, CA KTM 450- I disagree with Roczen saying that Wey had anything really to do with Reed's crash because Reed came up on him quick and moved over more than Kenny did. But then again, I'm not down there racing. I do know that it was a class move by Roczen to go back and check on Reed after the race. Bravo Kenny, bravo.
4 5 Ryan Dungey Belle Plaine, MN KTM 450 SX-F- Dungey rode well to win the heat race and late in the race he was right there for a podium behind Roczen and Reed.
5 40 Weston Peick Wildomar, CA Suzuki RM-Z450- He probably doesn't even care about this fifth. #nihilist
6 51 Justin Barcia Pinetta, FL Honda CRF 450- I predicted Justin Barcia was going to win the second-most races this season and challenge Villopoto, yet through six races he doesn't have a podium. Anyone want some stock tips?
7 3 Eli Tomac Cortez, CO Honda CRF 450- Finally Tomac puts in twenty laps! Eli crashed out at Anaheim 1, missed four weeks, came back last week and got a flat early on. In my opinion it won't be long before he's right up there in the top five and getting podiums. As far as that Anaheim 3 flat, I spoke to Eli in the morning and he expressed that he forgot that his team brought spare wheels down on the floor to change. Not that it would have mattered all that much, it takes too long to change one for a rider to go back out there and get any meaningful results anyway.
8 20 Broc Tickle Holly, MI Suzuki RM-Z450- I liked Stew's camo gear but Tickle's was cool also.
9 10 Justin Brayton Cornelius, NC Yamaha YZ450F- Brayton got tangled up early in the main and went all the way back to twentieth so this finish is pretty good on a track that I don't think was easy to pass on; everyone was doing the same exact thing.
10 29 Andrew Short Smithville, TX KTM 450 SX-F- Short had his worst race of the year because he holeshot and then worked his way backward. He mentioned that he was so ready to race with the leaders that he started making mistakes and before he knew it, he was back here. Oh well, still a good season for Shorty, and by the way, did you know he started in third gear and pulled the holeshot? I didn't think that was supposed to happen in supercross. I guess not shifting one time helps out just a bit?
11 75 Joshua Hill Yoncalla, OR Suzuki RM-Z450- Yeah, I don't know. I thought Hill broke his collarbone and was going to be out for a number of weeks. But here he is, missing one race and then getting this respectable finish. Had to be pretty cool sitting on the starting line and seeing your brother dominating the other main for his first career win.
12 22 Chad Reed Dade City, FL Kawasaki KX 450F
13 9 Ivan Tedesco Murrieta, CA KTM 350 SX-F- A quiet night for Hot Sauce after a season's best finish last week in Anaheim. I can't say I noticed him out there all that much but on paper, nothing wrong with this ride.
14 800 Mike Alessi Hilliard, FL Suzuki RM-Z450- The 800 has had a quiet supercross season so far due to sickness and some strange bike problems in the main events. He's still got those starts dialed though, but not with the same frequency as he used to.
15 44 Matthew Goerke Temecula, CA KTM 450 SX-F- Matt's girlfriend told me that he wears a size 12 glove and that I "need to think about that." So, yeah, that's all I got this week.
16 42 Vince Friese Cape Girardeau, MO Honda CRF 450- So Friese bows out of the 450SX series and heads to the Eastern Regional 250SX Championship sitting eighteenth in the points after making five out of six main events. This from a guy who was pitting out of a Ford F-150 in San Diego.
17 27 Nicholas Wey Murrieta, CA Kawasaki KX 450F- Wey went into the grass early on, was way back in last and had his work cut out for him from there. He's had a good season in my opinion but San Diego wasn't his best one of the year. On another note, Nick changed his bar mounts, front tire and shock this week. Maybe I'll just leave "shock" out of this report each week and we can all just assume a shock was changed, mmm-k?
18 11 Kyle Chisholm Valrico, FL Yamaha YZ450F- I don't think a lot of people realize what it's like to get back to form after missing so many races due to a serious injury like what Chiz had last year.
19 56 James Decotis Peabody, MA Honda CRF 450- Jimmy Deeeeeeeeee puts it into the main once again. Look for Jimmy to move down to the Eastern Regional 250SX Championship this week in Dallas.
20 38 Phillip Nicoletti Bethel, NY Yamaha YZ450F- Filthy Phil was freed! With Josh Grant out with a shoulder injury, Coy Gibbs' master plan of having a backup rider was in effect and Nicoletti lined up for his first race of the year. Although he didn't impress all that much, we did learn that his JGR Toyota Yamaha YZ450F motor was fast as Phil basically holeshot every race he was in except the main (and that was close!). Nicoletti's welcome back to supercross included a second-turn crash in his heat race and nearly having his teammate Justin Brayton run over his head. Good times indeed. Phil's not sure if he'll be back for Dallas this weekend but he will definitely be racing in Atlanta in two weeks.
21 68 Chris Blose Phoenix, AZ Honda CRF 450
22 102 Matt Moss Nerriga, Australia Suzuki RM-Z450- Moss came over from Australia and although he couldn't stay away from drama with Josh Hill (a carryover from the Aussie SX series) he still made five out of six mains and is seventeenth in the points.
Some other news and notes from San Diego:
- Motosport.com Crossland Racing broke their streak this week of having Chipotle served for lunch. They stepped up for five weeks in a row, an incredible streak almost equal to Jeremy McGrath's 13 races in 1996. But they did have pizza that was pretty good, so it's not like the level dropped off a lot. Weege seemed to be enjoying it as well because I looked over and he was trying to stuff twenty slices into his backpack for during the week. [Editor's note: Eating some now. The weird slice with mashed potatoes on it]
- The Legends and Heroes exhibit honored San Diego's own Ron Lechien before the night show and that was pretty cool. Lechien won the San Diego CMC supercross when he was just sixteen years old on a privateer Yamaha and went on to have a great career, but it ended early due to a broken femur suffered at age twenty-three. I spoke to Lechien afterward and he thought it was pretty cool to be down there and also expressed amazement at how big the whoops are once he got down there.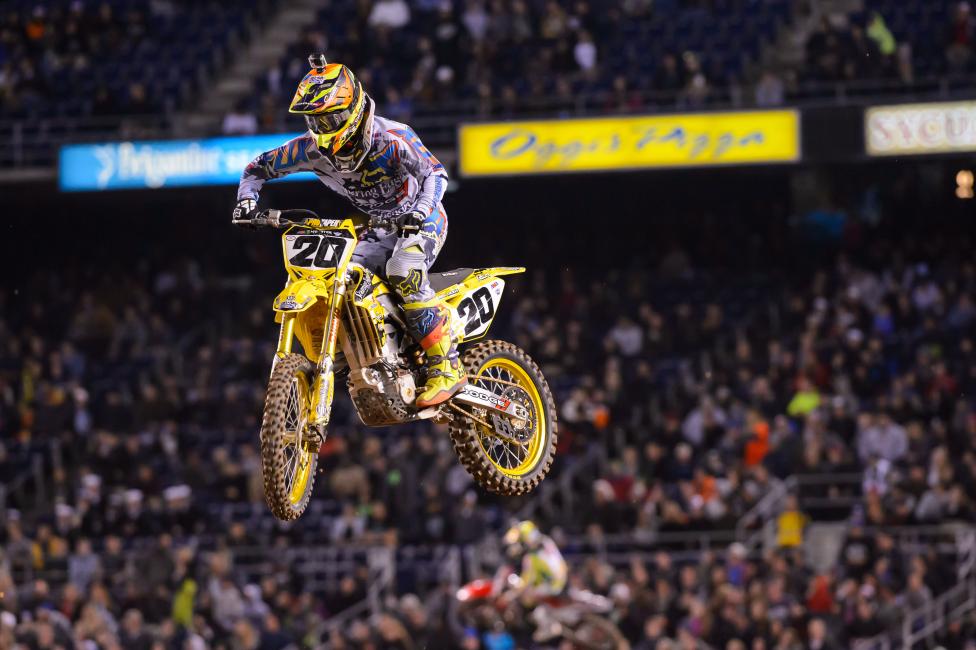 - Bummer for Jake Weimer, who went down in practice and separated his shoulder. Looks like he'll be out for a bit which is definitely not what he needed in this year that is so important for him aka a contract year.
- Things get weird on track walk. Want some proof? Josh Hansen said hi to me and we fist bumped like cool people do. I think maybe he likes me now? Either that or he was impressed at me making it further than the first turn this week.
- The folks at Feld did a nice job with the military appreciation thing in San Diego, and lots of teams and gear companies embraced it. I thought that the Seven gear that Stewart wore was pretty cool. It wasn't the same old camo that a lot of people did; it was like a digi-camo or something. Looked good. And I really liked Jimmy Albertson's #77 Honda in terms of graphics. By the way, Top Jimmy hit a wall in practice and pulled out for the night after the heat race. He does think he'll be able to ride in Dallas though.
- Funny moment on track walk when I was standing there with Nick Wey and talking about something when Dean Wilson came up on us and said "You're not going to listen to this guy are you, Nick?" To which I replied, "Hey, I've got four Manitoba titles," and Wilson, sort of flabbergasted that I would actually say that in regards to a supercross track replied, "Oh," and walked away.
- I don't think it's any secret that Fly Racing gear has really been coming on in the last few years. The guys down there (full disclosure, I'm friends with them and they are advertisers on the PulpMX Show) have really been trying hard to make an impact and it struck me in San Diego just how many guys are wearing Fly that race supercross. By my count, eighteen riders out of the eighty who qualified for the night show were wearing Fly gear. That's quite a bit! Props to those guys for making a push.
That's it. Those are my thoughts on San Diego SX. Email me at matthes@racerxonline.com to tell me yours.